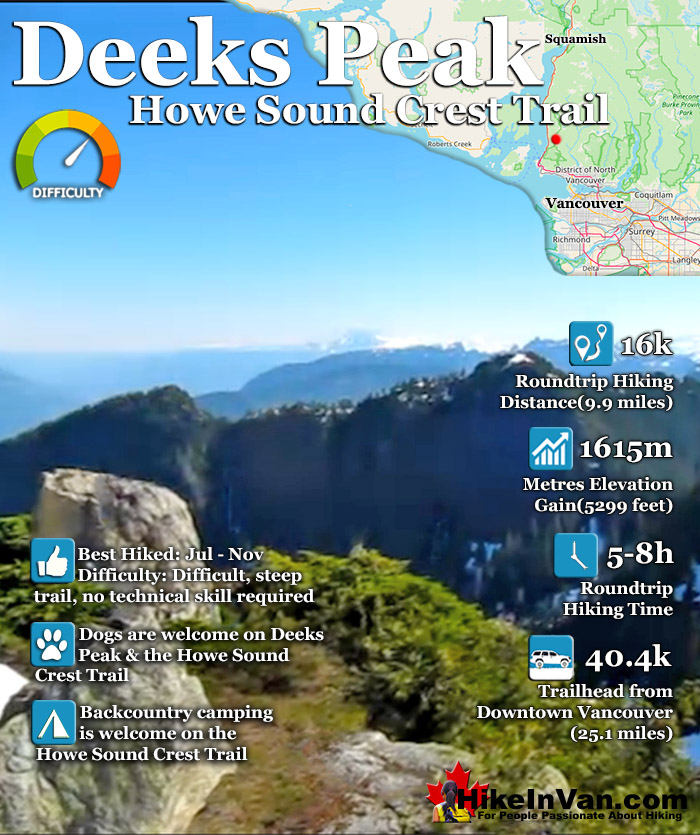 Deeks Peak is at the far north end of the beautiful Howe Sound Crest Trail which runs from Cypress Resort 29k away.  The trailhead near Porteau Cove is the access point Deeks Peak and Deeks Lake. It is a steadily uphill hike as you gain 1615 metres in almost 8 kilometres.  The trail is also very overgrown and strewn with fallen trees. 
A fun wilderness hike

Comparatively quiet trail

Deeks Lake is great for swimming

Hut is interesting to see

Part of the amazing HSCT

Endless beautiful peaks to climb

Snow restricts access till June
Trail is badly overgrown

Not as scenic as other hikes

Trailhead known for car thefts
Vancouver Hiking Trails

Black Mountain

Brunswick Mountain

Burnaby Lake

Burnaby Mountain

Coliseum Mountain

Crown Mountain

Cypress Falls

Deeks Peak

Deep Cove

Deer Lake

Dog Mountain

Goat Mountain

Goldie Lake

Grouse

Hollyburn Mountain 

Kitsilano Beaches

Lighthouse Park

Lynn Canyon

Lynn Peak

Mt Elsay

Mt Fromme

Mt Hanover

Mt Harvey

Mt Seymour

Mt Strachan

Mystery Lake

Pacific Spirit

Rice Lake

St Mark's

Stanley Park

The Lions

Unnecessary
A multi-day hike in this area via the Howe Sound Crest Trail where you can hike a couple or all of the amazing peaks. Brunswick Mountain, Mt Hanover, Mt Harvey and The Lions stretch off into the distance eventually leading to Cypress Mountain 29k away. Backcountry camping is possible in innumerable phenomenal sites along the trail.  None of them are sanctioned or maintained so don't expect any facilities but there are countless streams, waterfalls and lakes to put a tent by. There is quite an interesting hut at Lost Lake.  Small and very rustic, yet every inch of it has been loved and abused.  Depending on the weather outside the hut will probably colour your opinion of the inside. It's dirty, grungy, the walls are thin and metal.  The ground is covered with debris, gravel and dirt.  There are alcohol bottles lining almost every surface... and all partly full. The place is a mess, but a beautiful little mountain hut nonetheless.  A pile of chopped wood lines one wall and possibly the most loved wood-stove in the history of the world sits in the middle.  This beautiful stove makes this ugly little hut feel like paradise.  If there is snow on the ground outside or you just braved a swim in the always icy Lost Lake, then you will quickly learn to cherish this wonderful hut.
If you plan on parking overnight at the trailhead be careful about where to park.  The parking lot has a no overnight parking sign, so you will have to park along the road near the parking lot.  An alarmingly high number of reported car break-ins make this area of concern when parking.  Be extremely careful that nothing of value is visible to passers by. If you are lucky and find the gate open at the start of the trail you can drive 3.5 kilometres up this fairly decent logging road and take about an hour off the start of your hike.  This road is easily drivable with a high clearance 4x4, however, some deep waterbars will prevent lower clearance vehicles from getting through.
Deeks Peak is part of the amazing Howe Sound Crest Trail in Cypress Provincial Park and is one of the many beautiful peaks to be climbed if desired on the 29k trail.  Among the hiker friendly mountains (in order from Cypress north) on the Howe Sound Crest Trail are: Mount Strachan, St Mark`s Summit, Unnecessary Mountain, The Lions, Mount Harvey, Mount Hanover, Brunswick Mountain and finally Deeks Peak.  This amazing trail has one end here at Porteau Cove and the other end at Cypress Mountain.
Everyone has a different opinion of the Deeks Lake and Deeks Peak trail.  If you hike it on a hot, sunny day in July, August or September and manage to park at the end of the logging road, 3.5 from the gate, then you will find this trail amazing. On the other hand, if you hike earlier in the season, encounter snow on the trail and have to park at the lower parking lot due to the gate being locked, you will likely hate Deeks Peak.  So keep that in mind. Try to hike the trail later than May/June or be prepared and comfortable hiking in snow.  Try to get a 4x4 and hope for an unlocked gate and if not be super careful in securing your car and enjoy the easy, though boring, first 3.5k of trail/road.

Best Whistler & Garibaldi Park Hiking Trails!
Whistler & Garibaldi Park Hiking by Month!

Explore BC Hiking Destinations!