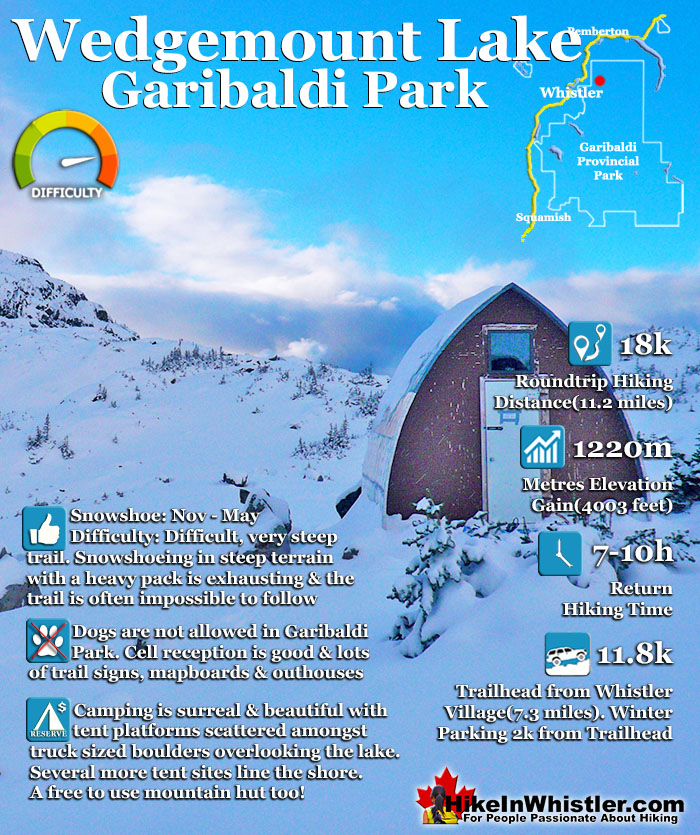 Wedgemount Lake is a steep and difficult hike in the summer when there is no snow.  It doesn't require technical skill, but it is just exhausting.  You gain 1220 metres of elevation in just 7 kilometres(+2 in the winter) and hiking with a heavy pack takes about 2.5 to 3.5 hours to reach the lake.  In the winter, on snowshoes, the Wedgemount Lake trail is considerably harder, as well as a couple kilometres longer owing to the undrivable, snow buried access road. 
Tough, steep, yet relatively short trail to hike
Difficult winter trail keeps it quiet

Amazing little hut free to use by anyone
Snowy oasis surrounded by mountains

Wedge Mountain is the highest peak around
High alpine paradise all to yourself
You can easily walk to Wedge Glacier
Difficult & dangerous in winter

Hard to follow the snow buried trail

Trail is steep, brutal & not very scenic
Whistler Snowshoe Trails

Blueberry Trail 

Brandywine Falls 

Cheakamus River 

Elfin Lakes 

Flank Trail 

Joffre Lakes 

Nairn Falls 

Parkhurst Ghost Town 

Rainbow Falls 

Rainbow Lake 

Rainbow Park 

Sproatt East 

Taylor Meadows 

Train Wreck 

Wedgemount Lake 

January 

February 

March 

April 

May 

June 

July 

August 

September 

October 

November 

December
The snow covered trail is hard to follow, even with frequent trail markers.  Also, on snowshoes a step on steep ground is one step forward, half a step backward.  You plod on slowly and with each step slipping back part way. If you can get past the difficulty of the exhausting winter trek to Wedgemount Lake you will reach an amazing paradise in the mountains.  The Wedgemount Lake hut is an extraordinary oasis of warmth in the middle of the beautiful Wedgemount Lake valley.  Anyone can use the hut, anytime.  It can sleep up to 8 reasonably comfortably and consists of two large tables on the lower level and a small loft that can fit four people.  Sporadically used by skiers in the winter, though rarely used by snowshoers due to the difficulty of the trail in the winter.  If you do make it up to Wedgemount Lake you will be rewarded with a phenomenally beautiful, snow filled mountain paradise of a valley.  The Wedgemount Lake trail is deep with snow from late December to late June most years.  If you snowshoe it November to mid December or mid June to early July, you will only need your snowshoes partway up the trail.  Depending on conditions and traffic on the trail, you may get lucky and be able to follow previous tracks in the snow, however this is not reliable.  The final kilometre before Wedgemount Lake between the months of November and late June is almost always deep with snow, sometimes as late as mid July.  This part is very steep, and even on snowshoes painfully difficult, so consider that if you plan to go.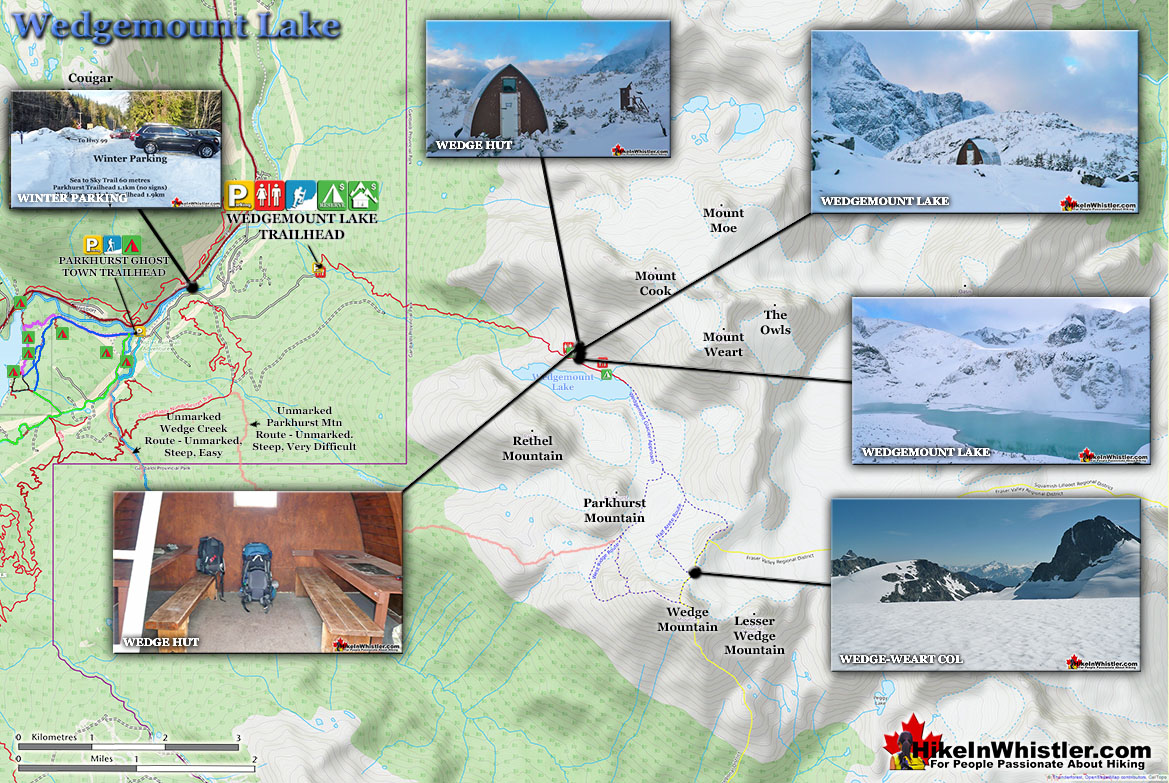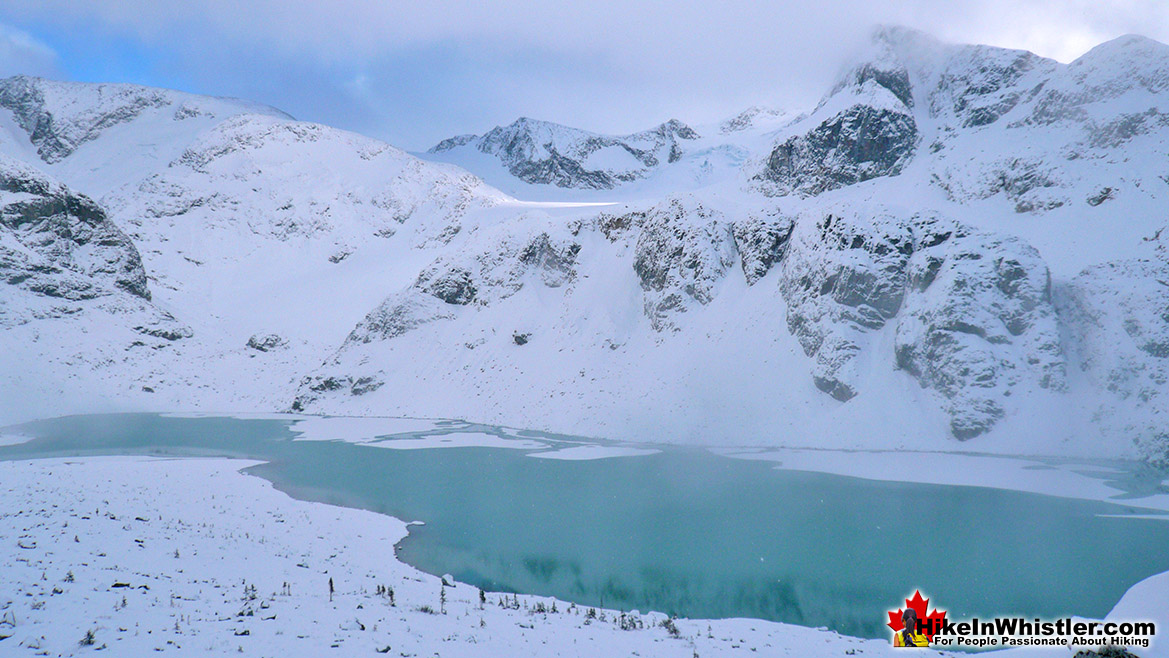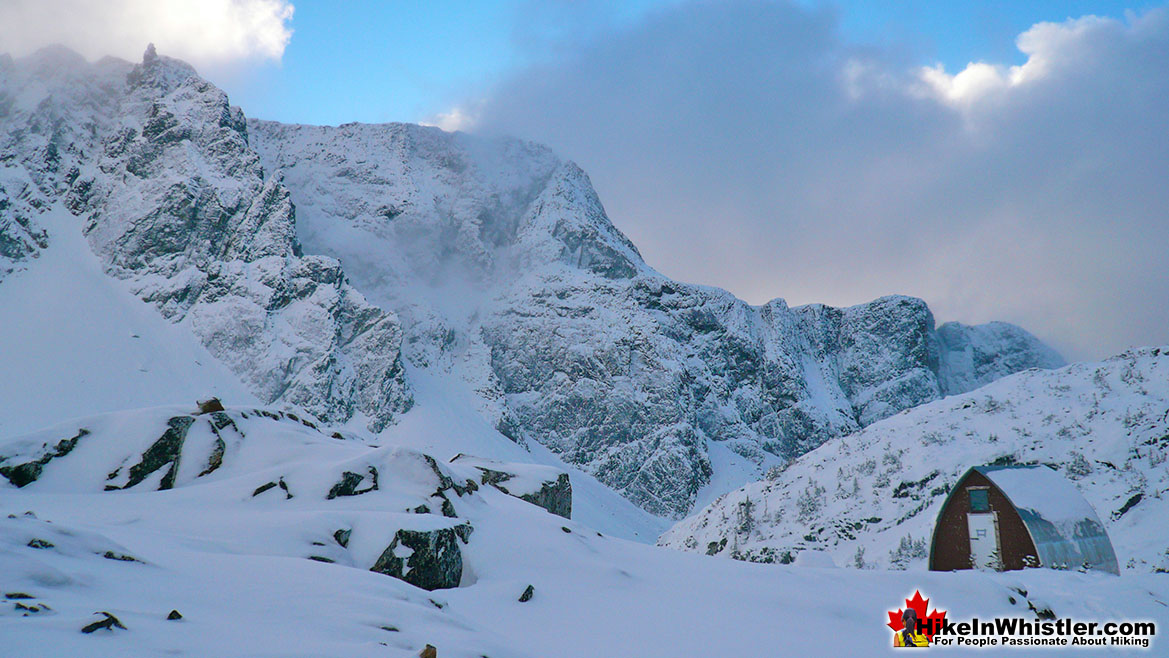 Also, losing the trail is always a consideration worth worrying about and having a GPS with you is a very good idea.  At a good pace, when the trail has snow top to bottom, expect to take over 3.5 hours from your car to the hut.  Some take as long as 6 hours.  You have to add an extra kilometre or two in the winter as well due to having to park 1.5k below the usual trailhead parking as it is inaccessible due to snow December to May.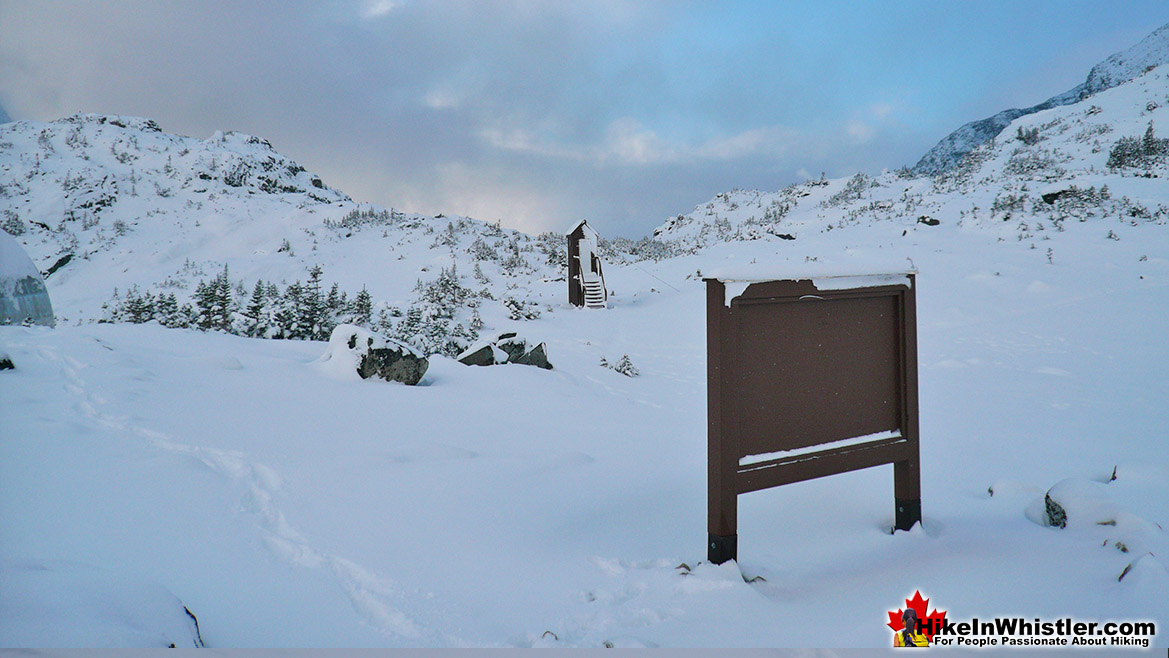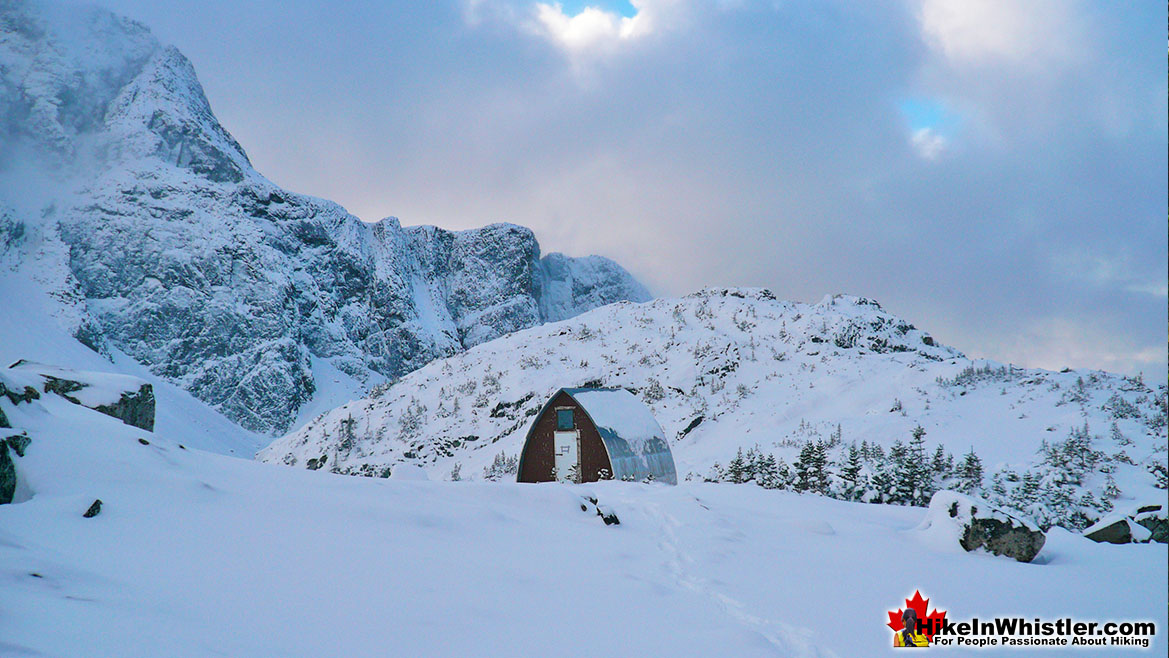 The Hut at Wedgemount Lake
The hut at Wedgemount Lake is a wonderful thing. Built by the BC Mountaineering Club in 1970, and since donated to Garibaldi Park, it is free to use by anyone. It's cozy with two large tables and a loft. Often, during busy times you will find the tables used as beds, a couple on the floor and four people up in the loft.  The Wedgemount Lake hut is positioned in a spectacular part of the world.  High up overlooking Wedgemount Lake.  In the massive shadow of Wedge Mountain, the highest mountain in the entire Garibaldi Range.  It's a cozy and compact little house in the middle of the carnage of massive rocks, erratics left over the centuries by glaciers and rock slides.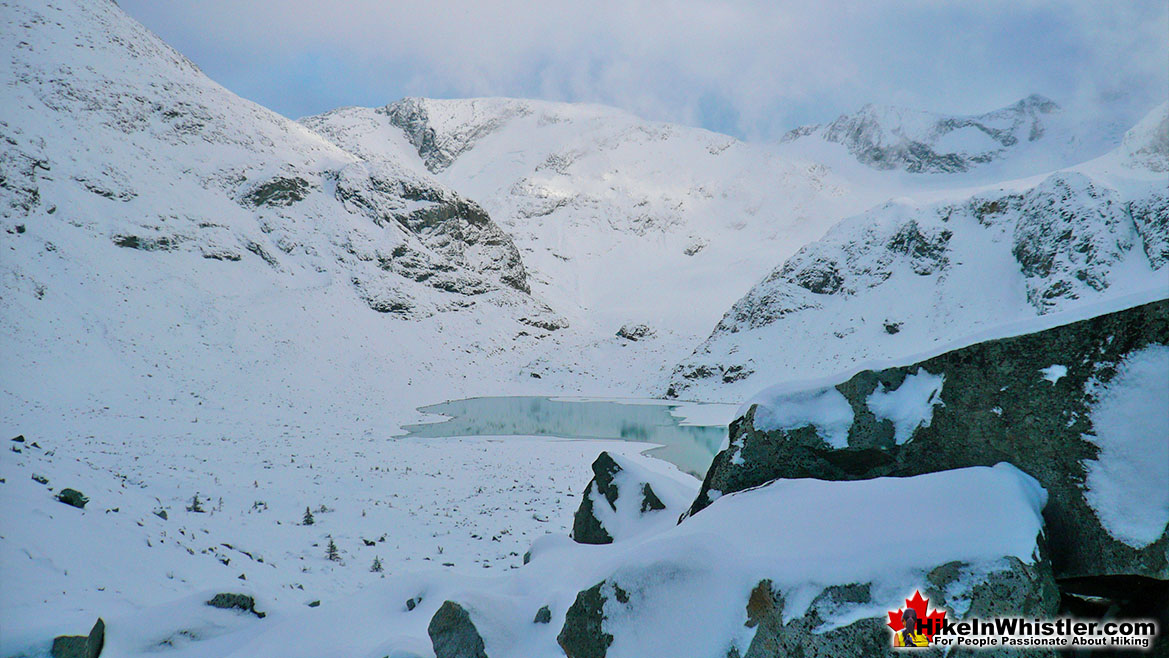 Back in the late 60's the British Columbia Mountaineering Club went forward with building five huts in the Coast Mountains of BC.  Two of the five were built in Garibaldi Park, they were The Russet Lake hut in 1968 and the Wedgemount Lake hut in 1970.  Because structures like these cannot be owned as they are in BC Parks, they are open for use by anyone.  There are two large wooden tables along the left and right walls and a little window across from the door.  On entering you notice a ladder going straight up to the loft.  Everything is bare, weathered wood, but tidy and secure.  It's simply a nice, solid, secure little house in a hostile wasteland of beauty.  As you walk in you notice right away a feeling of warmth hits you.  The Wedge Hut is as wonderful thing.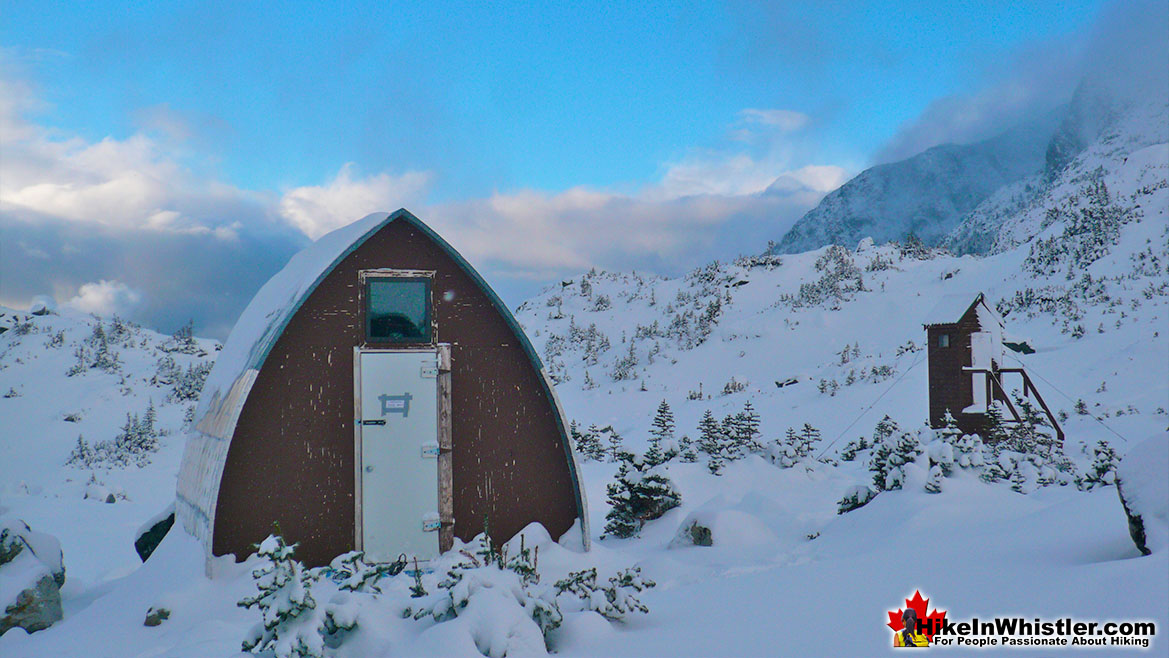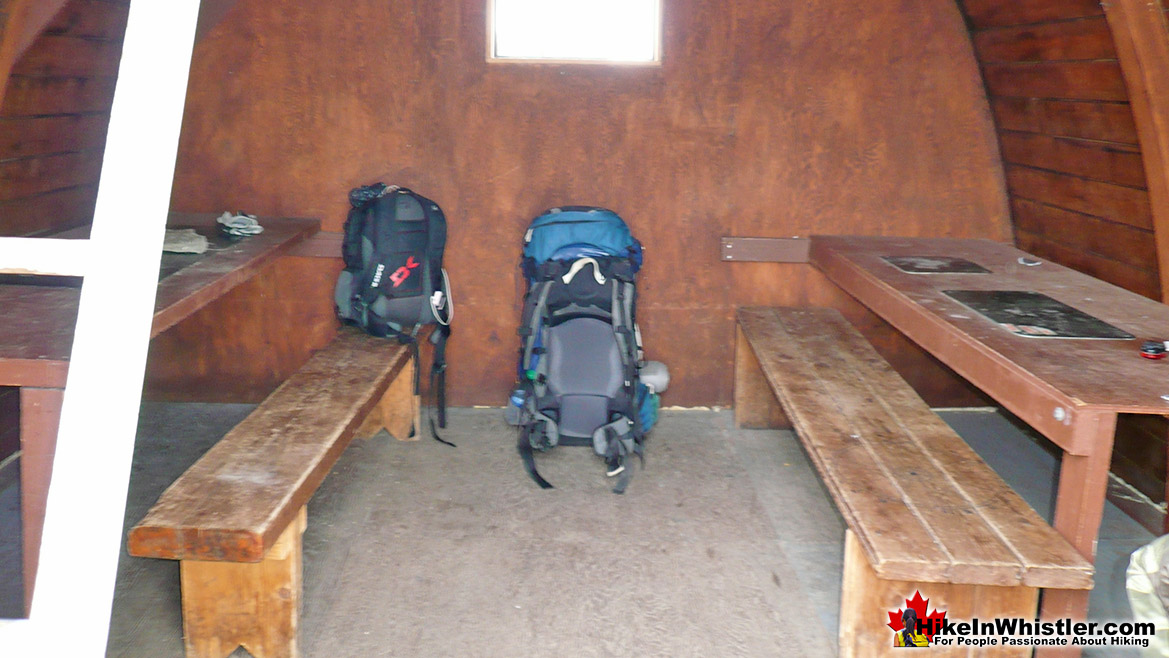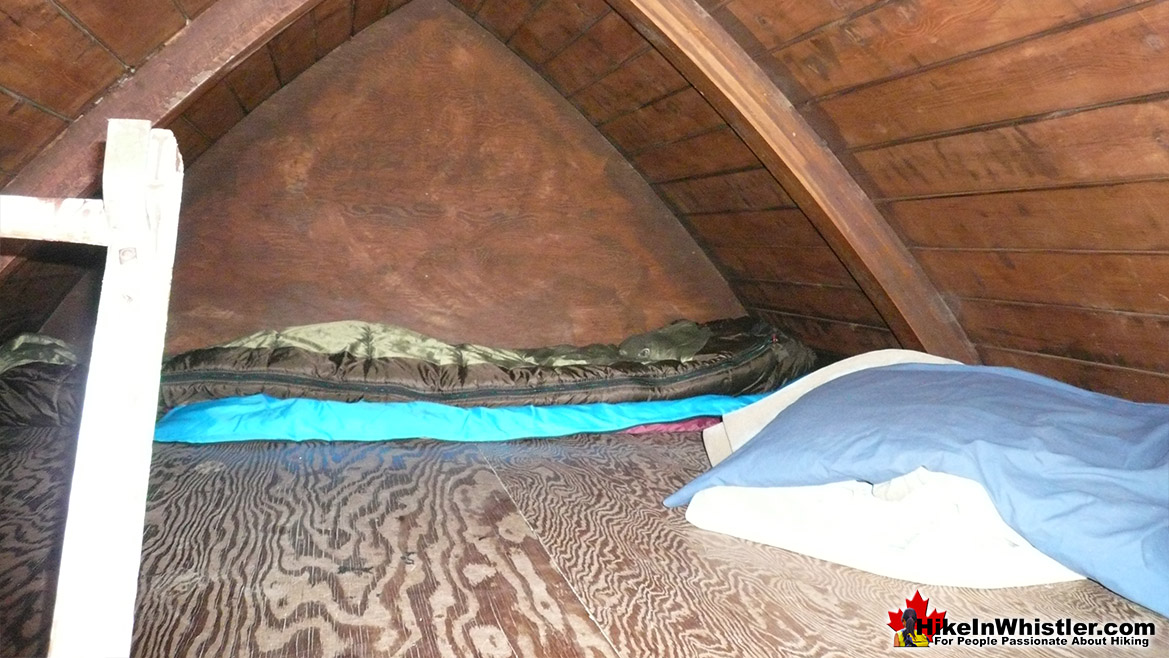 Facilities at Wedgemount Lake

There is an outhouse (toilet), at the trailhead to Wedgemount Lake.  Another one a few metres from the Wedge Hut and tent platforms at Wedgemount Lake.  And a third, almost hidden toilet down near the lakeside tent platforms.  You will spot an unusual looking, plastic box in the scree slope along the trail to the lake.  This is a futuristic looking outhouse that is more convenient to the campsites at the lake.  All the outhouses in Garibaldi Park are serviced frequently and even equipped with toilet paper, however, bringing your own is always a good idea as it inevitably runs out sometimes.  If you are unfamiliar with outhouses, they consist of, (usually) a very small wooden room with a small window for light.  Sometimes the outhouse is built above a pit in the ground for waste, but in the case of the Wedgemount Lake outhouse it is raised above a massive waste tank that is routinely replaced by helicopter.  They are unavoidably disgusting and fly ridden despite the frequent and heroic efforts of excellent BC Parks staff.
Restrictions and Concerns at Wedgemount Lake




Dogs are not permitted on the Wedgemount Lake trail or any other Garibaldi Provincial Park trails out of courtesy to the resident animals of the park. There are a large number of black bears in the park and encounters with dogs result in unpredictable and potentially dangerous conflicts. There are quite a few excellent hiking trails in Whistler that are dog friendly. Whistler's Valley Trail and Lost Lake trails are dog friendly and run throughout Whistler. The Sea to Sky Trail, which runs over 30 kilometres through Whistler is a paradise trail for dogs as it runs through numerous parks, beaches and forests. Ancient Cedars is a nice, dog friendly hike that is 5 kilometres roundtrip and takes you into a thousand year old forest. Whistler Train Wreck is also dog friendly. The trailhead, marked Flank Trail is located in Function Junction, just a short drive south of Whistler Village. Further south you will come to Brandywine Falls, which is a short, 2 kilometres (roundtrip) dog friendly hike to the amazing falls. About 25 minutes north of Whistler, Nairn Falls is another beautiful and dog friendly hiking trails.
Getting to the Wedgemount Lake Trailhead

The free parking at the trailhead to Wedgemount Lake is easy to find as there are Garibaldi Provincial Park signs on the Sea to Sky Highway.  Located just a short and scenic, ten minute drive north of Whistler Village.  An excellent place to see Wedge Mountain on the way to the Wedgemount Lake trailhead is the Green Lake viewpoint at the edge of Highway 99.  Look for the obvious and large pullout on the right side of the Sea to Sky Highway at the far end of Green Lake. The pullout is easy to spot shortly after you lose sight of Green Lake.  The views across to Whistler Mountain, Blackcomb Mountain and Wedge Mountain are amazing.  From Whistler Village at Village Gate Boulevard, zero your odometer proceed north on Highway 99. At 11.3km a sign will direct you to turn right to "Wedgemount(Garibaldi)". Cross the train tracks and the bridge over Green River and immediately (11.5k) turn left onto the Wedge Creek Forest Service Road. At 11.7km turn right and head up the bumpy but drivable to all types of cars to the parking lot at 13.2km.  In the winter months (December to March) snow will block part or all of the gravel road between the highway and the trailhead parking so you will have to park near the trailhead turnoff or further down next to the highway turnoff.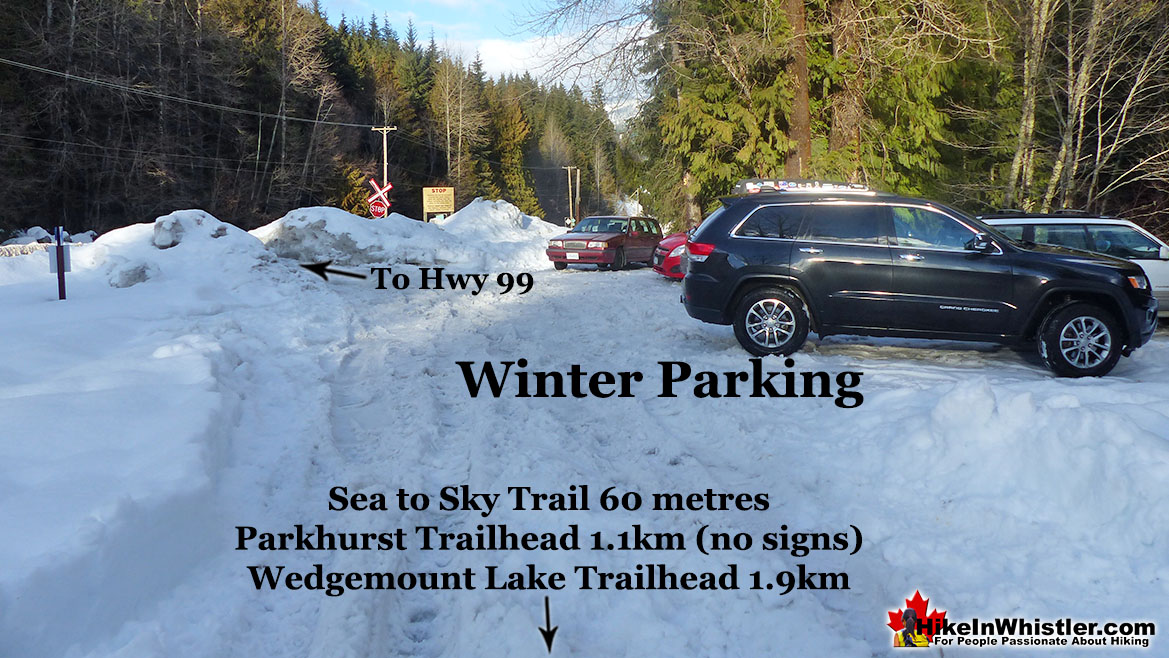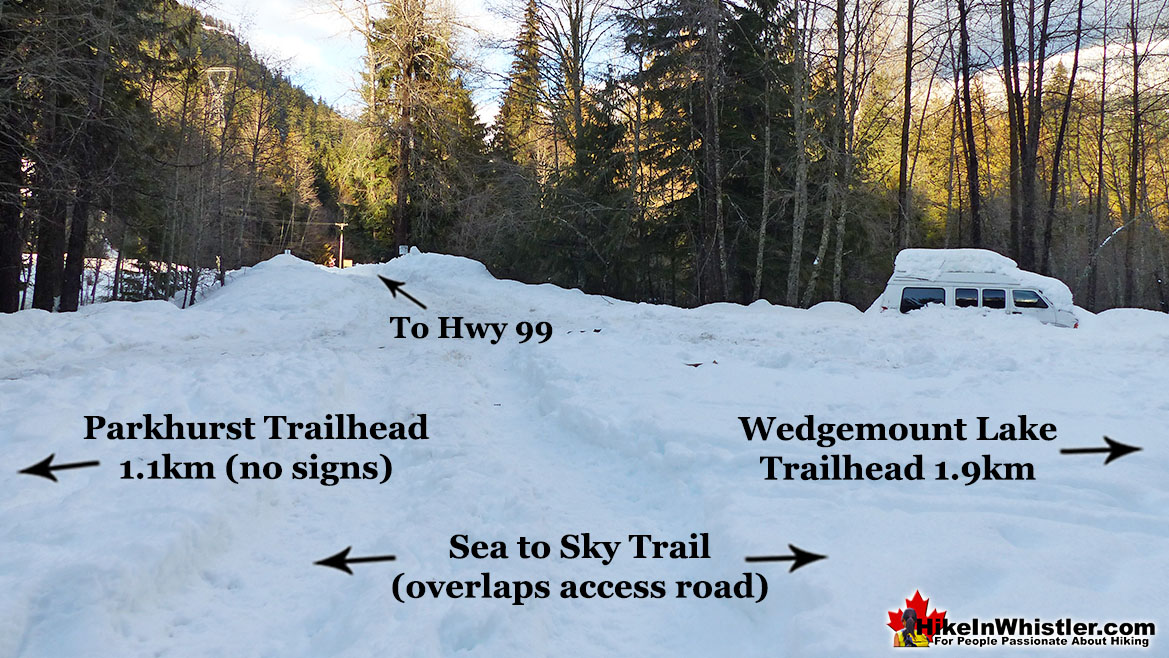 More Whistler Snowshoe Trails

There are plenty of beautiful and free snowshoe trails in Whistler and Garibaldi Provincial Park.  From the surreal paintings of Whistler Train Wreck to the magnificent mountain serenity of Wedgemount Lake in Garibaldi Park.  Trails range from extremely easy, like the short, flat trails to Brandywine Falls and Rainbow Park.  To challenging and long trails to places like Elfin Lakes, Taylor Meadows and Wedgemount Lake.  Whistler even has a growing network of snowshoe trails to Parkhurst Ghost Town on the far side of Green Lake.  There are a couple pay-use snowshoeing areas in Whistler, however most free trails are as good or better.  Whistler Train Wreck is an easy/moderate snowshoe trail that takes you through a deep forest, over Cheakamus River via a very pretty suspension bridge, and to a series of decades old, wrecked train cars.  Elfin Lakes in Garibaldi Provincial Park is another beautiful place to snowshoe.  Located at the south end of Garibaldi Park, the Elfin Lakes trailhead is found in Squamish.  The trail is not overly difficult, however it is quite long.  A consistently uphill, 11 kilometre(13.7 mile) trail through some spectacular scenery takes you to the marvelous Elfin Lakes hut.  For easier snowshoeing, Rainbow Falls is a good option.  Located just a short drive from Whistler Village, the Rainbow Trail is a beautiful trek through the forest in a winter wonderland to a hidden waterfall surrounded by deep pillows of powdery snow.  For more challenging snowshoeing, Joffre Lakes Provincial Park is hard to beat.  A long, though beautiful drive into the mountains, north of Pemberton takes you to this moderately challenging, 11 kilometre(6.8mile) roundtrip snowshoe trail.  The frequently steep, winding trail takes you through a winter paradise and around, or over three frozen lakes.  Back in Whistler, an excellent place to snowshoe is to Parkhurst Ghost Town.  Sitting on the far side of Green Lake, Parkhurst was a thriving logging community several decades ago.  It has since been abandoned except for intermittent squatter communities over the years.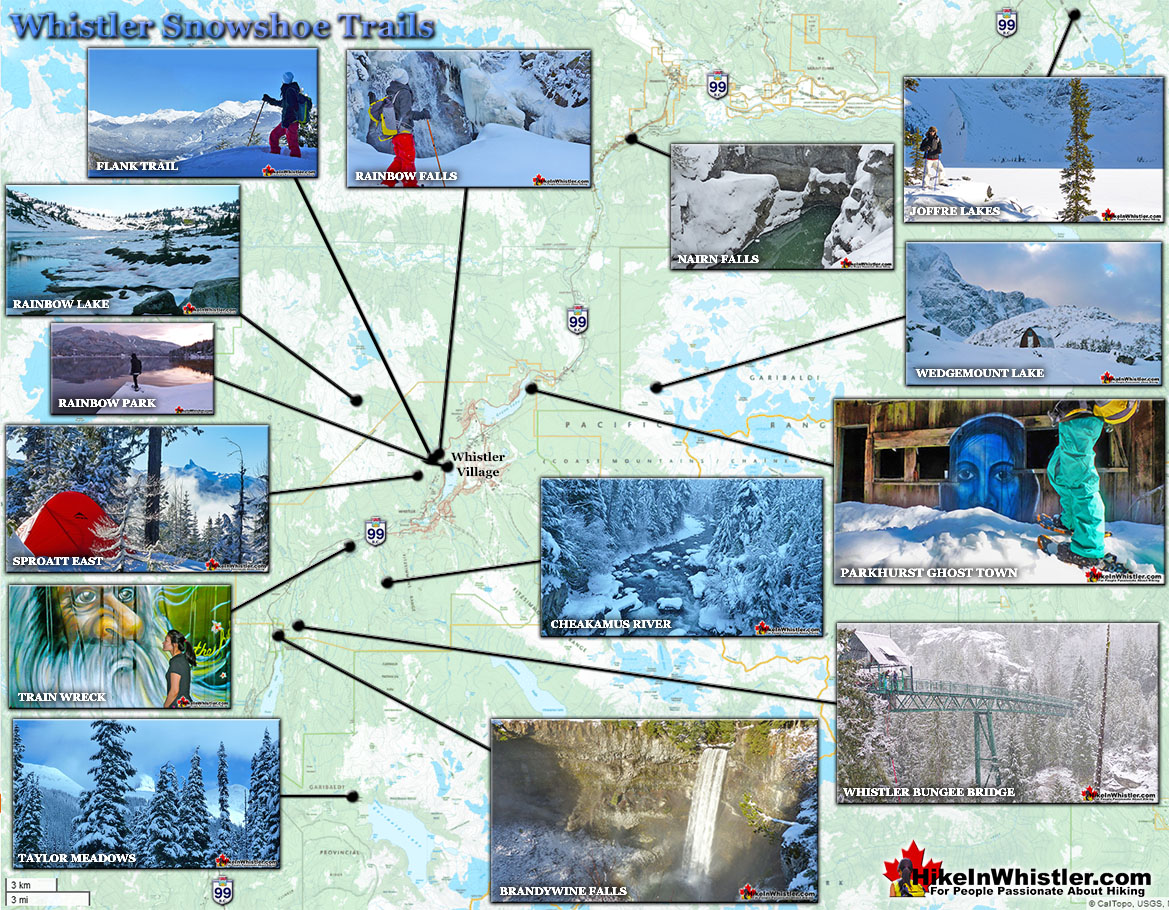 More Whistler & Garibaldi Park Snowshoe Trails!
Where to Hike in Whistler & Garibaldi Park by Month

Amazing Whistler & Garibaldi Park Hiking Trails!