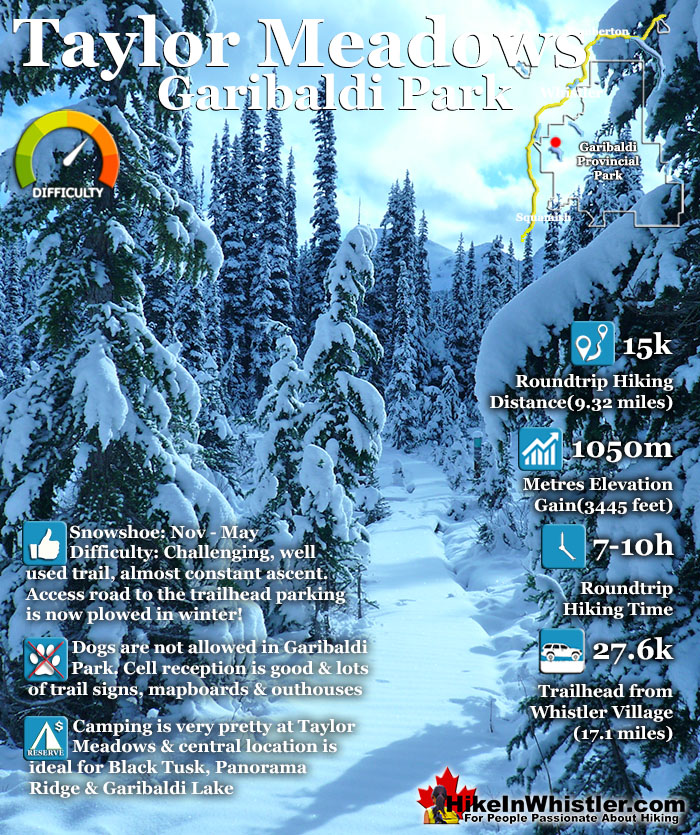 Taylor Meadows, in Garibaldi Provincial Park is an amazing place to snowshoe in the winter near Whistler.  Beautiful snowy meadows surrounded by mountains everywhere you look.  Black Tusk towering in the distance so close and blanketed in wonderful, beautiful snow.  Garibaldi Lake is accessible as well on this snowshoeing hike.  The Taylor Meadows trail forks partway up, left goes to Taylor Meadows, right to Garibaldi Lake.  The trail joins again at the far side of both campsites.
Beautiful & surreal winter wonderland

Well organized campground in deep wilderness
Multiple hikes can be done from the meadows
Winter camping is spectacular!

Elevation gain flattens at the meadows
Black Tusk looms beautifully very near
New snowplowed access to trailhead!!

No glacier views like you get at Garibaldi Lake
Views are limited by the forest

Many find the trail tough and boring

Whistler Snowshoe Trails

Blueberry Trail 

Brandywine Falls 

Cheakamus River 

Elfin Lakes 

Flank Trail 

Joffre Lakes 

Nairn Falls 

Parkhurst Ghost Town 

Rainbow Falls 

Rainbow Lake 

Rainbow Park 

Sproatt East 

Taylor Meadows 

Train Wreck 

Wedgemount Lake 

January 

February 

March 

April 

May 

June 

July 

August 

September 

October 

November 

December
Garibaldi Lake, so massive and dramatically beautiful in the winter, a huge frozen valley.  The downside to this hike is the length of hiking to get to the beautiful parts.  In the summer it's not so bad as the trailhead is a moderately difficult 9 kilometre hike from Garibaldi Lake.  In the winter however, the same 9 kilometres is considerably more strenuous as you have the added weight of winter gear and clothing.  In the past you also had to snowshoe up an additional 2 kilometres because the access road was never plowed to the trailhead parking lot.  In the winter of 2020/2021 BC Parks finally relented after considerable public pressure to plow the access road during the snowy winter months.  If you snowshoe the beautiful route to Taylor Meadows and return via Garibaldi Lake the route is 21 kilometres long and very strenuous as a one day snowshoe trip.  Camping at either Taylor Meadows or Garibaldi Lake are great options if you can stand the cold and are well prepared for winter camping.  If you plan to do this trip in one day be sure to leave very early and be well equipped for winter hiking.  In the winter the days are very short so always have lights with you.  Although the trail will likely be tracked out by previous hikers and skiers, having a gps is an excellent backup in case you lose the trail.
Taylor Meadows View of Distant Black Tusk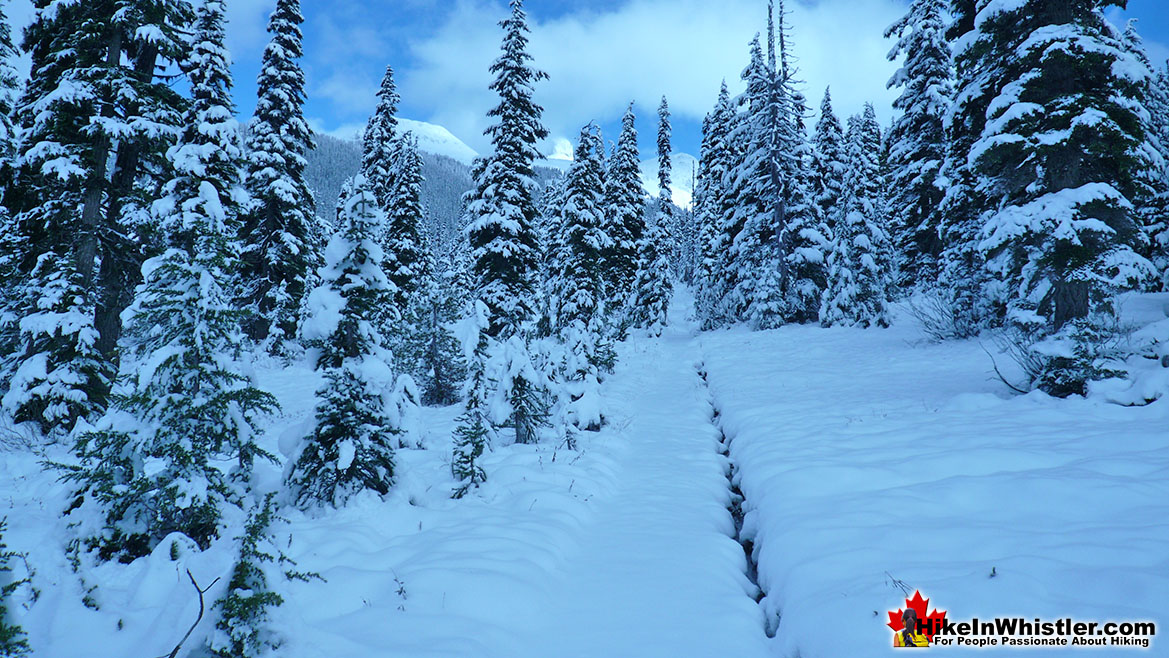 Tough and Rewarding Snowshoeing
If you are not troubled by a lot of exertion then it's a wonderful snowshoe destination.  Like Joffre Lakes it is frequented by skiers just enough to ensure an almost constant track throughout the winter so you can concentrate more on the scenery then keeping from getting lost.  Another nice attribute of this hike is the fact that you can snowshoe through the beautiful Taylor Meadows on the way up then across to Garibaldi Lake on the way back, therefore doing a little snowshoe circle route before heading back to your car at Rubble Creek.  From Village Gate Boulevard, drive south, toward Vancouver. The well marked turnoff to Black Tusk(Garibaldi) trailhead is 25km south of Whistler on your left.  The 2 kilometre access road from the highway to the trailhead usually snow plowed in the winter, though often still icy and hard packed snow.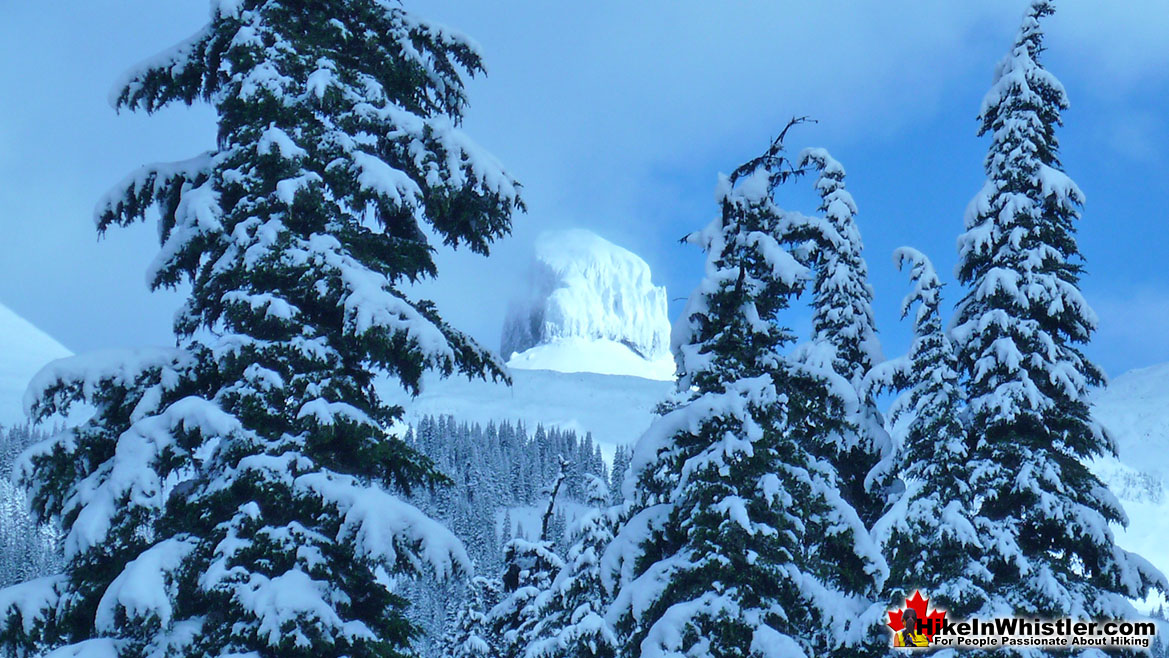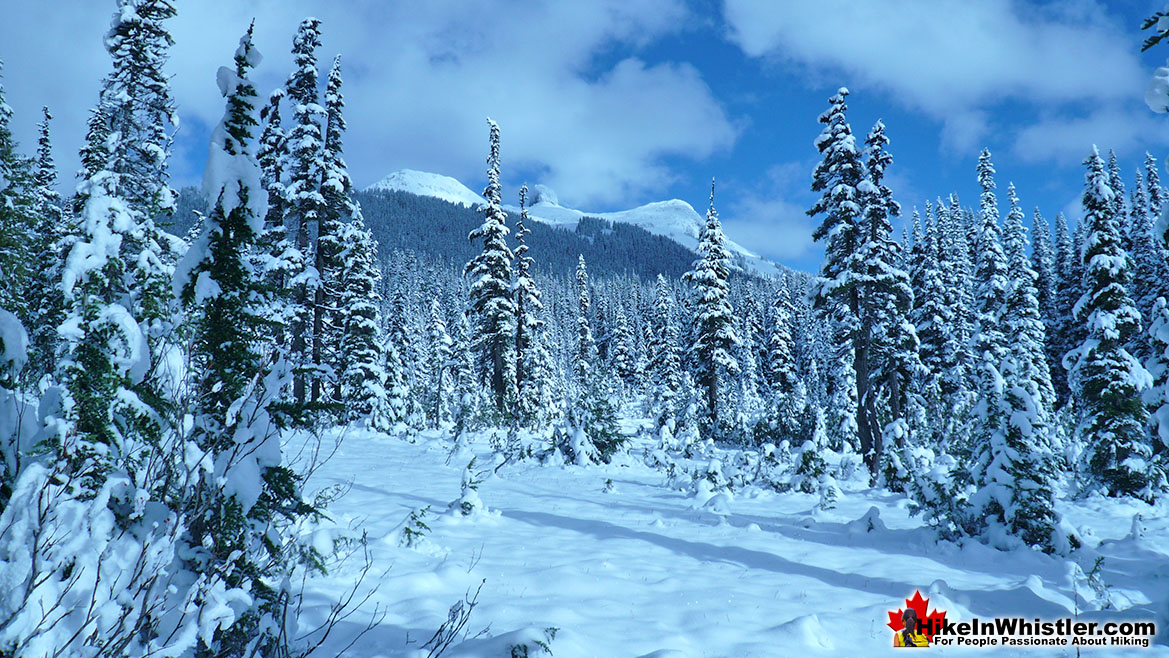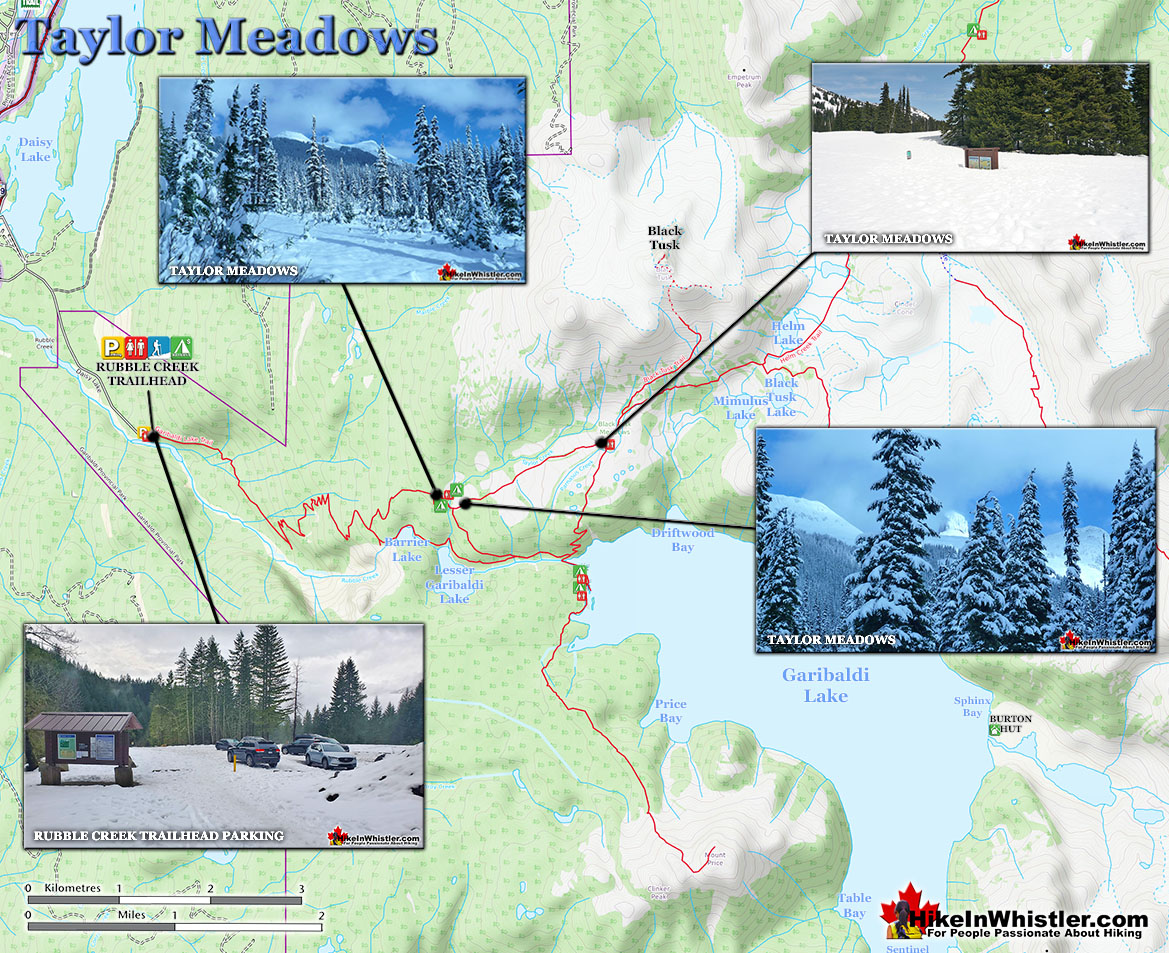 Trailhead Directions to Rubble Creek

Rubble Creek is the main trailhead for Taylor Meadows, Garibaldi Lake, Panorama Ridge and Black Tusk. This road is snow plowed in the winter months and there is plenty of parking at the trailhead.  From Village Gate Blvd, drive south toward Vancouver on the Sea to Sky Highway. The well marked turnoff to Black Tusk(Garibaldi) is 24.7 kilometres south of Village Gate Blvd, on your left.  Follow the signs to Rubble Creek trailhead just 2 kilometres up a paved road. This is the trailhead for Garibaldi Lake, Black Tusk, Panorama Ridge as well as Taylor Meadows.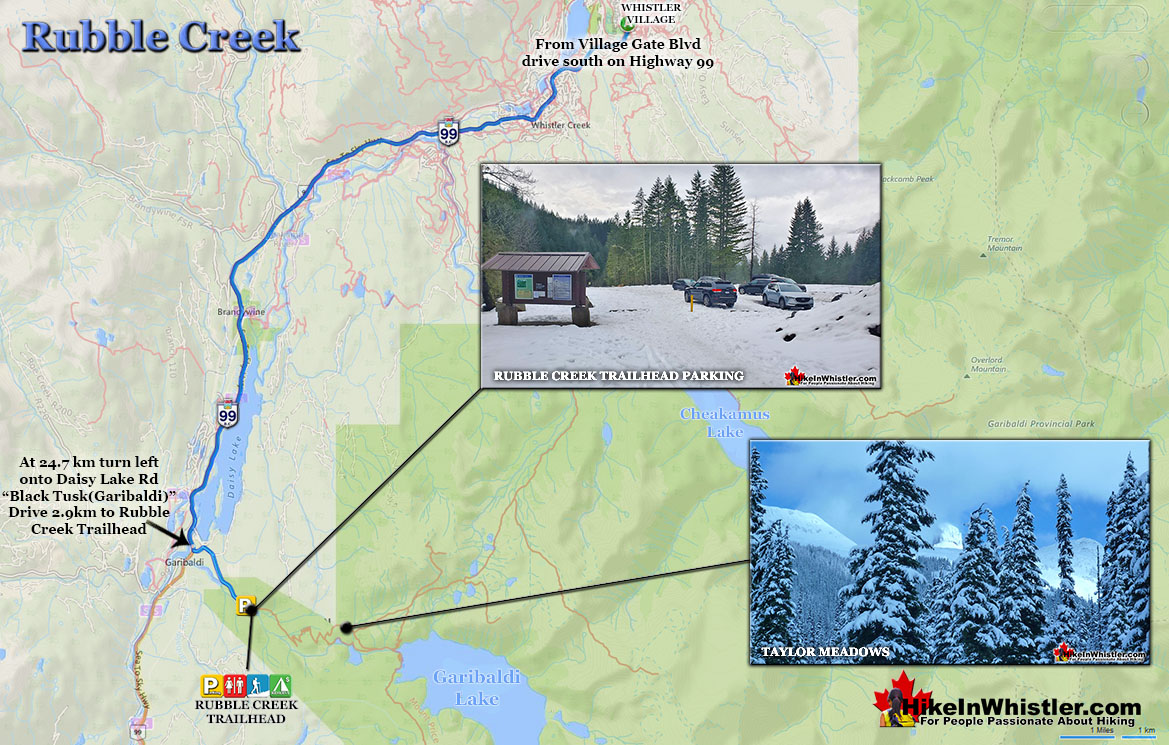 More Whistler Snowshoe Trails

There are plenty of beautiful and free snowshoe trails in Whistler and Garibaldi Provincial Park.  From the surreal paintings of Whistler Train Wreck to the magnificent mountain serenity of Wedgemount Lake in Garibaldi Park.  Trails range from extremely easy, like the short, flat trails to Brandywine Falls and Rainbow Park.  To challenging and long trails to places like Elfin Lakes, Taylor Meadows and Wedgemount Lake.  Whistler even has a growing network of snowshoe trails to Parkhurst Ghost Town on the far side of Green Lake.  There are a couple pay-use snowshoeing areas in Whistler, however most free trails are as good or better.  Whistler Train Wreck is an easy/moderate snowshoe trail that takes you through a deep forest, over Cheakamus River via a very pretty suspension bridge, and to a series of decades old, wrecked train cars.  Elfin Lakes in Garibaldi Provincial Park is another beautiful place to snowshoe.  Located at the south end of Garibaldi Park, the Elfin Lakes trailhead is found in Squamish.  The trail is not overly difficult, however it is quite long.  A consistently uphill, 11 kilometre(13.7 mile) trail through some spectacular scenery takes you to the marvelous Elfin Lakes hut.  For easier snowshoeing, Rainbow Falls is a good option.  Located just a short drive from Whistler Village, the Rainbow Trail is a beautiful trek through the forest in a winter wonderland to a hidden waterfall surrounded by deep pillows of powdery snow.  For more challenging snowshoeing, Joffre Lakes Provincial Park is hard to beat.  A long, though beautiful drive into the mountains, north of Pemberton takes you to this moderately challenging, 11 kilometre(6.8mile) roundtrip snowshoe trail.  The frequently steep, winding trail takes you through a winter paradise and around, or over three frozen lakes.  Back in Whistler, an excellent place to snowshoe is to Parkhurst Ghost Town.  Sitting on the far side of Green Lake, Parkhurst was a thriving logging community several decades ago.  It has since been abandoned except for intermittent squatter communities over the years.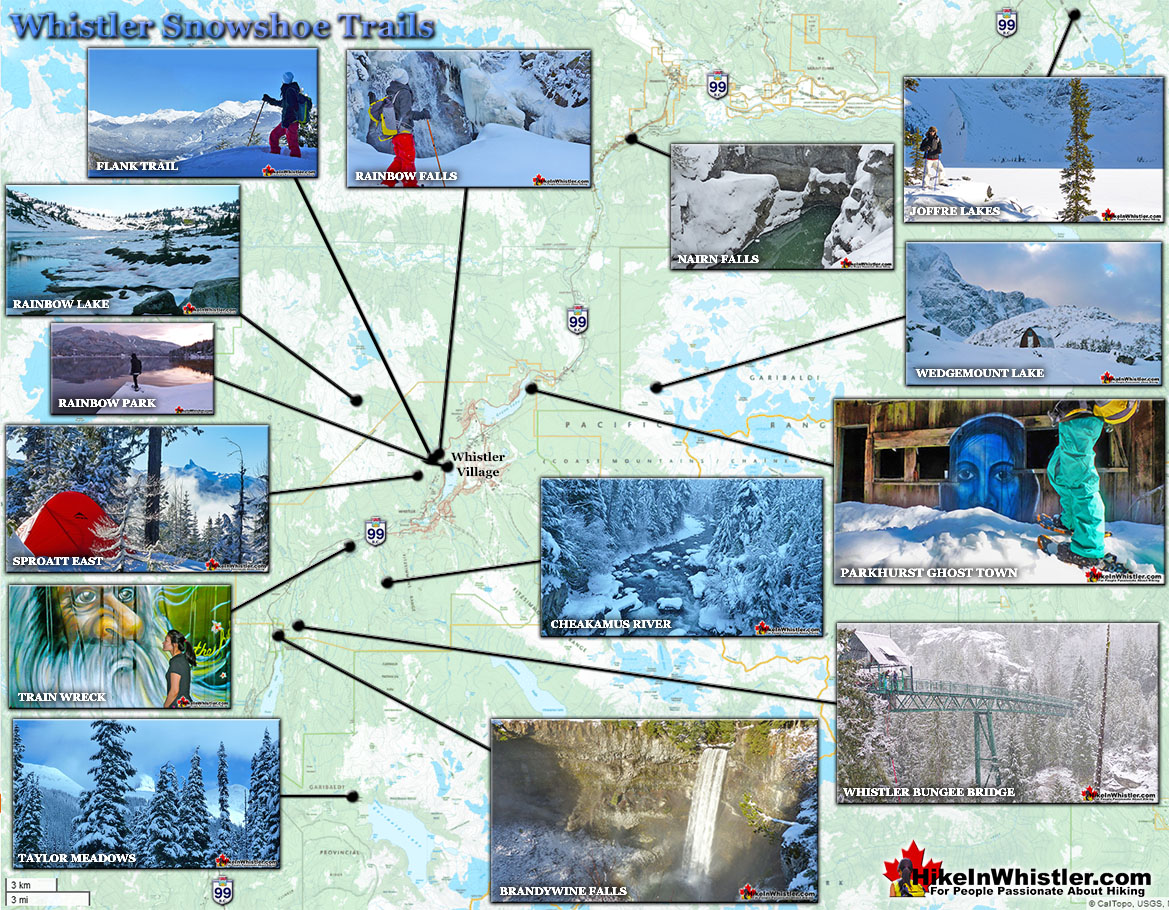 More Whistler & Garibaldi Park Snowshoe Trails!
Where to Hike in Whistler & Garibaldi Park by Month

Amazing Whistler & Garibaldi Park Hiking Trails!