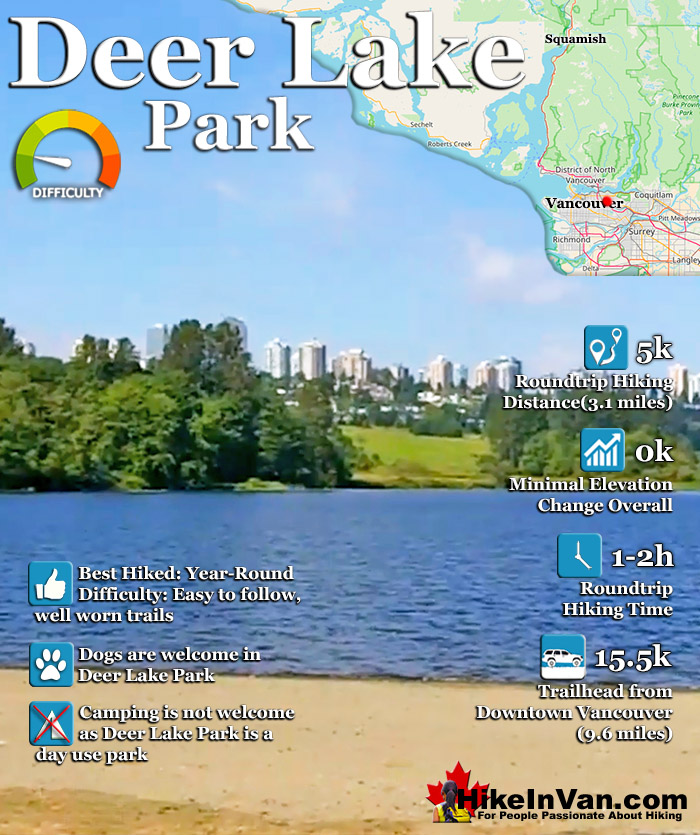 Deer Lake is a relaxing 5 kilometre walk around a cute urban lake just 30 minutes from Vancouver.  The route around the lake is good any time of year and is very popular with dog walkers in and around Burnaby.  Trails in the park lead to a kids playground, washrooms, a boat launch and picnic tables.  In the summer months Deer Lake Boat Rentals offers canoe, kayak and pedal boat rentals.  Gas or electric motors are not allowed.
Beautiful, hidden feeling park

Excellent for trail running

Many trails allow for variety

Relaxing & fun trails

Very family friendly

Accessible year-round

Lots to see & do

Dog friendly

Geese droppings everywhere

Not a good swimming lake
Vancouver Hiking Trails

Black Mountain

Brunswick Mountain

Burnaby Lake

Burnaby Mountain

Coliseum Mountain

Crown Mountain

Cypress Falls

Deeks Peak

Deep Cove

Deer Lake

Dog Mountain

Goat Mountain

Goldie Lake

Grouse

Hollyburn Mountain 

Kitsilano Beaches

Lighthouse Park

Lynn Canyon

Lynn Peak

Mt Elsay

Mt Fromme

Mt Hanover

Mt Harvey

Mt Seymour

Mt Strachan

Mystery Lake

Pacific Spirit

Rice Lake

St Mark's

Stanley Park

The Lions

Unnecessary
Deer Lake is also home to the Burnaby Art Gallery, Shadbolt Centre for the Arts, Burnaby Village Museum and Century Gardens.  The Burnaby Art Gallery manages the City of Burnaby's permanent art collection while the Shadbolt Centre for the Arts is a multi-purpose community arts facility providing public exhibitions, performances, festivals and art classes. The Burnaby Village Museum depicts life in the area from the 1920's.  They have reconstructed 31 full scale buildings over 10 acres, with staff in costumes of the day. Deer Lake Park is a mecca for outdoor activities and cultural life in Burnaby.  Whether you want to visit and art gallery or see and outdoor concert, Deer Lake Park is the place you will find it.  Your kids will love the park for the beach, the playground, the water activities and the Burnaby Village Museum. So much to see and always something happening, make Deer Lake Park fun for everyone.  In the summer months the park comes alive with outdoor concerts and lake activities and in the off season it is a relaxing park to go for a quiet walk around the scenic trails.  All of this just a short drive from downtown Vancouver!
Discover Deer Lake Park at HikeInVan.com

Best Whistler & Garibaldi Park Hiking Trails!
Whistler & Garibaldi Park Hiking by Month!

Explore BC Hiking Destinations!