The alpine hiking trails on Whistler Mountain are the ultimate in luxurious hiking. Little hiking effort gets you amazing views of turquoise lakes, snowy mountain, valleys of flowers, waterfalls and spectacular glaciers. In the summer months, Whistler Mountain is somewhat divided in two.  The lower half of the mountain is for biking and the upper half is for hiking, sightseeing, trail running, eating and drinking.
Endless beautiful trails accessible by gondola
Great way to access Garibaldi Provincial Park
Best vantage point over Cheakamus Lake
Effortless sightseeing as you ride to the trails
Great eating & drinking at the Roundhouse Lodge
Wide range of easy to difficult hiking trails
The Peak Chair is incredible
Trails extend to Russet Lake in Garibaldi Park
Peak to Peak Gondola crosses to Blackcomb
Most other trails in Whistler are free
There are a few directions you can start hiking from the Roundhouse Lodge, however, taking the Peak Express(quad chairlift) up to the summit of Whistler Mountain is an amazing place to start. The Peak Express is an exhilarating ride that takes you to the start of Whistler Mountain's best hiking trails. The Half Note Trail, High Note Trail and Mathew's Traverse start here. The High Note Trail in turn leads to the Musical Bumps Trail to Russet Lake and Singing Pass in Garibaldi Provincial Park.  The summit of Whistler Mountain is also a destination of its own. Spectacular views all around from this rocky, alpine summit visible from almost everywhere in Whistler.  Black Tusk comes into view as you exit the Peak Express.  This amazingly distinct pinnacle of jet-black rock is a local icon and remnant of a not too distant history of volcanism in the area.  As you admire its absurdly vertical form, remind yourself that there is almost certainly a few hikers looking back at you from its summit.  Looking right as you get off the Peak Express you will see an enormous inukshuk.  A remnant of the 2010 Olympic Games and now a fixture in thousands of photos.
Whistler Mountain Hiking Trail Map
This beautiful stacking of huge rocks is a take-away from the Inuit tradition of marking routes in an otherwise stark landscape with a human form.  The inuksuk is part of the Whistler Summit Interpretive Walk.  This 1.6 kilometre(1 mile), trail takes you along an excellent route around the summit of Whistler to one amazing viewpoint after another.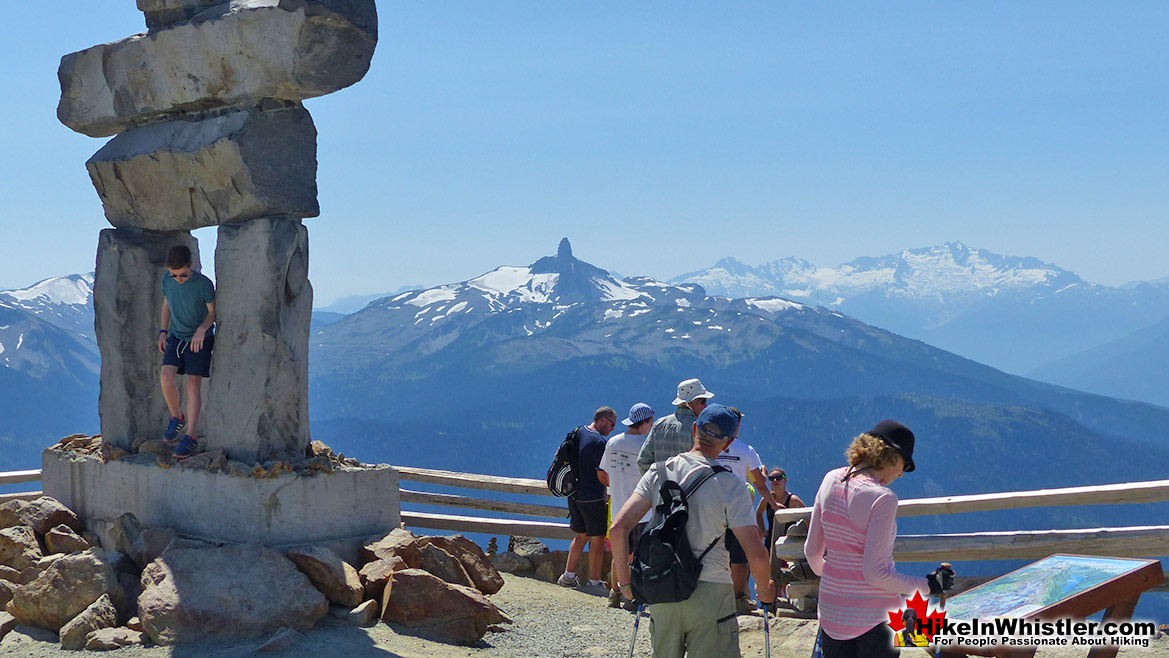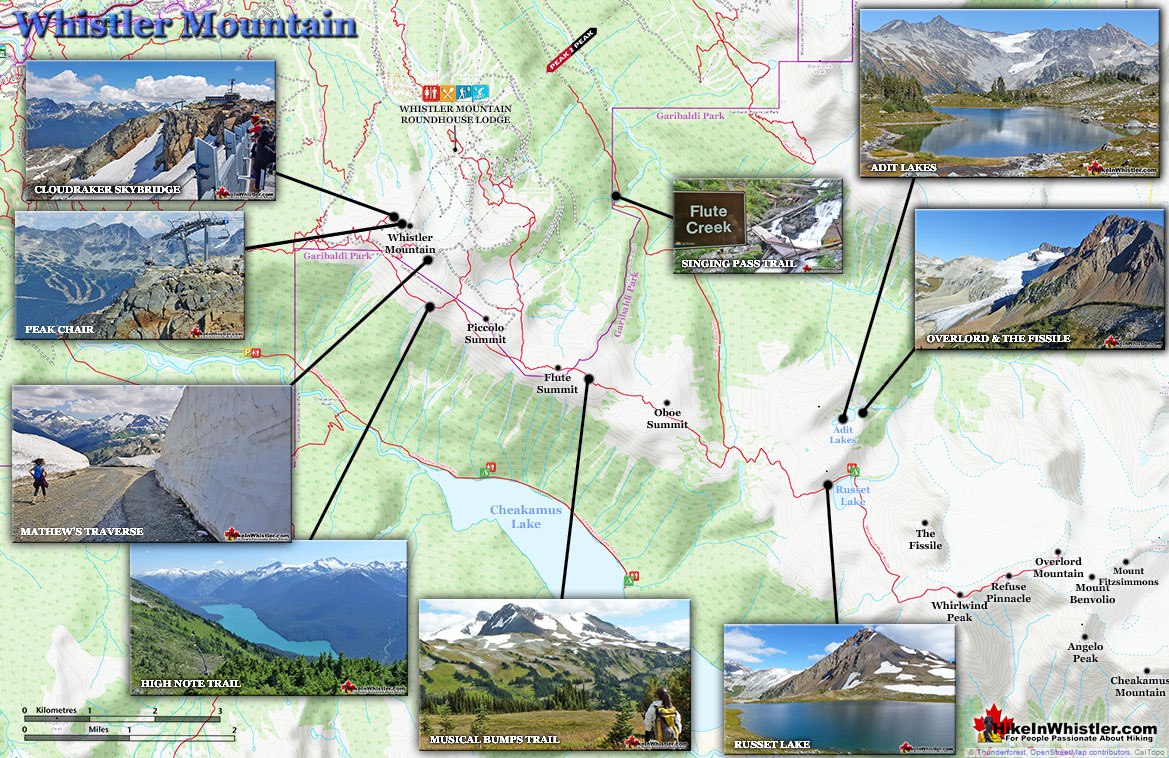 High Note Trail - Whistler Mountain Maps
Branching off of the Whistler Summit Interpretive Walk you will see the High Note Trail extend toward the rocky cliffs.  The High Note Trail is a beautiful trail that skirts the edge of Whistler Mountain for several kilometres before bending back around Whistler to the Roundhouse Lodge.  A total of 9.4 kilometres(6 miles), the High Note Trail is a must-see trail on Whistler.  For much of the trail you have Cheakamus Lake down the valley on your right.  This huge lake fills the valley below with an extraordinarily vivid turquoise colour.  This amazing colour caused by glacial meltwater filling the lake with suspended particles of rock which in turn reflect the light in a strikingly beautiful way.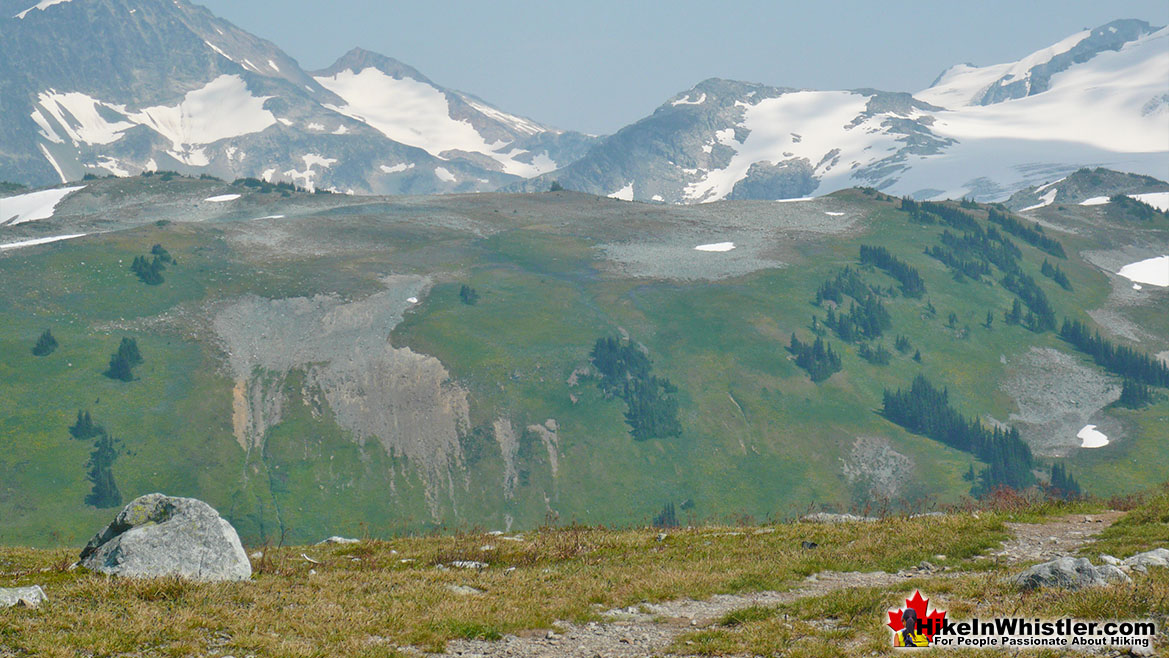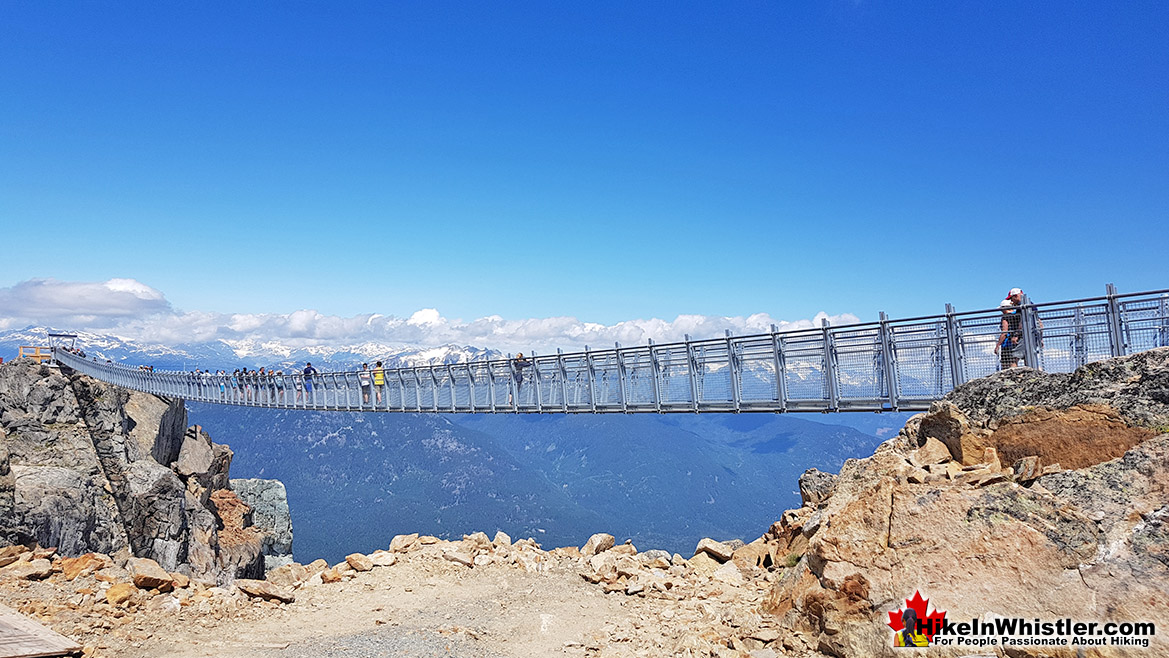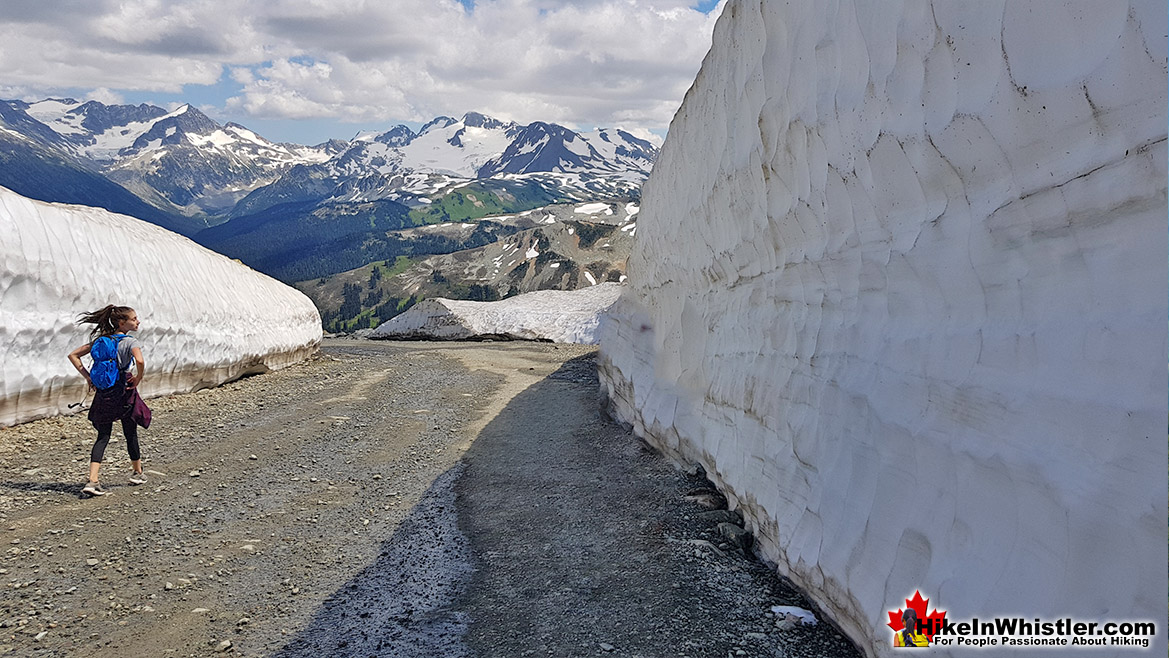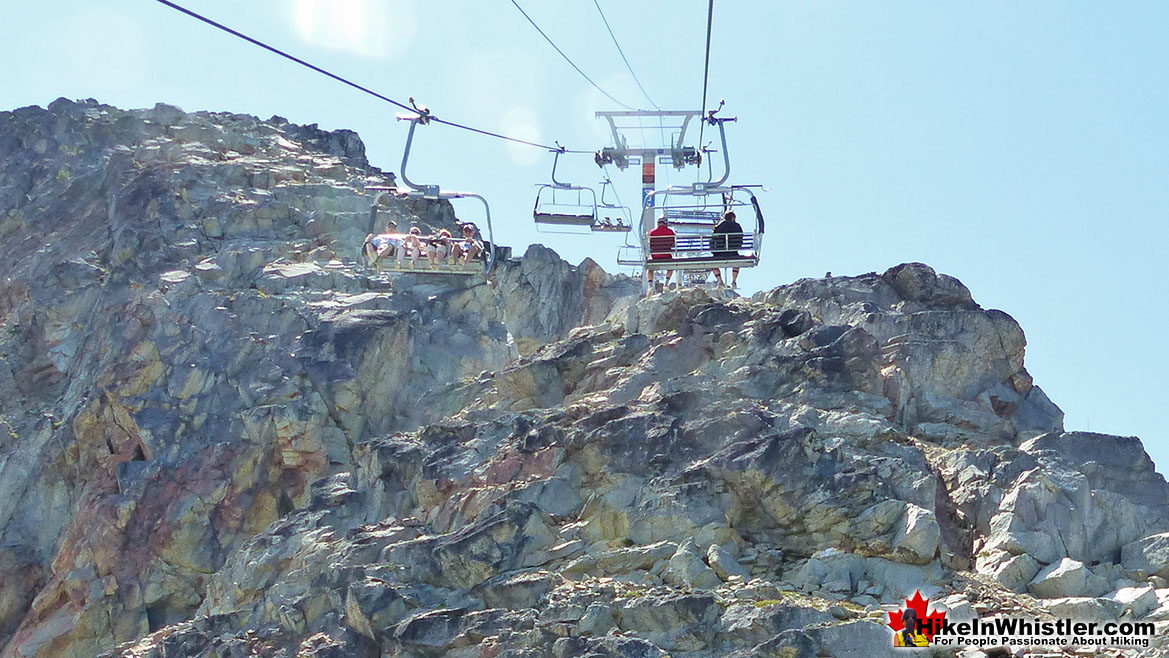 The High Note Trail takes about 3 hours for most to hike and returns you to the Roundhouse Lodge where you began before walking down to the Peak Express and riding it up to the trailhead at the summit of Whistler. If you prefer a shorter route you can veer off from the High Note Trail, part way and take the Half Note Trail back. The Half Note Trail takes a couple kilometres off of the High Note Trail, though doesn't cut it in half as the name suggests. The Half Note Trail connects you to Pika's Traverse, which is an access road that runs from Whistler's summit down to Roundhouse Lodge. Though it is a dusty road, it still has beautiful views for most of the way.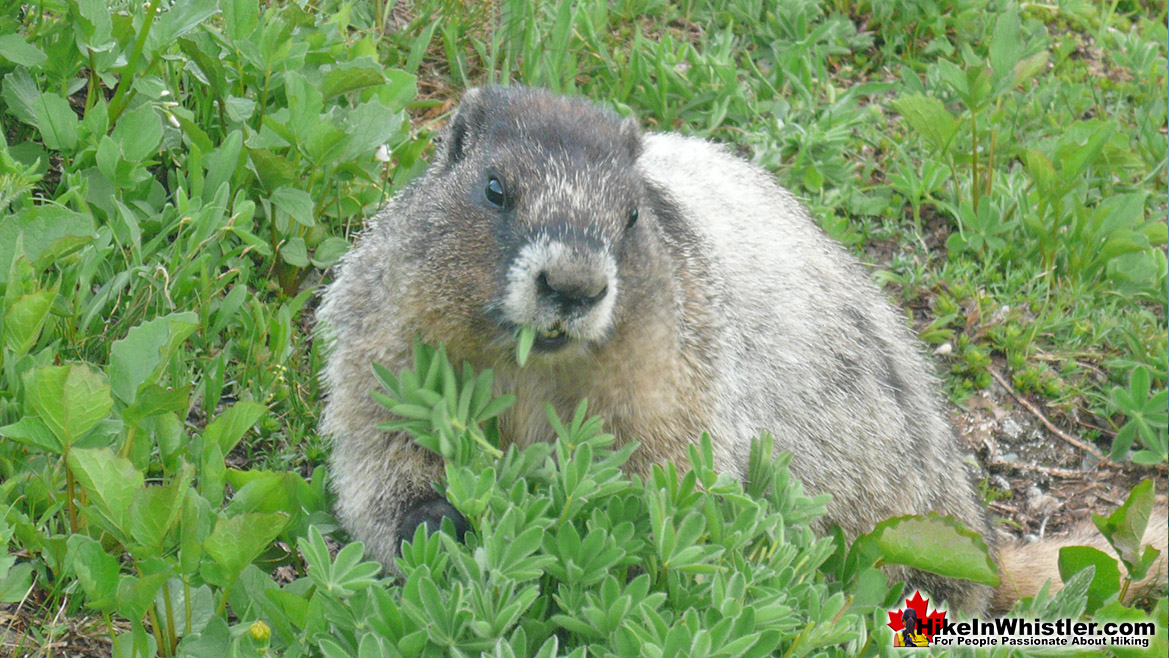 Whistler Mountain Hiking Trails Map

Most start hiking the Whistler Mountain hiking trails at the Roundhouse at the terminus of the Whistler Gondola. You can also access Whistler Mountain for free by hiking the long Singing Pass trail and then across the Musical Bumps Trail to the peak of Whistler Mountain. The Singing Pass trail is long and boring as it runs a fairly direct line in between Whistler Mountain and Blackcomb Mountain, and always in deep forest. Years ago this 11.5 kilometre trail was much more enjoyable owing to the access road and parking area 4 kilometres up the trail. A slide took a chuck of the road out and years later you will still only find a ravine that you have to negotiate before continuing up to the original trailhead. Accessing Whistler Mountain with a day or season's pass is the best option for most. You ride in style up to the Roundhouse. From the lodge you can start hiking in a few directions or take the short walk down to the Peak Chair and ride up to the summit of Whistler Mountain. A pretty amazing way to start your hike.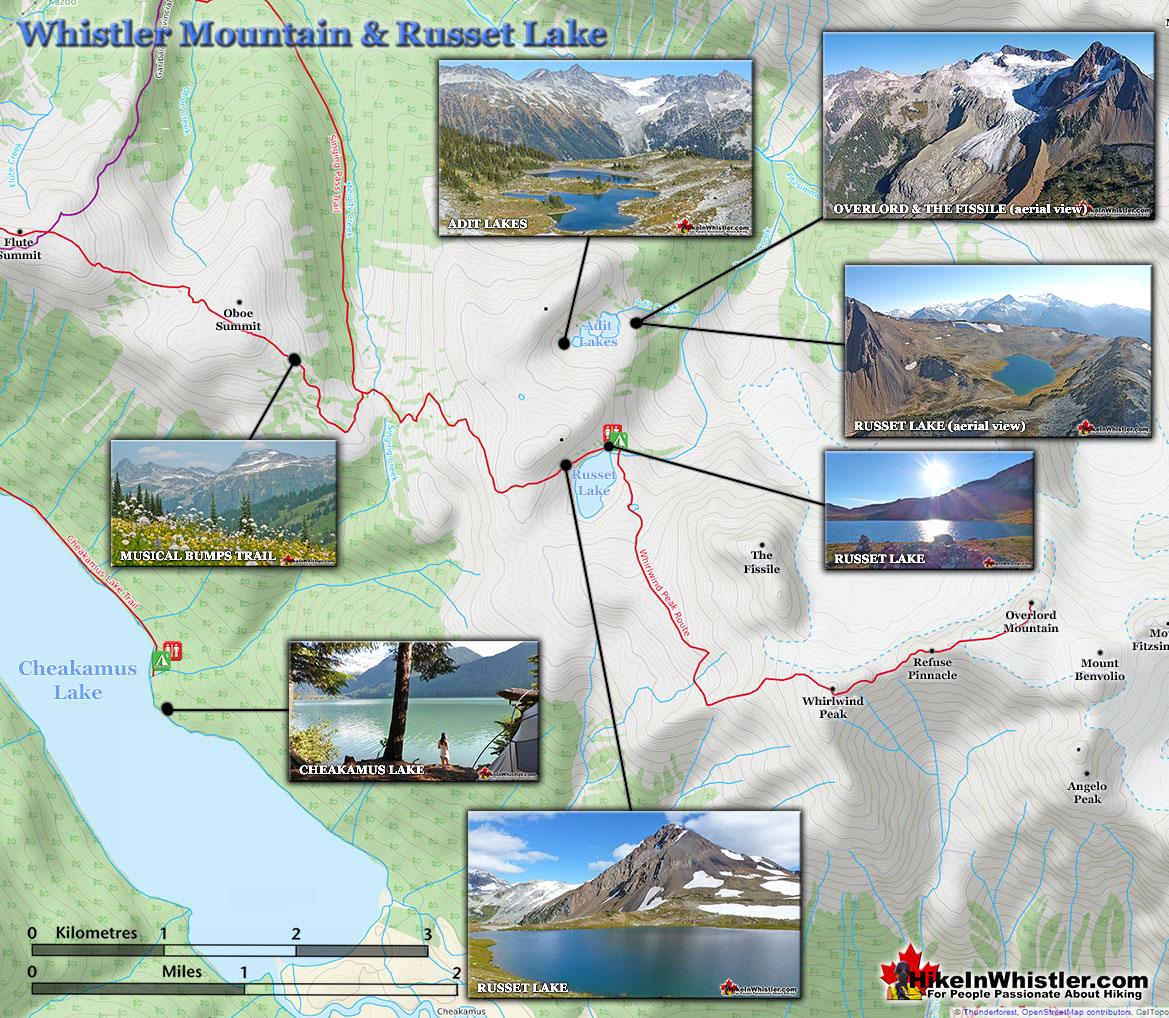 Hiking Trails Near Roundhouse Lodge

The Spearhead Loop trail is a short, very easy, 1.2 kilometre or .7 mile loop trail that begins just past the Peak2Peak Gondola building.  It descends down a gravel path to a snowmaking reservoir before looping back to where it started.  The last section from the reservoir to the Peak2Peak Gondola building there are three trail junctions.  The Harmony Lake Loop trail bends around the back of the reservoir and through a lovely alpine forest to Harmony Lake.  Another trail junction at Harmony Lake goes left to another loop trail section of the Harmony Lake Loop trail or continues past the lake to yet another trail junction to the High Note trail and the Musical Bumps trail.  Or you can take the trail to the right and follow the short, but challenging trail section of the Harmony Meadows trail back to the Spearhead Loop trail.  The third Spearhead Loop trail junction, just before reaching the Peak2Peak Gondola building, is the wide gravel road hiking route, Pika's Traverse.  This long and continuously steep ascent takes you to the summit of Whistler Mountain along a very beautiful and constantly scenic route.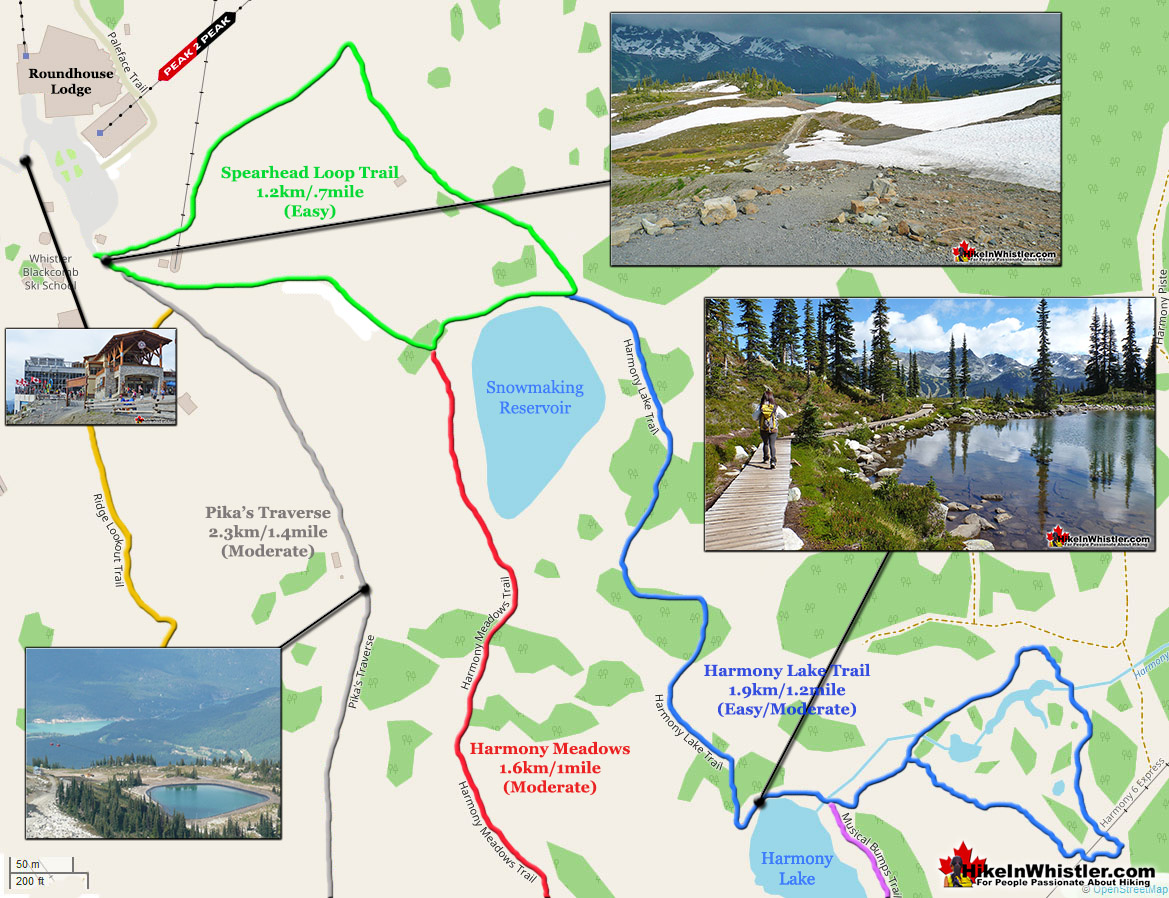 More Whistler Mountain Hiking Info...
Garibaldi Park Wildlife & History


Plants of the Whistler Region is an excellent book that includes great pictures and descriptions of most trees you will find in Whistler. Small enough to fit in your pocket and comprehensive enough to identify most things you will encounter growing in the forests of Whistler. Along with conifer trees and broadleaf trees the book has chapters on flowers, berries, ferns and shrubs. You can find Plants of the Whistler Region on Amazon, the Whistler Library and at Armchair Books in Whistler Village. The author Collin Varner has a wonderful series of Plants of.. books on various regions beyond Whistler. Plants of Vancouver and the Lower Mainland, Plants of the Gulf and San Juan Islands and Southern Vancouver Island, and Plants of the West Coast Trail. In the last couple years he has started a new series of books. The Flora and Fauna of Coastal British Columbia and the Pacific Northwest and Edible and Medicinal Flora of the West Coast: British Columbia and the Pacific Northwest.  A Passion for Mountains by Kathryn Bridge is a fascinating look at Don and Phyllis Munday's prolific exploration of the mountains in BC.  Based out of Vancouver, they were dominant figures of the climbing community in the early 1900's.  In 1923 they visited their friend Neal Carter in Alta Lake(Whistler) and explored the mountains around the valley.. many for the first time!
**We participate in the Amazon Services LLC Associates Program and earn a small commission on purchases we link through to Amazon at no extra cost to you.  We only link to books and products we love and highly recommend.  Thanks for your support!**
Whistler & Garibaldi Hiking

Alexander Falls  

Ancient Cedars  

Black Tusk  

Blackcomb Mountain  

Brandywine Falls  

Brandywine Meadows  

Brew Lake  

Callaghan Lake  

Cheakamus Lake  

Cheakamus River  

Cirque Lake 

Flank Trail 

Garibaldi Lake 

Garibaldi Park 

Helm Creek  

Jane Lakes 

Joffre Lakes  

Keyhole Hot Springs  

Logger's Lake  

Madeley Lake  

Meager Hot Springs 

Nairn Falls  

Newt Lake 

Panorama Ridge 

Parkhurst Ghost Town 

Rainbow Falls  

Rainbow Lake 

Ring Lake  

Russet Lake  

Sea to Sky Trail 

Skookumchuck Hot Springs  

Sloquet Hot Springs 

Sproatt East 

Sproatt West  

Taylor Meadows  

Train Wreck  

Wedgemount Lake  

Whistler Mountain

January 

February 

March 

April 

May 

June 

July 

August 

September 

October 

November 

December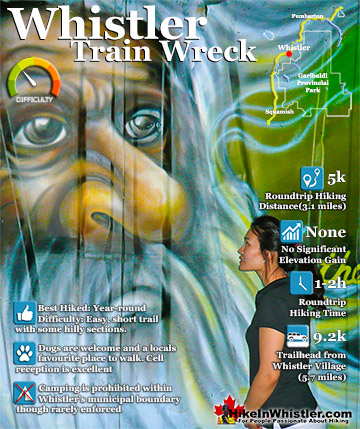 The trail to Whistler Train Wreck is an easy, yet varied route through deep forest, across a great suspension bridge over
Cheakamus River
, to a stunning array of wrecked train cars. The trail from your car to ...
Read more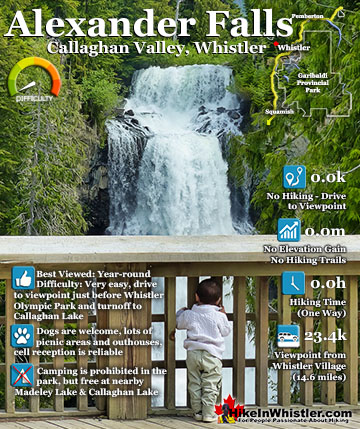 Alexander Falls is a very impressive 43 metre/141 foot waterfall just 30 to 40 minutes south of Whistler in the
Callaghan Valley
. Open year-round and located just before Whistler Olympic Park where several ...
Read more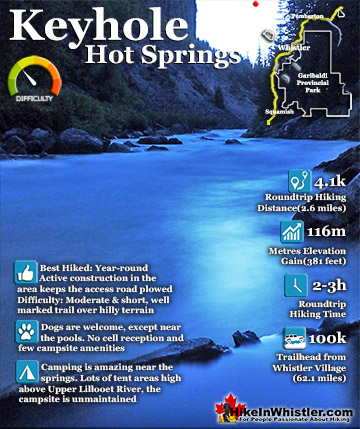 Keyhole Hot Springs (aka Pebble Creek Hot Springs) is located 100 kilometres from Whistler (Village Gate Blvd). Closed from Apr 1- Nov 15 every year by BC Ministry of Forests due to potential bear conflicts.  Though much of ...
Read more