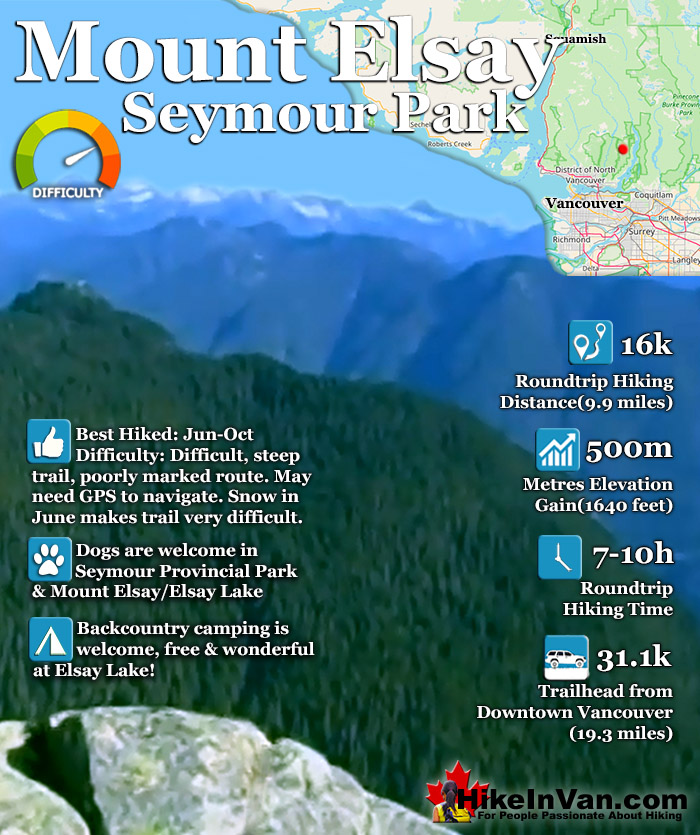 Mount Elsay is a tough 16 kilometre roundtrip hike that takes you beyond Mount Seymour and the crowds into the desolate backcountry of Mount Seymour Provincial Park. To get to the marked Mount Elsay trail you have to follow the trail to Mount Seymour. Mount Elsay is a difficult and dangerous trail to hike if you are unprepared or poorly equipped. The trail is often very difficult and losing the trail is very possible even in good weather.
Tremendous scenery & views

Quieter than other Van hikes

Start at beautiful Seymour Park!

Views start from the parking lot

Wonderfully challenging adventure

Hike into deep wilderness

Few water sources on the trail

Elsay Lake is amazing to camp near

Only suitable for experienced hikers


Some find it not worth the exertion
Vancouver Hiking Trails

Black Mountain

Brunswick Mountain

Burnaby Lake

Burnaby Mountain

Coliseum Mountain

Crown Mountain

Cypress Falls

Deeks Peak

Deep Cove

Deer Lake

Dog Mountain

Goat Mountain

Goldie Lake

Grouse

Hollyburn Mountain 

Kitsilano Beaches

Lighthouse Park

Lynn Canyon

Lynn Peak

Mt Elsay

Mt Fromme

Mt Hanover

Mt Harvey

Mt Seymour

Mt Strachan

Mystery Lake

Pacific Spirit

Rice Lake

St Mark's

Stanley Park

The Lions

Unnecessary
The trailhead for Mount Seymour (which leads to the Mount Elsay trail) is easy to find once you have reached the main parking lot to Mount Seymour Resort.  To get to the main parking lot simply drive until you come to the end of the road and the end of the final parking lot (you will see ski lifts). Looking towards the end of this long parking lot you will see a large, round wooden map board.  Walk along the trees (directly up on the map below).  From here on there are frequent tree markers and signs directing you to Mount Seymour.  Follow this route until you get to the col between Second Peak and Third Peak where the Mount Elsay trail starts. The Mount Elsay trail that branches off of the Mount Seymour trail is, at times hard to follow as it descends west of Mount Seymour into the depression between Second Peak and Third Peak.  There is a sign "Danger - Steep Terrain".  At this sign look left to find flagging tape marking the trail to take to Mount Elsay.  This trail will lead along the edge of Mount Seymour and a metal, "Mt Elsay Trail" sign. The trail then gradually ascends toward the summit of Elsay.  At the ridge between the two mountains, Seymour and Elsay the trail forks.  Following the rock cairns to the right into the rock field will lead to the Elsay Lake trail which allows for a different route on your way back.  To reach Mount Elsay, instead head steeply up, bearing left toward the summit.

Best Whistler & Garibaldi Park Hiking Trails!
Whistler & Garibaldi Park Hiking by Month!

Explore BC Hiking Destinations!