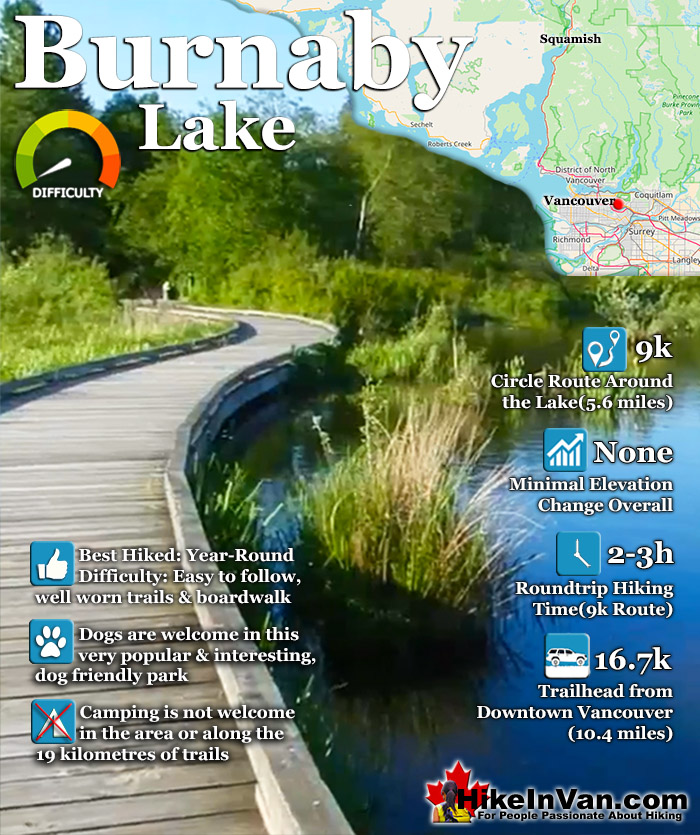 Burnaby Lake Regional Park has a series of trails that add up to 9 kilometres if done in a circular route around the lake. There are in fact 19 kilometres of trails in the park. The various trails include the 2.6 kilometres Cottonwood Trail, the 1.8 kilometres. Brunette Headwaters Trail, the 0.8 kilometres Avalon Trail which connects the Burnaby Equestrian Centre with the Southshore Trail.
Hidden oasis in the city

Bird watchers will love it

Wonderful escape from the world

Unexpectedly large park

Very nice, wide trails

Very dog friendly
Easy family friendly trails

Huge park often gets busy

Not bike friendly

Lots to see, but not stunning

Vancouver Hiking Trails

Black Mountain

Brunswick Mountain

Burnaby Lake

Burnaby Mountain

Coliseum Mountain

Crown Mountain

Cypress Falls

Deeks Peak

Deep Cove

Deer Lake

Dog Mountain

Goat Mountain

Goldie Lake

Grouse

Hollyburn Mountain 

Kitsilano Beaches

Lighthouse Park

Lynn Canyon

Lynn Peak

Mt Elsay

Mt Fromme

Mt Hanover

Mt Harvey

Mt Seymour

Mt Strachan

Mystery Lake

Pacific Spirit

Rice Lake

St Mark's

Stanley Park

The Lions

Unnecessary
Squamish Hiking Trails

Alice Lake 

Black Tusk 

Brandywine Falls 

Brew Lake 

Cirque Lake 

Elfin Lakes 

Garibaldi Lake 

High Falls 

Levette Lake 

Panorama Ridge 

Ring Lake 

Sea2Sky 

Shannon Falls 

The Chief 

Taylor Meadows 

The Lions 

Upper Shannon
The 3.4 kilometre Southshore Trail, and the smaller trails, Conifer Loop, Spruce Trail Loop and the Pavillion Trail. Burnaby Lake is often alive with activity. Whether on the water or around it.
Over 400 types of creatures live in the area. Bald eagles, ospreys, herons, beavers and ducks are all frequently seen. Hiking and birdwatching are the main draws to the park, however, canoeing, rowing and kayaking are also done here. The Burnaby Canoe and Kayak Club and the Burnaby Lake Rowing Club practice here quite often.

Best Whistler & Garibaldi Park Hiking Trails!
Whistler & Garibaldi Park Hiking by Month!

Explore BC Hiking Destinations!