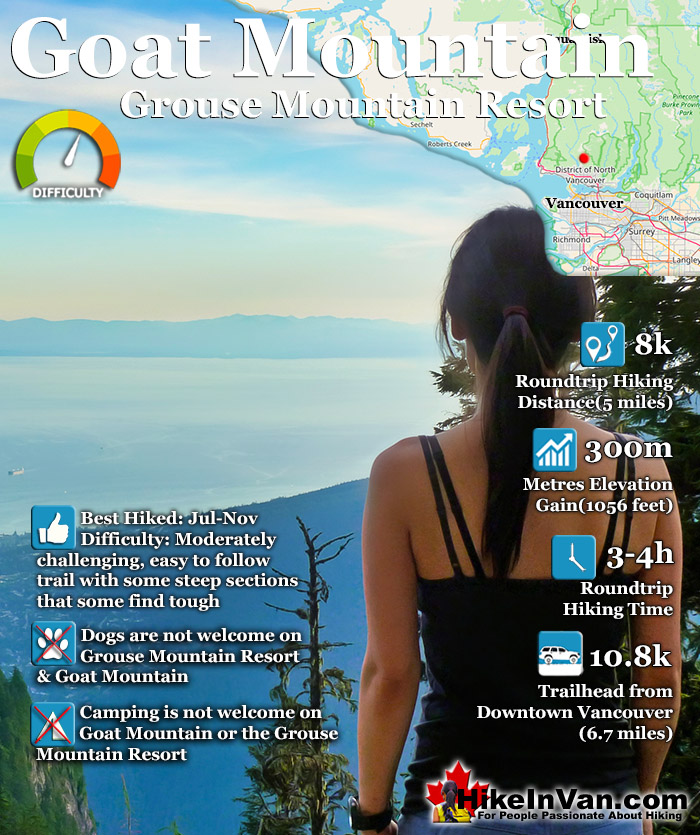 Goat Mountain is a beautiful mountain to hike from Grouse Mountain.  It is challenging at times but fairly relaxing overall. It is just 4k from the Grouse Mountain Chalet and should only take 3-4 hours roundtrip from the top of the SkyRide. If you hike/run the Grouse Grind as well then add 2.9 kilometres to the journey there and 3.5 kilometres to the return(via the BCMC trail adjacent to the Grouse Grind) to get back to your car. 
Lots to see at Grouse Mountain

Nice views from Goat Mountain

Fun trail with chain pulls

Fairly easy trail & kid friendly

Grizzly bears at Grouse!

Eateries on Grouse are very good

Skyride, grizzlies & Goat=fun day!

Skyride(gondola) is expensive

Often a long wait for the Skyride

No lake to jump into at the end!

Vancouver Hiking Trails

Black Mountain

Brunswick Mountain

Burnaby Lake

Burnaby Mountain

Coliseum Mountain

Crown Mountain

Cypress Falls

Deeks Peak

Deep Cove

Deer Lake

Dog Mountain

Goat Mountain

Goldie Lake

Grouse

Hollyburn Mountain

Kitsilano Beaches

Lighthouse Park

Lynn Canyon

Lynn Peak

Mt Elsay

Mt Fromme

Mt Hanover

Mt Harvey

Mt Seymour

Mt Strachan

Mystery Lake

Pacific Spirit

Rice Lake

St Mark's

Stanley Park

The Lions

Unnecessary
From the Grouse Chalet on Grouse Mountain follow the path under the Peak Chair until you reach the trailhead and hiker check-in station.  From here you follow the marked trail to Goat Mountain. You can either hike via Dam Mountain, or take the easier Alpine Trail.  Both are roughly the same distance, but the Alpine Trail is a bit easier. The trail then leads to Little Goat Mountain and a fork in the trail.  Straight goes to the huge Crown Mountain ahead, and right goes to Goat Mountain just .7k away. With the exception of the last, short climb to the summit of Goat Mountain, which is fairly steep, the trail is only moderately challenging.  For a more challenging hike, try the nearby Crown Mountain.  There are few creeks along the Goat Mountain hike so be sure to bring lots of water. Lynn Headwaters Regional Park begins several kilometres away at the Lynn Valley trailhead and beautiful trails follow Lynn Creek for 7k to Norvan Falls.  The trail then turns into Hanes Valley, connecting to Crown Mountain, Goat Mountain, Dam Mountain and finally leading to Grouse Mountain. The trail from the Lynn Headwaters trailhead to Grouse is about 20k as it carves a giant arc through the valley. Another amazing feature of this area is that both ends are connected by the Baden-Powell Trail.  Just 8.6k separates the Lynn Headwaters Park trailhead parking and the base of the Grouse Grind.  This forms a tremendous circle route that many have come to adore.

Best Whistler & Garibaldi Park Hiking Trails!
Whistler & Garibaldi Park Hiking by Month!

Explore BC Hiking Destinations!