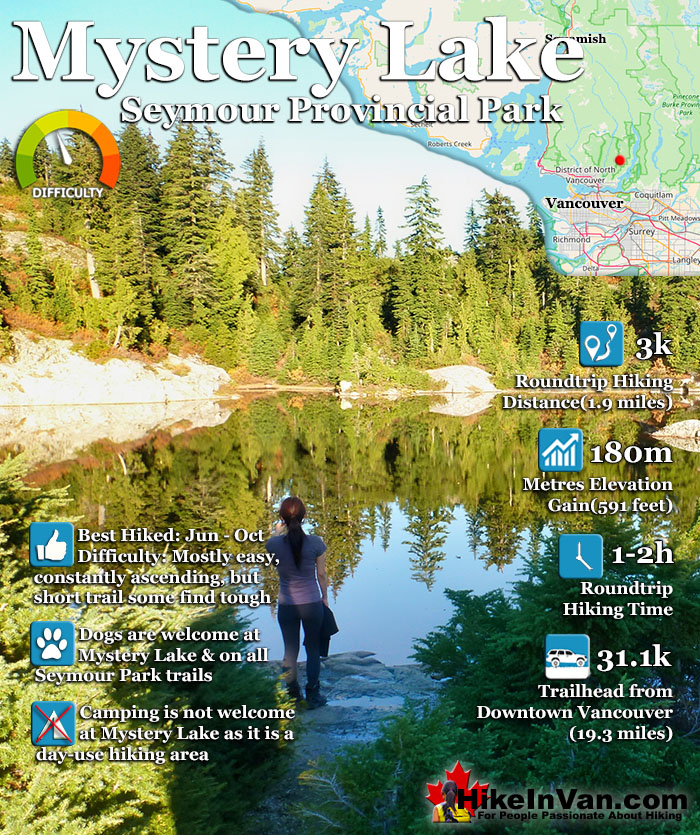 Mystery Lake is an easy, well marked trail that leads to a cute mountain lake that is perfect for relaxing, swimming or having a picnic.  It is just 1.5k to the lake and like the rest of Seymour Park, dogs are welcome.  The trailhead is easy to find once you have reached the main parking lot to Mount Seymour Resort.  Just look for the signs for Mystery Lake on the frequent trail signs.
Easy, family friendly trail

Stunning lake on a nice day

Amazing place for a picnic

Lots of other trails & dog friendly

Feels like a hidden oasis

Gorgeous drive to the trailhead

Trail continues down to Goldie Lake

Some find the short hike very steep

Lots of flies in early summer


Often the trail is very busy
Vancouver Hiking Trails

Black Mountain

Brunswick Mountain

Burnaby Lake

Burnaby Mountain

Coliseum Mountain

Crown Mountain

Cypress Falls

Deeks Peak

Deep Cove

Deer Lake

Dog Mountain

Goat Mountain

Goldie Lake

Grouse

Hollyburn Mountain

Kitsilano Beaches

Lighthouse Park

Lynn Canyon

Lynn Peak

Mt Elsay

Mt Fromme

Mt Hanover

Mt Harvey

Mt Seymour

Mt Strachan

Mystery Lake

Pacific Spirit

Rice Lake

St Mark's

Stanley Park

The Lions

Unnecessary
The trail starts off by ascending up the ski slopes of Seymour for a few hundred metres.  This section is fairly steep, though not terribly difficult.  This trail takes you under the Mystery Chairlift and into the trees, away from the ski runs.  The trail then winds through the forest and out to another ski run where you get your first great view of Vancouver far below.  If you arrive to Mystery Lake on a nice day with no wind or rain you will be amazed at the reflection off the lake.  It is wonderfully sheltered by cliffs and trees, making the water mirror-like on most days.
If you brought kids with you, they will be in paradise.  Shallow, ever changing shoreline with crystal clear water and tadpoles lurking in the water just out of reach.  There is a fantastic, rocky island that you have to hop from rock to rock to get to.  This little island always seems to escape the shade that falls on most other parts of the lake.  If you brought a picnic or are looking to just relax, this is the spot to aim for first.
You will notice two trails branch off from near this island.  One continues further up to another fork in the trail.  Left goes to Mystery Peak and right takes you to Goldie Lake via a somewhat challenging trail that seems to get little use.  The other trail that branches off from near the little island takes you back to the Mystery Lake trail via another ski run.  This also connects to the Mount Seymour trail that you can either take to Mount Seymour or back to your car at the trailhead.   Mystery Lake is about as idyllic as possible for a small mountain lake.
Sheltered from the wind the water is always mirror-like, reflecting the forest perfectly.  The lake is surrounded by rock outcrops, cliffs and trails ensuring that you can find a quiet corner to relax.  The trail, though steep, is just a short 1.5 kilometres from the parking lot at Seymour.  The challenging trail that runs past Mystery Lake then descends to Goldie Lake then back to the Seymour parking lot is well worth doing though the trail is hard to follow when the daylight fades in the evening.
To get to the main parking lot simply drive until you come to the end of the road and the end of the final parking lot (you will see ski lifts).  Looking towards the end of this long parking lot you will see a large, round wooden map board. From here on there are frequent tree markers and signs directing you.
From Highway #1 (Trans-Canada Highway) take Exit #22 Mount Seymour Parkway. Turn right onto Mount Seymour Parkway almost immediately and follow it 4.4 km before turning left onto Mount Seymour Road.  Follow Mount Seymour Road as it winds it's way up the mountain. Drive to the end of the large parking lot at the end of the road. Start at the Mount Seymour Trail kiosk, to the left of the Mystery Peak chairlift.  Parking is free and there are no trail fees in Mount Seymour Provincial Park.

Best Whistler & Garibaldi Park Hiking Trails!
Whistler & Garibaldi Park Hiking by Month!

Explore BC Hiking Destinations!