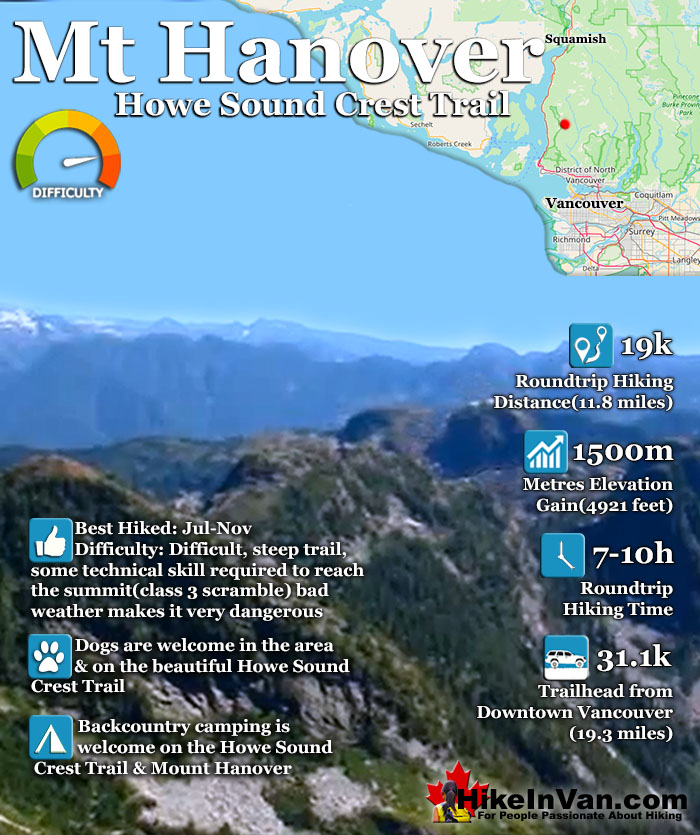 Mount Hanover is another amazing and accessible peak in the North Shore mountains. Located in the beautiful Cypress Provincial Park, Mount Hanover is among several other prominent summits on the amazing Howe Sound Crest Trail. You can reach Mount Hanover from the Howe Sound Crest Trail if you begin your hike from the Cypress Mountain Resort, however reaching it from the trailhead in Lions Bay is much shorter.
Off the Howe Sound Crest Trail

Very challenging & rewarding hike

Stunning views from the summit

Likely have the mountain to yourself

Brunswick Lake is fairly close

Camping is free & amazing

The HSCT is dog friendly

Too challenging for most hikers

Parking is hopelessly inadequate


Poor weather makes it dangerous
Vancouver Hiking Trails

Black Mountain

Brunswick Mountain

Burnaby Lake

Burnaby Mountain

Coliseum Mountain

Crown Mountain

Cypress Falls

Deeks Peak

Deep Cove

Deer Lake

Dog Mountain

Goat Mountain

Goldie Lake

Grouse

Hollyburn Mountain 

Kitsilano Beaches

Lighthouse Park

Lynn Canyon

Lynn Peak

Mt Elsay

Mt Fromme

Mt Hanover

Mt Harvey

Mt Seymour

Mt Strachan

Mystery Lake

Pacific Spirit

Rice Lake

St Mark's

Stanley Park

The Lions

Unnecessary
This trailhead is also used to reach The Lions, Mount Harvey and Brunswick Mountain.  There is no established route to Hanover after you leave the Howe Sound Crest Trail.  Fortunately Hanover towers visibly in the distance at all times, so the best method to reach the summit is to route find your way as you go.  This of course makes Mount Hanover a potentially dangerous hike if you are unprepared or unlucky with the weather.
Be sure to have a GPS and topo map with you and know what you are doing.  The route to the Howe Sound Crest Trail from the Lions Bay trailhead(Lions Binkert trailhead)  is the same as the route you would take to Brunswick Mountain so it is well marked with flagging tape though there are few written signs. The trail is challenging as you gain considerable elevation in a short distance, 1550 metres in just 7.3 kilometres.
The first half of the trail is fairly easy as you follow first a disused logging road for about 15 minutes (bear right at a fork), then a wide and fairly straight trail for another 20 minutes until you reach another junction.  Take the trail (overgrown logging road) to the left which is well marked with flagging tape.  You will shortly cross Magnesia Creek and the trail steepens as the logging road/trail becomes a trail and soon you will see a fork.
Take the fork to the right and soon you will come to the Howe Sound Crest Trail.  From here you must route find your way to the very visible Mount Hanover.  Mount Hanover is part of the amazing Howe Sound Crest Trail in Cypress Provincial Park and is one of the many beautiful peaks to be climbed if desired on the 29 kilometre trail.  Among the hiker friendly mountains (in order from Cypress north) on the Howe Sound Crest Trail are: Mount Strachan, St Mark`s Summit, Unnecessary Mountain, The Lions, Mount Harvey, Mount Hanover, Brunswick Mountain and finally Deeks Peak.

Best Whistler & Garibaldi Park Hiking Trails!
Whistler & Garibaldi Park Hiking by Month!

Explore BC Hiking Destinations!