Moraines are glacially deposited ridges of debris that accumulate at the sides or terminus of a glacier.  Lateral moraines form at the sides of glaciers and terminal moraines at the terminus of a glacier.  Terminal moraines mark the maximum advance of a glacier.  Moraines are made up of glacial debris ranging in size from enormous boulders to fine glacial flour.  Boulders and rocks in moraines are generally rounded due to the churning and grinding within the glacier as it moved.
Whistler & Garibaldi Hiking

Alexander Falls  

Ancient Cedars  

Black Tusk  

Blackcomb Mountain  

Brandywine Falls  

Brandywine Meadows  

Brew Lake  

Callaghan Lake  

Cheakamus Lake  

Cheakamus River  

Cirque Lake 

Flank Trail 

Garibaldi Lake 

Garibaldi Park 

Helm Creek  

Jane Lakes 

Joffre Lakes  

Keyhole Hot Springs  

Logger's Lake  

Madeley Lake  

Meager Hot Springs 

Nairn Falls  

Newt Lake 

Panorama Ridge 

Parkhurst Ghost Town 

Rainbow Falls  

Rainbow Lake 

Ring Lake  

Russet Lake  

Sea to Sky Trail 

Skookumchuck Hot Springs  

Sloquet Hot Springs 

Sproatt East 

Sproatt West  

Taylor Meadows  

Train Wreck  

Wedgemount Lake  

Whistler Mountain

January 

February 

March 

April 

May 

June 

July 

August 

September 

October 

November 

December
One of the most striking lateral moraines in Whistler to see is located in the valley down from Russet Lake in Garibaldi Provincial Park.  Russet Lake is located at the base of The Fissile, which in turn is part of Overlord Mountain.  Overlord Glacier flows down from Overlord Mountain into the valley that separates Whistler Mountain and Blackcomb Mountain and leads to Whistler Village.  Just a short hike from Russet Lake takes you down to the lateral moraine of Overlord Glacier.  You can hike to Russet Lake via the Singing Pass trail which begins next to the bus stop just up the stairs from the Dubh Linn Gate Pub in Whistler Village.  It is quite a long and tedious 15 kilometre hike, but you can also hike there via the Musical Bumps trail from up on Whistler Mountain.  You can start hiking right from Roundhouse Lodge or higher up via the summit of Whistler Mountain at top of the Peak Chair.  The hiking distance from either of these starting points is not a lot shorter than the Singing Pass trail, but you get to avoid hiking uphill the entire hike.  Looking down the valley from Russet Lake you can see both lateral moraines on either side of Overlord Glacier.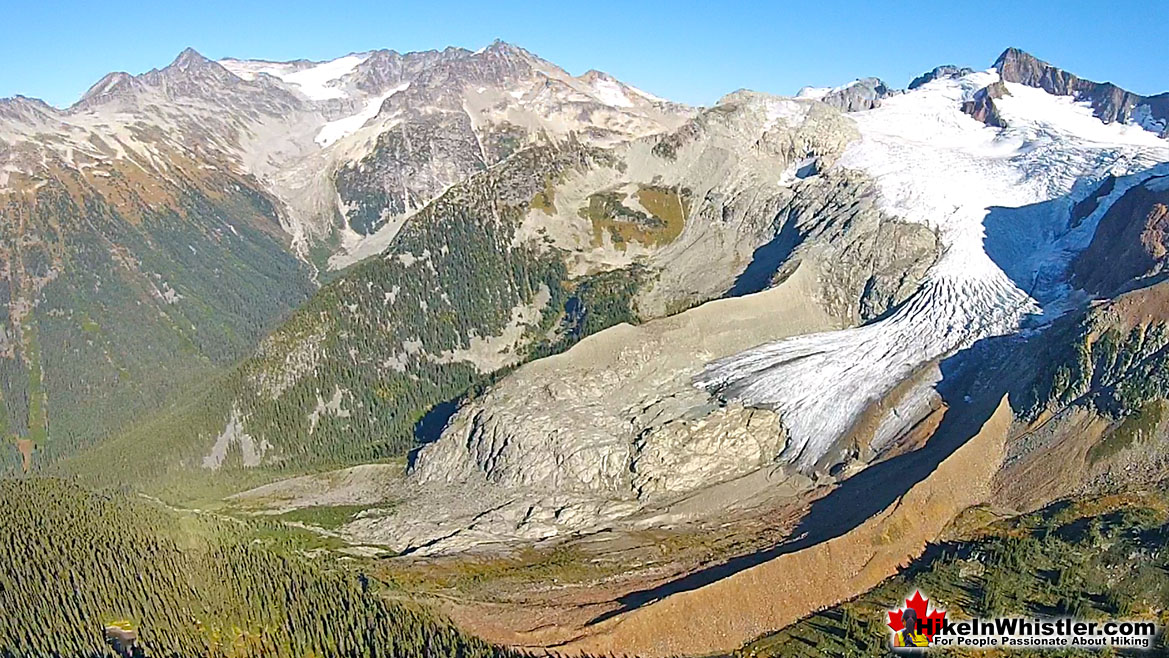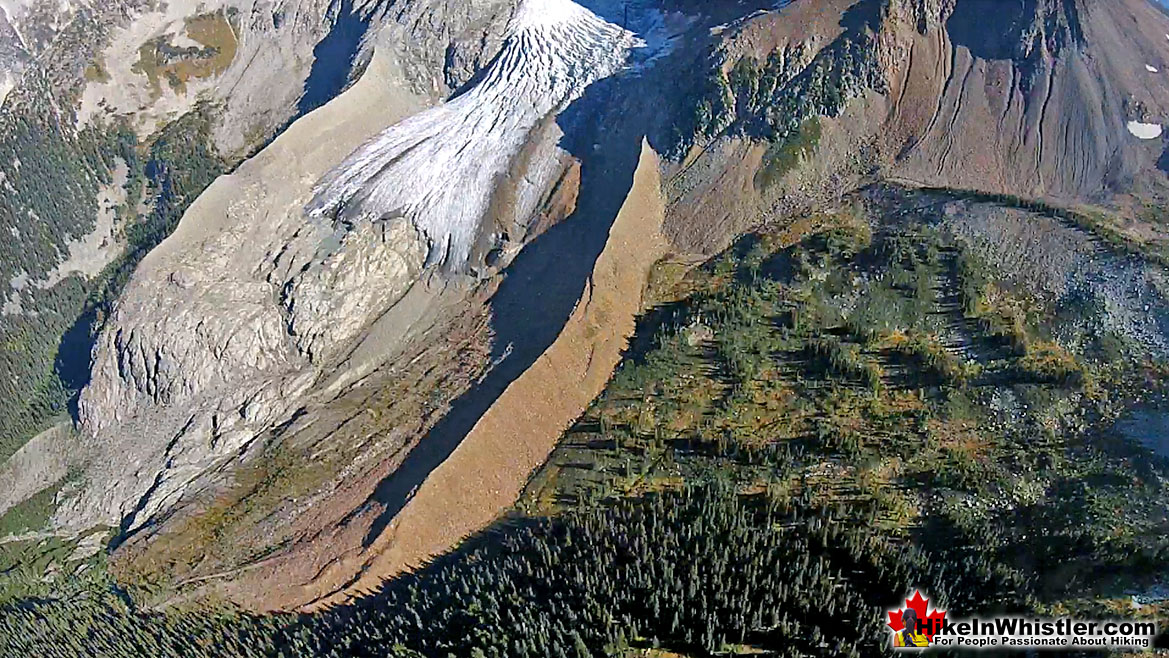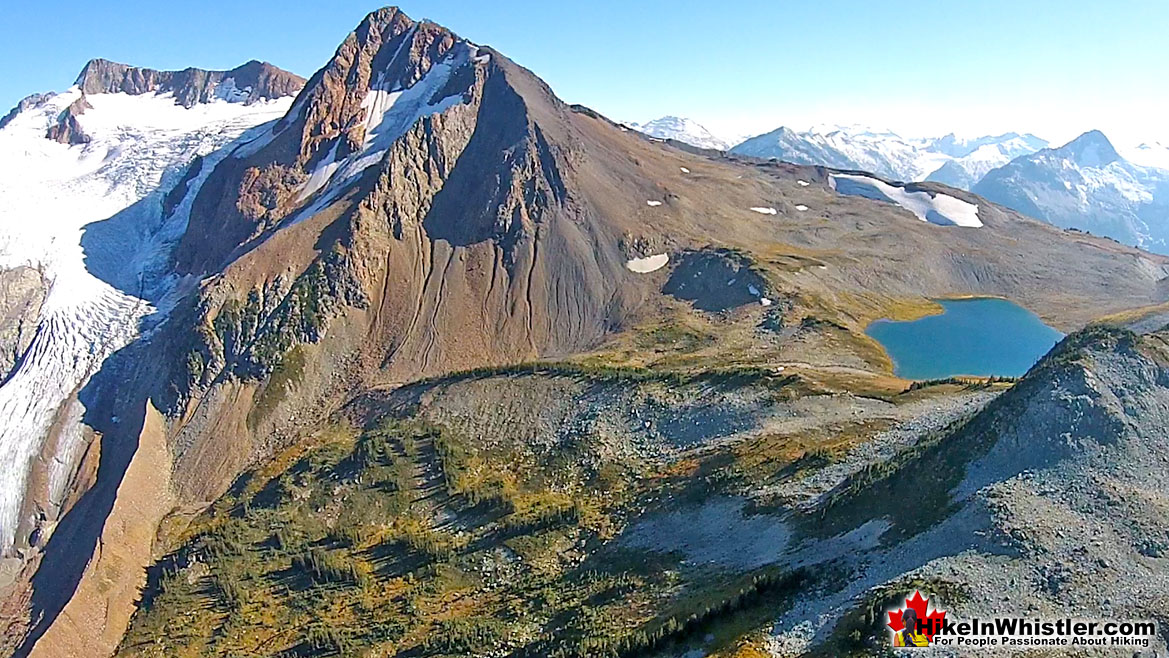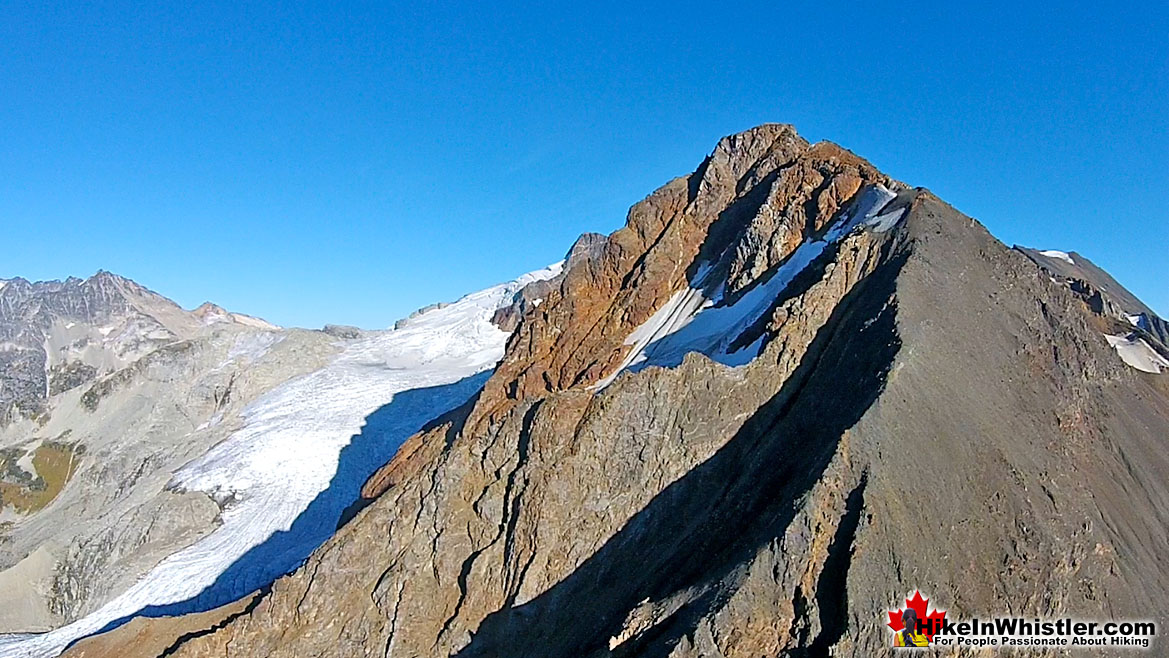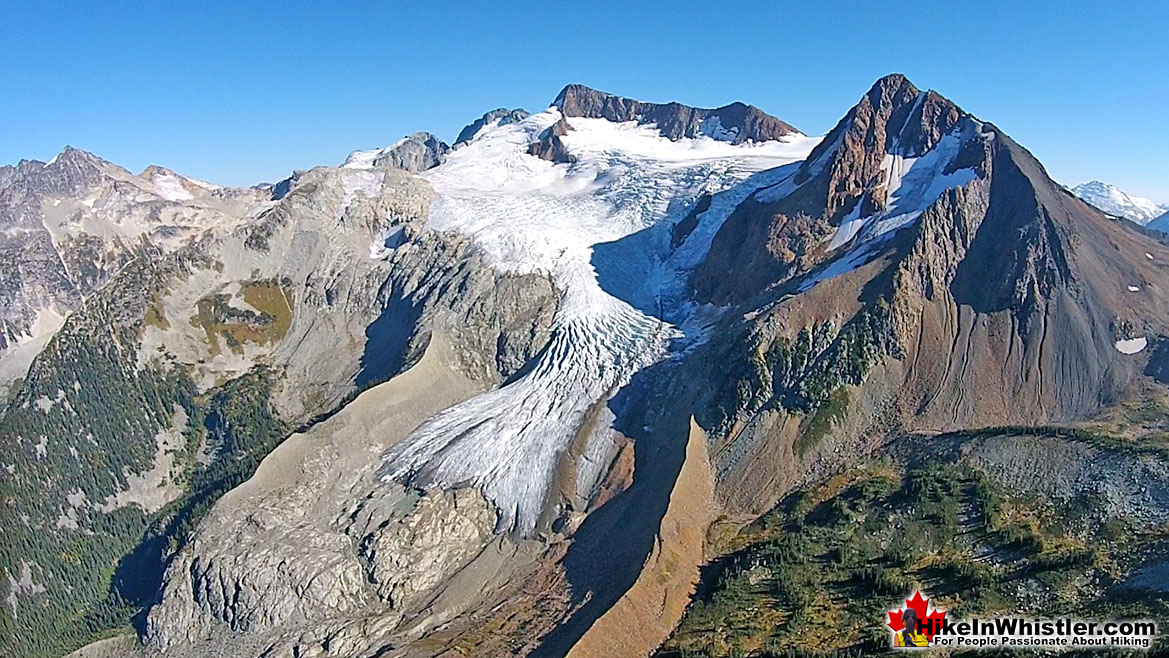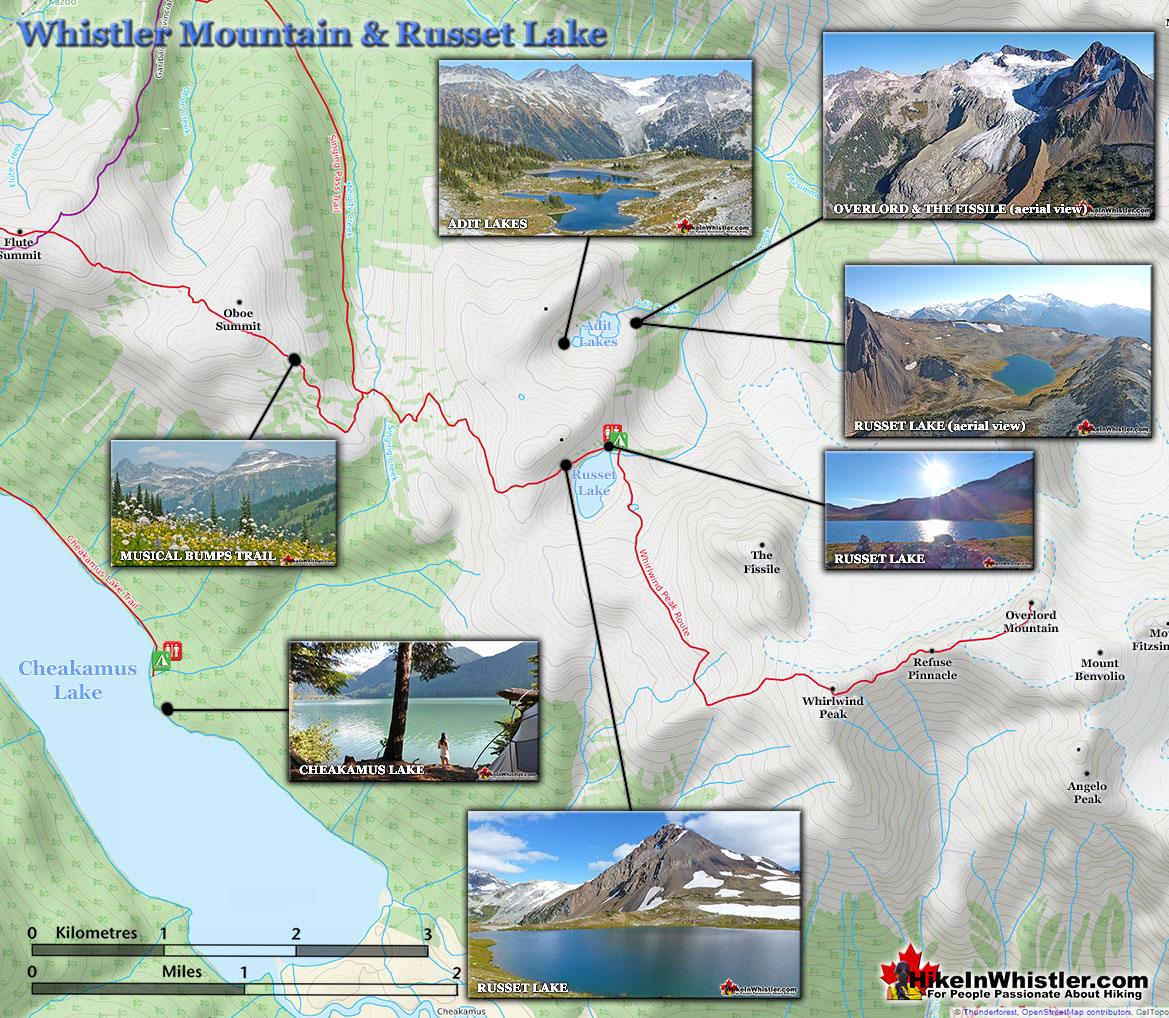 Fantastic Books About Geology in BC


Here are two excellent books on the Geology of British Columbia.  In Search of Ancient British Columbia by Barbara Huck is one of our favourites.  It focuses on southern BC and covers each individual region separately.  The Lower Mainland chapter explains the geology, paleontology and archaeology of the region stretching from Vancouver, Sea to Sky, Garibaldi Park and north to Mount Meager and Meager Hot Springs.  Quite a lot of the book is devoted to how the last ice age shaped the land and inhabitants of southern BC.  The chapters on Vancouver Island are particularly good as the geological history was particularly chaotic and the history of glaciation around present day Victoria is very interesting.  Geology of British Columbia: A Journey Through Time by Sydney Cannings, JoAnne Nelson and Richard Cannings is a beautiful history of BC's geology and the 200 million year history of creatures living in this extraordinary corner of the world.  The authors take us on a journey through time, describing the collisions of island chains called terrains, the sliding of plates, the erupting of volcanoes, and the movement of glaciers that created British Columbia as we know it today.  They also describe the rich legacy of fossils left behind as a result of all this geological activity.
**We participate in the Amazon Services LLC Associates Program and earn a small commission on purchases we link through to Amazon at no extra cost to you.  We only link to books and products we love and highly recommend.  Thanks for your support!**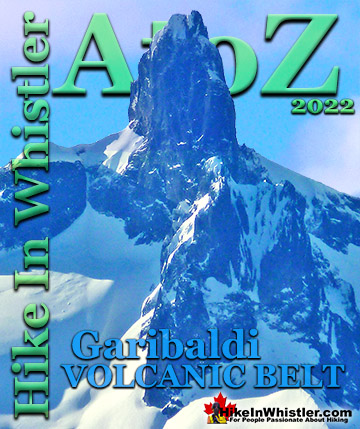 The Garibaldi Volcanic Belt is a line of mostly dormant stratovolcanoes and subglacial volcanoes largely centred around Whistler and extending through much ...
Read more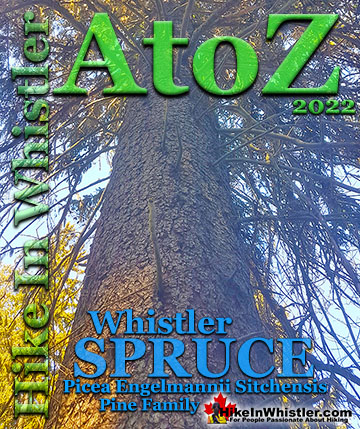 Whistler spruce is a hybrid of the Sitka spruce and the interior Engelmann spruce. Sitka spruce trees thrive in the rainforests of the Pacific Northwest ...
Read more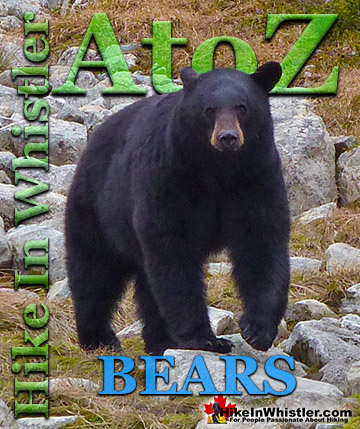 Whistler, the surrounding mountains, and
Garibaldi Provincial Park
are home to two types of bears.  Black bears and grizzly bears.  Black bears are ...
Read more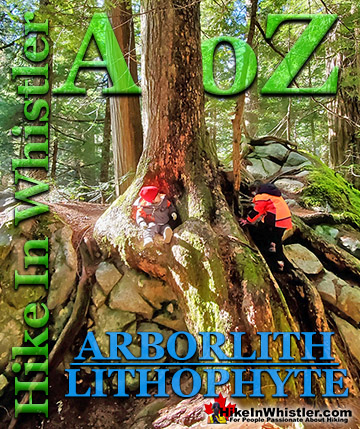 Every unusual phenomenon in the forest seems to have a name, but one natural work of art seems to be without a commonly used name.  Big trees with ...
Read more
The Barrier formed as a result of huge lava flows from Clinker Peak on the west shoulder of Mount Price during the last ice age.  About thirteen thousand ...
Read more
Along Whistler's Valley Trail near
Rainbow Park
you come across some impressively unusual trees. Unlike most other Whistler trees with straight trunks and ...
Read more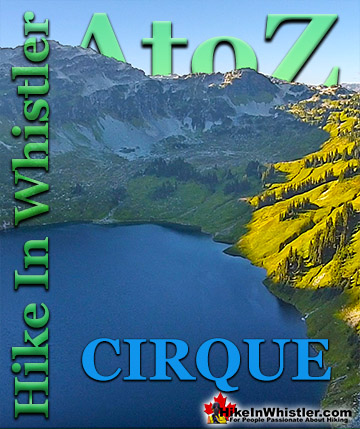 Cirque: a glacier-carved bowl or amphitheater in the mountains.  To form, the glacier must be a combination of size, a certain slope and more unexpectedly, a ...
Read more
Whistler & Garibaldi Hiking

Alexander Falls  

Ancient Cedars  

Black Tusk  

Blackcomb Mountain  

Brandywine Falls  

Brandywine Meadows  

Brew Lake  

Callaghan Lake  

Cheakamus Lake  

Cheakamus River  

Cirque Lake 

Flank Trail 

Garibaldi Lake 

Garibaldi Park 

Helm Creek  

Jane Lakes 

Joffre Lakes  

Keyhole Hot Springs  

Logger's Lake  

Madeley Lake  

Meager Hot Springs 

Nairn Falls  

Newt Lake 

Panorama Ridge 

Parkhurst Ghost Town 

Rainbow Falls  

Rainbow Lake 

Ring Lake  

Russet Lake  

Sea to Sky Trail 

Skookumchuck Hot Springs  

Sloquet Hot Springs 

Sproatt East 

Sproatt West  

Taylor Meadows  

Train Wreck  

Wedgemount Lake  

Whistler Mountain

January 

February 

March 

April 

May 

June 

July 

August 

September 

October 

November 

December