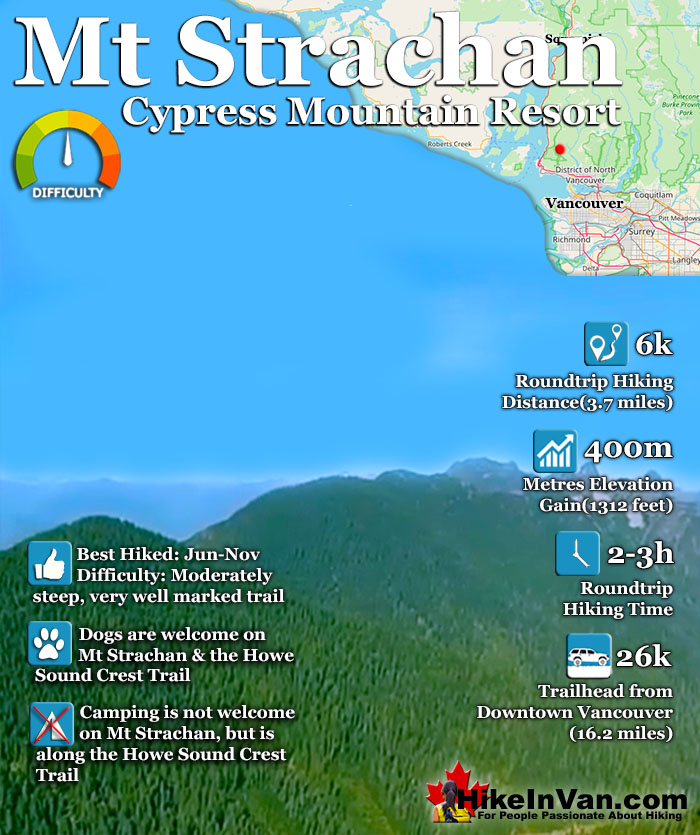 Mount Strachan is part of the trio of mountains, also Black Mountain and Hollyburn Mountain that form a bowl, or Cypress Bowl that give the resort its name.  The Cypress part of the name comes from the Cypress or Yellow Cedar that fills the valley. Both Strachan and Hollyburn are easy hikes from the Cypress Resort parking lot.  Mount Strachan is a short but beautiful hike that can be done in just a couple hours from the trailhead at Cypress Mountain Resort.
Trailhead starts at Cypress Mountain

Beautiful views from the top

Dogs are welcome

Occasional bear sightings!

On the Howe Sound Crest Trail

Plane wreckage from a 1963 crash!

Less busy than nearby trails

Beautiful drive to Cypress

Snow can persist into July!

Very easy to lose the trail
Vancouver Hiking Trails

Black Mountain

Brunswick Mountain

Burnaby Lake

Burnaby Mountain

Coliseum Mountain

Crown Mountain

Cypress Falls

Deeks Peak

Deep Cove

Deer Lake

Dog Mountain

Goat Mountain

Goldie Lake

Grouse

Hollyburn Mountain

Kitsilano Beaches

Lighthouse Park

Lynn Canyon

Lynn Peak

Mt Elsay

Mt Fromme

Mt Hanover

Mt Harvey

Mt Seymour

Mt Strachan

Mystery Lake

Pacific Spirit

Rice Lake

St Mark's

Stanley Park

The Lions

Unnecessary
It's a nice taste of the Howe Sound Crest Trail that extends to the horizon from here. For Strachan you can start near the main lodge walk directly up the gravel road and start along the Yew Lake trail.  This immediately gets you into deep forest as you ascend toward the Howe Sound Crest Trail.
There are excellent signs at all the trail junctions.  The Howe Sound Crest Trail comes to a fork at about 2.5 kilometres from the trailhead near Cypress Mountain Lodge.  Taking the trail to the right takes you to Mount Strachan in about 15 minutes.
Past the Mount Strachan North Peak and Mount Strachan South Peak you can continue by following the Mount Strachan Trail which in turn connects to the Baden Powell Trail returning you to where you began near the Cypress Mountain Lodge.  Roundtrip, this circle route is 6 kilometres and should take about 2 hours.
Mount Strachan is part of the 29k Howe Sound Crest Trail as it lays at the one end of this span at the Cypress trailhead.  Among the hiker friendly mountains (from Cypress north) on the Howe Sound Crest Trail are: St Mark`s Summit, Unnecessary Mountain, The Lions, Mount Harvey, Mount Hanover, Brunswick Mountain and finally Deeks Peak.
Discover Mount Strachan at HikeInVan.com

Best Whistler & Garibaldi Park Hiking Trails!
Whistler & Garibaldi Park Hiking by Month!

Explore BC Hiking Destinations!