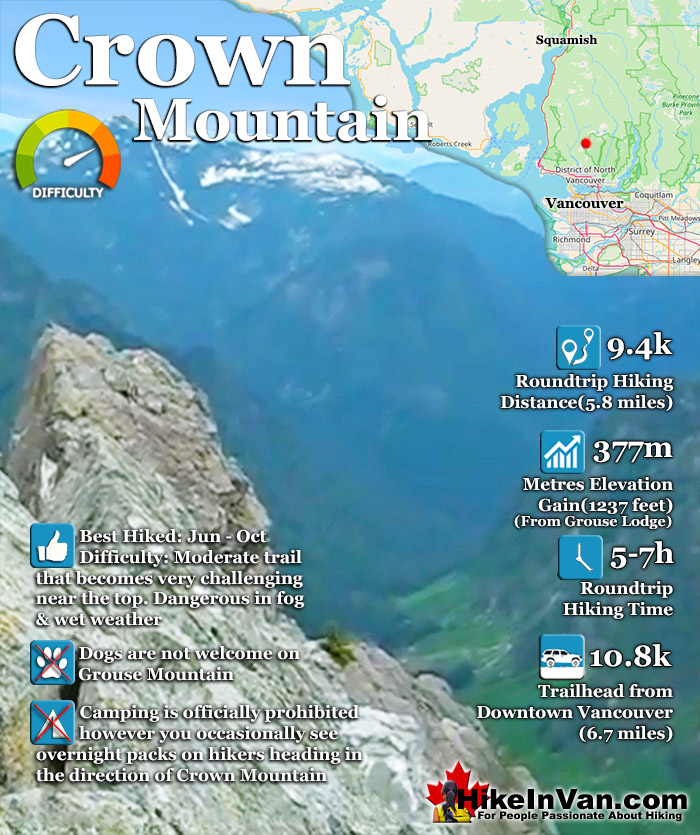 Crown Mountain, visible from downtown Vancouver, towers behind Grouse Mountain.  It was appropriately named due to its crown shape over 150 years ago by an English captain charting the area.  This very challenging hike offers some phenomenal views from its summit, deep in the North Shore Mountains. There are three main ways to reach the amazing Crown Mountain.
Tremendous views of Vancouver

View mountains all the way to Squamish!

Skyride to Grouse is fantastic

See grizzly bears on Grouse!
Multiple routes, gondola, hike or run

Short trail to Crown Mountain
Very challenging, but fun trail

Well marked trail is easy to lose

Snow restricts access until summer

Several hiker fatalities over the years
Vancouver Hiking Trails

Black Mountain

Brunswick Mountain

Burnaby Lake

Burnaby Mountain

Coliseum Mountain

Crown Mountain

Cypress Falls

Deeks Peak

Deep Cove

Deer Lake

Dog Mountain

Goat Mountain

Goldie Lake

Grouse

Hollyburn Mountain 

Kitsilano Beaches

Lighthouse Park

Lynn Canyon

Lynn Peak

Mt Elsay

Mt Fromme

Mt Hanover

Mt Harvey

Mt Seymour

Mt Strachan

Mystery Lake

Pacific Spirit

Rice Lake

St Mark's

Stanley Park

The Lions

Unnecessary
As it is located near Grouse Mountain, the most direct way to reach it is via Grouse Mountain.  You can either hike the Grouse Grind for free or take the SkyRide for $44 (return). From the Grouse Mountain Chalet the hike to Crown Mountain is 9.4k return and should take about 5 or 6 hours to complete.  If you hike/run the Grouse Grind as well then add 2.9 kilometres to the journey there and 3.5 kilometres to the return (via the BCMC trail adjacent to the Grouse Grind) to get back to your car. The third and most challenging way to access Crown Mountain is by beginning and ending at the Lynn Headwaters Regional Park trailhead. This is a tough, but amazing 20k (one way) route to Crown Mountain through the amazing Lynn Valley.  This access route to Crown Mountain often opens in late June or even July,  Check at the trailhead before you head out on the trail make sure that the trail past Norvan Falls is open. From the Grouse Chalet on Grouse Mountain follow the path under the Peak Chair until you reach the trailhead and hiker check-in station.  From here you follow the marked trail to Crown Mountain.  You can either hike via Dam Mountain, or take the easier Alpine Trail.  Both are roughly the same distance, but the Alpine Trail is a bit easier. The trail then leads to Little Goat Mountain the descends into Crown Pass.  There are several chain assisted sections here and some tricky scrambling, however, nothing too technical.  Goat Mountain is just .7k from the main trail to Crown Mountain and well worth the look if you have the energy. There are few creeks along the Crown Mountain hike so ensure that you bring lots of water.
Discover Crown Mountain at HikeInVan.com

Best Whistler & Garibaldi Park Hiking Trails!
Whistler & Garibaldi Park Hiking by Month!

Explore BC Hiking Destinations!