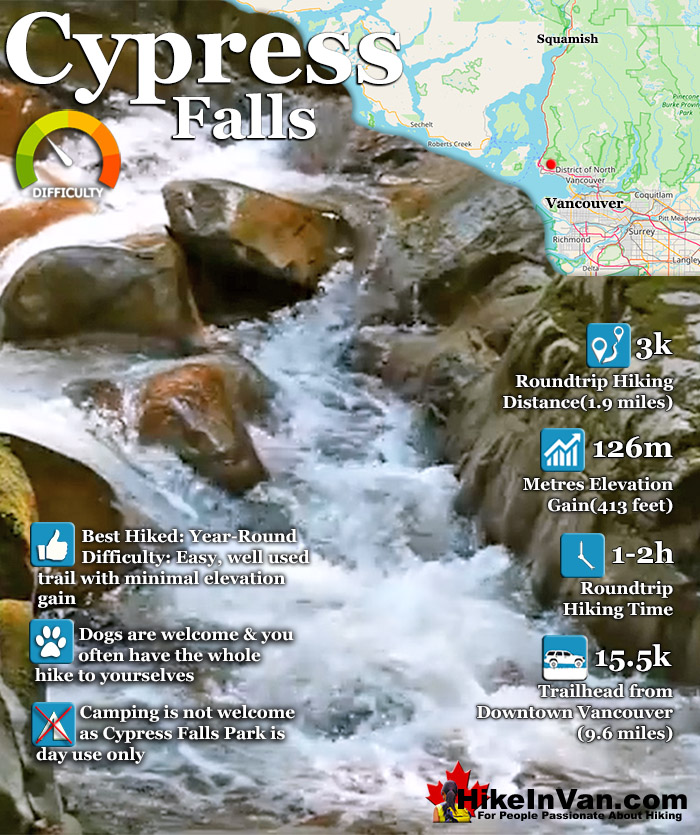 The idyllic Cypress Falls trail has two nice waterfalls to see as well as an impressive forest of old growth Cedars and Douglas Firs.  From the trailhead to the lower falls is easy to follow.  There are quite a few smaller trails that join the main trail leading to various connecting routes to the main trail.  Always stay on the main trail to avoid getting lost.
Easy, family friendly trail

Accessible year-round!

Impressively huge trees

Two waterfalls to see

Nice, dog friendly trail

A fun wilderness hike

Falls are not overly impressive

No stunning viewpoints

Trail is well hidden from the sun
Nice hike, but not a lot to see
Vancouver Hiking Trails

Black Mountain

Brunswick Mountain

Burnaby Lake

Burnaby Mountain

Coliseum Mountain

Crown Mountain

Cypress Falls

Deeks Peak

Deep Cove

Deer Lake

Dog Mountain

Goat Mountain

Goldie Lake

Grouse

Hollyburn Mountain 

Kitsilano Beaches

Lighthouse Park

Lynn Canyon

Lynn Peak

Mt Elsay

Mt Fromme

Mt Hanover

Mt Harvey

Mt Seymour

Mt Strachan

Mystery Lake

Pacific Spirit

Rice Lake

St Mark's

Stanley Park

The Lions

Unnecessary
When you reach the lower falls the main trail splits in two.  You can either back up and continue again on the main trail heading up the west side of the creek and leading to the upper Cypress Falls. You can also cross the creek and follow the trail to an amazing, old growth forest.  Continuing through the forest will lead to a gate and fence.  Turn left here and you will connect back on the trail to the upper Cypress Falls. The roundtrip hike to both the lower and upper falls is about 3k and is very family friendly taking about an hour to complete.  Another beautiful trail close by and also fairly easy and family friendly is the wonderful Lighthouse Park, just a short drive away.

Best Whistler & Garibaldi Park Hiking Trails!
Whistler & Garibaldi Park Hiking by Month!

Explore BC Hiking Destinations!