Sloquet Hot Springs is a wonderfully wild set of shallow, man-made pools fed by a small, all natural, and very hot, waterfall. The pools stretch from the waterfall to the large and crashing Sloquet River. The large, spread out campsite for the hot springs lies a short 5 minute walk from the springs. You have to follow a dark and quickly descending trail toward the crashing river.
Incredible setting for relaxing in deep wilderness
Fed by a waterfall & located next to a rushing river
Drive in campsites are nicely spaced in the forest
Springs & campsite are separated by a short trail
Skookumchuck is on the way to Sloquet
Several pools & two are quite large
Far from civilization so often quiet
Well laid out drive-to campsites
Hike there in winter & you will have it to yourself!
Campsite can get rowdy with tailgate parties
As you near, you can smell the unusual, but kind of nice hot springs scent, and you see steam rising all around you, some steam rising, bizarrely, out of the grass clearing on the edge of the river. On your left a rising cliff, on your right the crashing river.  The path narrows and steepens, leading to a large fallen tree which the trail seems to run to. So huge though as to not worry you walking the length of. Then, there it is.  The massive fallen tree flanks it. Nestled between the tree and a cliff, in a large triangular area, with the river forming the third side are the Sloquet Hot Springs. Sloquet Hot Springs is 142 kilometres from Whistler, which translates to well over 3 hours of driving.  Much of the driving is along the In-Shuck-Ch Forest Service Road, which runs the length of the very scenic Lillooet Lake and river. This gravel road takes you well into the wilderness, far from civilization and past quite a few nice sights along the way.  Though you will often find the campsite a loud and chaotic place with music playing and two or three campsite parties, the hot springs, a couple hundred metres away, serene and tranquil. This is one of the accidental beauties of Sloquet Hot Springs.
The campsite and the hot springs are separated by this steep, short trail and deep forest keeps them apart from each other. The tailgate parties that sometimes erupt at the campsite are far removed from the hot springs oasis wedged between the river, cliff and forest. Sloquet is quite a contrast to its closest, well known neighbour, Skookumchuck Hot Springs. Skookumchuck is shabby, institutionalized and far from natural. Sloquet is beautiful, natural and serene. It consists of seven pools formed with rocks positioned to segment pools out of what must have been one huge pool. Recently, in late 2013, dozens of volunteers did a massive cleanup of the pools, forming them into a more natural and even more beautiful place to be. More info for Sloquet Hot Springs...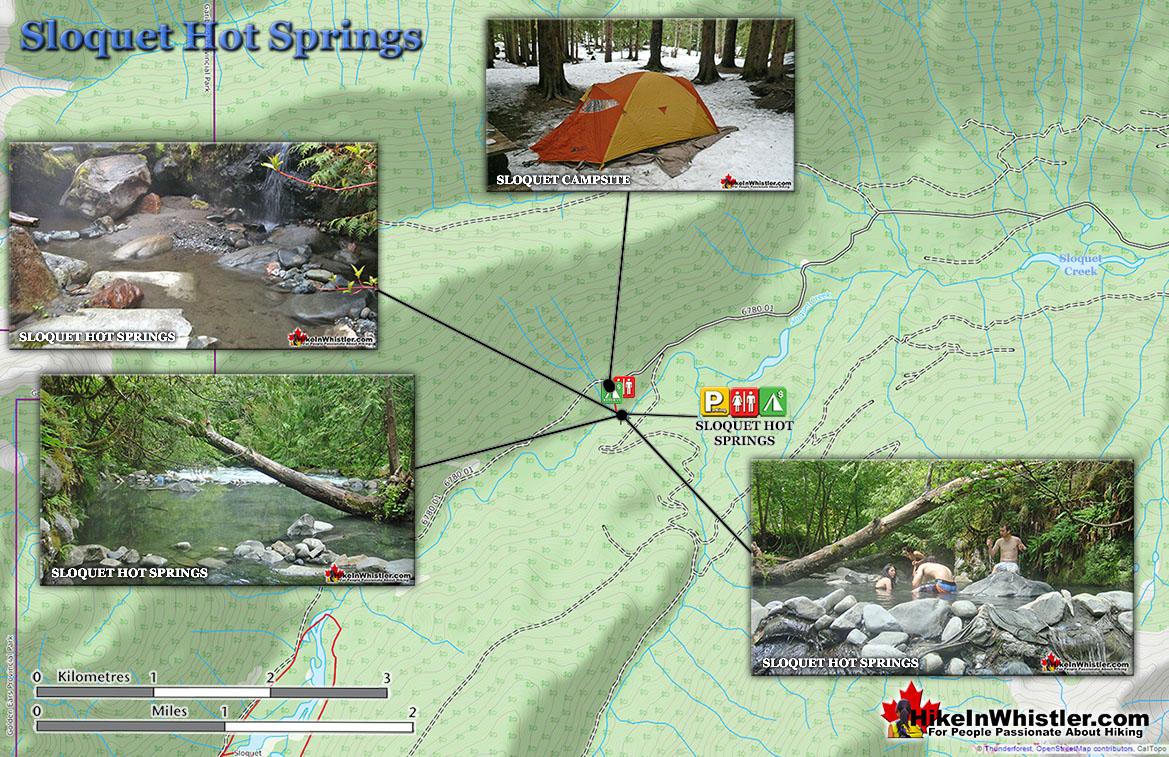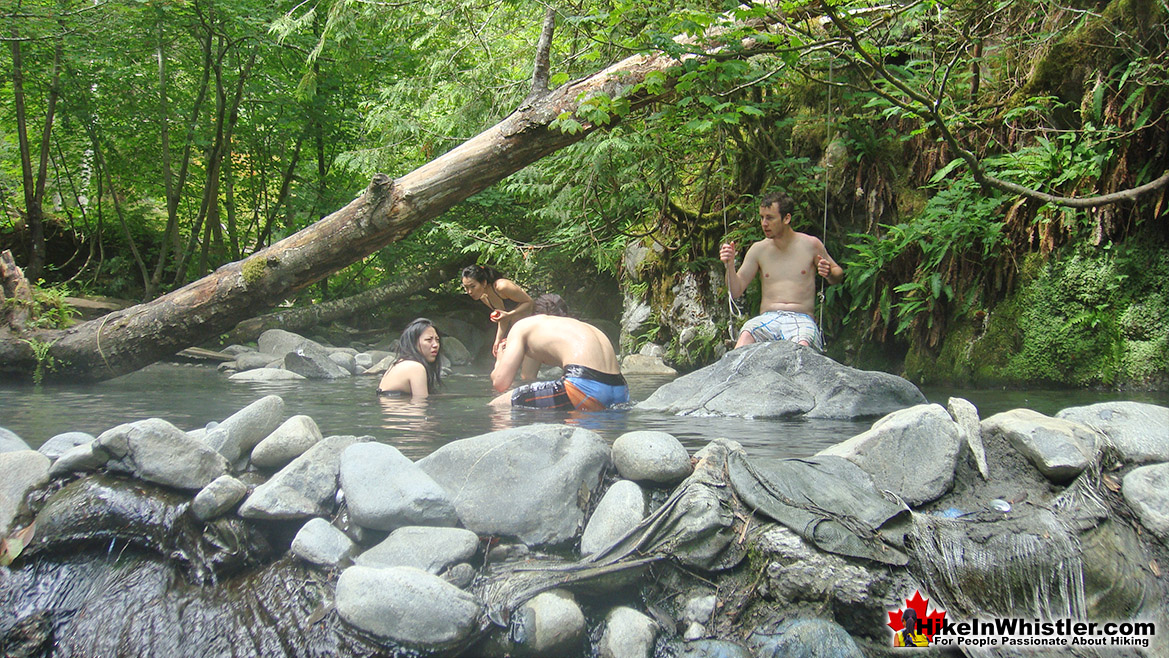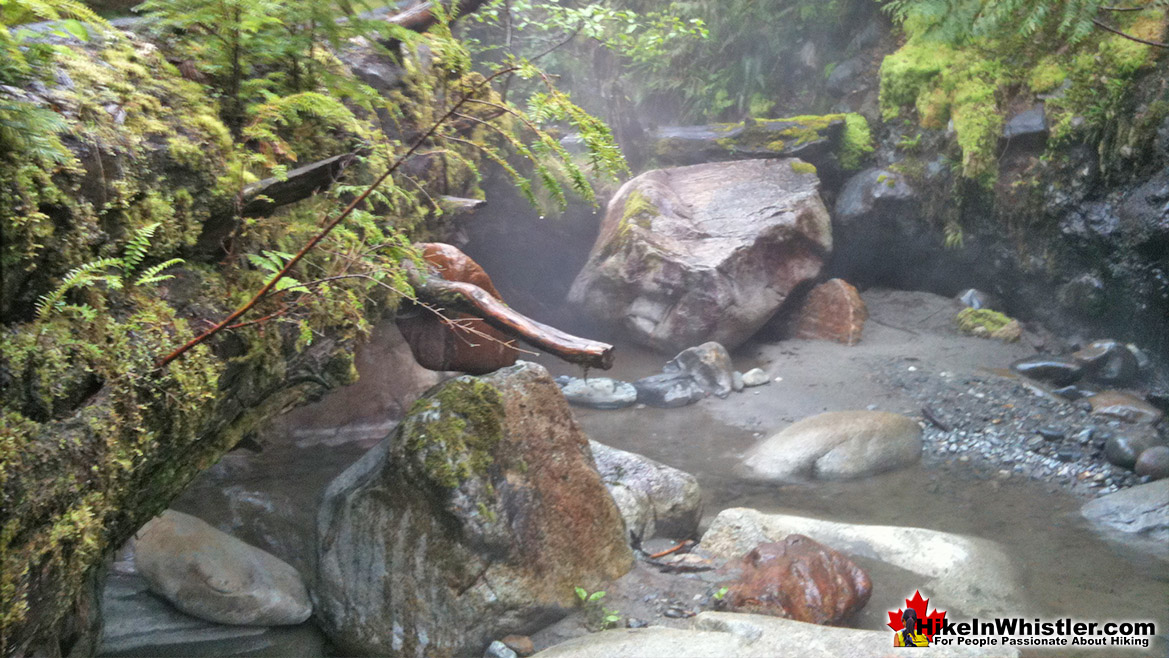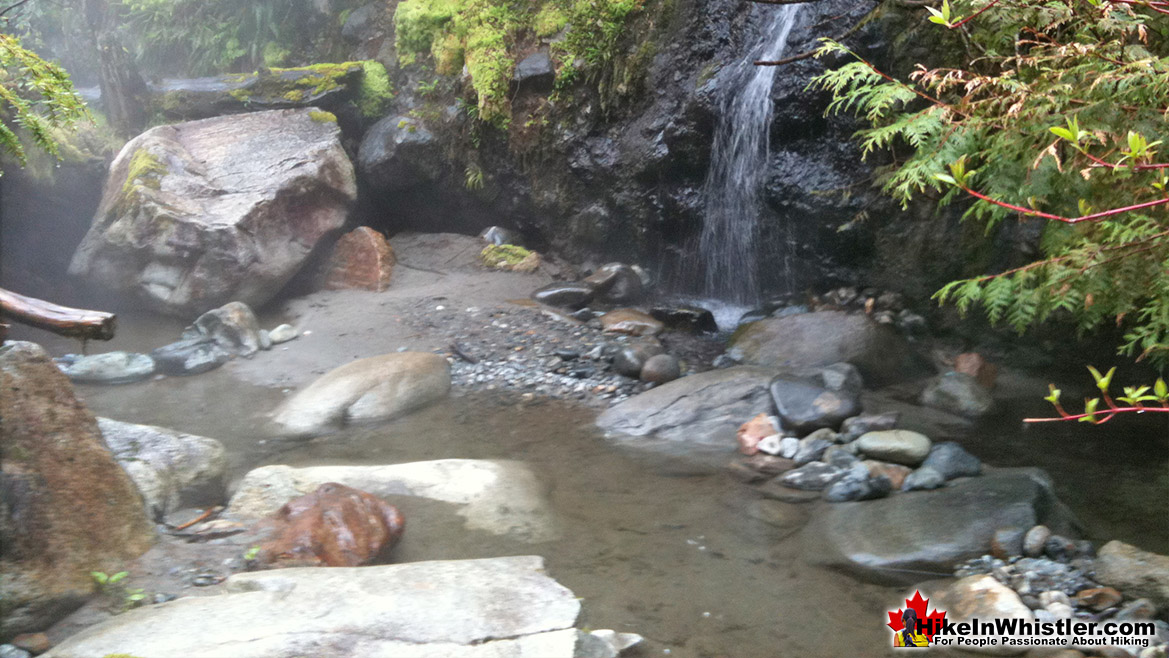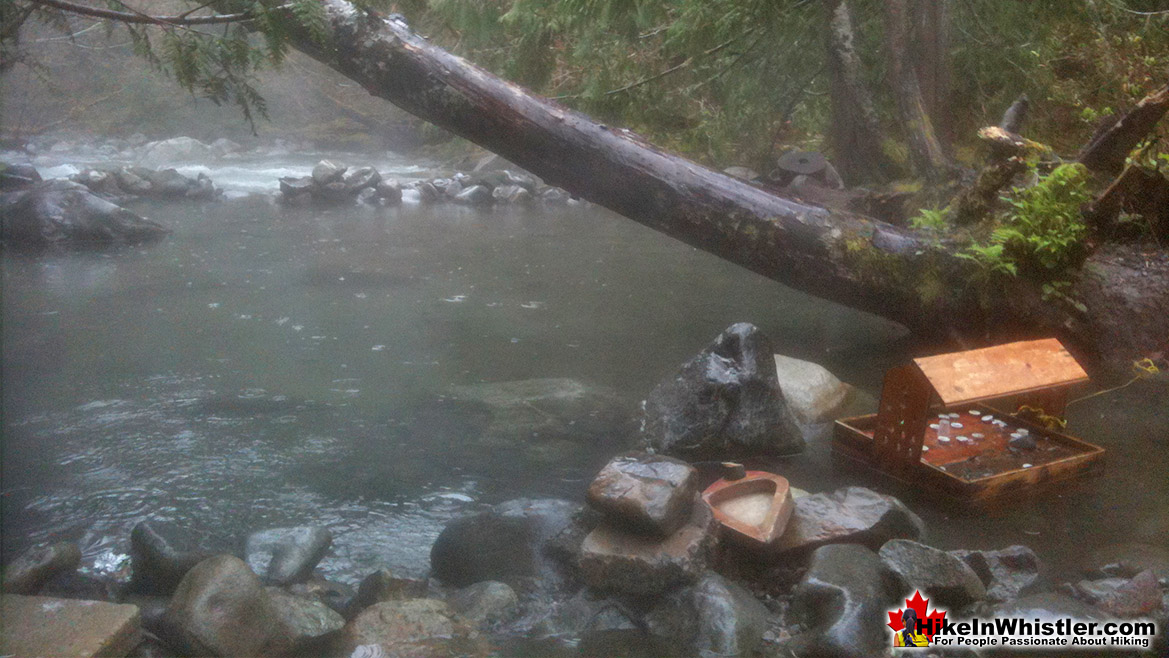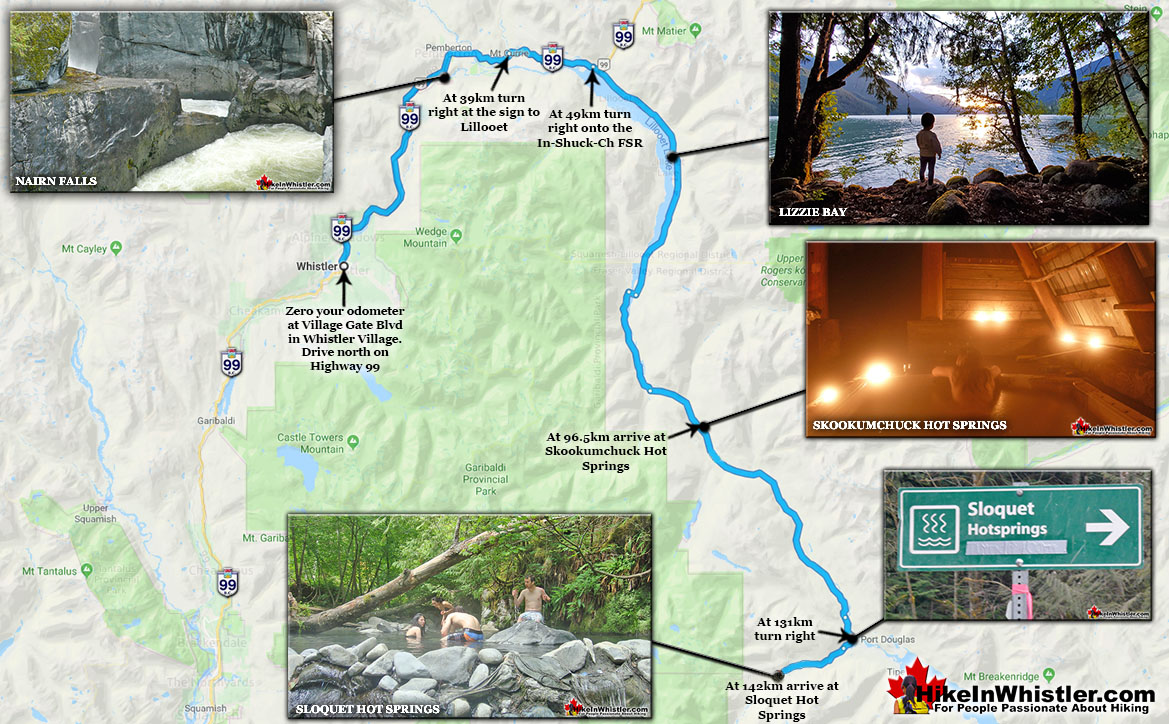 More Sloquet Hot Springs info here...
Books About Whistler Trees, Plants & Animals

P

lants of the Whistler Region is an excellent book that includes great pictures and descriptions of most trees you will find in Whistler. Small enough to fit in your pocket and comprehensive enough to identify most things you will encounter growing in the forests of Whistler. Along with conifer trees and broadleaf trees the book has chapters on flowers, berries, ferns and shrubs. You can find Plants of the Whistler Region on Amazon, the Whistler Library and at Armchair Books in Whistler Village. The author Collin Varner has a wonderful series of Plants of.. books on various regions beyond Whistler. Plants of Vancouver and the Lower Mainland, Plants of the Gulf and San Juan Islands and Southern Vancouver Island, and Plants of the West Coast Trail. In the last couple years he has started a new series of books. The Flora and Fauna of Coastal British Columbia and the Pacific Northwest and Edible and Medicinal Flora of the West Coast: British Columbia and the Pacific Northwest.
Whistler Area Hot Springs

Keyhole Hot Springs 

Meager Hot Springs 

Skookumchuck Hot Springs 

Sloquet Hot Springs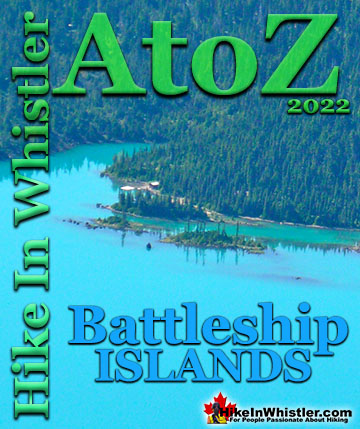 The rocky and narrow row of islands in 
Garibaldi Lake
just offshore from the 
Garibaldi Lake
campsite are known as Battleship Islands.  Named by the ...
Read more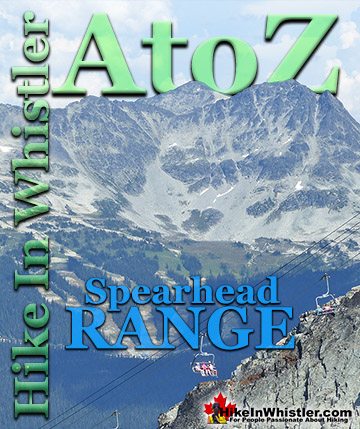 Read more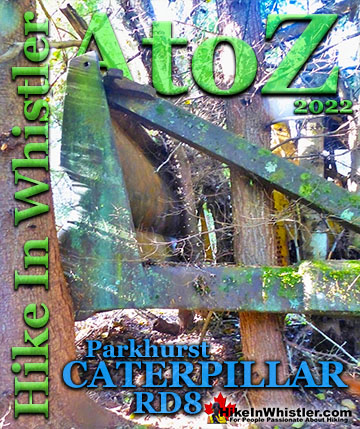 Read more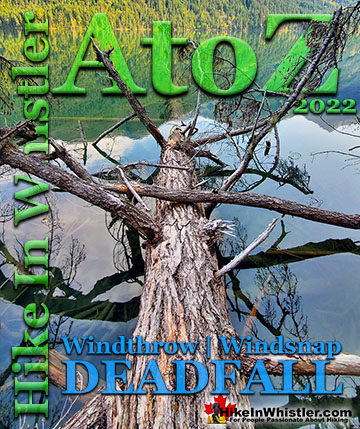 Deadfall means a tangled mass of fallen trees and branches.  There are several name variations for fallen trees that are commonly used in Whistler.  ...
Read more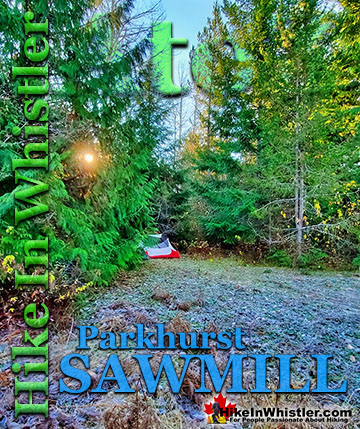 The sawmill at
Parkhurst
operated on the triangle of land that juts out into 
Green Lake
and also extended north between the train tracks and the lake.  The ...
Read more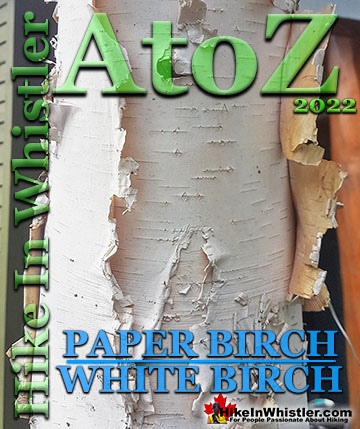 Paper birch, also known as white birch is a type of birch tree that grows in northern North America. Named for its paper-like, white or cream coloured ...
Read more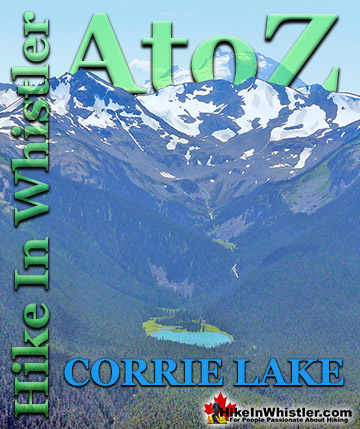 Read more
Whistler & Garibaldi Hiking

Alexander Falls  

Ancient Cedars  

Black Tusk  

Blackcomb Mountain  

Brandywine Falls  

Brandywine Meadows  

Brew Lake  

Callaghan Lake  

Cheakamus Lake  

Cheakamus River  

Cirque Lake 

Flank Trail 

Garibaldi Lake 

Garibaldi Park 

Helm Creek  

Jane Lakes 

Joffre Lakes  

Keyhole Hot Springs  

Logger's Lake  

Madeley Lake  

Meager Hot Springs 

Nairn Falls  

Newt Lake 

Panorama Ridge 

Parkhurst Ghost Town 

Rainbow Falls  

Rainbow Lake 

Ring Lake  

Russet Lake  

Sea to Sky Trail 

Skookumchuck Hot Springs  

Sloquet Hot Springs 

Sproatt East 

Sproatt West  

Taylor Meadows  

Train Wreck  

Wedgemount Lake  

Whistler Mountain

January 

February 

March 

April 

May 

June 

July 

August 

September 

October 

November 

December