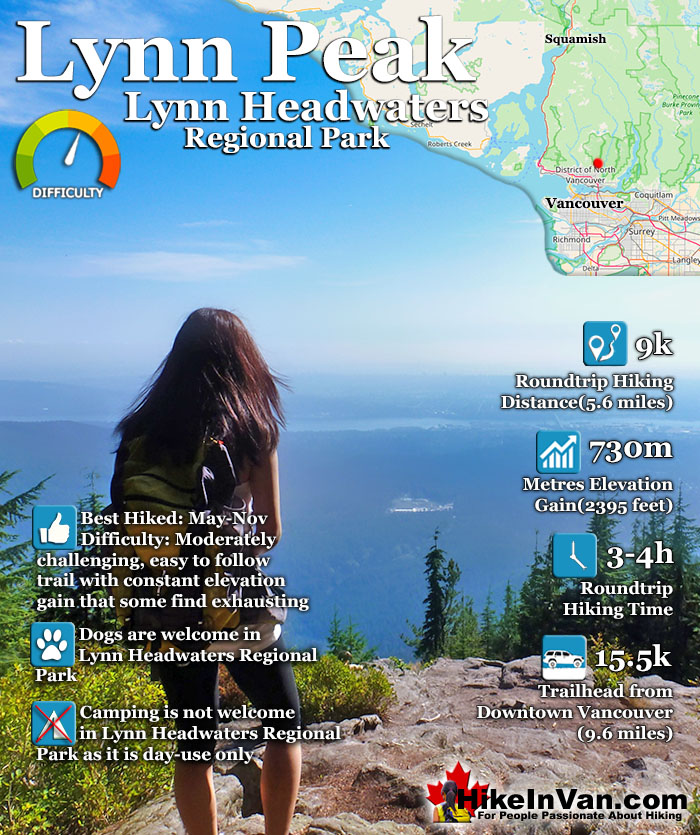 This beautifully forested hiking trail is a local favourite running route comparable to the Grouse Grind.  In 4.5k the trail rises 730 metres and hardly ever in a straight line.  There are a few good viewpoints on the hike to Lynn Peak.  It is convenient hiking trail, close to downtown Vancouver as it is only about a 30 minute drive away into the magnificent rainforest of North Van.
Nice alternative to Grouse Grind

Dog friendly

Convenient from downtown Van

Lynn Canyon Park is nearby

Not as busy as other Van trails

Free of snow earlier than most trails

Some find the hike not worth the effort

Summit view is not overly impressive

Parking is often a chaotic mess


Not a whole lot to see on the trail
Vancouver Hiking Trails

Black Mountain

Brunswick Mountain

Burnaby Lake

Burnaby Mountain

Coliseum Mountain

Crown Mountain

Cypress Falls

Deeks Peak

Deep Cove

Deer Lake

Dog Mountain

Goat Mountain

Goldie Lake

Grouse

Hollyburn Mountain

Kitsilano Beaches

Lighthouse Park

Lynn Canyon

Lynn Peak

Mt Elsay

Mt Fromme

Mt Hanover

Mt Harvey

Mt Seymour

Mt Strachan

Mystery Lake

Pacific Spirit

Rice Lake

St Mark's

Stanley Park

The Lions

Unnecessary
From the trailhead at Lynn Headwaters Regional Park you will see a sign for the Lynn Loop Trail, there are maps here or click on the map to the right and print it out from the Lynn Headwaters Regional Parks site. You don't really need a map for Lynn Peak.  You simply get on the Lynn Loop Trail and look for the sign for Lynn Peak shortly after the trailhead.  The trail winds and ascends quickly from here for the 4k to the summit and the fantastic views. The Lynn Valley has an amazing array of hiking possibilities.  From the easy Cedars Mill Trail, Lynn Loop Trail and the Headwaters Trail that run along the picturesque Lynn Creek to the more difficult and challenging peaks such as difficult Coliseum Mountain and the less challenging though still a great workout you get from Lynn Peak.  The Lynn Headwaters Trail continues to the beautiful Norvan Falls, and if you are motivated to Lynn Lake, 15k from the trailhead at Lynn Headwaters Park.  The Lynn Headwaters Regional Park is actually part of a giant circular hiking/trail running route that connects it to Grouse Mountain and the tremendously popular Grouse Grind via the 8.6k Baden Powell Trail.  The circular route is about 30k and potentially includes the Grouse Grind, Dam Mountain, Goat Mountain, Crown Mountain, Lynn Lake, Norvan Falls, Coliseum Mountain as well as Lynn Peak on the amazing route.

Best Whistler & Garibaldi Park Hiking Trails!
Whistler & Garibaldi Park Hiking by Month!

Explore BC Hiking Destinations!