February is a great month for snowshoeing in Whistler and Garibaldi Park.  The days slowly get longer, but the temperatures stay consistently cold.  Expect several days of -12c and of course much colder in the mountains.  February is a great month for trying some overnight snowshoeing trips.  There are even several huts that are available to use.  Some are free and some have a reasonably low cost.
Whistler Snowshoe Trails

Blueberry Trail 

Brandywine Falls 

Cheakamus River 

Elfin Lakes 

Flank Trail 

Joffre Lakes 

Nairn Falls 

Parkhurst Ghost Town 

Rainbow Falls 

Rainbow Lake 

Rainbow Park 

Sproatt East 

Taylor Meadows 

Train Wreck 

Wedgemount Lake 
Whistler By Month

January 

February 

March 

April 

May 

June 

July 

August 

September 

October 

November 

December
The Elfin Lakes hut is one of the nicest around, boasting solar powered lights and propane stoves and heating.  It does cost $15/night to stay, but well worth it.  Elfin Lakes is a pretty amazing snowshoeing destination for the almost constant scenery, challenging, but enjoyable trail and deep, deep snow.  Having a large mountain hut at the end of the trail with all sorts of amenities makes the trip even more of an adventure.  Other huts around, include the Wedge Hut at Wedgemount Lake.  This is quite a brutal snowshoeing trip, but the hut at the lake is wonderful.  At the far end of the frozen Garibaldi Lake is yet another mountain hut, the Burton Hut.  The often, brutally cold temperatures in Whistler and Garibaldi Park in February make arriving at a hut very welcoming.  Taylor Meadows and Garibaldi Lake are amazing places to snowshoe in the winter in Whistler.  Beautiful snowy meadows surrounded by mountains everywhere you look.  Black Tusk towering in the distance so close and blanketed in wonderful, beautiful snow.  Garibaldi Lake is accessible as well on this snowshoeing hike.  The Taylor Meadows trail forks partway up, left goes to Taylor Meadows, right to Garibaldi Lake (the trail joins again at the far side of both campsites).  Garibaldi Lake, so massive and dramatically beautiful in the winter, a huge frozen valley.  The downside to this hike is the length of hiking to get to the nice parts.  In the summer it's not so bad as the trailhead is a moderately difficult 9k from Garibaldi Lake.  In the winter the access road from the highway is plowed all the way to the trailhead, though it is usually hardpacked ice and slippery.  Some cars might find it difficult to get enough traction to drive up the 2 kilometres to the trailhead.  Most cars seem to be able to make it unless there has been a lot of recent snow.  The Rubble Creek trail to Taylor Meadows and Garibaldi Lake is usually packed down and very icy, so spikes, ice cleats, crampons, yaktrax, etc are almost always necessary.  Snowshoes are often only needed once the trail branches to Taylor Meadows and Garibaldi Lake a few kilometres up the trail.  Like Joffre Lakes, Garibaldi Lake is popular throughout the winter so you can concentrate more on the scenery then keeping from getting lost.  Another nice attribute of this hike is the fact that you can snowshoe through beautiful Taylor Meadows on the way up then across to Garibaldi Lake on the way back, therefore doing a little snowshoe circle route before doubling back to your car.
Best Whistler Snowshoeing in February
There are plenty of beautiful and free snowshoe trails in Whistler and Garibaldi Provincial Park.  From the surreal paintings of Whistler Train Wreck to the magnificent mountain serenity of Wedgemount Lake in Garibaldi Park.  Trails range from extremely easy, like the short, flat trails to Brandywine Falls and Rainbow Park.  To challenging and long trails to places like Elfin Lakes, Taylor Meadows, Sproatt East and Wedgemount Lake.  Whistler even has a growing network of snowshoe trails to Parkhurst Ghost Town on the far side of Green Lake.  There are a couple pay-use snowshoeing areas in Whistler, however most free trails are as good or better.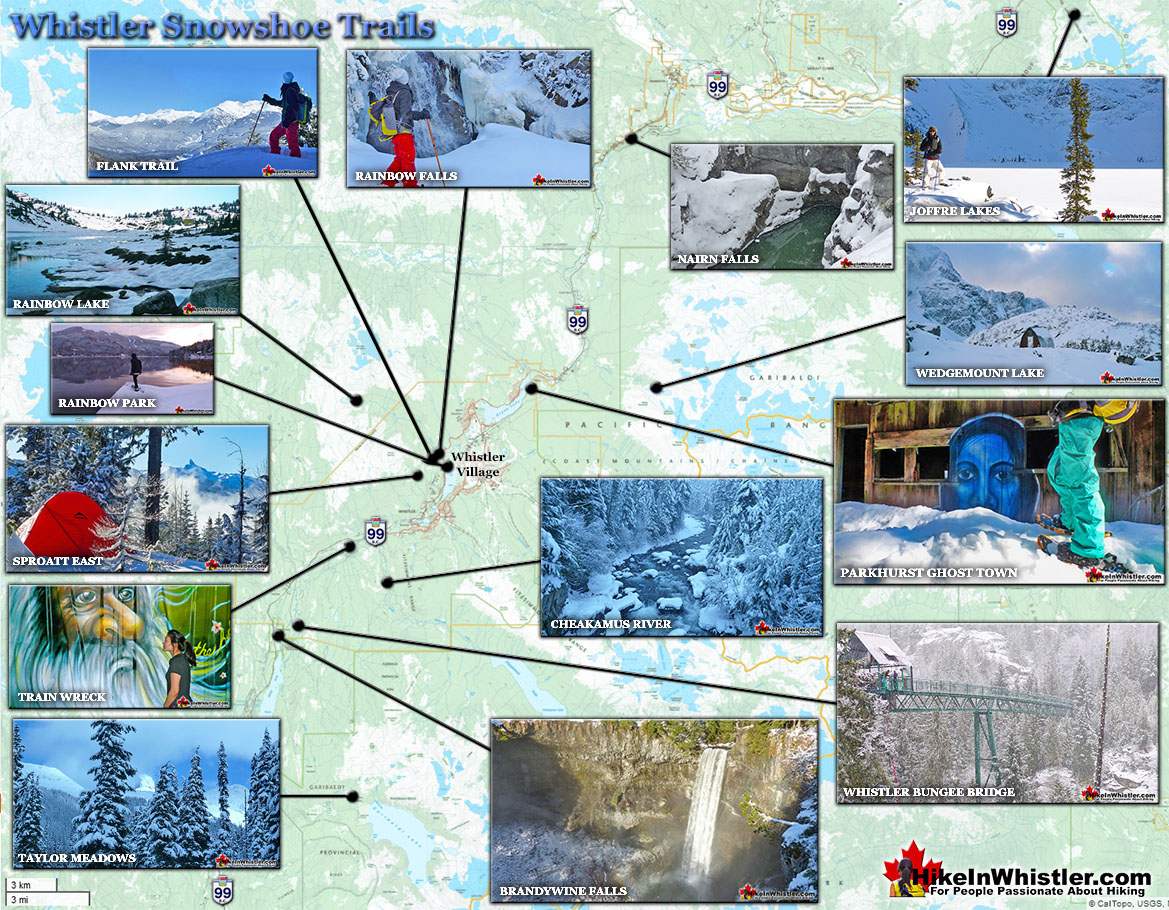 Parkhurst Ghost Town - Best Whistler Snowshoeing February

Whistler has an absurd number of wonderful and free hiking trails and Parkhurst Ghost Town certainly ranks as one of the most unusual, exotic and interesting. Parkhurst was a little logging town perched on the edge of Green Lake way before Whistler was Whistler.  Up on the ridge where Parkhurst sits, the views are sensational. Green Lake far below, a solid unnatural looking mass of green.  Blackcomb Mountain and Whistler Mountain out in the distance to the left and Rainbow Mountain across and beyond Green Lake.  If you have a good look around Parkhurst today, you can find remnants of its past almost everywhere you look.  From the old disintegrating truck from the 50's to the absurdly and improbably located car being consumed by the forest.  What makes Parkhurst Ghost Town such a great hiking trail and destination is where it is located and the trail to get to it.  The Parkhurst trail, one of several ways to get to Parkhurst Ghost Town, runs along the scenic Green River and next to the still active train tracks that run through Whistler.  There always seems to be something to see.  From the beautiful meadow along the train tracks, to the suddenly deep forest where you have to play a game of finding the next, pink tree marker or risk wandering off the trail.  The trail markers are numerous, and though getting lost is inevitable, you can only stray a few metres before, the river or steep terrain push you back onto the marked trail.  Once up on the ridge above Green Lake where Parkhurst is located, the forest takes on a spooky feel.  Trees are all far apart and with branches only high up give the forest a unnaturally lifeless look.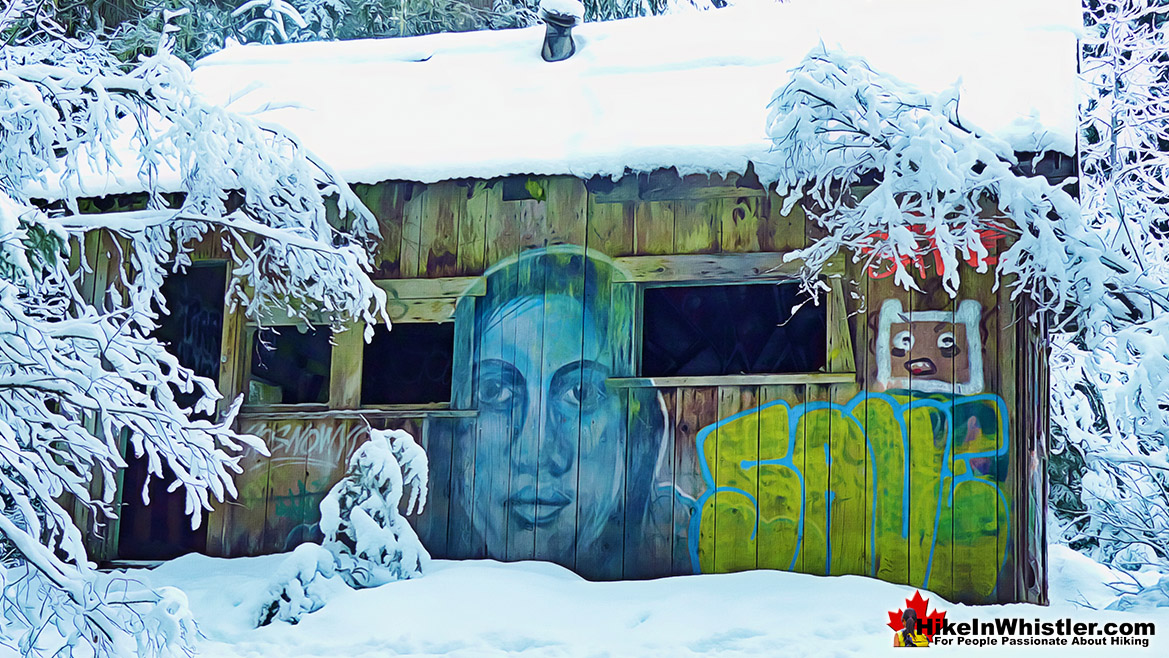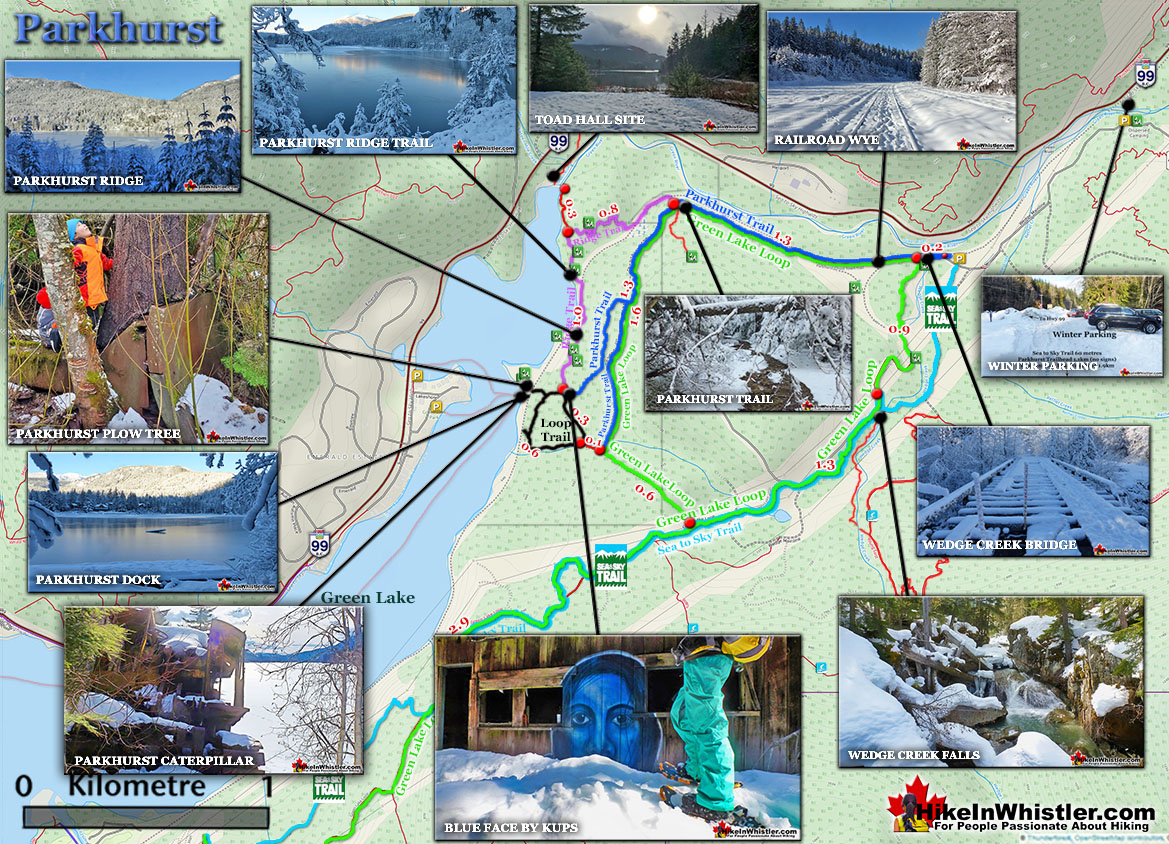 Parkhurst Ghost Town - Best Snowshoeing in Whistler
Joffre Lakes - Best Whistler Snowshoeing February

Joffre Lakes Provincial Park is a hiking paradise in the summer and a skiing and snowshoeing paradise in the winter.  About 1 hour and 20 minutes north of Whistler gets you to the Joffre Lakes trailhead.  Located up on the Duffy Lake Road north of Pemberton, Joffre Lakes is well known for its incredibly surreal, turquoise water.  In the winter of course, all three of the Joffre Lakes are frozen over but the trail is popular with skiers and snowshoers between the months of November and April.  The Joffre Lakes trail is fairly well marked and almost always tracked out in the winter it is still possible to lose the trail after dark or or during heavy snowfall.  Joffre Lakes Provincial Park is centred around the three Joffre Lakes.  All of them are beautiful on their own and each more beautiful than the last.  Frozen over in the winter, you won't be able to marvel at the amazing turquoise colours the lakes, caused by light reflecting off of the particles of glacial silt suspended in the water.  In the winter, with the lakes frozen and the trees weighed down with snow, Joffre Lakes takes on a serene beauty, with the low sun cutting through the trees and the forest brightly reflecting.  The third of the Joffre Lakes ends in a U-shaped valley where you will find the far side of the lake towering with glaciers relentlessly crushing down on the lake.  The sun fills the valley and the silence is wonderful.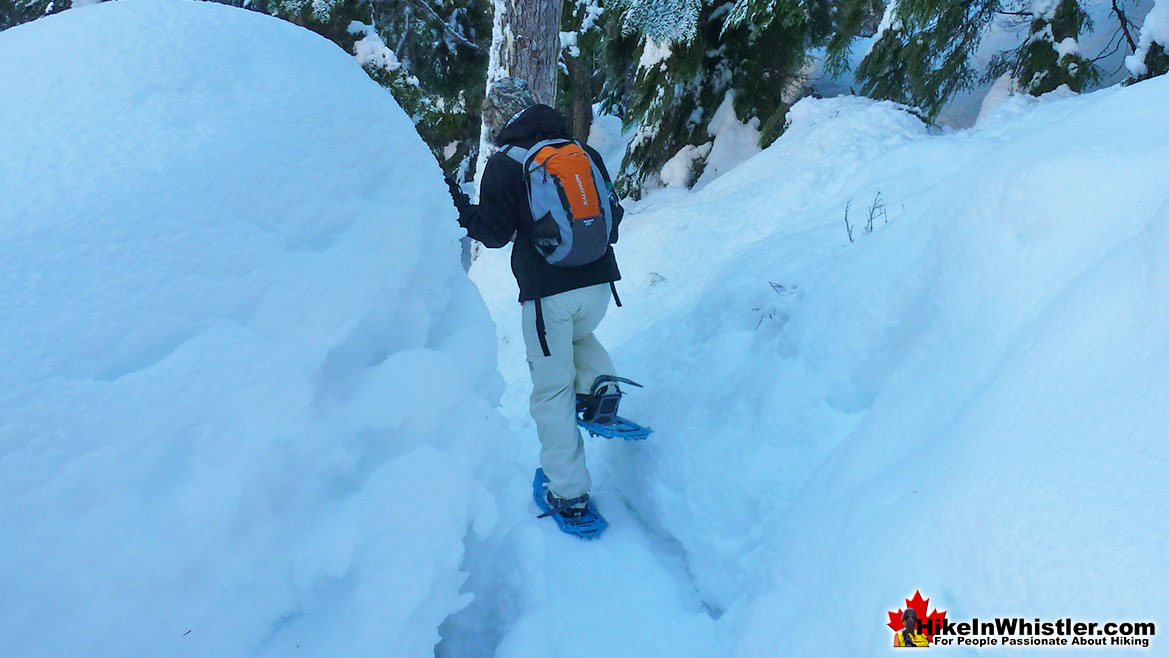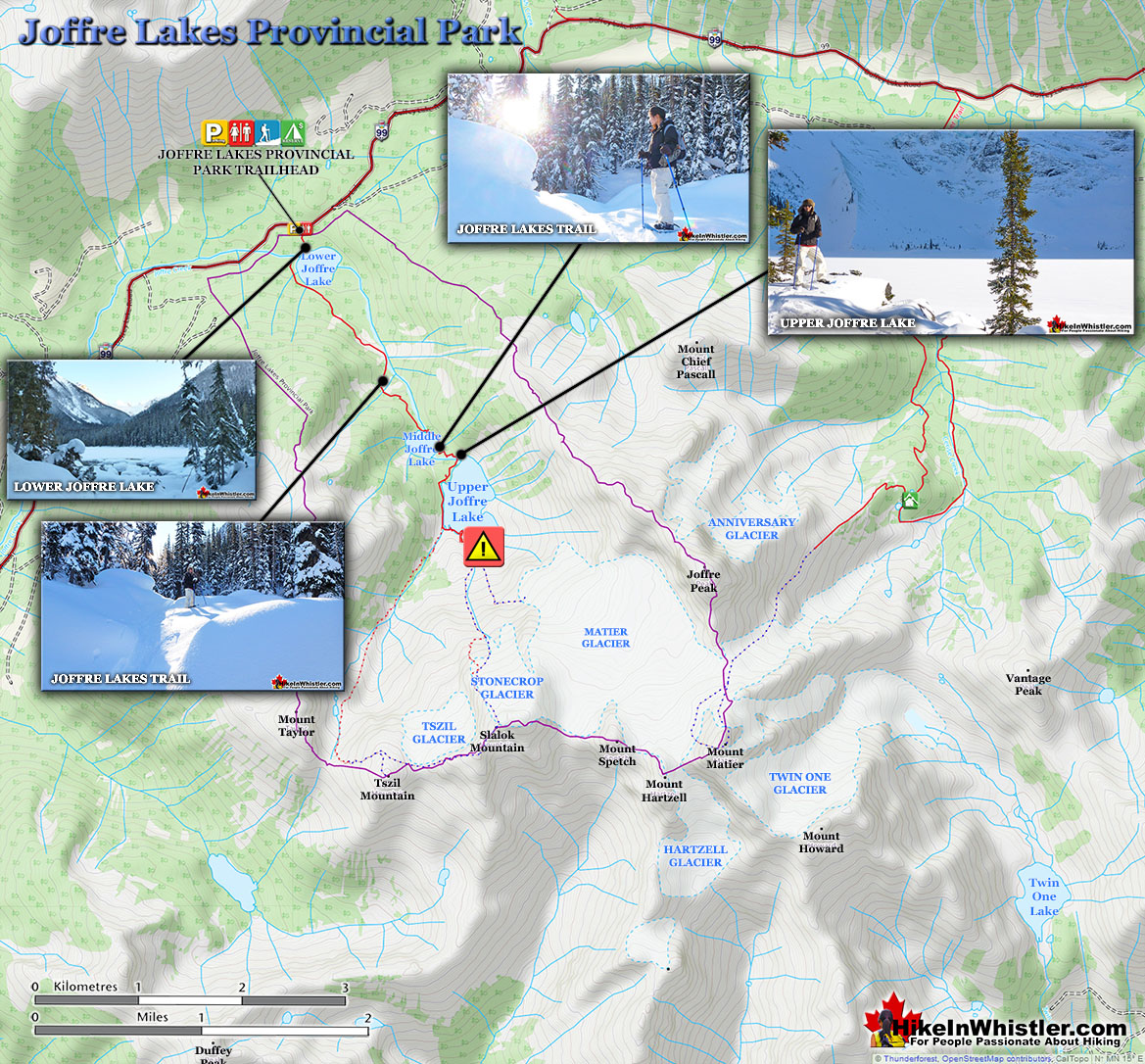 Joffre Lakes - Best Snowshoeing in Whistler
Cheakamus River - Best Whistler Snowshoeing February

Cheakamus River is located just 8k south of Whistler Village just off of the Sea to Sky Highway.  This well marked, though beautifully remote feeling snowshoeing trail takes you along both sides of the wildly crashing Cheakamus River.  Snow begins to fall in earnest in the Whistler area in November so the best months for snowshoeing the Cheakamus River are from late November to early April.  The best routes is to walk/snowshoe from your car for about 100 metres following the road to Cheakamus Lake.  At about 100 metres you will see a branching road go to the right and a large, vehicle bridge cross the Cheakamus River.  Cross the bridge and you will immediately see a trail on your left running along the river.  This trail, with Cheakamus River on your left will descend and ascend through a beautiful forest.  Sometimes close to the river, sometimes 100 metres away.  As these trails are popular in the summer for hiking and biking they are well marked with signs.  Keep to the signs aiming for the Cheakamus River suspension bridge which is 2k from where you parked and should take about an hour to reach.  Once you reach the suspension bridge you can cross it and return to your car from the other side of the river.  You will see a trail on the other side of the bridge on your left.  You can also snowshoe back via the Cheakamus River road which is just a hundred metres or so from the bridge (after you cross it from the side you just snowshoed).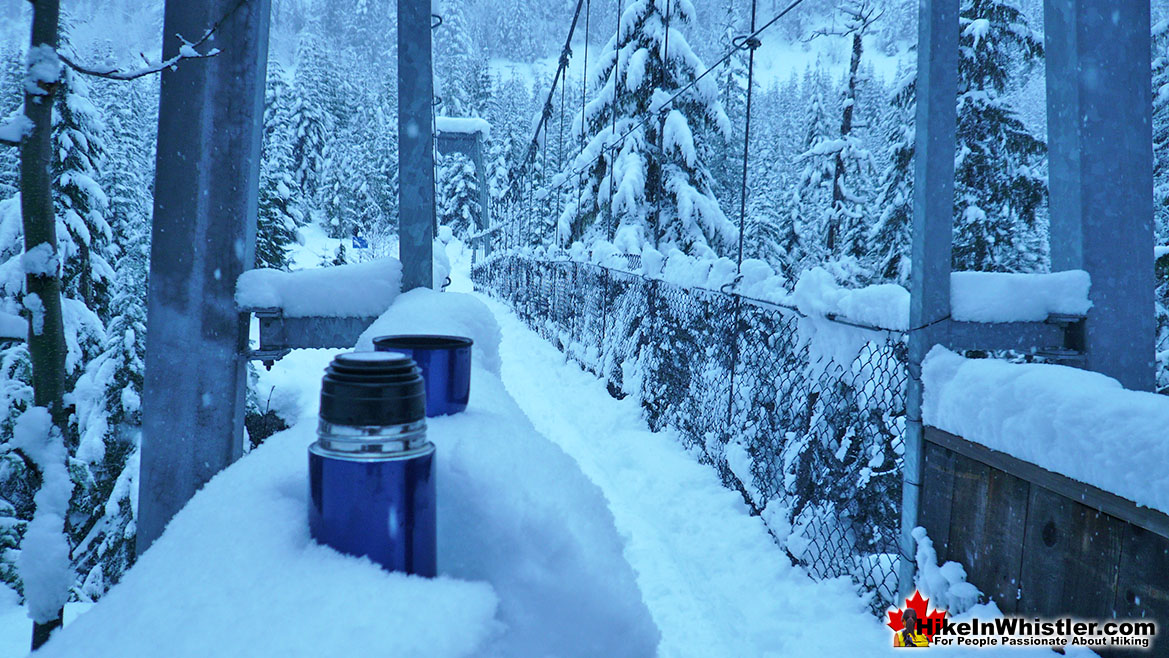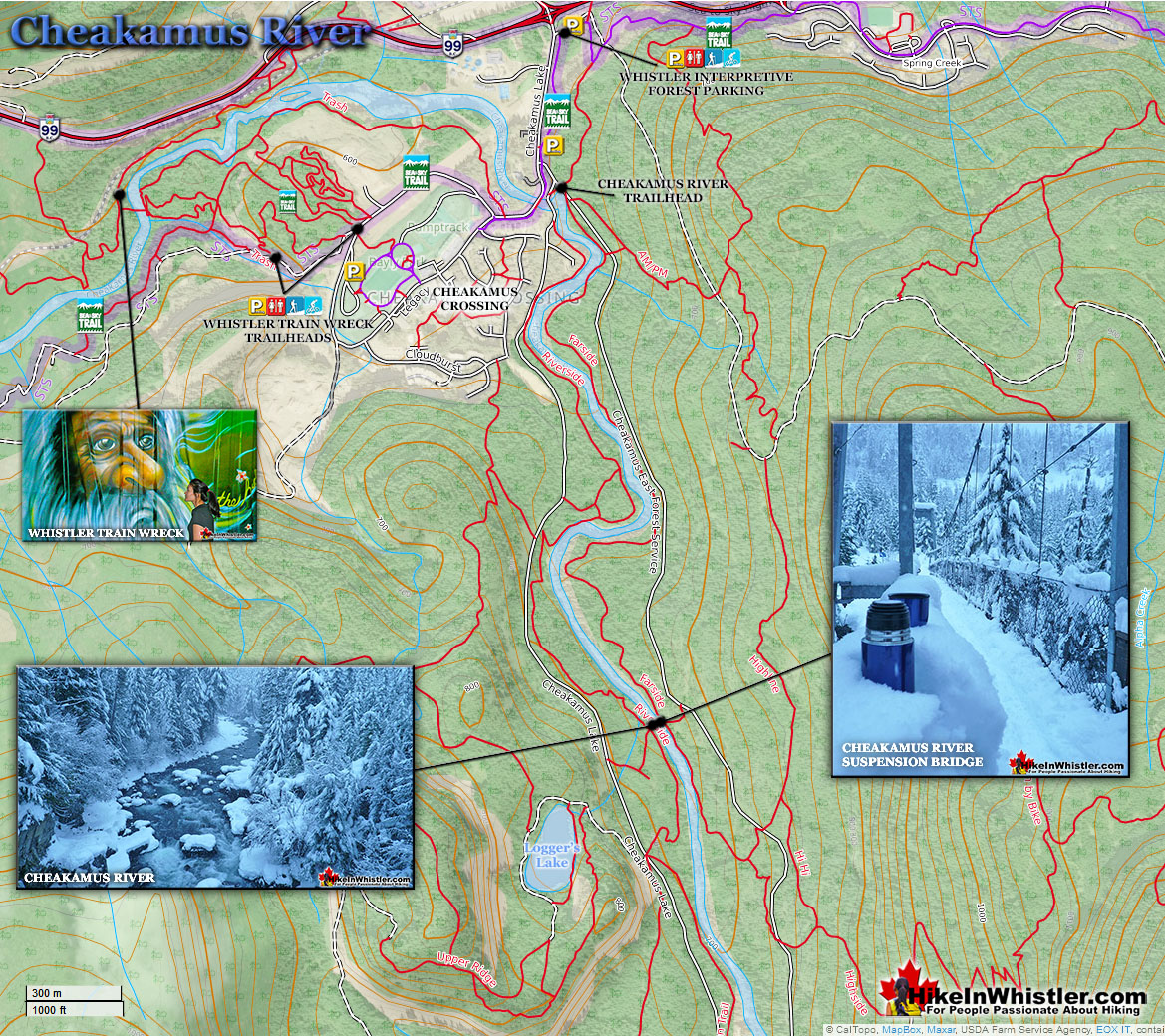 Cheakamus River - Best Snowshoeing in Whistler
Train Wreck - Best Whistler Snowshoeing February

Whistler Train Wreck is an easy/moderate snowshoe trail that takes you through a deep forest, over Cheakamus River via a very pretty suspension bridge, and to a series of decades old, wrecked train cars.  These mangled hulks are spread over an area about 400 metres long and along a particularly stunning section of Cheakamus River.  Snowshoe trails run on both side of the river and take you to gorgeous rock outcrops with stunning views.  On a clear winter day, you can easily find a sunny spot high above the chaotic mass of green swirling water below, and find yourself in a little corner of paradise.  Whistler Train Wreck is located in the neighourhood of Cheakamus Crossing, 8 kilometres(5 miles) south of Whistler Village.  Though you will be smart to bring snowshoes to get to Whistler Train Wreck, if it hasn't snowed in a couple days, you probably will be able to manage the trail without.  You will be confined to the parts of the trail packed down by previous snowshoers.  As the train wrecked cars are spread throughout the forest, snowshoeing in all directions is a fun way to navigate the beautiful forest maze!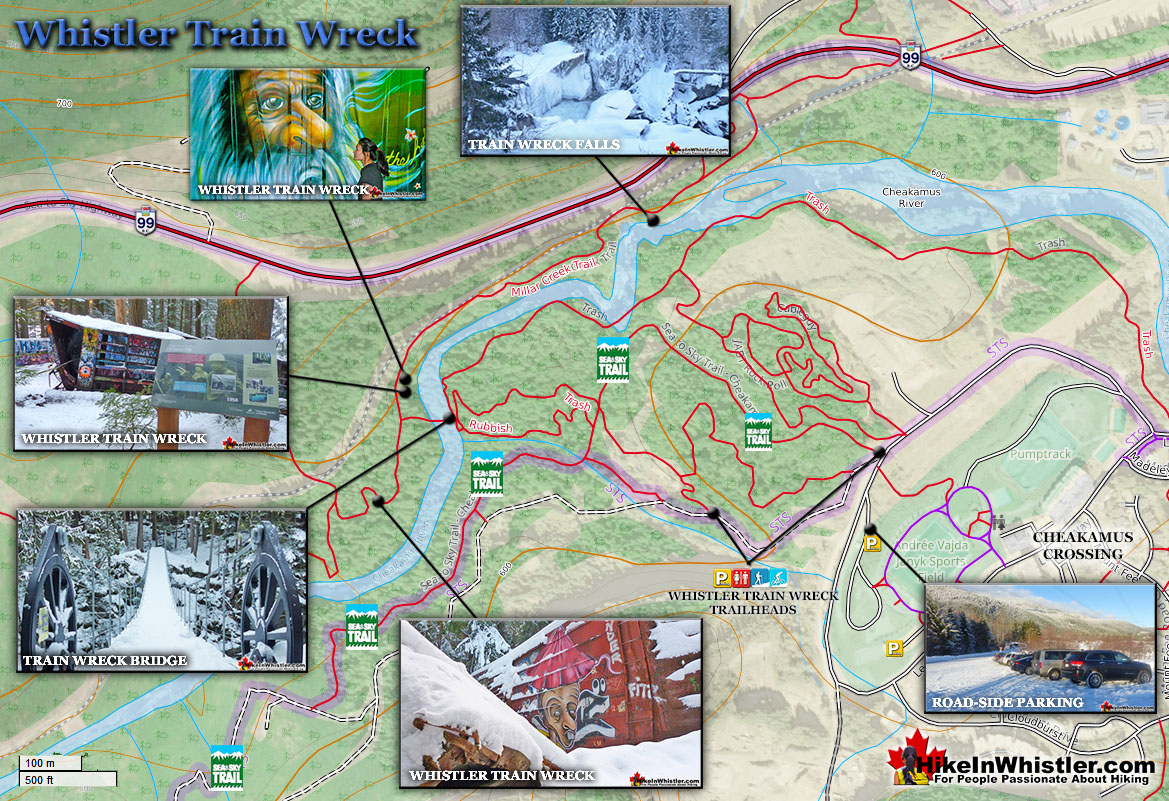 Train Wreck - Best Snowshoeing in Whistler 
Rainbow Falls - Best Whistler Snowshoeing February

Rainbow Falls is a fantastic way go get yourself into some deep snow quickly from Whistler Village.  The short, winding, and ever-changing hiking trail to Rainbow Falls is the same as the much more popular trailhead for Rainbow Lake.  The trailhead is marked as the Rainbow Trail, and the trail quickly ascends into the forest winding left, right, up and down almost constantly.  Twentyone Mile Creek, always on your right can be either seen or heard as you snowshoe through the forest to the somewhat hidden Rainbow Falls.  The Rainbow Falls/Rainbow Lake trailhead is located just a couple hundred metres from Rainbow Park on Alta Lake which is another great place to snowshoe in Whistler.  The Rainbow Falls trailhead is the same as the Rainbow Lake trailhead, located halfway along Alta Lake Road on the far side of Alta Lake. The Rainbow Falls trail is short, varied and relatively easy. This well used trail never goes in a straight line and goes up and down through a beautiful and deep forest.  There is only one small, easy to miss sign to Rainbow Falls, but finding the falls is easy.  To find Rainbow Falls, begin at the trailhead parking for "Rainbow Trail" on Alta Lake Road.  Follow the trail as it winds along the river.  If you come to obvious forks in the trail, choose the right fork.  In 0.8 kilometres from the trailhead parking you will arrive at Rainbow Falls.  The trail to Rainbow Falls is fairly popular in the winter so the snow is usually well packed down so you often don't need snowshoes.  The route to the falls is never in a straight line.  Zig-zagging left and right, up and down, some parts are steep, but at just 0.8 kilometres, the shortness of the trail makes it suitable for kids.  The topography and sheer volume of snow make this a very fun trail to snowshoe for everyone.  Expect to take less than an hour, car to car, but much longer if you stop for a picnic or to play in the snow.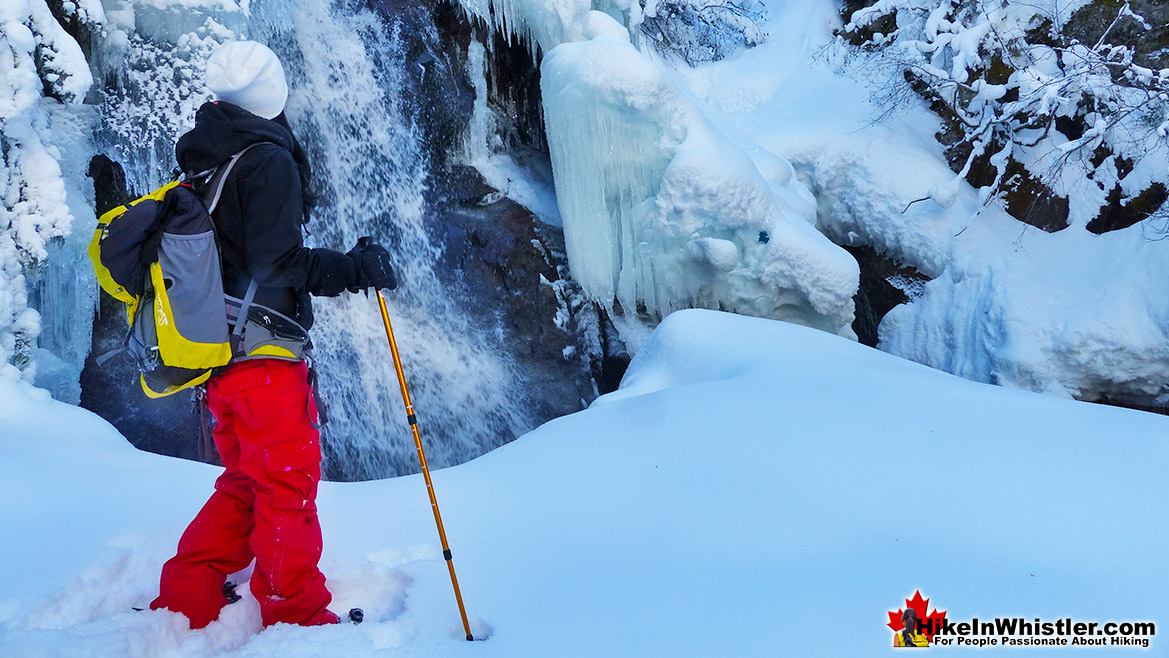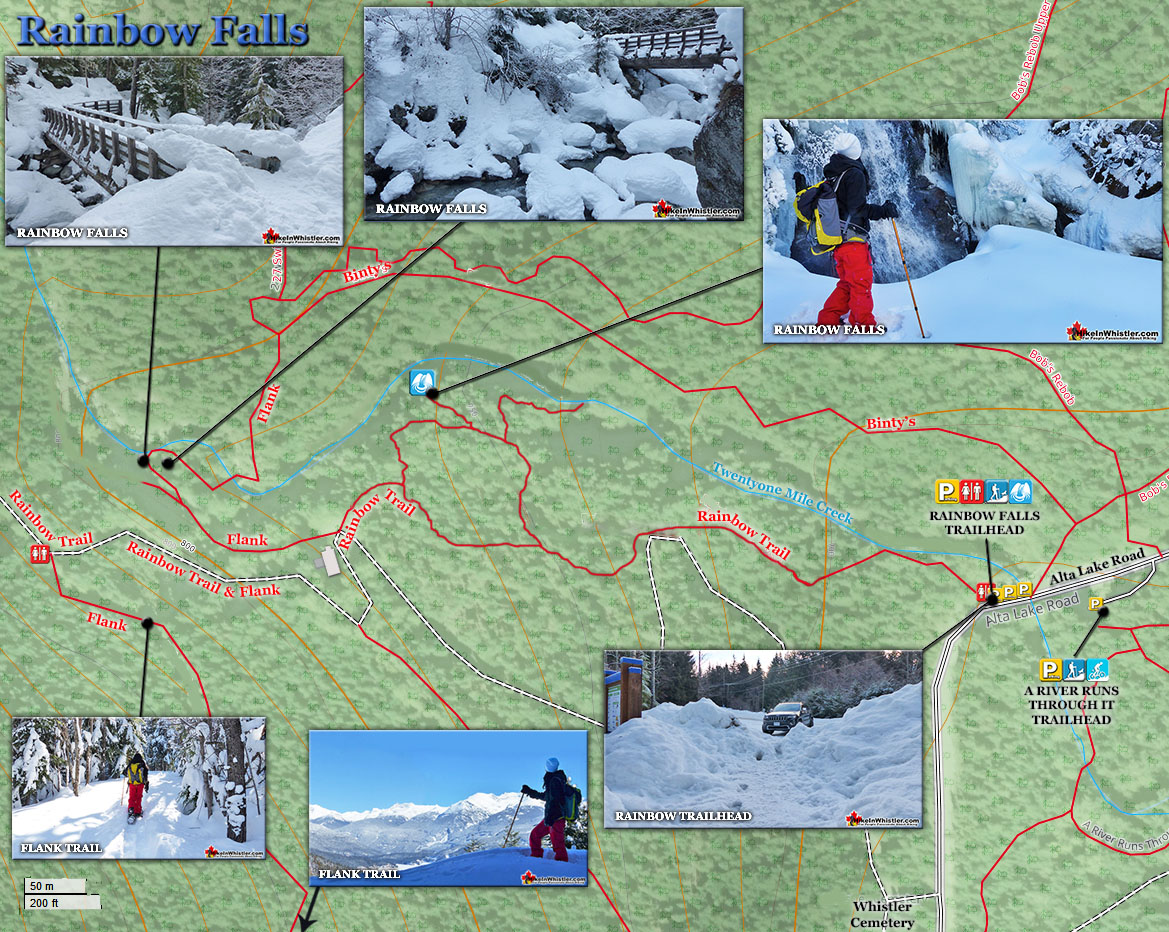 Rainbow Falls - Best Snowshoeing in Whistler
Skookumchuck Hot Springs in February

Skookumchuck Hot Springs, located two hours north of Whistler along the edge of the huge Lillooet River. The name Skookumchuck means "strong water" in the language of the Chinook people of the Pacific Northwest. The name is associated with the hot springs because of the nearby First Nation community of Skatin, which was once called Skookumchuck.  The Skookumchuck Hot Springs were also once known as St. Agnes Well during the days of the Fraser Canyon Gold Rush, but that name has fallen into disuse. They are also known locally by the Skatin name as the T'sek Hot Springs.  The hot springs start in a pool which is far to hot to use so there are a network of tubes emanating from this pool to feed a ramshackle array of tubs. There are five tubs, which include one very large one under an A-frame which could hold 10 people and is beautifully comfortable. A smaller one under a half A-frame privacy screen which could hold 8 under the stars.  And three more open tubs. Clothing, you will quickly discover, is optional.  Continued here...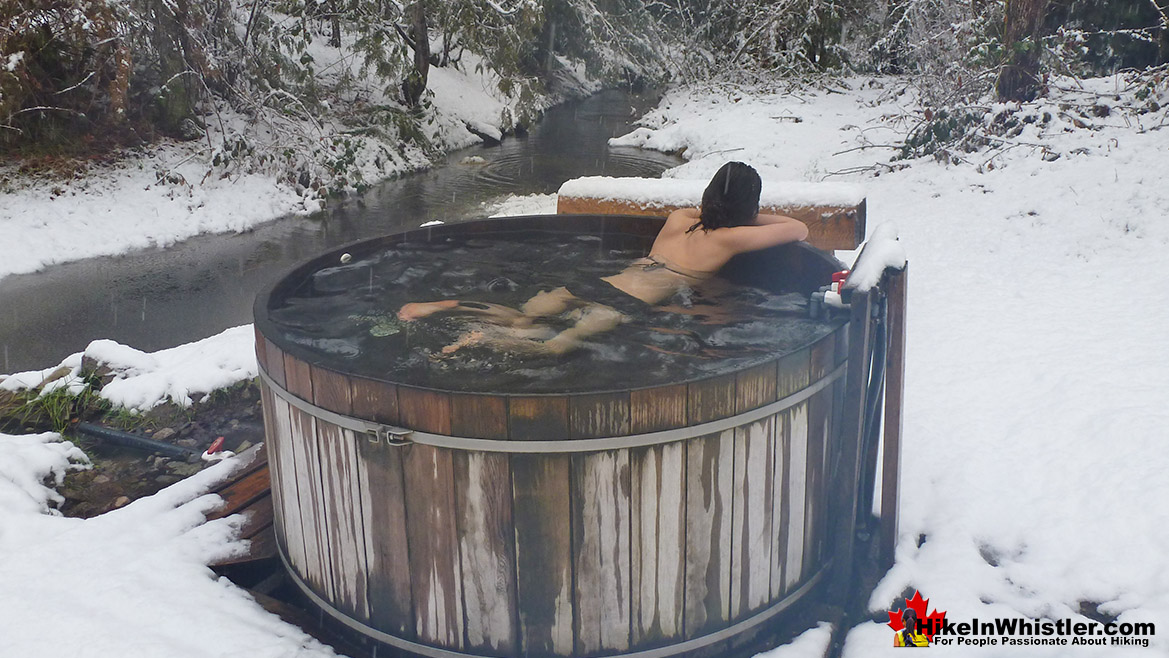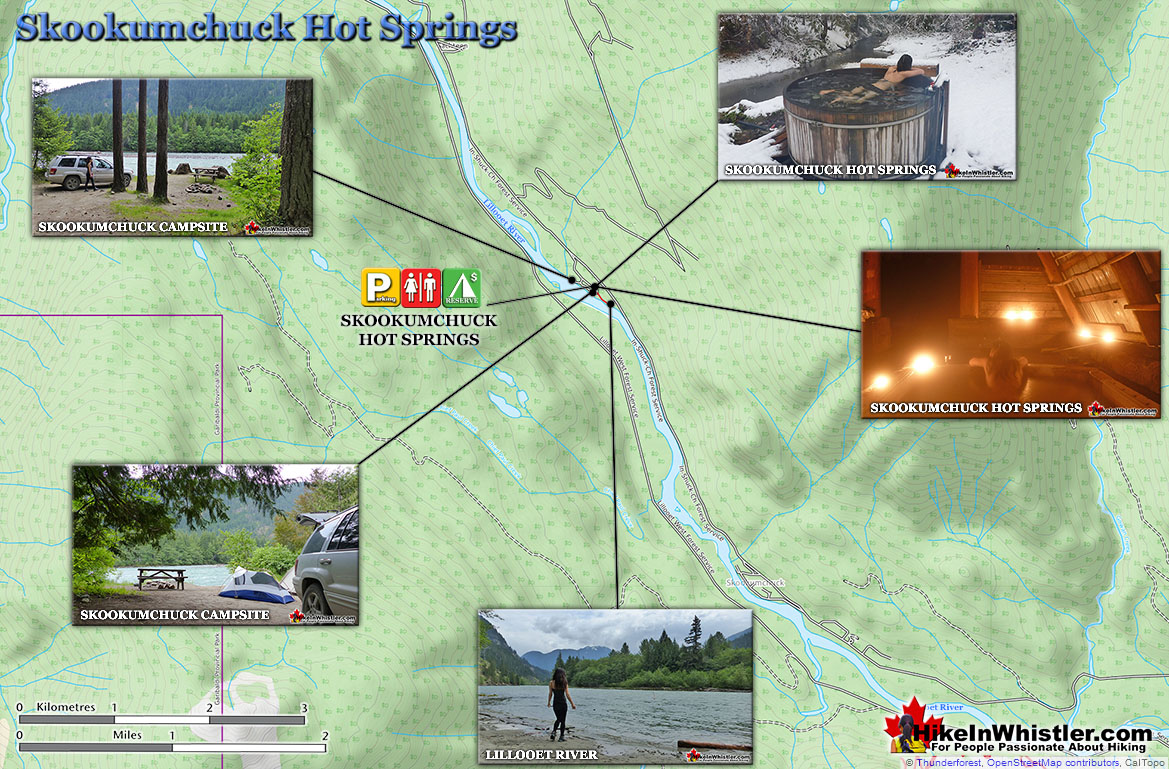 Nairn Falls Snowshoeing in February

Just a 20 minute drive north of Whistler Village on the Sea to Sky Highway is the beautiful Nairn Falls Provincial Park.  A nice, easy and short trail takes you to these crashing and deep falls that have carved potholes in the rock over the years.  Though Nairn Falls campground is very large and busy much of the year, in February the place is very quiet.  Not open for camping, the park is desolate and serene.  Unless there has been heavy and recent snowfall, the 1.2 kilometre trail doesn't require snowshoes and is easy and flat.  Nairn Falls Provincial Park is located just a twenty minute drive north of Whistler Village.  The popular trail is actually hike-able year-round, so you most likely will not need your snowshoes unless there has been lots of new snow in the last couple days.  The trail is well marked and doesn't gain any significant elevation, making it a very easy, kid friendly trail.  The viewing area is located within a bend in the falls/river and the churning waters rushes around where you stand, far below.  The water crashes through deep cuts in the rock and rushes into deep, green pools.  There is a wonderful sign depicting how the area was formed over thousands of years.  A short side trail from the main viewing area takes you over to an abrupt edge, where you can look down on the Green River below.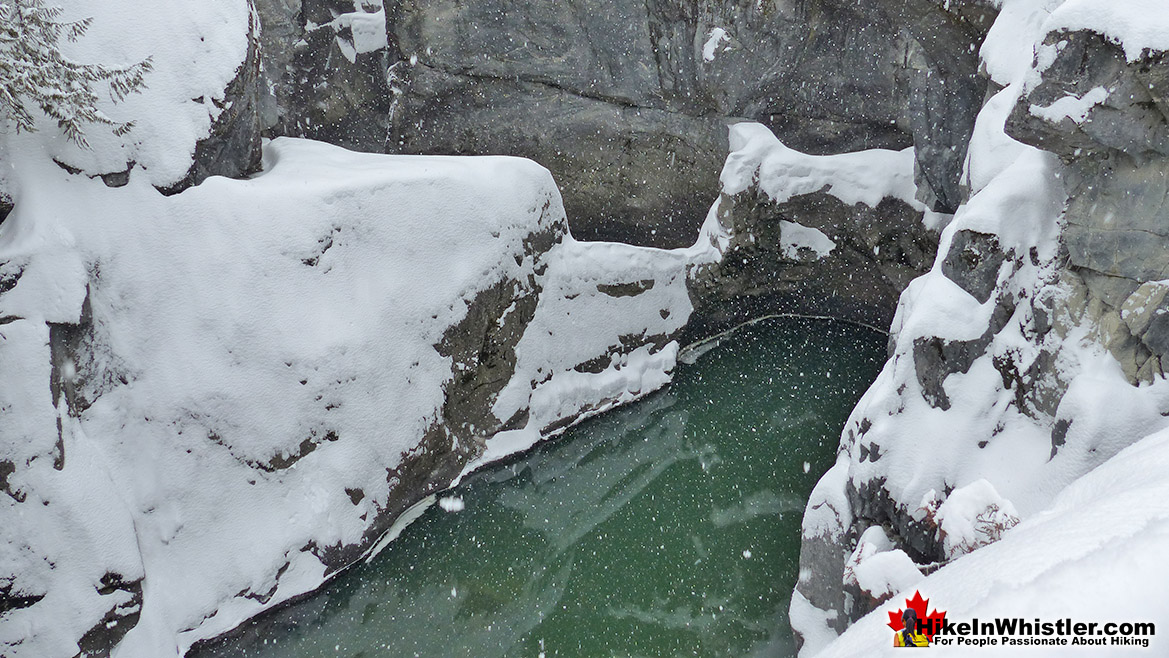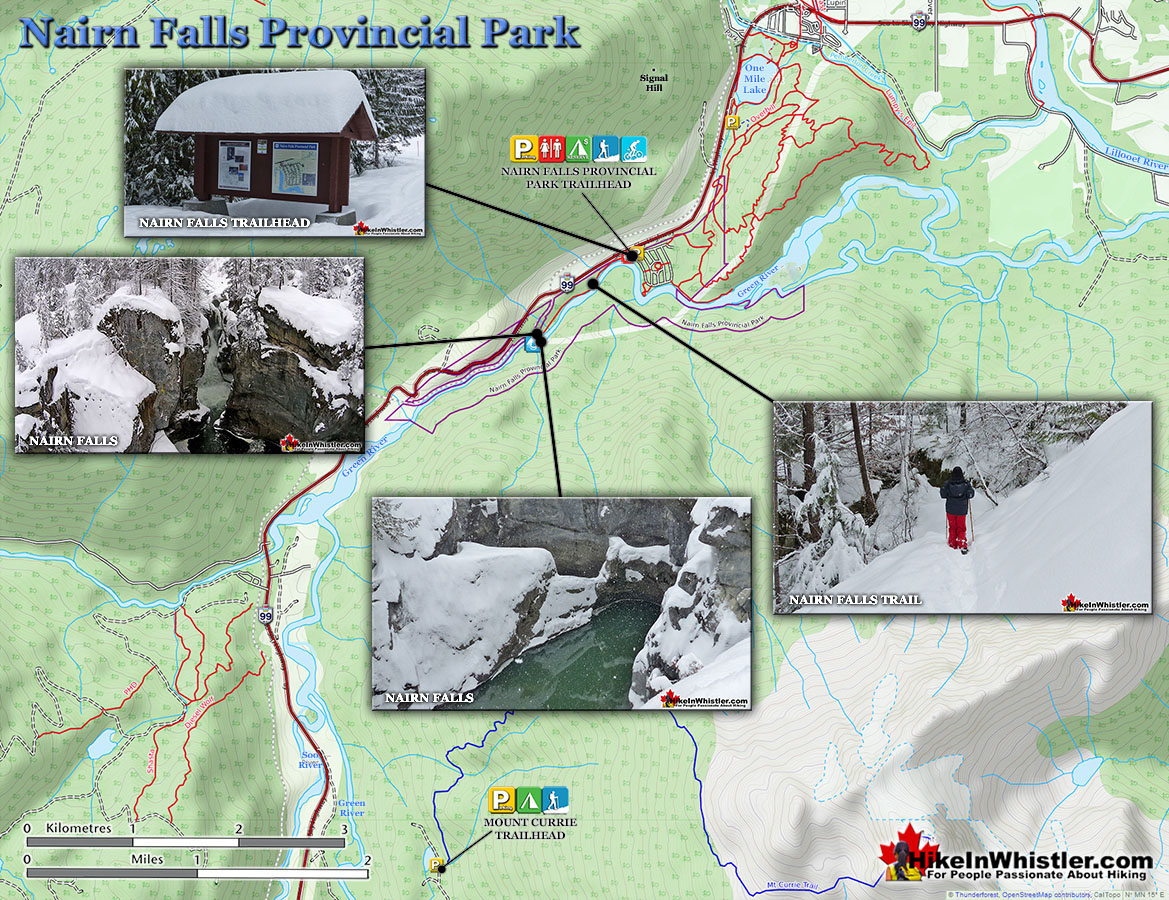 Alexander Falls in February

If you would rather just jump in your car, take a beautiful drive directly to an amazing waterfalls viewpoint, then Alexander Falls is perfect for you.  Up on the mountains of Callaghan Valley, where some of the 2010 Olympic Games events were held, sits Alexander Falls.  A large viewing platform sits directly across from the falls.  The parking lot is buried in snow in the winter months, however a small parking area is cleared just off Callaghan Valley Road.  From your car to the falls viewpoint is just a couple hundred metres and because it is so close you likely will have no problem without snowshoes.  Alexander Falls are similar to Brandywine Falls in that they abruptly fall from a high and very vertical cliff to a chasm far below.  Alexander Falls is about 30 minutes from Whistler Village and the drive up Callaghan Valley Road is beautiful, especially on a sunny day!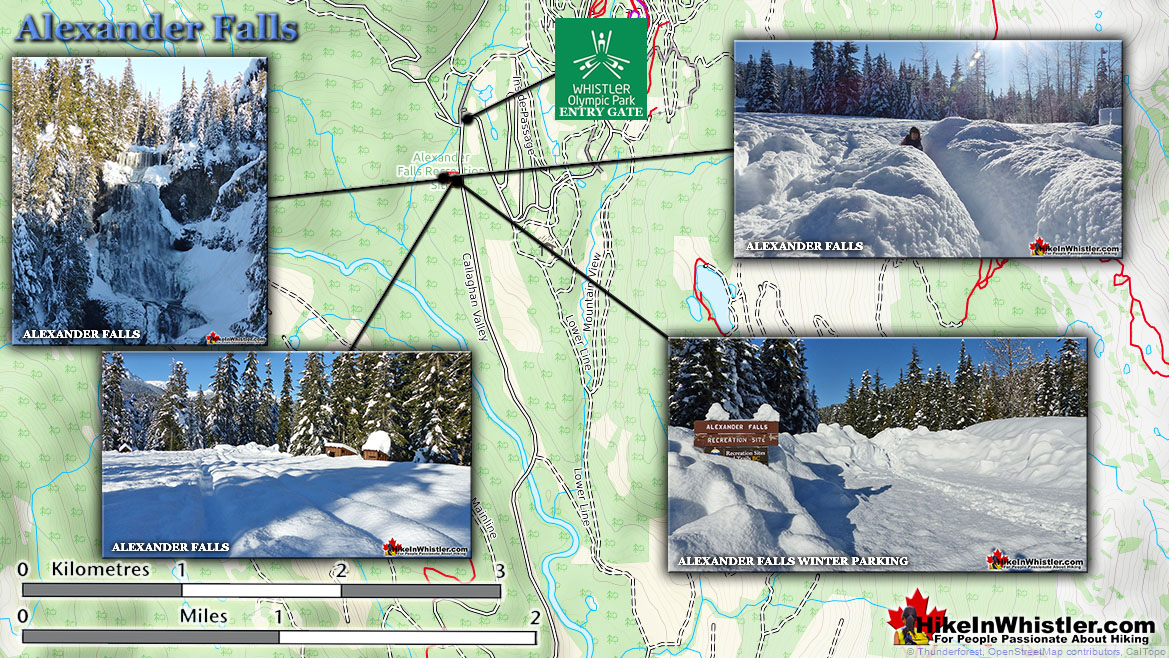 Brandywine Falls in February

If you like waterfalls, then Brandywine Falls is nearby and even more dramatically beautiful than Alexander Falls.  Brandywine Falls Provincial Park is located just south of the Sea to Sky(highway99) turnoff to Alexander Falls.  Brandywine Falls is amazing to see in the summer, but in the winter it is even more extraordinary.  The sounds are echoed louder as they echo off the frozen chasm the water falls into, yet the area is magically serene with rarely anyone to break the peacefulness of the park.  The trail to Brandywine Falls is is very short and quite nice, but BCParks likes to prevent hikers in the winter.  They have a locked gate preventing access to the parking lot and in the last couple years have been actively towing cars parked in the large area outside the gate.  Fortunately you can still get to Brandywine Falls fairly easily by starting at another one of Whistler's beautiful places, the Whistler Bungee Bridge.  The access road to it is plowed in the winter and the large parking lot is as well.  A very worthwhile sight to see in Whistler on its own and Brandywine Falls is just a short and gorgeous snowshoe trek away!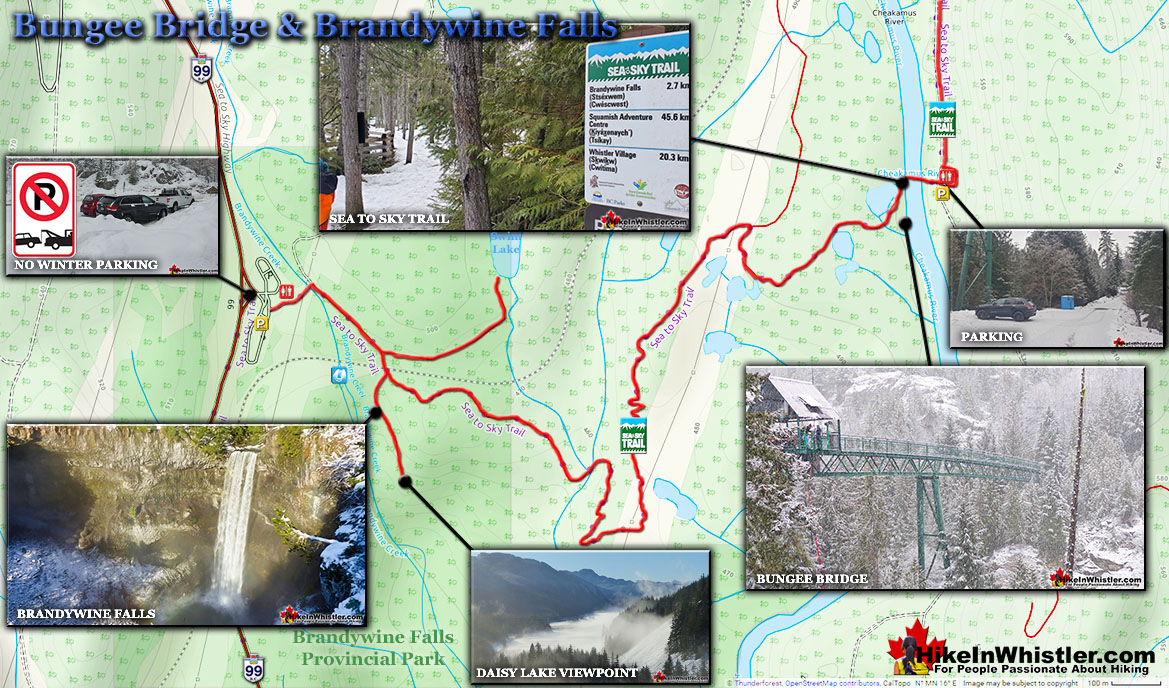 Vancouver Snowshoeing in February

If you are interested in driving south to Vancouver there are some great places to snowshoe there.  Certainly a lot warmer than Whistler, and most have great ocean views.  The Lions, West Lion Trail is only an hours drive south of Whistler in Lions Bay between Squamish and North Vancouver.  It's a fairly long, though well marked trail, 15k roundtrip with an elevation gain of 1282 metres in 7.5k.  You can't actually reach the summit of the West Lion in the winter, but the plateau before the summit has spectacular views of Howe Sound.  For something a lot easier and with views just as amazing Hollyburn Mountain further south towards Vancouver is an amazing snowshoeing option.  Only 1 hour, 20 minutes from Whistler in the beautiful Cypress Provincial Park, this trail is well marked, though at times, a steep 7k roundtrip.  It is easily done as a pit stop half day on a trip to or from Whistler or Vancouver. Dog Mountain and Suicide Bluffs in Vancouver is another great snowshoeing destination not terribly far from Whistler.  Just 30 minutes further south in Vancouver at the Seymour Mountain Ski Resort.  This is another easy, half day snowshoeing trip as it is only 2.2k from your car to the beautiful views at the summit of Dog Mountain.  Don't forget to stop at Shannon Falls in Squamish.  This beautiful and massive falls is just a 5 minute walk from your car and you get so close as to feel the spray on your skin.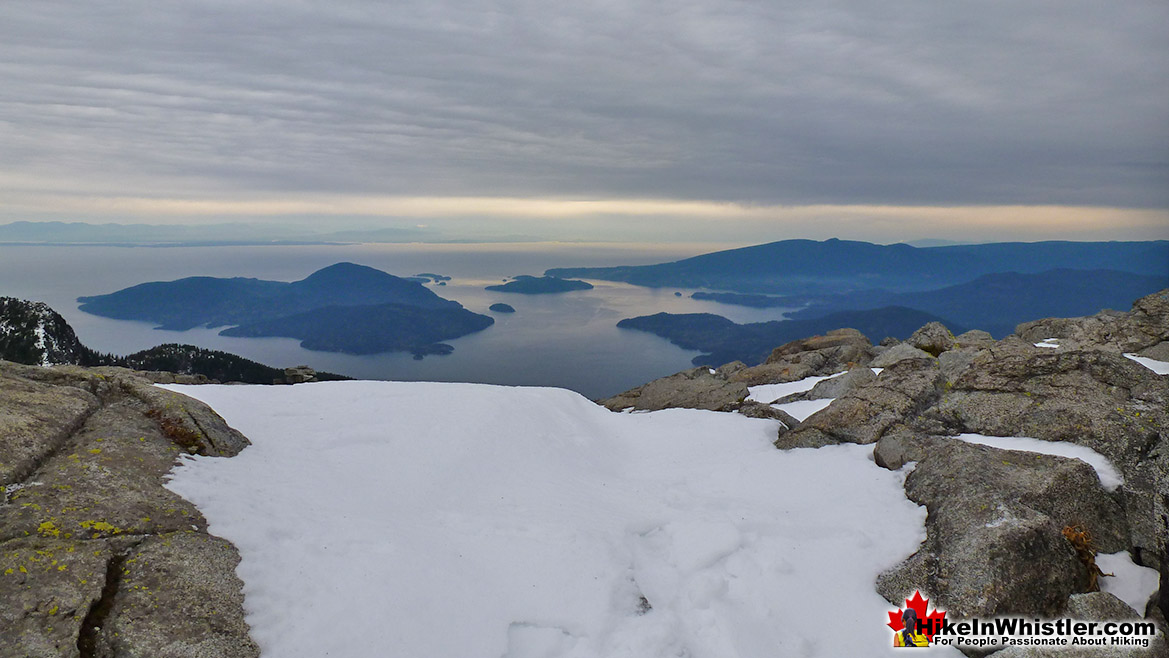 Sproatt East - Best Whistler Snowshoeing February

The Sproatt East trail is one of the nicest snowshoe trails in Whistler.  With the trailhead high up in Stonebridge, partway up the flank of Mount Sproatt, you start snowshoeing already high up in the wonderfully secluded wilderness overlooking Whistler valley.  Just a few metres along the trail you catch glimpses of Black Tusk far across the valley before entering the forest along the Sirloin trail.  Sirloin ascends through the forest and soon crosses the Rainbow-Sproatt Flank Trail and connects to Darwin's trail.  Darwin's bends further up Sproatt along beautiful and elaborate, wooden boardwalks that zig-zag up a steep section.  Soon the trail emerges from the forest for the first of many beautiful views over the valley.  Darwin's merges onto Flank and soon crosses Nita Creek and the the easy to miss, unmarked Sproatt East trail extends up the left side of Nita Creek.  Mount Sproatt is a big, sloping mountain with dozens of beautiful plateaus that are quite easy to get to.  Back on Flank, just before you crossed Nita Creek there is a faint trail that ascends quickly up to the first of many beautiful plateaus overlooking the valley.  At just 1.4 kilometres from where you started, this plateau is a excellent destination on its own and on a sunny day it is paradise!  If winter camping is your thing, this spot is pretty hard to beat with its convenience and sweeping views of the valley looking across to Blackcomb Mountain and Whistler Mountain.  Nita Creek can be heard crashing about 40 metres below, hidden by snow covered treetops.  This plateau is fairly easy to reach on snowshoes and Sirloin, Darwin's and Flank are a steady ascent, but only moderately challenging snowshoe trails.  The Sproatt East trail gets progressively more challenging as you climb every steeper into the vast wilderness of Mount Sproatt.  Virtually unknown and rarely hiked, even in the summer.  despite this it is surprisingly well defined and well marked with tree ribbons.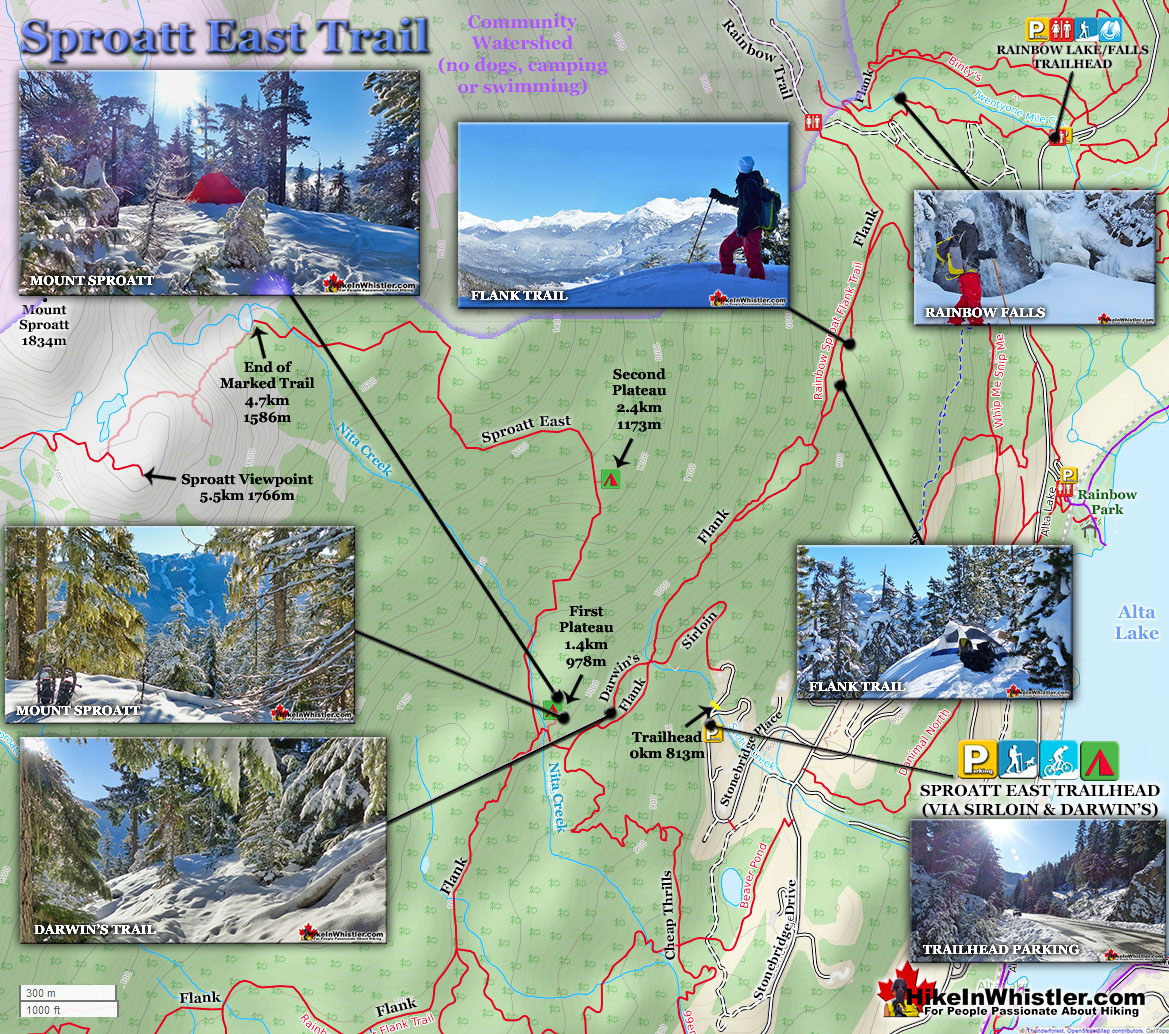 Flank Trail - Best Whistler Snowshoeing February

Hiking and biking trails are so abundant in Whistler that many go unnoticed, neglected or taken for granted.  The Flank Trail is one of these.  Most people in Whistler don't even know about it, but the ones that do, love it.  Officially known as the Rainbow-Sproatt Flank Trail, it runs the length of Whistler Valley, opposite Whistler Mountain and Blackcomb Mountain, and connects to dozens of hiking, snowshoeing and biking trails.  At roughly the mid point of the Flank Trail you will come to a small, overlapping section of the Rainbow Trail, near Rainbow Falls.  From Whistler Olympic Park to the Rainbow Trail, you will have hiked halfway around Mount Sproatt.  The Flank Trail seems to terminate at the Rainbow Trail, however a small sign directs you to turn right, follow the Rainbow Trail, for a couple hundred metres, then left after the water treatment building to the beautiful bridge over 21 Mile Creek.  A beautiful way to access the Flank Trail on snowshoes or on foot any time of the year is via the Rainbow Trail near Rainbow Park on the far side of Alta Lake.  From the road-side parking at the trailhead you are immediately plunged into deep forest, deep snow, and the sound of crashing water nearby.  The Rainbow Trail winds through the forest fairly steeply upward.  In less than a kilometre you come to Rainbow Falls crashing down through huge pillows of snow.  This little waterfall sits in a beautiful little snowy enclave that feels as though it belongs in some movie.  Deep snow, crystal clear green water cascading down from a frozen cliff.  A little, hidden paradise.  One of many in Whistler.  Further up the trail takes you to the first signs for the Flank Trail.  The Flank Trail overlaps and crosses the Rainbow Trail for half a kilometre.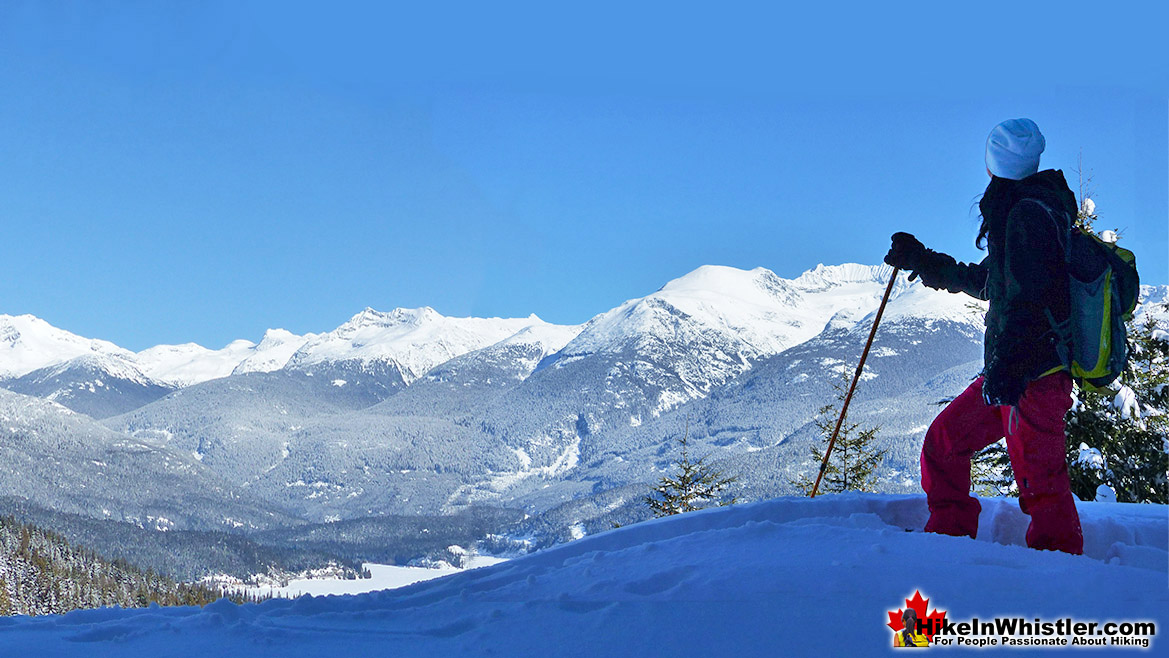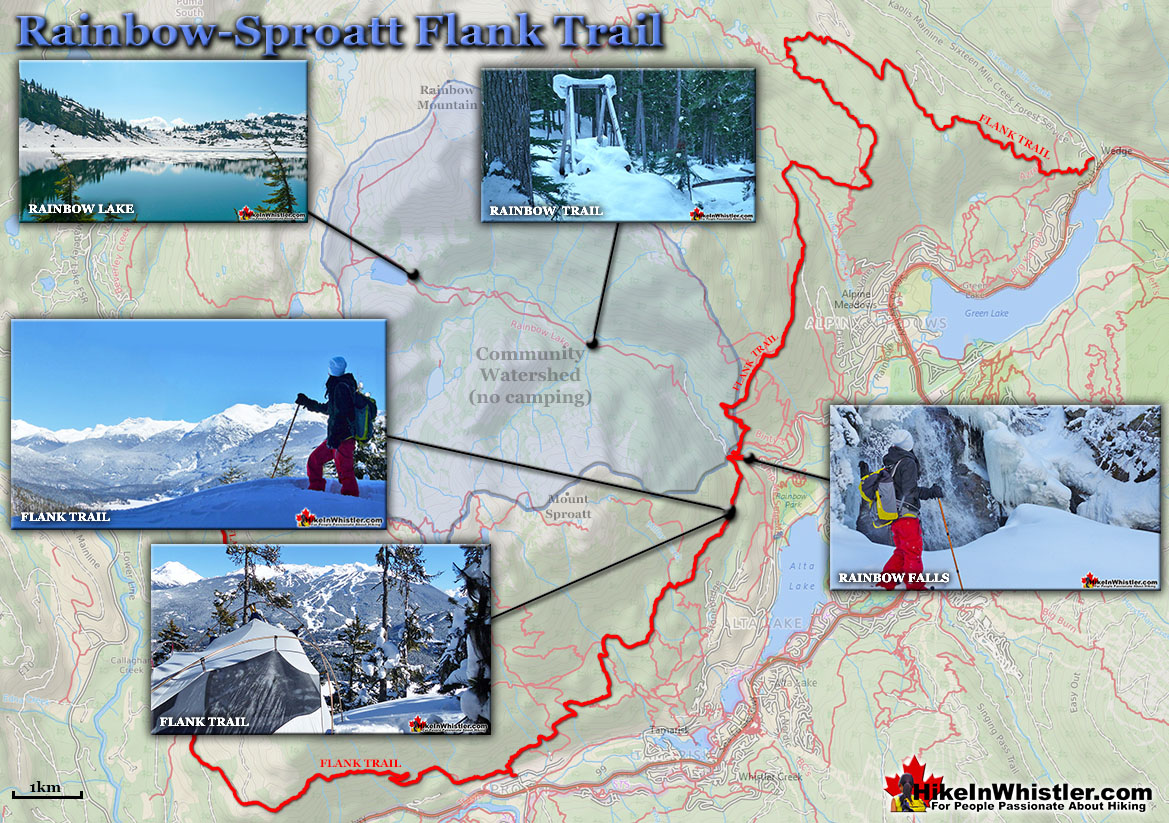 More February Snowshoeing in Whistler - Flank
Elfin Lakes - Best Whistler Snowshoeing February

Elfin Lakes in Garibaldi Provincial Park is another beautiful place to snowshoe.  Located at the south end of Garibaldi Park, the Elfin Lakes trailhead is found in Squamish.  Garibaldi Provincial Park is the massive wilderness park of nearly two thousand square kilometres that stretches from Squamish to Pemberton.  If you are driving the Sea to Sky Highway to Whistler, Garibaldi Park will be the vast wilderness of snow-capped mountains on your right.  The Elfin Lakes trail is not overly difficult, however it is quite long.  A consistently uphill, 11 kilometre(6.8 mile) trail through some spectacular scenery takes you to the marvelous Elfin Lakes hut.  This two level, heated hut even has electric lights that run on solar power.  A wonderful oasis in the mountains, the Elfin Lakes hut is surrounded by spectacular mountain views in all directions and deep snow well into May!  **Closed for renovation in 2023 campsite still open**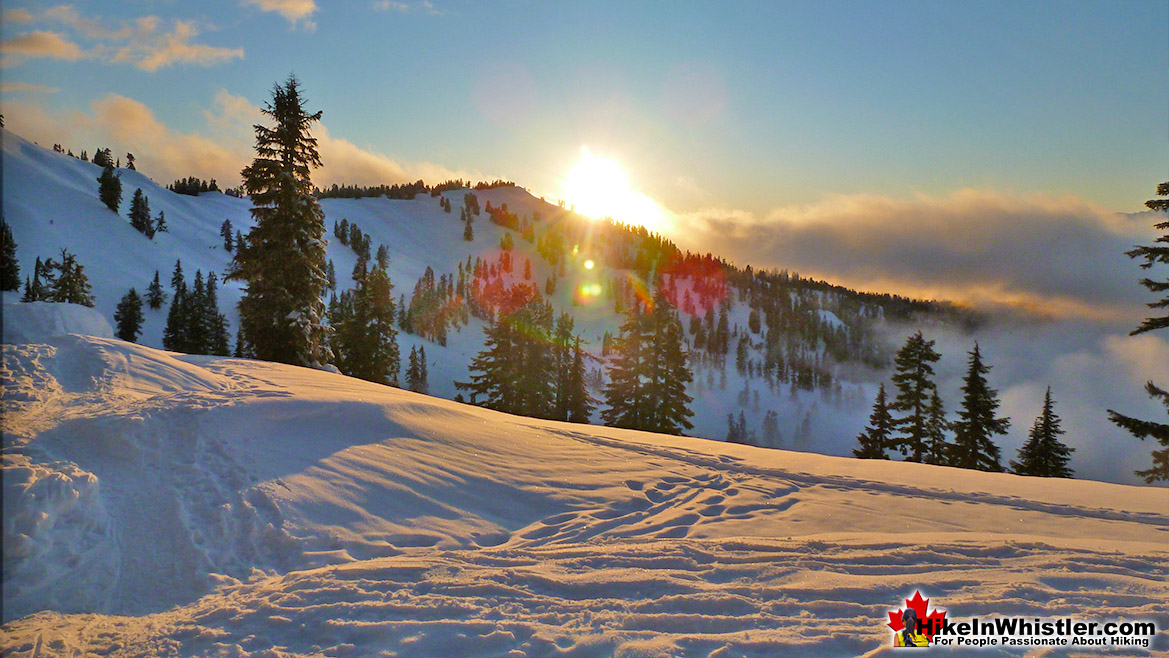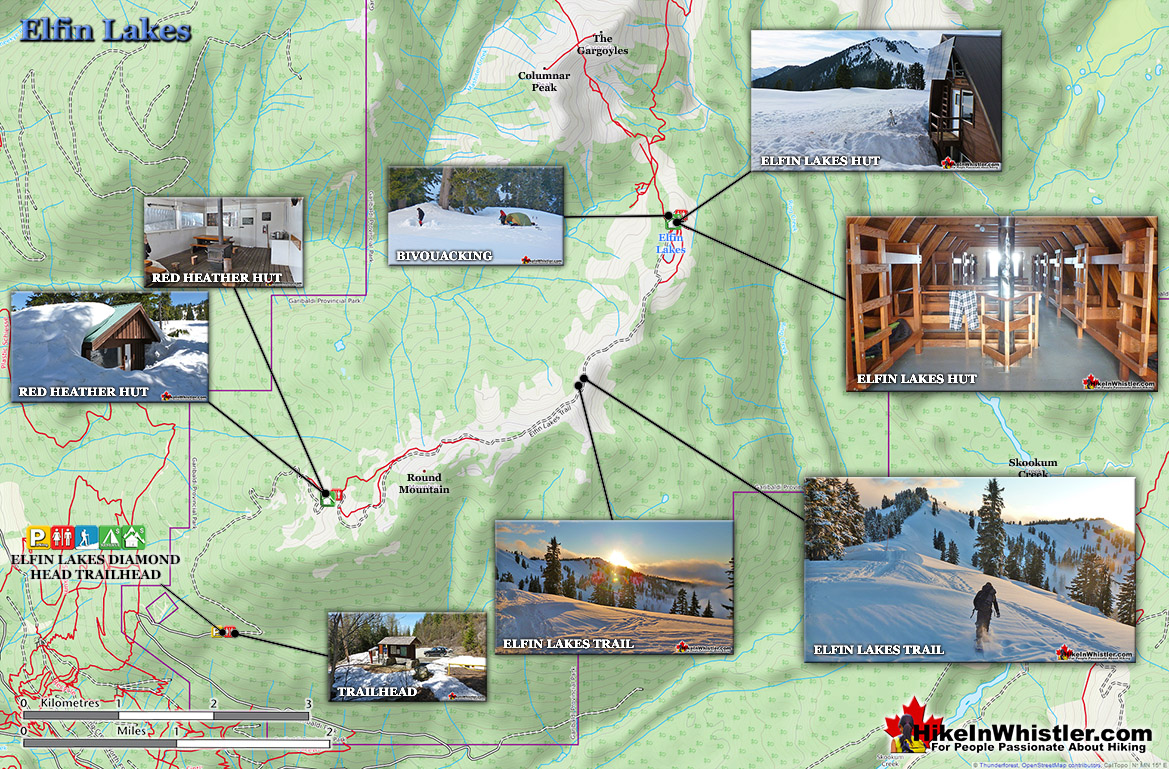 Elfin Lakes - Best Snowshoeing in Garibaldi Park
Wedgemount Lake - Best Whistler Snowshoeing February

Wedgemount Lake is another snowshoeing destination in Whistler.  Extremely challenging during the winter when the snow piles up owing to its very steep 9 kilometre(5.6 mile) trail.  Snow burying the access road adds a couple kilometres to the 7 kilometre trail.  In the summer you can hike to Wedgemount Lake in just 2-4 hours, in the winter on snowshoes it takes 4-8 hours!  Wedgemount Lake is far too brutal for most to tackle in the winter due to the steep trail and hard to follow trail.  The Wedgemount Lake hut is an extraordinary oasis of warmth in the middle of the beautiful Wedgemount Lake valley.  Anyone can use the hut, anytime.  It can sleep up to 8 reasonably comfortably and consists of two large tables on the lower level and a small loft that can fit four people.  Sporadically used by skiers in the winter, though rarely used by snowshoers due to the difficulty of the trail in the winter.  If you do make it up to Wedgemount Lake you will be rewarded with a phenomenally beautiful, snow filled mountain paradise of a valley.  The Wedgemount Lake trail is deep with snow from late December to late June most years.  If you snowshoe it November to mid December or mid June to early July, you will only need your snowshoes partway up the trail.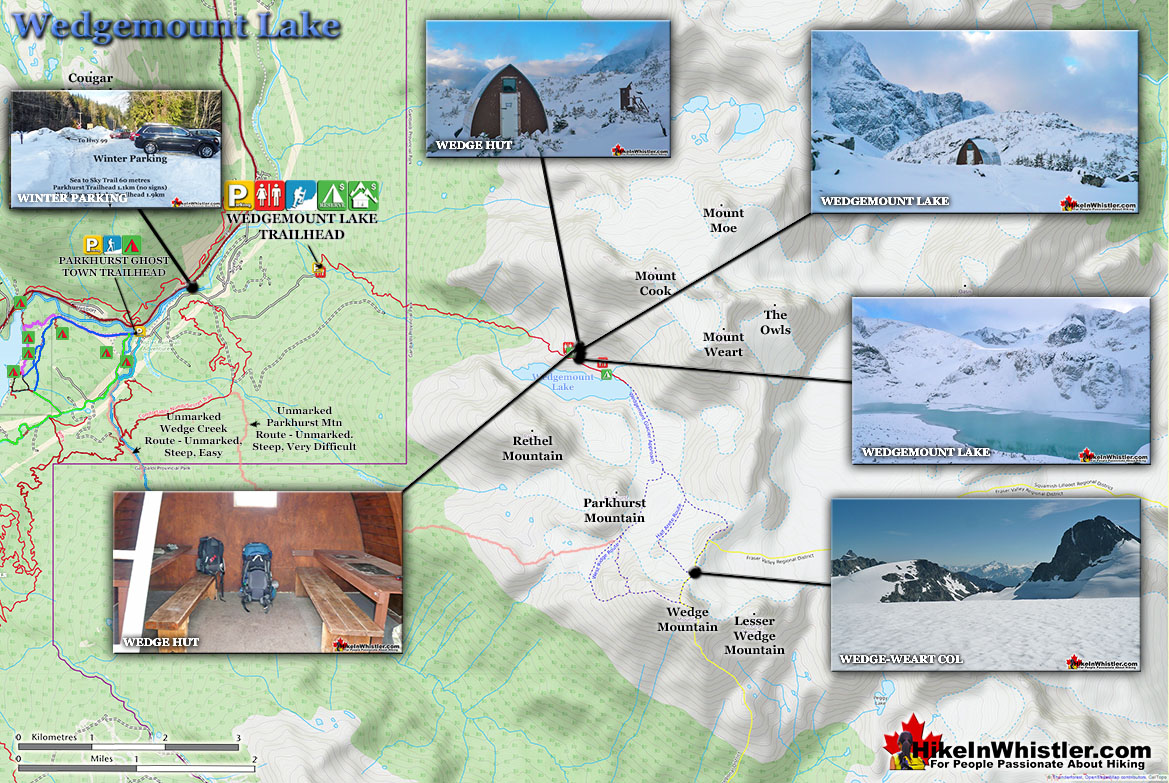 Wedgemount Lake - Best Snowshoeing in Whistler
Hiking in Whistler and Garibaldi Park by Month!

Whistler Hiking Glossary A to Z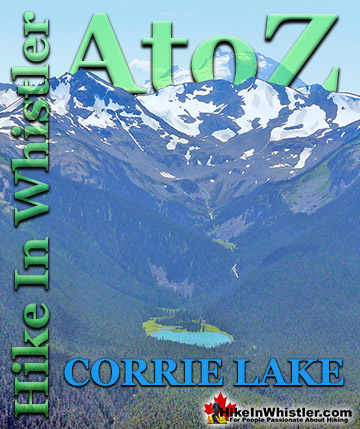 Read more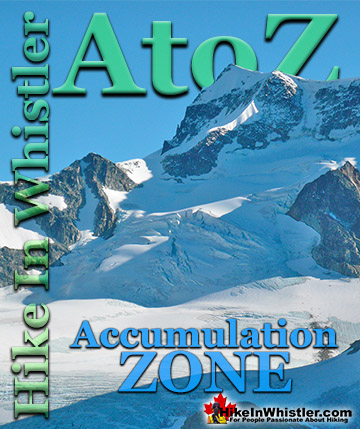 Accumulation Zone: the area where snow accumulations exceeds melt, located above the firn line.  Snowfall accumulates faster than melting, evaporation and ...
Read more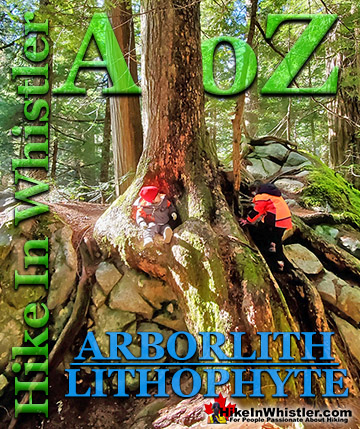 Every unusual phenomenon in the forest seems to have a name, but one natural work of art seems to be without a commonly used name.  Big trees with ...
Read more

Explore BC Hiking Destinations!