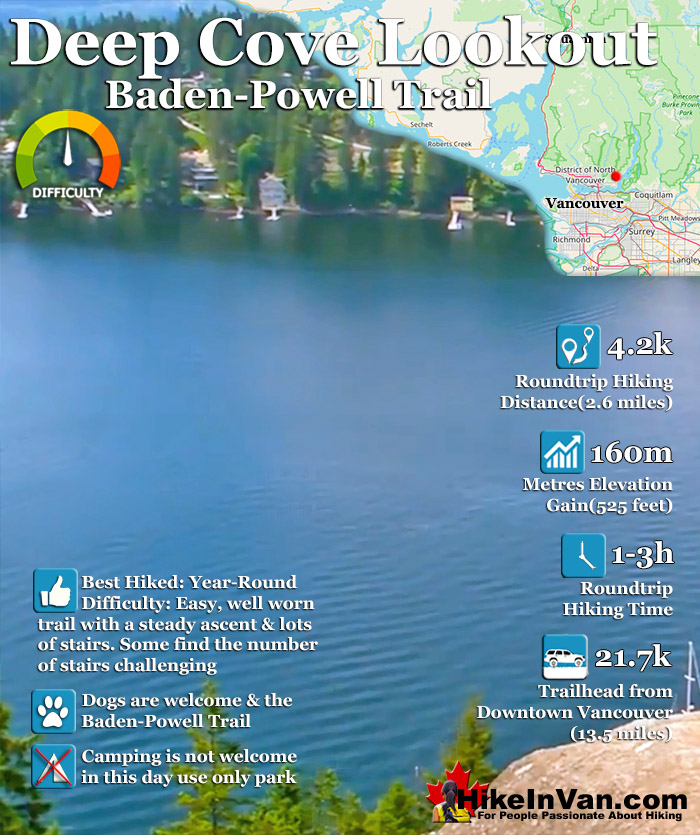 At the far end of the Baden Powell Trail, in the cute town of Deep Cove is home to the fantastic Deep Cove Lookout Trail. Also known as Quarry Rock and the Grey Rock Trail, the Deep Cove Lookout Trail is amazing. The wonderful trail crosses numerous creek bridges to get to the impressive lookout with views of Deep Cove and Indian Arm far below.
Easy trail to gorgeous views

Dogs are welcome

Nice shops near the trailhead

Part of the Baden Powell Trail

Great workout with lots of stairs!

Nice trail when not too busy

Accessible year-round
Very crowded on weekends

Parking fills up fast
Hard to pass slow hikers

Vancouver Hiking Trails

Black Mountain

Brunswick Mountain

Burnaby Lake

Burnaby Mountain

Coliseum Mountain

Crown Mountain

Cypress Falls

Deeks Peak

Deep Cove

Deer Lake

Dog Mountain

Goat Mountain

Goldie Lake

Grouse

Hollyburn Mountain 

Kitsilano Beaches

Lighthouse Park

Lynn Canyon

Lynn Peak

Mt Elsay

Mt Fromme

Mt Hanover

Mt Harvey

Mt Seymour

Mt Strachan

Mystery Lake

Pacific Spirit

Rice Lake

St Mark's

Stanley Park

The Lions

Unnecessary
Indian Arm is a 20 kilometre fjord that cuts deep into the mainland. The slopes on either side are heavily forested and steep and therefore have seen little human development as compared to the heavily populated regions nearby. The hike is fairly relaxing. There is free parking off Panorama Drive and the trailhead is marked with a Baden Powell Trail sign. The first kilometre sees most of the 160 metre elevation gain and from then on it is a relaxing walk in the woods the the beautiful lookout. Dogs are welcome on the trail and there are washrooms at the parking lot. Deep Cove is a very pretty coastal town full of nice shops and restaurants as well as a nice pier and marina to wander around in. From Vancouver, cross the Lions Gate Bridge take the exit toward North Vancouver/Capilano Canyon/Grouse Mountain Recreation Area and merge onto Marine Drive.  Turn left onto Capilano Rd and then merge onto the Trans Canada Highway heading East.  Take the Mount Seymour Parkway Exit.  Left on Deep Cove RD, right on Gallant Ave and left onto Panorama Drive.
Discover Deep Cove Lookout at HikeInVan.com

Best Whistler & Garibaldi Park Hiking Trails!
Whistler & Garibaldi Park Hiking by Month!

Explore BC Hiking Destinations!