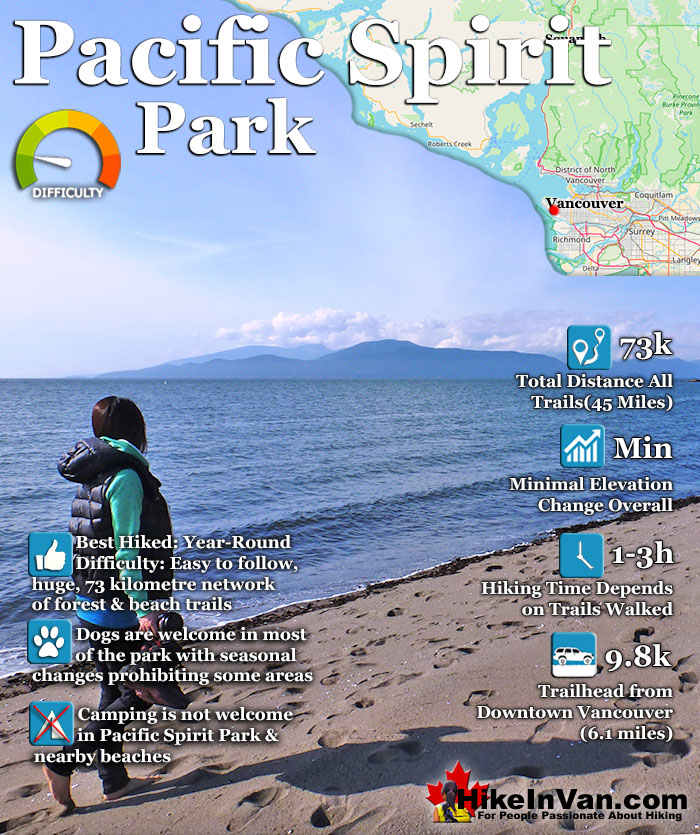 Pacific Spirit Park surrounds the University of British Columbia on the shores of Georgia Straight.  The park has a beautiful array of trails, 73 kilometres in total, that run along beaches, some old growth forest and even a bog. The network of trails interconnects so often that you can do small 15 minute sections if that is all you are after.  Pacific Spirit Park is one of Vancouver's most popular parks and located in the wonderful and expensive neighbourhood, Point Grey.
Huge network of trails in the park

Lovely, deep forest in the city!

Convenient from downtown Van

Often encounter few people

Very dog friendly

Located next to lots of beaches!

Museum of Anthropology nearby

Located in gorgeous part of Van

Not a lot to see in the park


Mostly just a walk through a forest
Vancouver Hiking Trails

Black Mountain

Brunswick Mountain

Burnaby Lake

Burnaby Mountain

Coliseum Mountain

Crown Mountain

Cypress Falls

Deeks Peak

Deep Cove

Deer Lake

Dog Mountain

Goat Mountain

Goldie Lake

Grouse

Hollyburn Mountain

Kitsilano Beaches

Lighthouse Park

Lynn Canyon

Lynn Peak

Mt Elsay

Mt Fromme

Mt Hanover

Mt Harvey

Mt Seymour

Mt Strachan

Mystery Lake

Pacific Spirit

Rice Lake

St Mark's

Stanley Park

The Lions

Unnecessary
You can wander the park for hours if you want as there are an endless number of trails heading in all directions. The park is open during daylight hours and there are plenty of washrooms and food stands.  Most trails are hard packed gravel and only the occasional elevation change.  More than 50 of the 73 kilometres of trails are designated as multi-use, allowing for biking and horseback riding as well as hiking/walking.
Much of the park is in deep forest, however, stairs lead to various beaches along the ocean.  Steep stairs descend through thick forest to finally open up at these unexpectedly beautiful beaches.  Nice sand, clean shoreline and enormous logs from decades of logging, strewn along the beach make them characteristically "west coast" in look.  One of the more popular beaches is the locally famous Wreck Beach.  This clothing optional beach is a world of its own.  This surreal corner of Vancouver can be quite a shock to the uninitiated.  Though after a few minutes the unmistakable charm and beauty of the place makes you forget about the unusual surroundings and you melt into this wonderful beach in this beautiful Vancouver park. Just a short walk from Wreck Beach is the Museum of Anthropology.  This stunning museum showcases works by the peoples of the Pacific Northwest Coast First Nations.  Only a handful of other places in the world have such a beautiful collection of totem poles and wood carvings.
If you enjoy art, history or anthropology, you will be in heaven.  If you don't you will still likely be impressed by the beauty of these majestic and in some cases, enormous carvings depicting a culture of the past and present.  Be careful when you go, however, as they don't open on Mondays, but otherwise 10-5pm(Tuesday until 9pm). Pacific Spirit Park is a must see on any visit to Vancouver.  The forest and beaches are beautiful and UBC and its surrounding roads are unmistakably Vancouver.  You quickly see that you are in British Columbia's coastal rainforest when you see the sheer volume of trees.  Giant trees and gnarled trees spill over the road making it seem like you are driving through a green tunnel.
Discover Pacific Spirit Park at HikeInVan.com

Best Whistler & Garibaldi Park Hiking Trails!
Whistler & Garibaldi Park Hiking by Month!

Explore BC Hiking Destinations!