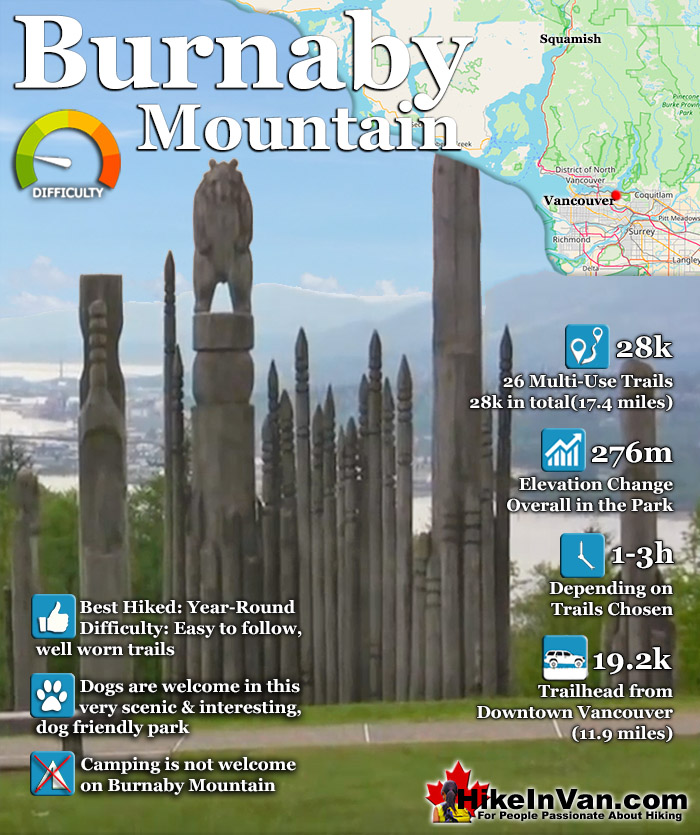 Burnaby Mountain, just 30 minutes east of downtown Vancouver has a nice network of popular trails with fantastic views of Vancouver, Burrard Inlet and beyond.  The trails link to the wonderful Trans Canada Trail.  The trails are all fairly easy and well laid out. All combined the trails probably add up to less than 10k, so expect to wander around for 1-3 hours.
Lots of trails to choose from

Easy & relaxing trails

Great ocean & city views

Beautiful exhibits

Dog friendly

Bike friendly

Accessible year-round
Amazing place for a picnic with a view!
Views are very nice, trails just OK

Fog & wet weather obscure the views

Vancouver Hiking Trails

Black Mountain

Brunswick Mountain

Burnaby Lake

Burnaby Mountain

Coliseum Mountain

Crown Mountain

Cypress Falls

Deeks Peak

Deep Cove

Deer Lake

Dog Mountain

Goat Mountain

Goldie Lake

Grouse

Hollyburn Mountain

Kitsilano Beaches

Lighthouse Park

Lynn Canyon

Lynn Peak

Mt Elsay

Mt Fromme

Mt Hanover

Mt Harvey

Mt Seymour

Mt Strachan

Mystery Lake

Pacific Spirit

Rice Lake

St Mark's

Stanley Park

The Lions

Unnecessary
Burnaby Mountain is located at Simon Fraser University high above, and overlooking Burrard Inlet.  The views north are of Vancouver making it a popular location to view the Celebration of Light fireworks festival on English Bay. 
Horizons Restaurant located on Burnaby Mountain also has this amazing view of Vancouver as well as Indian Arm to the north. Recent years have accumulated several mountain biking trails, making the mountain very popular with local riders. The stunning totem poles and amazing rose garden are from Burnaby's sister city, Kushiro, Japan. From downtown Vancouver, take E Hastings.  After about 25 minutes it will become the Burnaby Mountain Parkway.  Take a left onto Centennial Way.  Parking is free. 
Discover Burnaby Mountain at HikeInVan.com

Best Whistler & Garibaldi Park Hiking Trails!
Whistler & Garibaldi Park Hiking by Month!

Explore BC Hiking Destinations!