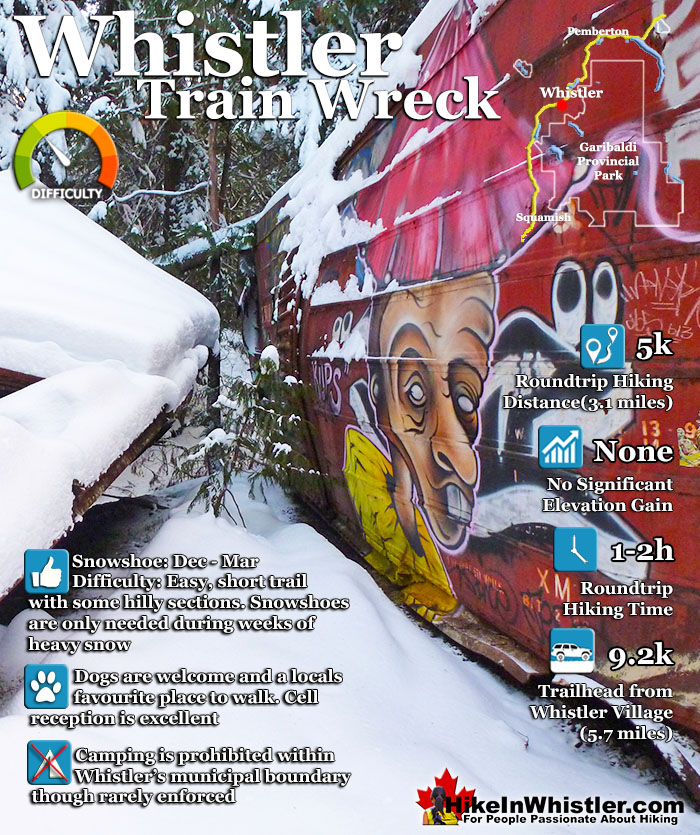 The trail to Whistler Train Wreck is an easy, yet varied route through deep forest, across a great suspension bridge over Cheakamus River, to a stunning array of wrecked train cars. The trail from your car to the wrecks only takes about 15 minutes, however once you reach one wreck, you see another, then another. There are seven wrecks in total that are spread over an area about 400 metres long.
Surreal combination of wreckage & forest
Many great views of Cheakamus River
One of the coolest places to have a drink with friends
Unbeatable place to have a picnic on the river
Accessible year-round and on bus route
Sea to Sky Trail connects to Train Wreck
Dozens of hidden areas to spend the night
Graffiti art is always changing
Often crowded with visitors

Some murals ruined with boring graffiti
Whistler Snowshoe Trails

Blueberry Trail 

Brandywine Falls 

Cheakamus River 

Elfin Lakes 

Flank Trail 

Joffre Lakes 

Nairn Falls 

Parkhurst Ghost Town 

Rainbow Falls 

Rainbow Lake 

Rainbow Park 

Sproatt East 

Taylor Meadows 

Train Wreck 

Wedgemount Lake 

January 

February 

March 

April 

May 

June 

July 

August 

September 

October 

November 

December
Along with the surreal train wrecks painted with stunning murals, you find yourself in a thick forest that runs along Cheakamus River. Cheakamus River is a beautiful, wild and crashing river that snakes past the train wrecks. Numerous side trails take you to some marvellous viewpoints, several metres above the rushing water below.  If you follow a trail past the wrecks(heading north or in the direction of Whistler Village) you will emerge at the train tracks. If you are adventurous you will then walk along, beside the tracks for a couple hundred metres and some truly breathtaking views of Cheakamus River.  Keep in mind that skirting the train tracks is illegal, so you must never do this if a train is in the vicinity. If you plan to bivouac under the stars, this area is a great choice. Multiple beautiful rock outcrops along and above the river and you may not get disturbed as most hikers don't risk violating the law. Camping is prohibited within Whistler's municipal boundary, which Train Wreck is within, yet a sleeping bag under the stars will almost certainly go unnoticed. If bivouacking or stealth camping is what you are after, you will find quite a lot to choose from as you hike in along the Train Wreck trail.
Train Wreck Bridge Over Cheakamus River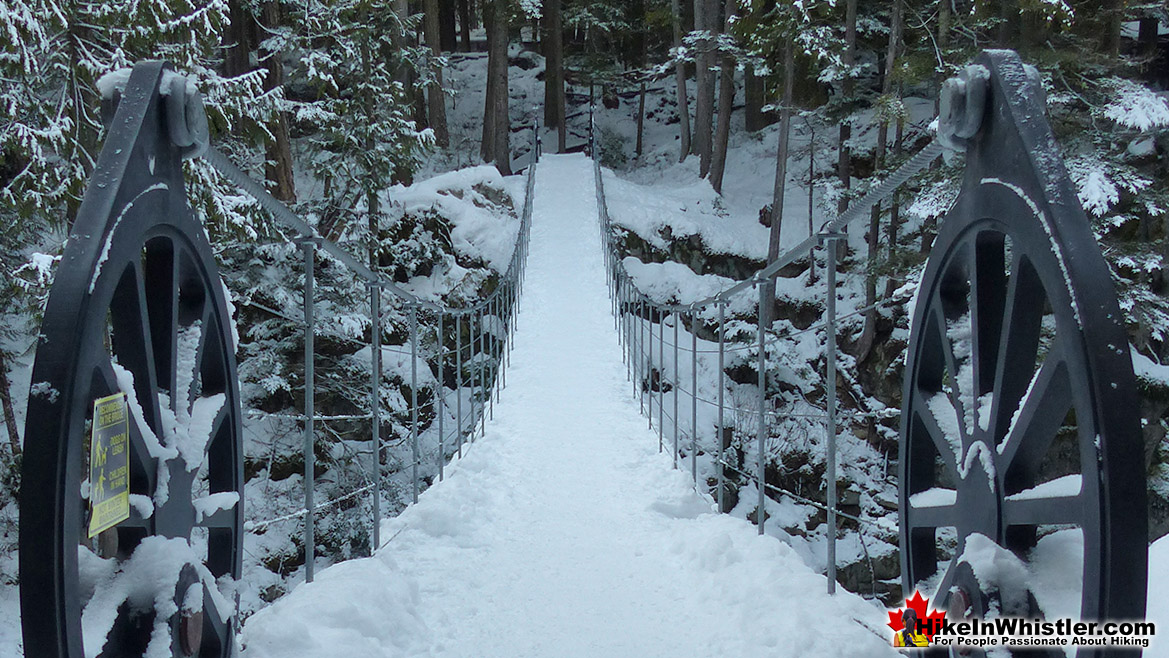 Train Wreck Car Perched at the Edge of Cheakamus River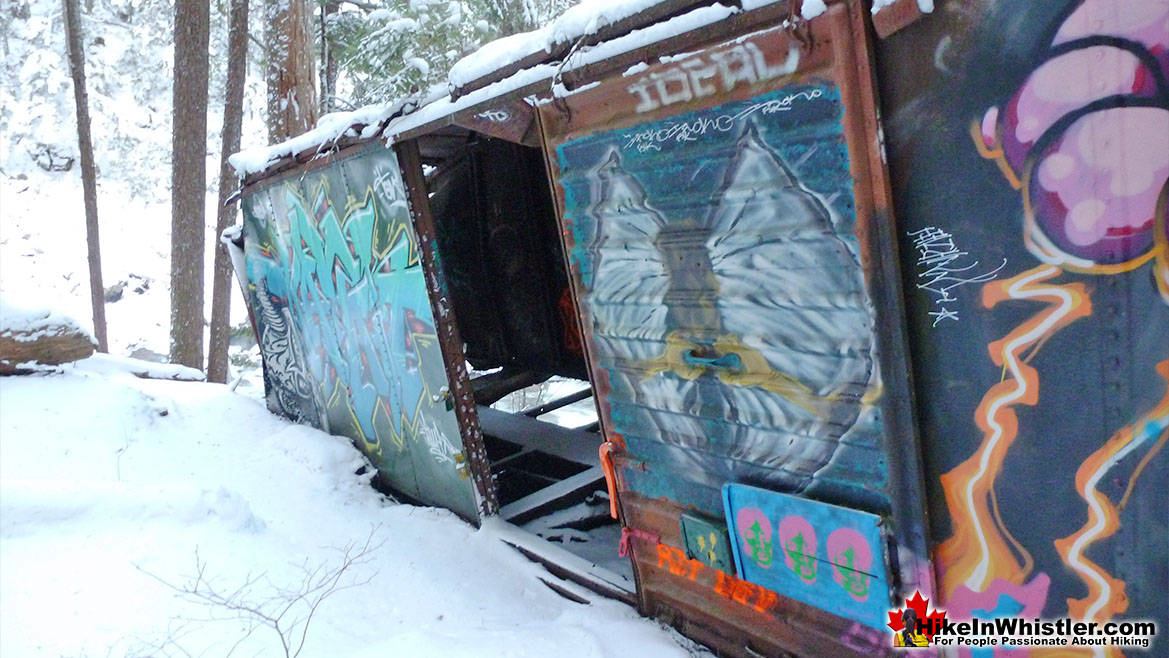 Beautiful Cheakamus River at Whistler Train Wreck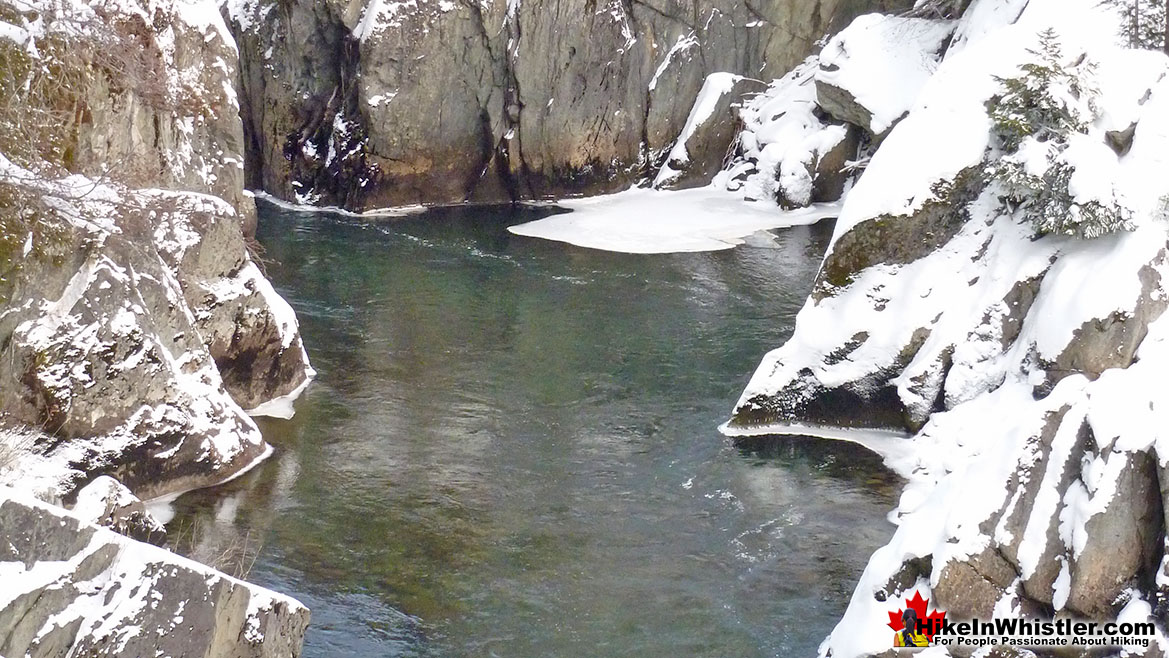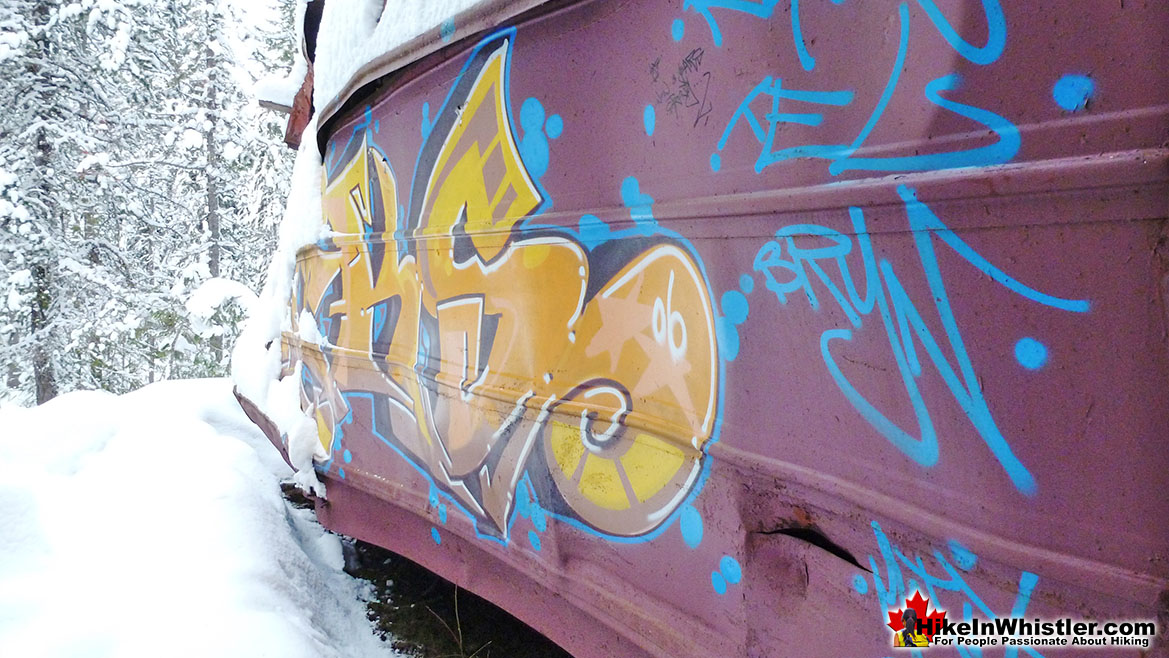 Train Wreck Falls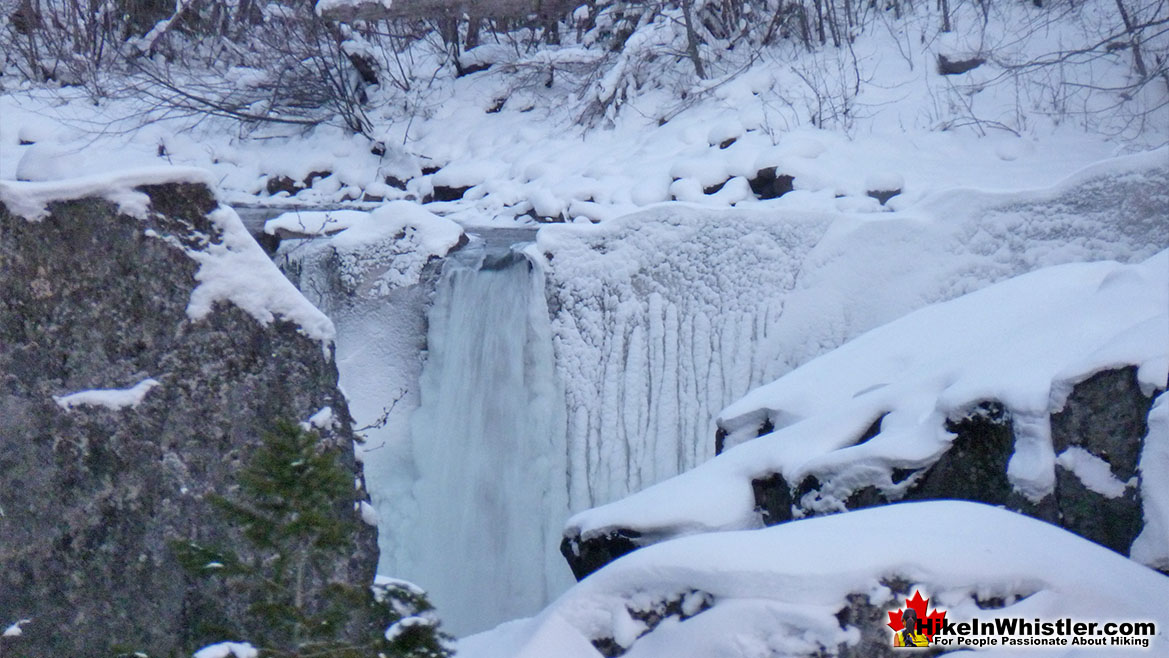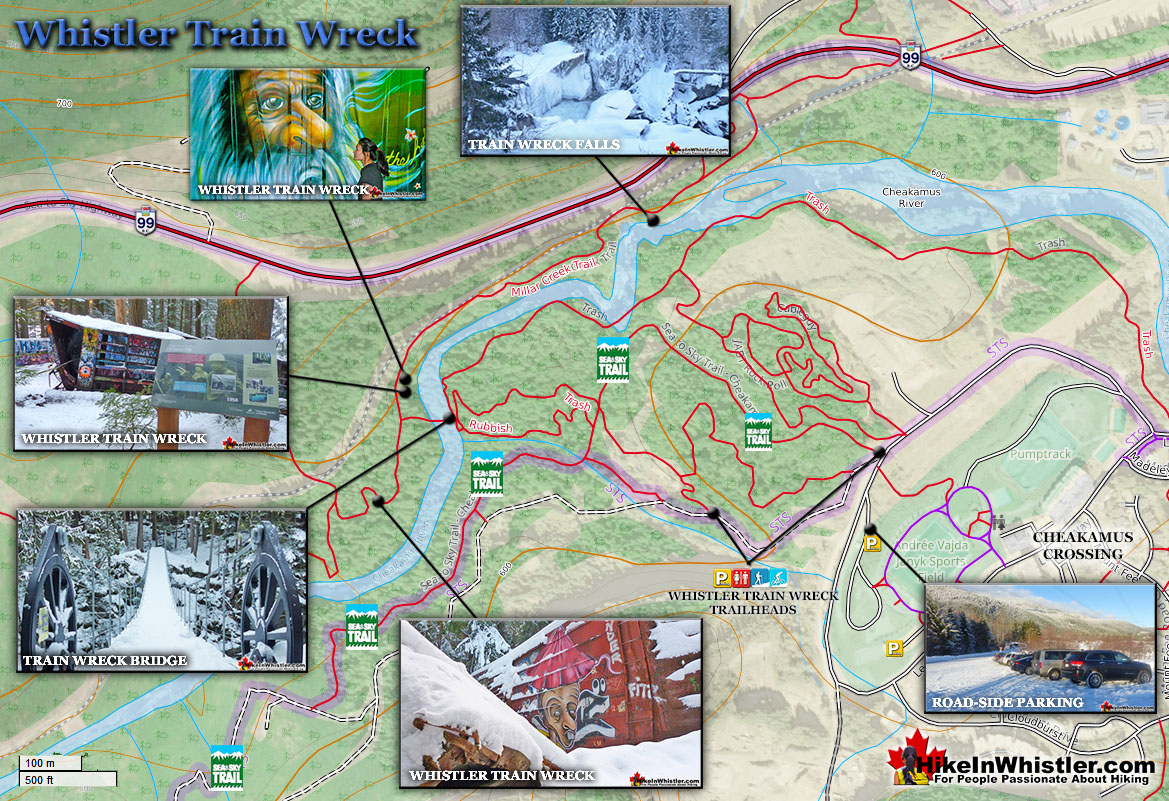 History of Whistler Train Wreck

The Whistler Train Wreck happened in 1956 and some of the details have emerged in recent years. The train, coming from Lillooet, was overloaded with lumber and was unable to get up the ascent to Parkhurst, behind Green Lake. To make it through, the train was split into two separate trains, two engines each. This caused the train to fall way behind schedule and the train conductor to ignore a section of construction on the train tracks. He sped through the 24 kilometre per hour section at a dangerously high speed of 56 kilometres per hour. The overloaded train sped through the construction area and the fourth engine turned a rail, jamming three heavily loaded boxcars loaded with lumber. They jammed in a rock cut, an area where rock is blasted out to allow tracks to pass through on the flattest possible route.  Pacific Great Eastern Railway attempted to move the trapped boxcars with no success. They turned to a local logging company for help. The Valleau family brought in a couple tractors and equipment and managed to free the cars. They dragged them out of the rock cut and pushed them into the forest where they still sit. This explains why so many trees older than the train wreck surround the wrecks to this day. It also explains why they are so mangled and spread out over quite a large area. One of the boxcars is precariously on the edge of a cliff overlooking Cheakamus River, quite a distance from the train tracks.
Trailhead & Parking Directions to Whistler Train Wreck



The Whistler Train Wreck is one of the easiest hiking trails in Whistler to get to by car, bike or public transit.  Public transit runs continuously between Whistler Village and Cheakamus Crossing for just $3 one-way.  The bus will drop you off at the HI Hostel and a short section of the Sea to Sky Trail connects you to the Trash Trail and Train Wreck.  If you would rather bike to the trailhead you are in for a treat.  From anywhere in Whistler the bike ride to Train Wreck is very nice.  Whistler's Valley Trail system and the Sea to Sky Trail connect you to Cheakamus Crossing from Whistler Village with only one road crossing!  The wide, two lane, paved Valley Trail takes you through some beautiful scenery and along three lakes.  Only 9 kilometres by bike, Whistler Train Wreck is easily within reach by bike.  Walking to the Train Wreck trailhead is a possible option as well.  The same route as by bike, you will pass by some amazing scenery and get from Whistler Village to the trailhead in well under 3 hours.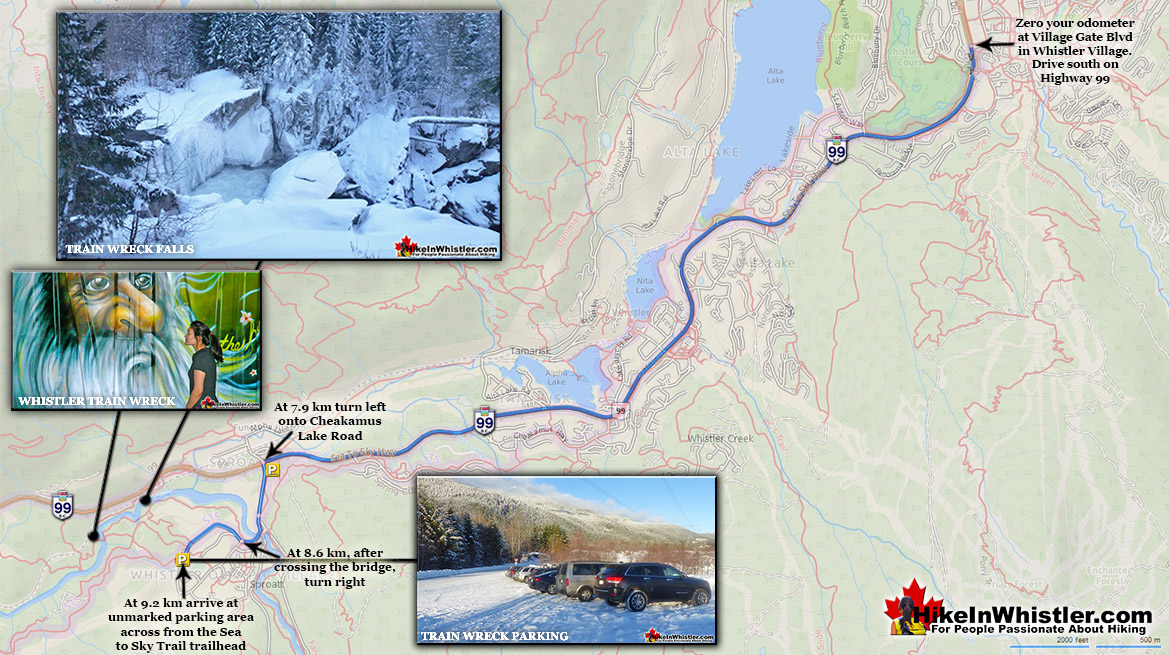 To get to the trailhead for Whistler Train Wreck, drive 7.9 kilometres south of Whistler Village(Village Gate Boulevard).  At the traffic lights at Function Junction turn left onto Cheakamus Lake Road.  At 8.6 kilometres, just after you cross the bridge over Cheakamus River, turn right.  At 9.2 kilometres you will see the unmarked parking area on the left side of the road, across from the Whistler Train Wreck and Sea to Sky Trail trailhead.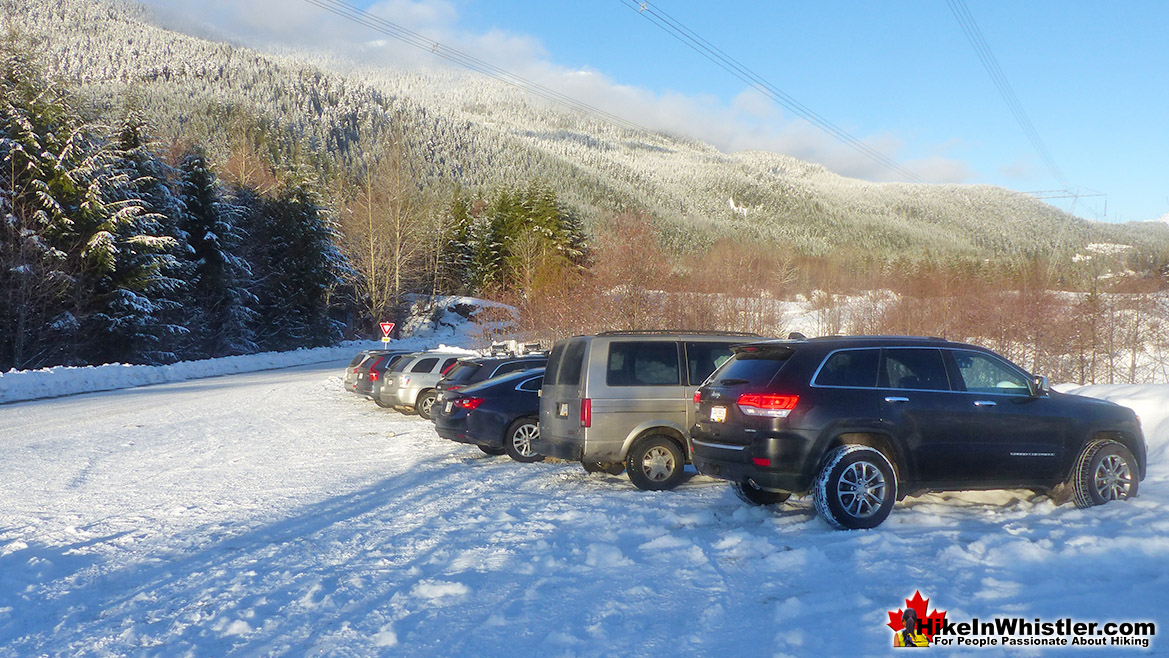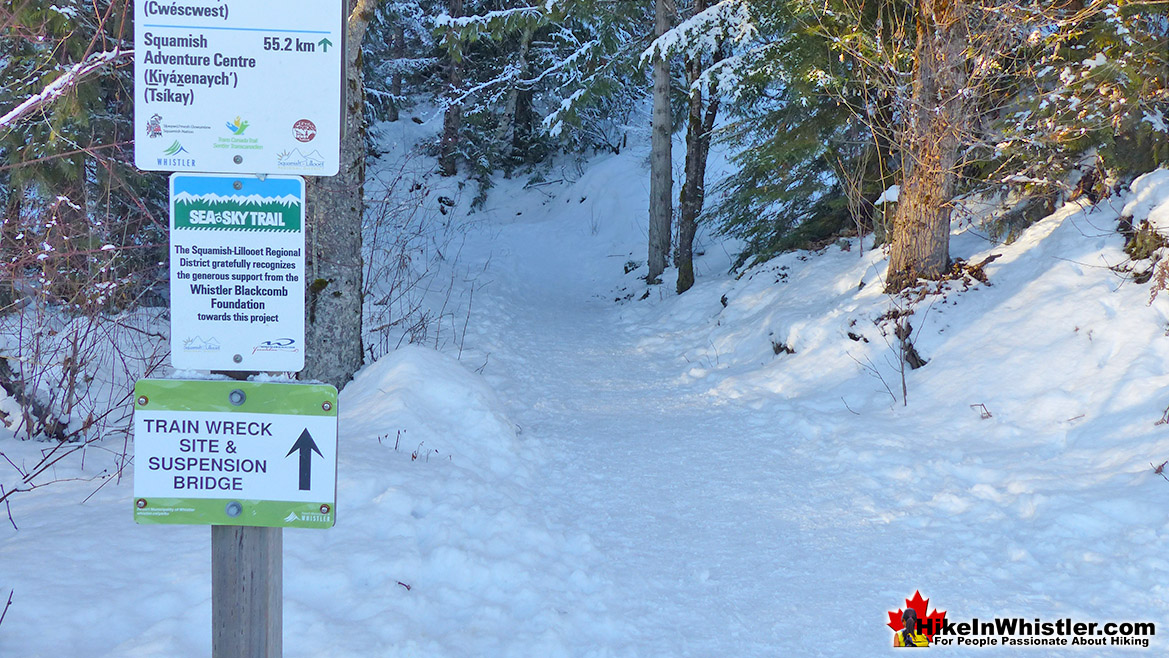 Jane Lakes FSR Parking
Another good, possible the best place to park is just a couple hundred metres into the Jane Lakes Forest Service Road(see map). Drive just a couple hundred metres in and you will spot an old gravel road on the right ascend steeply up into the forest with a trailhead sign for Trash Trail.  There is room for a couple vehicles along the clearing next to the Trash Trail sign.  The road from the sign quickly narrows and finally blocked by boulders about 50 metres in.  You could certainly park here keeping mindful about not blocking other cars or being blocked in yourself.  Alternatively you could park at the edge of Jane Lakes FSR(aka: Cheakamus River FSR) where it met this road(next to the Trash Trail sign).  From here you continue up a briefly steep trail for about 1 kilometre before reaching a nicely signed and new junction directing you(for the first time) to the Whistler Train Wreck.  From where you park to the amazing new Train Wreck bridge should only take you 15 minutes. The Whistler Train Wreck, of course is located just beyond the bridge.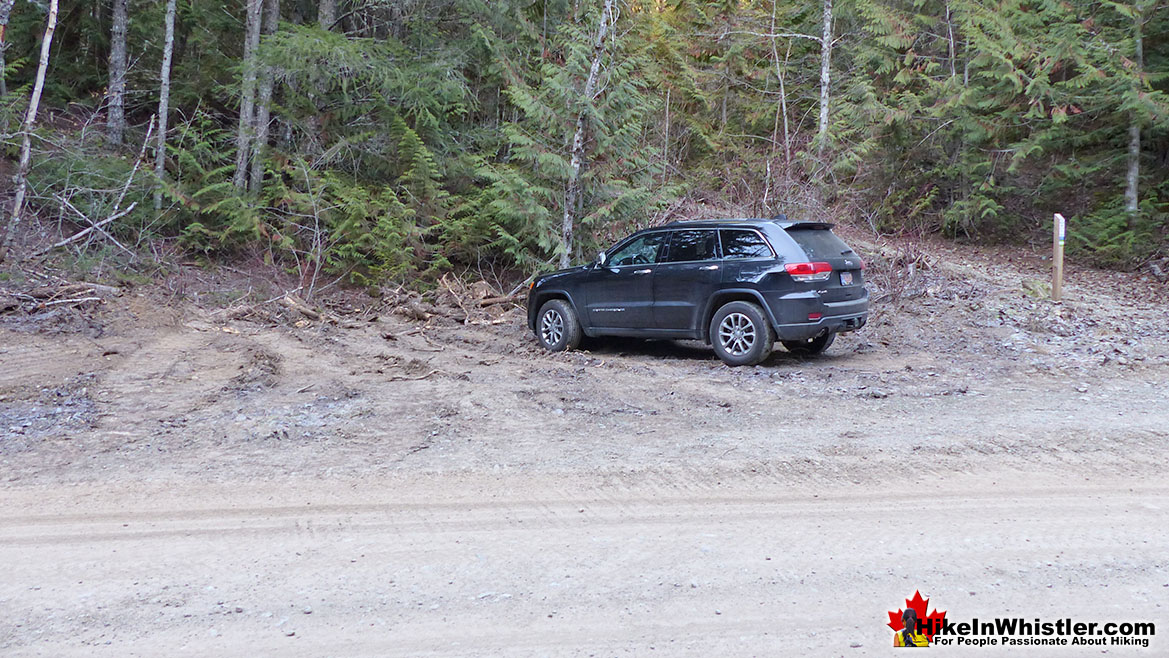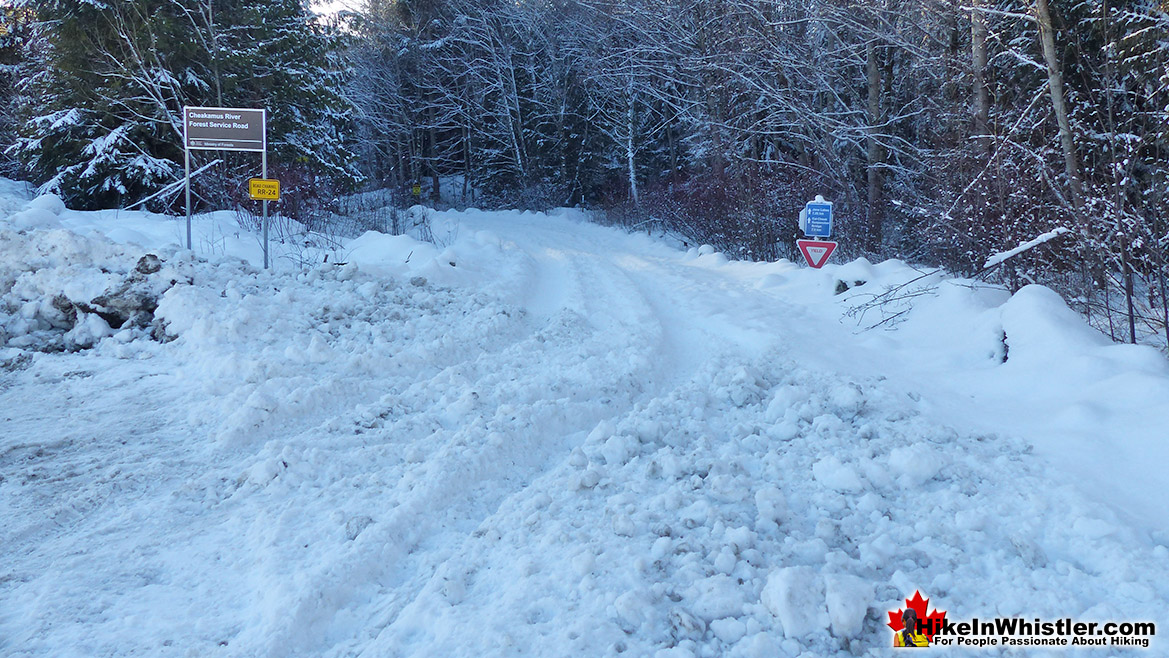 More Whistler Snowshoe Trails

There are plenty of beautiful and free snowshoe trails in Whistler and Garibaldi Provincial Park.  From the surreal paintings of Whistler Train Wreck to the magnificent mountain serenity of Wedgemount Lake in Garibaldi Park.  Trails range from extremely easy, like the short, flat trails to Brandywine Falls and Rainbow Park.  To challenging and long trails to places like Elfin Lakes, Taylor Meadows and Wedgemount Lake.  Whistler even has a growing network of snowshoe trails to Parkhurst Ghost Town on the far side of Green Lake.  There are a couple pay-use snowshoeing areas in Whistler, however most free trails are as good or better.  Elfin Lakes in Garibaldi Provincial Park is another beautiful place to snowshoe.  Located at the south end of Garibaldi Park, the Elfin Lakes trailhead is found in Squamish.  The trail is not overly difficult, however it is quite long.  A consistently uphill, 11 kilometre(13.7 mile) trail through some spectacular scenery takes you to the marvelous Elfin Lakes hut.  For easier snowshoeing, Rainbow Falls is a good option.  Located just a short drive from Whistler Village, the Rainbow Trail is a beautiful trek through the forest in a winter wonderland to a hidden waterfall surrounded by deep pillows of powdery snow.  For more challenging snowshoeing, Joffre Lakes Provincial Park is hard to beat.  A long, though beautiful drive into the mountains, north of Pemberton takes you to this moderately challenging, 11 kilometre(6.8mile) roundtrip snowshoe trail.  The frequently steep, winding trail takes you through a winter paradise and around, or over three frozen lakes.  Back in Whistler, an excellent place to snowshoe is to Parkhurst Ghost Town.  Sitting on the far side of Green Lake, Parkhurst was a thriving logging community several decades ago.  It has since been abandoned except for intermittent squatter communities over the years.
More Whistler & Garibaldi Park Snowshoe Trails!
Where to Hike in Whistler & Garibaldi Park by Month

Amazing Whistler & Garibaldi Park Hiking Trails!