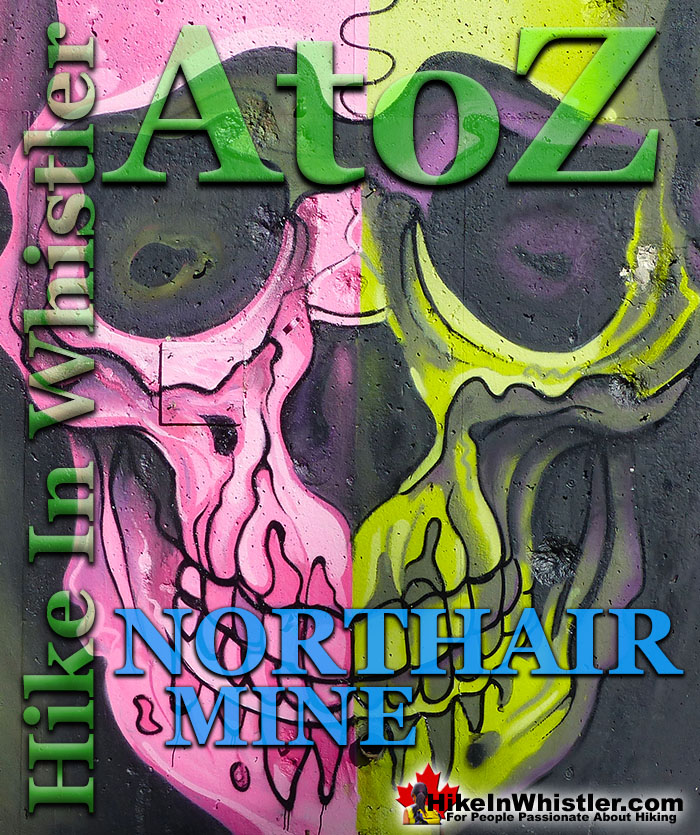 Northair Mine is wonderful, hidden world high up in Callaghan Valley.  It was a gold mine run by the Northair Group from 1976 until was abandoned in 1982 due to waning profitability and slumping gold prices.  The buildings and construction equipment were removed, leaving only the cement foundations and a scattering of metal cables.  For decades the foundations and surrounding area remained untouched except for the occasional visitor to the old ruins or the nice lake beside it. 
Whistler & Garibaldi Hiking

Alexander Falls  

Ancient Cedars  

Black Tusk  

Blackcomb Mountain  

Brandywine Falls  

Brandywine Meadows  

Brew Lake  

Callaghan Lake  

Cheakamus Lake  

Cheakamus River  

Cirque Lake 

Flank Trail 

Garibaldi Lake 

Garibaldi Park 

Helm Creek  

Jane Lakes 

Joffre Lakes  

Keyhole Hot Springs  

Logger's Lake  

Madeley Lake  

Meager Hot Springs 

Nairn Falls  

Newt Lake 

Panorama Ridge 

Parkhurst Ghost Town 

Rainbow Falls  

Rainbow Lake 

Ring Lake  

Russet Lake  

Sea to Sky Trail 

Skookumchuck Hot Springs  

Sloquet Hot Springs 

Sproatt East 

Sproatt West  

Taylor Meadows  

Train Wreck  

Wedgemount Lake  

Whistler Mountain

January 

February 

March 

April 

May 

June 

July 

August 

September 

October 

November 

December
In the summer of 2013, a professional Whistler artist, PETKO painted a colourful mural on one of the small, inside pillar walls.  The following summer he painted two more, much larger murals.  At about that time Canadian Wilderness Adventures, who do ATV tours up Mount Sproatt, built some ATV ramps and trails through Northair Mine.  By 2019, nearly every wall was covered in strikingly colourful, surreal and beautiful murals done by other professional artists.  Despite the appearance of activity in recent years, Northair Mine remains fairly quiet except for the occasional groups of ATV's that trundle past.  Throughout the summer you encounter little humanity up there, except weekends where you will likely see a car or two and a handful of people in the area.  If you go there on an average sunny, midweek day, you often have the place to yourself.  The reason for its lack of popularity is largely due to its pretty bad logging road which has decayed over the years and packed with waterbars, boulders and potholes.  A regular car would have a lot of trouble getting there, if they could make it at all.  There are lots of hidden wonders in the sprawling old mining site that are easily overlooked.  Everybody misses the tunnel entrance to the kilometre-long network of mining tunnels bored deep into the solid rock.  There are three "portals" as these are called, but the one next to the mural painted cement foundations is the only one that is sort of accessible, not to mention easy to find.  Though the entrance gets routinely buried, it also gets routinely unburied.  It was recently explored by two cave explorers, who managed to cover about two thirds of the tunnels on their first visit. 
Northair Mine is located on the west side of the huge and sprawling Mount Sproatt.  From Whistler Village it takes about an hour to drive there.  The old logging road to get there continues beyond Northair Mine for a few kilometres to take you high up to the Sproatt West(Northair) trailhead to Mount Sproatt.  From here you can hike into the massive and tranquil alpine wilderness which is crisscrossed with a vast spider web of hiking and biking trails.  Northair Mine is often the trailhead for hiking or biking up Mount Sproatt from the west side as the access road rapidly narrows and worsens the further up you go.
Northair Mine and Callaghan Valley Map
The Callaghan Valley around Northair Mine is packed with amazing lakes, waterfalls and hidden wonders.  Alexander Falls, Mount Sproatt, Madeley Lake, Callaghan Lake and Cirque Lake are all found in the spectacular Callaghan Valley.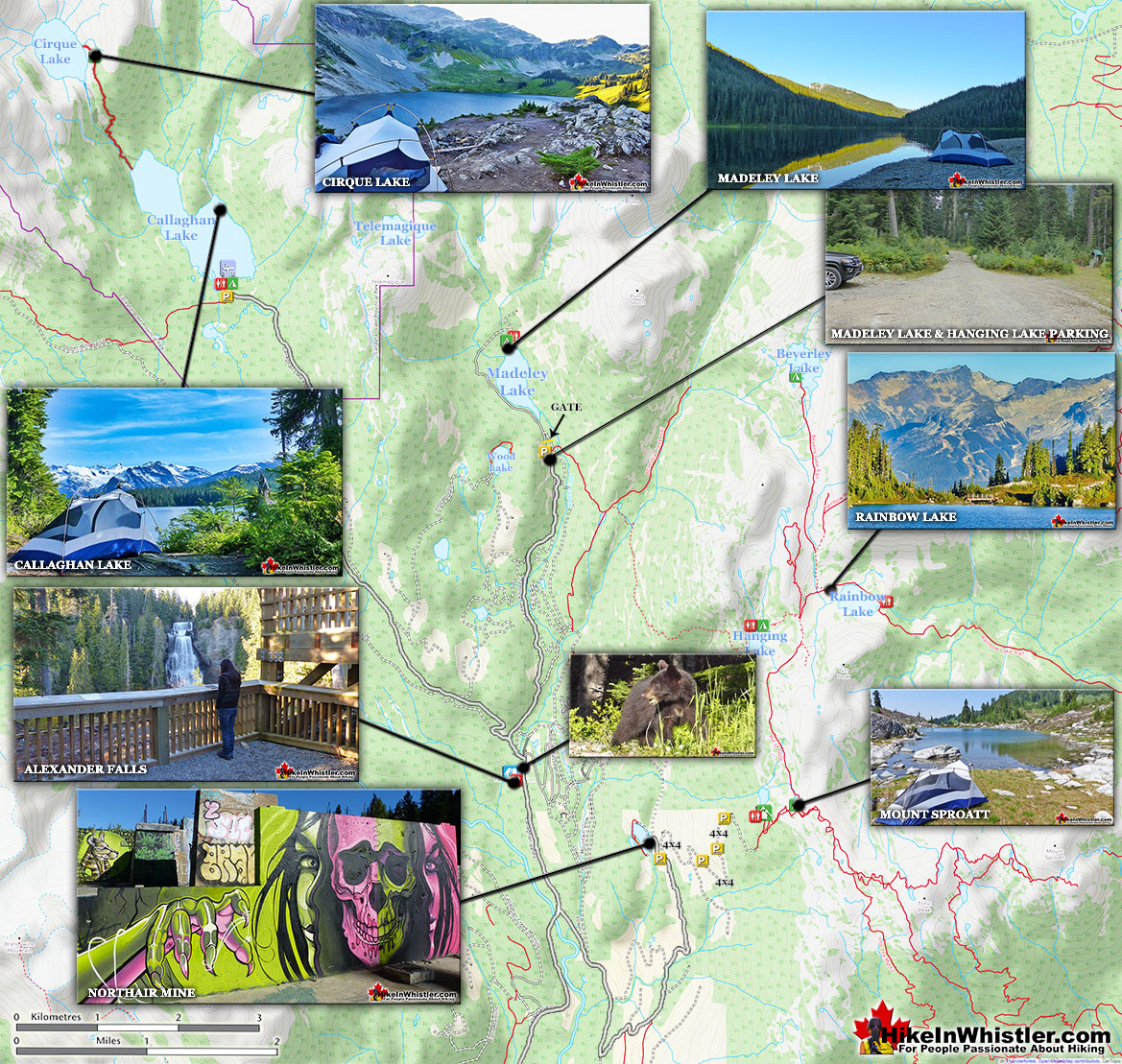 Northair Mine Murals
A decade ago Northair Mine was a blank canvas and a bit bland compared to the ever-changing collection of beautiful murals we see today.  It wasn't until 2013 that one professional muralist, PETKO, decided to paint on one of the walls of Northair Mine.  Over the next five years' other graffiti artists and muralists added to the collection and by 2019 Northair Mine became an ever changing, and often spectacular art exhibit.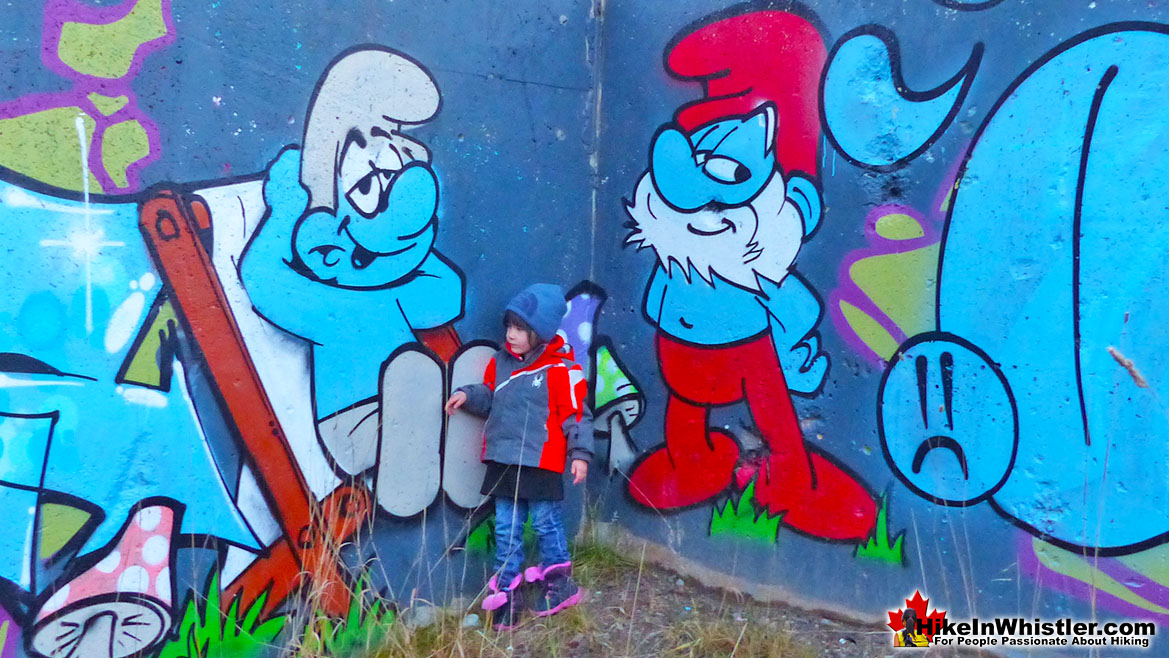 Northair Mine Turned Art Exhibit
Northair Mine was closed and abandoned in 1982 and for more than three decades, the cement foundation walls were largely untouched.  In the summer of 2013, the first mural in Northair Mine appeared, a creation of a professional Whistler artist PETKO.  Painted on one of the inside, pillar walls, the mural is about 8 feet tall and five feet wide of what looks like a robot snake in front of a cube background.  When first painted, with its green, blue, black and white interconnecting squares, it stood out in striking contrast to the bland grey walls in the background.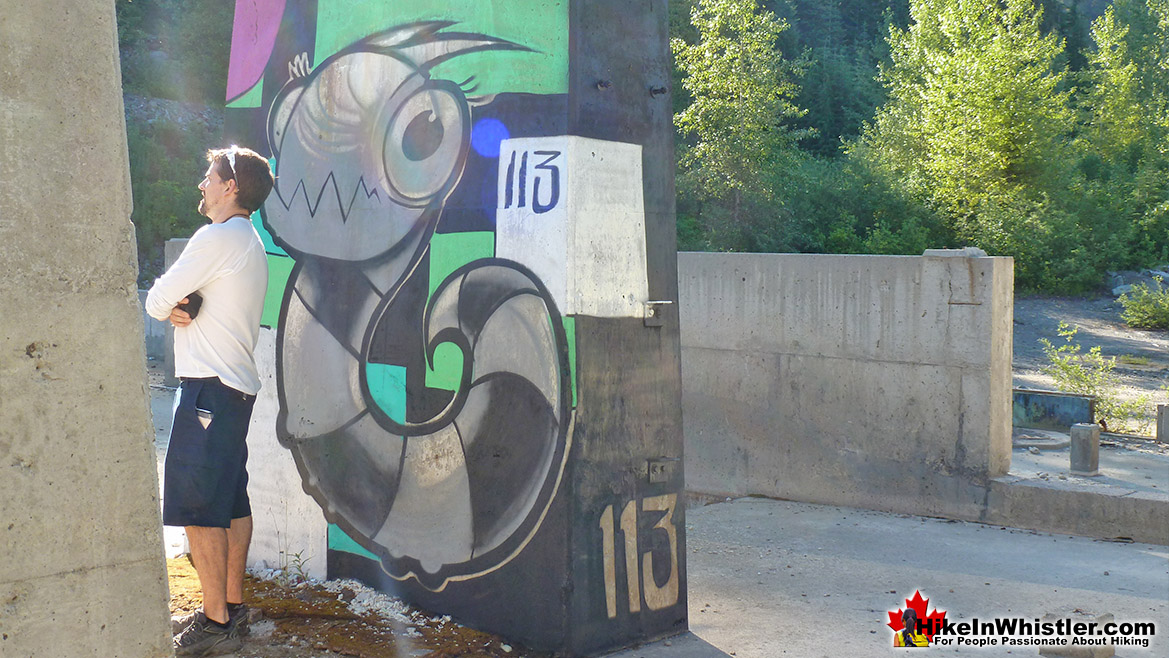 In July 2013, the PETKO mural was the only one in the otherwise blank canvas ruins of Northair Mine.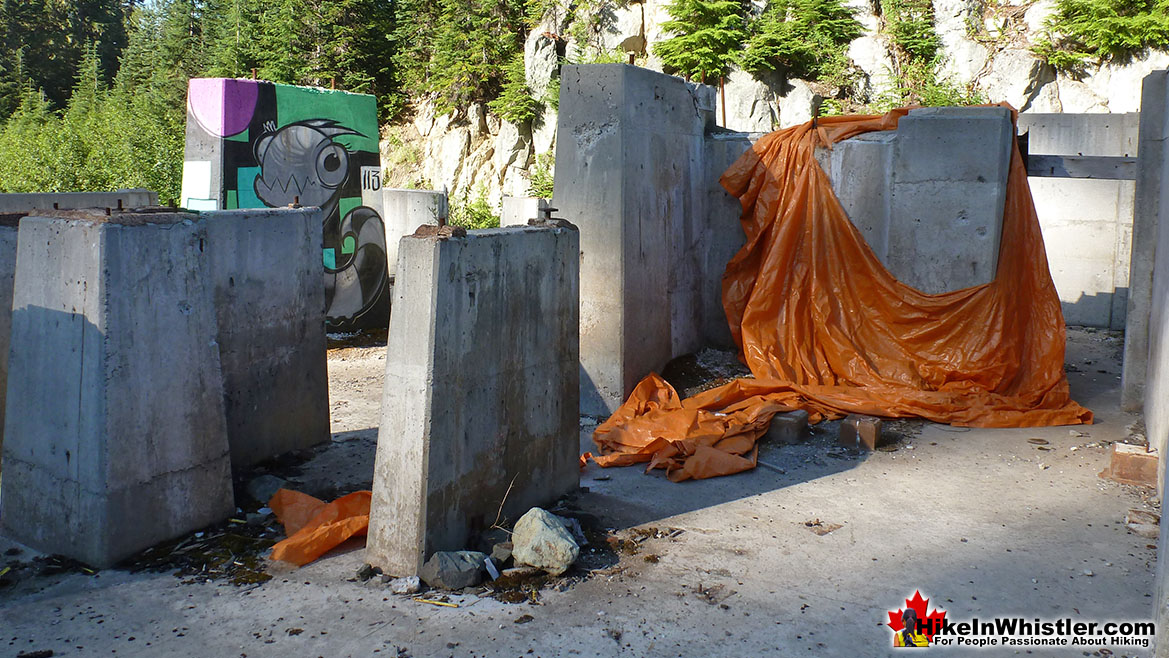 Northair Mine's First Mural is Born
Northair Mine Murals 2014
In 2014 PETKO painted another, much larger robot snake mural on the south facing wall.  Another large one, GET TO HIGH GROUND! was painted on the inside, south facing wall as well at that time.  The original PETKO mural from 2013 is facing the other direction on the pillar in the middle, opposite the blue tarp.
Northair Mine ATV Track 2015
Canadian Wilderness Adventures installed ATV ramps and features throughout Northair Mine.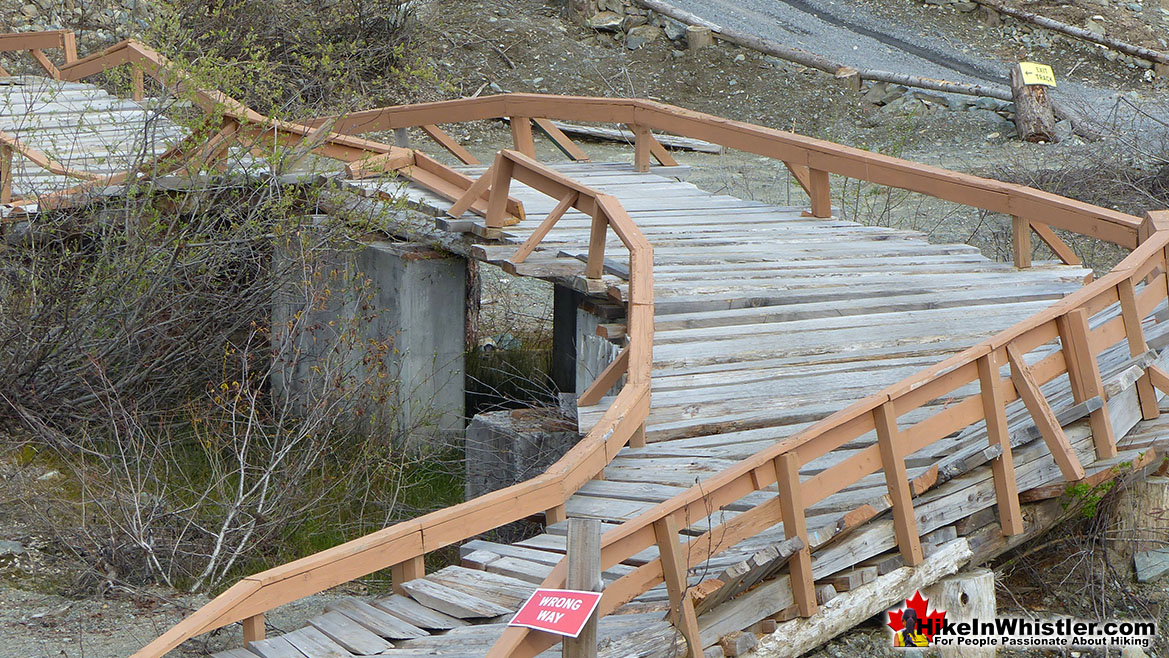 Northair Mine Graffiti 2018
Colourful graffiti covered some of the foundation walls in 2018.  Notice the original PETKO mural from 2013 in the background.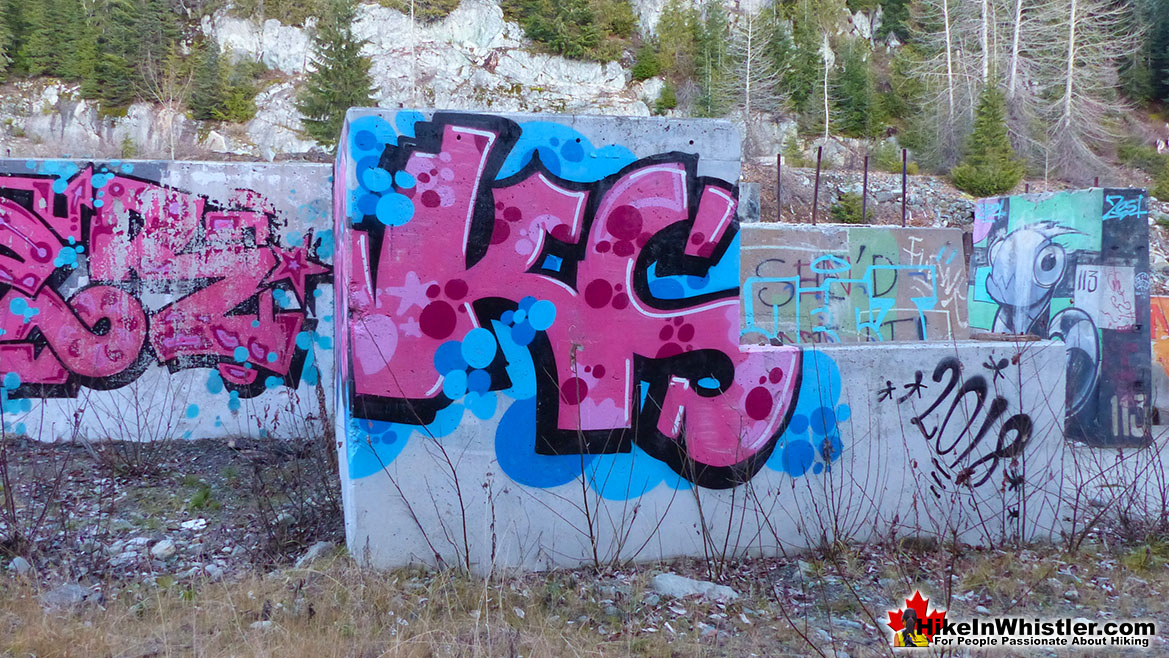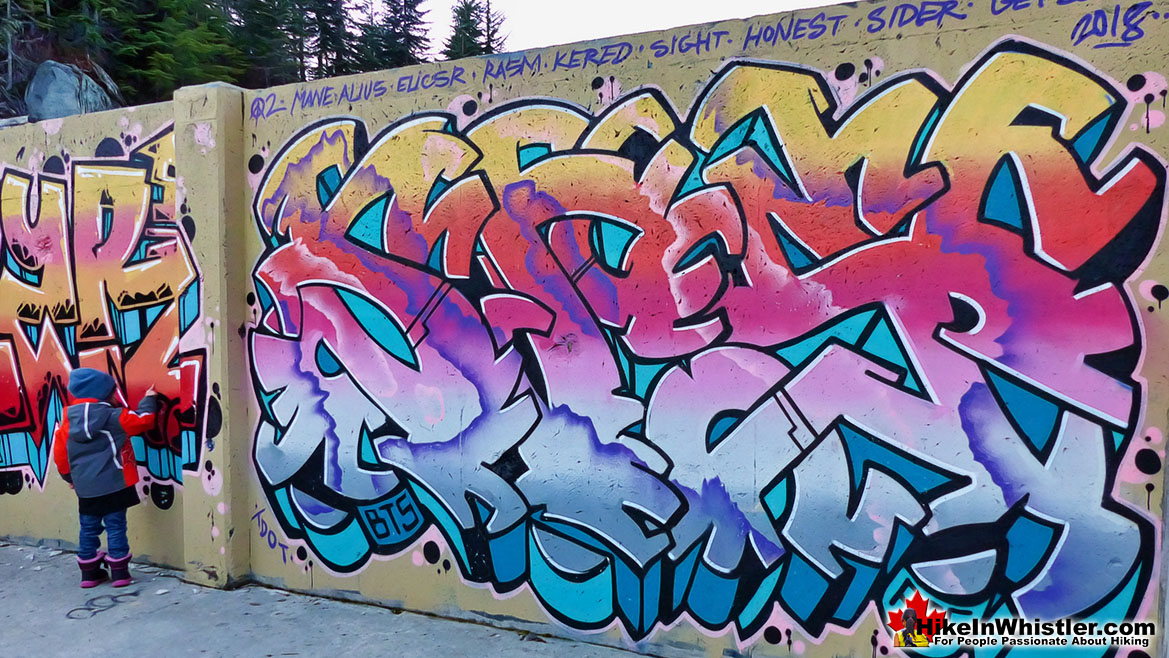 Northair Mine Murals 2019
In 2019 Northair Mine really began to be consistently updated with an ever changing and staggering collection of murals and graffiti art.  With the uneven array of cement foundation walls you find yourself wandering around as if looking at an art exhibit, which of course it is.  The Ravens mural by Kups gave the south facing wall a beautiful aspect to it that it never had before.  Northair Mine has always been a pretty surreal place, hidden up in the wilderness and the addition of beautiful and colourful murals makes it even more special.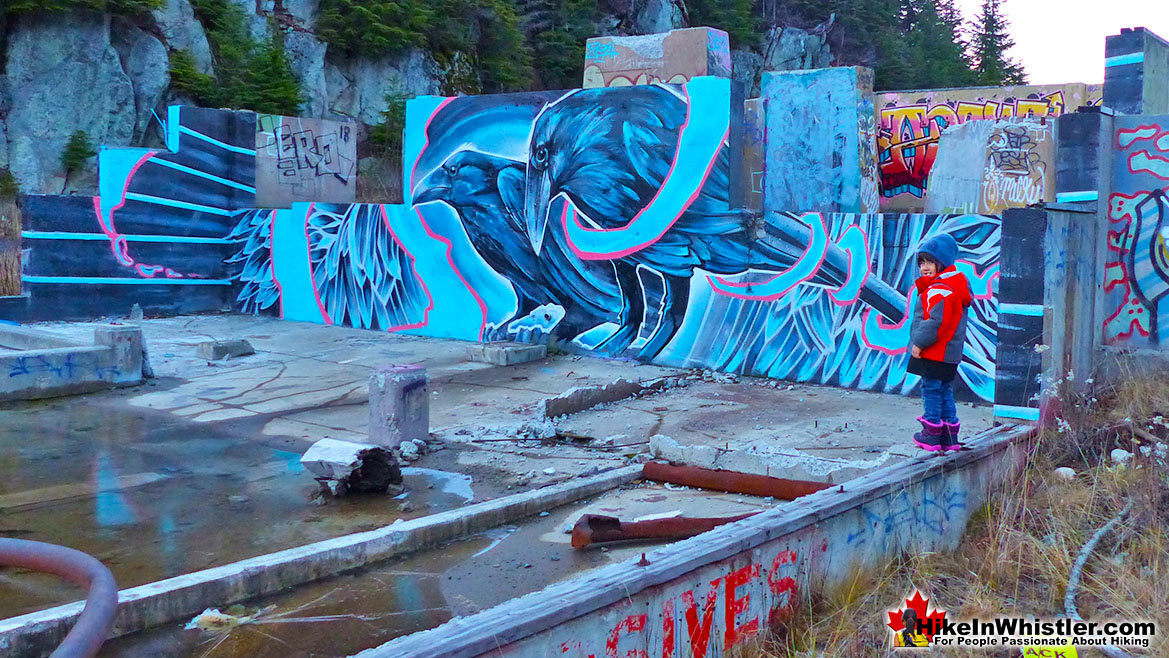 Northair Mine Murals 2022
By 2022 the old foundation walls of Northair Mine are mostly covered in stunning murals and colourful graffiti.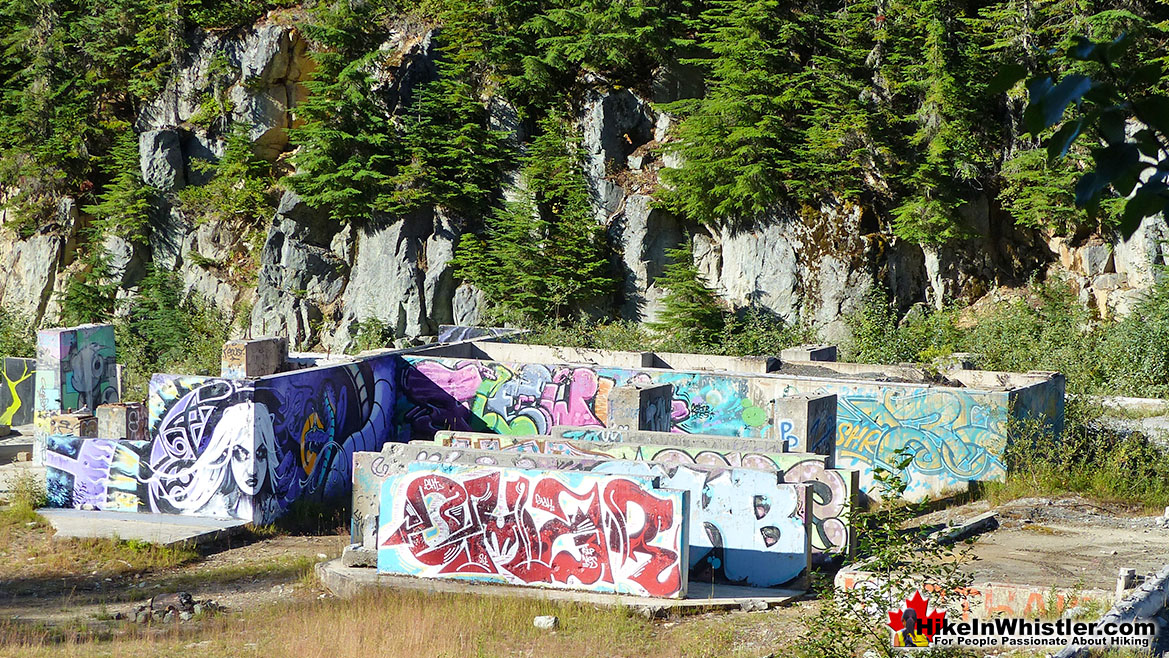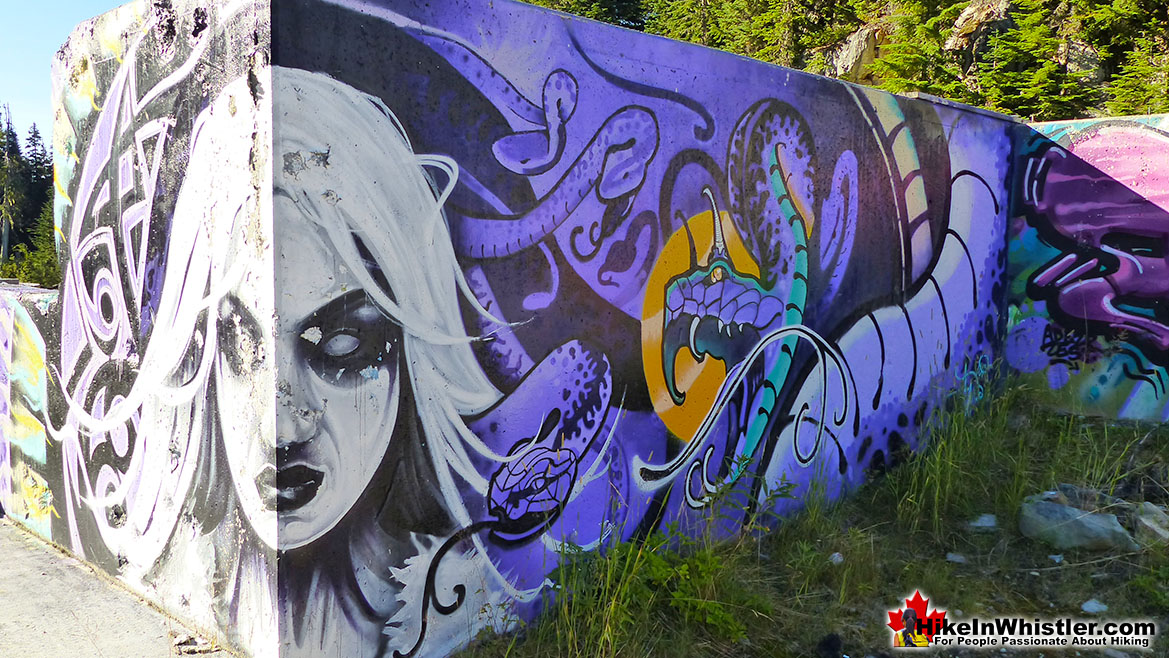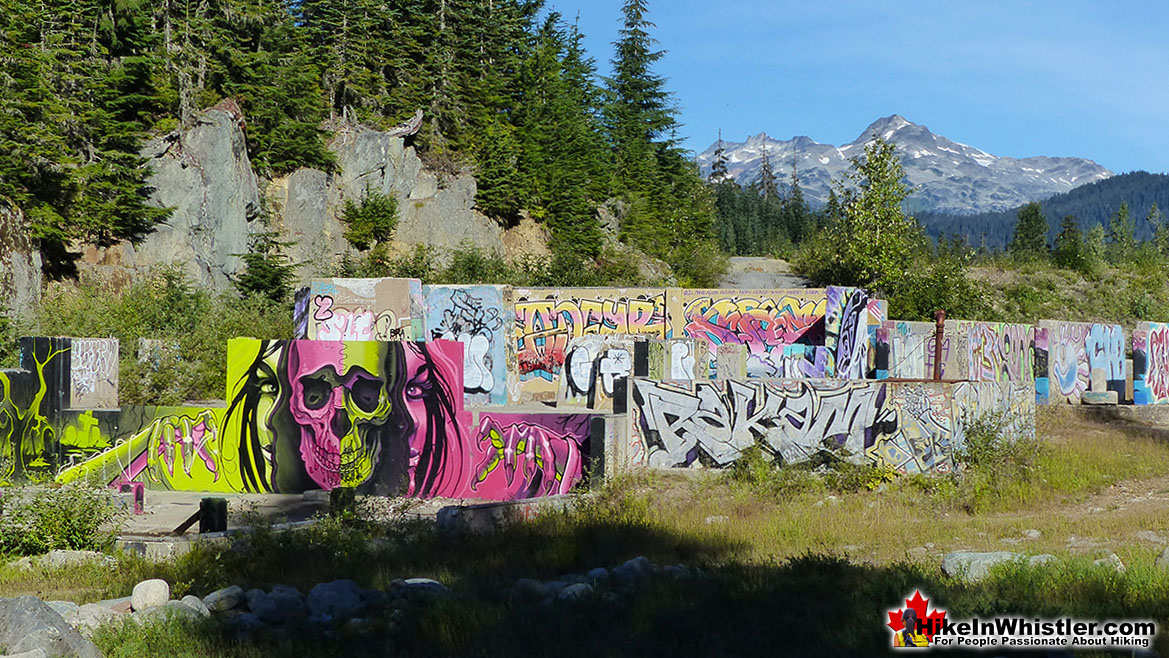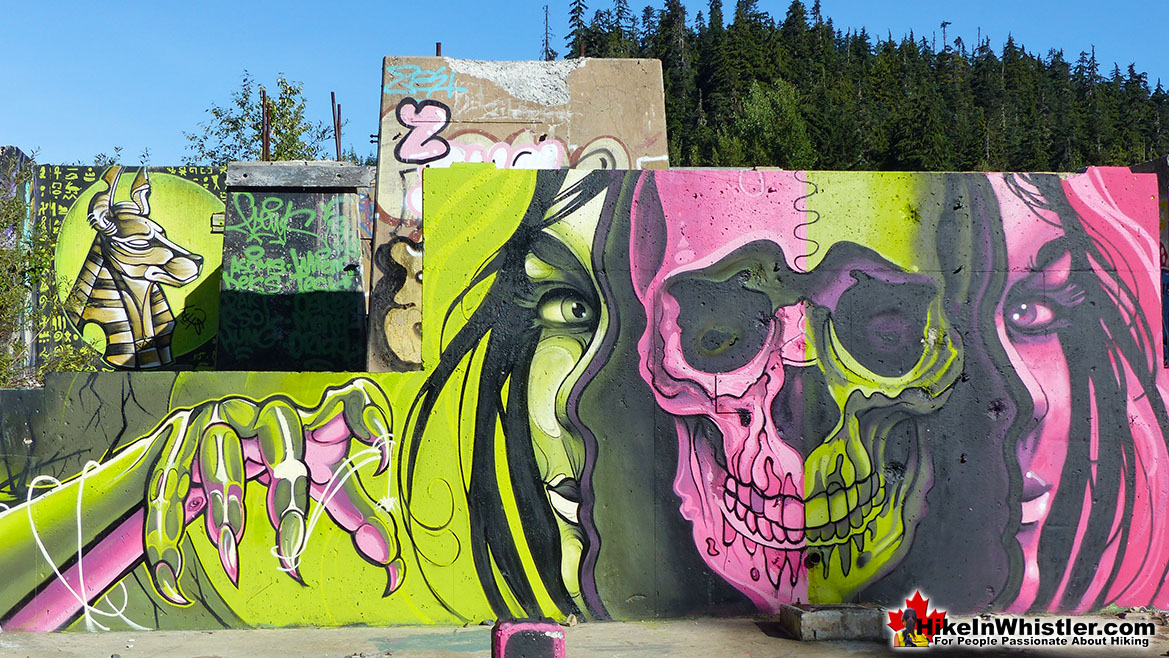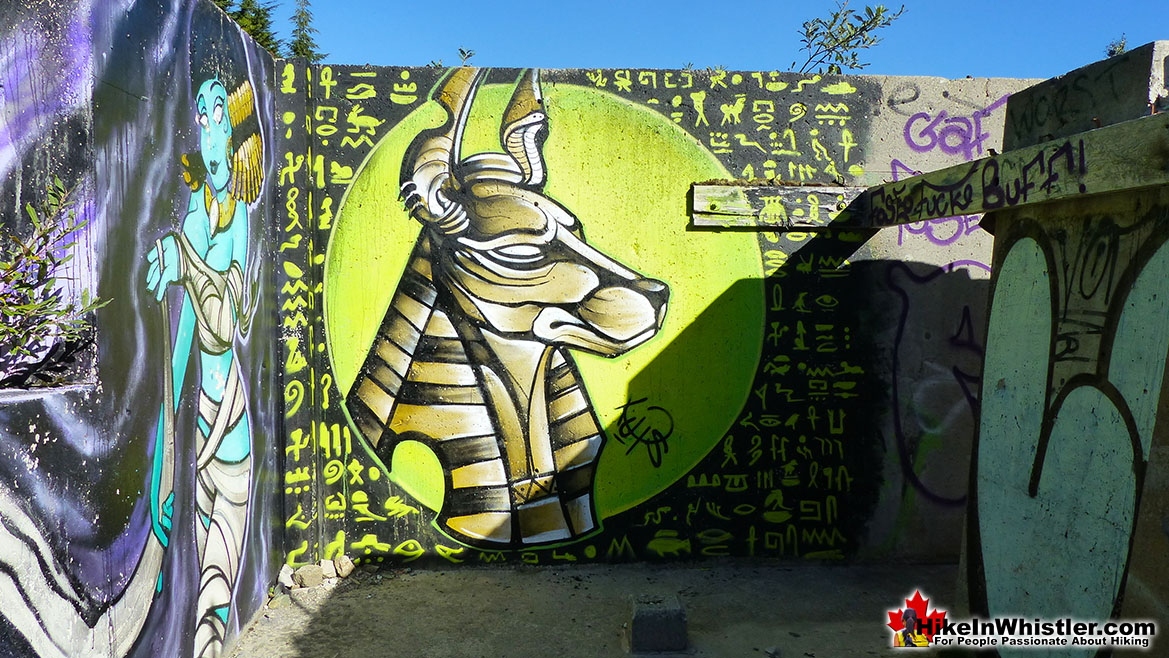 History of Northair Mine
In the late 1960's when the Callaghan Valley was a mostly untouched mountain wilderness an amateur prospector found high gold content in samples from the Brandywine area.  Dr. Mike Warshawski, a Vancouver dentist and budding prospector had recently taken courses in geology and basic prospecting.  Doing silt sampling from rivers and creeks, he traced the source higher and higher into Callaghan Valley to the site of what would eventually be the Northair Mine.  The source he found came from a small, unnamed stream, which he named Anomaly Creek, because he found anomalous levels of minerals from it.  Warshawski then contacted the head of geology at BCIT, A.H.Manifold for help.  In 1970 the pair partnered up and took extensive soil samples until they zeroed in on the more precise location of the source, or more technically, the "mineralized float".
They staked claims over the entire area and began trenching and sampling systematically.  They found very promising gold and silver in an outcropping quartz vein that extended deep underground.  These promising results attracted a mining company, McIntyre Mines to option the property in 1971.  They investigated the potential find and decided the following year that it was not worth mining and dropped the option.  That same summer, a Vancouver mining company, Northair Mines investigated with 28 exploratory holes into the vein.  The results were so promising that Northair Mines picked up the option on the property in May of 1973 and plans were quickly underway for the new Northair Mine. 
Production from Northair Mine began on April 26th, 1976 and just a few weeks later the first gold/silver brick was produced.  The mine produced what are called mill concentrates.  These concentrates are then refined off site to extract the gold and silver.  Northair Mine was extracting these materials from tunnels bored into the solid rock of the west side of Mount Sproatt.  There were, and still are, three tunnels, or adits into the mountain that connect deep underground and add up to over a kilometre.  This tunnel network connects the two zones that run along the quartz vein and then connects down to the mill site.  Effectively two offset tunnels at different levels, the highest one on the mountain, the Manifold Zone, and the Warman Zone lower down.  These two then intersect with a third tunnel that descends down through the mountain to emerge at what was the Northair Mine mill site. 
Today, if you are checking out the beautiful murals at Norhthair Mine, you are only about 150 metres from the mill site tunnel entrance.  In fact, you may have parked your car right across from the mostly buried entrance.  Never completely buried, you will know you have found it as quite a powerful, cold wind emerges from the opening.  Of the three tunnel entrances, or portals as they were called when created and used by Northair Mine, only two are still visible today.  The Manifold Portal and the Warman Portal are both pretty buried by rock slides, though the Manifold Portal is at least visible. 
Northair Mine continued production until 1982 when declining production yields and gold prices reduced profitability.  It was abandoned, and all but the cement foundations were removed, the three portals were blocked by metal gates and largely forgotten.  In the 1980's Whistler as a ski resort was exploding and the Callaghan Valley Road was still a bumpy logging road.  Forestry companies moved in and harvested massive tracts of the forest around the abandoned mine.  Canadian Wilderness Adventures set up shop in the area and continue running Snowmobile and ATV tours past, and in recent years, through Northair Mine.  Just before the 2010 Winter Olympics came to Whistler and Vancouver, the Callaghan Valley Road was paved all the way to Whistler Olympic Park just up the road from the turnoff to Northair Mine.
Mining Tunnels at Northair Mine
The massive tunnel network at Northair Mine is largely unchanged from when it was last used in 1982.  The lower tunnel, with its partly buried entrance is just steps from the graffiti and mural covered remnants of Northair Mine.  Sometimes buried, sometimes unburied, it quickly opens up to quite a large tunnel, much bigger than a standard hallway in your house.  It extends dead straight for hundreds of metres, slowly ascending up through the solid rock, deep into Mount Sproatt.  There are countless connecting tunnels up and down with rickety ladders ascending and descending into the dark.  Every few metres you pass a "Manway" extending at an angle up toward the surface.  There are even abandoned ventilation fans throughout the tunnel and thick power lines, water lines and plenty more.  Almost immediately after entering the tunnel you find it flooded and have to wade through thigh deep, ice cold water.  This only lasts a couple hundred metres before you emerge onto solid ground.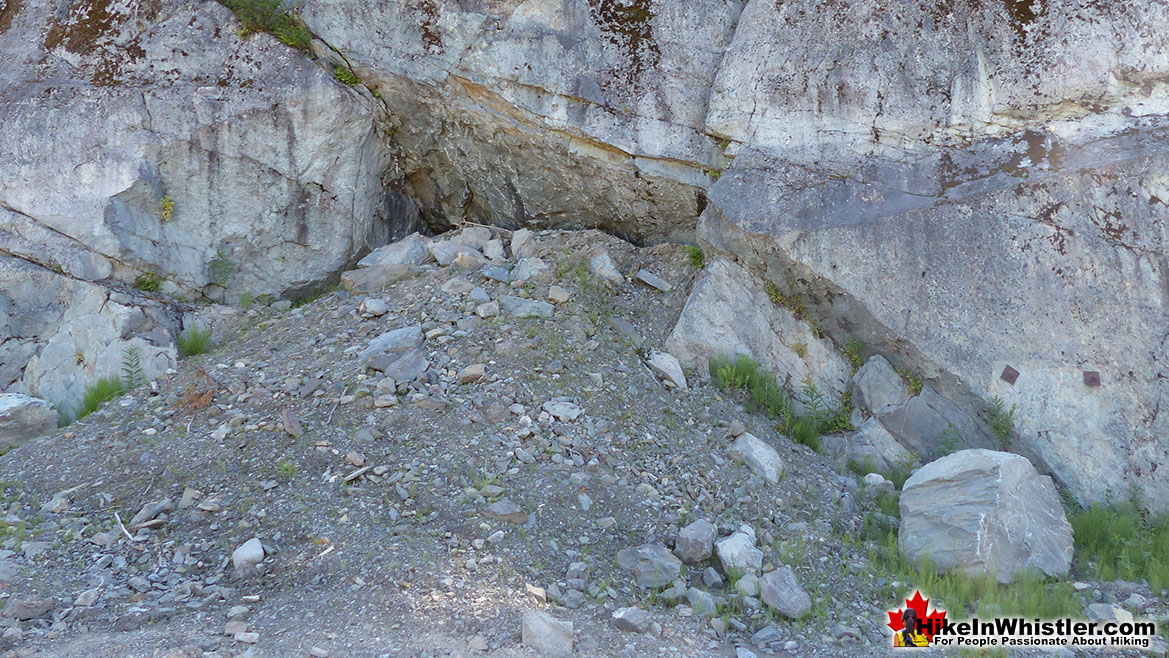 The other two portals are buried by rock slides.  Huge, flat chunks of fridge sized rock cover the Warman Portal.  The Manifold Portal is only partly buried, however there are terrifying chunks of cliff fractured and held up only by the mangled gate that is now crushed beyond recognition.  To get in, you would have to do some digging and hope the cliff above doesn't come crashing down.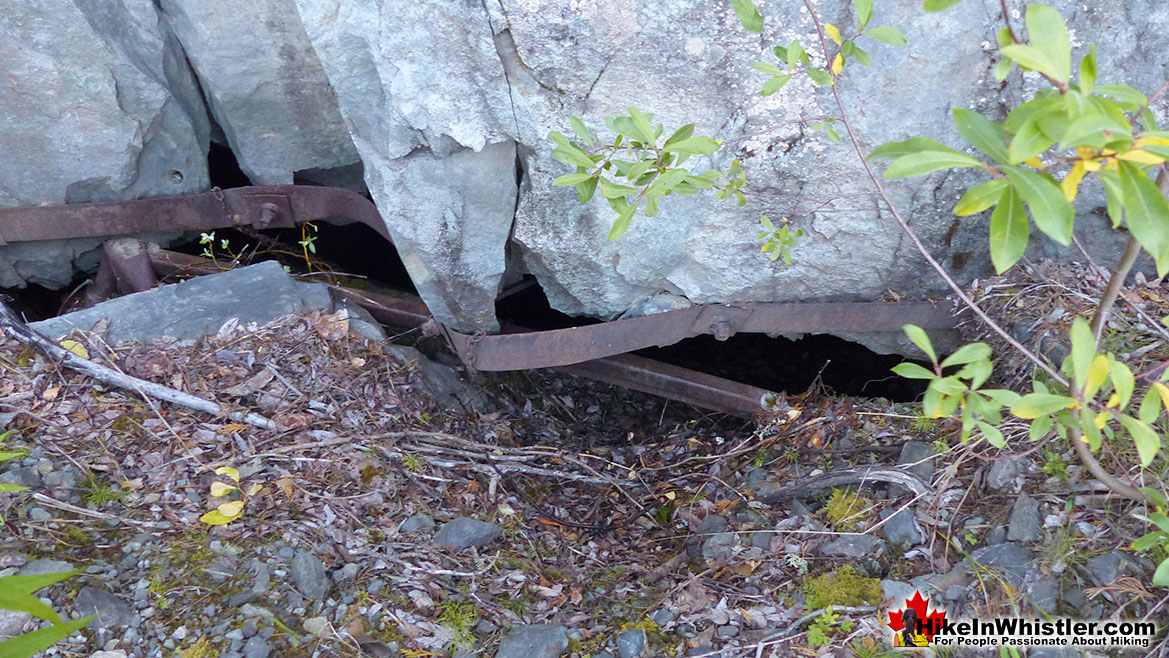 Getting to Northair Mine
Northair Mine is a surreal little world of colourful murals on abandoned cement foundations, beside a tranquil lake in a secluded forest.  An increasingly terrible 5.4 kilometre Callaghan Creek FSR off the luxuriously paved Callaghan Valley Road takes you there in about an hour's drive from Whistler Village.  If you've ever been to Alexander Falls you would have driven past the unmarked turnoff which is just a minute or two before you reach the falls.  From Whistler Village, zero your odometer at Village Gate Boulevard and turn south onto the Sea to Sky Highway.  At 13.8 kilometres turn right onto Callaghan Valley Road.  At 21.4 kilometres turn right onto Callaghan Creek FSR.  In a couple kilometres the gravel road forks with one fork continuing almost straight and gradually downhill.  You have to take the left fork which is about as abrupt as a U-turn and continues steadily uphill all the way to the unmarked left turn for Northair Mine at 26.8km from Whistler Village.  Remember, the turnoff into Northair Mine is not obvious so keep an eye on your odometer to know when to turn left.  If you measure from the turnoff from the paved Callaghan Valley Road onto the gravel Callaghan Creek FSR, the distance is 5.4km.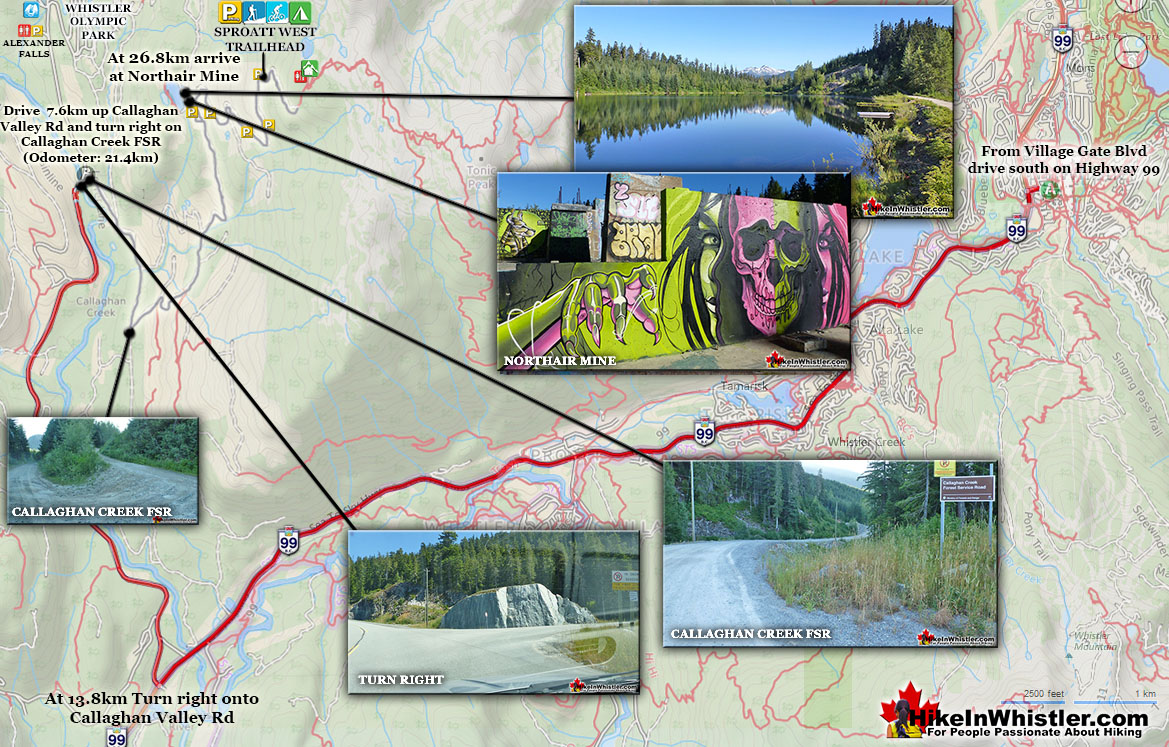 More Whistler & Garibaldi Park Hiking A to Z!

The Best Whistler & Garibaldi Park Hiking Trails!
Whistler & Garibaldi Park Best Hiking by Month!

Explore BC Hiking Destinations!