Panorama Ridge is easily one of the most amazing hikes in Garibaldi Provincial Park.  The 15 kilometre hike from the trailhead at Rubble Creek to Panorama Ridge takes you through beautiful and deep forests, across countless idyllic streams, through meadows filled with flowers, and past dozens of jaw dropping viewpoints. 
Views of Garibaldi Lake, glaciers & mountains
Always sun facing and often warm in the cool alpine
The ridge is long so it is easy to find a quiet corner
A long but beautiful hike to reach it
A cute lake good for swimming near the ridge
One the most scenic views in Garibaldi Park

Best views of Mount Garibaldi & Table Mountain

Final ascent skirts a glacier!

No camping allowed on Panorama Ridge
The trail is longer & tougher than most expect

The amazing views start once you reach Taylor Meadows and get even more spectacular as the trail progresses.  Once you arrive at Panorama Ridge and its phenomenal vantage point, high above Garibaldi Park, you will stare in wonder.  Mesmerized first by Garibaldi Lake, far below you and looking unnaturally blue, the lake looks amazing surrounded by green, untouched wilderness and snow capped mountains.  The Table, the massive and unusual looking mountain with its bizarre flat top lays across the lake with the enormous Mount Garibaldi just beyond.  In the distance, where Garibaldi Lake ends, a massive glacier rises out of the blue and jagged crevasses can be seen even from such a great distance.  Behind you, Black Tusk lays across the valley.  Close to the same elevation as Panorama Ridge, you get this wonderful view of it. Certainly the best and closest viewpoint to this iconic mountain. Panorama Ridge sits, along with Black Tusk in the midst of some of the most popular and beautiful hiking trails in Garibaldi Provincial Park. There are two main trailheads for Panorama Ridge, Cheakamus Lake and Rubble Creek.  Rubble Creek is the more popular starting point as it is a bit shorter, far more scenic and allows for the inclusion of the trail to Garibaldi Lake and the beautiful Taylor Meadows as well as Black Tusk. The trail to Panorama Ridge from Rubble Creek is not so much difficult as it is long. 30 kilometres makes for a long 8-10 hour roundtrip hike.  Staying overnight at one of the campgrounds therefore is a great idea.  Garibaldi Lake and Taylor Meadows are the campgrounds on the Rubble Creek trailhead side of Panorama Ridge.  Helm Creek is the campground on the Cheakamus Lake trailhead side of Panorama Ridge.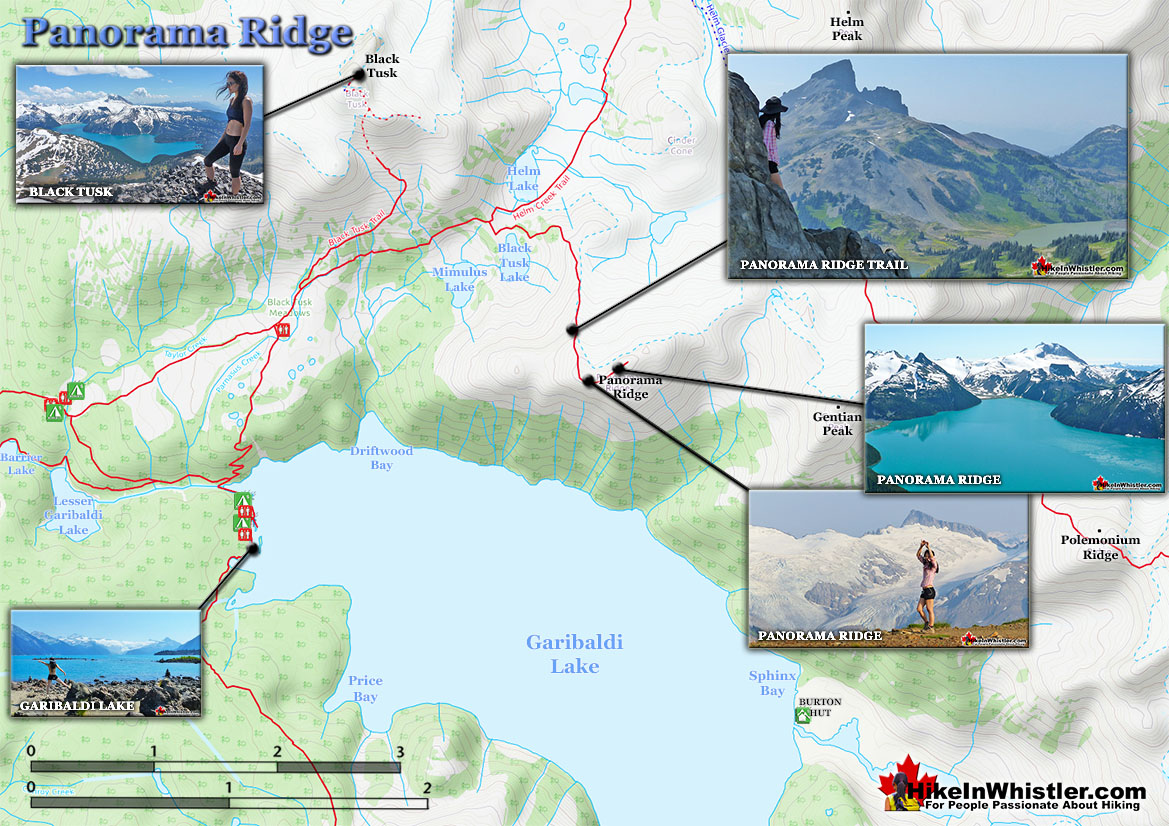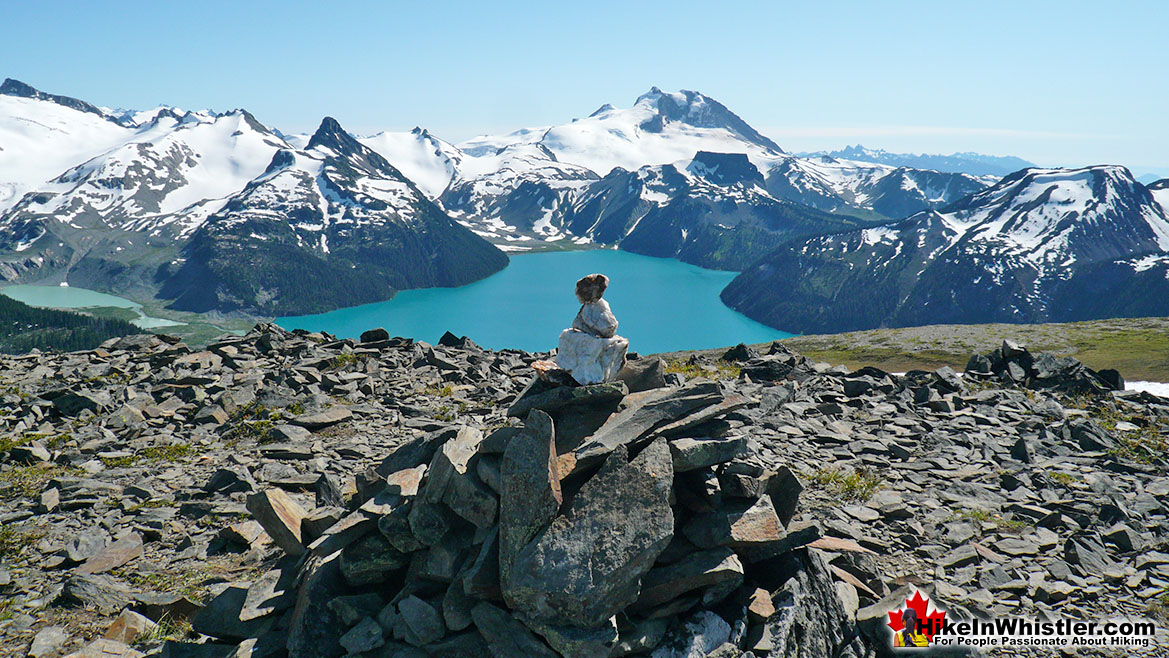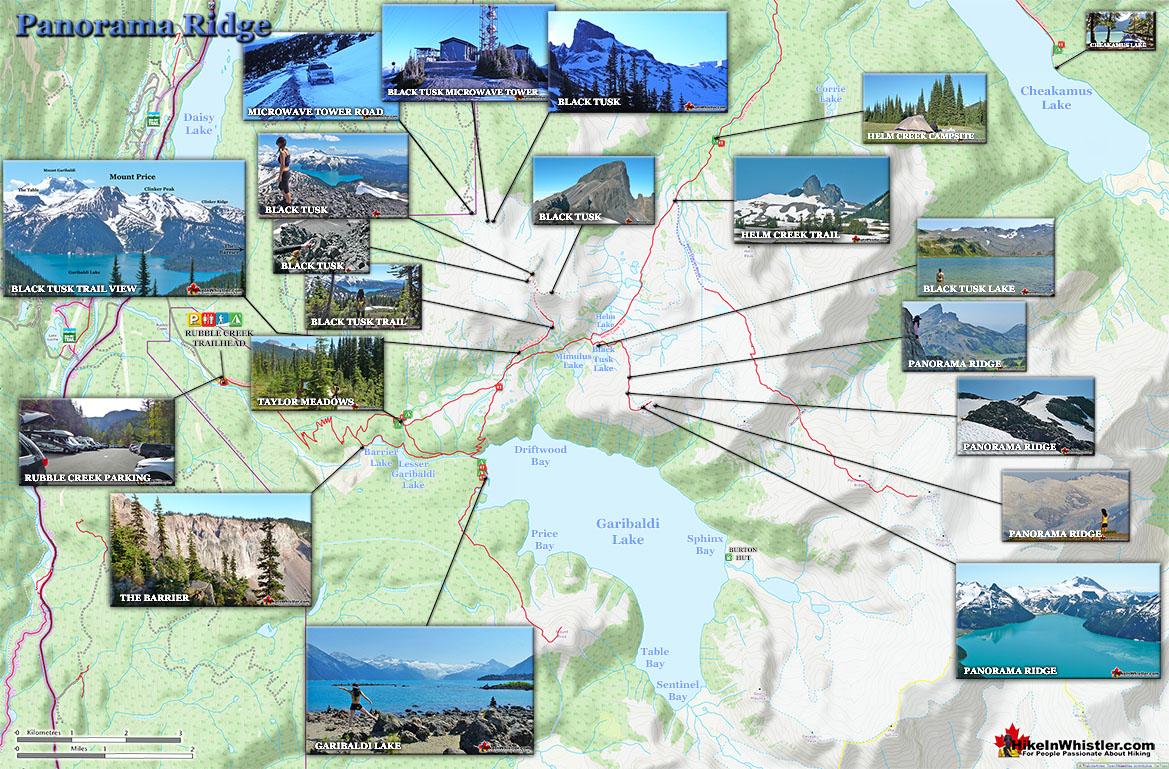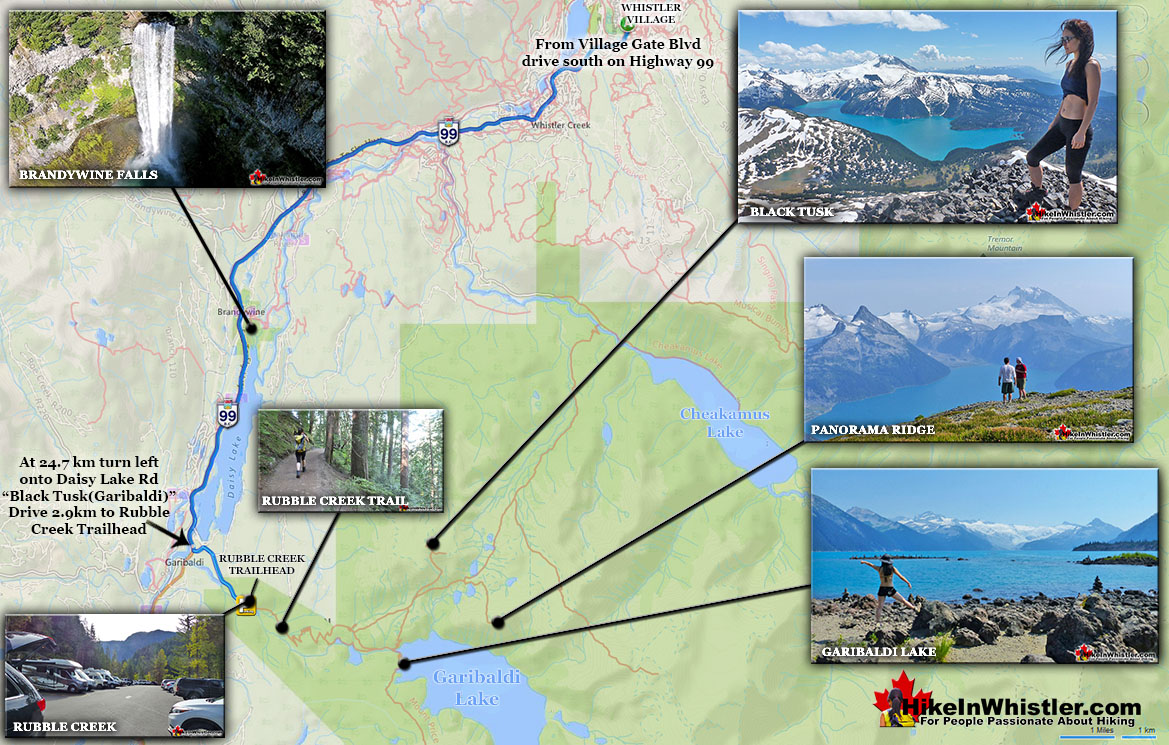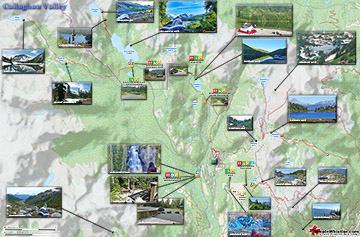 Alexander Falls
is a very impressive 43 metre/141 foot waterfall just 30 to 40 minutes south of Whistler in the
Callaghan Valley
. Open year-round and located just before ...
Read more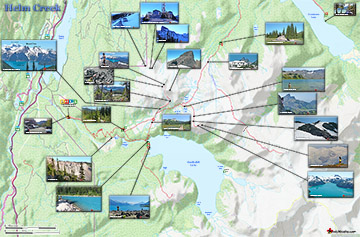 Helm Creek
is a cute, meandering creek that winds its way from beyond
Black Tusk
, down the valley to the wonderful campground that takes its name. From the
Helm Creek
...
Read more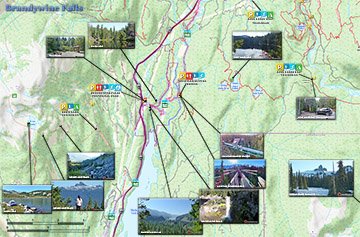 Brandywine Falls
is one of the must see sights on the way to or from Whistler. The falls drop from a 70 metre(230 feet), unnaturally abrupt looking cliff to the valley below. ...
Read more
Two Interesting Historical Books!


If you have been to Sloquet Hot Springs, you likely had no idea that you were in the midst of a century old mystery of a lost gold mine.  Several books have been written about it and the History Channel even made a six episode show called Curse of the Frozen Gold.  The show was quite entertaining with the characters exploring the mountains around Sloquet.  The hot springs even appeared in one episode as they searched nearby for the mysterious hidden vein of gold.  The excellent book, Slumach's Gold: In Search of A Legend lays out the history and theories in enticing detail.  The next time you find yourself lounging in Sloquet Hot Springs, you will inevitably glance around and wondering if you are sitting near the hidden gold mine.  A Passion for Mountains by Kathryn Bridge is a fascinating look at Don and Phyllis Munday's prolific exploration of the mountains in BC.  Based out of Vancouver, they were dominant figures of the climbing community in the early 1900's.  In 1923 they visited their friend Neal Carter in Alta Lake(Whistler) and explored the mountains around the valley.. many for the first time!
**We participate in the Amazon Services LLC Associates Program and earn a small commission on purchases we link through to Amazon at no extra cost to you.  We only link to books and products we love and highly recommend.  Thanks for your support!**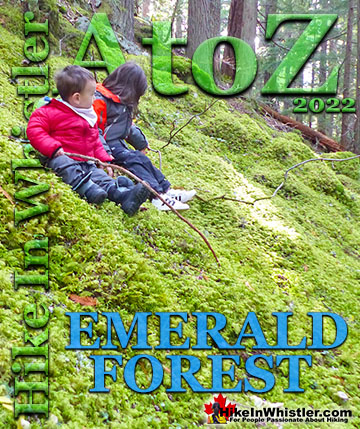 Emerald Forest is a cute little forest that is well hidden between Whistler Cay and Alpine.  From Whistler Village, if you go down to the end of Lorimer ...
Read more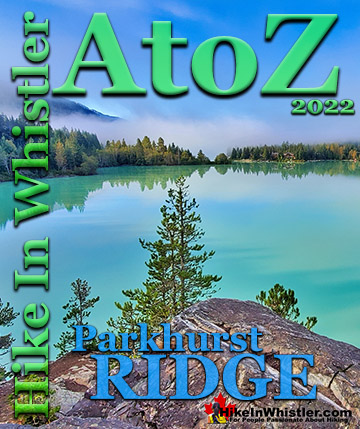 Parkhurst Ridge is an incredible place for a lot of reasons.  Of course, the view is spectacular with
Green Lake's
absurdly vivid green coloured water.  ...
Read more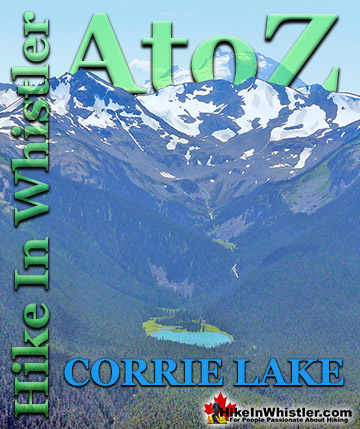 Read more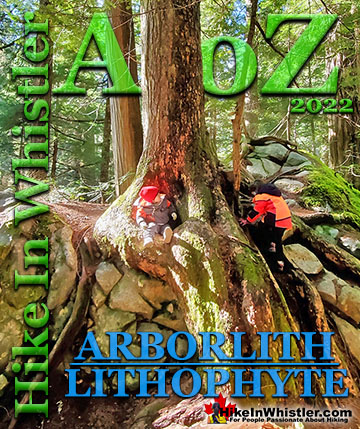 Every unusual phenomenon in the forest seems to have a name, but one natural work of art seems to be without a commonly used name.  Big trees with ...
Read more
Along Whistler's Valley Trail near
Rainbow Park
you come across some impressively unusual trees. Unlike most other Whistler trees with straight trunks and ...
Read more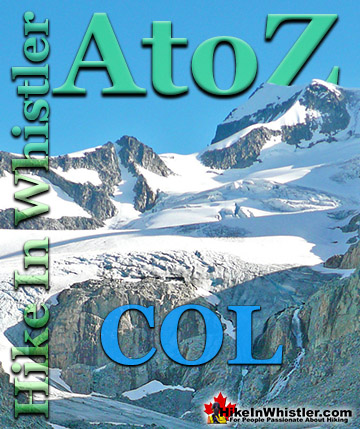 Col: a ridge between two higher peaks, a mountain pass or saddle.  More specifically is the lowest point on a mountain ridge between two peaks.  Sometimes ...
Read more
Whistler & Garibaldi Hiking

Alexander Falls  

Ancient Cedars  

Black Tusk  

Blackcomb Mountain  

Brandywine Falls  

Brandywine Meadows  

Brew Lake  

Callaghan Lake  

Cheakamus Lake  

Cheakamus River  

Cirque Lake 

Flank Trail 

Garibaldi Lake 

Garibaldi Park 

Helm Creek  

Jane Lakes 

Joffre Lakes  

Keyhole Hot Springs  

Logger's Lake  

Madeley Lake  

Meager Hot Springs 

Nairn Falls  

Newt Lake 

Panorama Ridge 

Parkhurst Ghost Town 

Rainbow Falls  

Rainbow Lake 

Ring Lake  

Russet Lake  

Sea to Sky Trail 

Skookumchuck Hot Springs  

Sloquet Hot Springs 

Sproatt East 

Sproatt West  

Taylor Meadows  

Train Wreck  

Wedgemount Lake  

Whistler Mountain

January 

February 

March 

April 

May 

June 

July 

August 

September 

October 

November 

December