Wedgemount Glacier descends the steep valley down from Wedge Mountain and flanked by Parkhurst Mountain and Mount Weart.  A couple decades ago the glacier reached Wedgemount Lake with an abrupt wall of ice.  Now the terminus is a few hundred metres from the shore and has a huge, gaping glacier window at its end.  Like a giant mouth, this huge ice cave with fridge sized chunks of glacier tumbling into the brilliant turquoise pool that spills into Wedgemount Lake.
Whistler & Garibaldi Hiking

Alexander Falls  

Ancient Cedars  

Black Tusk  

Blackcomb Mountain  

Brandywine Falls  

Brandywine Meadows  

Brew Lake  

Callaghan Lake  

Cheakamus Lake  

Cheakamus River  

Cirque Lake 

Flank Trail 

Garibaldi Lake 

Garibaldi Park 

Helm Creek  

Jane Lakes 

Joffre Lakes  

Keyhole Hot Springs  

Logger's Lake  

Madeley Lake  

Meager Hot Springs 

Nairn Falls  

Newt Lake 

Panorama Ridge 

Parkhurst Ghost Town 

Rainbow Falls  

Rainbow Lake 

Ring Lake  

Russet Lake  

Sea to Sky Trail 

Skookumchuck Hot Springs  

Sloquet Hot Springs 

Sproatt East 

Sproatt West  

Taylor Meadows  

Train Wreck  

Wedgemount Lake  

Whistler Mountain
Whistler Aerial Views

Alexander 

Brandywine 

Blackcomb 

Callaghan 

Cirque 

Joffre 

Keyhole 

Logger's 

Madeley 

Panorama 

Sproatt 

Parkhurst

Rainbow 

Russet 

Train Wreck 

Wedge Glacier 

Wedgemount 

Whistler
Wedgemount Glacier, along with the extraordinary turquoise coloured Wedgemount Lake is the big attraction to this beautifully wild and hostile alpine paradise.  The seven kilometre Wedgemount Lake hiking trail is quite steep and with a heavy pack is very challenging.  The trail arrives at Wedgemount Lake at the opposite end from Wedgemount Glacier, and at once everything comes into view.  The sight of Wedgemount Lake surrounded by Cook Mountain, Weart Mountain, Wedge Mountain, Parkhurst Mountain and Rethel Mountain is breathtaking.  To make the image even more incredible is the looming, stark white, hulking glacier that fills the valley at the end of the lake up to the summit Wedge Mountain.  Wedge Mountain is the highest mountain in the Garibaldi Ranges and its broad, south facing, wedge shape has its north face encased in the monstrously thick Wedgemount Glacier.  The brilliant turquoise coloured Wedgemount Lake contrasts with the almost black colour of Rethel Mountain and the blindingly white Wedge Glacier.  Unlike most other hikes in Garibaldi Provincial Park, at Wedgemount Lake you have this amazing glacier to hike to in just a few short minutes.  You can hike from your tent to Wedge Glacier in just 10-20 minutes.  The glacier window is a pretty impressive sight up close and you grasp the enormous size of Wedge Glacier when you are dwarfed by this comparatively small feature of the overall huge mass of ice.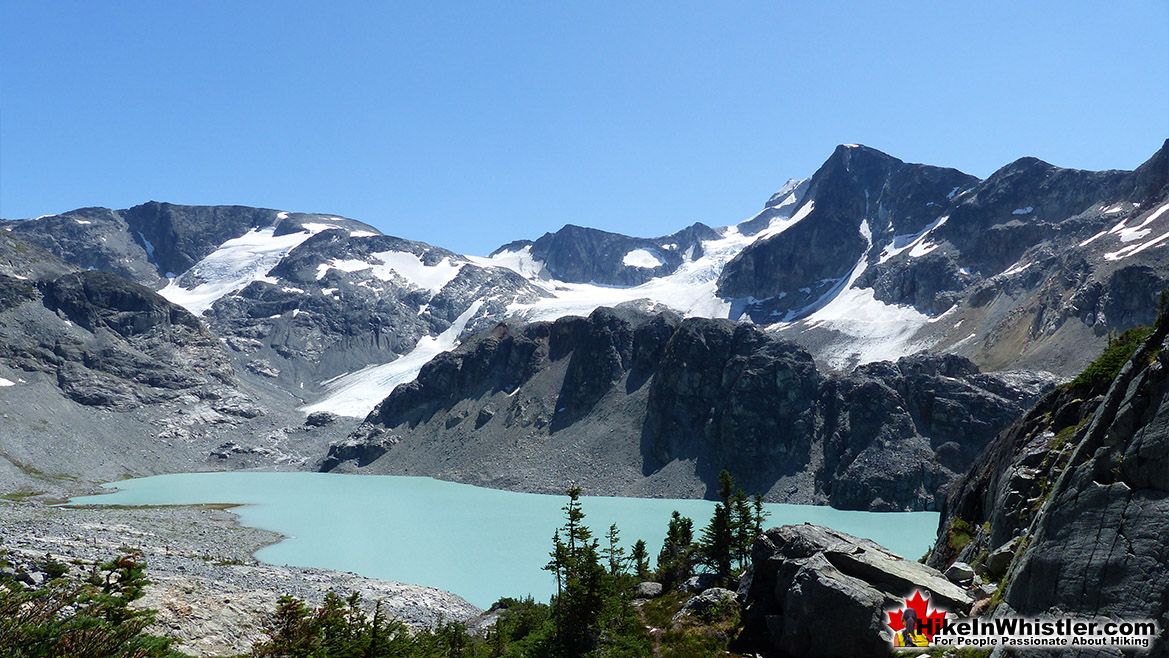 Wedgemount Glacier Aerial Views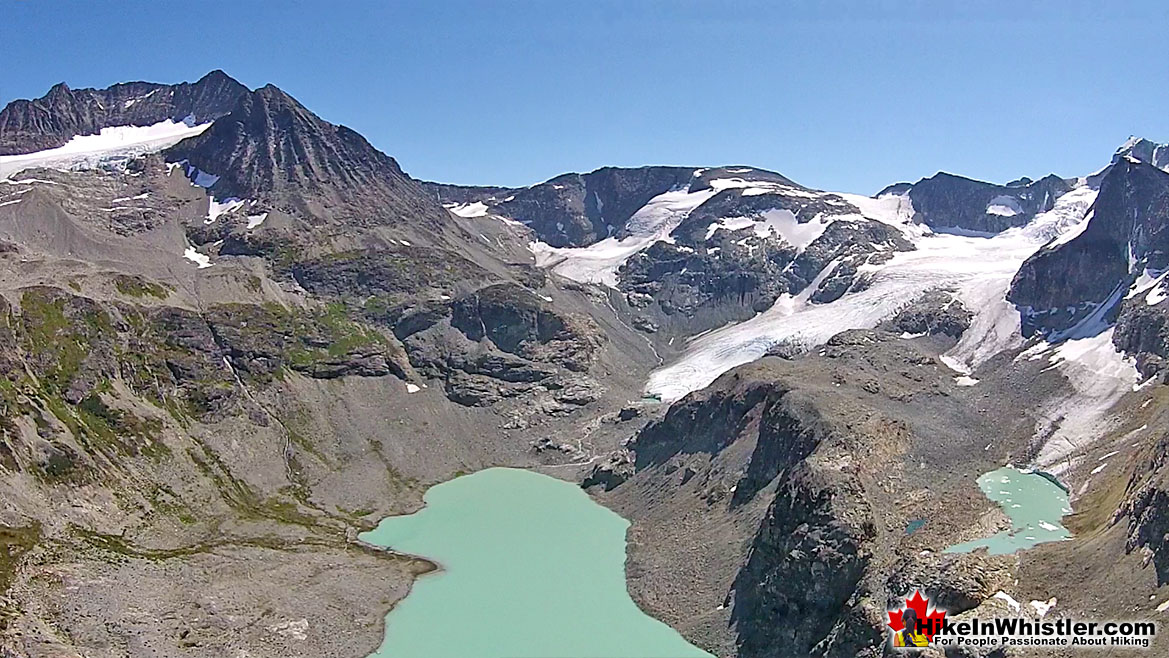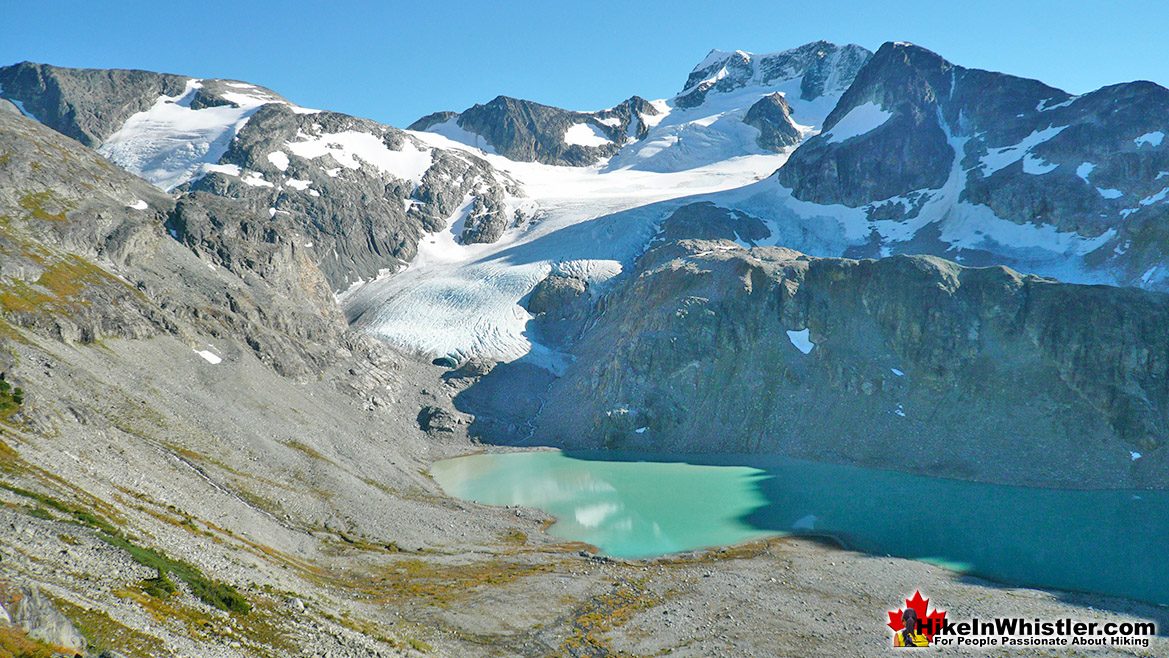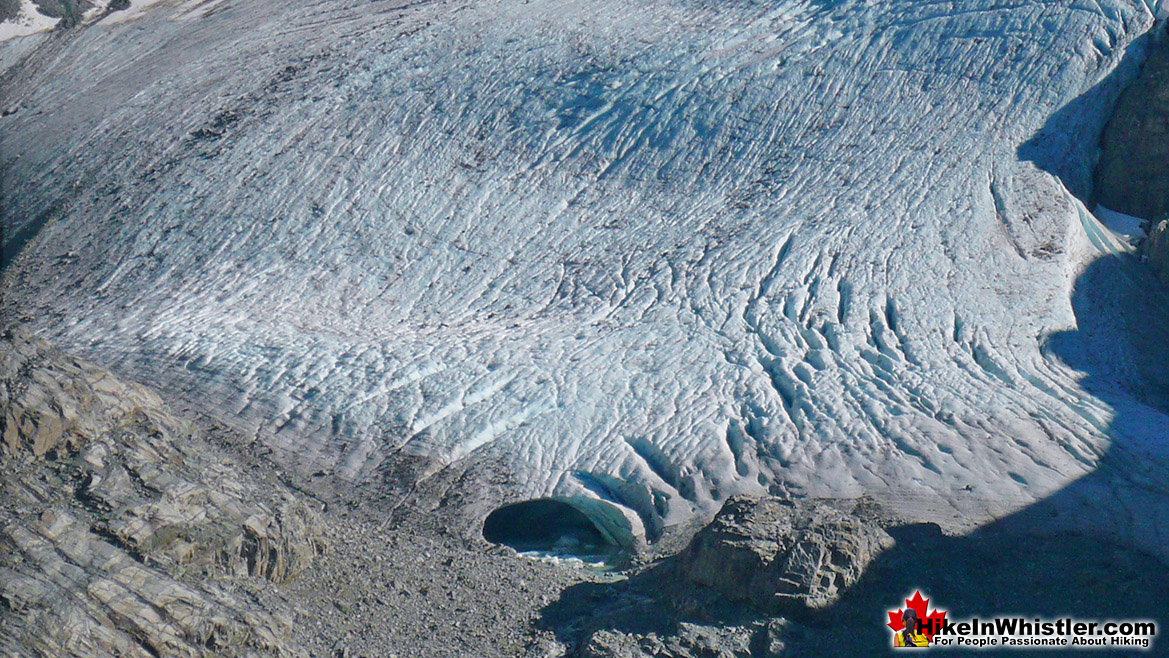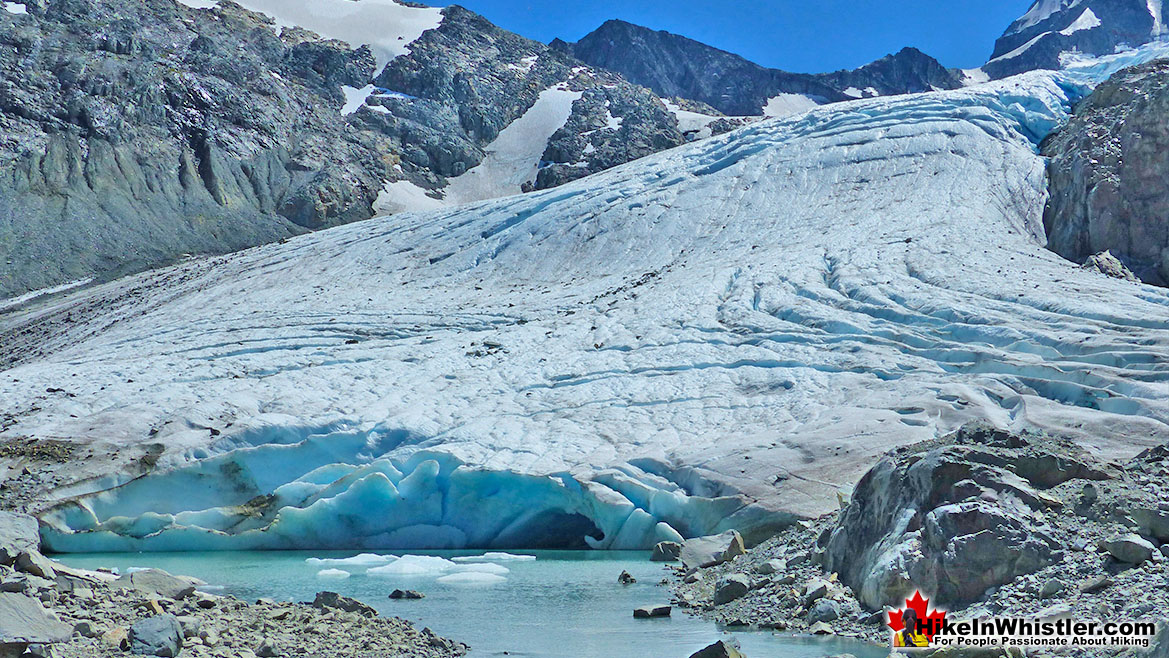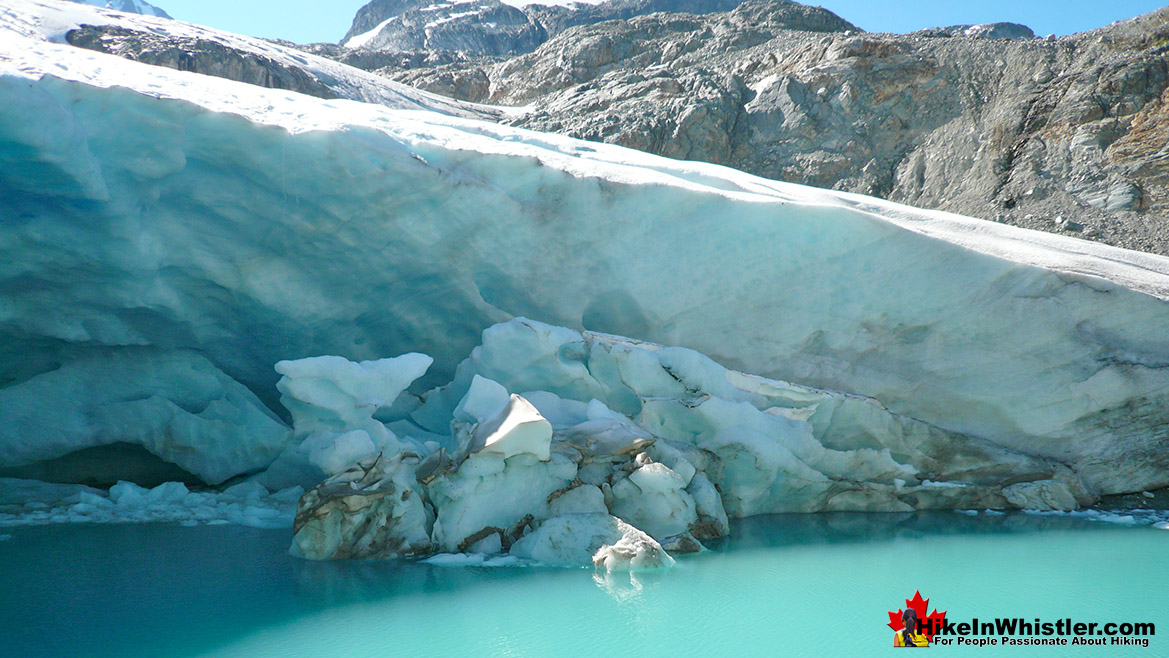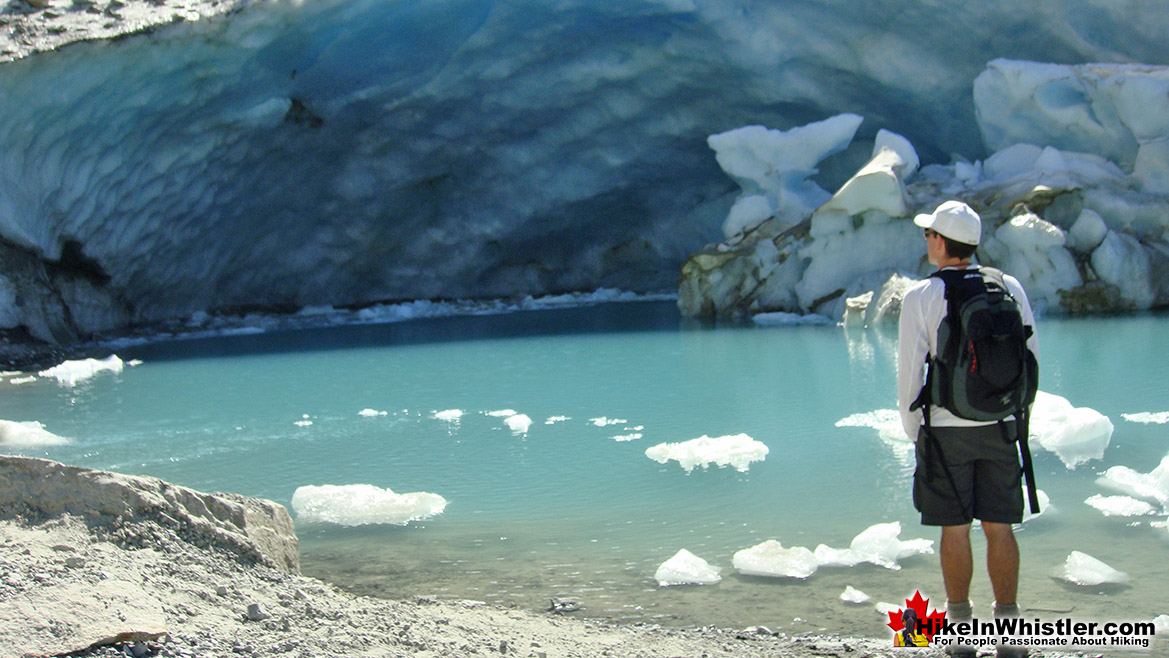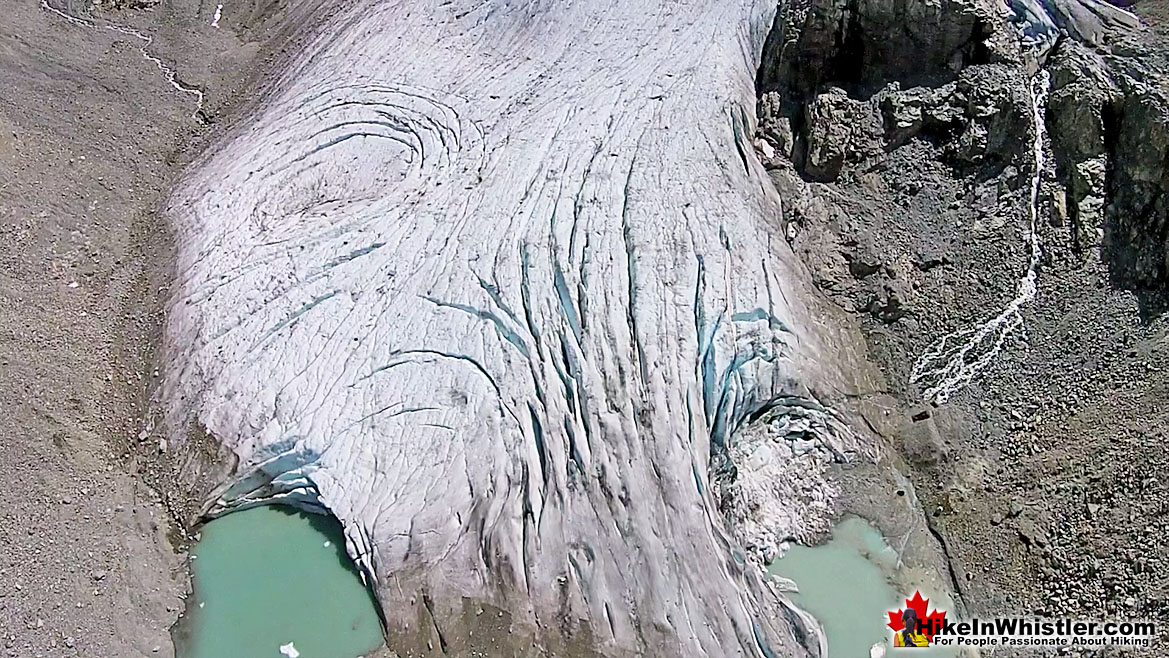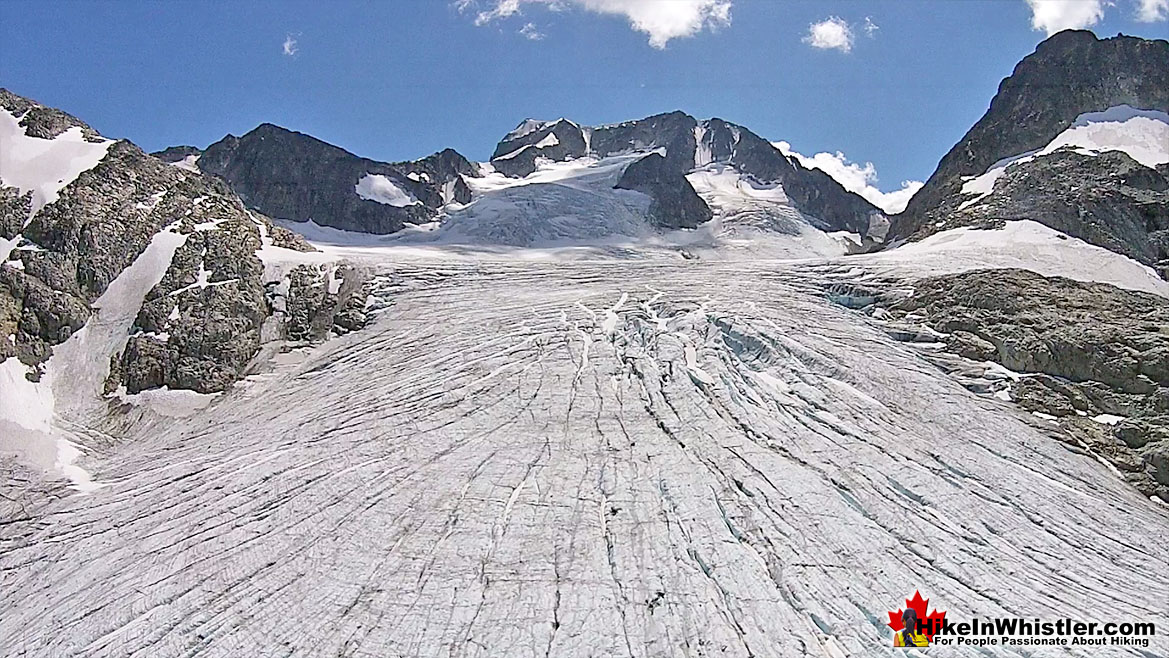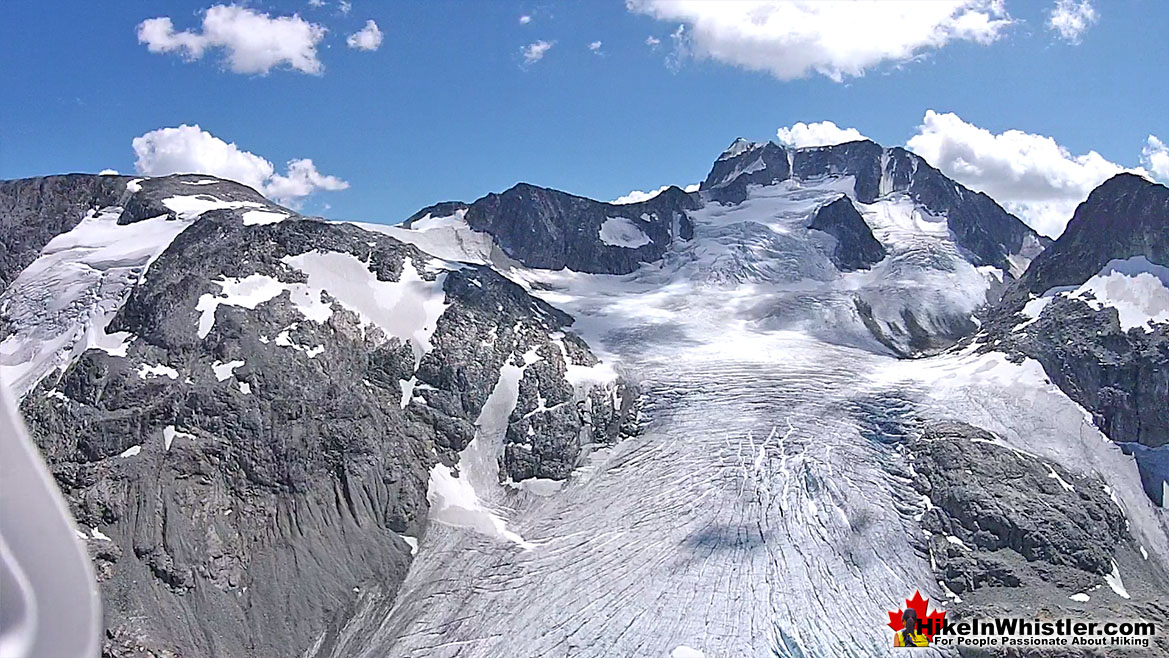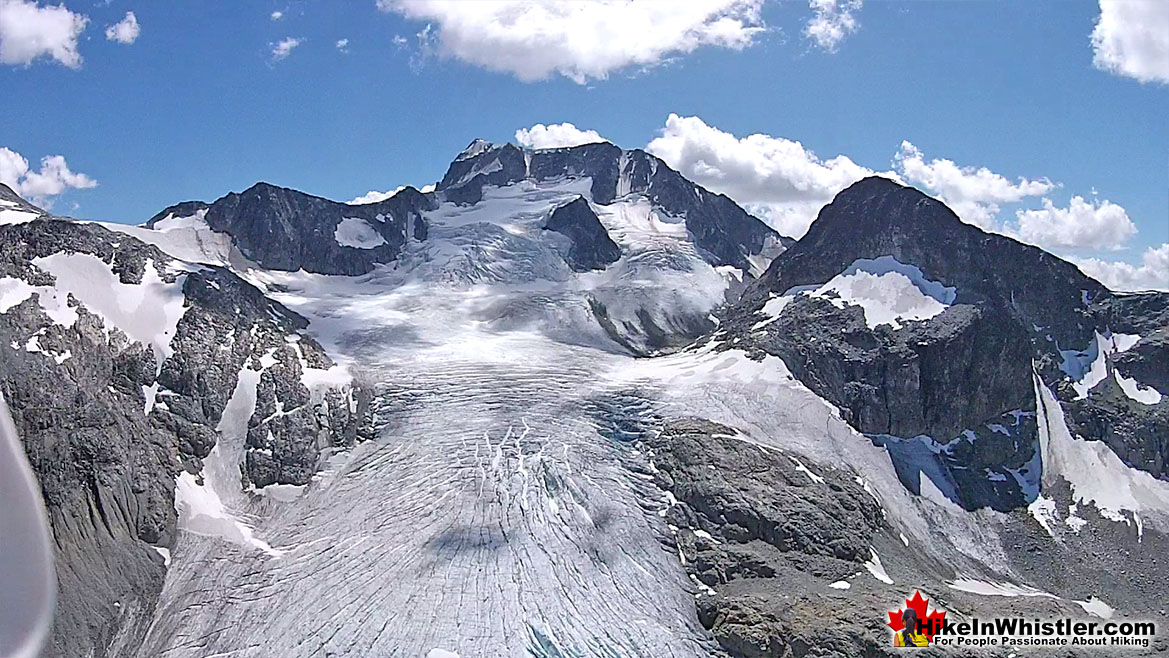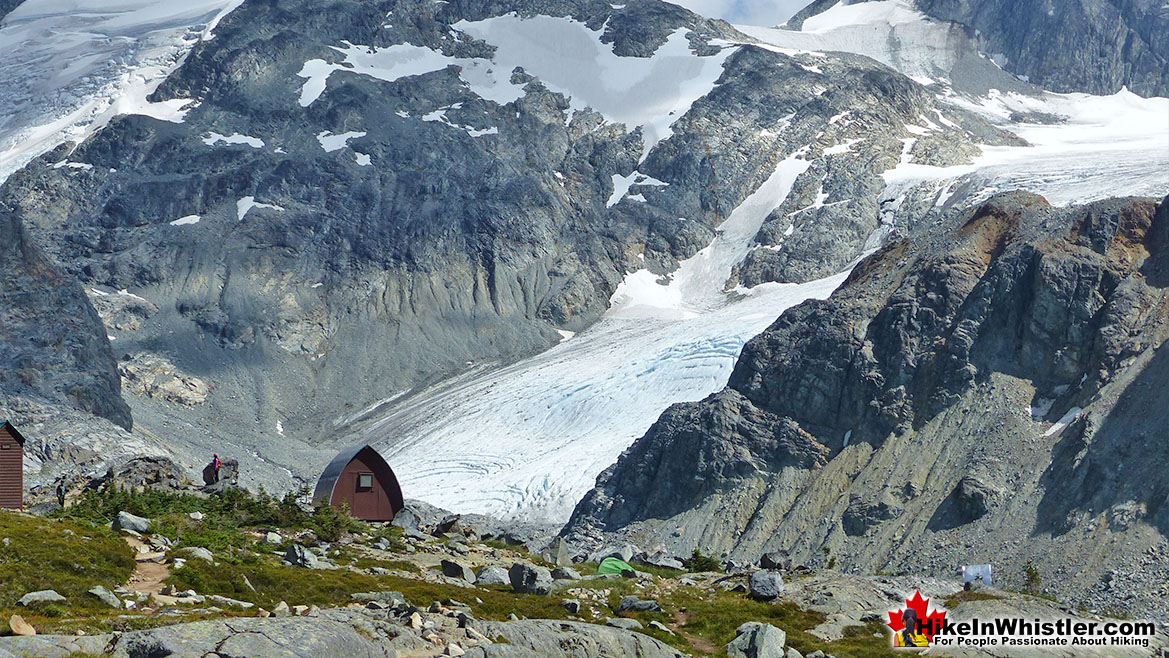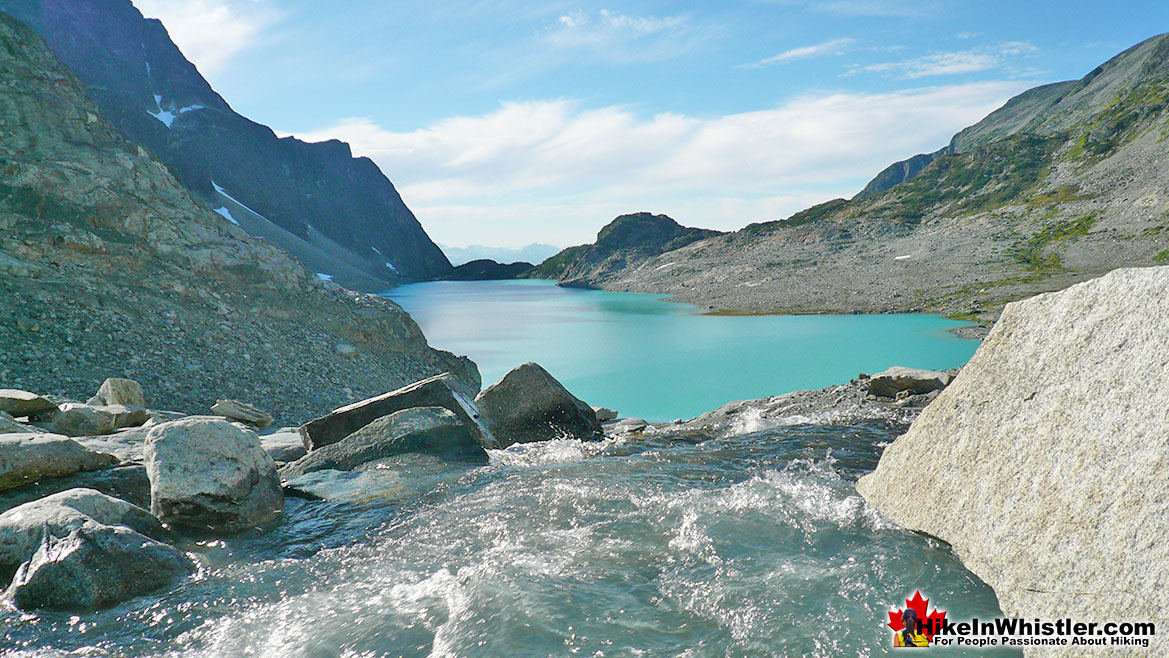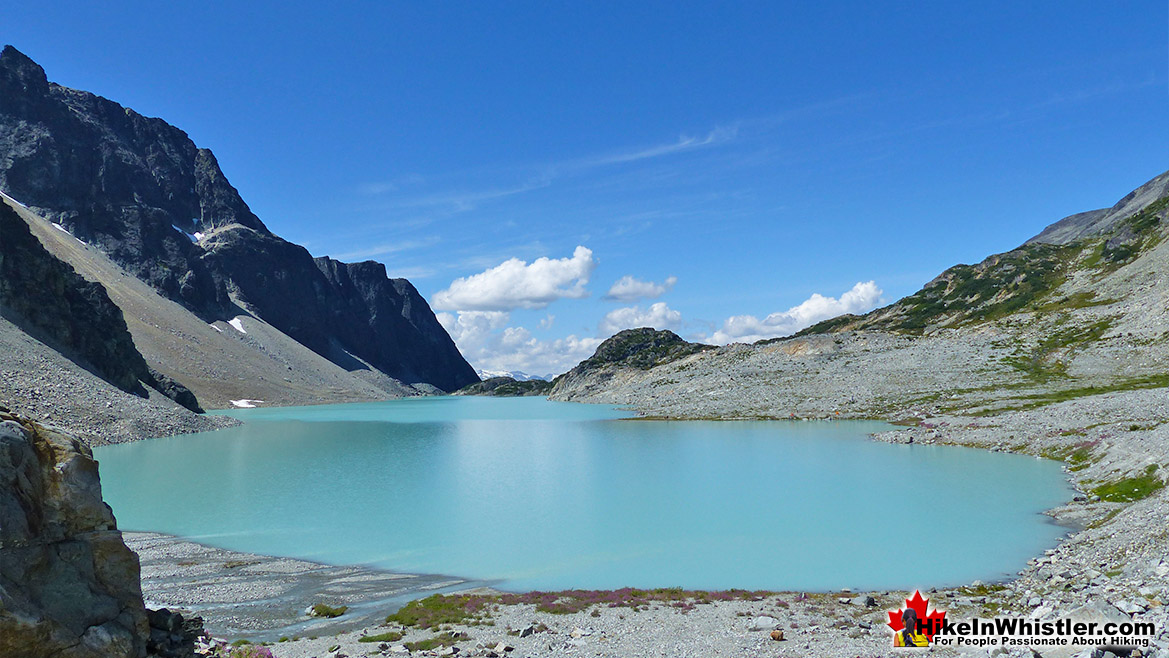 More info for Wedgemount Lake and Wedge Glacier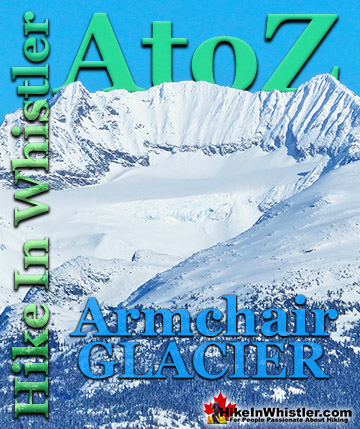 Armchair Glacier is one of the many easily identifiable mountain features around Whistler.  Along with
Wedge Mountain
and
Black Tusk
, Armchair Glacier has a ...
Read more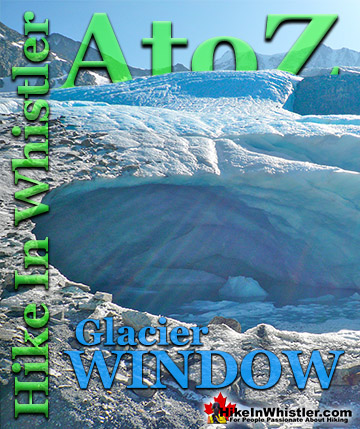 Glacier Window: the cave-like opening at the mouth of a glacier where meltwater runs out.  Glacier windows are often extraordinarily beautiful.  A blue glow ...
Read more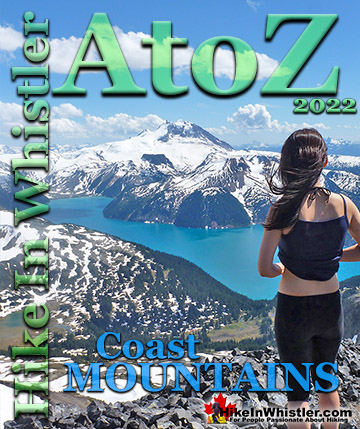 The Coast Mountains run from the Yukon down to Vancouver along the west coast of British Columbia in a band that averages 300 kilometres wide(190 miles).  ...
Read more
Read more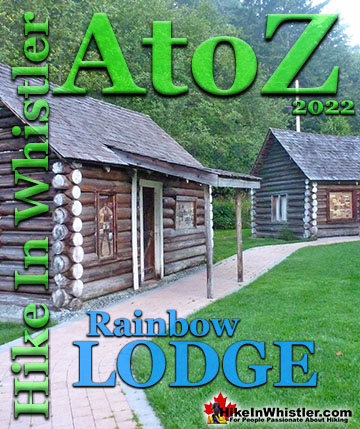 Rainbow Lodge was a popular wilderness lodge in the small community called Alta Lake, and what would eventually be called Whistler  It was a fishing and ...
Read more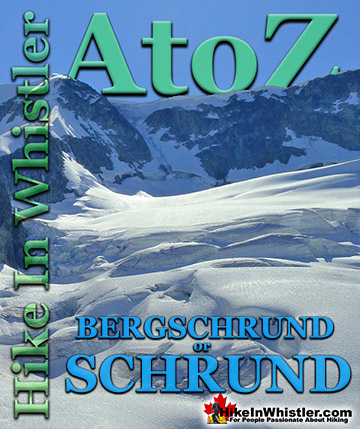 Bergschrund or abbreviated schrund: a crevasse that forms from the separation of moving glacier ice from the stagnant ice above. Characterized by a deep ...
Read more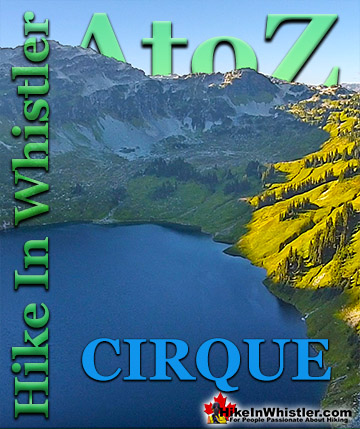 Cirque: a glacier-carved bowl or amphitheater in the mountains.  To form, the glacier must be a combination of size, a certain slope and more unexpectedly, a ...
Read more
Whistler & Garibaldi Hiking

Alexander Falls  

Ancient Cedars  

Black Tusk  

Blackcomb Mountain  

Brandywine Falls  

Brandywine Meadows  

Brew Lake  

Callaghan Lake  

Cheakamus Lake  

Cheakamus River  

Cirque Lake 

Flank Trail 

Garibaldi Lake 

Garibaldi Park 

Helm Creek  

Jane Lakes 

Joffre Lakes  

Keyhole Hot Springs  

Logger's Lake  

Madeley Lake  

Meager Hot Springs 

Nairn Falls  

Newt Lake 

Panorama Ridge 

Parkhurst Ghost Town 

Rainbow Falls  

Rainbow Lake 

Ring Lake  

Russet Lake  

Sea to Sky Trail 

Skookumchuck Hot Springs  

Sloquet Hot Springs 

Sproatt East 

Sproatt West  

Taylor Meadows  

Train Wreck  

Wedgemount Lake  

Whistler Mountain

January 

February 

March 

April 

May 

June 

July 

August 

September 

October 

November 

December