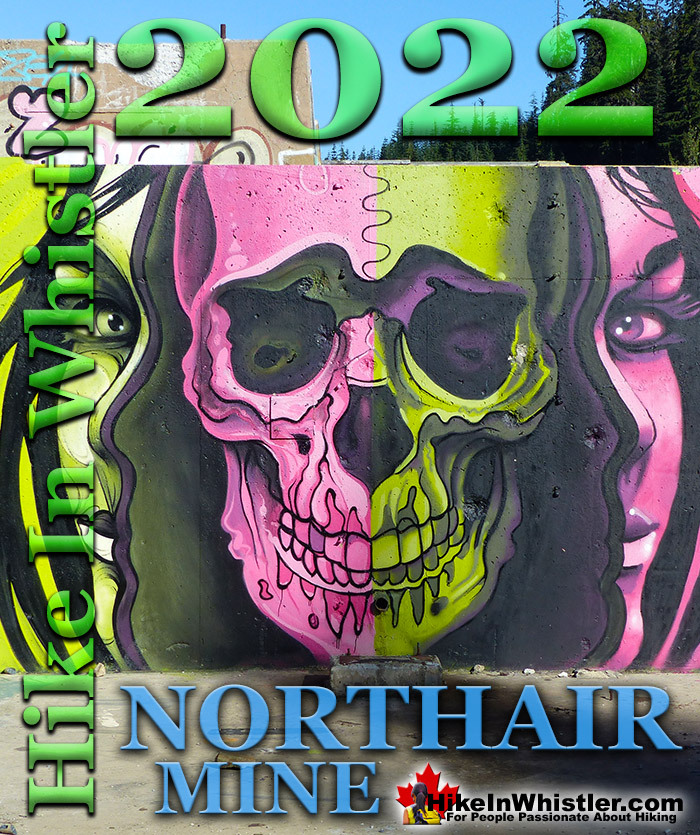 November 18th, 2022: Way up in the Callaghan Valley on the back side of Mount Sproatt is an abandoned gold mine.  Old cement foundations and two unexpectedly beautiful lakes mark the location of Northair Mine, abandoned in 1982.  For about five years it was a fairly productive gold mine that extracted five tons of gold.  Largely forgotten for years, in the last decade it has come to life in stunning colour by graffiti artists and professional muralists.
Whistler & Garibaldi Hiking

Alexander Falls  

Ancient Cedars  

Black Tusk  

Blackcomb Mountain  

Brandywine Falls  

Brandywine Meadows  

Brew Lake  

Callaghan Lake  

Cheakamus Lake  

Cheakamus River  

Cirque Lake 

Flank Trail 

Garibaldi Lake 

Garibaldi Park 

Helm Creek  

Jane Lakes 

Joffre Lakes  

Keyhole Hot Springs  

Logger's Lake  

Madeley Lake  

Meager Hot Springs 

Nairn Falls  

Newt Lake 

Panorama Ridge 

Parkhurst Ghost Town 

Rainbow Falls  

Rainbow Lake 

Ring Lake  

Russet Lake  

Sea to Sky Trail 

Skookumchuck Hot Springs  

Sloquet Hot Springs 

Sproatt East 

Sproatt West  

Taylor Meadows  

Train Wreck  

Wedgemount Lake  

Whistler Mountain

January 

February 

March 

April 

May 

June 

July 

August 

September 

October 

November 

December

Alexander Falls 

Brandywine Falls  

Cirque Falls  

Holloway Falls 

Keyhole Falls 

Nairn Falls 

Rainbow Falls 

Shannon Falls 

Train Wreck Falls 

Wedgemount Falls
In the late 1960's when the Callaghan Valley was a mostly untouched mountain wilderness an amateur prospector found high gold content in samples from the Brandywine area.  Dr. Mike Warshawski, a Vancouver dentist and budding prospector had recently taken courses in geology and basic prospecting.  Doing silt sampling from rivers and creeks, he traced the source higher and higher into Callaghan Valley to the site of what would eventually be the Northair Mine.  The source he found came from a small, unnamed stream, which he named Anomaly Creek, because he found anomalous levels of minerals from it.  Warshawski then contacted the head of geology at BCIT, A.H.Manifold for help.  In 1970 the pair partnered up and took extensive soil samples until they zeroed in on the more precise location of the source, or more technically, the "mineralized float".  They staked claims over the entire area and began trenching and sampling systematically.  They found very promising gold and silver in an outcropping quartz vein that extended deep underground.  These promising results attracted a mining company, McIntyre Mines to option the property in 1971.  They investigated the potential find and decided the following year that it was not worth mining and dropped the option.  That same summer, a Vancouver mining company, Northair Mines investigated with 28 exploratory holes into the vein.  The results were so promising that Northair Mines picked up the option on the property in May of 1973 and plans were quickly underway for the new Northair Mine.  Production from Northair Mine began on April 26th, 1976 and just a few weeks later the first gold/silver brick was produced.  This picture on the left is of Northair's president, D.A McLeod holding a $60,000 bar of silver and gold, with Northair Mine in the background.  It appeared in a article on Northair Mine in the Vancouver Province newspaper on June 8th. 1977.  The picture on the right was taken in 2022 at a similar angle.
Northair Mine in 1977 and Northair Mine in 2022

Northair Mine Tunnels and Portals
Northair Mine produced what are called mill concentrates.  These concentrates are then refined off site to extract the gold and silver.  Northair Mine was extracting these materials from tunnels bored into the solid rock of the west side of Mount Sproatt.  There were, and still are, three tunnels, or adits into the mountain that connect deep underground and add up to over a kilometre.  This tunnel network connects the two zones that run along the quartz vein and then connects down to the mill site.  Effectively two offset tunnels at different levels, the highest one on the mountain, the Manifold Zone, and the Warman Zone lower down.  These two then intersect with a third tunnel that descends down through the mountain to emerge at what was the Northair Mine mill site. Today, if you are checking out the beautiful murals at Northair Mine, you are only about 150 metres from the mill site tunnel entrance.  In fact, you may have parked your car right across from the mostly buried entrance.  Never completely buried, you will know you have found it as quite a powerful, cold wind emerges from the opening.  Of the three tunnel entrances, or portals as they were called when created and used by Northair Mine, only two are still visible today.  The Manifold Portal and the Warman Portal are both pretty buried by rock slides, though the Manifold Portal is at least visible and the Mill Portal is very easy to find just steps from the murals.
Northair Mine's Mill Portal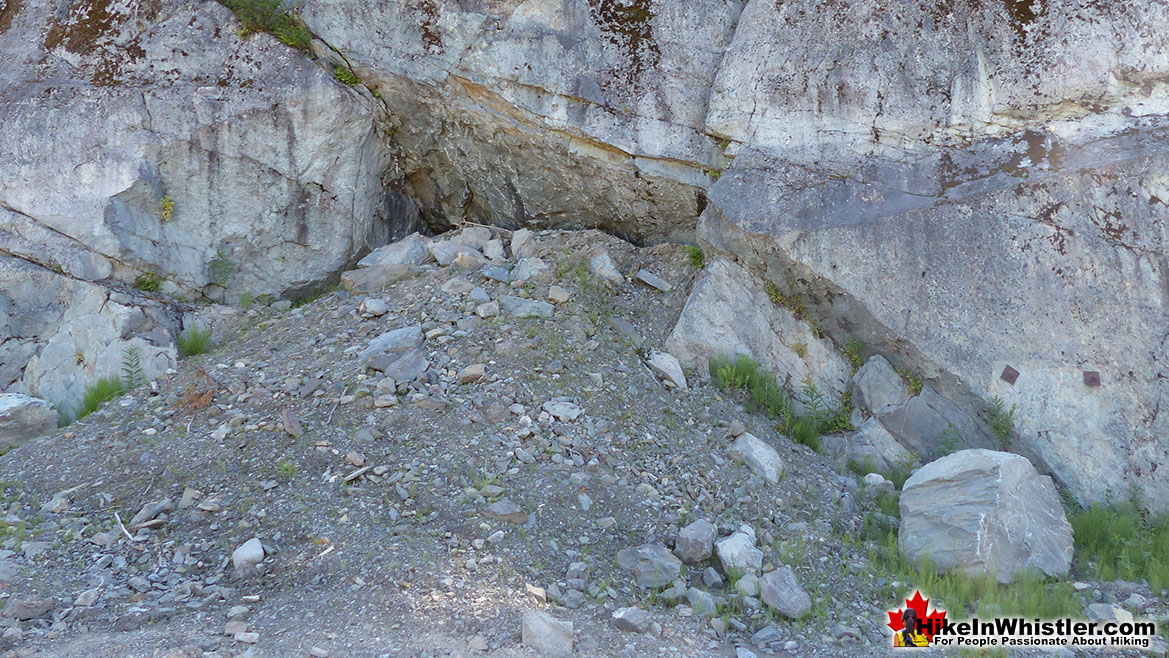 The Manifold Portal 400 Metres Up the Mountain!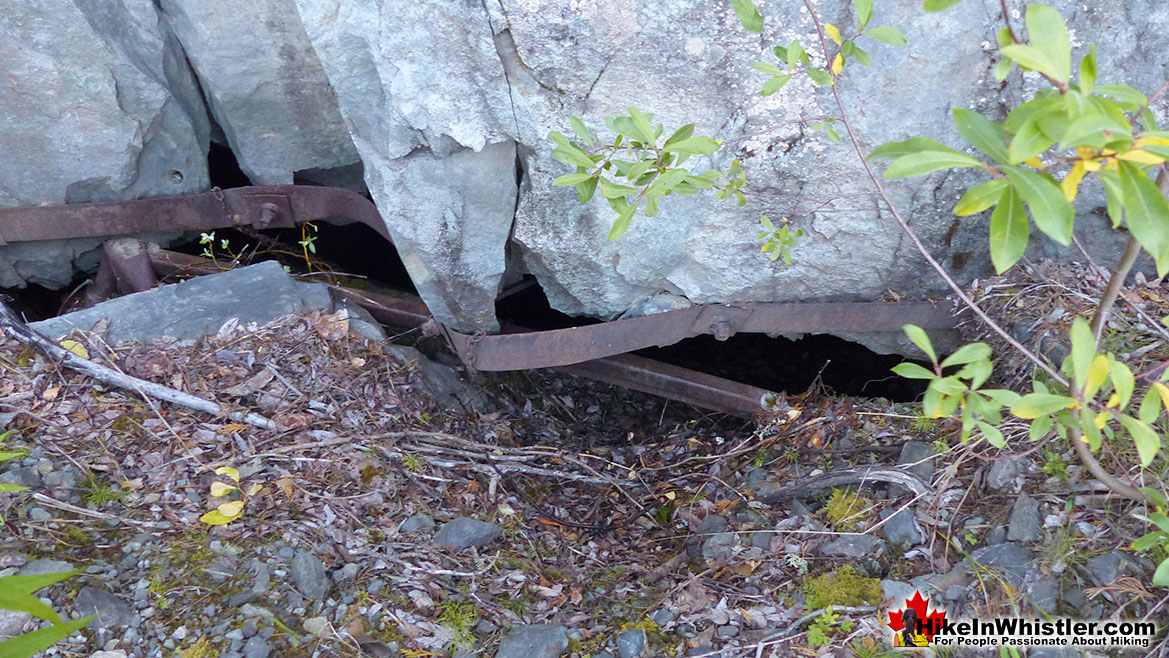 Getting to Northair Mine
Northair Mine continued production until 1982 when declining production yields and gold prices reduced profitability.  It was abandoned, and all but the cement foundations were removed, the three portals were blocked by metal gates and largely forgotten.  In the 1980's Whistler as a ski resort was exploding and the Callaghan Valley Road was still a bumpy logging road.  Forestry companies moved in and cut massive tracts of the forest around the abandoned mine.  Canadian Wilderness Adventures set up shop in the area and continue running Snowmobile and ATV tours past, and in recent years, through Northair Mine.  Just before the 2010 Winter Olympics came to Whistler and Vancouver, the Callaghan Valley Road was paved to the newly built Whistler Olympic Park just up the road from the turnoff to Northair Mine.
Northair Mine Murals 2022
In 2022 the old foundation walls of Northair Mine brought to life in spectacular fashion by professional muralist Kups.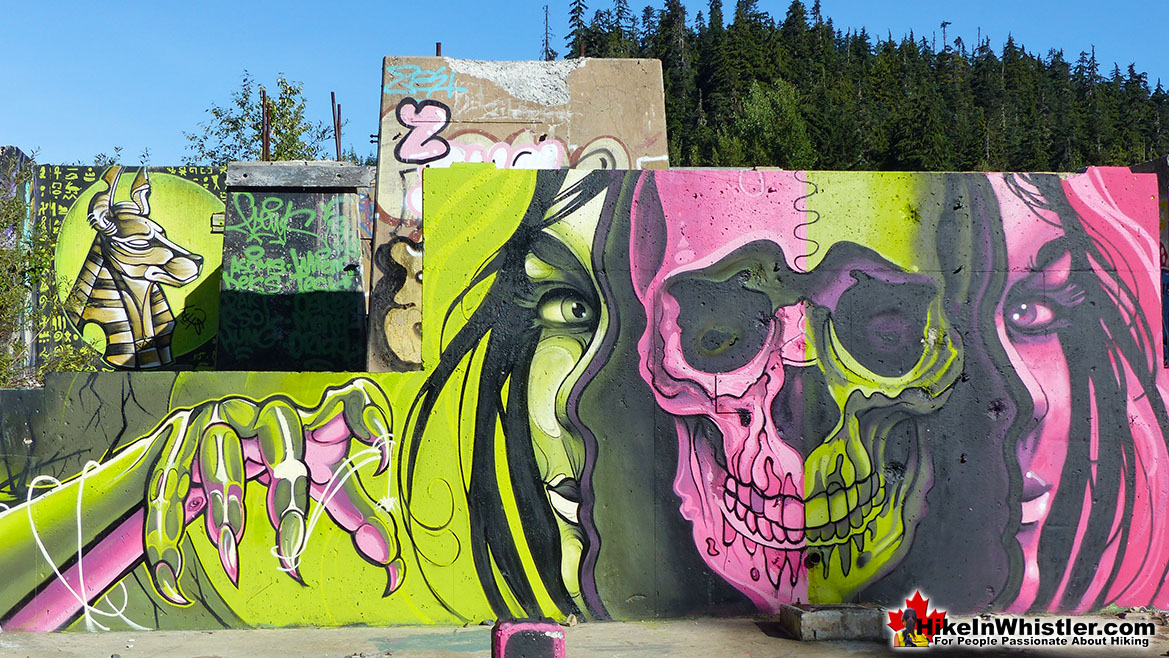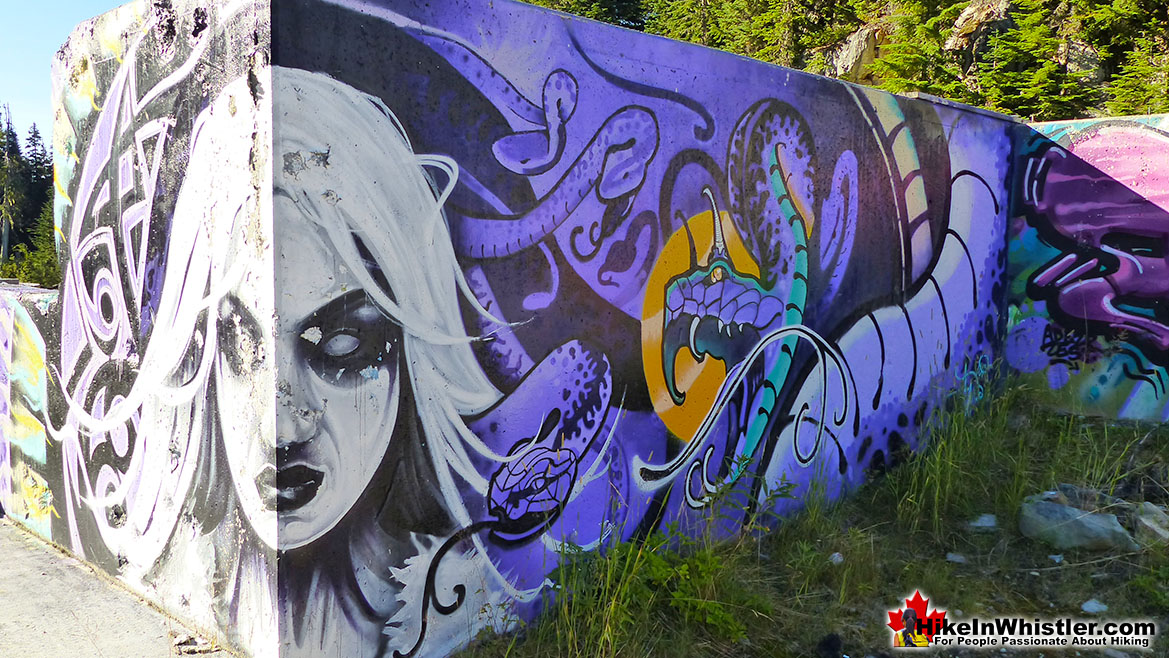 Northair Mine Murals 2019
In 2019 Northair Mine has become pretty beautiful with a staggering collection of murals and graffiti art.  With uneven collection of foundation walls you find yourself wandering around as if looking at an art exhibit.. which it sort of is.  Especially when you consider Kups is a much in demand and award winning professional muralist.  His Ravens mural has definitely given the place a surreal and beautiful aspect to it that it never had before.  Northair Mine has always been a pretty surreal place, hidden up in the wilderness and the addition of beautiful and colourful murals makes it even more special.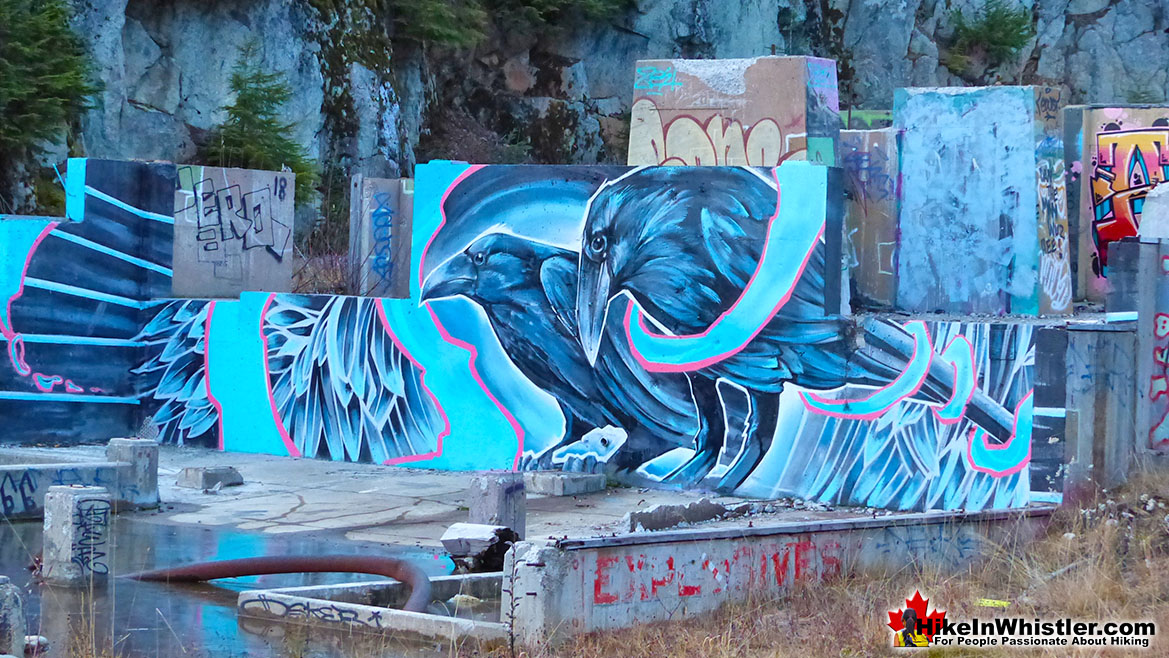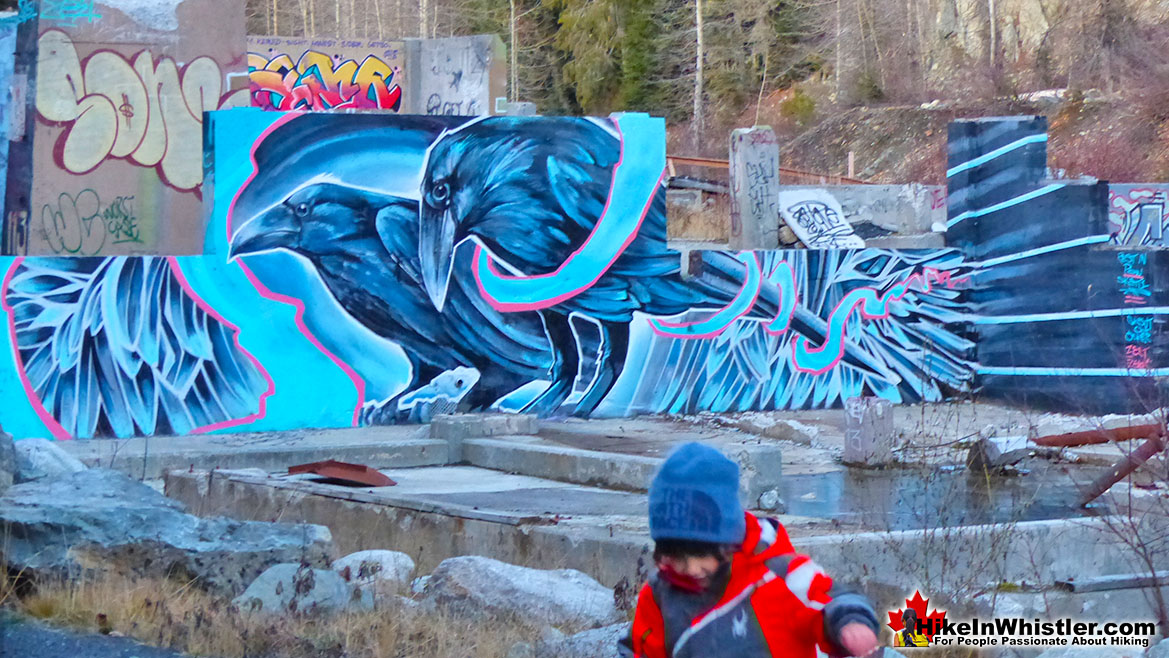 Smurfs Mural by ADBRT and/or Buds in 2019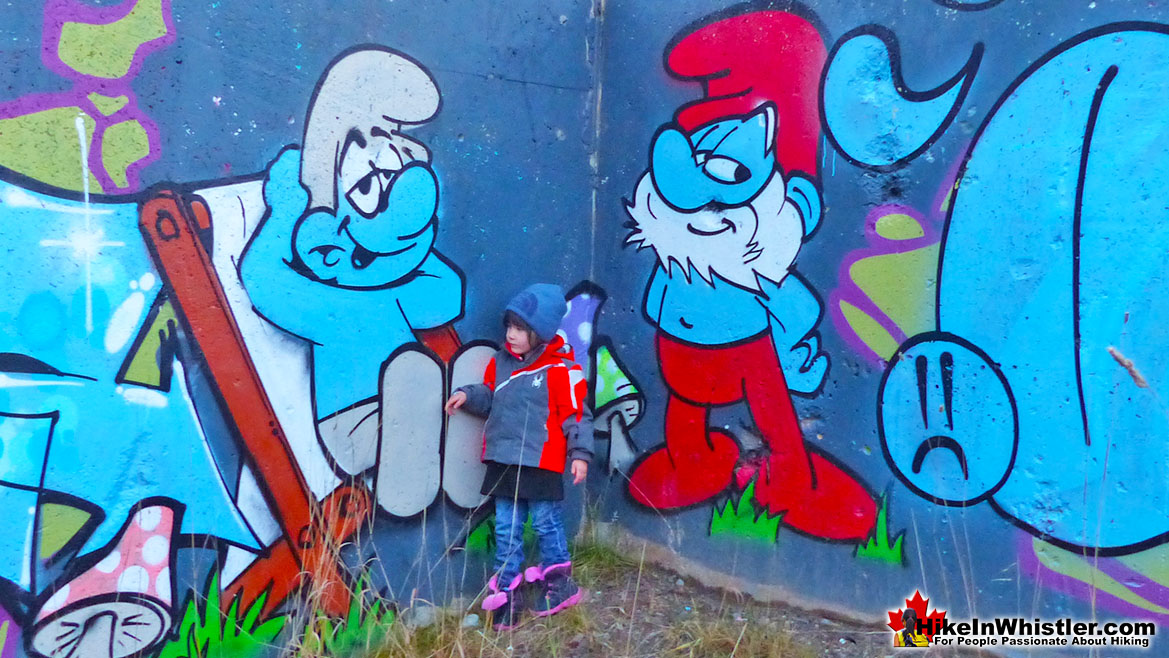 Northair Mine in 2018
Colourful graffiti covered some of the foundation walls in 2018.  The very first mural painted in 2013 by PETKO can be seen here in the far right.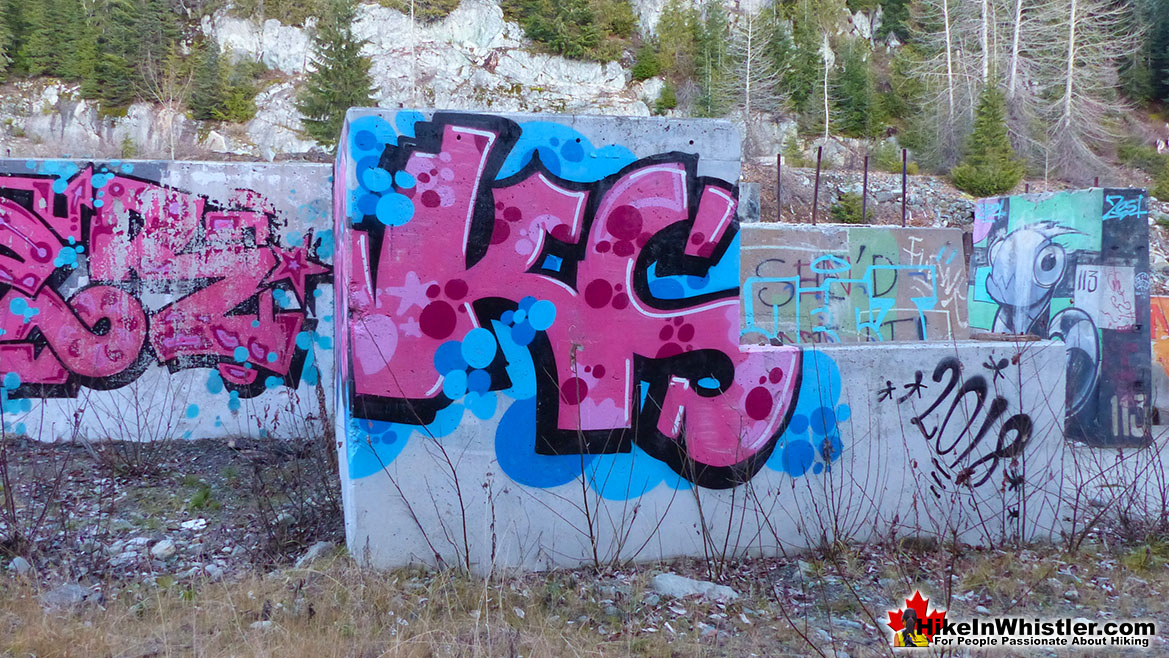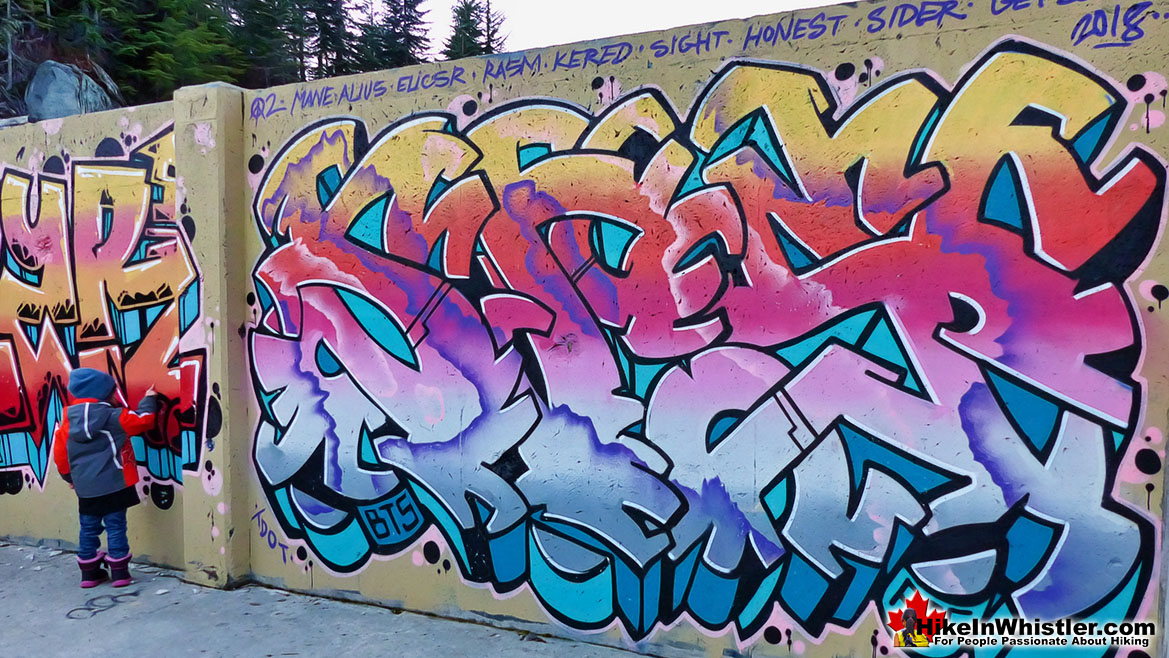 Northair Mine Murals 2014
In 2014 PETKO painted this large robot snake mural on the south facing wall.  Another large one, GET TO HIGH GROUND! was painted on the inside, south facing wall as well at that time.  The original PETKO mural from 2013 is facing the other direction on the pillar in the middle, opposite the blue tarp.
Northair Mine's First Mural in 2013
In the summer of 2013, the first mural appeared on the blank foundation walls of Northair Mine.  A creation of a professional Whistler artist PETKO.  Painted on one of the inside, pillar walls, the mural is about 8 feet tall and five feet wide of what looks like a robot snake in front of a cube background.  When first painted, with its green, blue, black and white interconnecting squares, it stood out in striking contrast to the bland grey walls in the background.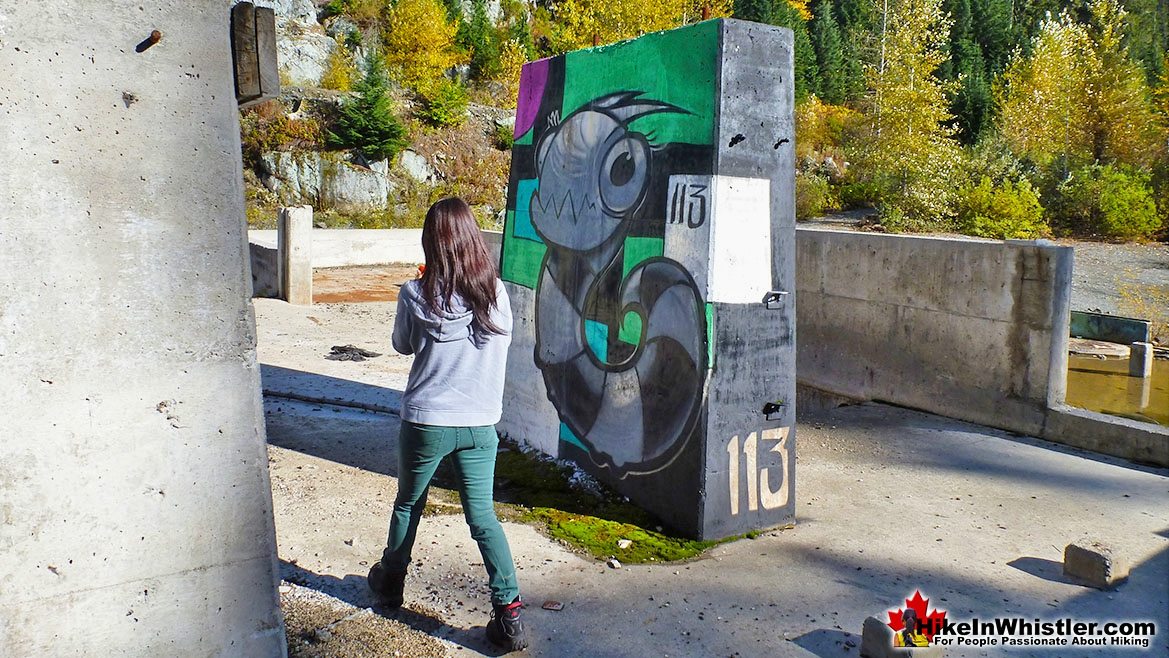 In July 2013, the PETKO mural was the only one in the otherwise blank canvas ruins of Northair Mine.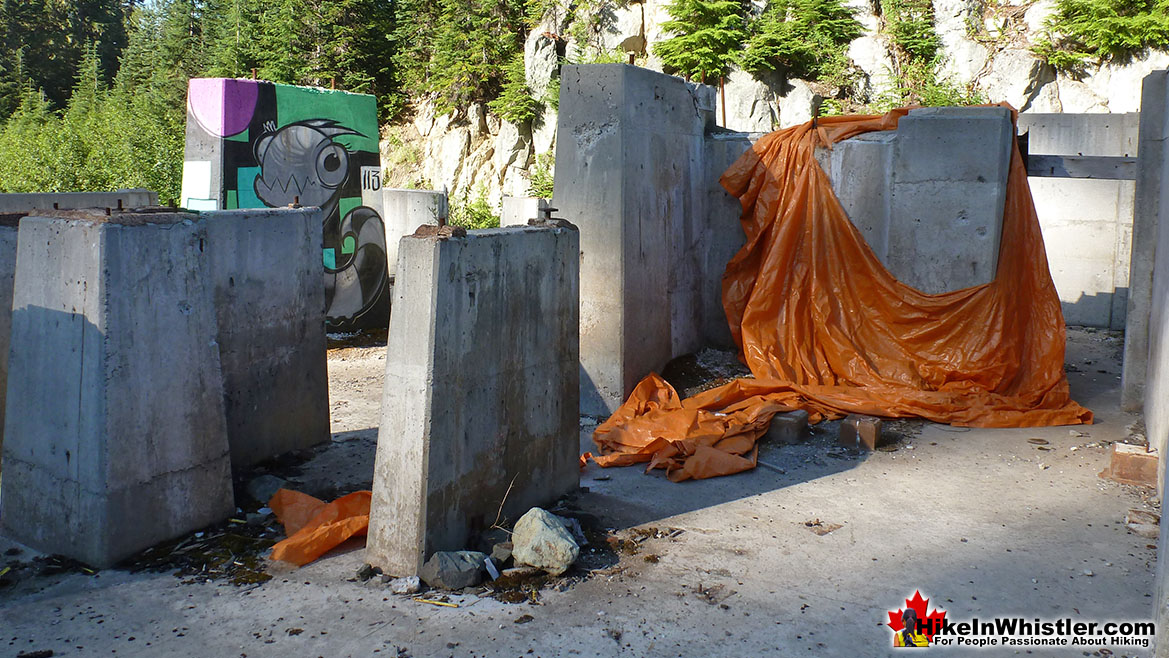 The Creation of Northair Mine's First Mural
Northair Mine Before the Murals
A decade ago Northair Mine was a blank canvas and a bit bland compared to the ever-changing collection of beautiful murals we see today.  This is a photo of the Northair Mine in the summer of 2013.  You can just make out a sliver of green and purple that is the PETKO mural in the otherwise completely blank canvas.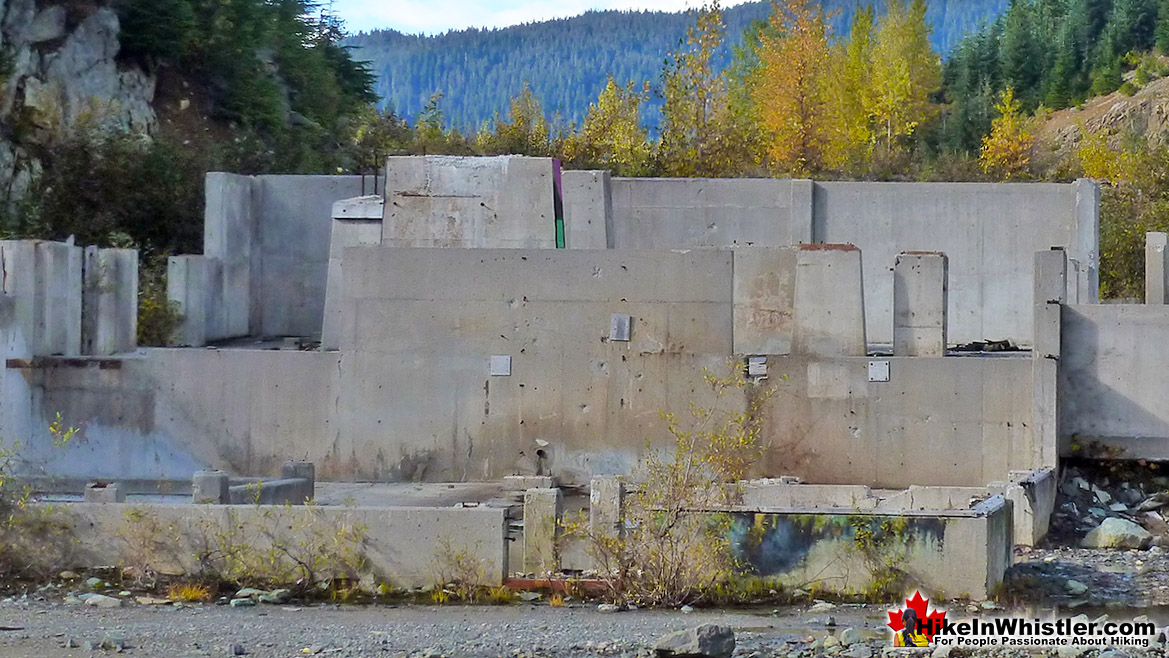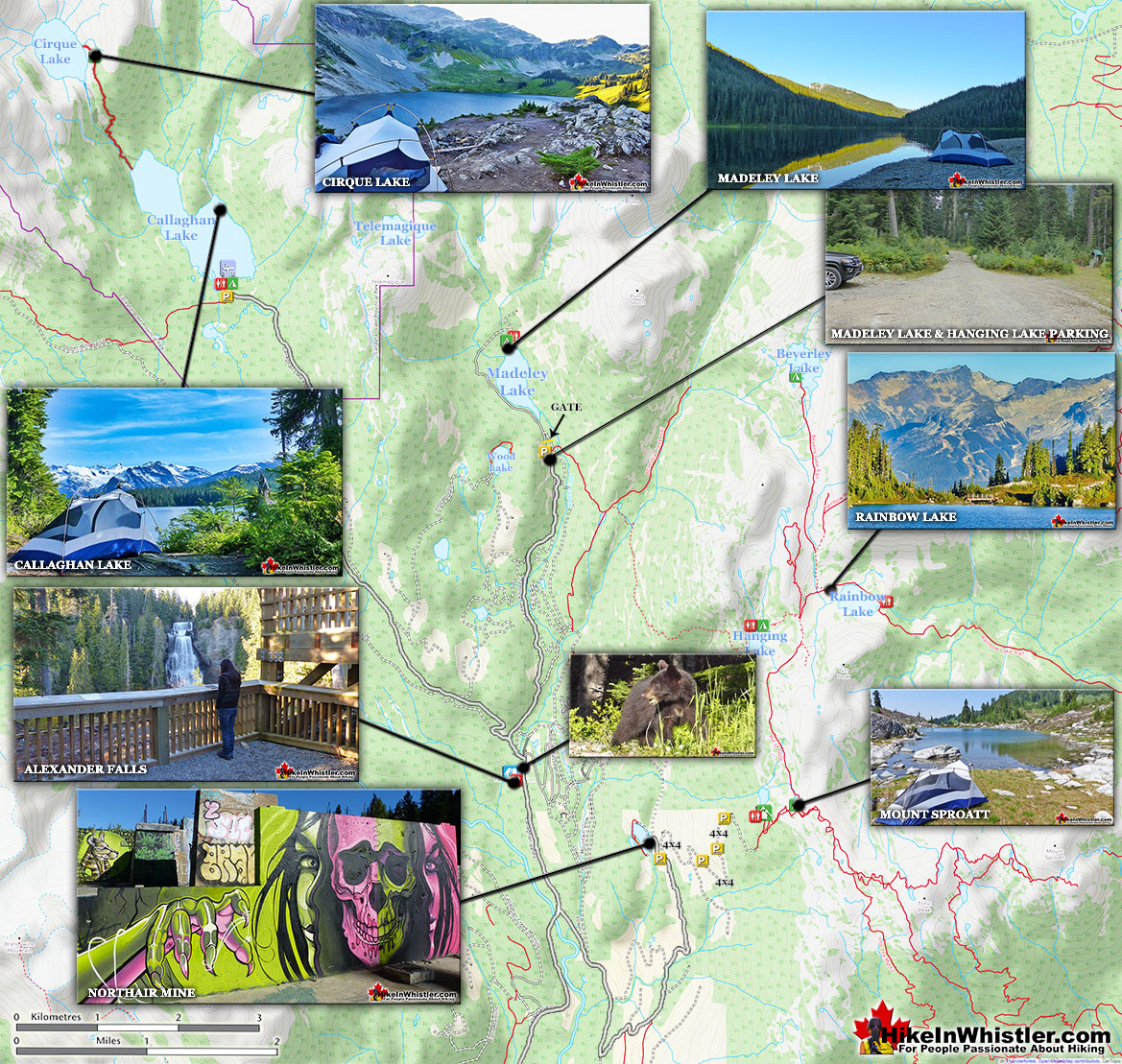 Northair Mine continued here...
More Whistler Updates!

Whistler & Garibaldi Park Hiking Glossary A to Z
Whistler & Garibaldi Park Best Hiking by Month!

Explore BC Hiking Destinations!