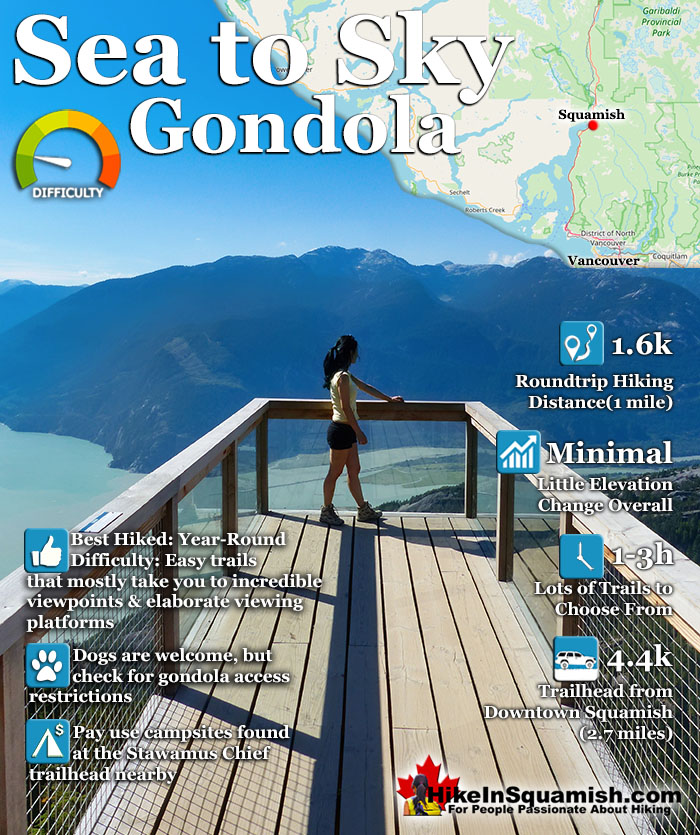 The Sea to Sky Gondola opened in the spring of 2014 and has rapidly expanded into a marvellous array of hiking trails and mountaintop attractions. Located between Stawamus Chief Provincial Park and Shannon Falls Provincial Park the gondola carries you rapidly from the sea to the sky.  Departing just a few hundred metres from the ocean at an elevation of 35 metres, to 885 metres in just 10 minutes.
Very fun gondola ride up
Great views from the gondola
Beautiful hiking with little effort
Convenient location on Hwy 99
Beautiful sundeck at the Summit Lodge
Food & booze at the Summit Lodge
Many trails start from the lodge
Suspension bridge & lots of viewpoints
Very expensive access fee
Restaurant food is not great

Squamish & Whistler Trails

Alexander Falls  

Alice Lake  

Ancient Cedars  

Black Tusk  

Blackcomb Mountain  

Brandywine Falls  

Brandywine Meadows  

Brew Lake  

Callaghan Lake  

Cheakamus Lake  

Cheakamus River  

Cirque Lake  

Elfin Lakes  

Flank Trail  

Garibaldi Lake  

Garibaldi Park  

Helm Creek  

High Falls Creek  

Jane Lakes  

Joffre Lakes  

Keyhole Hot Springs  

Levette Lake  

Logger's Lake  

Madeley Lake  

Meager Hot Springs 

Nairn Falls  

Newt Lake  

Panorama Ridge  

Parkhurst Ghost Town  

Rainbow Falls  

Rainbow Lake  

Ring Lake  

Russet Lake  

Sea to Sky Gondola  

Sea to Sky Trail  

Shannon Falls  

Skookumchuck Hot Springs  

Sloquet Hot Springs  

Sproatt East  

Sproatt West  

Stawamus Chief  

Taylor Meadows  

Train Wreck  

Upper Shannon Falls  

Wedgemount Lake  

Whistler Mountain
In early June you will still feel the chill in the air from the snowy mountain peaks all around. The deluxe, shiny and new gondolas comfortably seat 8 and the entire 10 minute ride gives you stunning views of Howe Sound, the three summits of The Chief on your left, and distant snowy mountains up ahead. The gondola cabins are almost entirely windows so no matter where you sit you have amazing views. If you are driving from Vancouver the large and easy to spot, Sea to Sky Gondola parking lot is just 45 minutes from Vancouver.  Just off of the Sea to Sky Highway, look for the entrance just past the Shannon Falls Provincial Park entrance or just a couple hundred metres before the Stawamus Chief Provincial Park entrance.  Parking is free, however they have signs that indicate that if you plan on parking more than 3 hours you should park at the Shannon Falls parking lot instead.  This is a good option as well if you want to take a look at Shannon Falls as well.  You can park there, see the amazing Shannon Falls and continue walking to the Sea to Sky Gondola along the connecting trail in less than 15 minutes.
Sea to Sky Gondola Summit Lodge
At the top of the gondola you arrive at the spectacular Summit Lodge. You immediately are drawn to enter this cliff-edge building with a restaurant, coffee shop, bar and an enormous sundeck that stretches around half of the building.  The sundeck has dozens of tables and of course views of everything.  Gondola's coming and going, Howe Sound, Sky Pilot and Copilot(mountains).  At one end of the sundeck the Sky Pilot Suspension Bridge extends across a chasm to a rocky outcrop in the direction of Sky Pilot Mountain.  The amazing Sky Pilot Suspension Bridge takes you across to the Spirit Trail and your first of several massive and stunning viewing areas and the start of an interpretive tour of this wonderful forest.  Everywhere you turn you see an interesting, written description of what surrounds you as well as frequent park benches to sit and enjoy the view.
Endless Beautiful Views of Howe Sound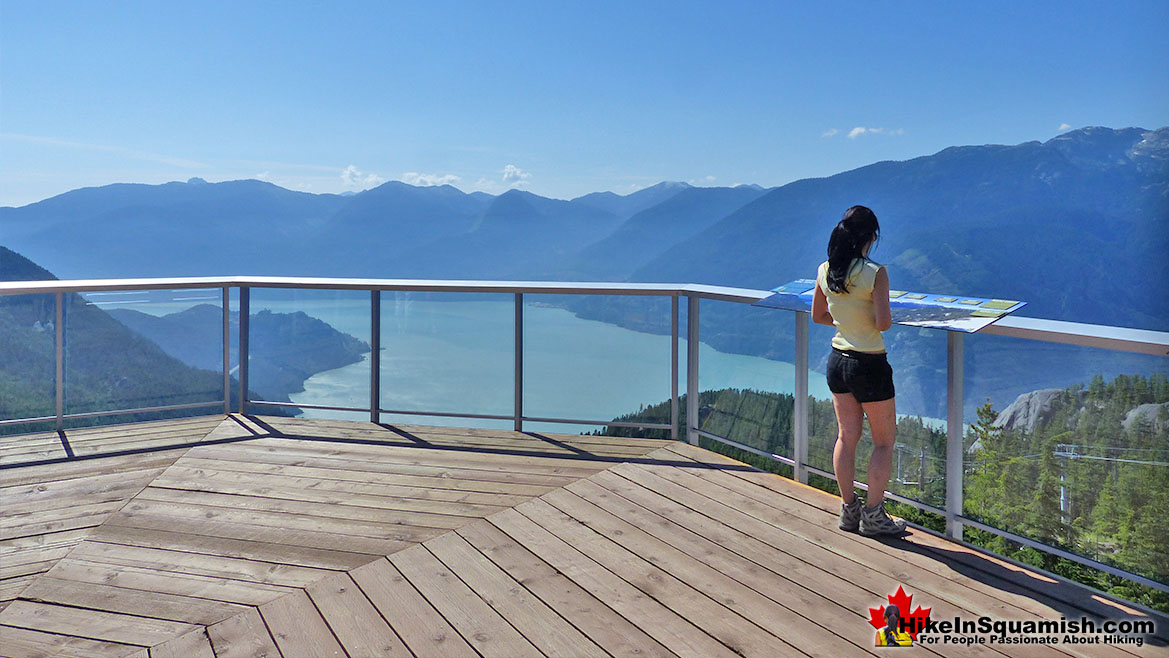 Sea to Sky Gondola Interpretive Trails
"A History in Nature" is the first of these well though out, interpretive murals.  It describes the Squamish Nation that has lived here for thousands of years and are part of the Coast Salish Aboriginal Peoples that past and present, stretch along the coast of what is now British Columbia.  Prior to European contact in the late 1700's the Squamish people utilized the land, plants and animals in the area in traditional ways with accumulated knowledge of many generations.  The mural depicts a beautiful illustration of the "Thunderbird", the official symbol of the Squamish Nation.
Sky Pilot Suspension Bridge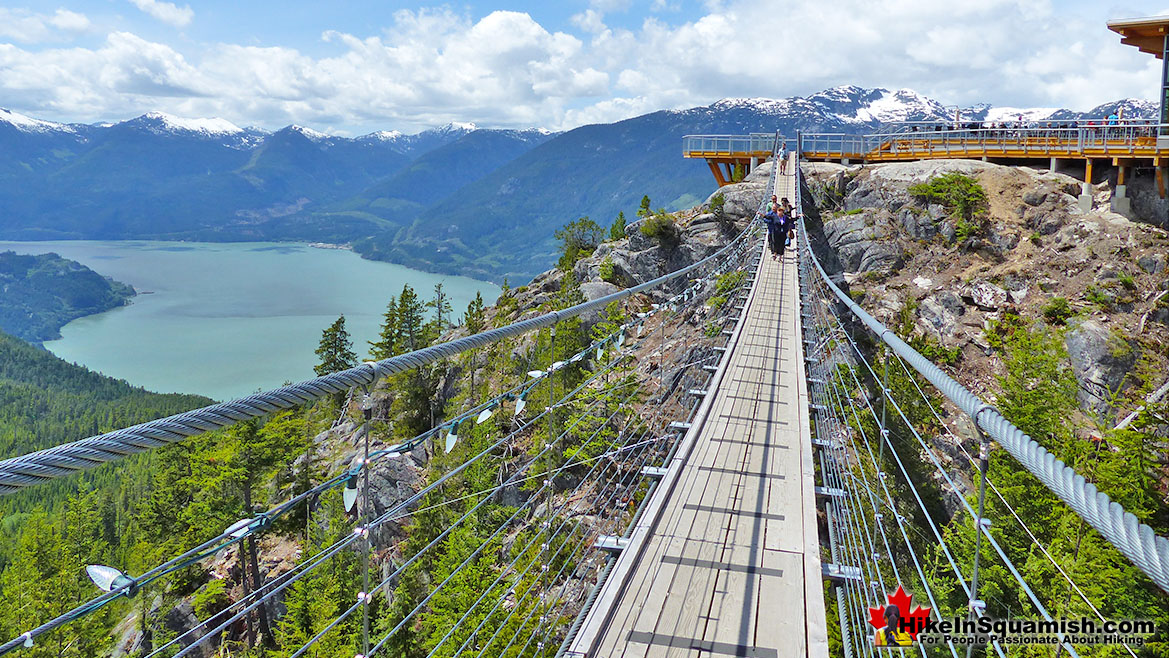 Nature's Hardware Store
A crushed gravel trail quickly ascends beyond this mural, into the forest and the interpretive tour continues.  "Nature's Hardware Store".  The Squamish people used cedar trees for many things such as clothing, baskets, houses, canoes and various tools.  Douglas fir trees were used for canoe poles, harpoon shafts, gaff hooks and dip net handles.  Yew trees were used for bows and harpoons.  Maple trees were used for canoe paddles.  Stinging nettles were made into fishing nets and fishing lines.  Moss was used for diapers, bedding and insulation for houses.  "Nature's Grocery Store" consisted of blackberries, blackcaps, blueberries, huckleberries, salal berries, salmonberries, wild strawberries, berry shoots and various edible roots.
Another Amazing View Over the Valley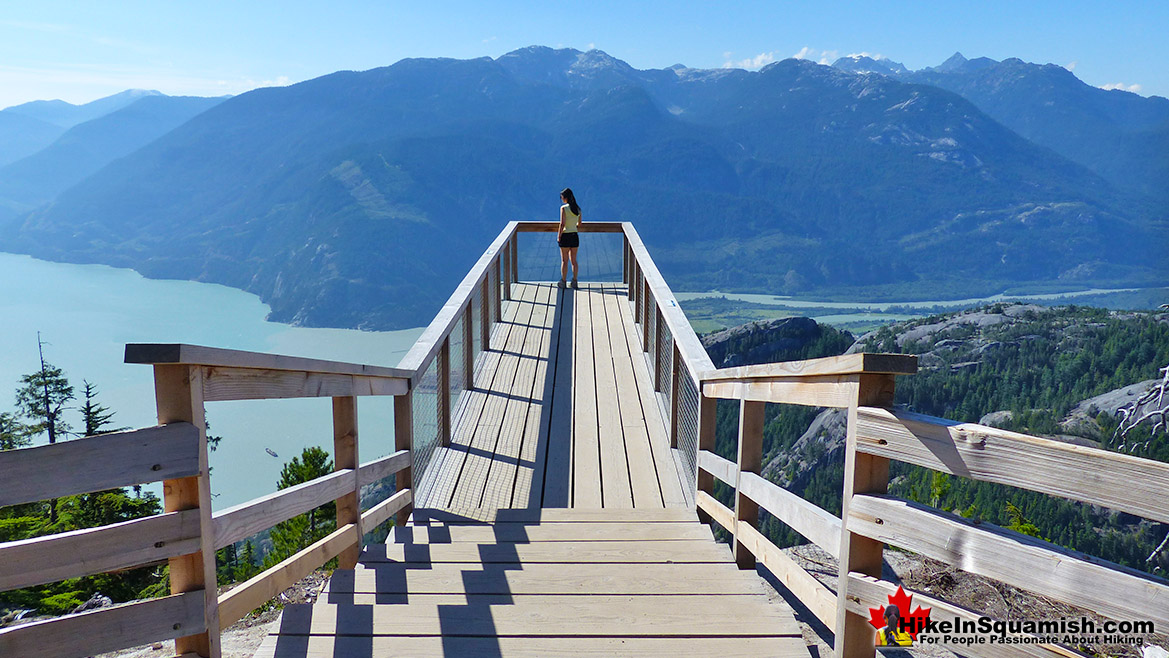 Mountains Around the Sea to Sky Gondola
You quickly notice along the trail that the distant skyline in dominated by some startlingly jagged and snowy mountains.  Sky Pilot(mountain) is the jagged, teeth-like mountain with Ledge Mountain on its left and Copilot Mountain to its right.  Copilot Mountain is the distinctly dome shaped mountain that looks remarkably similar to The Lions(West Lion), just south of Squamish.  Looking to the left of these rocky, tree-less peaks is the nearer and mostly tree covered Mount Habrich.  The short, 400 metre Spirit Trail that began at the Sky Pilot Suspension Bridge returns you to the Summit Lodge and a large mapboard at the juncture of several more trails.  The Sky Pilot Valley trail and the Skyline Ridge trail take you deep into the backcountry and into the alpine towards Sky Pilot, The Copilot and Ledge Mountain.  These trails are definitely for the adventurous and advanced hikers, although they only become difficult when you near Sky Pilot.
Sky Pilot and The Copilot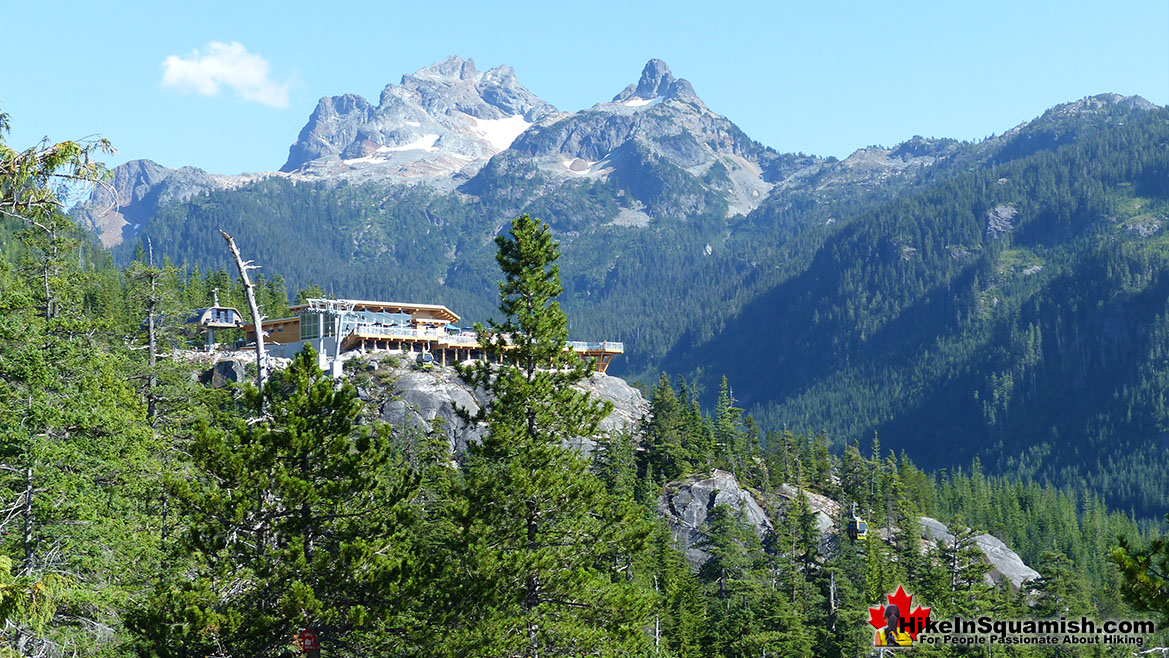 More Best Squamish Hiking - Sea to Sky Gondola

Best Whistler & Garibaldi Park Hiking Trails!
Whistler & Garibaldi Park Hiking by Month!

Explore BC Hiking Destinations!