June is a pretty amazing month to hike in Whistler.  The average low and high temperatures in Whistler range from 9c to 21c(48f/70f).  The summer tourist season in Whistler doesn't kick into high gear until the end of June, so most trails remain relatively quiet.  The higher elevation hiking trails in Whistler and Garibaldi Park with have lingering snow well into June and sometimes early July.
Whistler & Garibaldi Hiking

Alexander Falls  

Ancient Cedars  

Black Tusk  

Blackcomb Mountain  

Brandywine Falls  

Brandywine Meadows  

Brew Lake  

Callaghan Lake  

Cheakamus Lake  

Cheakamus River  

Cirque Lake 

Flank Trail 

Garibaldi Lake 

Garibaldi Park 

Helm Creek  

Jane Lakes 

Joffre Lakes  

Keyhole Hot Springs  

Logger's Lake  

Madeley Lake  

Meager Hot Springs 

Nairn Falls  

Newt Lake 

Panorama Ridge 

Parkhurst Ghost Town 

Rainbow Falls  

Rainbow Lake 

Ring Lake  

Russet Lake  

Sea to Sky Trail 

Skookumchuck Hot Springs  

Sloquet Hot Springs 

Sproatt East 

Sproatt West  

Taylor Meadows  

Train Wreck  

Wedgemount Lake  

Whistler Mountain

January 

February 

March 

April 

May 

June 

July 

August 

September 

October 

November 

December
Because of the snow, many trails are not easily accessible or still require snowshoes well into June.  Wedgemount Lake is accessible, but snow on the last, steep ascent is way too daunting for your average hiker, so should be avoided until late June or early July.  The approach to Panorama Ridge is similarly difficult if you have to contend with deep snow.  The trail to Black Tusk is far less challenging in June, however you will certainly encounter snow as you start ascending off the main trail for the increasingly sleep route to the final summit route.  The branching trail off the Cheakamus Lake trail to Helm Creek is also challenging in June due to lingering snow.  Most years it takes until mid June for the snow to melt from the steep and north facing trail.  It is not unusual to have a metre of snow on the ground at Helm Creek in late June or even the start of July.  Whistler Mountain and Blackcomb Mountain open for the summer season in late May, however, most of the trails don't emerge from the snow until well into June.  You can still hike a bit around the Roundhouse on Whistler Mountain and Rendezvous Lodge on Blackcomb Mountain, but you will not get far due to the snow.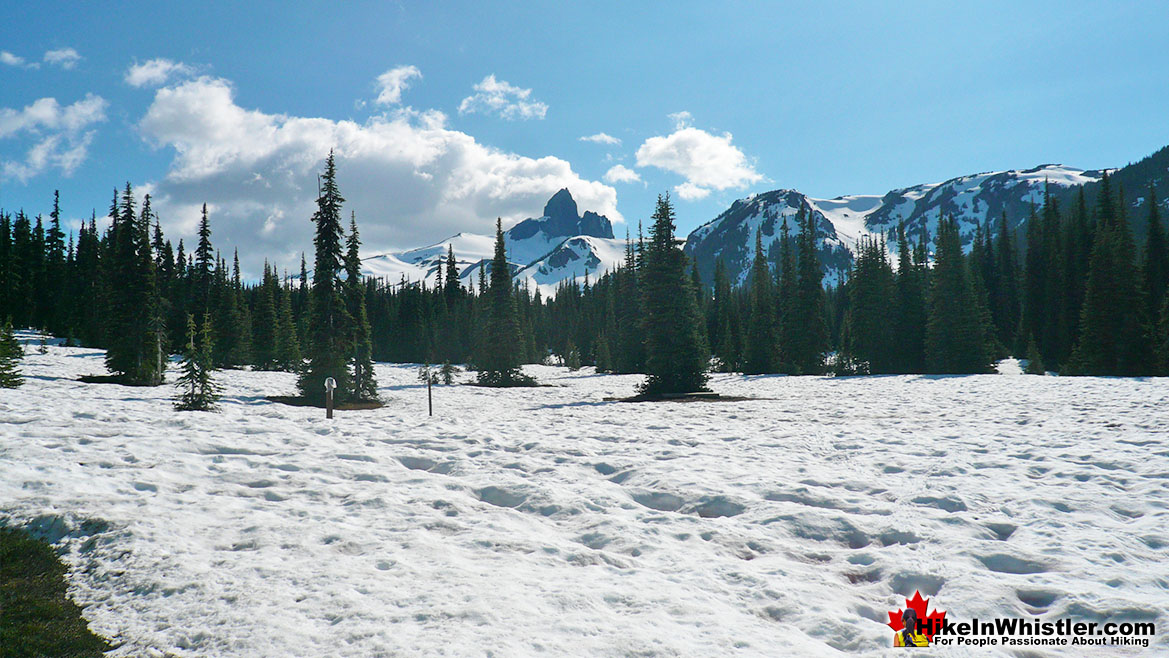 Cheakamus Lake in June
Cheakamus Lake in Garibaldi Provincial Park is an excellent place to hike in June.  It is reliably free of snow by mid May and much less busy than it will be in July and August.  Cheakamus River flows down the valley from Cheakamus Lake and trails on either side are accessible year-round and definitely worth hiking in June.  You can start hiking just steps from your car along one side of Cheakamus River for two kilometres.  Cross the picturesque suspension bridge and return to your car via the other side of the river.  The winding trails hug this beautiful river and give you several beautiful viewpoints over the chaotic, swirling torrent of water below.  Logger's Lake is a nice and short detour off the Cheakamus River trail at the suspension bridge.  Just a 5 minute hike up to the shores of Logger's Lake.  This amazing little lake exists in an extinct volcano and this fact becomes wonderfully obvious as you hike around the perimeter.  One side is a boulder strewn shore that slopes up sharply to the abrupt cliff ridge that extends around much of the lake.  An easy hike overlooking a very secluded feeling volcano lake.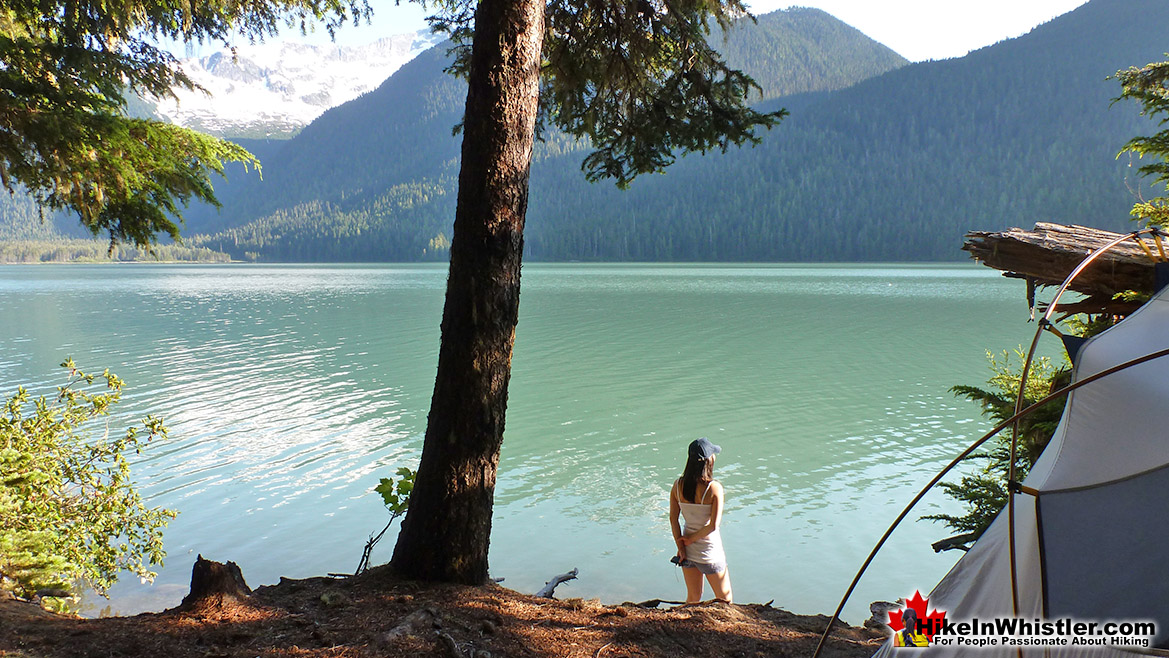 Whistler Train Wreck in June
Back along Cheakamus River if you continue downriver past or through the little neighbourhood, Cheakamus Crossing you will find more hiking trails.  The Sea to Sky Trail runs through Cheakamus Crossing and runs south through the wilderness all the way to Brandywine Falls.  Or runs north through the centre of Whistler Village to Lost Lake, then up and around the far side of Green Lake past Parkhurst Ghost Town.  It continues past the end of Green Lake and passes fairly close to the trailhead for Wedgemount Lake before bending down through WedgeWood Estates to the Sea to Sky Highway.  The Sea to Sky Trail in Cheakamus Crossing connects to Whistler Train Wreck via a beautiful suspension bridge over Cheakamus River.  Whistler Train Wreck is another wonderful hiking trail that is easy, relaxing and accessible year-round.  June is a particularly good time to check out Whistler Train Wreck.  Along with the beautiful summer weather you have a gorgeous section of Cheakamus River crashing past the wrecks.  There is a gorgeous, short, but wide waterfall to see from several impossibly idyllic viewpoints.  Broad, rock cliffs lay directly across from the falls as well as adjacent to, and further down from the falls.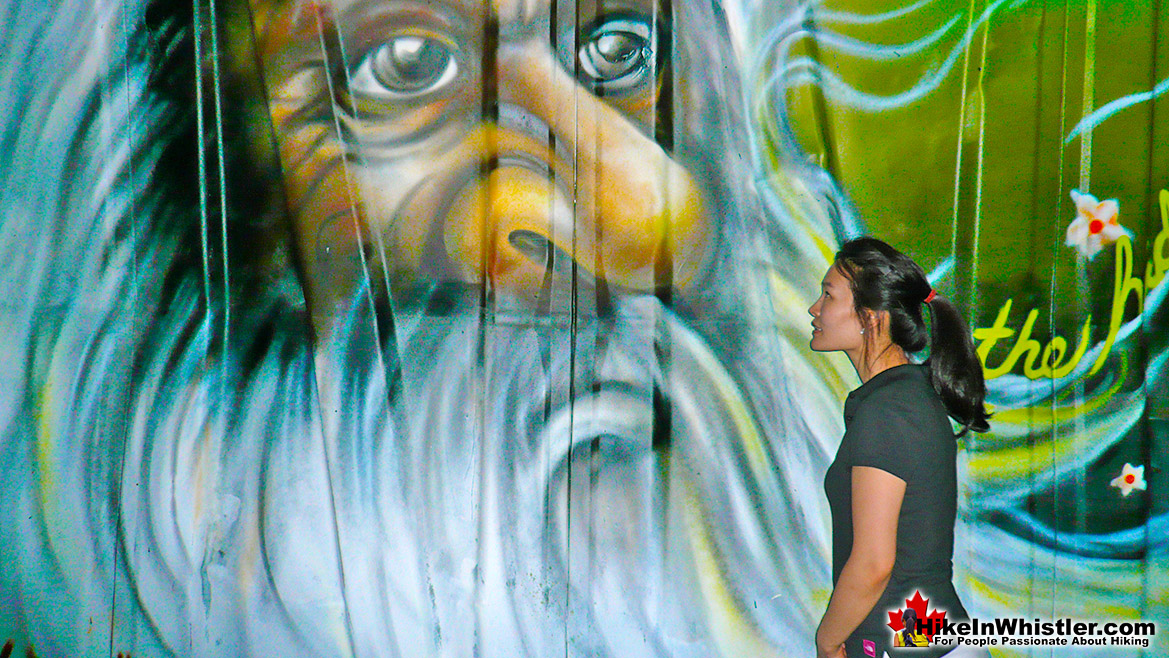 Joffre Lakes - Best Whistler Hiking in June

Joffre Lakes is one of the best places to hike in June in and around Whistler.  The trail to Joffre Lakes seems to emerge from the winter snow sooner than other high elevation hiking trails in Whistler.  Joffre Lakes Provincial Park can get ridiculously busy in the summer months and June is considerably less chaotic than July and August.  Still, on a sunny weekend in June, you should set out for the Joffre Lakes trailhead early as you will still see it busy.  Remember as well that if you plan on camping, you need to reserve online before you go as BC Parks is attempting to control the rising popularity of the Joffre Lakes campsite.  Day hiking is still free.  Parking is also still free, however keep in mind that overflow parking along the highway is no longer allowed.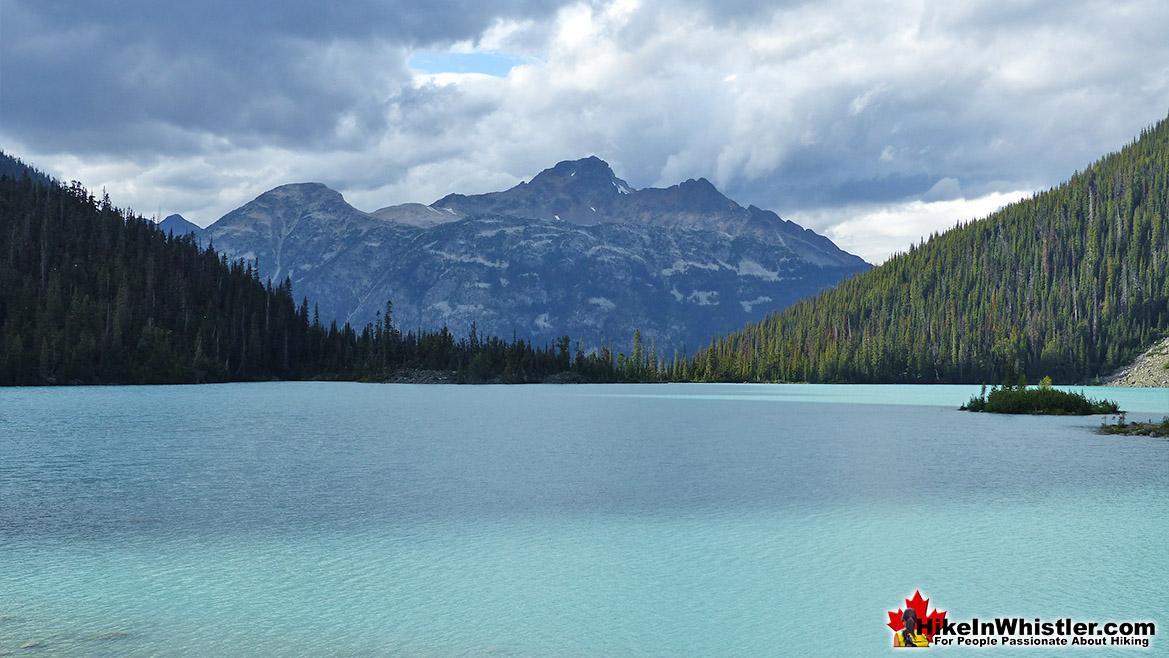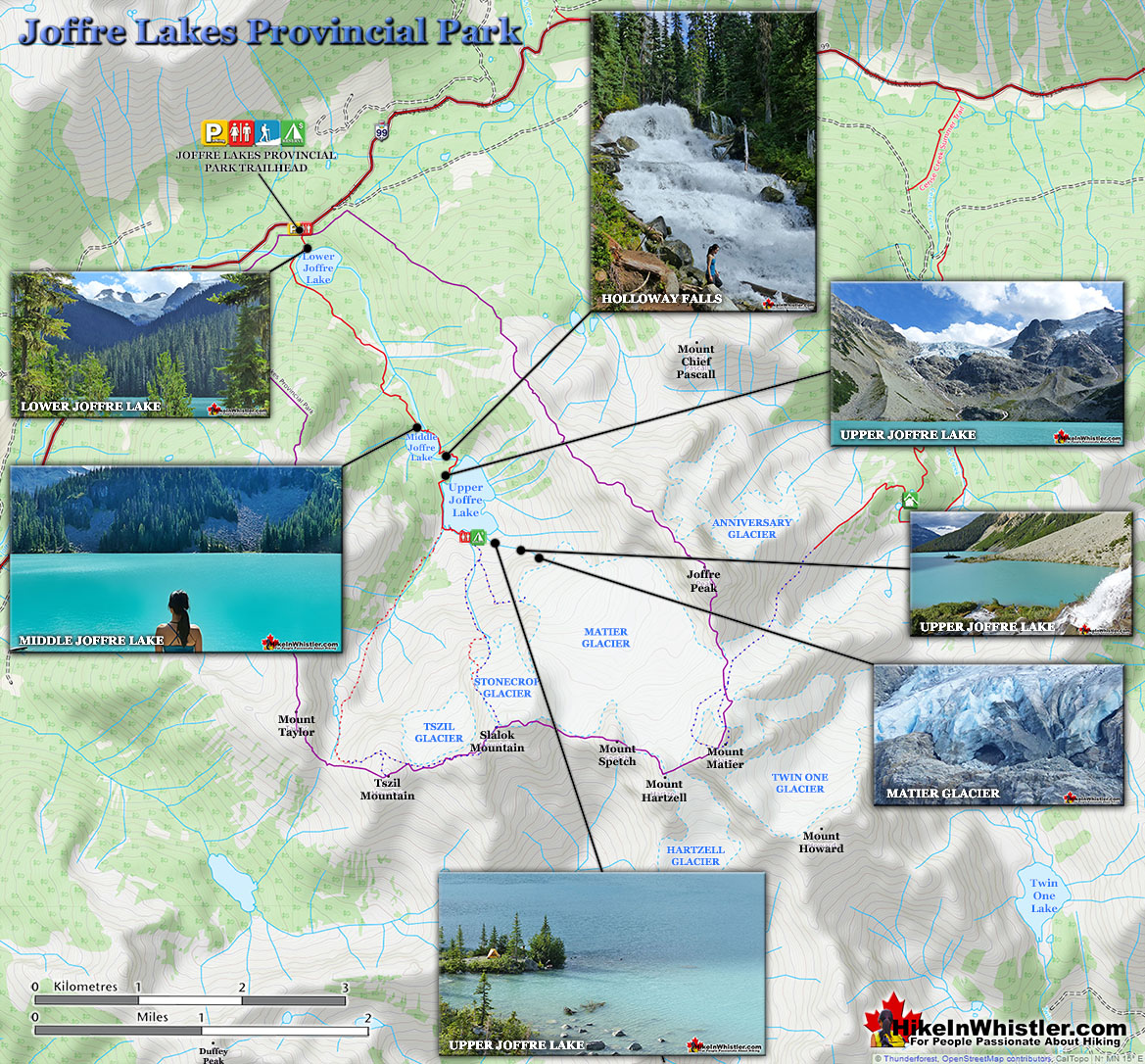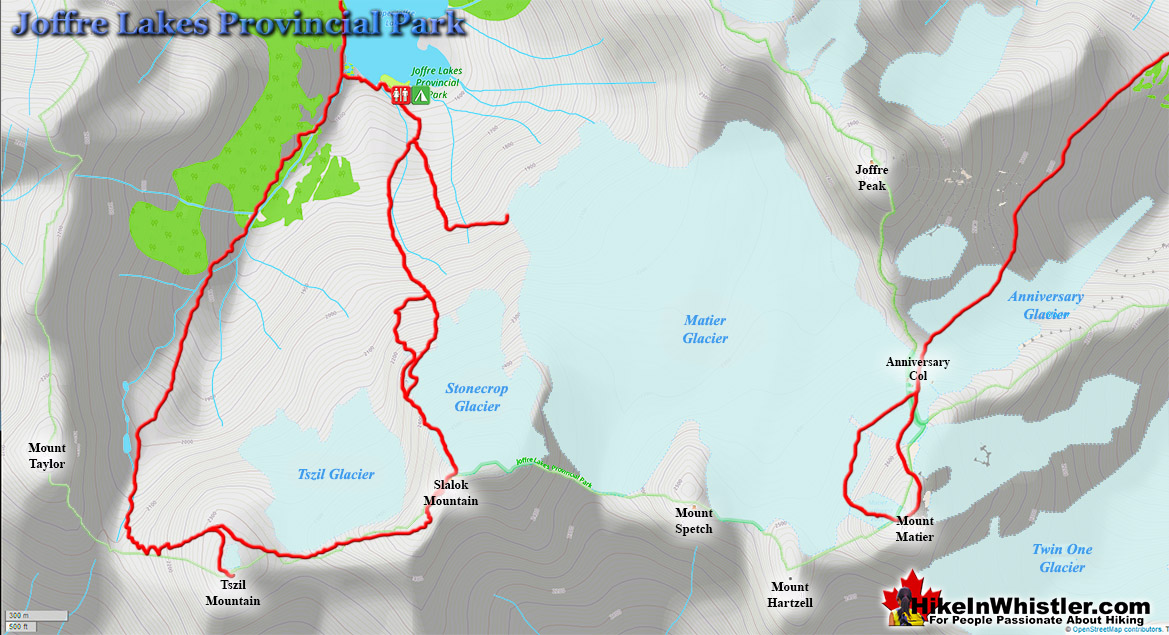 Cheakamus Lake - Best Whistler Hiking in June

Cheakamus Lake is another amazing hiking trail in Whistler in June.  Similar to Joffre Lakes, the Cheakamus Lake trail emerges from the snow in mid May and is the first snow free hiking trail in Garibaldi Provincial Park of the year.  New in 2018 you have to reserve online to camp at Cheakamus Lake.  There are two excellent campsites on the shore of this stunningly beautiful alpine lake.  Day hiking at Cheakamus Lake is still free as it is will all Garibaldi Park trails.  Cheakamus Lake has a terribly potholed, 8 kilometre access road to the trailhead.  All cars can get up this road, however it is so potholed that you tend to have to drive slow.  This inconvenience keeps a lot of visitors away and choosing other Garibaldi Provincial Park access points.  Cheakamus Lake is a very popular day-hiking destination and most visitors only hike to the start of the lake, just 4 kilometres from the trailhead.  If you keep hiking the next 3 kilometres to the end of the Cheakamus Lake trail you will encounter few hikers and better and better views.  The Cheakamus Lake trail runs along the edge of the lake, usually within a few metres of the shore, so you rarely don't have a beautiful view of the lake.  The much quieter campsite at the end of the Cheakamus Lake trail is the Singing Creek campsite.  Spending the night here is a wonderfully remote and peaceful campsite in paradise.  In June, with snow still covering the mountains in the distance, Cheakamus Lake is particularly wonderful!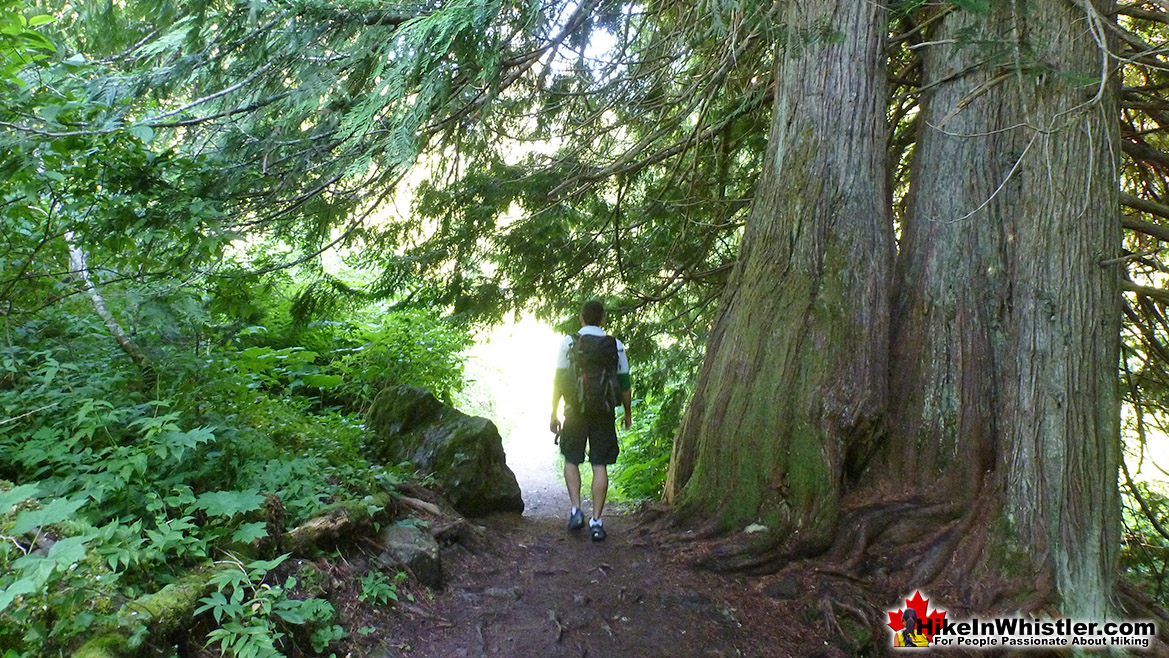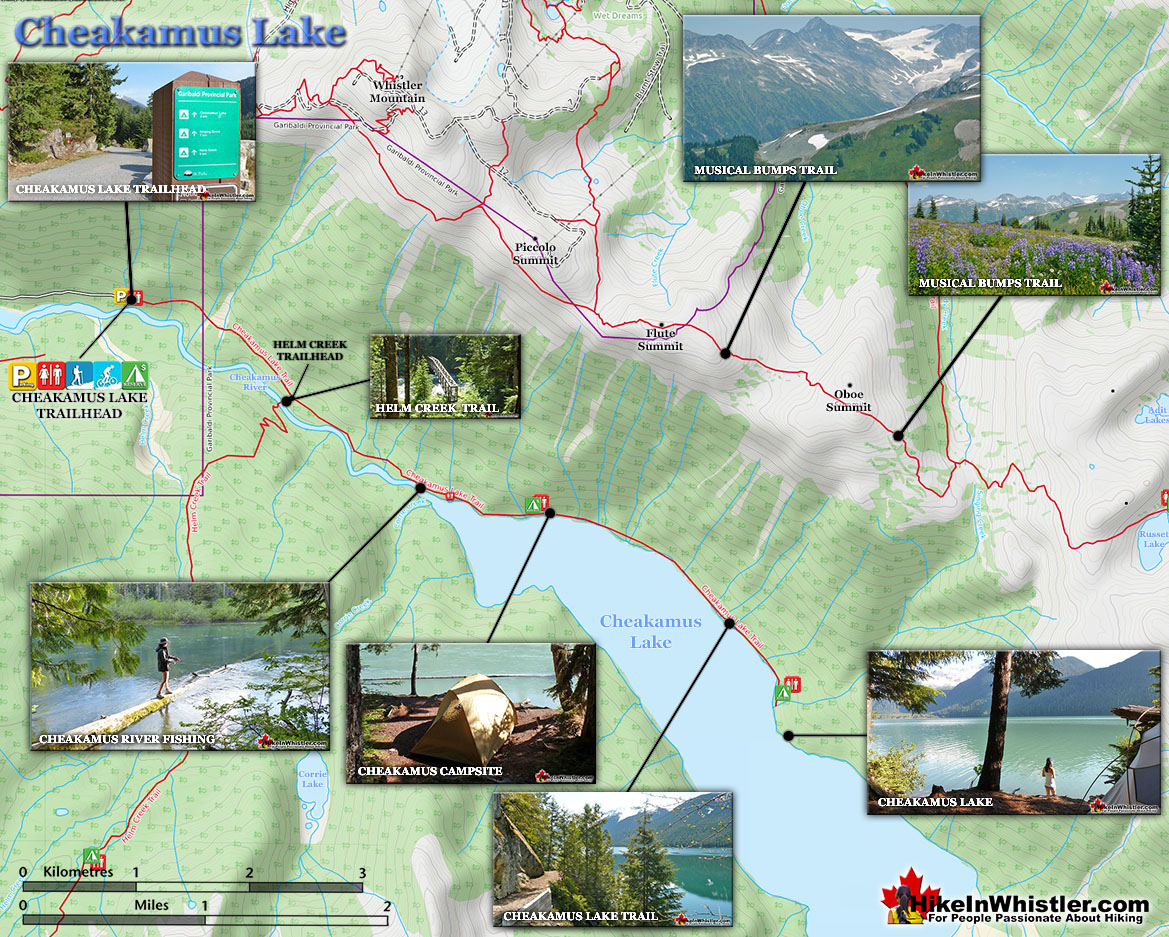 Train Wreck - Best Whistler Hiking in June

Train Wreck is also a beautiful place to hike in June in Whistler.  Accessible year-round, the Train Wreck trail in June is often sunny, bright and beautiful.  The sun beams through the trees making the graffiti painted train wrecks bright and beautiful.  Cheakamus River is always gorgeous along Whistler Train Wreck, but on a sunny June day it is a vivid, green and white swirling torrent crashing between rock cliffs on either side.  May and June temperature rises fill the river with meltwater and makes Cheakamus River particularly beautiful as it crashes past Whistler Train Wreck.  Train Wreck Falls is particularly stunning in June and best viewed from the Train Wreck side of Cheakamus River.  Cheakamus River has quite a network of hiking and biking trails that extend like a spider web all around it.  On the opposite side of the river from Whistler Train Wreck is the Trash Trail.  This takes you to the closest viewpoint to Train Wreck Falls, where you can stand at the rocky edge where the water plummets into the white swirling pool below.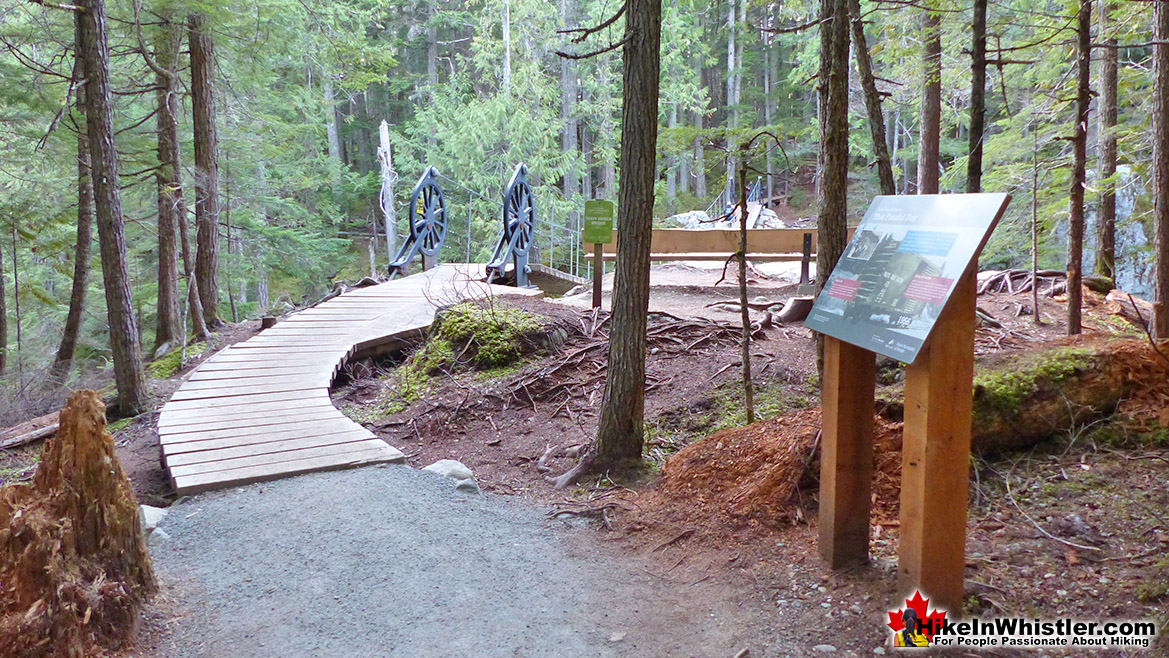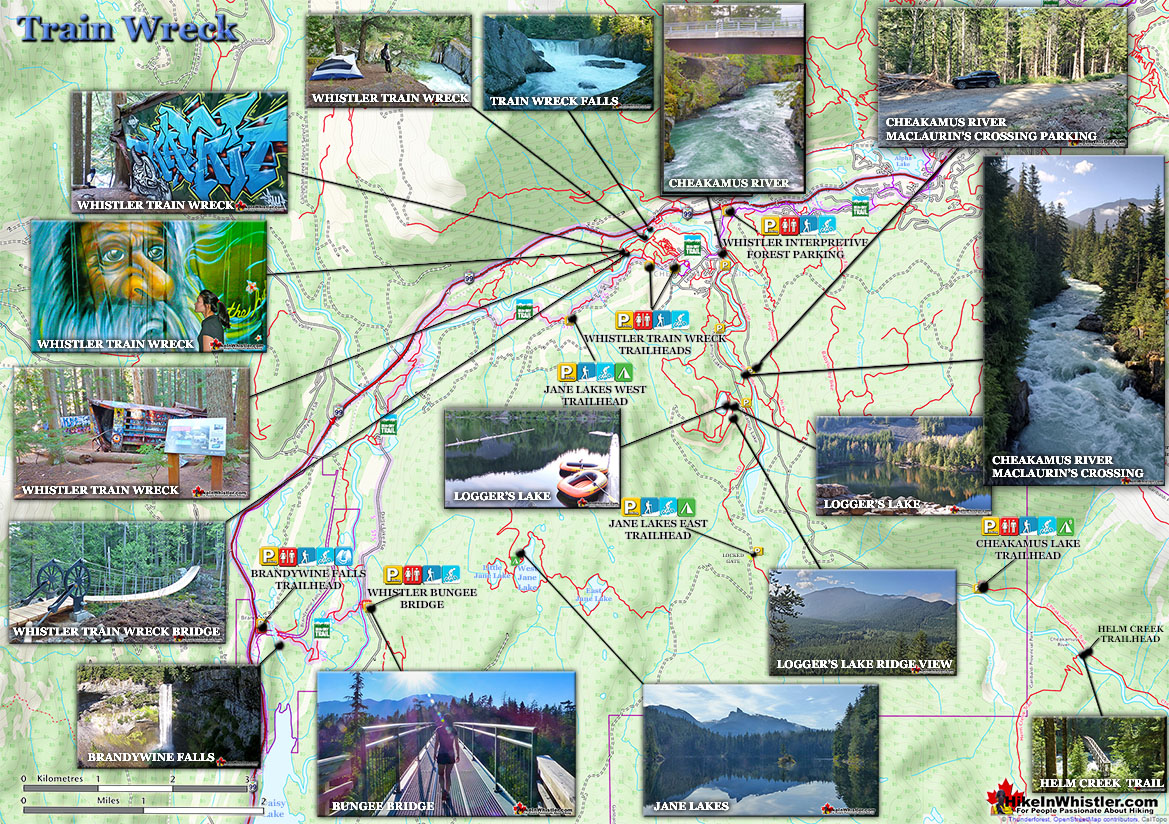 Cheakamus River & Logger's Lake in June

The Trash Trail runs along Cheakamus River until it emerges in Cheakamus Crossing where you come to the car bridge over the river.  You can then get on either Cheakamus River trails, the East Side or the West Side.  Both trails run along the river through deep forest along a winding route for 2 kilometres until the reconnect at a nice suspension bridge over Cheakamus River.  This bridge is also close to Logger's Lake.  Logger's Lake is a wonderful, hidden lake that sits in an ancient volcano.  This becomes quickly evident if you hike up the short trail to the viewpoint over the lake.  In June the lake would have recently emerged from the winter snow and on a sunny June day it looks like a secret paradise.  Though you can hike to the lake via the nice Cheakamus Lake trails, you can also drive to a nice parking area just a couple hundred metres away.  In June and even in May, Logger's Lake is a beautiful place for a swim.  Though definitely warmer in July and August.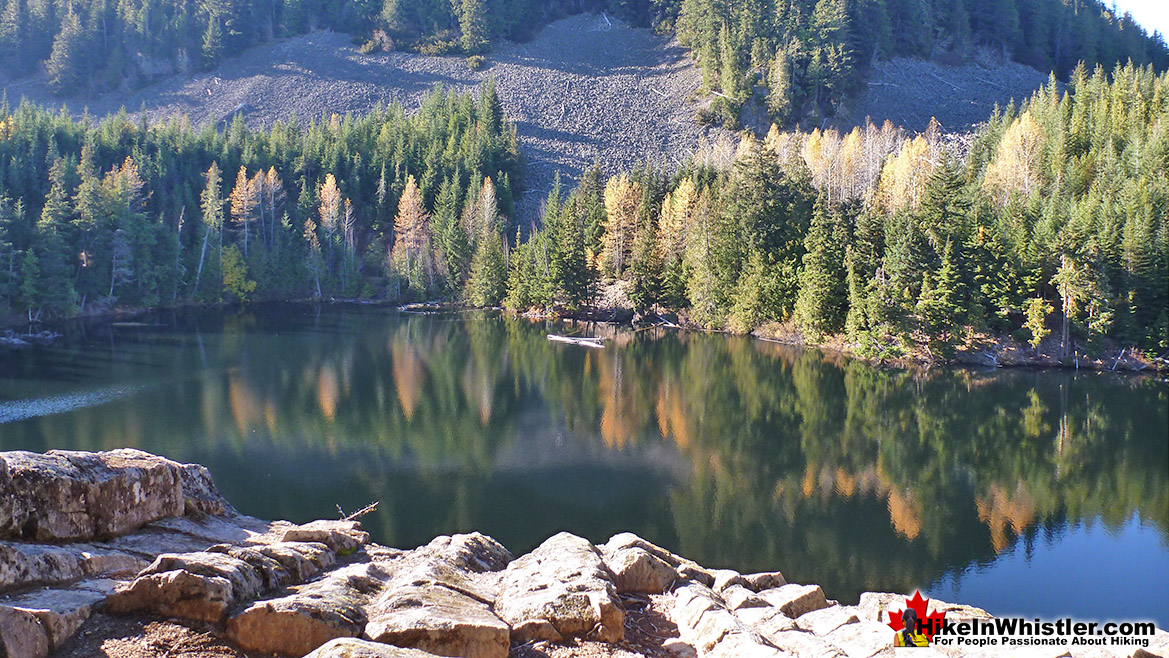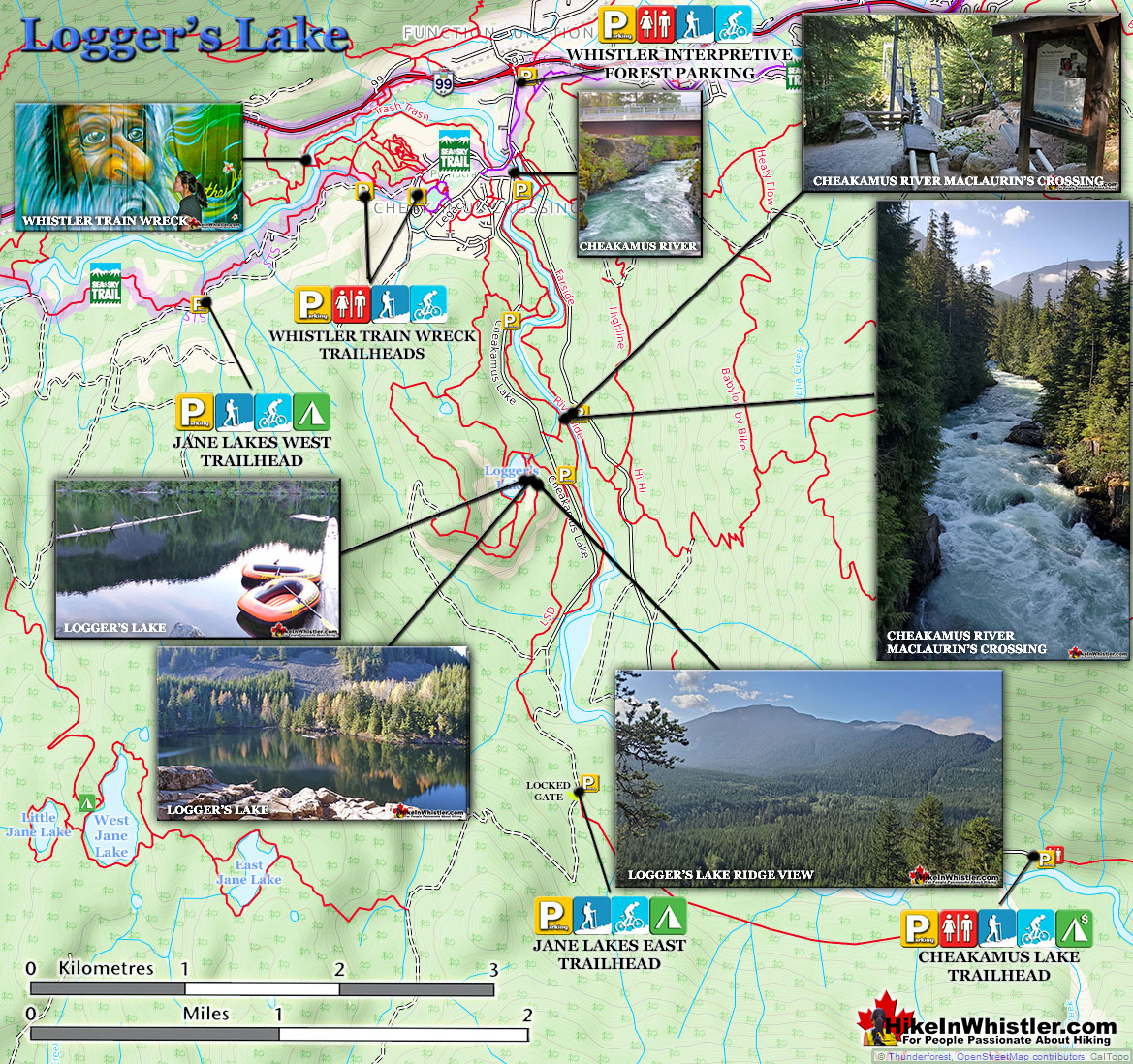 Alexander Falls - Best Whistler Hiking in June

Alexander Falls in June is beautiful with the spring runoff making the falls considerably more impressive than almost any other month.  June also is the first month that you will find black bears emerging from the forest in the Callaghan Valley in numbers.  The drive to Alexander Falls once you leave the Sea to Sky Highway is one of the easiest ways to spot bears.  Callaghan Valley Road was only paved just before the 2010 Winter Olympic Games.  Before being paved, Callaghan Valley Road was a gravel logging road and not very appealing to most.  Now that it is paved, it has become a popular bear watching attraction, especially in June.  Bears love the grass that grows along the road and it is not unusual in June to see 3 or more bears along Callaghan Valley Road, on the way to Alexander Falls.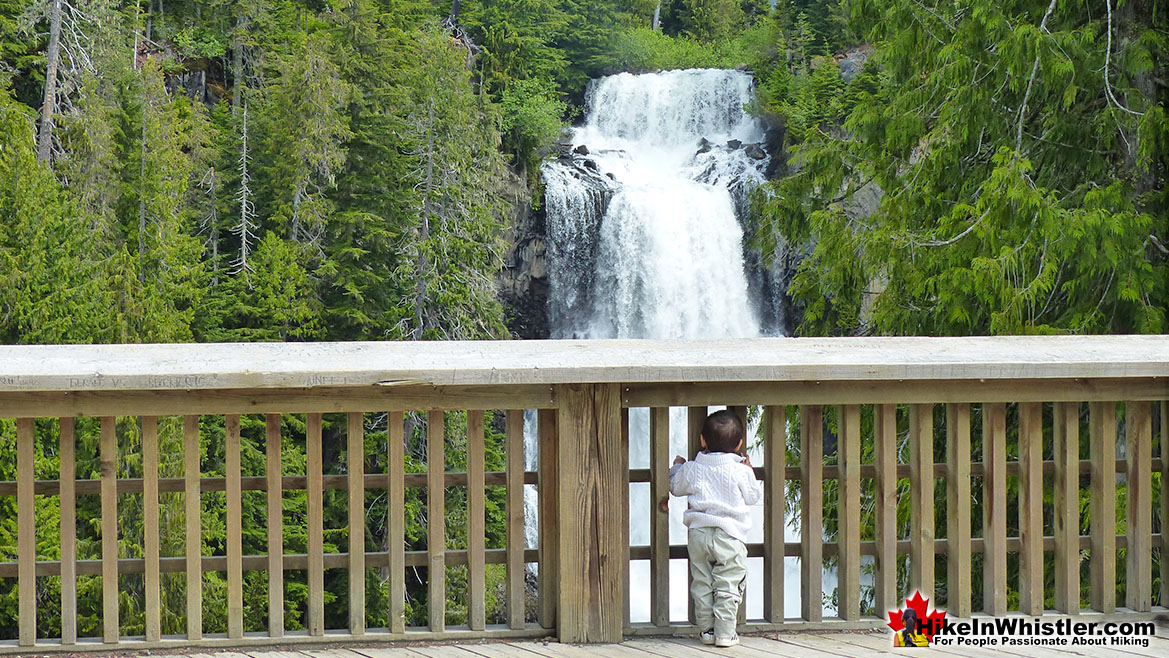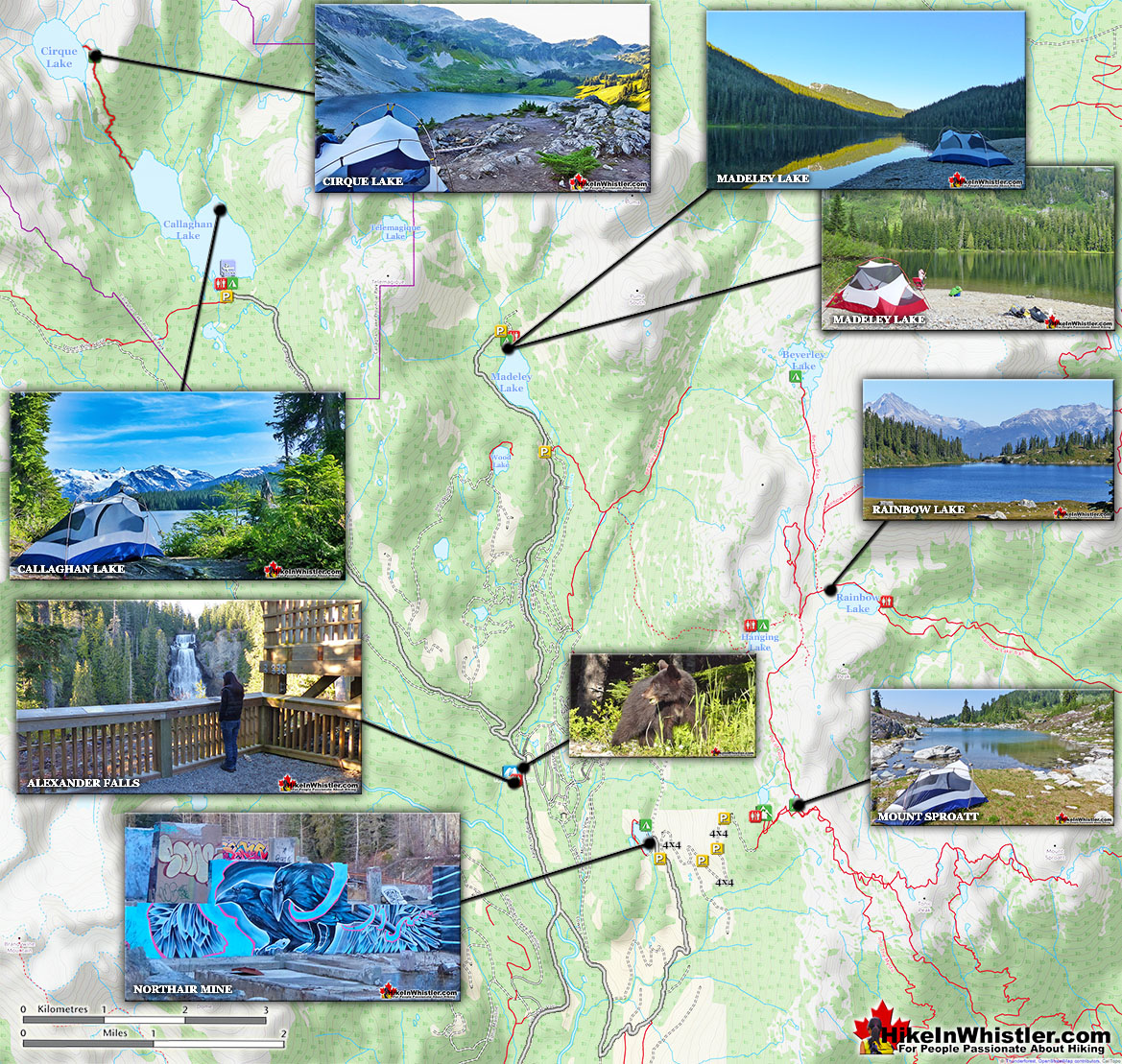 Madeley Lake - Best Whistler Hiking in June

Madeley Lake is another beautiful sight to see in the Callaghan Valley in late June.  Just past the turnoff to Alexander Falls on your left you will see a bridge that crosses the river just up from the top of Alexander Falls.  If you follow the gravel road across the bridge you will soon see Madeley Lake Road on your right.  Follow this increasingly bumpy logging road for 5-10 minutes and you will reach Madeley Lake.  Madeley Lake is an idyllic, mountain lake that will have just emerged from the snow in May.  In June the lake is gorgeous.  At the end of Madeley Lake Road you will come to a bridge and the end of the road.  If you walk across the bridge you will see a trail on your right descend into the forest along the river.  This short trail takes you to the Madeley Lake campsite.  A cute little forested campsite at the edge of the lake.  Beautiful in June and you often will have the lake to yourself.  **the access road to Madeley Lake is often impassible due to snow until mid June.  In 2018, June 12th was the first day a high clearance 4x4 made it through the last deep snow section, about 1 kilometre from the lake.  Most SUV's should manage to get through by about the 16th of June.  Cars likely will have to wait another week or two to get through.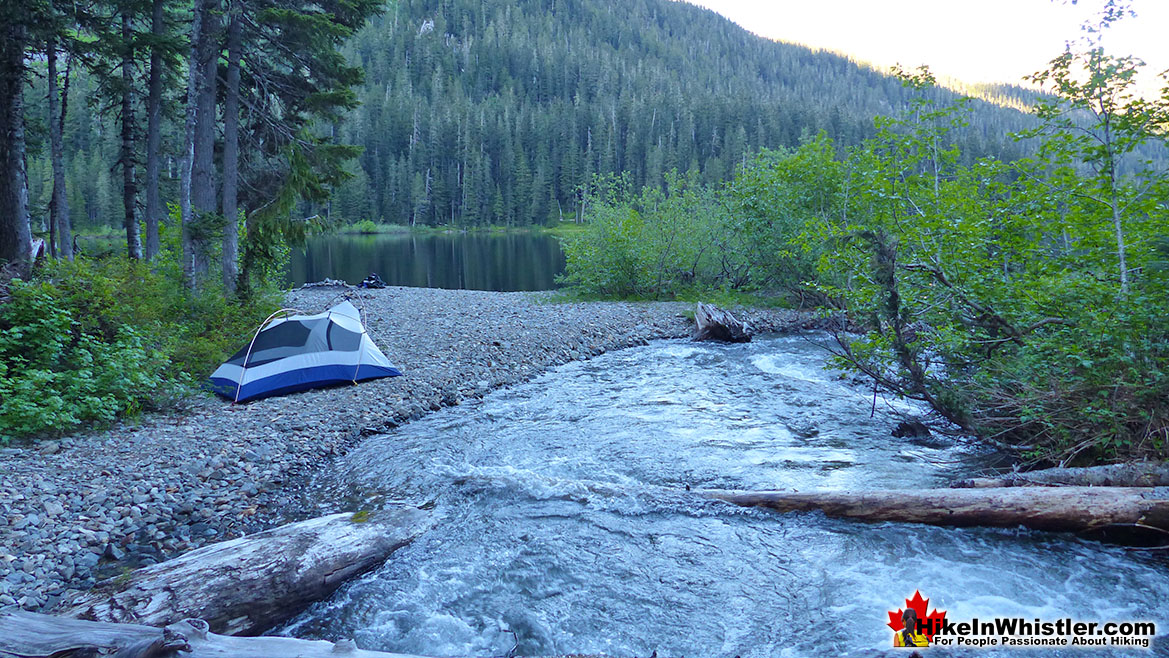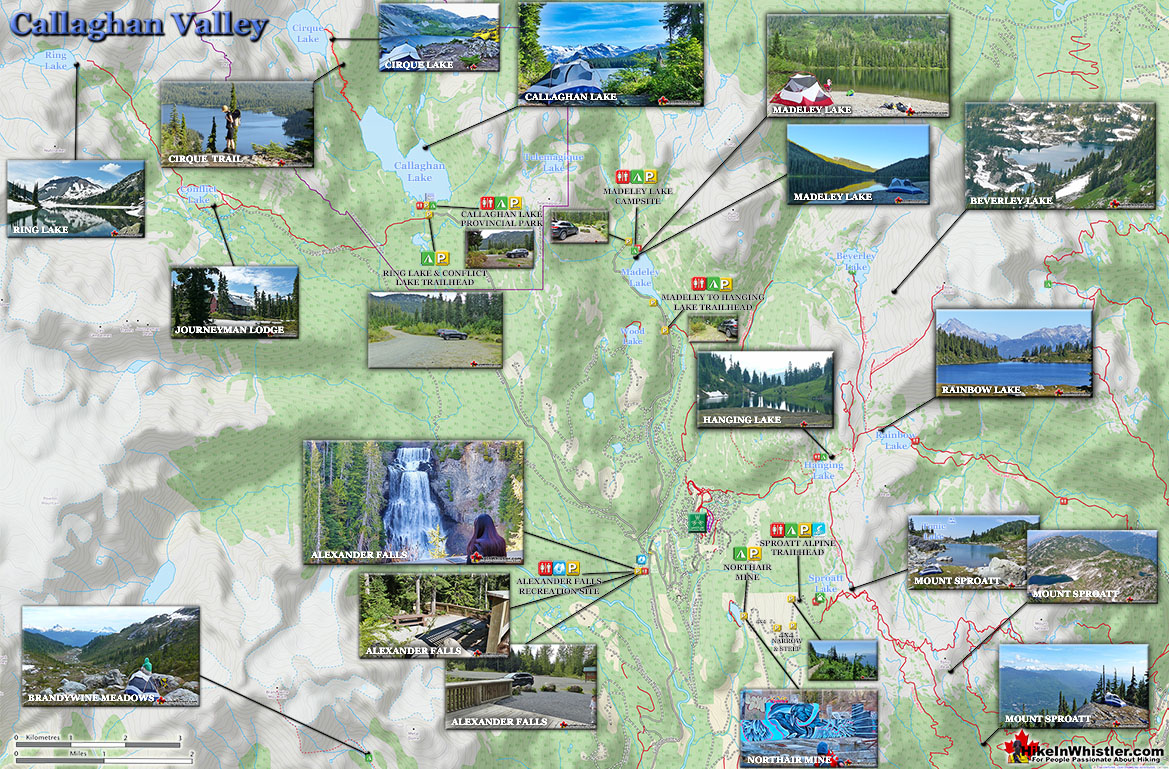 Parkhurst Ghost Town - Best Whistler Hiking in June

Parkhurst Ghost Town is a long abandoned logging town that is locally famous as the decades old sight of a squatters community.  The famous picture of 14 naked people in front of the old Toad Hall building holding skis is for many, symbolizes Whistler in a way nothing else can.  The Toad Hall building is long gone and all but one of the old Parkhurst houses have collapsed.  There are lots of little curiosities from the old ghost town strewn throughout the wild wilderness on the far side of Green Lake.  June is an excellent time of year to explore the area as the weather is often warm, there are rarely any people to bump in to, and the annoying mosquitoes of the summer have not begun attacking in force yet!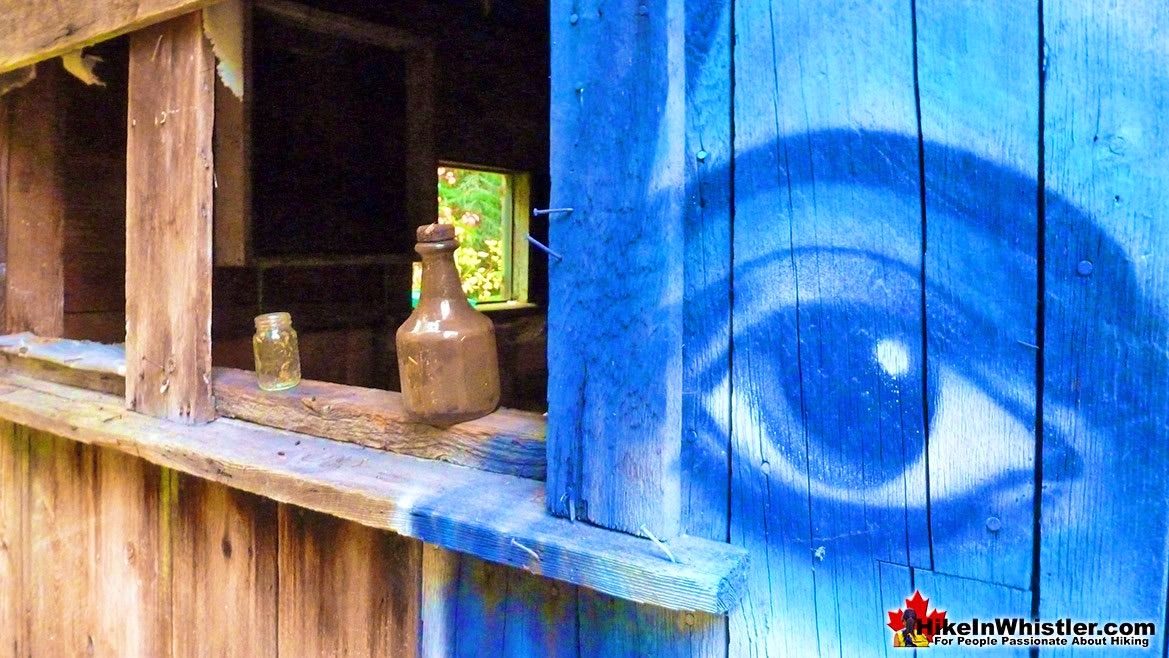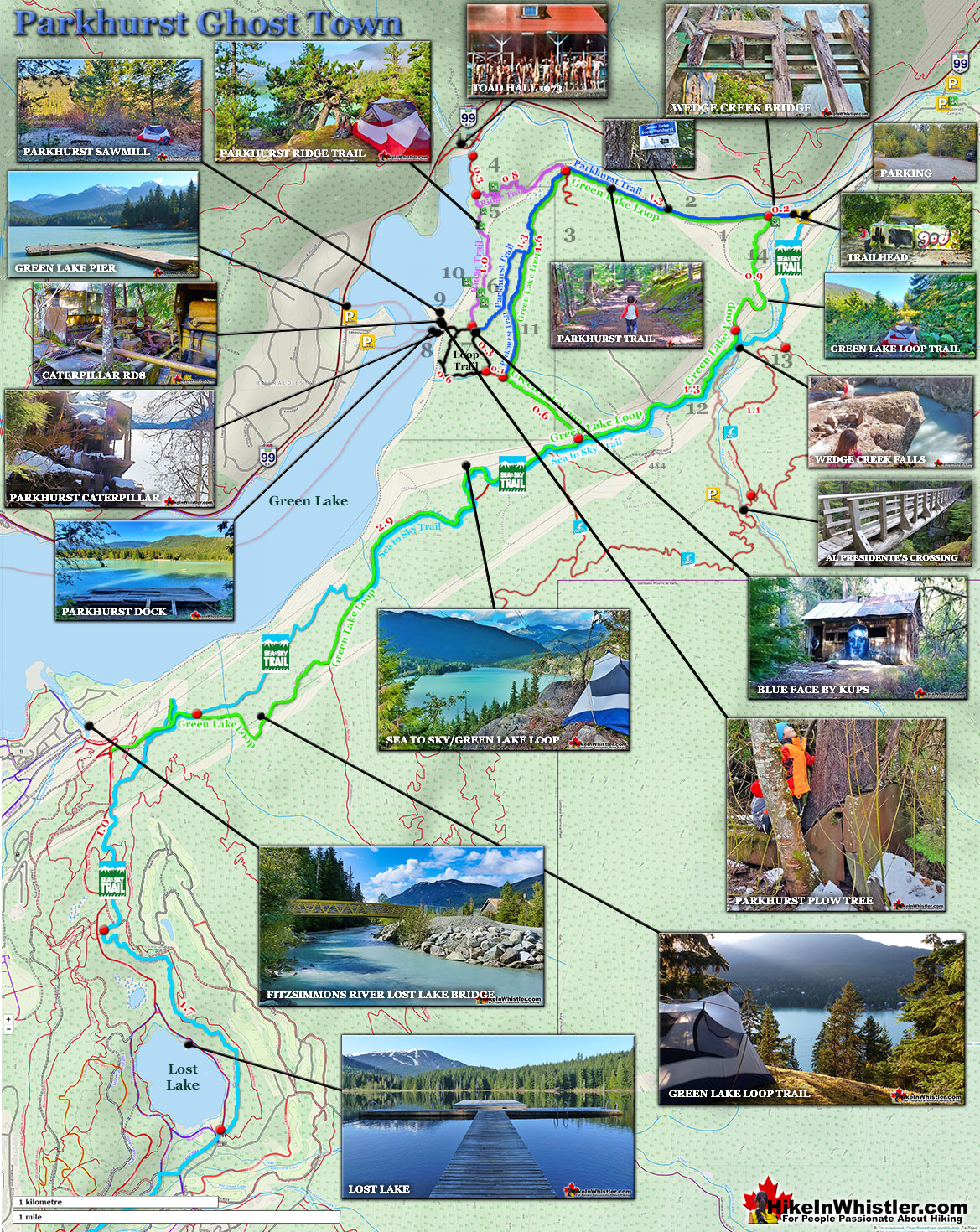 Ancient Cedars - Best Whistler Hiking in June
Ancient Cedars is another good hiking trail to try in June.  Snow covers the access road well into May, so the trail will have only recently appeared.  Ancient Cedars is a cute, short and fairly easy hiking trail to a nice grove of thousand year old trees.  Another trail extends to Showh Lakes, two impossibly scenic little wilderness lakes up there in the deep wilderness.  The lakes are so immersed in the wilderness that the forest spills over the lake, leaving few areas where you can actually get to the water.  Bring a canoe and you will be floating in paradise on a warm, sunny June day.  Ancient Cedars is a nice, easy/moderate 2.5 kilometre(1.6 mile) hiking trail on the far side of Cougar Mountain, just 10.8 kilometres north of Whistler Village. A small, untouched grove of huge western red-cedars hidden high up in the mountains.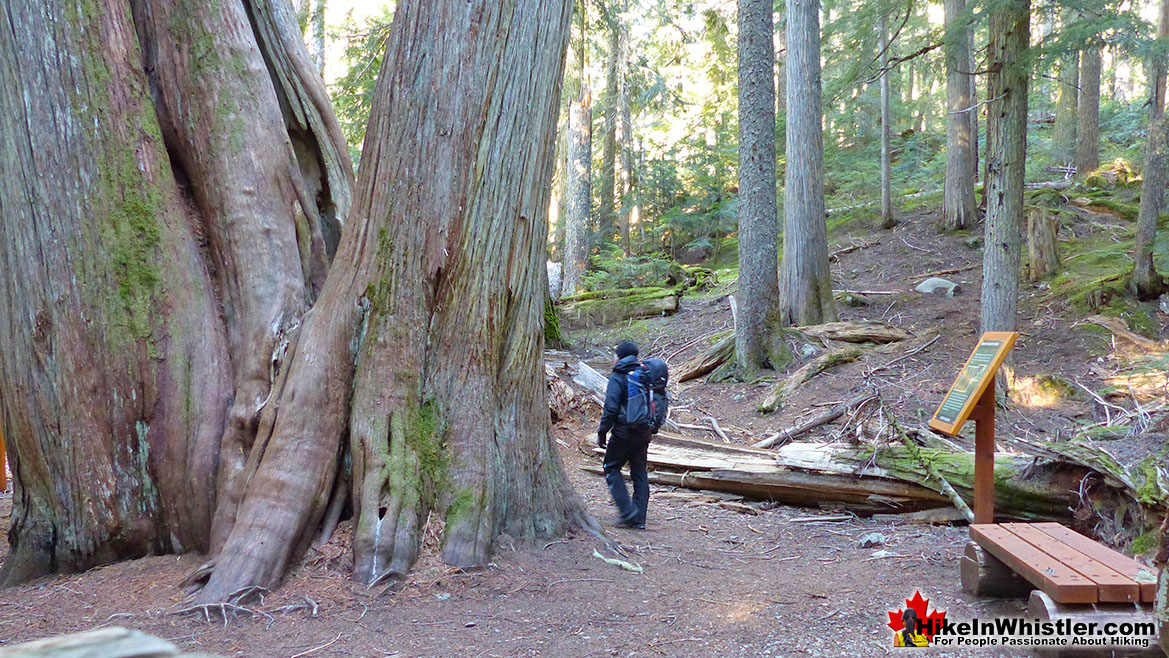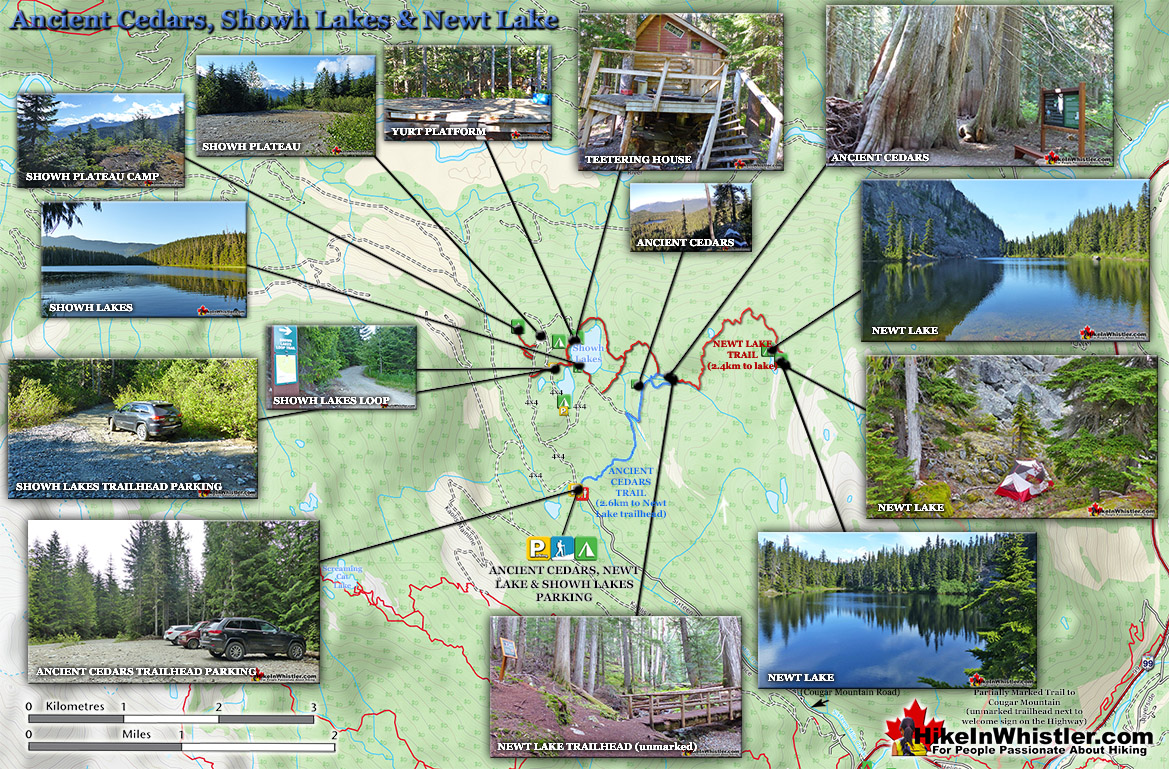 Brandywine Falls - Best Whistler Hiking in June

Brandywine Falls is always beautiful, easy and convenient to see year-round, but in June it is massive from the spring runoff.  Several times the volume of water than you would see in the winter months, in June Brandywine Falls is particularly impressive and well worth the five minute hike.  The impressive falls are just one of a few sights to see in Brandywine Falls Provincial Park. Swim Lake, the Whistler Bungee Bridge and the Sea to Sky Trail running through the park make it a hiking, biking, jogging, snowshoeing paradise.  You can set off from Whistler Village by bike on the Sea to Sky Trail and reach the falls in about an hour or two.. and rarely emerge from forest!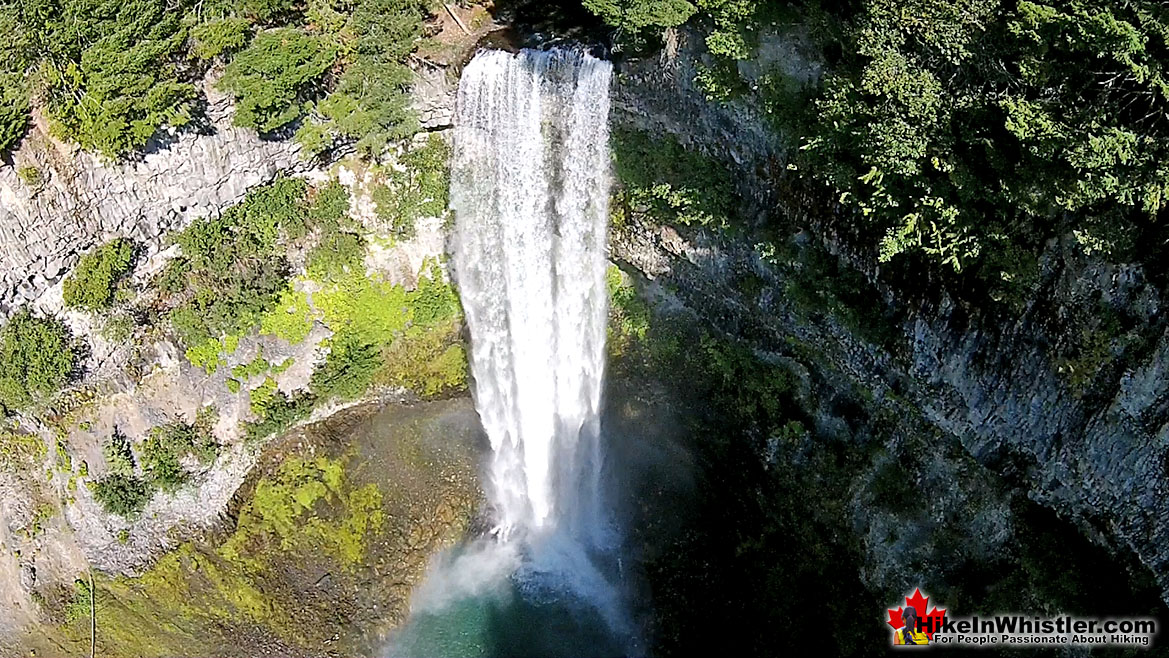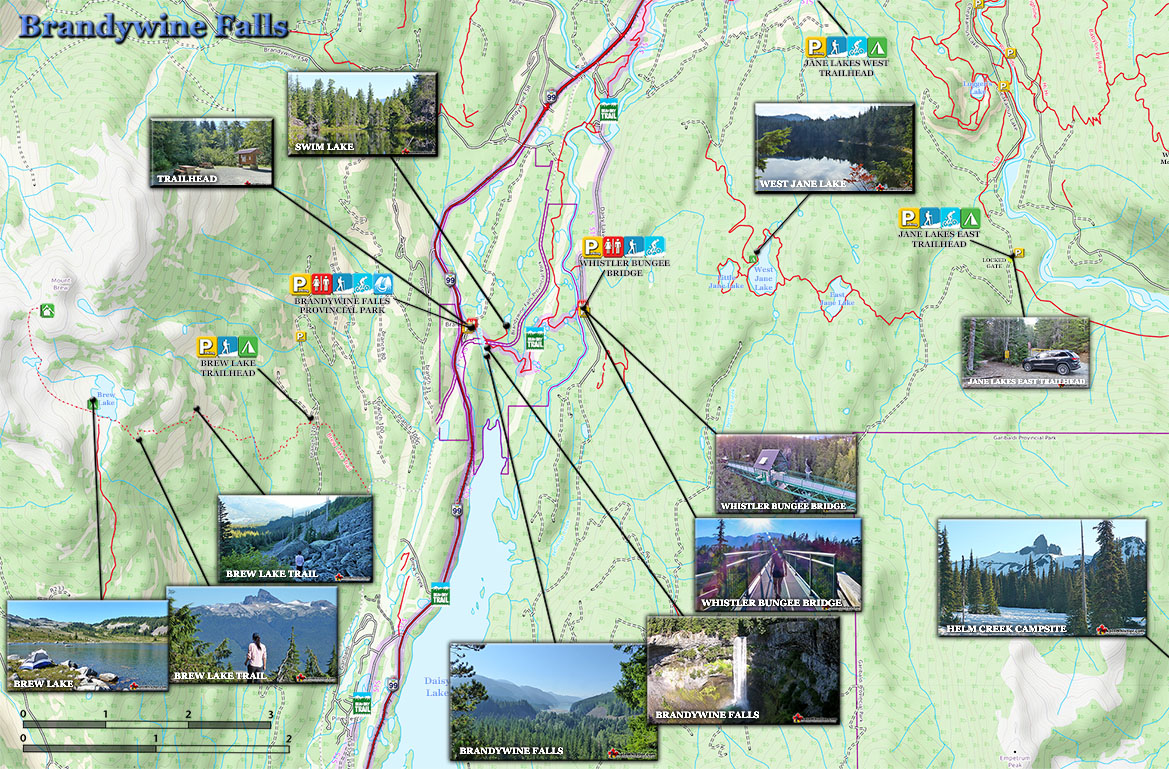 Nairn Falls - Best Whistler Hiking in June

Nairn Falls is another of Whistler's beautiful waterfalls that are accessible year-round.  As with all the other waterfalls around Whistler, the melting snow fills the lakes and rivers and all the waterfalls are most impressive.  May and June are the months when the winter snow causes Nairn Falls to become the most crashing and chaotic, as the huge volume of water pours through the narrow channels of rock that make up the falls.  Nairn Falls Provincial Park is located just a short 20 minute drive north of Whistler.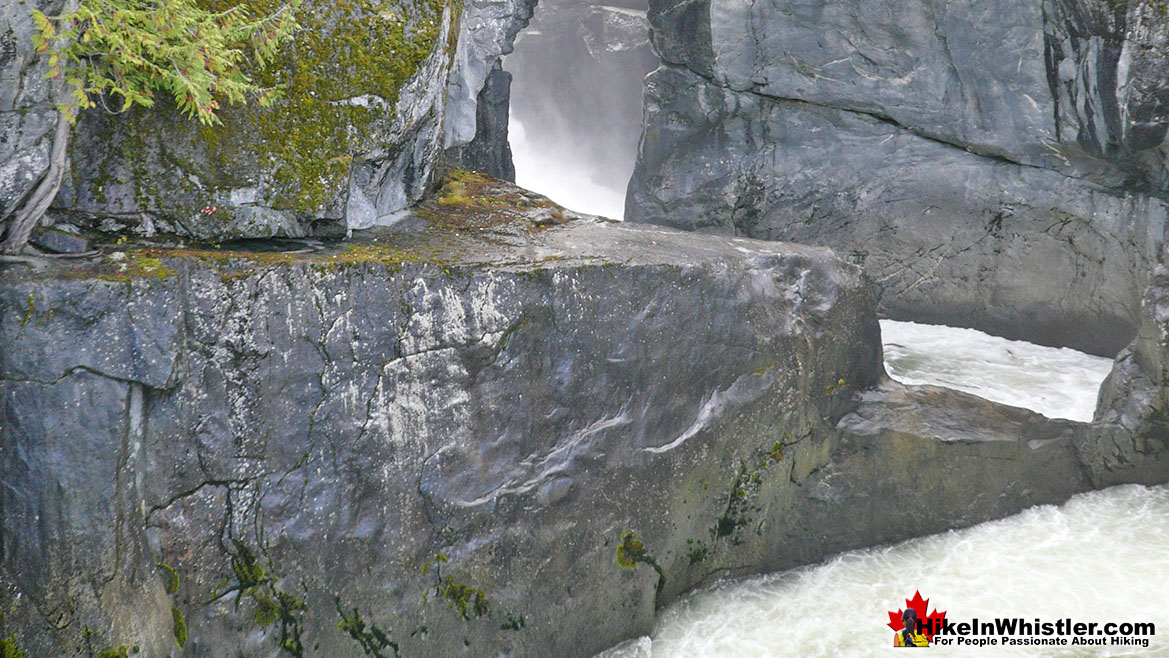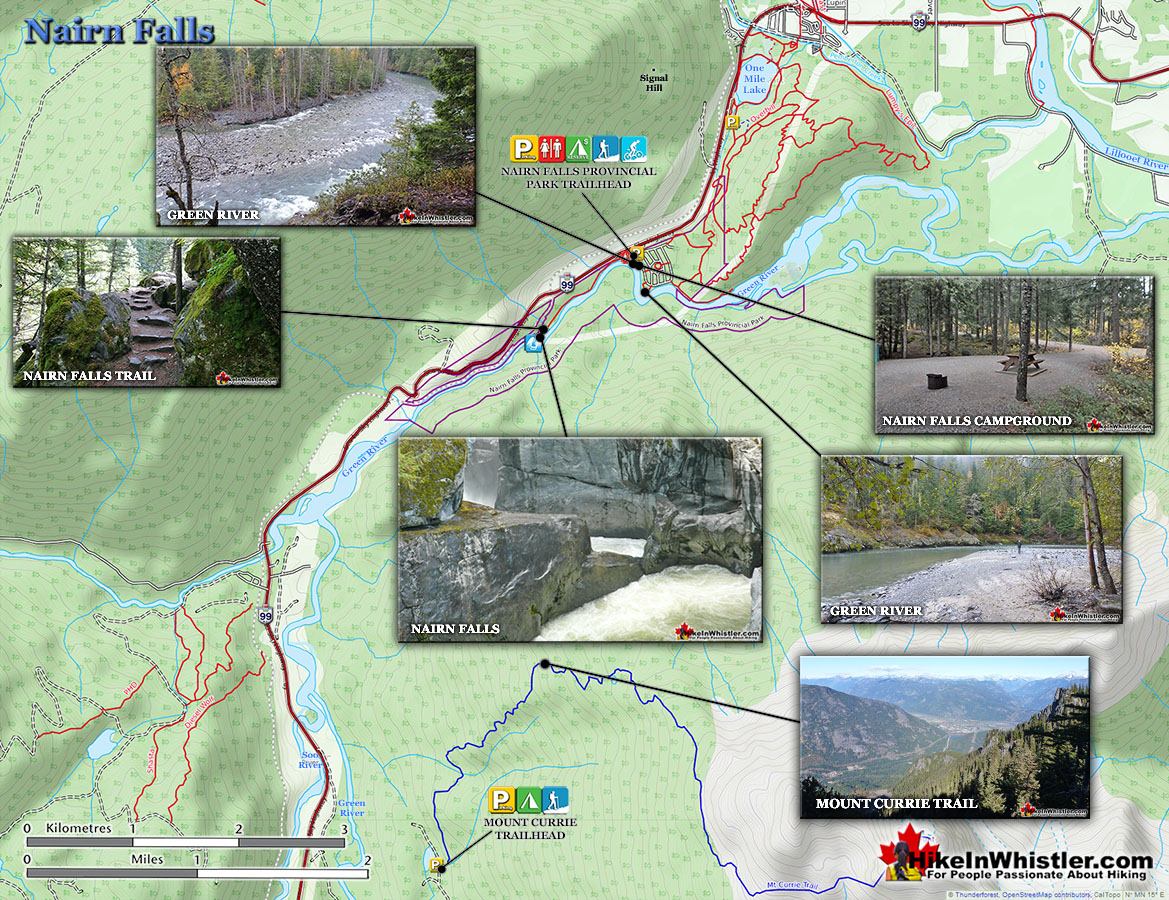 Rainbow Falls - Best Whistler Hiking in June

Rainbow Falls is the least impressive and smallest of notable Whistler waterfalls, however it is very fun to hike to and quite pretty when you see it up close.  Where the other waterfalls around Whistler are mostly seen at a distance, Rainbow Falls is the opposite.  You don't see it until you nearly stumble into it.  Though you can hear it from a distance, you don't see it until you round the last corner.  Then you find it in a little, hidden world surrounded by the deep wilderness of the Coastal Rainforest.  In June the volume of water seems to crash from all directions.  In other months the water is much less dramatic.  Rainbow Lake is where Whistler gets its drinking water from and you will see the water treatment building adjacent to the falls about a hundred metres away.  Next to the water treatment building the Rainbow Trail and the Flank Trail overlap.  If you follow the Flank Trail to the right you will almost immediately come to a cute little bridge over 21 Mile Creek as it crashes below.  In May and June the creek is bursting with meltwater and you can see it crash over Rainbow Falls just a couple dozen metres away.  In the winter and late summer months you can walk down the mostly dry creek bed and wander among the polished boulders to the top of the falls.  May and June are the best months to see Rainbow Falls if you want to see it loud and crashing.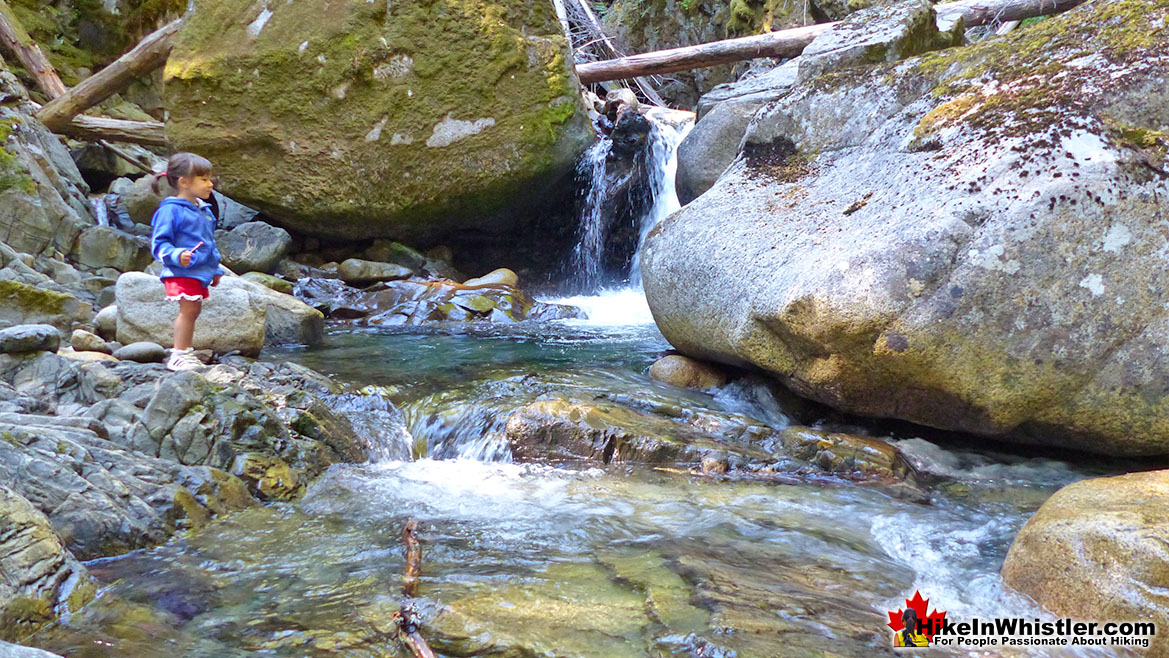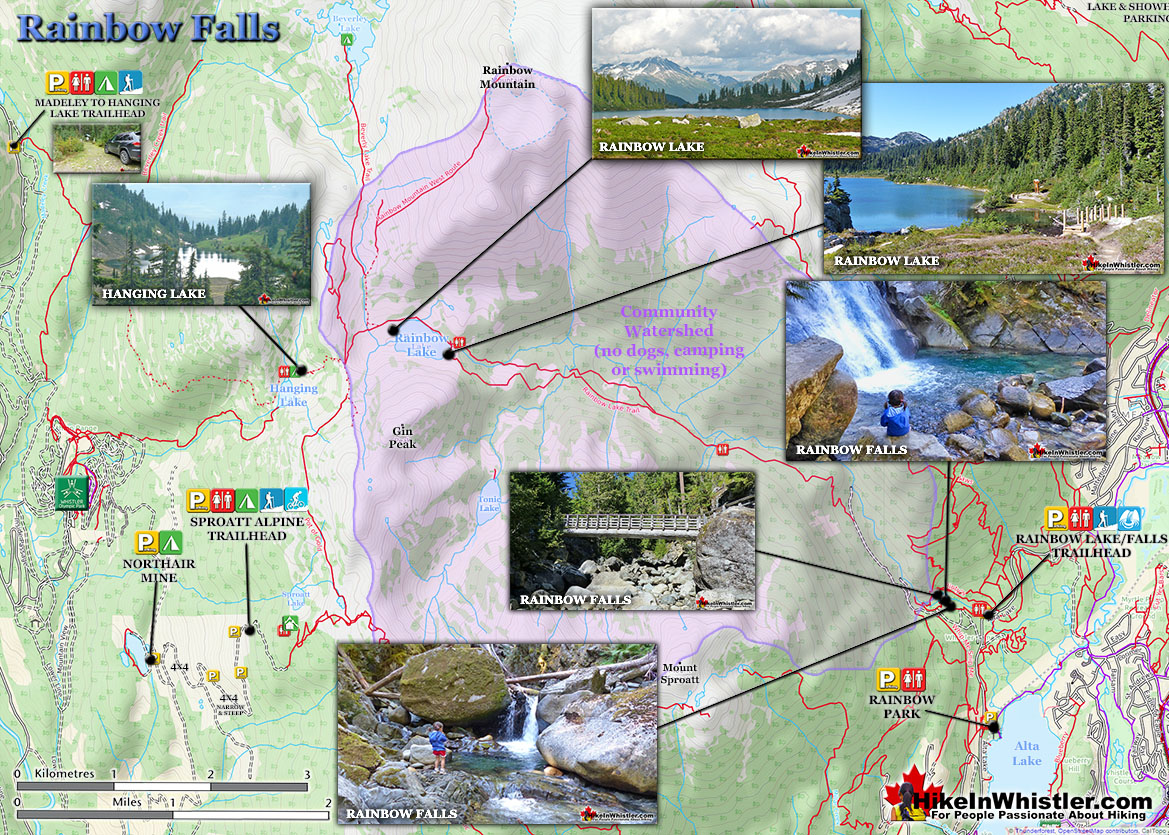 Sea to Sky Trail - Best Whistler Hiking in June

Sea to Sky Trail is the massive, multi-use trail that passes through Whistler and overlaps the Valley Trail.  The Sea to Sky Trail passes through or close to so many beautiful sights and parks in Whistler it is hard to list them all.  Whistler Train Wreck, Brandywine Falls, Cheakamus River, Alpha Lake, Nita Lake, Wayside Park, Lakeside Park, Blueberry Park, Whistler Village, Lost Lake Park, up behind Green Lake past Parkhurst Ghost Town, along Green River passing the access road to the Wedgemount Lake trailhead, then north to Pemberton and beyond!  In June the Sea to Sky Trail is absolutely amazing.  On a sunny June day you can hike or bike the trail for hours and be blown away at constantly having to stop to soak in a beautiful view.  The summer tourist season hasn't kicked in yet in June and most of the Sea to Sky Trail will be deserted and wonderfully serene.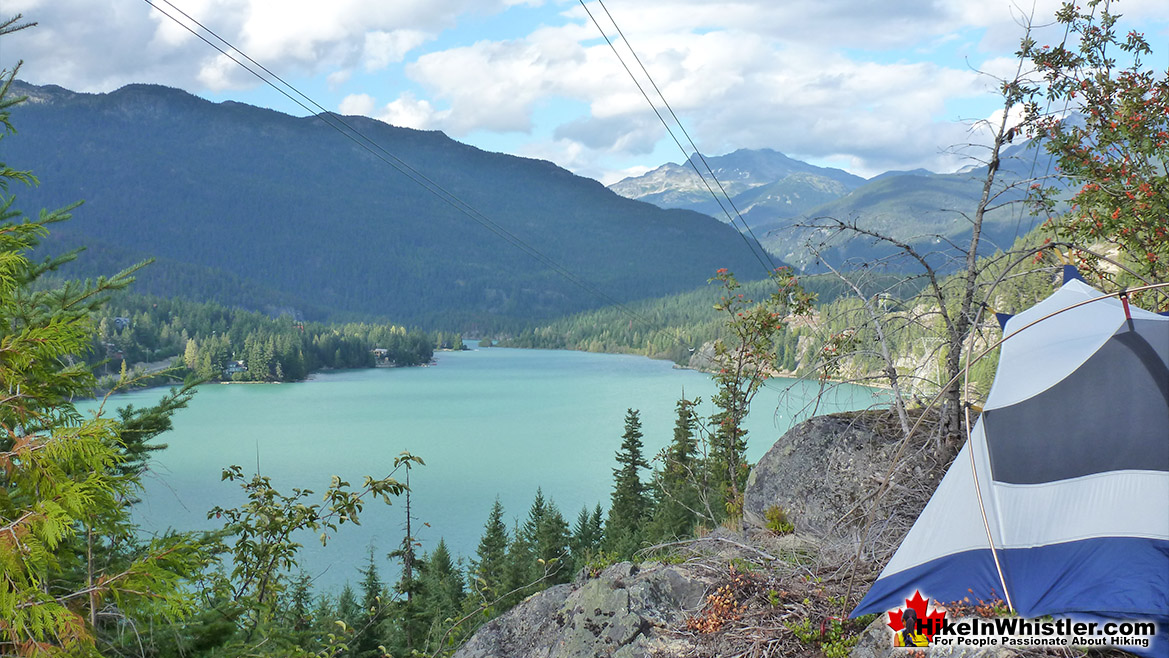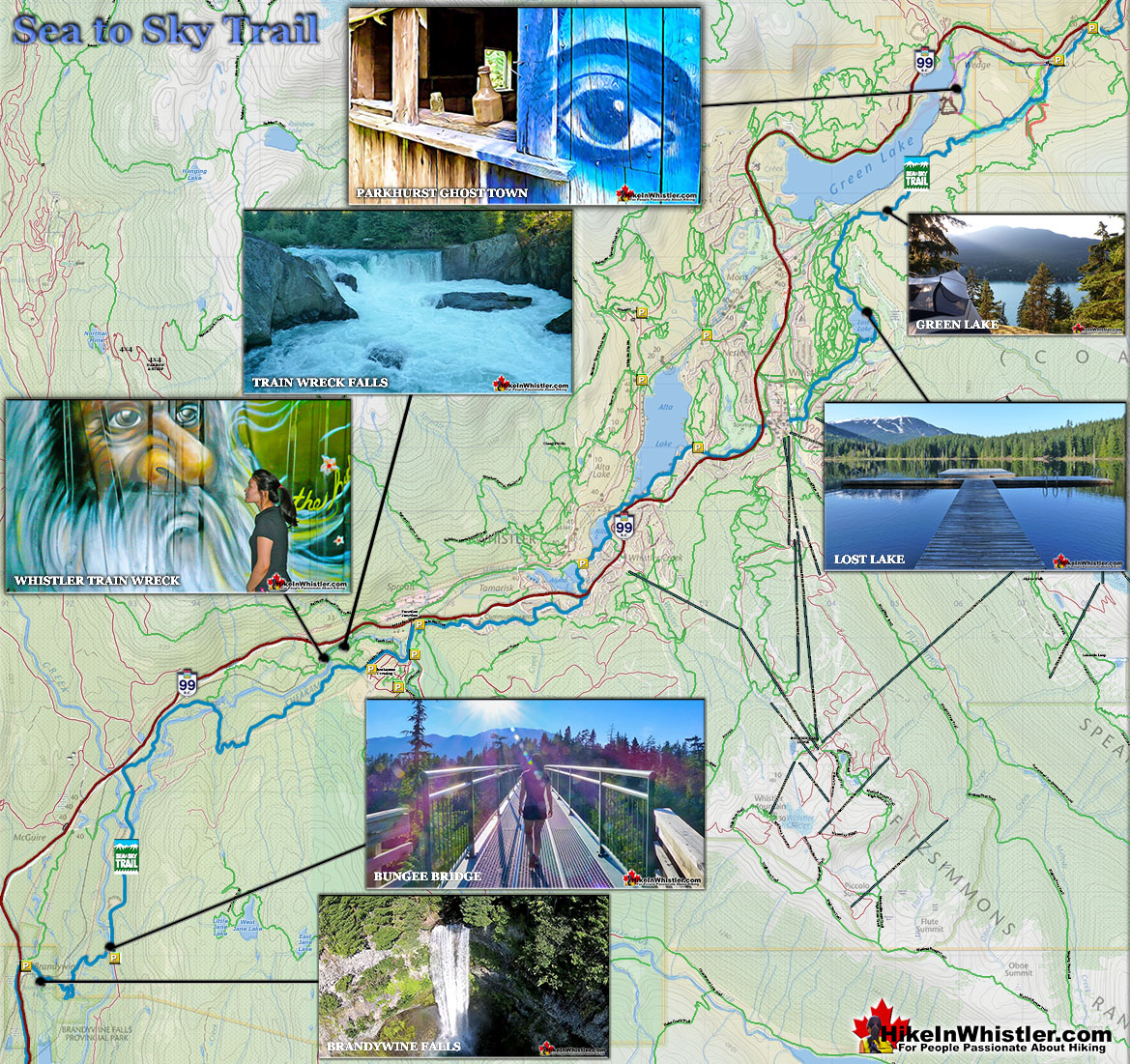 Skookumchuck Hot Springs - Best Whistler Hiking in June

Skookumchuck Hot Springs and Sloquet Hot Springs are both amazing places to visit in June.  Skookumchuck Hot Springs is accessible year-round, however Sloquet is not really due to snow.  You could hike the access road in the winter on snowshoes, but it is too far for most.  The snow on the access road melts in late April or in May, so in June Sloquet is reliably free of snow and not a whole lot of people until summer.  Try to avoid weekends for Skookumchuck and Sloquet in June as both can get busy pretty easily.  Skookumchuck and Sloquet both have excellent campgrounds you can drive right to.  Skookumchuck is right along the Lillooet River which is huge, crashing and beautiful in June.  The campsites at Sloquet are just up from the hot springs.  June may be the best time to visit both Skookumchuck and Sloquet as the weather is often very nice and they are not as busy as July and August.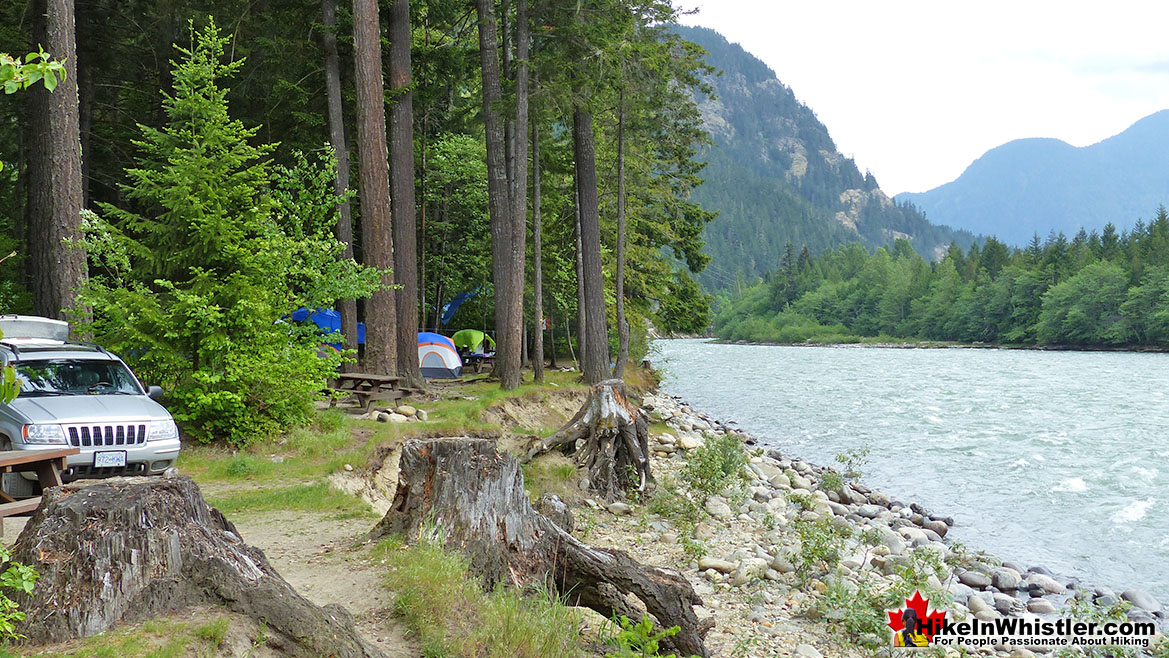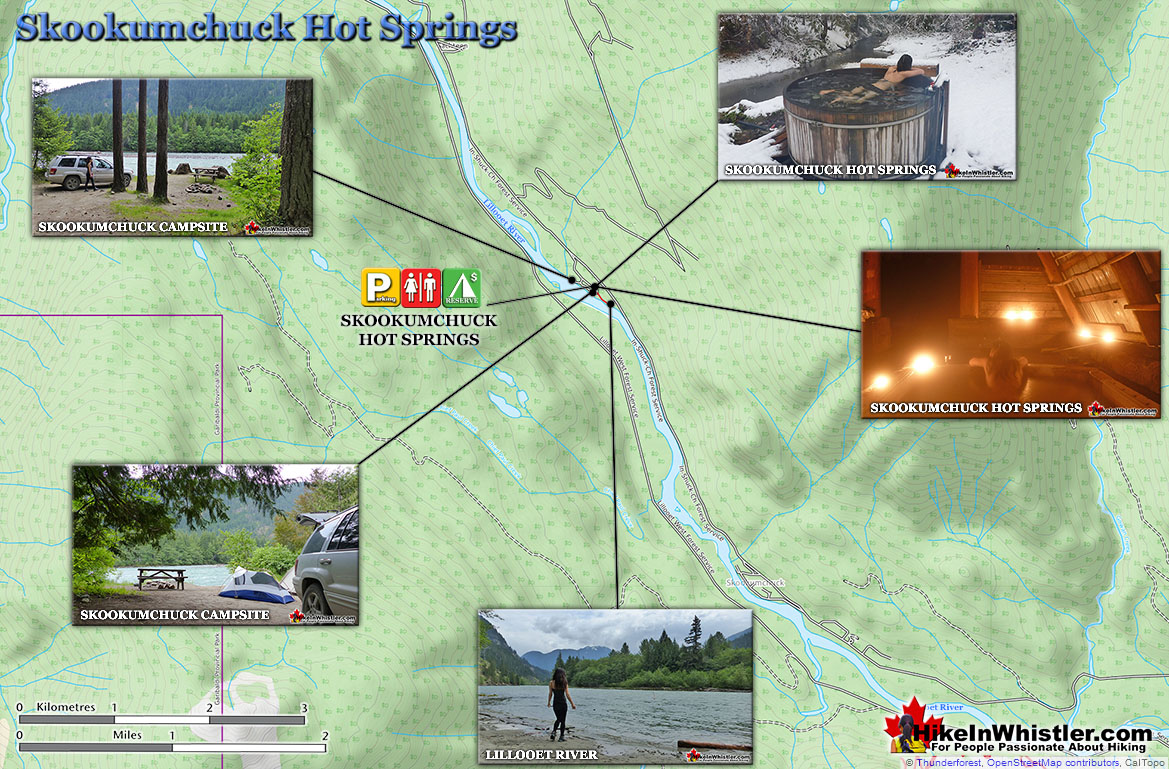 Snowshoe Hikes - Best Whistler Hiking in June
Whistler Mountain and Blackcomb Mountain hiking trails remain buried in snow until late June and you can't hike very far.  Sightseeing access to both mountains only opens in late May and the snow keeps hikers from hiking very far until it melts a few weeks later.  Still worth paying for a lift pass in June as the accessible hiking trails are short, but very beautiful and the Peak2Peak Gondola is amazing to ride.  When the hiking trails emerge from the snow in late June, Whistler Mountain and Blackcomb Mountain become spectacular places to hike.  The trails to Garibaldi Lake, Helm Creek and Taylor Meadows are usually not free of snow until well into June.  The trail from Rubble Creek to Garibaldi Lake and Taylor Meadows does get a lot of hikers in June and any snow you do encounter should be packed down and easy to hike on.  The problem is hiking beyond Garibaldi Lake or Taylor Meadows will be increasingly difficult due to snow on the trail.  Early June especially, and late June much less so.  As the trail to Helm Creek is much less hiked, you may find it too difficult to hike without snowshoes well into June.  Also, the trail is easy to lose if you are the first to hike it and the snow is still deep.  The already challenging hiking trails to Black Tusk and Panorama Ridge are far more exhausting with lingering snow and best hiked in late June, July or August.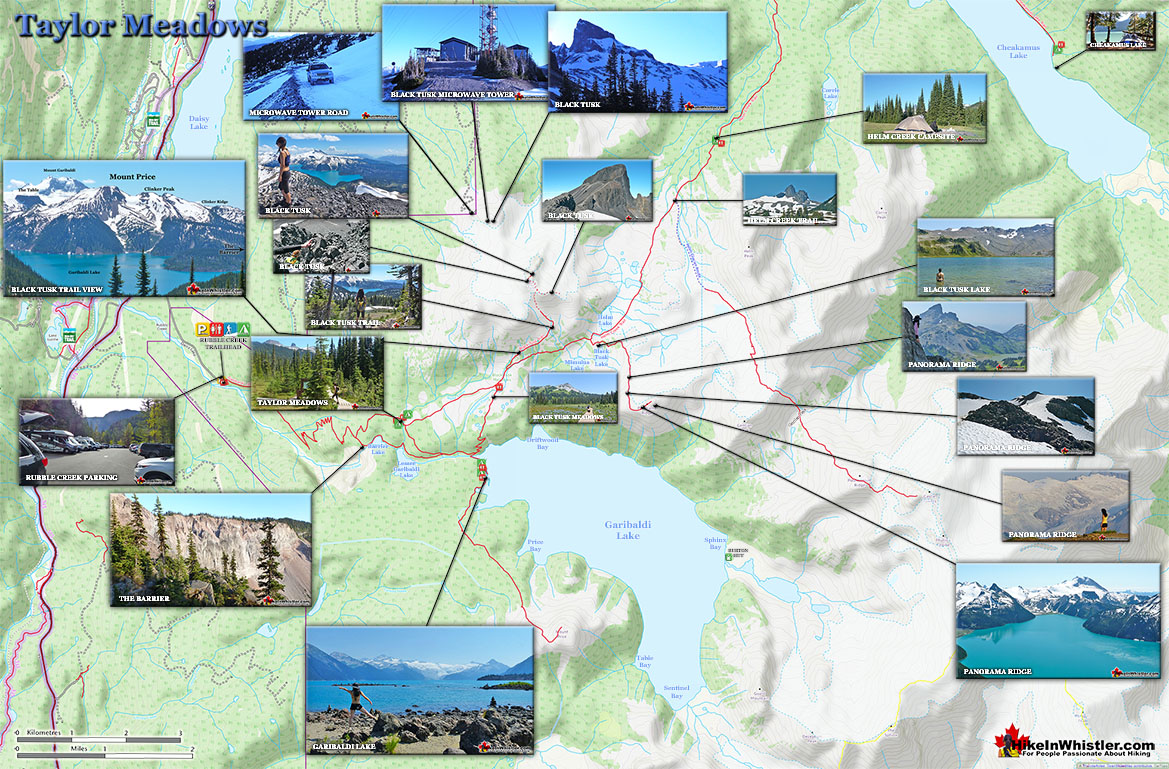 Rainbow Lake - Best Whistler Hiking in June

The trail to Rainbow Lake is often challenging due to steep sections with snow well into June.  You can generally make it to the lake in early June, but you may be slogging through deep snow sections and getting wet and exhausted.  Rainbow Lake is best hiked after the snow has melted from around the lake which is usually by late June.  Brandywine Meadows is often buried in snow well into June and the trail and access roads are not reliably free of snow until late June.  Callaghan Lake's access road is often blocked with patches of deep snow until mid June and not reliably accessible until late June most years.  Cirque Lake, above Callaghan Lake is not accessible by most hikers due to snow until late June or better yet, July, August or September.  Ring Lake is not reliably free of snow and accessible to hike until late June most years.  The trailhead is near the Callaghan Lake campsite and the access road is often blocked by patches of deep snow well into June(usually late June).  The hiking and biking trails on Mount Sproatt are usually covered in snow at the higher elevations until well into June and best hiked when reliably free of snow in July and August.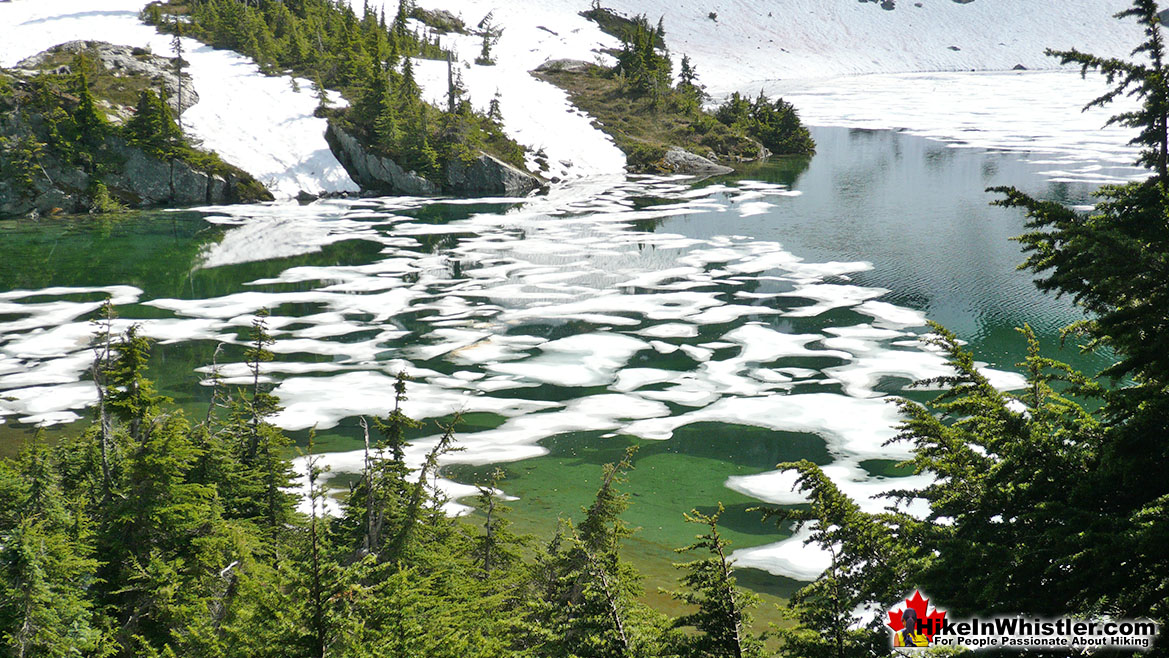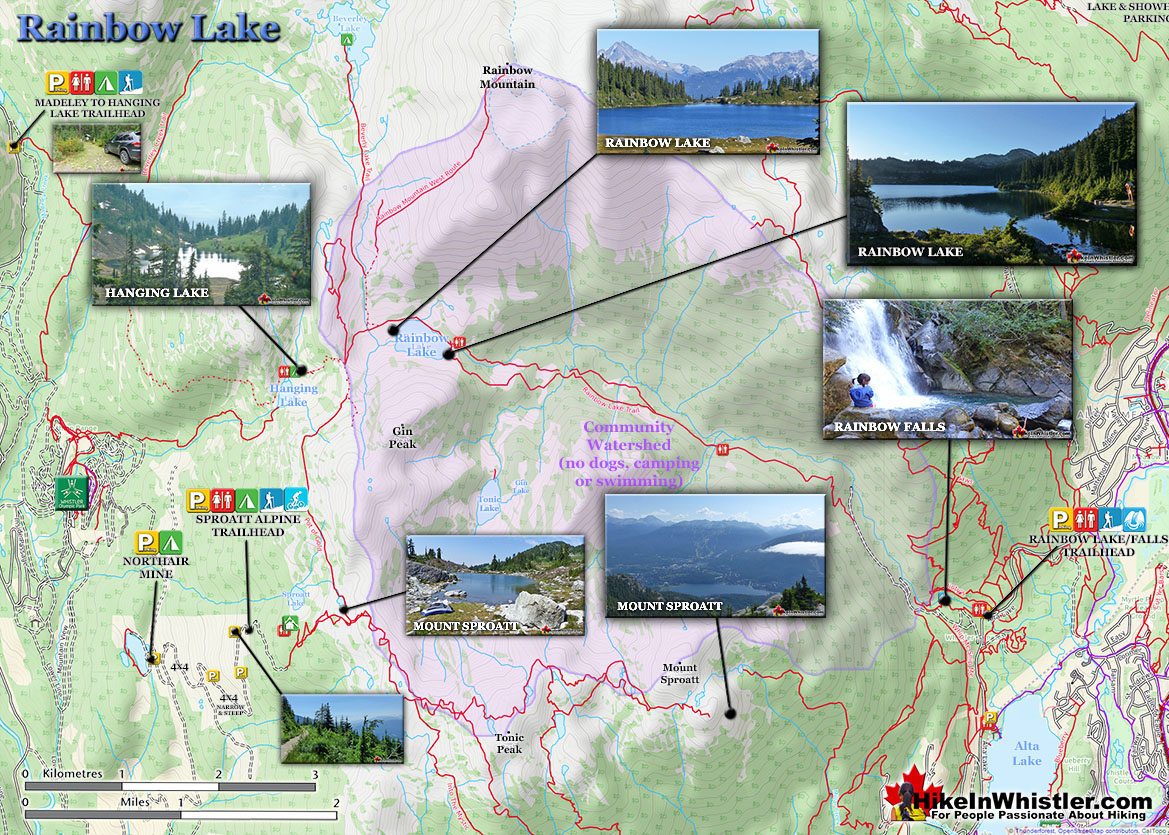 Wedgemount Lake - Best Whistler Hiking in June

Wedgemount Lake tends to be difficult to reach due to snow on the trail well into June.  The final, steep section of trail to the lake is challenging in nice weather and no snow.  Covered in snow and in bad weather it is far too challenging and dangerous for most.  For most hikers, lingering snow in June on the Wedgemount Lake trail make it best left until July.  Russett Lake is similarly challenging to get to in June due to snow on the trail.  If you try it in early June you will have to tackle a few sections of snow along the trail.  By late June the trails to Russett Lake are less covered in snow and much easier.  Still, waiting until after June to hike to Russett Lake is a good idea for most hikers.  Brew Lake is a challenging place to get to in nice summer weather.  Battling sections of snow in June make it far more difficult.  Also finding the lake partly frozen and surrounded in snow is heartbreaking on a hot day in early June when you desperately want to jump in after a long hike!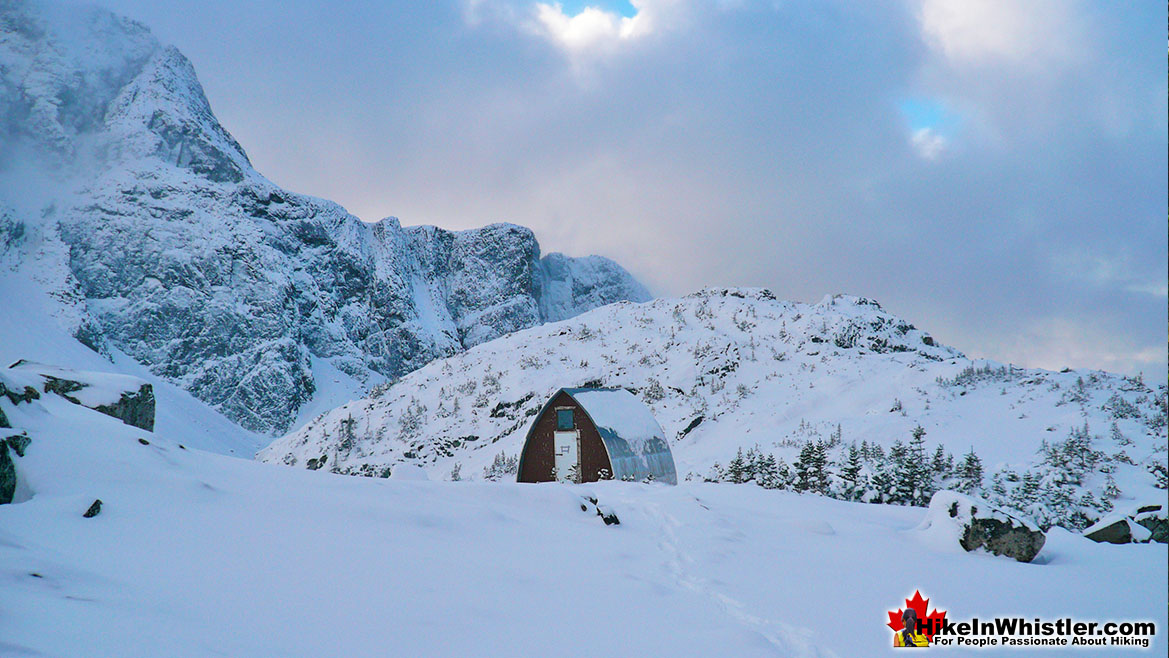 Meager Hot Springs - Best Whistler Hiking in June

Meager Hot Springs is a tough hike due to its remoteness.  Getting to the trailhead is challenging at the best of times due to the access road being routinely blocked by rock slides.  Though the trail should be free of snow by late May, you will encounter some weather related challenges if you hike it in June.  Whether it is deadfall on the trail from the winter or rock slides on the trail or access road still not cleared in June, hiking it in the early weeks of summer is too challenging for most.  Keyhole Hot Springs is amazing in June, however when the Upper Lillooet River is high it tends to flood the pools making them cold.  Also, the area was officially closed to the public in 2018 due to the high number of human – bear conflicts from the past summer.  It currently remains closed through the summer of 2019.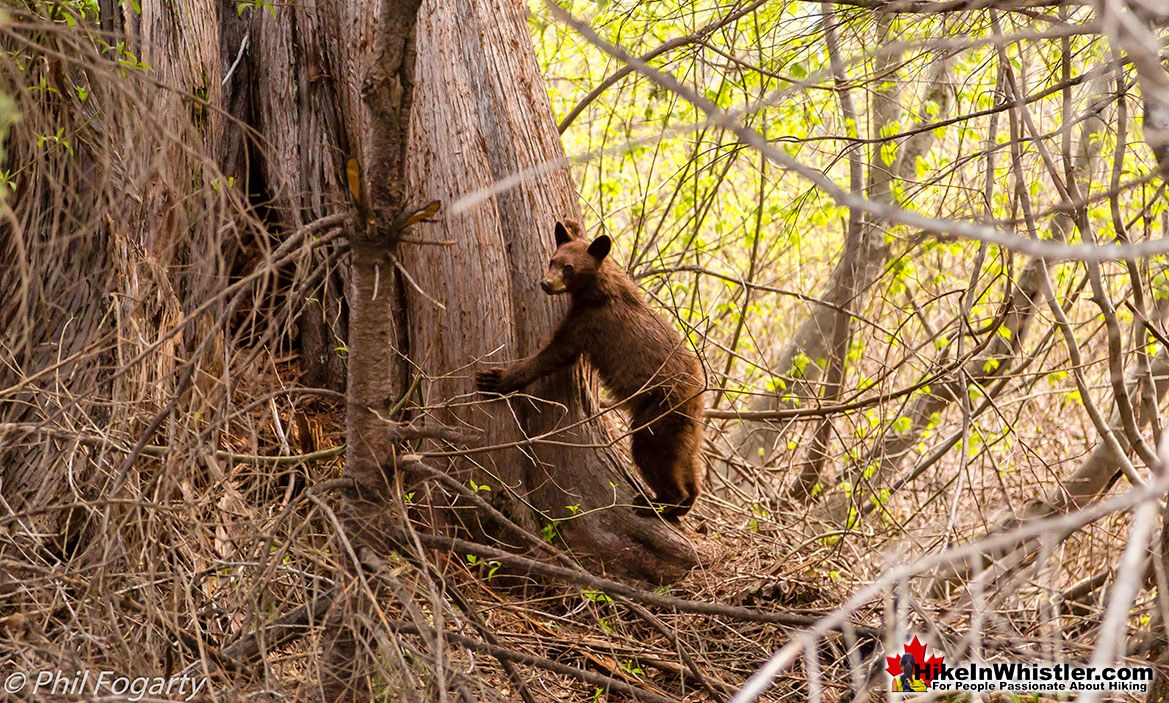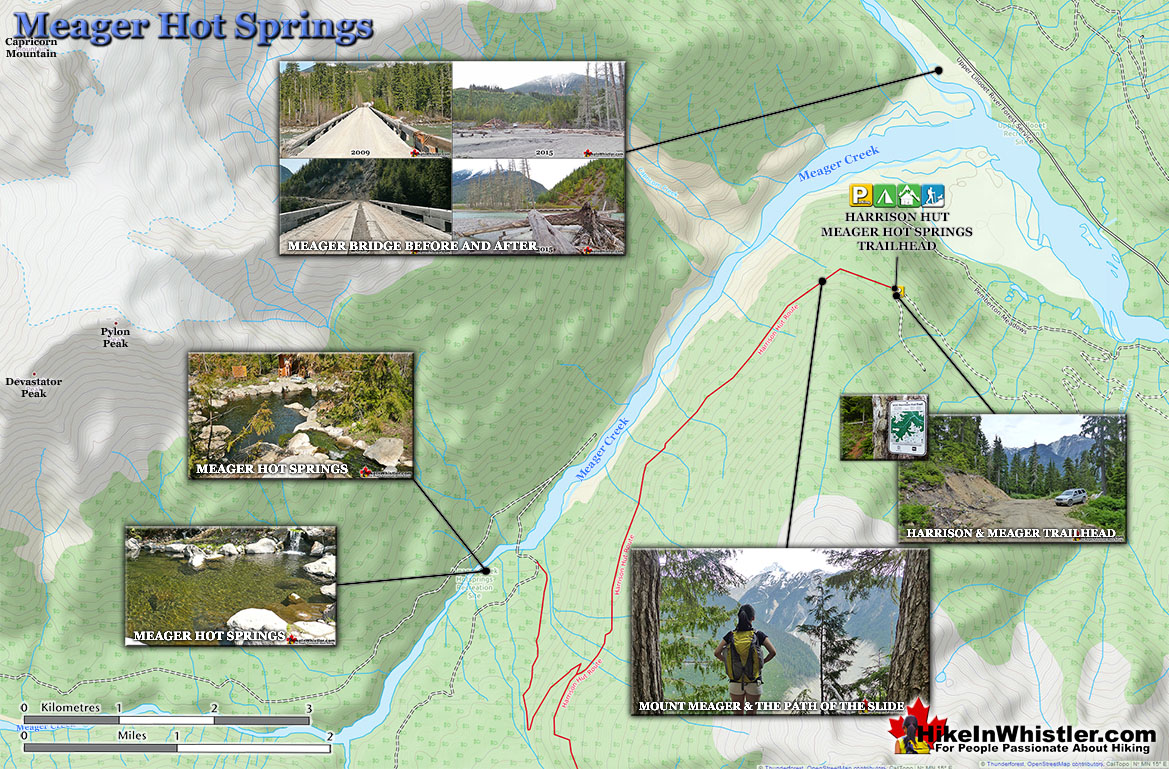 Keyhole Hot Springs - Best Whistler Hiking in June

Keyhole Hot Springs (aka Pebble Creek Hot Springs) is located 100 kilometres from Whistler(Village Gate Blvd). Currently closed due to grizzly bear activity in the area. Though most of the 100 kilometres is on logging roads, it is driveable by most cars without any trouble. The massive Innergex hydroelectric project has turned this once quiet wilderness into a war-zone. On the plus side, the old logging roads near Keyhole Hot Springs are now well maintained and smooth.  The hot springs at Keyhole flow out of the ground adjacent to the swirling, crashing and wonderfully glacier coloured water of Upper Lillooet River.  The colour varies with the season, but for the most part it is a wonderful, deep, milky turquoise.  When the sunlight penetrates the deep valley, the milky turquoise changes to an unnaturally bizarre, emerald green colour as it swirls all around you. Sitting in the springs you look across to the vertical rock face and the massive, truck sized chunks of it that lay in the river next to you.  Continued here...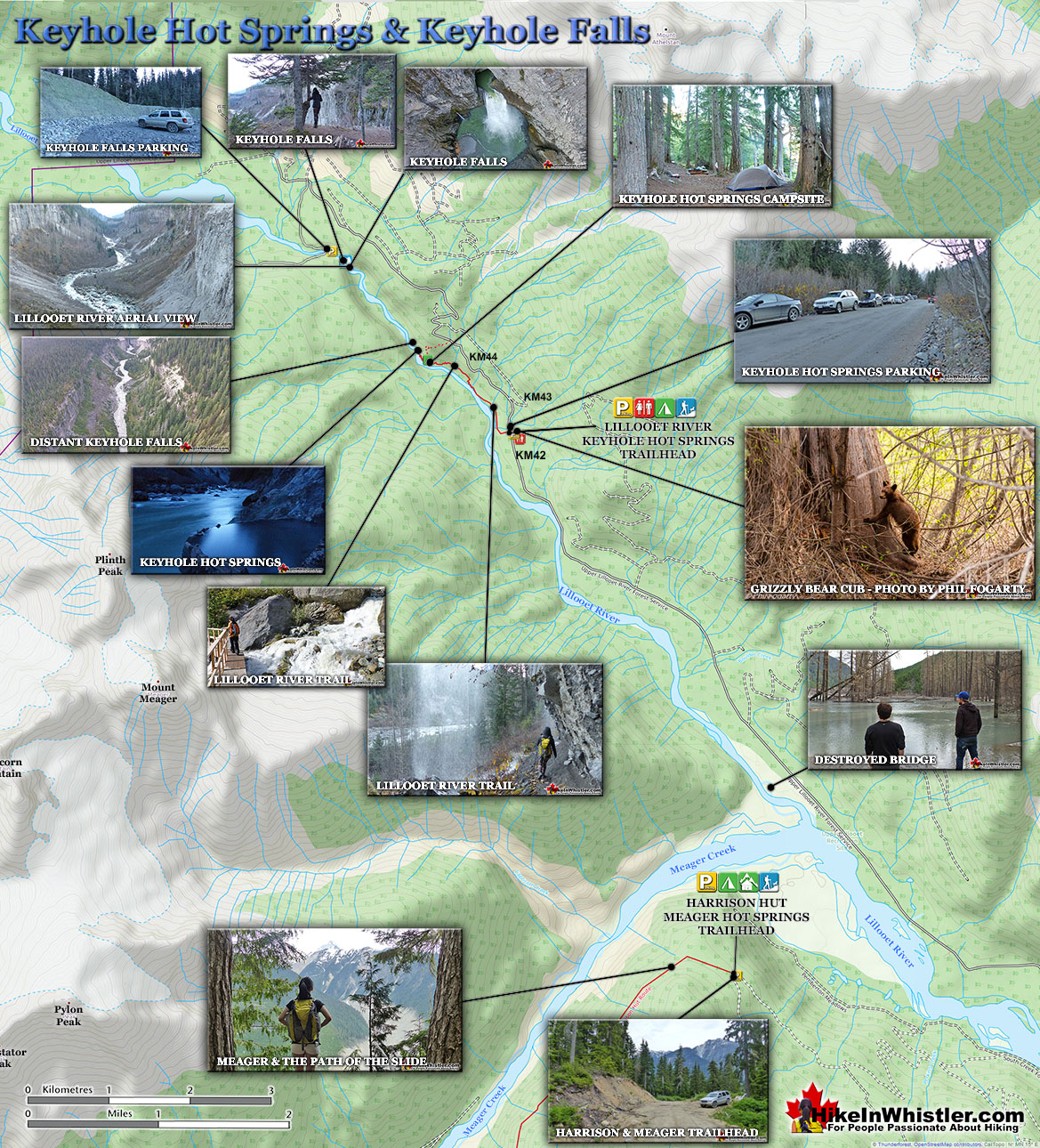 Two Interesting Historical Books!


If you have been to Sloquet Hot Springs, you likely had no idea that you were in the midst of a century old mystery of a lost gold mine.  Several books have been written about it and the History Channel even made a six episode show called Curse of the Frozen Gold.  The show was quite entertaining with the characters exploring the mountains around Sloquet.  The hot springs even appeared in one episode as they searched nearby for the mysterious hidden vein of gold.  The excellent book, Slumach's Gold: In Search of A Legend lays out the history and theories in enticing detail.  The next time you find yourself lounging in Sloquet Hot Springs, you will inevitably glance around and wondering if you are sitting near the hidden gold mine.  A Passion for Mountains by Kathryn Bridge is a fascinating look at Don and Phyllis Munday's prolific exploration of the mountains in BC.  Based out of Vancouver, they were dominant figures of the climbing community in the early 1900's.  In 1923 they visited their friend Neal Carter in Alta Lake(Whistler) and explored the mountains around the valley.. many for the first time!
**We participate in the Amazon Services LLC Associates Program and earn a small commission on purchases we link through to Amazon at no extra cost to you.  We only link to books and products we love and highly recommend.  Thanks for your support!**
Whistler & Garibaldi Hiking

Alexander Falls  

Ancient Cedars  

Black Tusk  

Blackcomb Mountain  

Brandywine Falls  

Brandywine Meadows  

Brew Lake  

Callaghan Lake  

Cheakamus Lake  

Cheakamus River  

Cirque Lake 

Flank Trail 

Garibaldi Lake 

Garibaldi Park 

Helm Creek  

Jane Lakes 

Joffre Lakes  

Keyhole Hot Springs  

Logger's Lake  

Madeley Lake  

Meager Hot Springs 

Nairn Falls  

Newt Lake 

Panorama Ridge 

Parkhurst Ghost Town 

Rainbow Falls  

Rainbow Lake 

Ring Lake  

Russet Lake  

Sea to Sky Trail 

Skookumchuck Hot Springs  

Sloquet Hot Springs 

Sproatt East 

Sproatt West  

Taylor Meadows  

Train Wreck  

Wedgemount Lake  

Whistler Mountain

January 

February 

March 

April 

May 

June 

July 

August 

September 

October 

November 

December