Alec Dalgleish (1 August 1907 - 26 June 1934) was a highly respected mountaineer and climber out of Vancouver in the 1920's and 1930's.  His enthusiasm and dedication to climbing was boundless.  He used The Camel, a vertical cliff on Vancouver's Crown Mountain to train.  Though commonly done today, in Dalgleish's day, training for rock climbing was very unusual and underscored his drive to excel at the nascent sport of climbing.  In the late 1920's he became friends with Tom Fyles, a veteran Vancouver mountaineer and arguably the greatest climber of the era.
Whistler & Garibaldi Hiking

Alexander Falls  

Ancient Cedars  

Black Tusk  

Blackcomb Mountain  

Brandywine Falls  

Brandywine Meadows  

Brew Lake  

Callaghan Lake  

Cheakamus Lake  

Cheakamus River  

Cirque Lake  

Flank Trail  

Garibaldi Lake  

Garibaldi Park  

Helm Creek  

Jane Lakes  

Joffre Lakes  

Keyhole Hot Springs  

Logger's Lake  

Madeley Lake  

Meager Hot Springs 

Nairn Falls  

Newt Lake  

Panorama Ridge  

Parkhurst Ghost Town  

Rainbow Falls  

Rainbow Lake  

Ring Lake  

Russet Lake  

Sea to Sky Trail  

Skookumchuck Hot Springs  

Sloquet Hot Springs  

Sproatt East  

Sproatt West  

Taylor Meadows  

Train Wreck  

Wedgemount Lake  

Whistler Mountain

January  

February  

March  

April  

May  

June  

July  

August  

September  

October  

November  

December
Alec Dalgleish and Tom Fyles became close friends and embarked on several pioneering expeditions into the still unknown regions of the Coast Mountains.  In 1930 they, along with Stan Henderson, explored the source of the Teaquahan River at the head of Bute Inlet.  They were the first climbing party to venture onto the enormous Homathko Snowfield and the first to summit Bute Mountain.  In 1932 Dalgleish and Tom Fyles teamed up once again, this time with Neal Carter and Mills Winram.  They explored up the headwaters of Lillooet River and made a series of first ascents on and around Mount Meager.  From their towering vantage point they saw countless unnamed peaks stretching to the ocean.  The following year, in 1933 they all set off on another remarkable journey into the unknown headwaters of Toba River.  Despite weathering brutal terrain, considerable bushwhacking, and dangerous river crossings, they managed to make the first ascent of a towering and forbidding mountain they named Mount Julian.  The next mountain Dalgleish set his sights on was the greatest prize of the era, the still unclimbed Mount Waddington.  In his book, Pushing the Limits: The Story of Canadian Mountaineering, Chic Scott writes that, "He was one of the few local climbers who might conceivably have had a chance at climbing Mount Waddington."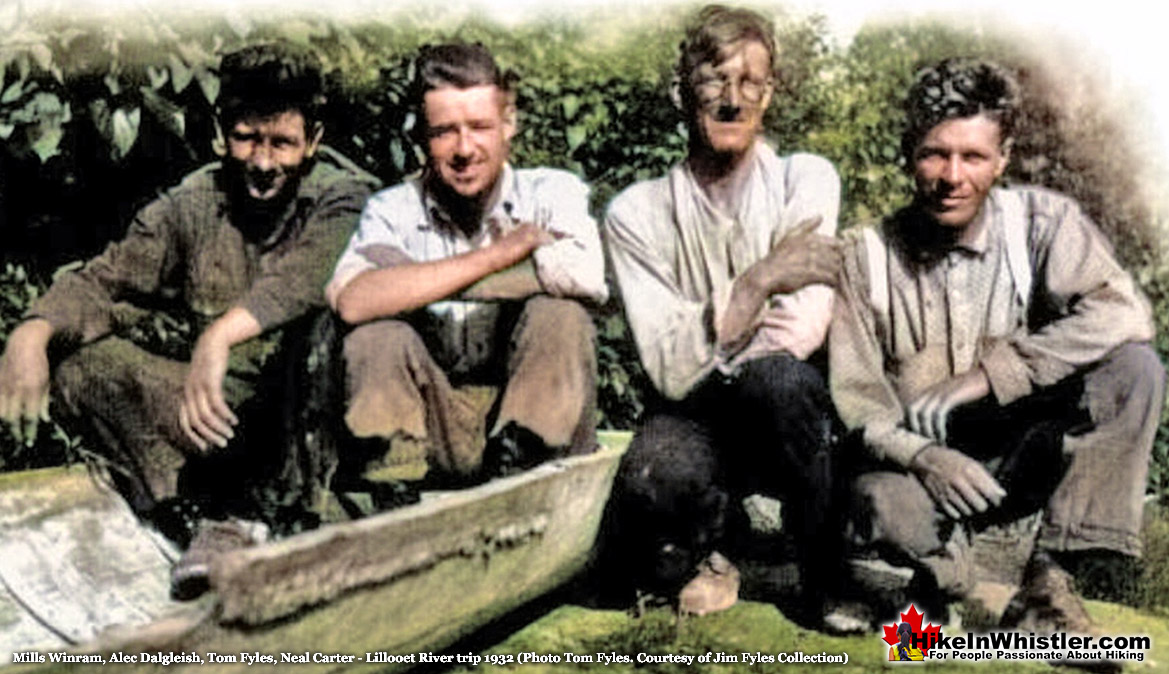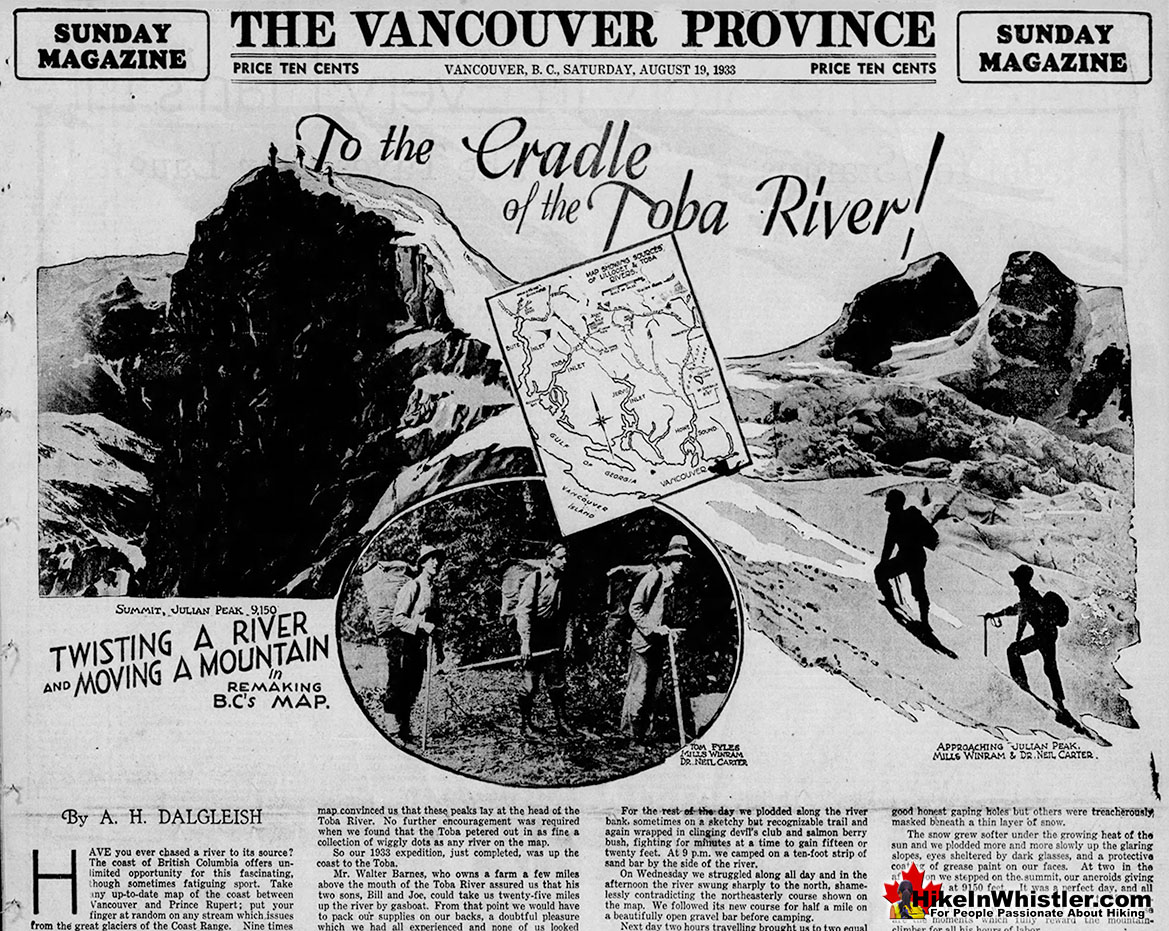 In the winter of 1933-1934 Alec Dalgleish and Alan Lambert laid out a plan to make an attempt on Waddington, a mountain that required a journey of several days to get to.  Eric Brooks and Neal Carter were to join them on this three week attack on the Coast Mountain's highest peak.  Mount Waddington is also British Columbia's highest mountain if you don't count Mount Fairweather and Mount Quincy Adams, which straddle the Alaska, BC border.  The assault on Mount Waddington would end in tragedy however, when Alec Dalgleish fell to his death while on a roped descent along a smooth, outwardly sloping ledge.  The belaying rope remained taut for just a moment before being cut by the sharp edge of a frost-shattered rock.  The cause of the fall was never determined as the only sound heard was a slight scratching of nailed boots on the rocks.  Lambert looked up and saw Dalgleish for just an instant before he disappeared over the cliff.  To quote Chic Scott again from Pushing The Limits, "Dalgleish was a very popular figure amongst Vancouver climbers, and could have drastically altered the course of Coast mountaineering had he lived."  After his death, Mount Julian was renamed Mount Dalgleish.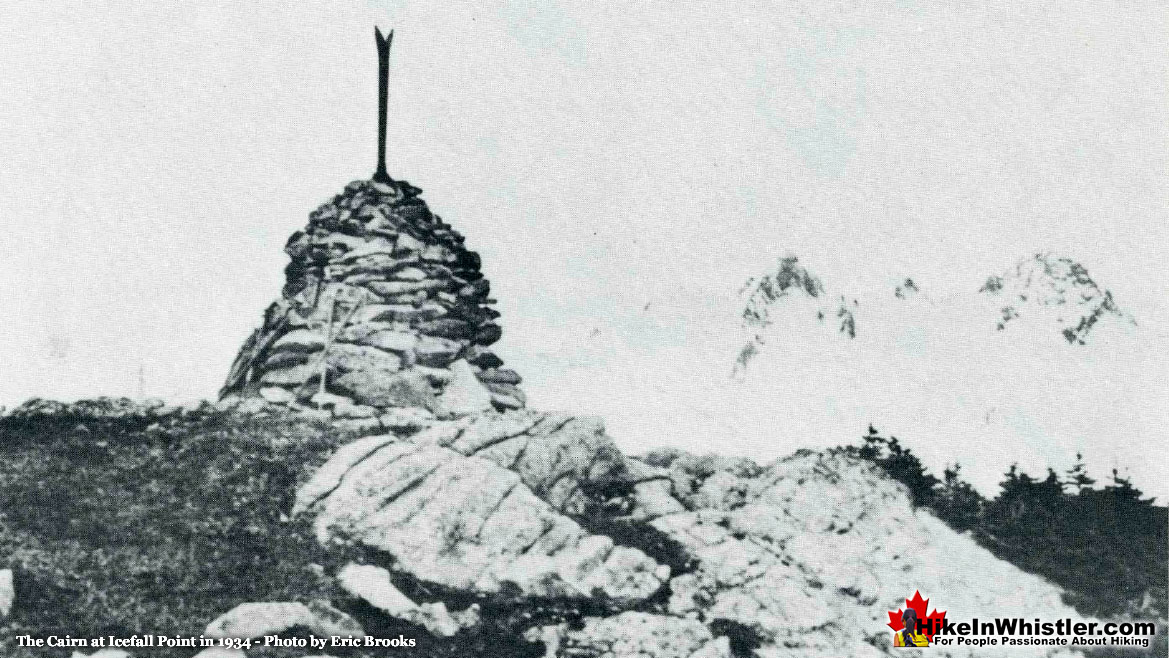 Several friends of Alec Dalgleish made the considerable journey to the scene of the accident just a few days later. Due to the precarious location of the accident it was estimated that it would take six men several hours to recover his body. As Neal Carter wrote later, "The slopes of Mount Waddington were chosen as the last resting place of Alec Dalgleish." Eric Brooks, Alan Lambert, Frank Smith, Stan Henderson and two of Dalgleish's work friends constructed a memorial cairn, "incorporating Dalgleish's skis and a suitably protected scroll now stands on a prominent elevation above Icefall Point, facing the scene of the last endeavour of a true mountaineer."