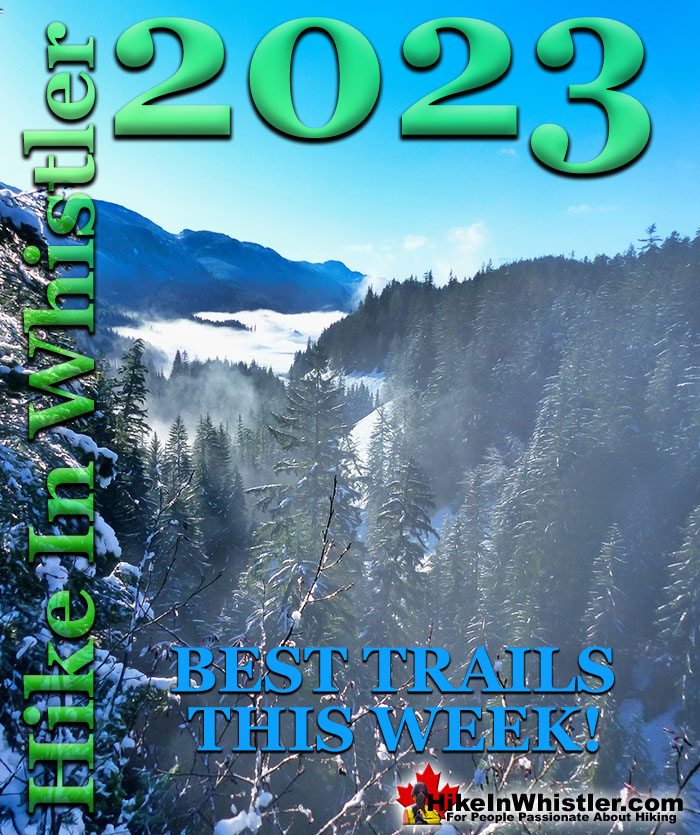 February 4th, 2023: What trails are good this week?  This is a great time of year to check out one of Whistler's impressive waterfalls, Brandywine Falls.  Brandywine Falls is a wonderful place to visit in February, though it is a bit tricky to get to in the winter months due to BC Parks keeping the parking gate locked and towing cars parked outside the gate.
Whistler & Garibaldi Hiking

Alexander Falls  

Ancient Cedars  

Black Tusk  

Blackcomb Mountain  

Brandywine Falls  

Brandywine Meadows  

Brew Lake  

Callaghan Lake  

Cheakamus Lake  

Cheakamus River  

Cirque Lake 

Flank Trail 

Garibaldi Lake 

Garibaldi Park 

Helm Creek  

Jane Lakes 

Joffre Lakes  

Keyhole Hot Springs  

Logger's Lake  

Madeley Lake  

Meager Hot Springs 

Nairn Falls  

Newt Lake 

Panorama Ridge 

Parkhurst Ghost Town 

Rainbow Falls  

Rainbow Lake 

Ring Lake  

Russet Lake  

Sea to Sky Trail 

Skookumchuck Hot Springs  

Sloquet Hot Springs 

Sproatt East 

Sproatt West  

Taylor Meadows  

Train Wreck  

Wedgemount Lake  

Whistler Mountain
Whistler Snowshoe Trails

Blueberry Trail 

Brandywine Falls 

Cheakamus River 

Elfin Lakes 

Flank Trail 

Joffre Lakes 

Nairn Falls 

Parkhurst Ghost Town 

Rainbow Falls 

Rainbow Lake 

Rainbow Park 

Sproatt East 

Taylor Meadows 

Train Wreck 

Wedgemount Lake 
To get there in the winter you have to drive to the Whistler Bungee Bridge and snowshoe in from there.  The three kilometre trail is quite nice and the Bungee Bridge is quite an amazing sight to see as well.  Whistler Bungee operates year-round and makes sure the access road is plowed all winter to the Bungee Bridge parking area almost directly under the towering bridge far above.  The Three kilometre trek through the forest is pretty easy and the elevation change is minimal.  It's a great trail for kids as it is nice and easy as well as having two great attractions at either end.  Along with the viewpoint across from Brandywine Falls there is a nice viewing area overlooking Daisy Lake.  On a sunny day the views are breathtaking.  South facing, Daisy Lake and the entire valley stretches into the distance in a sea of white.  Black Tusk seems very close from this viewpoint and juts above the microwave towers that sit on the broad plateau in the foreground.  An interpretive board at the viewpoint illustrates how Black Tusk came to have this striking appearance.  What we see today is the solidified core of an extinct volcano that has been revealed by the surrounding cone crumbling away over thousands of years.  Extraordinary!
Brandywine Falls Daisy Lake Viewpoint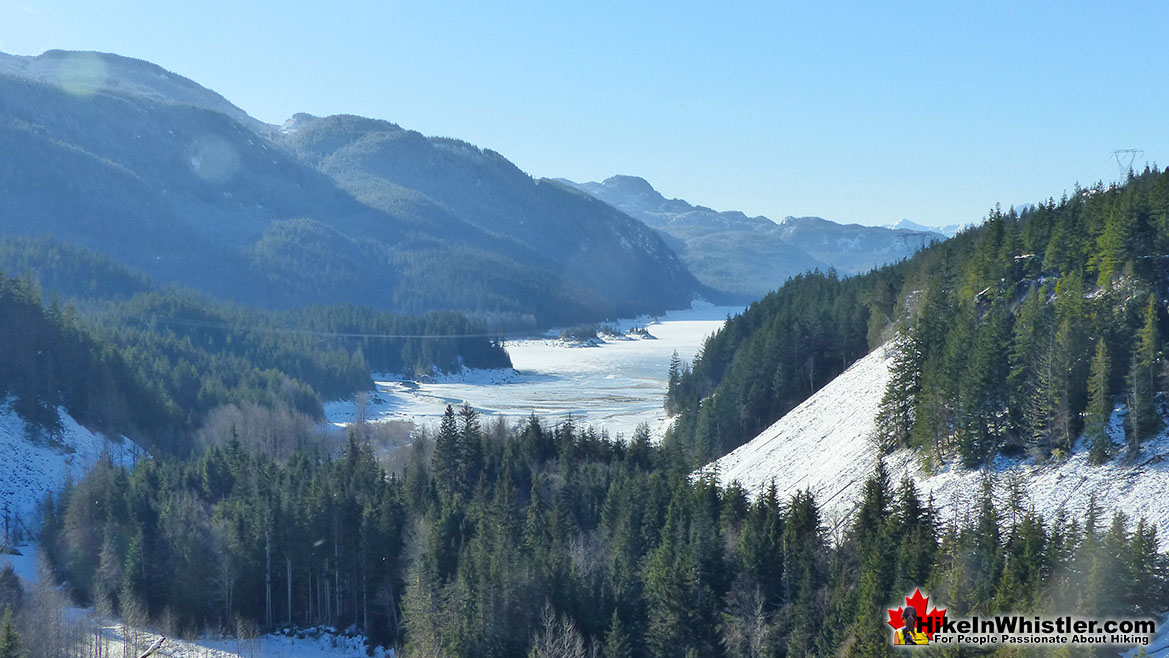 Brandywine Falls is Very Kid Friendly!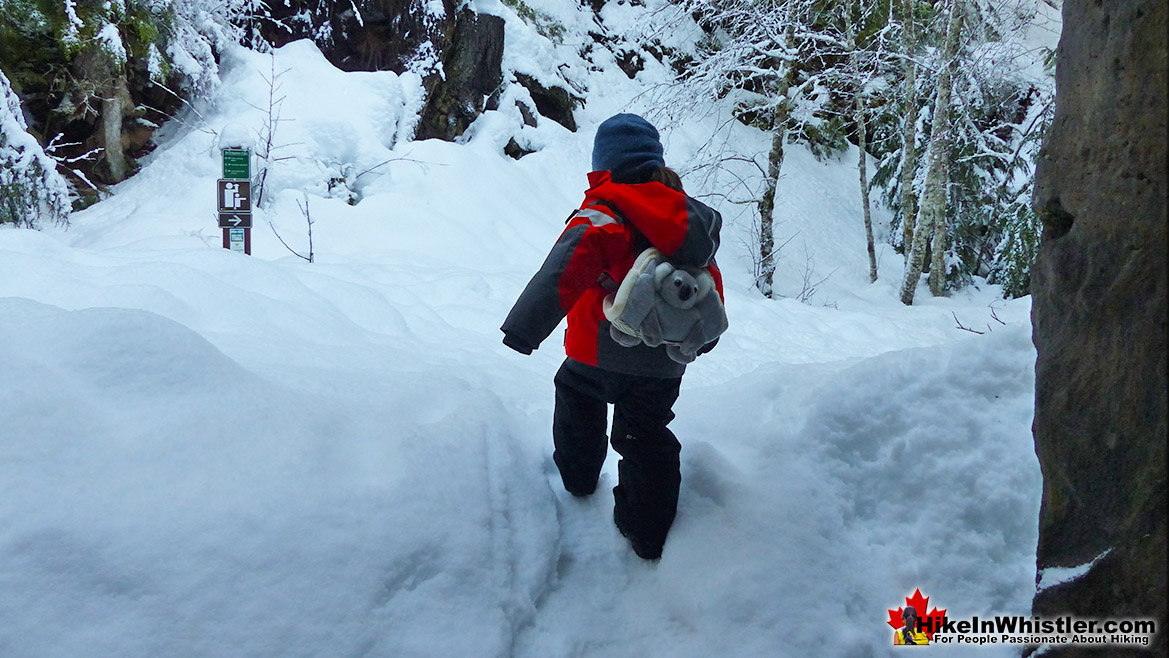 Frozen Brandywine Falls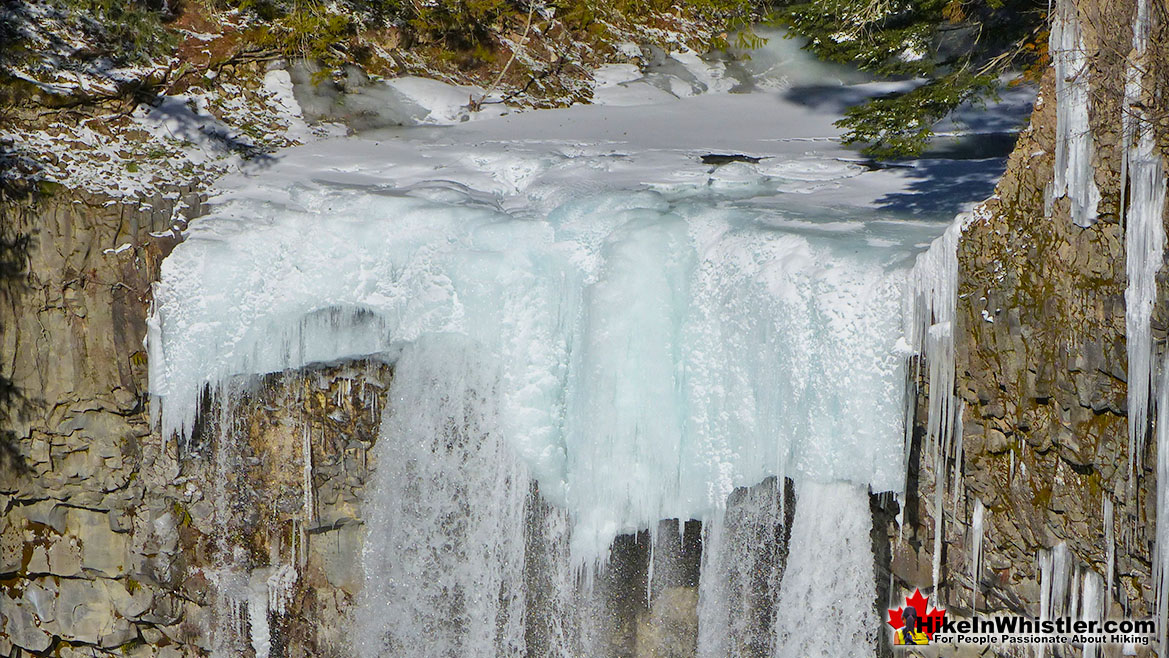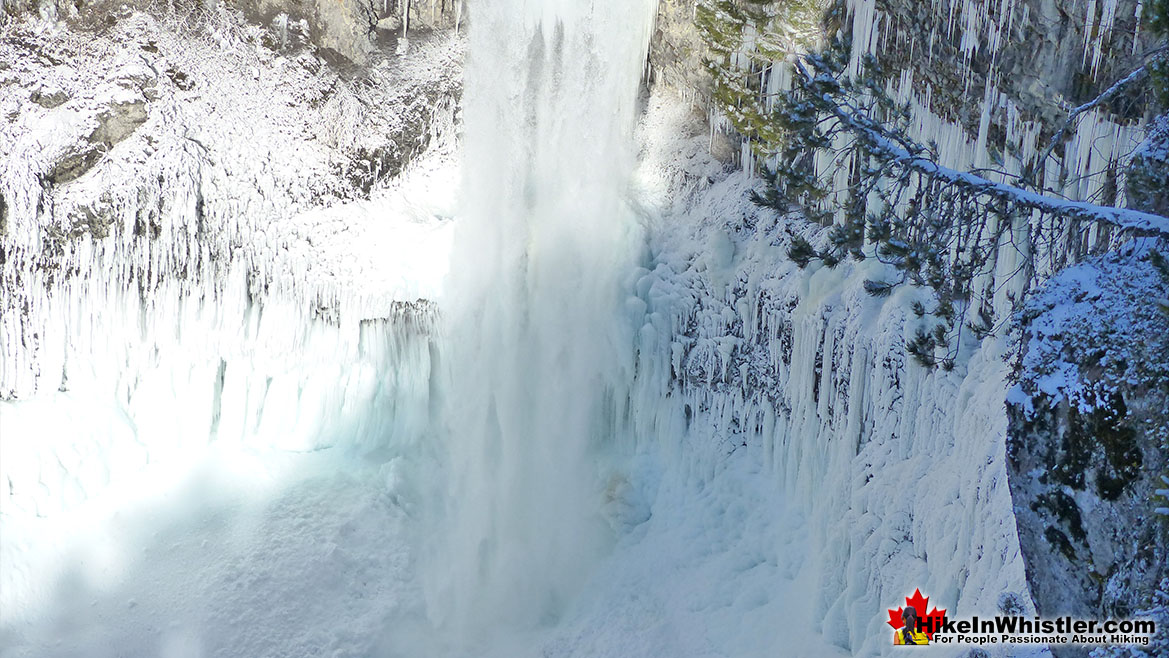 How Black Tusk Formed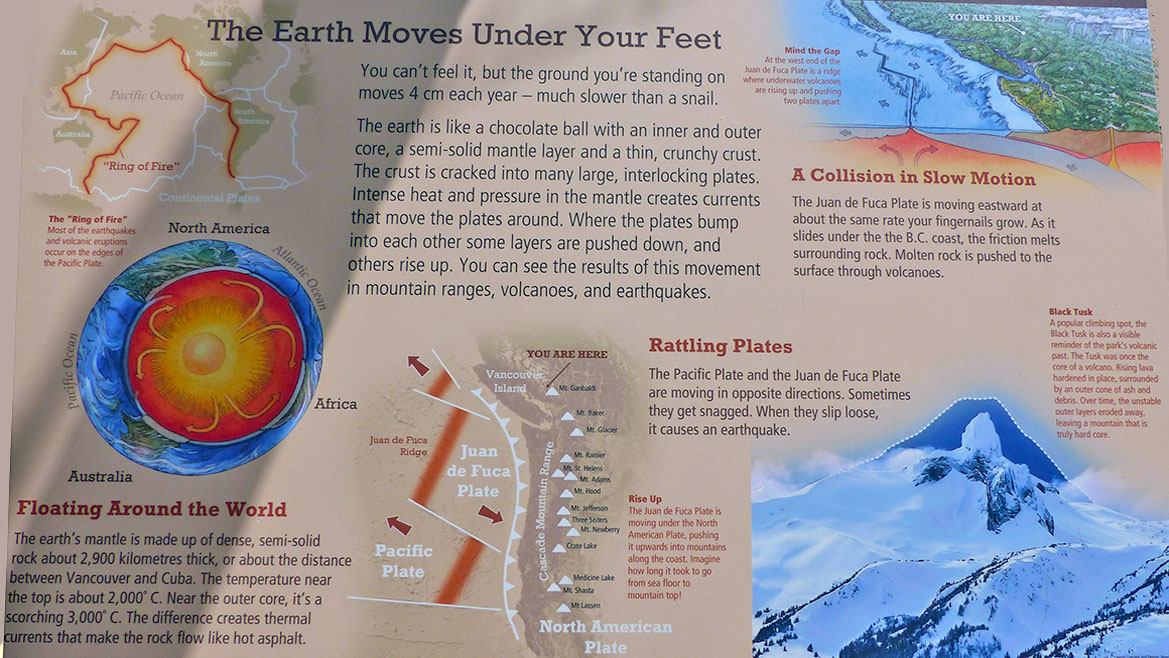 Bungee Bridge to Brandywine Falls Continued...
More Amazing Whistler Snowshoeing!
There are dozens of great snowshoe and hiking trails in Whistler this time of year.  Rainbow Falls is a fun and easy 1.1 kilometre(one way) trail to the cute and hidden waterfalls.  They are not huge and impressive, but the trail is fun as it bends and ascends quickly up the forest along Twentyone Mile Creek.  The snow is deep all winter and you almost always need snowshoes to get there.  If you hike a bit further beyond Rainbow Falls you connect to the Flank Trail which crosses Twentyone Mile Creek.  The bridge across is always deeply buried in snow and you always feel like you are in a winter wonderland!  Huge boulders below the bridge are buried in massive pillows of snow and it is quite easy to snowshoe along the creek which crashes through.  You can continue along the Flank Trail and connect back down to the Rainbow trailhead where you started.  This circle route is fantastic and you can easily snowshoe the route un under an hour.  The Sproatt East trail is another great trail to snowshoe in the springtime.  This trail begins high up in Stonebridge, the neighbourhood across the valley from Whistler Village.  The trailhead begins very high up the side of Mount Sproatt, allowing you to start snowshoeing way up the mountain.  The Sproatt East trail winds through the forest, across several winding bridges, and up to several great views across the valley.  The trail to the summit of Sproatt is a very steep and challenging 5 kilometres, one way.  There are several stunning plateaus along the trail and make worthy destinations on their own.  The second plateau along the trail is just 2.4 kilometres from the trailhead.  Still challenging in the winter with snowshoes, but much easier than going all the way to the summit of Sproatt.  The first plateau is fairly easy and just 1.4 kilometres from the trailhead and still with wonderful views.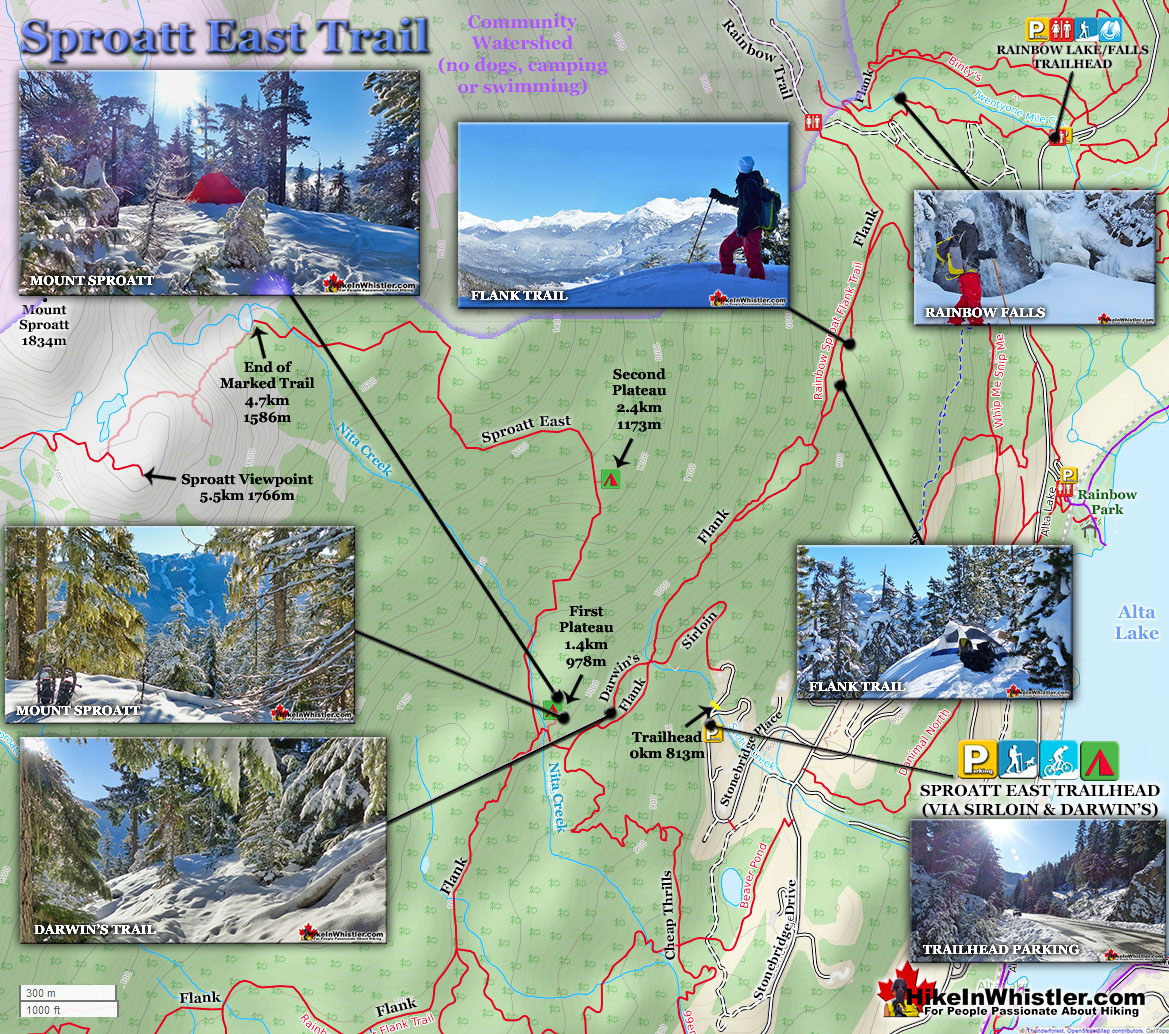 Sproatt Snowshoeing Guide Continued Here
More Whistler Snowshoe Trails!
There are plenty of beautiful and free snowshoe trails in Whistler and Garibaldi Provincial Park.  From the surreal paintings of Whistler Train Wreck to the magnificent mountain serenity of Wedgemount Lake in Garibaldi Park.  Trails range from easy trails like the short one to Rainbow Park.  To challenging and long trails to places like Elfin Lakes, Taylor Meadows and Wedgemount Lake.  Whistler even has a growing network of snowshoe trails to Parkhurst Ghost Town on the far side of Green Lake.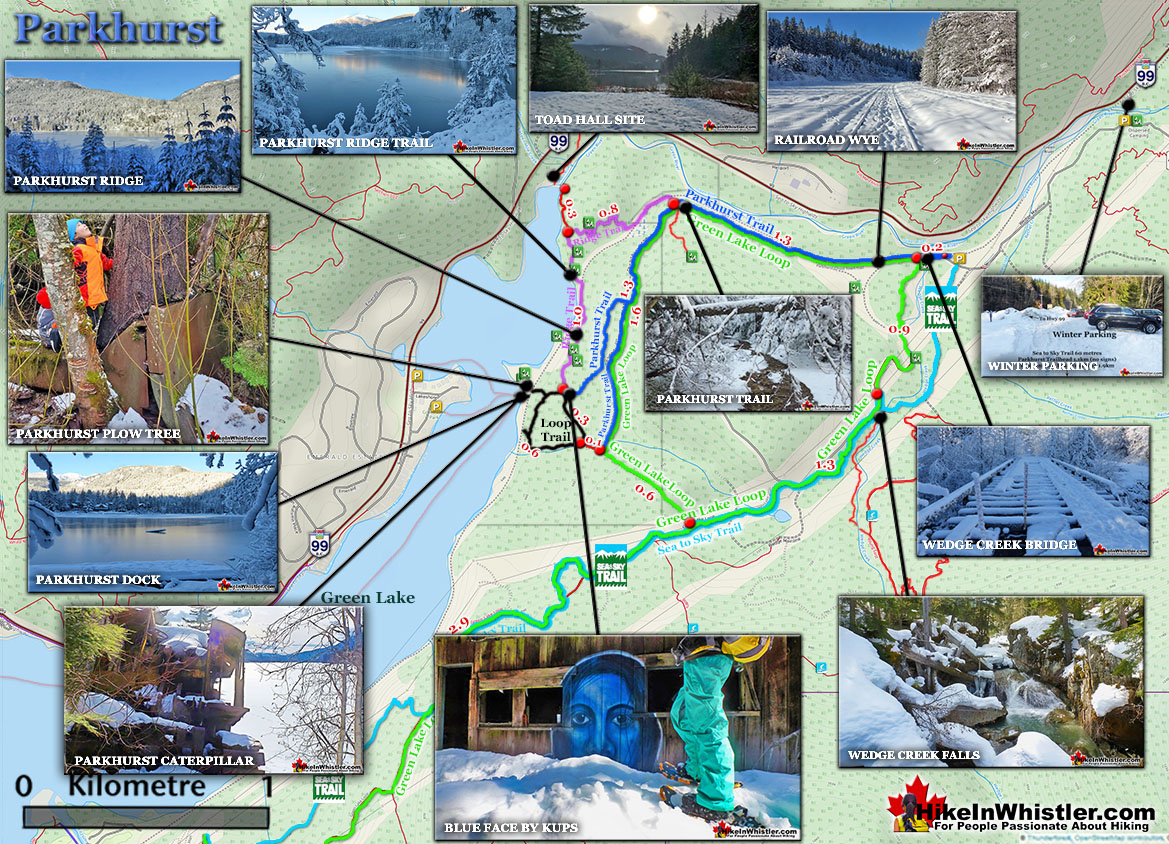 Parkhurst Ghost Town Snowshoeing Continued Here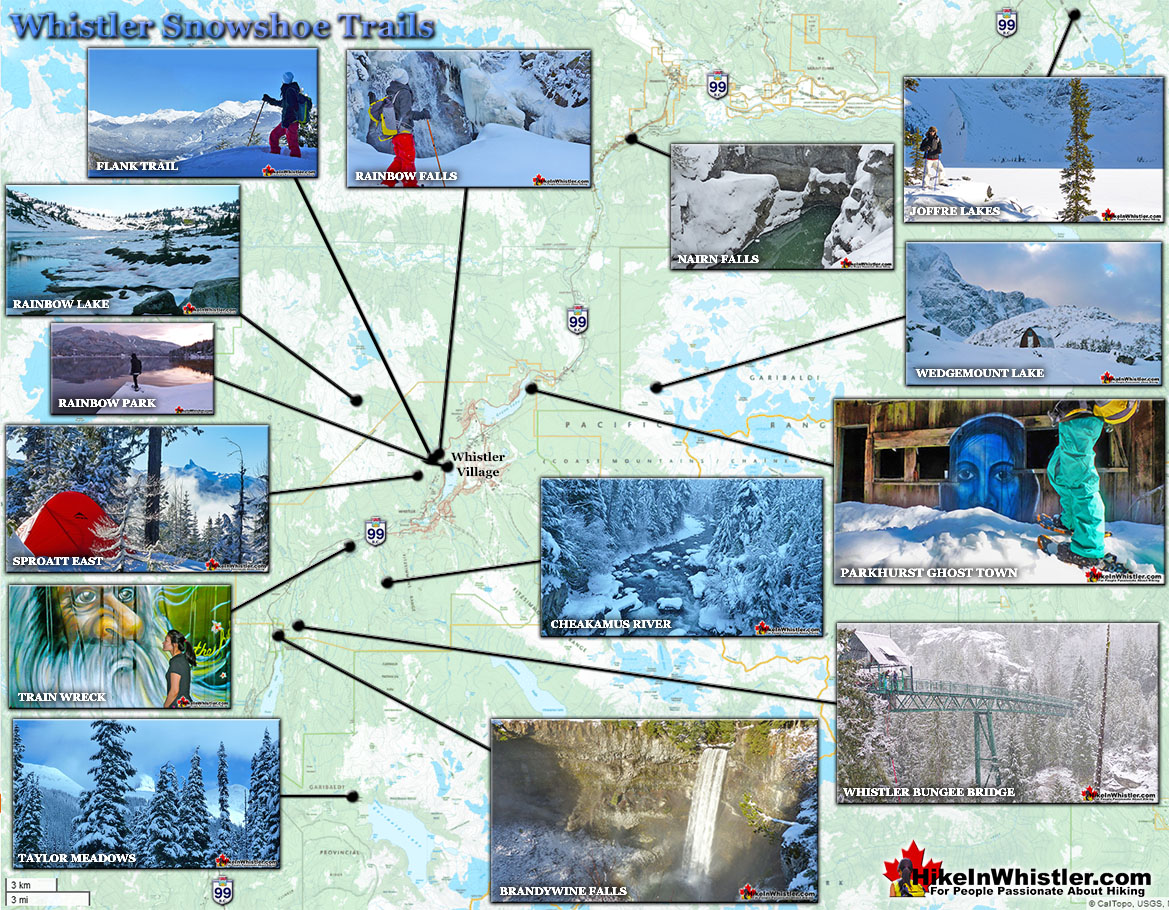 More Whistler Hiking and Snowshoeing in February
More Whistler Updates!

Whistler & Garibaldi Park Hiking Glossary A to Z
Whistler & Garibaldi Park Best Hiking by Month!

Explore BC Hiking Destinations!