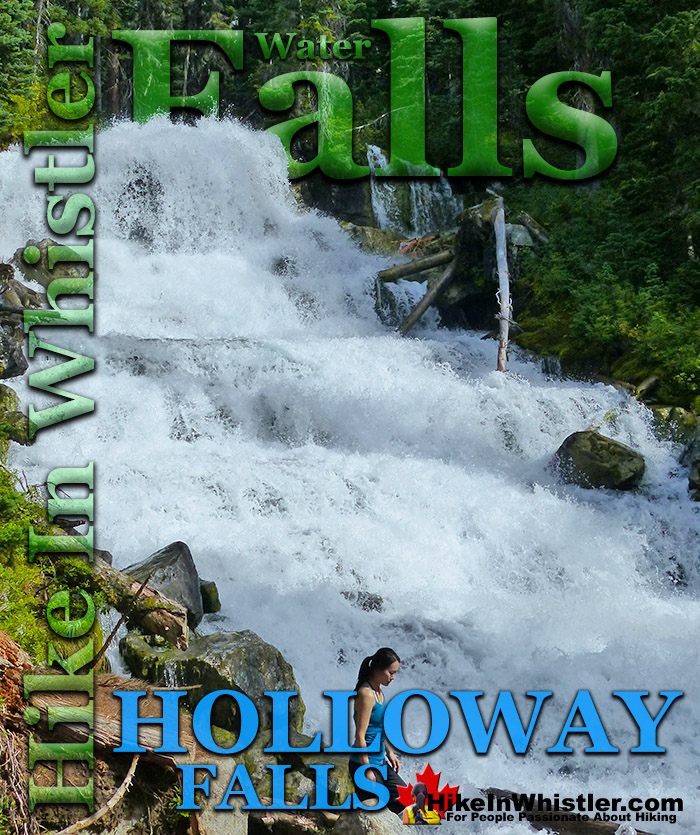 Holloway Falls is the beautiful waterfalls you see partway along the Joffre Lakes Provincial Park trail.  Located between Middle Joffre Lake and Upper Joffre Lake, Holloway Falls is a wide, crashing torrent of white water emerging from the forest and rushing past the trail.  Huge boulders and logs along the edge with swirling water rushing around them.  On a hot day, you can easily dunk your head in the rushing water and cool down.
Whistler & Garibaldi Hiking

Alexander Falls  

Ancient Cedars  

Black Tusk  

Blackcomb Mountain  

Brandywine Falls  

Brandywine Meadows  

Brew Lake  

Callaghan Lake  

Cheakamus Lake  

Cheakamus River  

Cirque Lake 

Flank Trail 

Garibaldi Lake 

Garibaldi Park 

Helm Creek  

Jane Lakes 

Joffre Lakes  

Keyhole Hot Springs  

Logger's Lake  

Madeley Lake  

Meager Hot Springs 

Nairn Falls  

Newt Lake 

Panorama Ridge 

Parkhurst Ghost Town 

Rainbow Falls  

Rainbow Lake 

Ring Lake  

Russet Lake  

Sea to Sky Trail 

Skookumchuck Hot Springs  

Sloquet Hot Springs 

Sproatt East 

Sproatt West  

Taylor Meadows  

Train Wreck  

Wedgemount Lake  

Whistler Mountain

Alexander Falls 

Brandywine Falls  

Cirque Falls  

Holloway Falls 

Keyhole Falls 

Nairn Falls 

Rainbow Falls 

Shannon Falls 

Train Wreck Falls 

Wedgemount Falls

January 

February 

March 

April 

May 

June 

July 

August 

September 

October 

November 

December
Joffre Creek flows from Upper Joffre Lake to Middle Joffre Lake with Holloway Falls an equal distance between them.  Joffre Creek then flows quite some distance to Lower Joffre Lake.  It then flows out of Joffre Lakes Provincial Park and runs along parallel to the Sea to Sky Highway for several kilometres to Lillooet Lake.  Holloway Falls is not dramatically impressive like other Whistler waterfalls like Brandywine Falls or Alexander Falls.  It is more like Rainbow Falls, in that it flows down more gradually, and not over a massive and abrupt cliff.  Though compared to Rainbow Falls, Holloway Falls is quite a larger torrent of water flowing through.  Joffre Lakes Provincial Park is a beautiful and popular park, well known for its brilliantly, glacier coloured lakes.  All three Joffre Lakes are extraordinarily turquoise coloured.  On a sunny day, the lakes are hypnotizingly beautiful, surrounded by gorgeous mountains and untouched wilderness.  The park gets very busy on weekends and the parking lot fills up fast.  Though Joffre Lakes Provincial Park is 62 kilometres(38.3 miles) from Whistler Village, the comparatively easy hiking trail and beautiful scenery draws hikers to it year-round.  The Joffre Lakes trail is considerably easier than the trails to Wedgemount Lake, Garibaldi Lake, Russet Lake or Elfin Lakes, which is definitely an advantage that overcomes the driving distance to the trailhead.
Holloway Falls in Joffre Lakes Provincial Park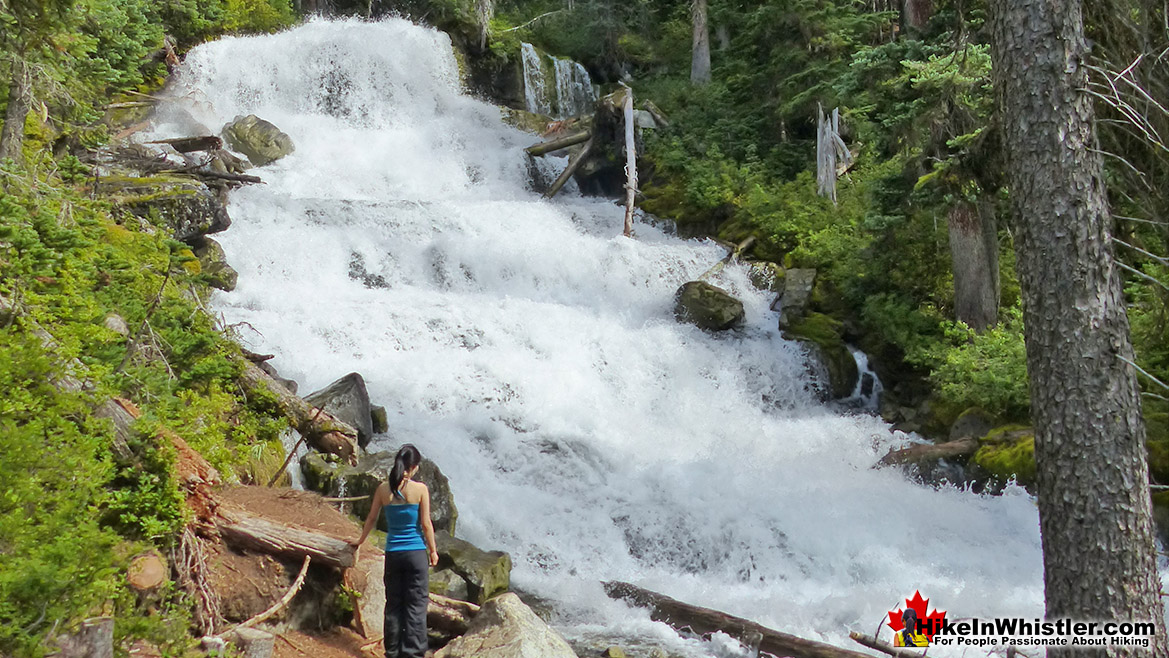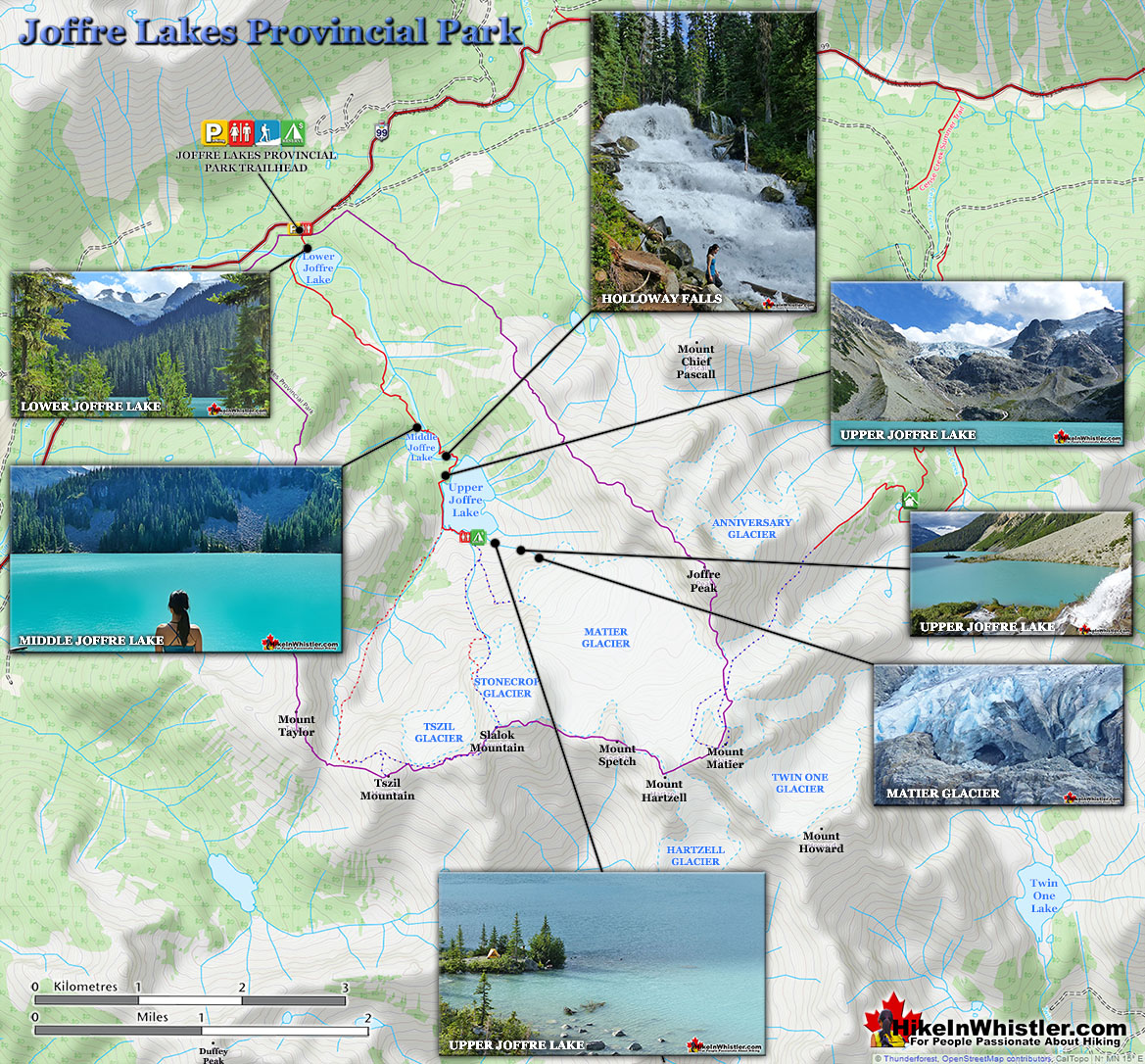 Driving to Joffre Lakes Provincial Park

If you are driving from Whistler, zero your odometer in the Village at Village Gate Boulevard and follow highway 99 north toward Pemberton. From Whistler you will be following the highway signs for Pemberton and Lillooet. At 32km you will arrive at Pemberton, an intersection, with a Petro Can gas station on your left and McDonalds to your right. Continue straight, through Pemberton. At 39km turn right at the sign to Lillooet. Follow this winding road, and soon you will pass Lillooet Lake on your right as the highway ascends steeply. You are only 20 minutes from the parking lot now. At 61.6km, you will see the large Joffre Lakes parking lot on your right.  There are several worthwhile stops on the drive to Joffre Lakes. Just five minutes from Whistler Village and you will drive along the edge of Green Lake. There is an excellent pullout on the right side of the highway at a great viewpoint over the lake. Wedge Mountain, Blackcomb Mountain, and Whistler Mountain lay beyond Green Lake.  Another 15 minutes driving and you will see the sign for Nairn Falls Provincial Park.  A short and easy 1.2 kilometre trail runs along the wild and crashing Green River to a viewing area on cliffs across from the falls. Back on the highway, you reach Pemberton in just 5 minutes. Two gas stations and a McDonald's are at the first intersection you come to. This is the last food or gas until well beyond Joffre Lakes.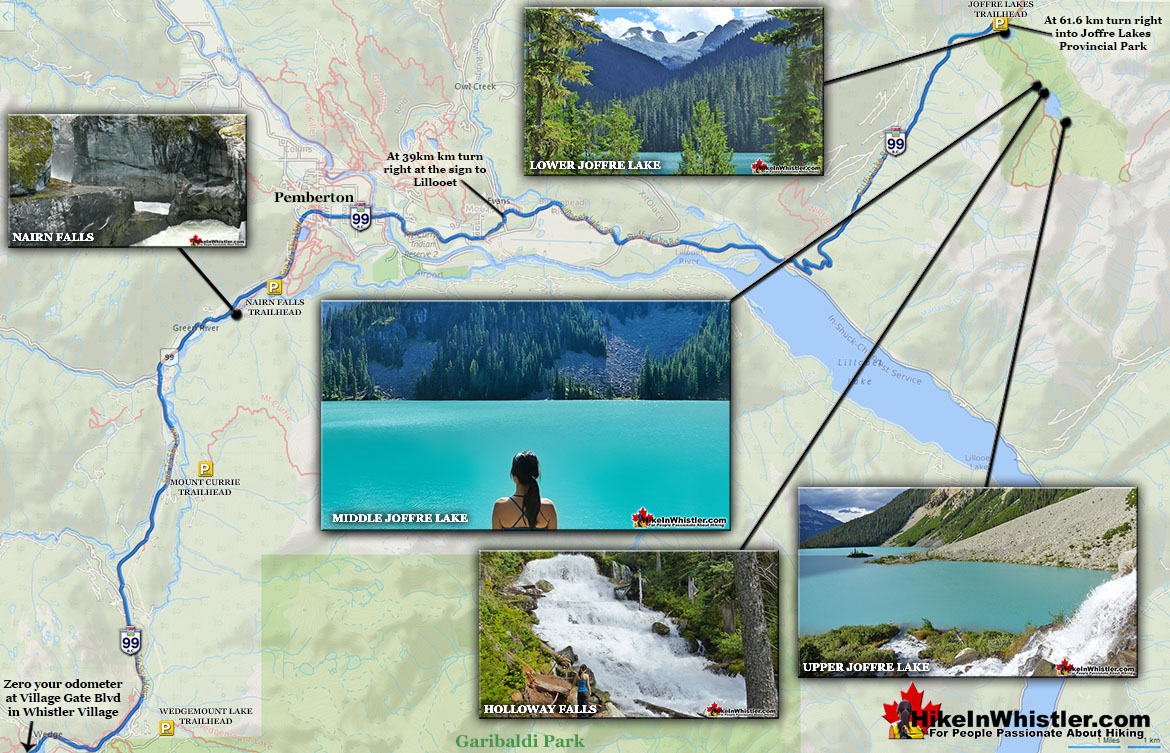 Getting to the Joffre Lakes Trailhead by Bus

From Whistler, Joffre Lakes Provincial Park is 65 kilometres away so driving or public transit are your only realistic choices. There are some companies that do a somewhat regular bus route to Joffre Lakes from Vancouver in the summer months.  ParkBus picks up in downtown Vancouver at 730am and returns at 730pm.  They do this route all summer long and currently the cost is $69.  Check them out at parkbus.ca/joffre.  LivvAdventures also offers a bus service to Joffre Lakes.  Similar to ParkBus, though they operate weekends as well as some Tuesdays and Thursdays.  They also open in April and October as well as all summer long.  They currently are a bit cheaper than ParkBus, at $59 return between Vancouver and Joffre Lakes.  Check them out here..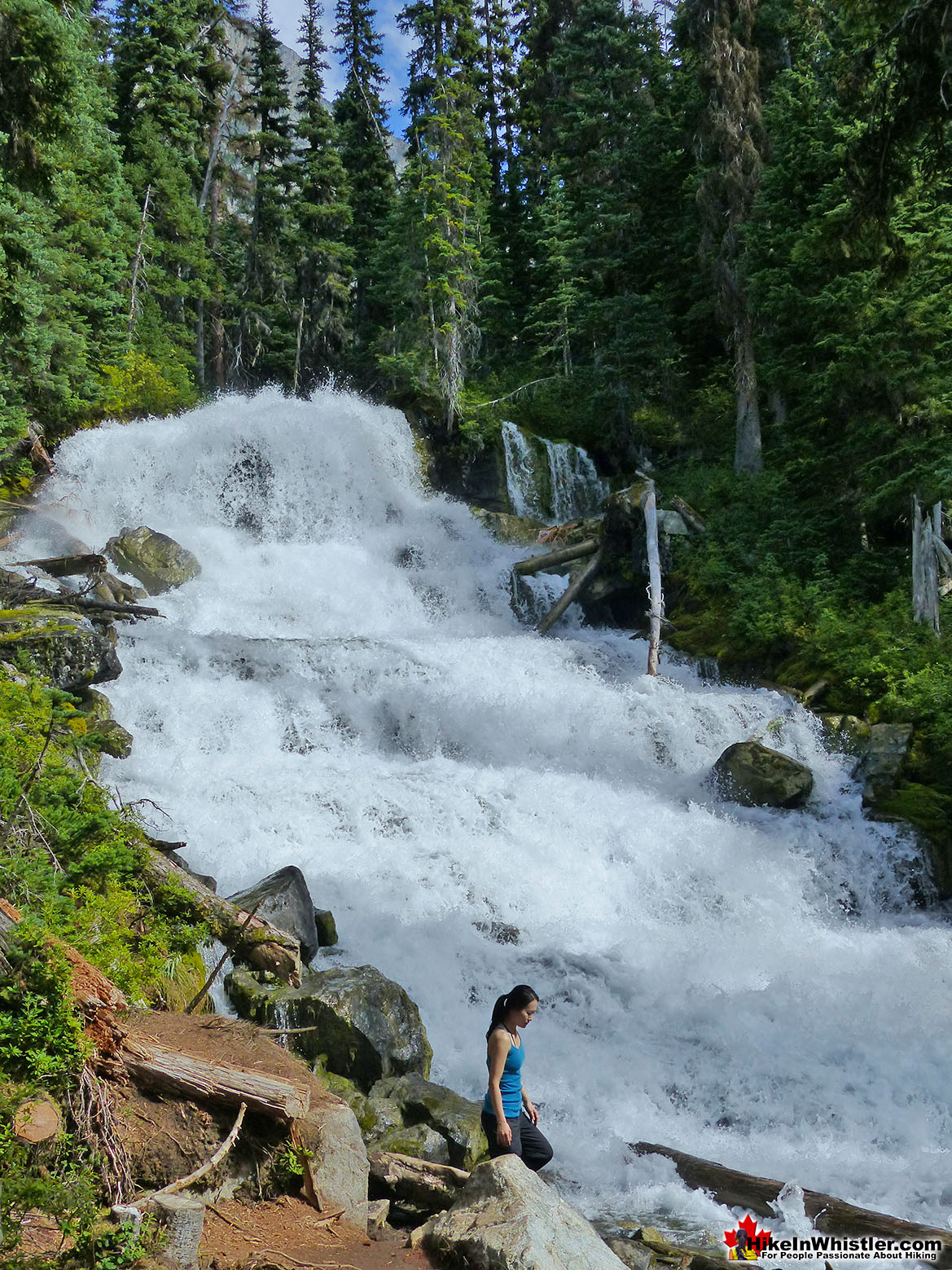 Complete Hiking and Camping Guide for Joffre Lakes Provincial Park

Must See Whistler Waterfalls!
Guides to the Best of Whistler, Garibaldi Park & Sea to Sky!

Explore BC Hiking Destinations!