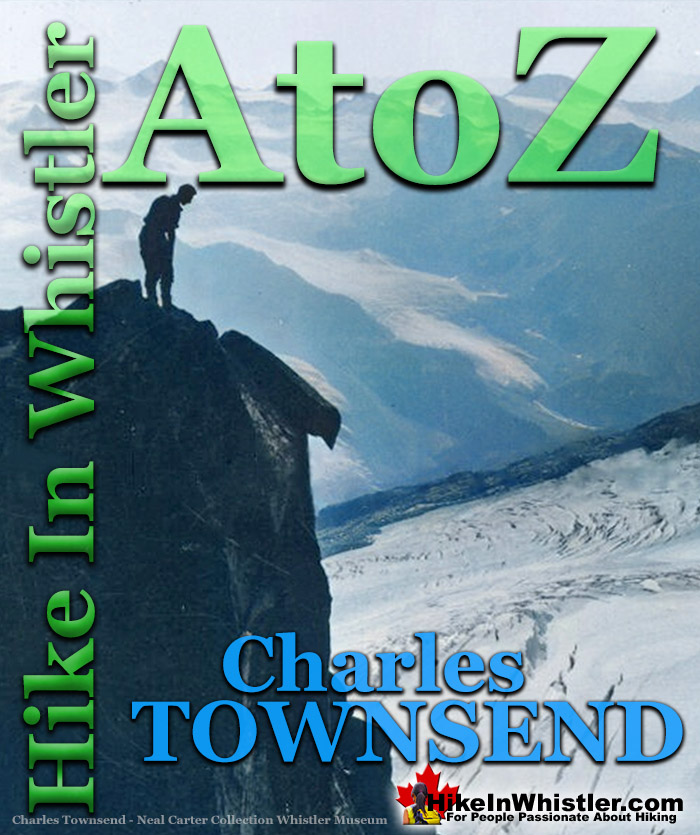 Charles Townsend moved from England to Vancouver in the early 1920's where he met Neal Carter while studying at UBC.  They worked together in the summer of 1923 as surveyors for the hydroelectric project that would eventually result in the hydro dam on Daisy Lake along the Sea to Sky Highway.  Townsend was a member of the British Columbia Mountaineering Club during his few short years in Vancouver. 
Whistler & Garibaldi Hiking

Alexander Falls  

Ancient Cedars  

Black Tusk  

Blackcomb Mountain  

Brandywine Falls  

Brandywine Meadows  

Brew Lake  

Callaghan Lake  

Cheakamus Lake  

Cheakamus River  

Cirque Lake 

Flank Trail 

Garibaldi Lake 

Garibaldi Park 

Helm Creek  

Jane Lakes 

Joffre Lakes  

Keyhole Hot Springs  

Logger's Lake  

Madeley Lake  

Meager Hot Springs 

Nairn Falls  

Newt Lake 

Panorama Ridge 

Parkhurst Ghost Town 

Rainbow Falls  

Rainbow Lake 

Ring Lake  

Russet Lake  

Sea to Sky Trail 

Skookumchuck Hot Springs  

Sloquet Hot Springs 

Sproatt East 

Sproatt West  

Taylor Meadows  

Train Wreck  

Wedgemount Lake  

Whistler Mountain

January 

February 

March 

April 

May 

June 

July 

August 

September 

October 

November 

December
Townsend climbed and explored several mountains around Whistler back in 1923, when much of the area remained unexplored.  Along with his friend Neal Carter, they embarked on a mountaineering expedition that was recorded in detail and expertly photographed.  Wedge Mountain, the strikingly wedge-shaped mountain next to Blackcomb Mountain was first climbed by them, and the following days they pressed on through unknown glaciers to summit and name Mount James Turner. Mount James Turner is the third highest mountain in Garibaldi Provincial Park at 2703 metres(8868 feet).  It is only surpassed by Wedge Mountain at 2892 metres(9488 feet) and Wedge's neighbour Mount Weart 2835 metres(9301 feet).  Mount James Turner is quite a remote mountain in Garibaldi Park and takes about 8 hours to reach it from Wedge Mountain. Remarkably, this expedition was documented by Charles Townsend and photographed by Neal Carter.  Despite the largely uncharted terrain which involved bushwhacking, large creek crossings, treacherous, unknown mountains and numerous glacier crossings, the story reads as a relatively mild walk in the woods.  Certainly they were extremely tough, skilled and fearless mountaineers that had a love of exploring mountains that is inspiring to read.  Hearing the word for word account gives you the beautiful sense that you are with them on their journey through these mountains as they were first climbed.  Charles Townsend wrote in detail about their two week expedition in the summer of 1923.  His article is shown below in italics.  Neal Carter's photographs have been added to the article as well as dates and headings to clarify where they were on each day.  Neal Carter's black and white photos have been partially colorized to enhance their appearance. 
Charles Townsend's 1923 BC Mountaineer Article
Mr. Neal Carter and I had been planning all the summer to make the first ascent of Wedge Mountain as soon as we could get away in the fall.  Accordingly, on Saturday evening September 8th, 1923 we landed with our belongings at Rainbow Lodge, our headquarters for the ensuing fortnight.
September 9,1923: Alta Lake to Camp #1 on Parkhurst Mountain
The next morning, we left half our grub at the lodge, and with the rest of our belongings started out from Alta Lake.  We followed the railway for 4 miles, travelled east along logging roads, then picked our way through the trees for another half mile until we finally reached Wedge Creek.  The creek was much larger than we had expected and we were lucky in finding a log on which to cross.  
Neal Carter Wedge Creek Log Crossing 9 Sept 1923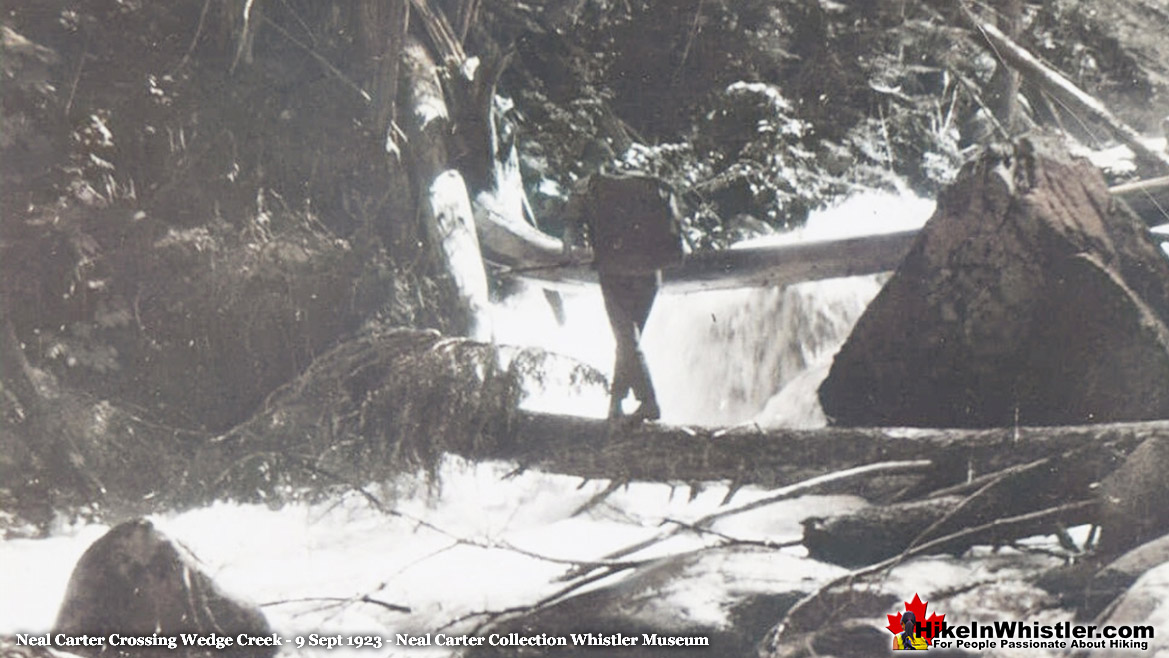 On the creeks east side, the hill rises sharply for about 800 feet.  As the bush was thick, we were very glad to have a rest when we reached the top.  From there on the ridge is a series of thickly wooded bluffs.  It was along this ridge that we caught our first glimpse of Wedge Mountain since the valley floor.  
First Glimpse of Wedge Mountain 9 Sept 1923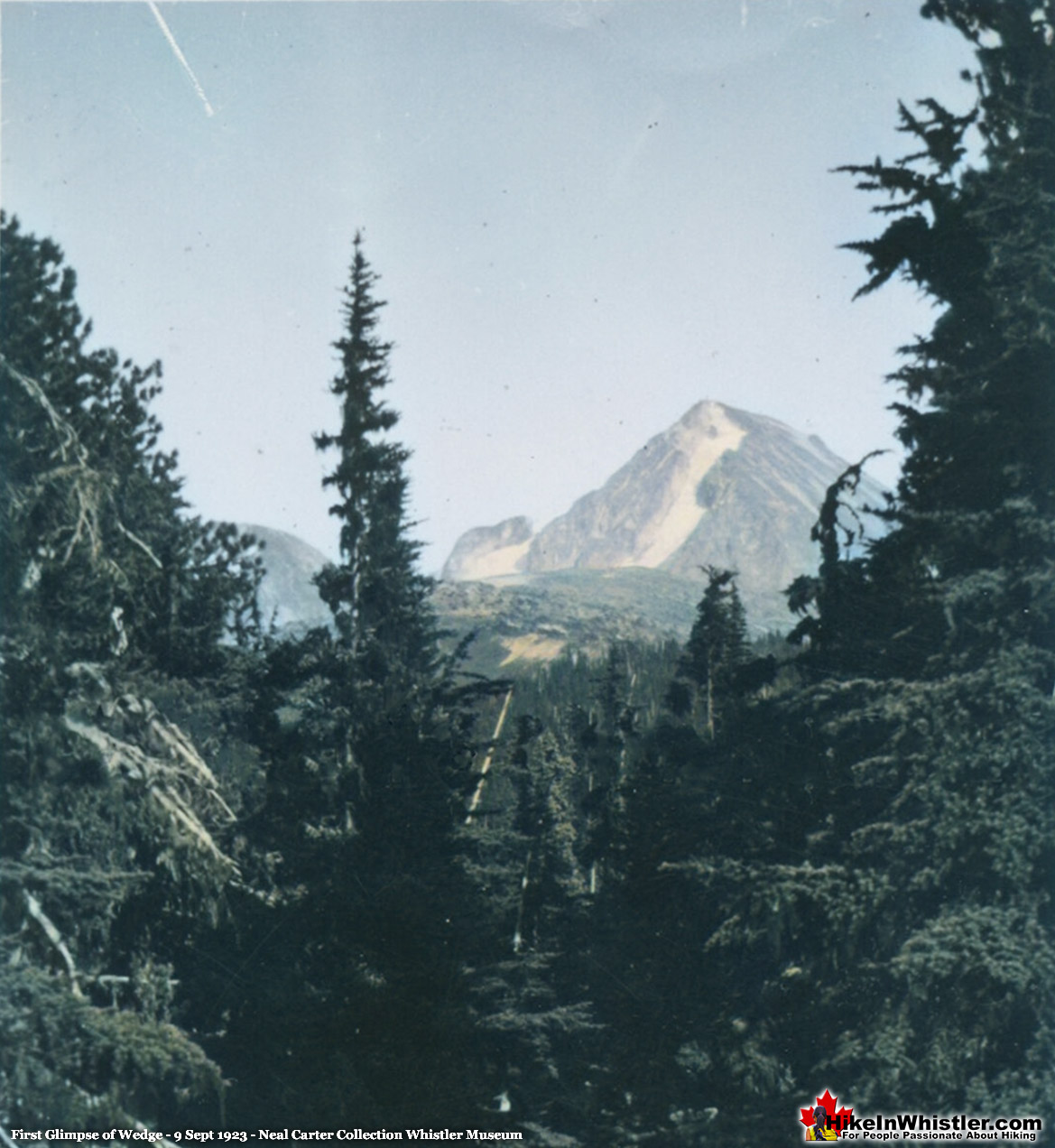 Continuing upwards at about 5,000 feet elevation the trees began thinning out and giving place to open meadows.  We were nearly all in when we finally found water near 6pm, at the extreme limits of the timberline and we made camp as quickly as possible.  We were now in an ideal place for an attempt on Wedge Mountain and settled in for the night. 
September 10, 1923: Wedge Mountain
Early the next morning we continued up the ridge however it soon came to an end and we found quite a gap in between us in the base of the mountain.  
Wedge Mountain from Ridge Above Camp 10 Sept 1923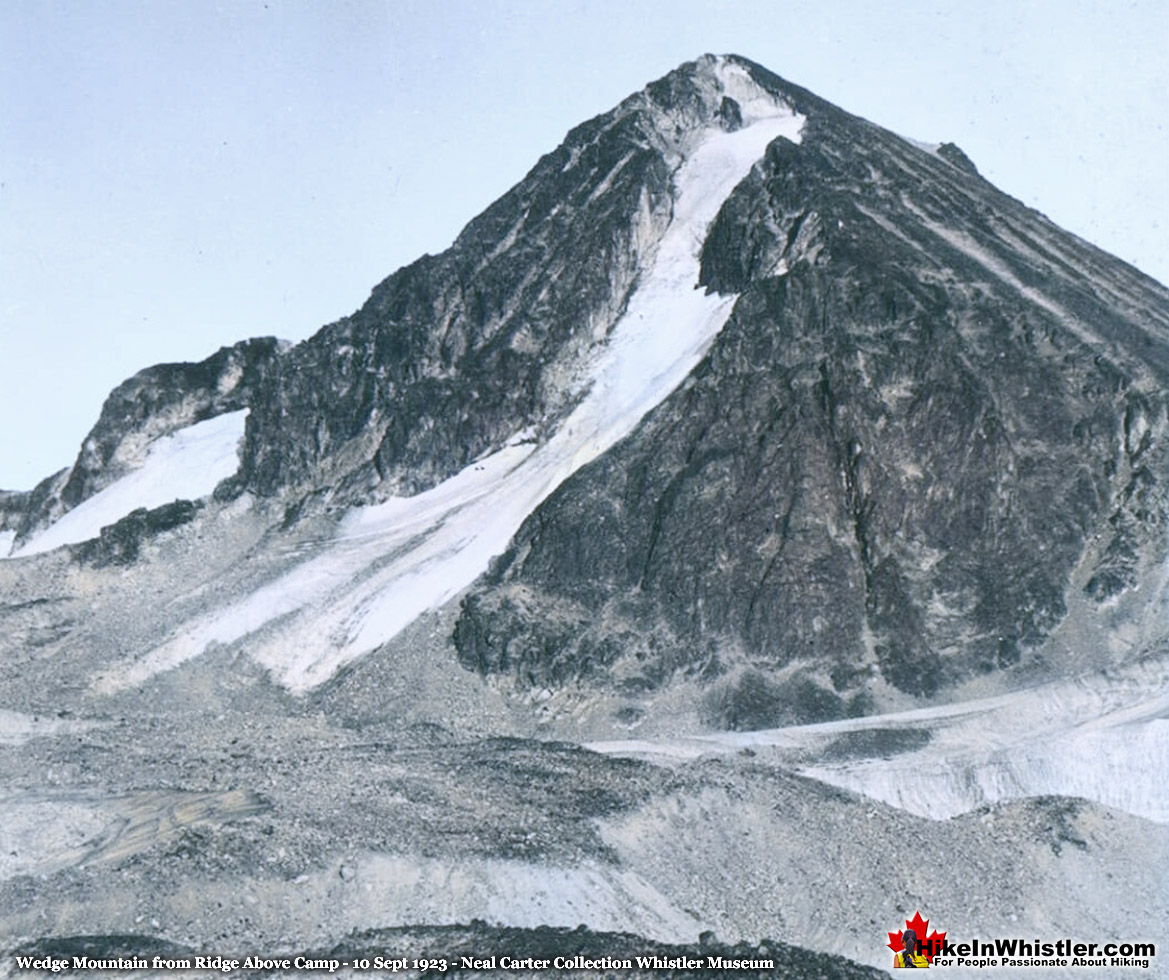 We had to descend this gap and cross a number of ridges composed of masses of loose rocks, probably moraines at one time and then we crossed a small glacier before we got onto the climbable slopes of Wedge Mountain.  We named this small glacier the Eclipse Glacier as shortly later we had a good view of a partial eclipse of the Sun.  
Charles Townsend Eclipse Glacier 10 Sept 1923
From there to the peak another 2,000 vertical feet we travelled over unstable talus slopes, the rocks being on average cubes of about two feet in thickness.  The summit of the mountain is a long ridge ending in quite a sharp peak at the eastern end.  It is very precipitous on three sides, we reached the summit at 1:15pm.
Charles Townsend West Face Wedge Mountain 10 Sept 1923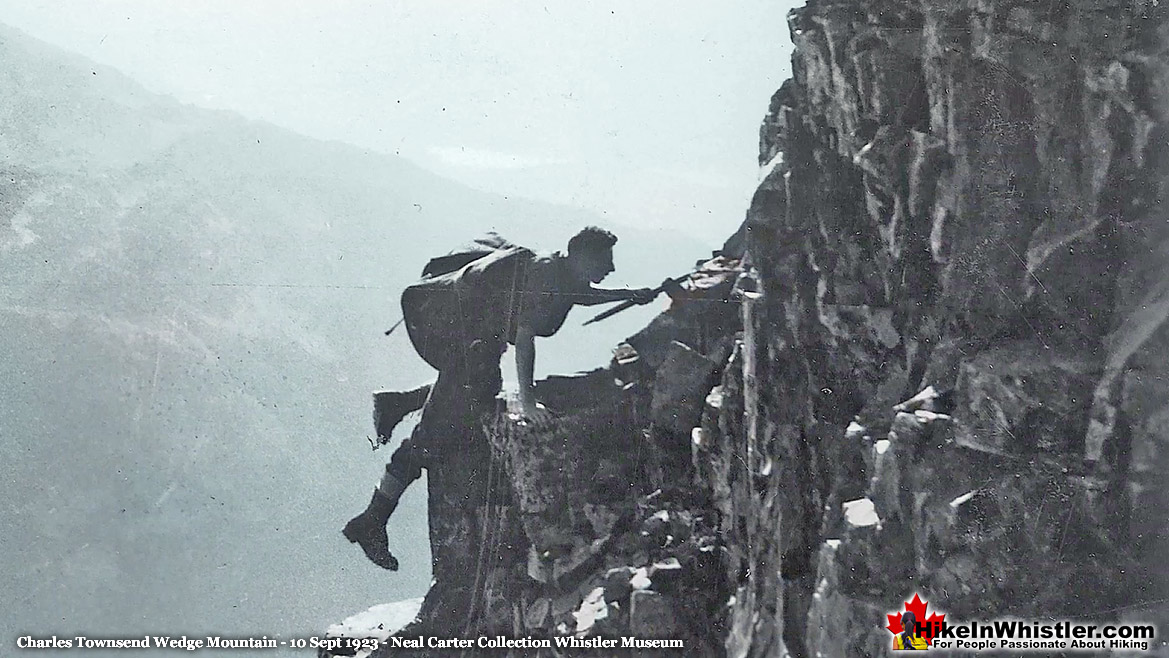 Charles Townsend Wedge Summit Looking East 10 Sept 1923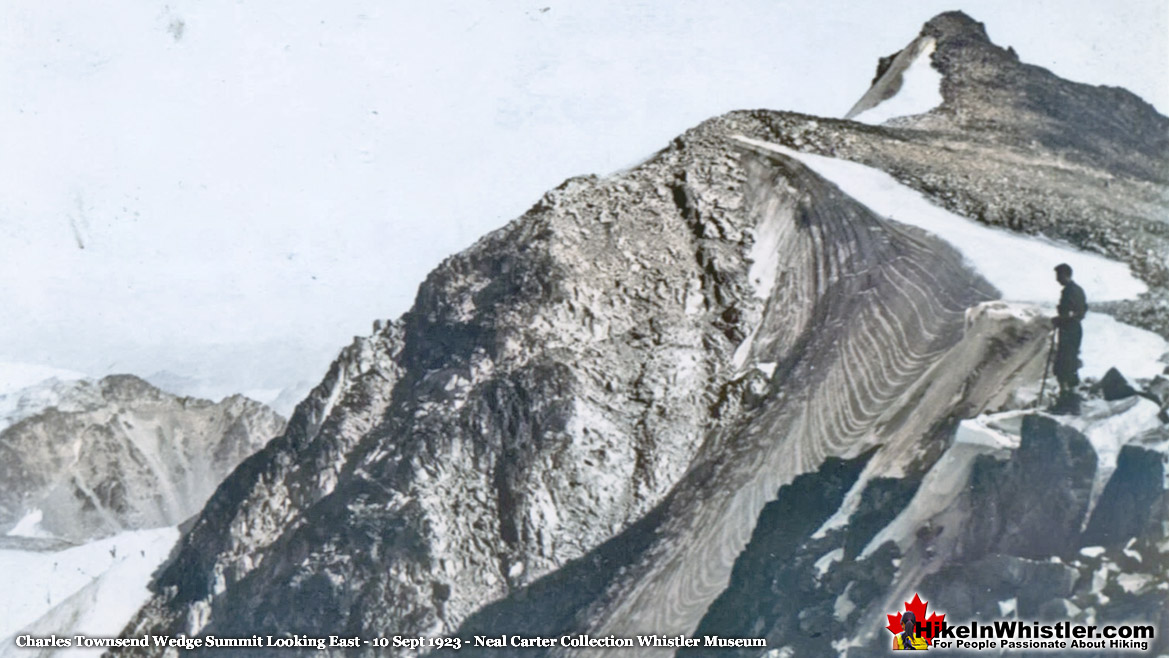 Charles Townsend Wedge Mountain First Ascent 10 Sept 1923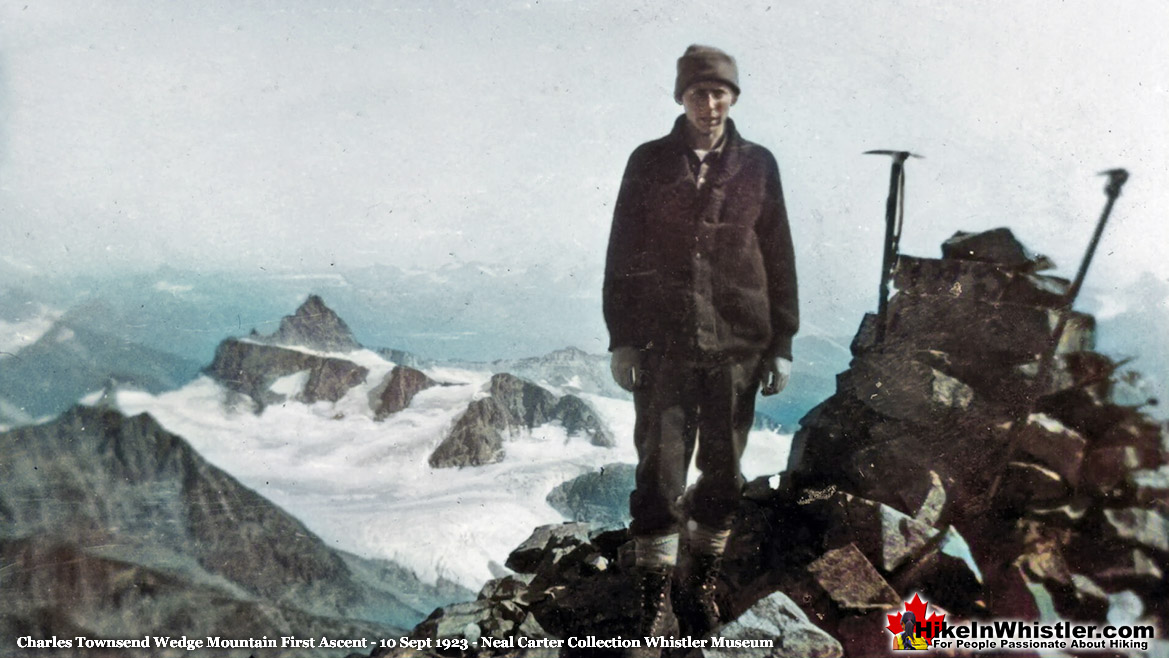 Owing to the clearness of the atmosphere we had a magnificent view and were able to secure some fine photographs. Immediately to the south of us was the Spearhead Range, which at this time remains practically unexplored.  We were most impressed by it seven fine glaciers along its north side and the range's potential for future mountaineering excursions was immediately apparent.  
Panorama South from Wedge Mountain 10 Sept 1923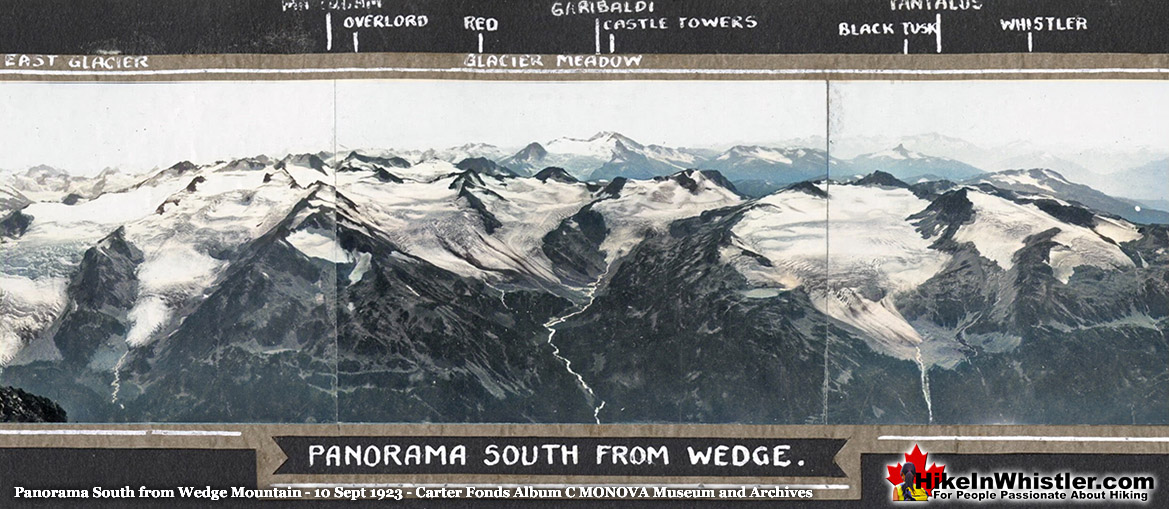 To the east of us lay a peak which we resolved should be the object of our next climb.  It lay across a valley from Wedge Mountain, and promised to be an enjoyable three-day trip. 
First View of Mt James Turner from Summit of Wedge Mountain 10 Sept 1923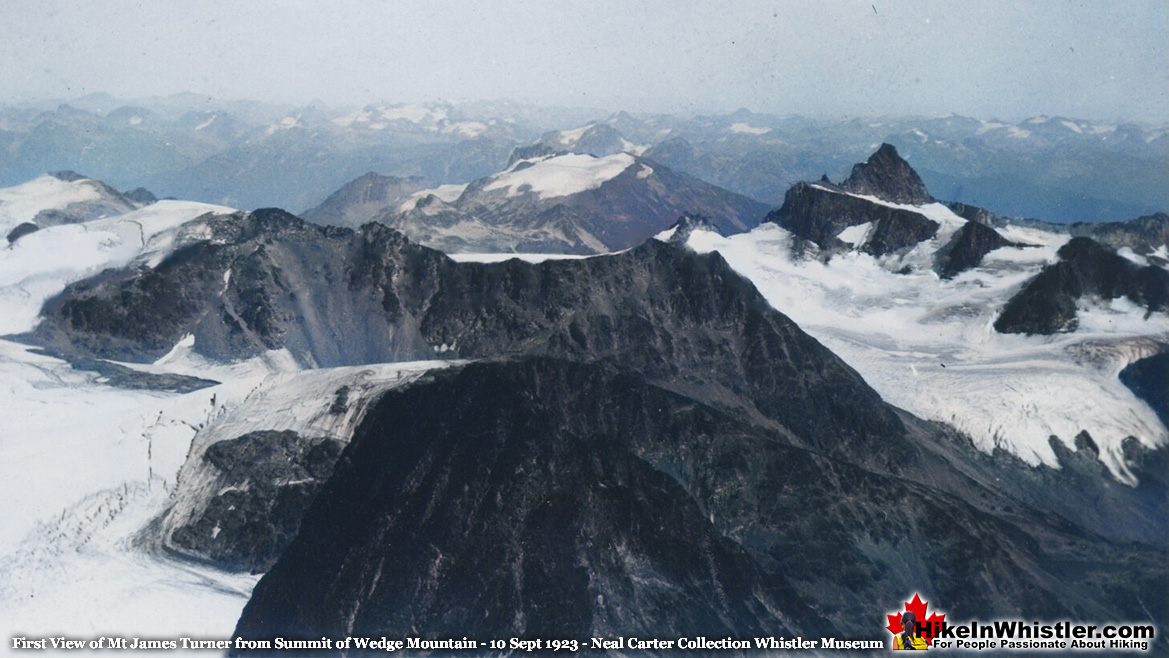 We thus returned to our previous camp and prepared for our next objective. 
The 1st Ascent of Wedge Mountain - A Virtual Tour
September 11, 1923: Hike Around Wedge to Camp #2
The next day taking with us just enough food for three days and our bedding, leaving our tent behind.  
Neal Carter About to Leave Camp 11 Sept 1923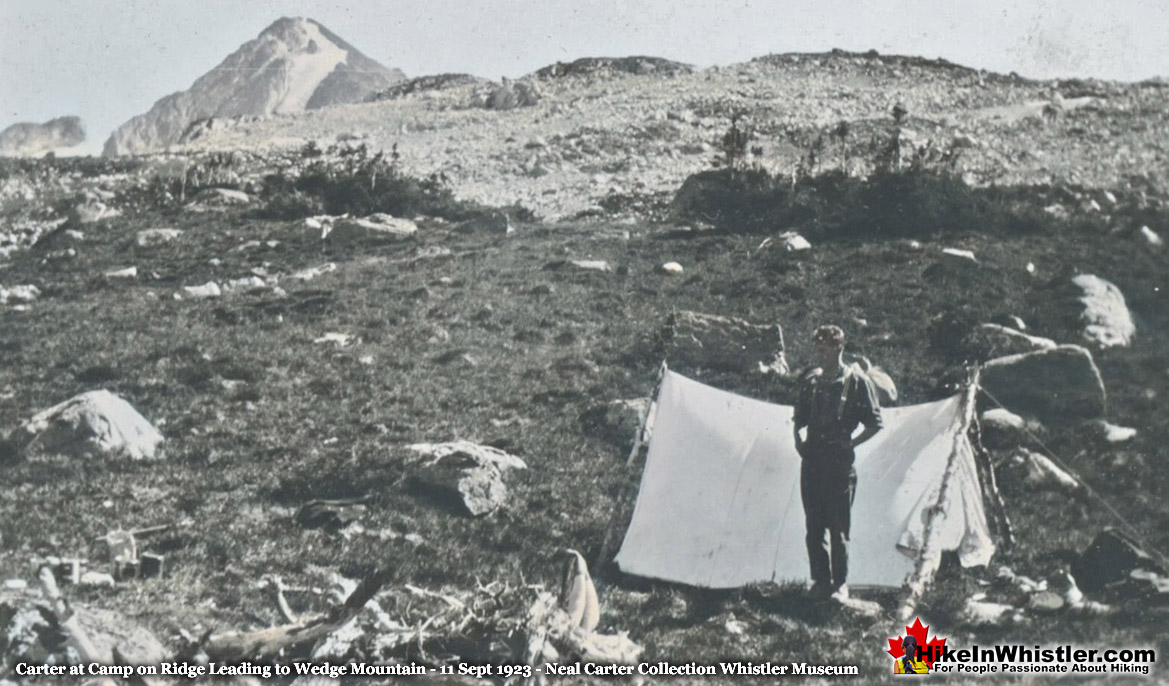 Charles Townsend Looking at Green Lake from Above Parkhurst Camp 11 Sept 1923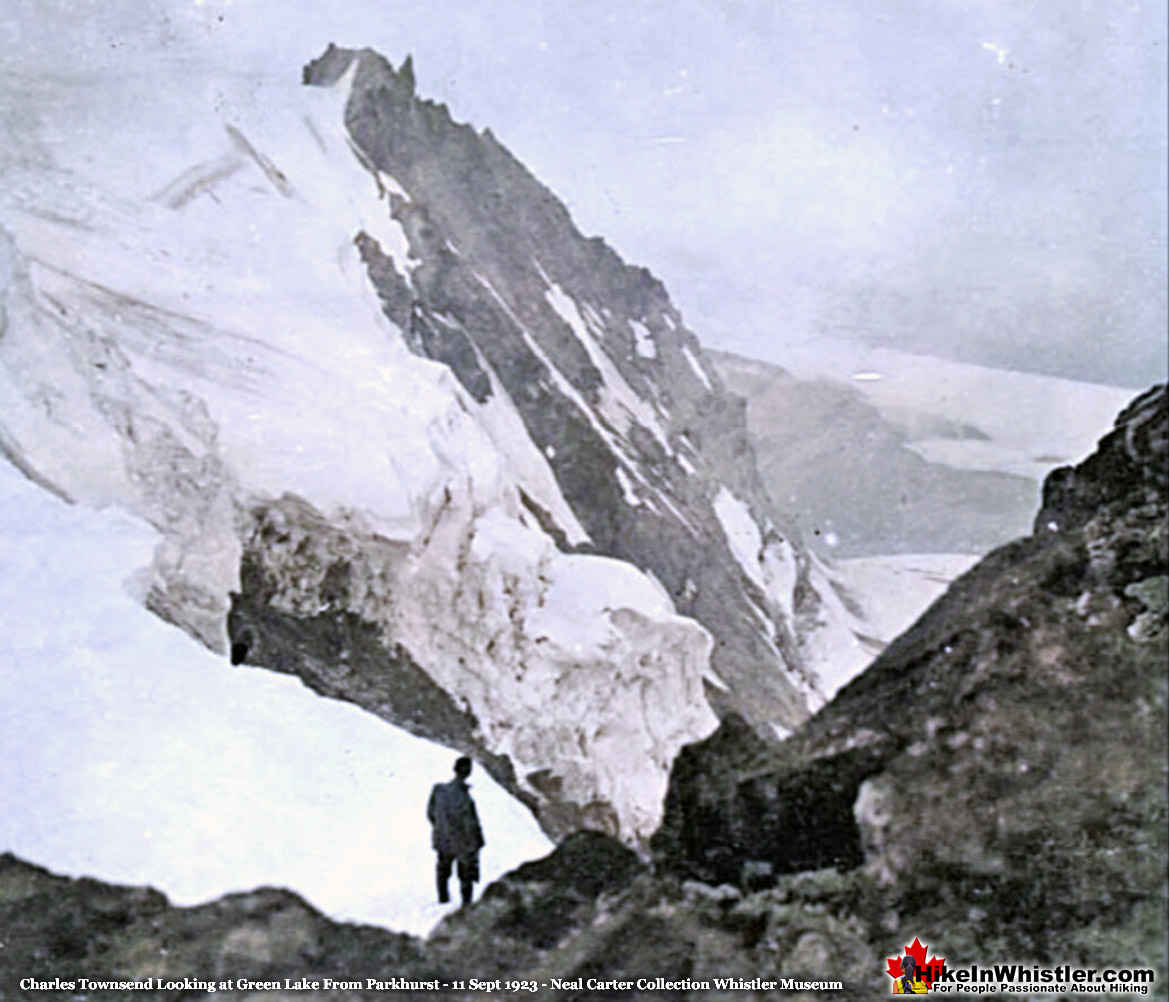 We hiked around the southern slopes of Wedge keeping just above the timberline to avoid the bush.  To obtain water we had to drop down about 800 feet into the valley where we found a delightful camping spot.   We lulled ourselves to sleep under the stars that night with soothing strains from the camp orchestra.
September 12, 1923: Mount James Turner
The first part of our climb the next day brought us over four high ridges to an elevation of about 7,000 feet.  From there we had a good view of Mount James Turner as Neal had named in memory of the Vancouver Reverend.  Once across the quarry glacier we had to cross the Turner Glacier much larger than the former.  
Neal Carter on Turner Glacier (now Chaos Glacier) 12 Sept 1923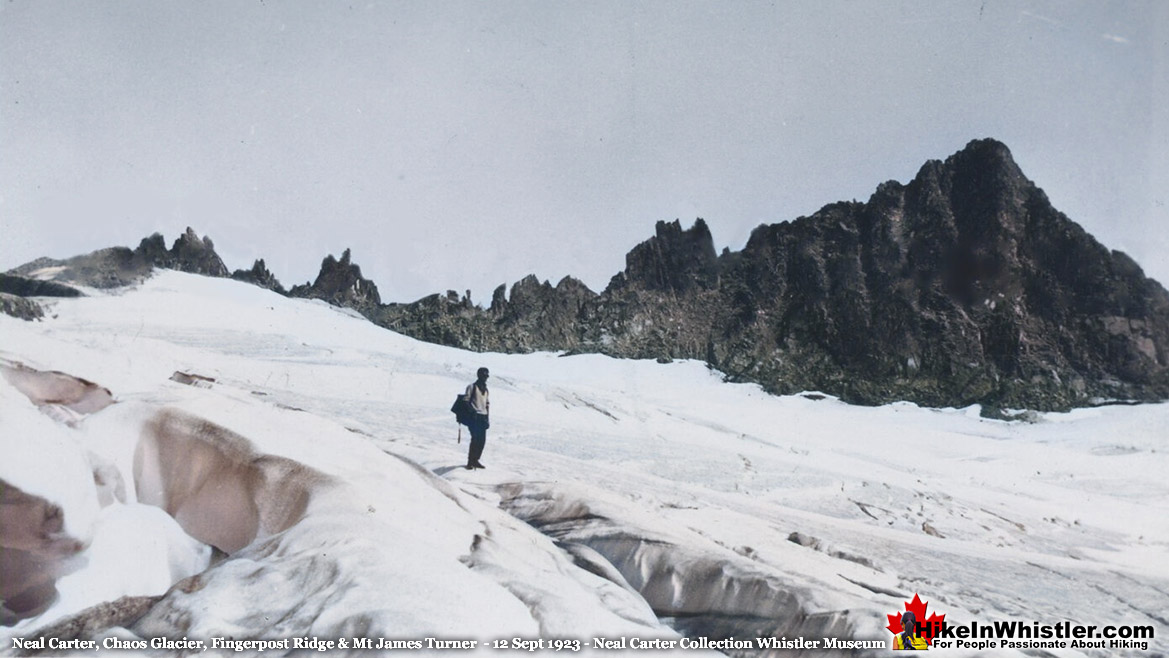 We were now at the foot of the cliffs at the base of the peak.  With some trouble owing to the extreme looseness of the rocks we climbed the cliffs to the east of the peak.  From here we were ready for the final climb.  The peak itself is a mass of jagged rock most of which is very loose and dangerous and I doubt whether it could be climbed from any other direction.  An hour's rock climbing took us to the summit arriving at 1:30pm.  
Charles Townsend James Turner Summit 12 Sept 1923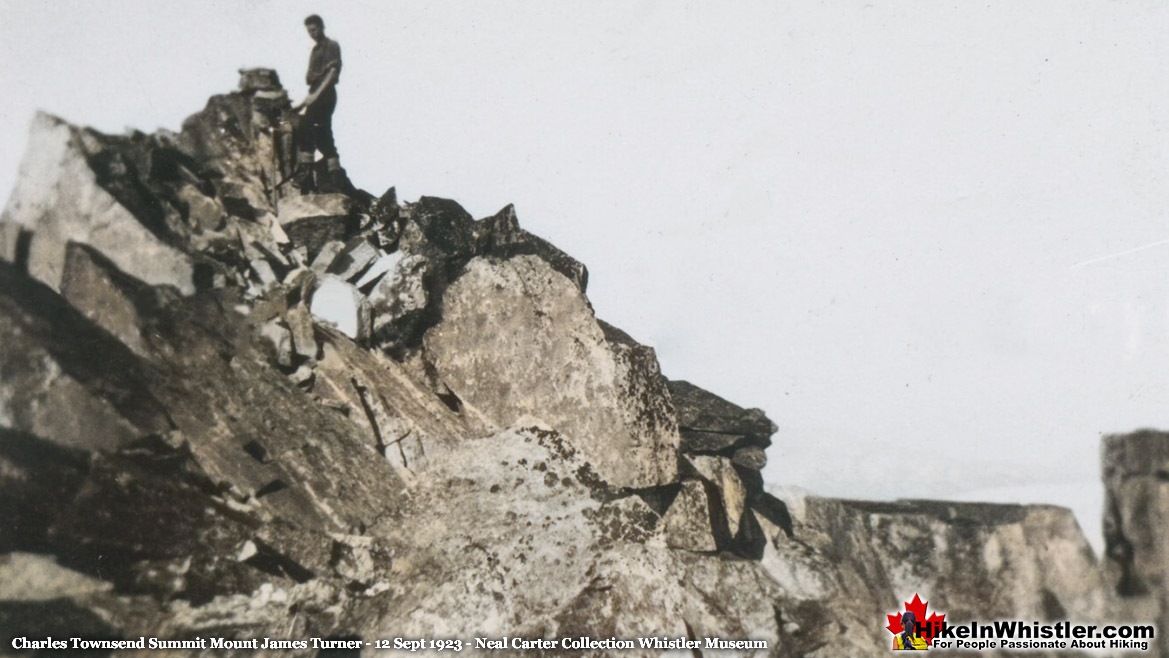 Once again, we had a magnificent view.  On three sides the cliffs were very precipitous, while even the face up which we had come looked very steep from above.  
Charles Townsend Mount James Turner 12 Sept 1923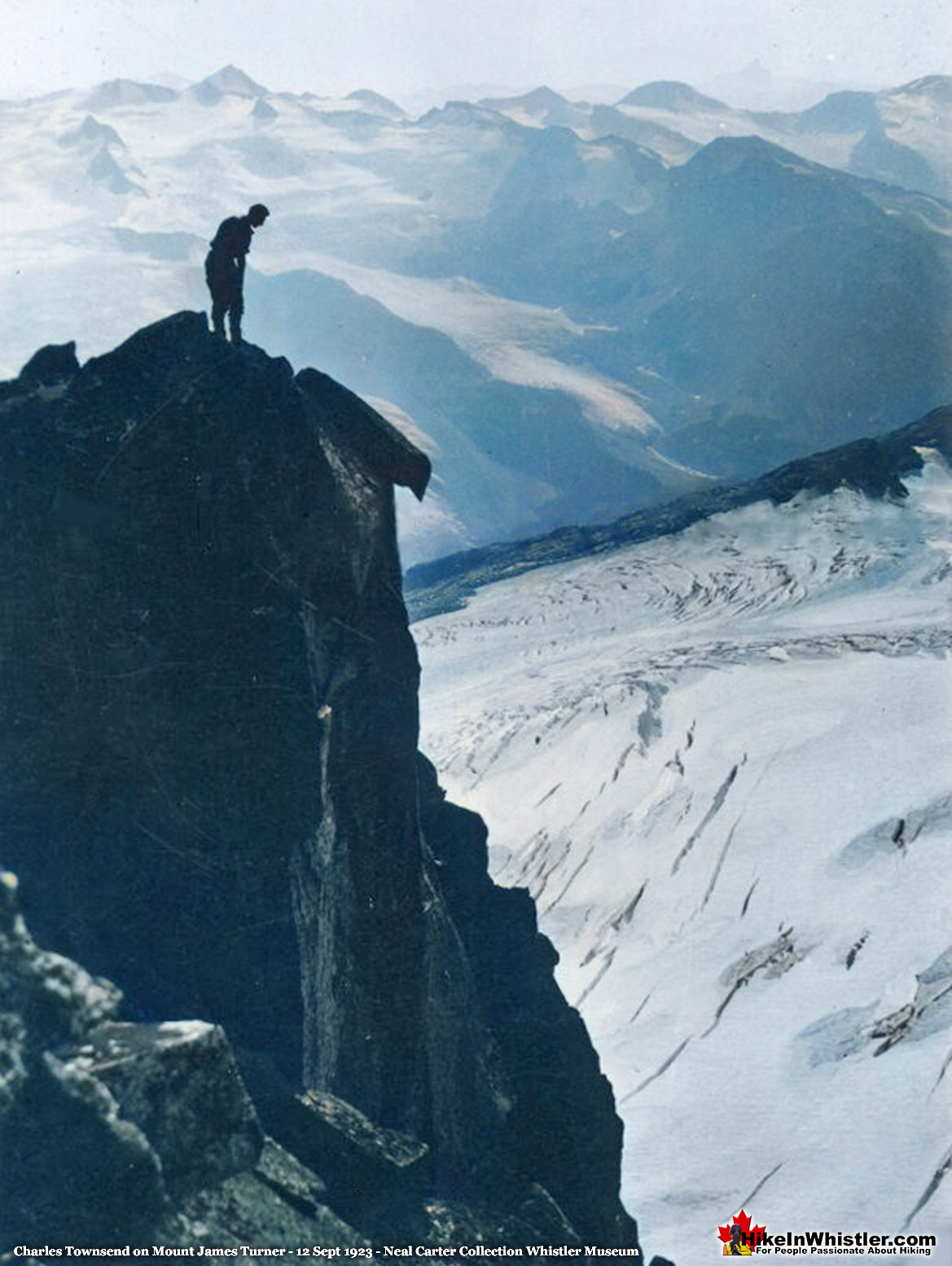 Still we descended and reach camp again at about 6pm. 
September 13, 1923: Camp #2 to Camp #1
Townsend does not write about September 13th which was spent moving from their second camp to their first camp on Parkhurst Mountain.
September 14, 1923: Camp #1 to Alta Lake
The next day we packed back to our first camp and the day following down to Alta Lake.  The latter journey taking six hours.  At Rainbow Lodge we had an excellent supper which partially made up for a week of dried goods.  Afterwards we collected the other half of our grub preparatory to making an early start the next day up Fitzsimmons Creek.
The 1st Ascent of Mount James Turner - A Virtual Tour
September 15, 1923: Alta Lake to Fitzsimmons Cabin
The following morning, we left Rainbow Lodge at 11am and found the trail up Fitzsimmons Creek was excellent to travel on.  
Charles Townsend Fitzsimmons Trail 15 Sept 1923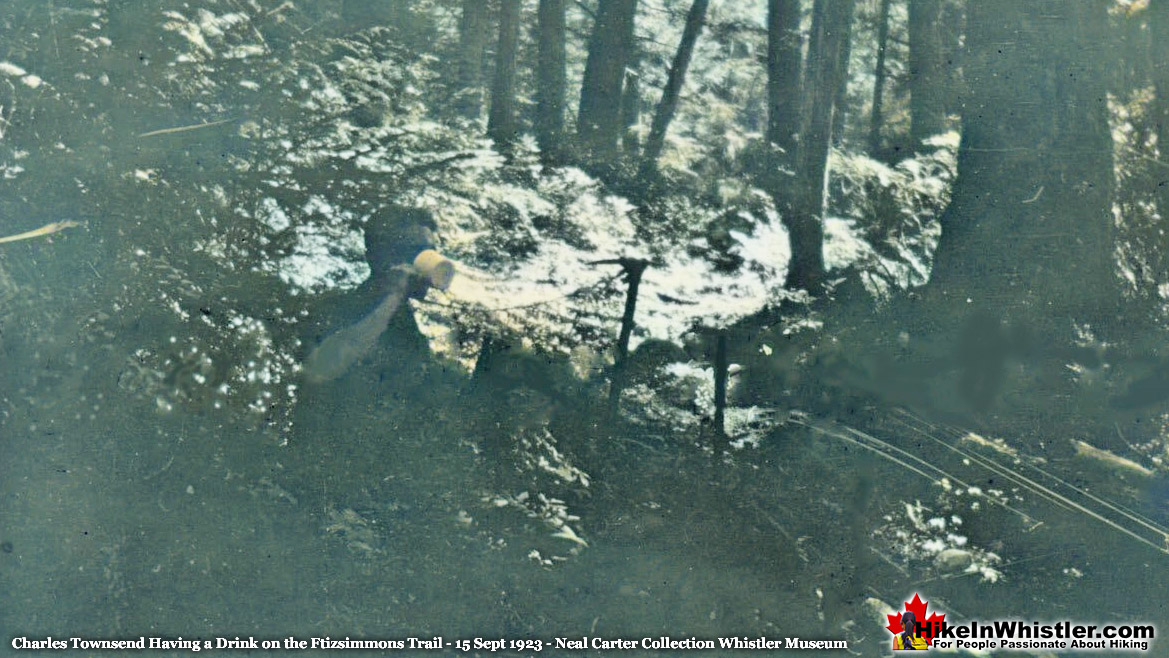 But for some exciting moments with wasp nests, we had an enjoyable day's journey to the cabin on the meadows below Avalanche Pass.  The two miners we found to be not at home so we made ourselves comfortable in their absence.  
September 16, 1923: The Fissile, Refuse Pinnacle and Overlord
The next day we spent in climbing Mount Overlord which had been climbed for the first time by Mr. and Mrs. Munday a few months earlier.  They had much more snow for their climb and were able to go up the Fitzsimmons Glacier from the base of the mountain. Owing to the opened-up condition of the ice however we thought it better to keep to the rocks as much as possible.  To avoid the glacier, we climbed the east peak of Red Mountain which we descriptively named Black Mountain. Once again, we were blessed with a very clear day and we secured an excellent panorama of the Garibaldi district and the Pitt River mountains.  The large Cheakamus Glacier with its huge ice fall showed up particularly well. And in the distance we could see Mount Cathedral of the local Vancouver mountains and Mount Baker in the far distance. This peak connects with Mount Overlord by a narrow Ridge composed of a series of sharp pinnacles.
Neal Carter on Pinnacles Leading to Overlord 16 Sept 1923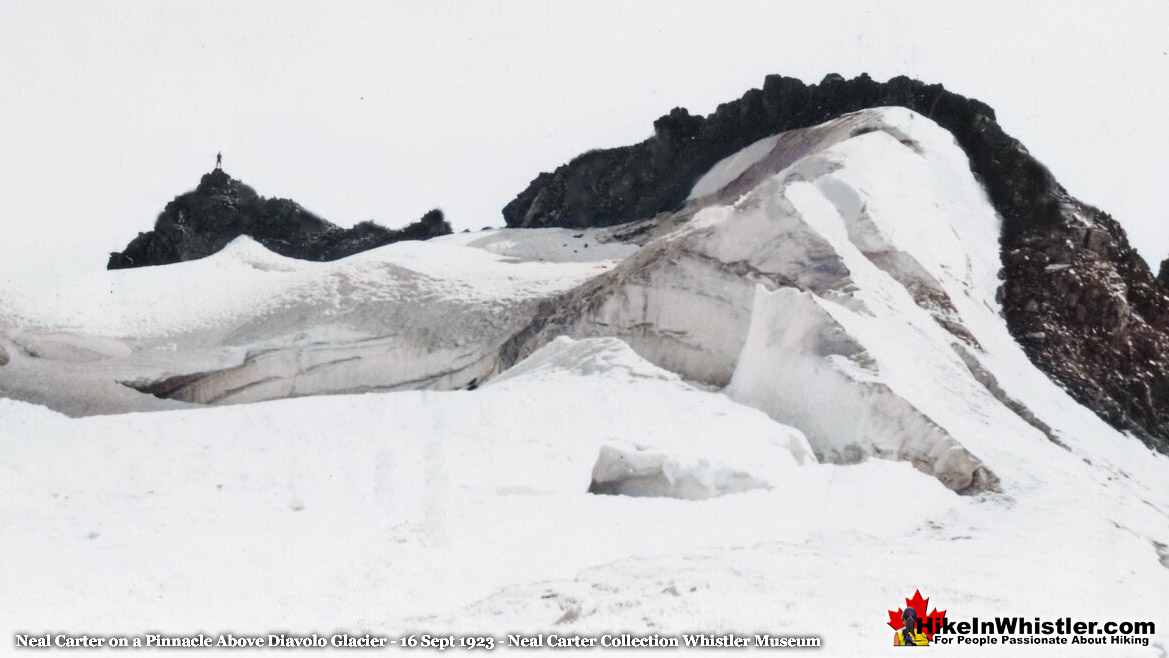 The rocks were so rotten on this ridge that we called the largest Pinnacle Refuse Pinnacle on account of the trouble it gave us in circumnavigating it. Once round this we got onto the neve of a small glacier and a short walk took us up to the summit of Mount Overlord. Some of the peaks to the east of Mount Overlord looked as though they might give us some good climbs.  
Peaks from Overlord Looking Northeast 16 Sept 1923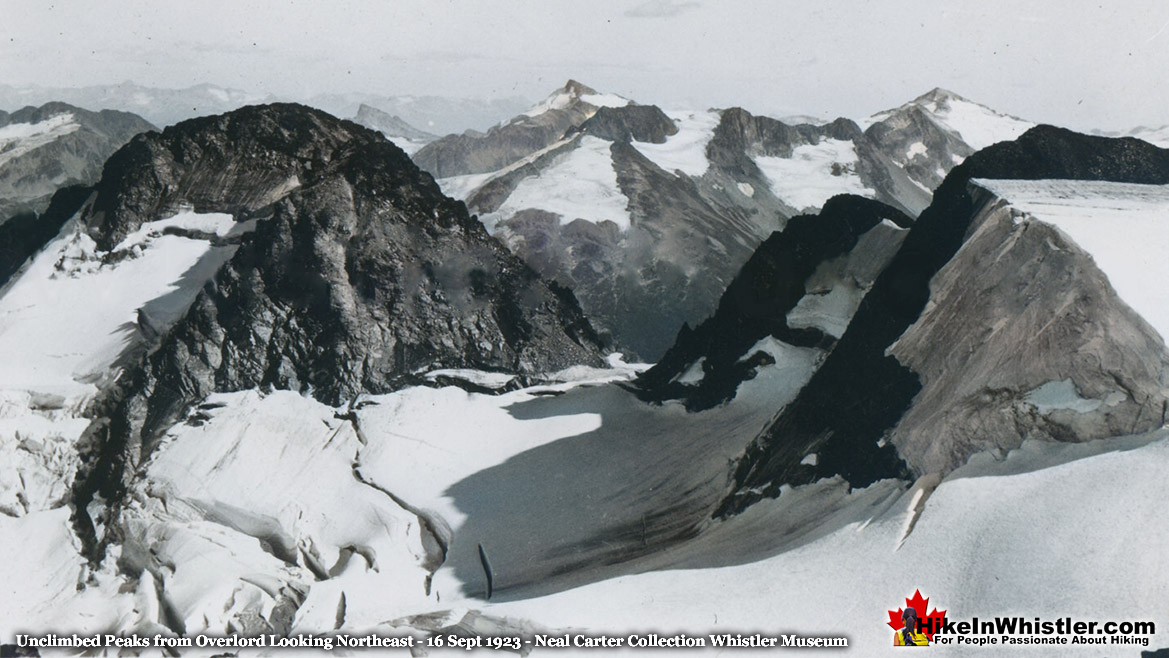 We had no more time in that day though so we went back to the cabin. On our way back we found it easier to go over the top of refuse pinnacle and to drop down to the glacier at the foot of it.
Charles Townsend on Refuse Pinnacle 16 Sept 1923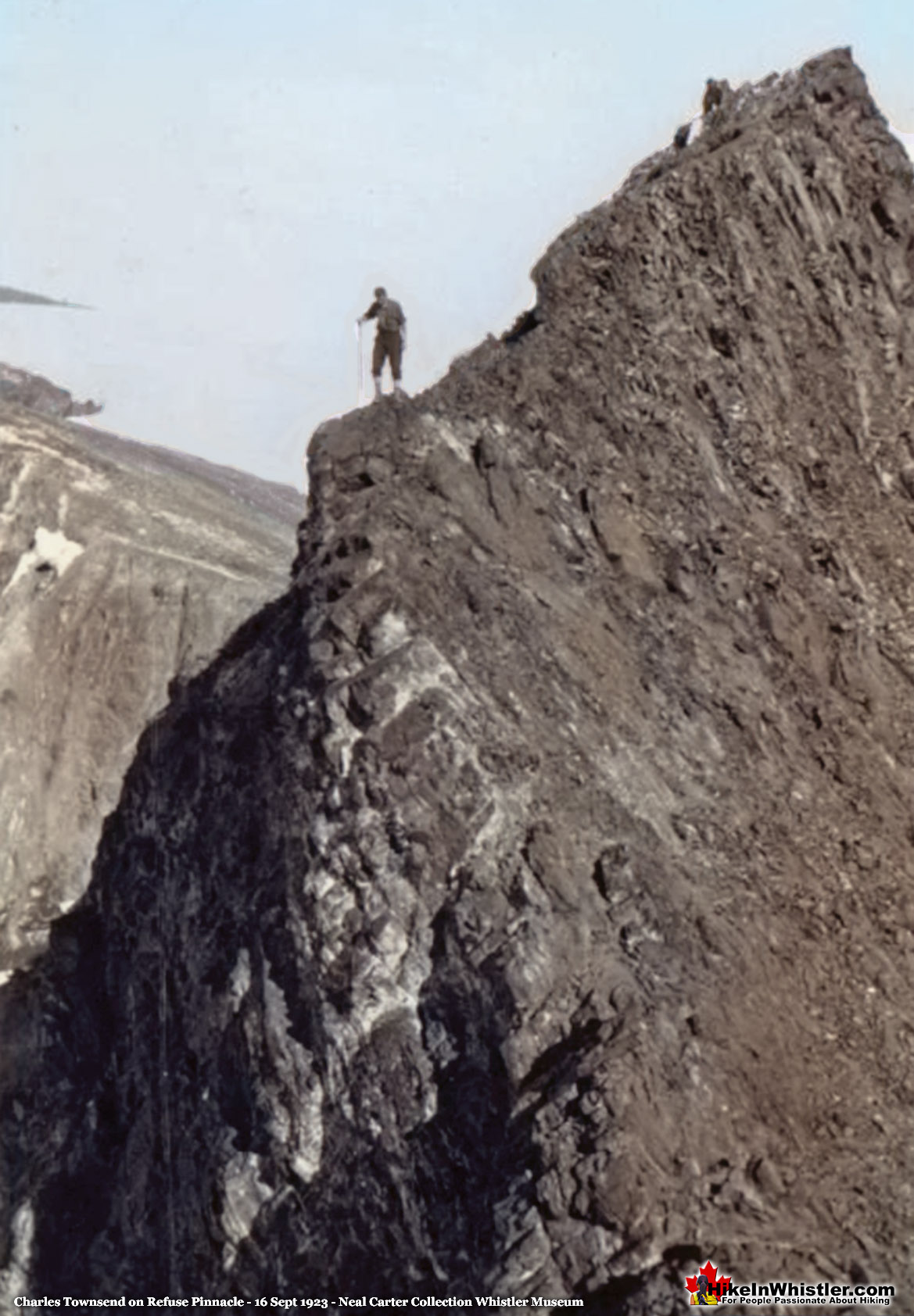 We'd cross the neve of this to Red Mountain where we picked up our tracks of the morning.  Our sleep that night was seriously disturbed by a couple of large pack rats and a number of mice.  And the packrats carried a large portion of our firewood for behind the stove to the floor under our bunk where they were evidently trying to make a nest.
September 17, 1923: Whistler Mountain
Whistler On Monday September 17th we made a half-day trip to Mount Whistler. The top is a series of mounds, and it takes some time to find out which is the highest.  From the highest point we had a fine view of Rainbow Valley and the Garibaldi district tempted us to photograph it again. Mount Whistler has said to be 7200 feet in height but it did not seem to us much higher than the Helmet Peak of 6800 feet in the Garibaldi district.
 Charles Townsend Whistler Mountain 17 Sept 1923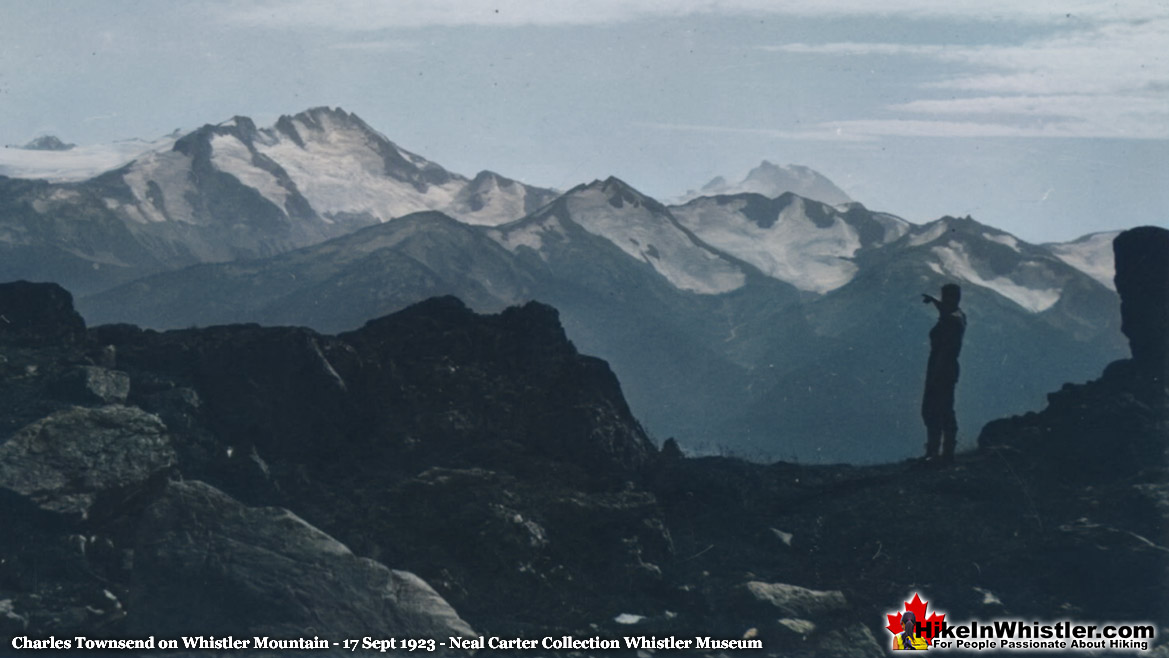 September 18, 1923: Fitzsimmons Cabin to Mount Diavolo
The next day we set out to climb the peak we had seen from the top of Mount Overlord.  We followed our old tracks over Fitzsimmons Glacier and Refuse Pinnacle until we came to the glacier just below the peak of Mount Overlord.  We crossed this in an easterly direction until we came to some pinnacles on a ridge running east from the peak we had just left.  We followed the rocks downward towards our objective and we soon discovered that the only way we could climb it was to cross a knife-edge ridge of ice about 150 feet long, and then find a way up the rocks. 
Charles Townsend on Ridge to Diavolo Peak 18 Sept 1923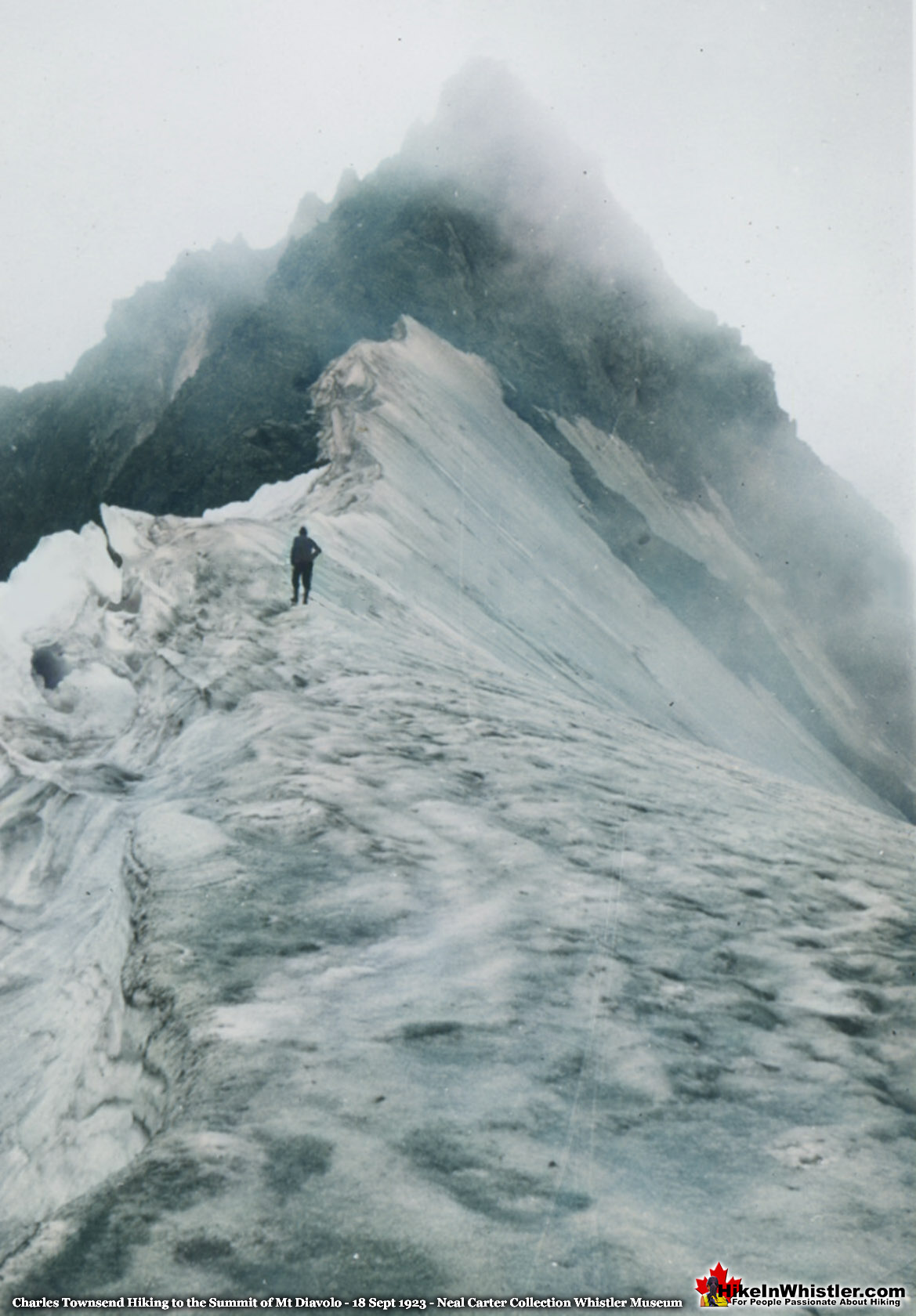 Crossing the ice took us some time as we had to cut steps, Neal breaking his ice axe in the process.  The rocks were loose as usual and we had an exciting climb to what we thought was the top.  We were mistaken however for the top was about 50 feet away and about 10 feet higher. The only way to it was a long very sharp knife edge which we had some trouble in negotiating.  Once on top we hurriedly built a cairn and retraced our steps as soon as possible for it was bitterly cold.  The peak we named Mount Diavolo owing to its character and the weather conditions under which we climbed it.  Its height we estimated to be about 7700 feet.
 Charles Townsend Straddling Diavolo Summit 18 Sept 1923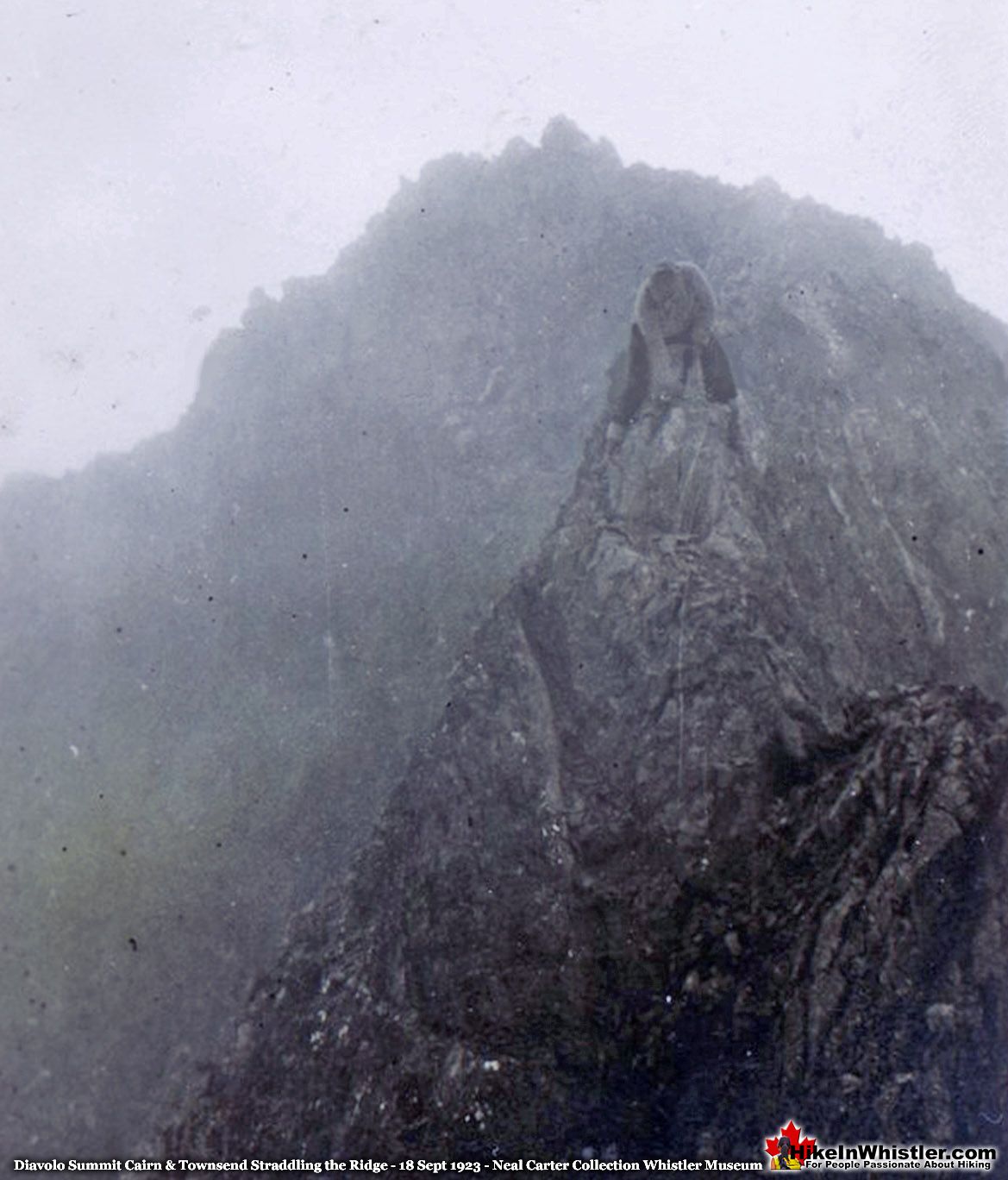 The weather up to now had been growing more and more threatening and cold and at this point the clouds descended on us like a thick fog accompanied by a high cold wind which however did not disperse them. 
September 19, 1923: Fitzsimmons Cabin Rain Turned to Snow
Townsend didn't write about September 19th as it was spent in the cabin avoiding the bad weather. Carter mentions the day briefly in his article in the Vancouver Sun: The next day we packed back to our first camp and the day following down to Alta Lake.  The latter journey taking six hours.  At Rainbow Lodge we had an excellent supper which partially made up for a week of dried goods.  Afterwards we collected the other half of our grub preparatory to making an early start the next day up Fitzsimmons Creek.
Charles Townsend Fitzsimmons Cabin 19 Sept 1923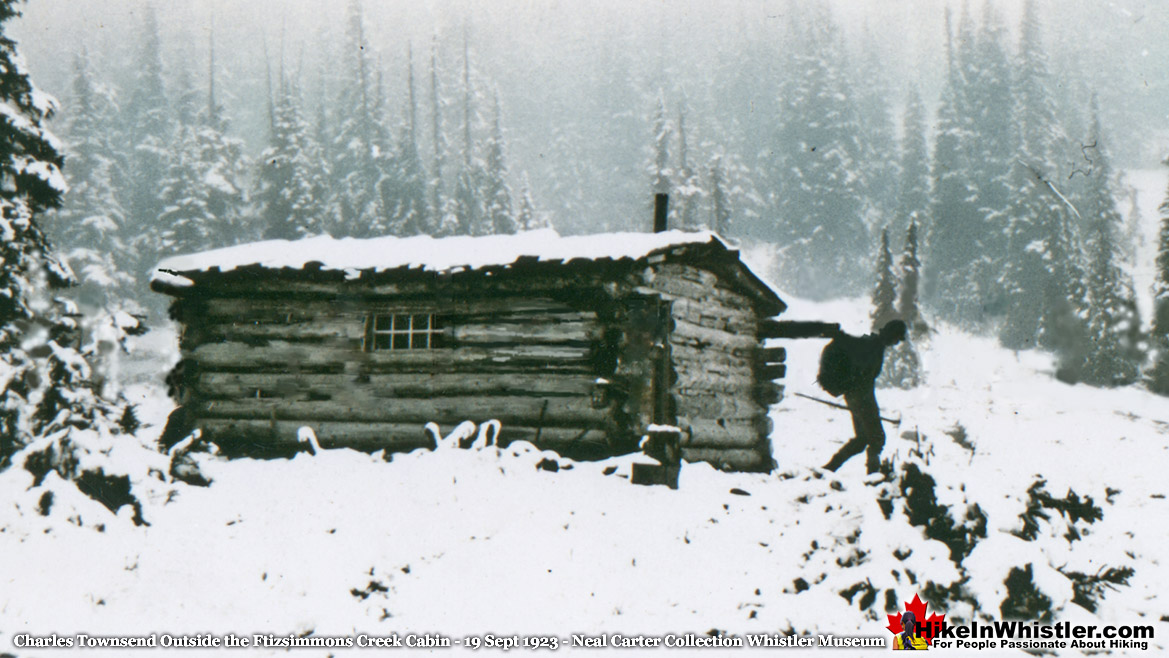 September 20, 1923: Fitzsimmons Cabin to Alta Lake
The next day (19 Sept) it began to snow keeping up until we left the day after (20 Sept), but which time there was about two inches of snow on the ground.  Thus, terminated the summer climbing season and our two wonderful weeks of tramping and climbing around the virtually unexplored peaks of the Alta Lake district.
The 1st Ascent of Mount Diavolo - A Virtual Tour
More Whistler & Garibaldi Park Hiking A to Z!

The Best Whistler & Garibaldi Park Hiking Trails!
Whistler & Garibaldi Park Best Hiking by Month!

Explore BC Hiking Destinations!