Alpha Lake Park is a beautiful little park on the shores of Alpha Lake in Creekside, just 5 kilometres south of Whistler Village.  Located partway along Lake Placid Road just past the Husky gas station and Nita Lake Lodge.  This quiet residential street leads to this park that is home to tennis courts, a basketball court, a huge waterfront dog park, an elaborate kids play park, a floating dock, two piers and biking/walking/running trails everywhere you look.
Whistler & Garibaldi Hiking

Alexander Falls  

Ancient Cedars  

Black Tusk  

Blackcomb Mountain  

Brandywine Falls  

Brandywine Meadows  

Brew Lake  

Callaghan Lake  

Cheakamus Lake  

Cheakamus River  

Cirque Lake 

Flank Trail 

Garibaldi Lake 

Garibaldi Park 

Helm Creek  

Jane Lakes 

Joffre Lakes  

Keyhole Hot Springs  

Logger's Lake  

Madeley Lake  

Meager Hot Springs 

Nairn Falls  

Newt Lake 

Panorama Ridge 

Parkhurst Ghost Town 

Rainbow Falls  

Rainbow Lake 

Ring Lake  

Russet Lake  

Sea to Sky Trail 

Skookumchuck Hot Springs  

Sloquet Hot Springs 

Sproatt East 

Sproatt West  

Taylor Meadows  

Train Wreck  

Wedgemount Lake  

Whistler Mountain

January 

February 

March 

April 

May 

June 

July 

August 

September 

October 

November 

December
Whistler Parks & Beaches

Alpha Lake Park 

Alta Lake Park 

Blueberry Park 

Green Lake Park 

Lakeside Park 

Lost Lake Park 

Meadow Park 

Nita Lake Park 

Rainbow Park 

Wayside Park
Alpha Lake Park has a much more local feel to it than other Whistler parks such as the popular Rainbow Park, Lakeside Park and Lost Lake Park.  The abundance of trees and the irregular shoreline make the relatively small size of Alpha Lake seem quite a bit bigger than it is.  Trails run around both sides of Alpha Lake.  The wide and paved Valley Trail runs along the shore on the near side and a gravel trail runs along the far side.  This gravel trail, squeezed between the train tracks and the lake takes you to Pine Point Park, a nice rocky outcrop in the top-middle of the lake.  Here the trails zig-zag through the forest to several hidden vantage points over the lake.  These spots are always facing the sun and amazing on a sunny day.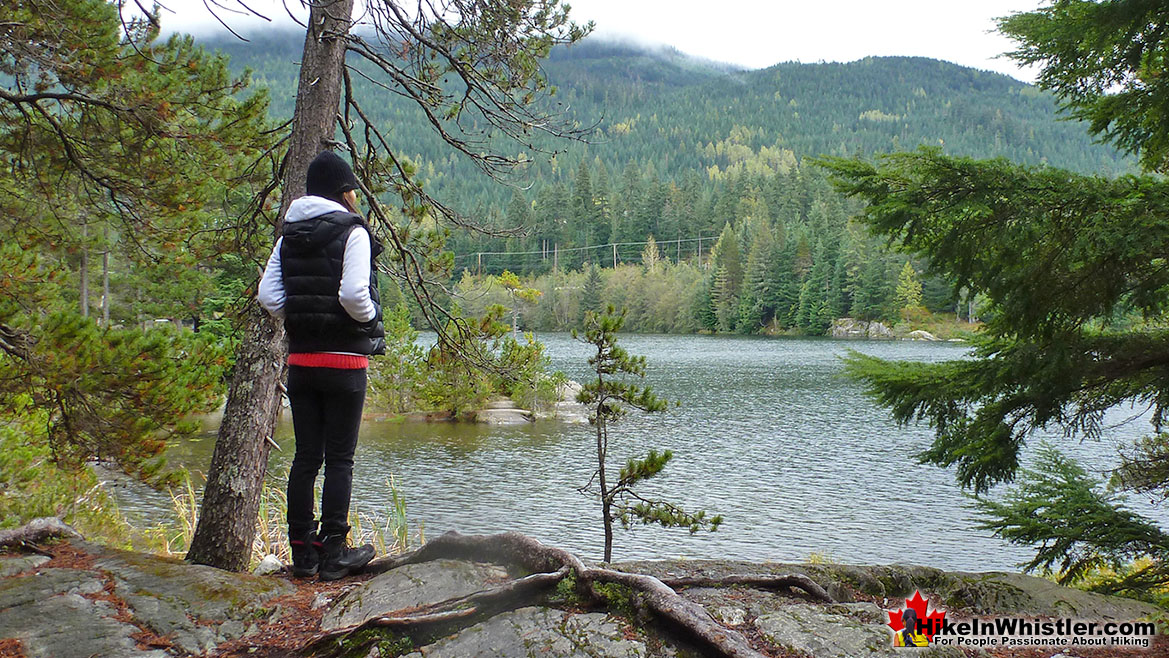 If you continue walking through the forest trails in Pine Point Park you will eventually be squeezed between the lake and the train tracks for a few dozen metres before reaching the end of the lake.  Here you will find another hidden oasis at Alpha Lake that goes almost entirely unnoticed.  A remnant of the logging industry that used to thrive in the area, an old road abruptly stops at a jetty on the lake-shore.  This weirdly remote feeling spot is a great place to relax in the sun, launch a canoe, fish from the shore, or have a picnic in a tranquil, hidden corner of Whistler.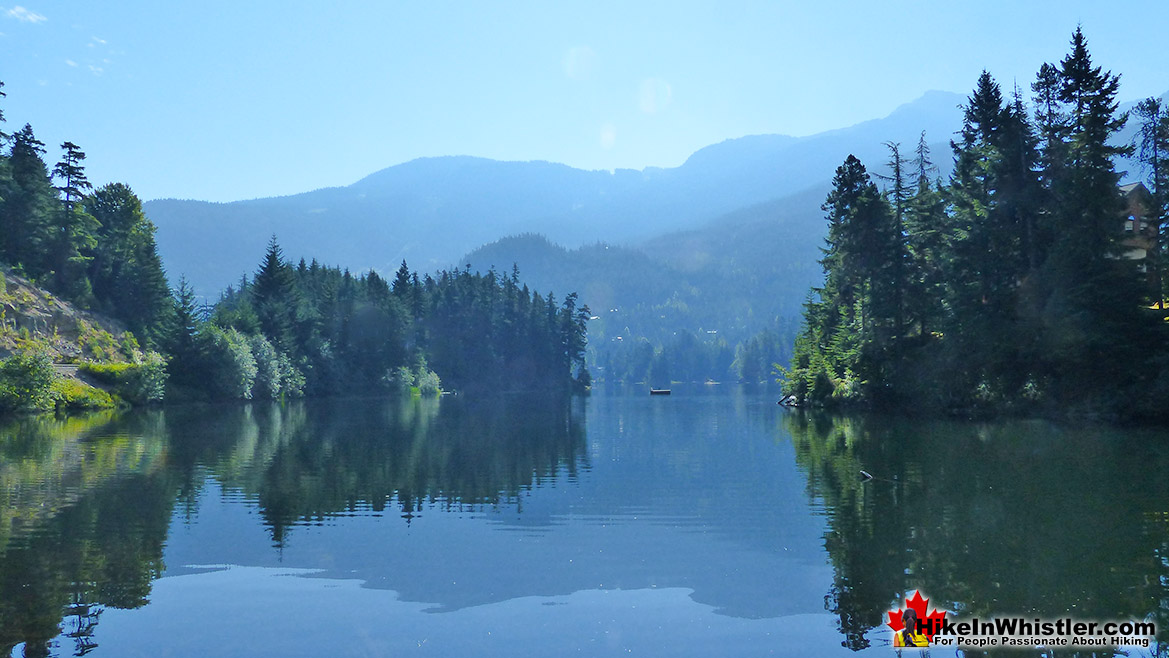 At the main beach area of Alpha Lake Park there are washrooms, water fountains, a very elaborate kids play area, picnic tables, a small sandy beach and a nice pier.  Fishing is popular on the lake as it is stocked with hundreds of rainbow trout every year.  Despite the small size of Alpha Lake, its shoreline is never in a straight line and on a sunny summer day you will see several boats and paddleboards out on the water.  The best places to fish seem to be around the small island near Pine Point Park.  The island is private property, but the rocky outcrops near the island are accessible and ideal for fishing.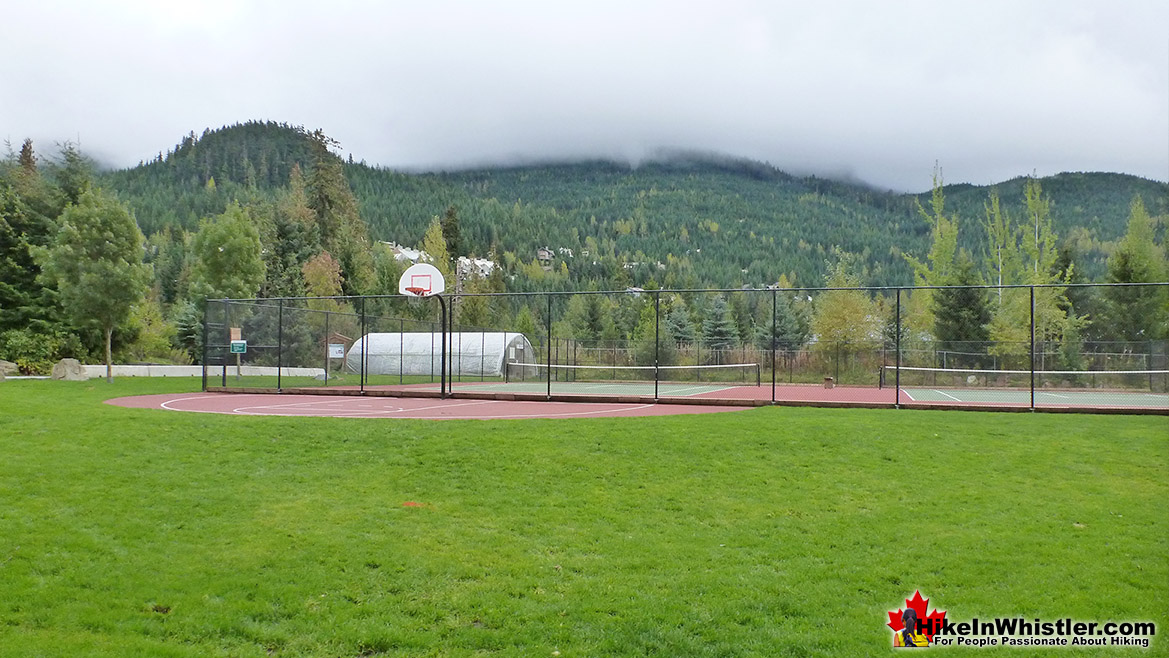 Adjacent to the main beach at Alpha Lake Park, separated by a small forest is the wonderful dog park known as "Arfa Park".  Rarely will you pass through Arfa Park and not see a dog sprinting after a ball in this wide open, grassy field between the tennis courts and the lake.  Several park benches face the lake and make for a fantastic place in Whistler to watch the sun set.  Whistler's wonderful Valley Trail runs through Alpha Lake Park.  The Valley Trail is the wide, two lane, walking/biking/running trail that extends throughout Whistler.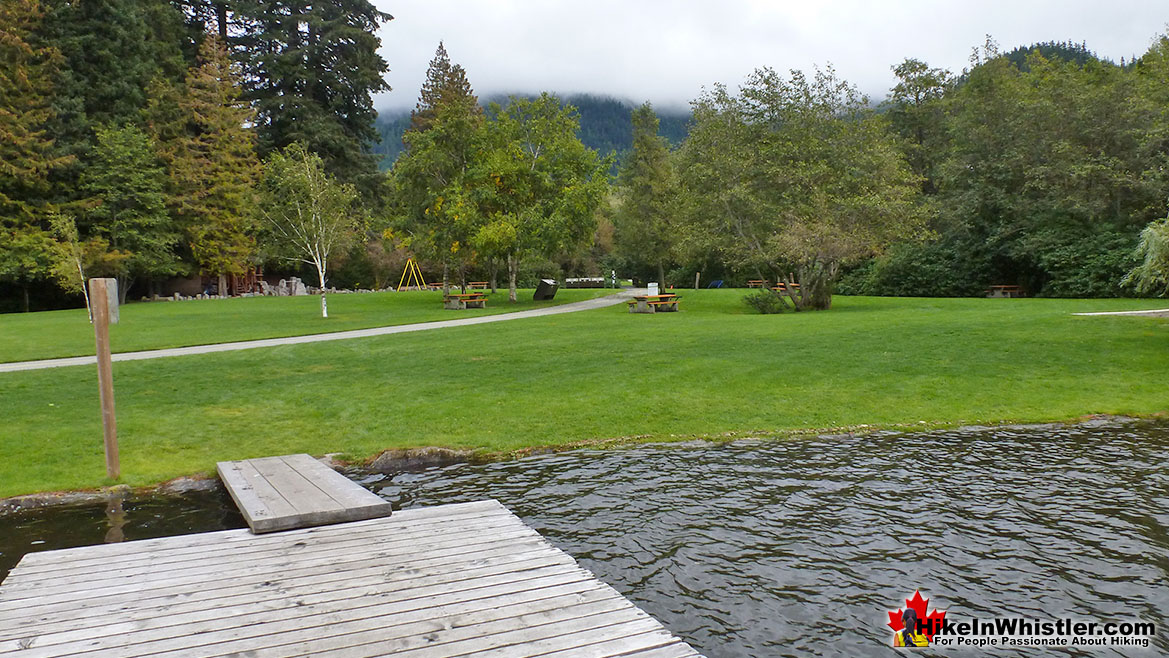 With the Valley Trail connecting Whistler Village to Alpha Lake Park, walking or biking to it is a great option.  From the Village it is just 5 kilometres with a lot to see on the way.  From the Village the Valley Trail goes under the Sea to Sky Highway via an underpass and runs along the edge of the Whistler Golf Course.  The golf course is very scenic and bear sightings are frequent, especially early and late in the day.  Beyond the golf course the Valley Trail runs alongside roads for a short time before passing through Lakeside Park along the shore of Alta Lake.
Parking for Alpha Lake Park

Parking for Alpha Lake Park is found at the end of Lake Placid Drive in Creekside.  Placid Drive is the road that goes past the Husky(gas station) four kilometres south of Whistler Village.  If driving north on the Sea to Sky Highway you will see the Husky on your left at the lights in Creekside.  Turn left onto Lake Placid Drive and follow it past the Husky.  Lake Placid Drive bends 90 degrees left at Nita Lake Lodge and you will see the parking and entrance to Alpha Lake Park on your right.  Parking is free, though overnight parking is not allowed.  As Alpha Lake Park is on the Valley Trail and Sea to Sky Trail, walking, biking or jogging to it is a much better option than driving if you are staying in the Village.
Facilites at Alpha Lake Park



Alpha Lake Park is great for swimming, with a nice sandy beach and a couple of piers to dive off of.  There are a few picnic tables and the park is a very popular place to picnic.  There is a kids play park with swings and slides.  A beach volleyball court, basketball court and tennis courts. There are toilet facilities at Alpha Lake Park.  Proper toilets and sinks located at the main beach area next to the kids play park.  These are open during daylight hours.  If they are closed, you will find washrooms just a short 5 minute walk away from Alpha Lake, along the Valley Trail at the beautiful Nita Lake Lodge.  It has an amazing restaurant with views of Nita Lake as well as a fantastic lounge area with excellent food that is surprisingly reasonably priced considering the upscale atmosphere and views.  There is also a great little take-away sandwich shop near the entrance to the hotel with a great selection of sandwiches.  The Nita Lake Lodge is adjacent to Whistler's train station which has convenient restrooms as well.  If you are on the Valley Trail you will see the train station between Alpha Lake and Nita Lake.  It is hard to miss as there is an enclosed pedestrian overpass, over the Valley Trail.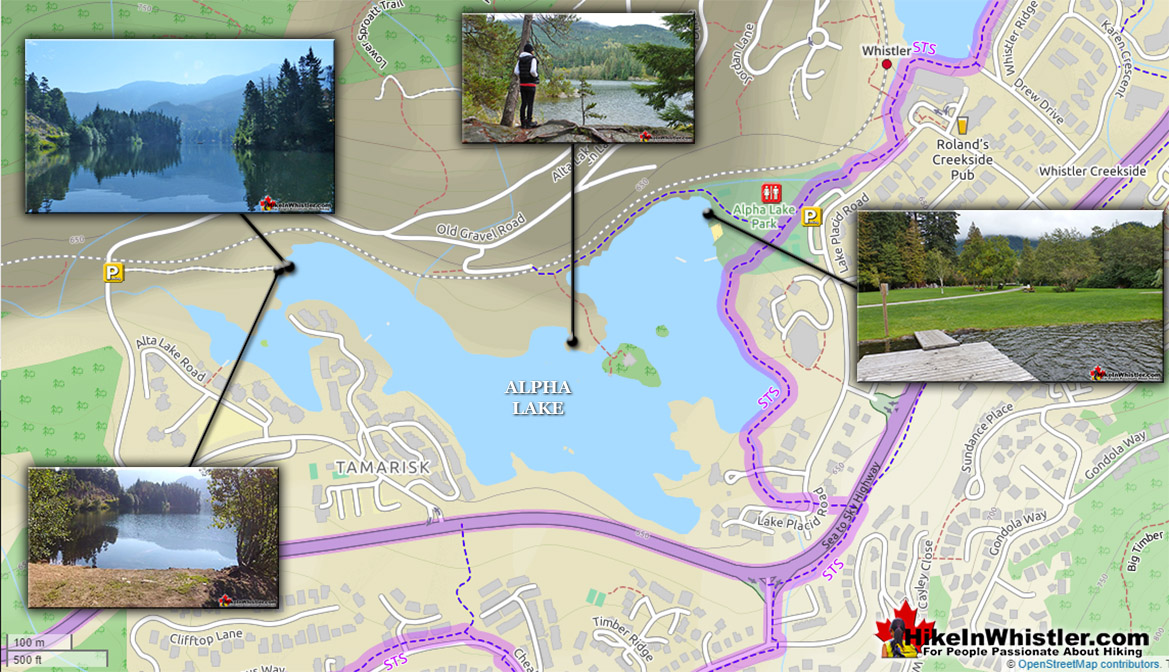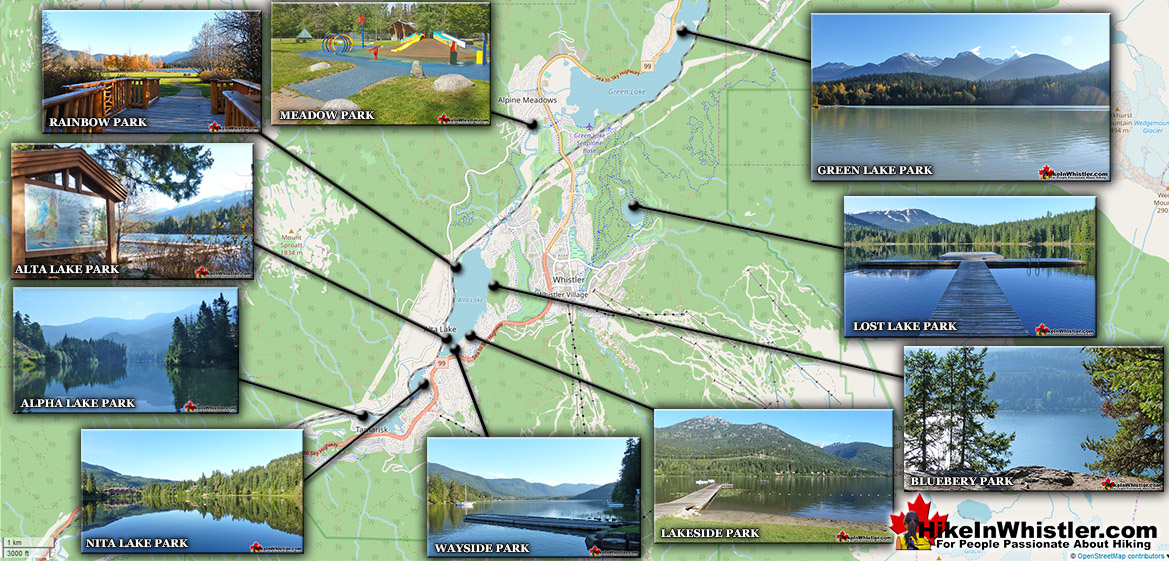 Alpha Lake Park, as with other Whistler parks is not a place you can put up a tent and spend the night.  If you want a place to put up your tent you have to look a little further out from Whistler Village.  If you are a fan of stealth camping(aka: not legal) Whistler Train Wreck is a great place to put up a tent and just 4 kilometres south of Alpha Lake Park on the Valley Trail/Sea to Sky Trail.  It is located near Cheakamus Crossing and the wilderness around Whistler Train Wreck.  Green River has some amazing spots for a tent, north of Whistler Village near the turnoff to Wedgemount Lake.  Parkhurst Ghost Town is amazing for camping, located on the far side of Green Lake not far from the Sea to Sky Trail.  These are free places to camp so don't expect visible camping facilities or signs.  Alpha Lake is located in Creekside very close to Nita Lake Lodge and Legends(hotel).  Finding a hotel in Creekside may be the most convenient, however Creekside is only 4 kilometres from Whistler Village so there are plenty of options there too.
Whistler & Garibaldi Hiking

Alexander Falls  

Ancient Cedars  

Black Tusk  

Blackcomb Mountain  

Brandywine Falls  

Brandywine Meadows  

Brew Lake  

Callaghan Lake  

Cheakamus Lake  

Cheakamus River  

Cirque Lake 

Flank Trail 

Garibaldi Lake 

Garibaldi Park 

Helm Creek  

Jane Lakes 

Joffre Lakes  

Keyhole Hot Springs  

Logger's Lake  

Madeley Lake  

Meager Hot Springs 

Nairn Falls  

Newt Lake 

Panorama Ridge 

Parkhurst Ghost Town 

Rainbow Falls  

Rainbow Lake 

Ring Lake  

Russet Lake  

Sea to Sky Trail 

Skookumchuck Hot Springs  

Sloquet Hot Springs 

Sproatt East 

Sproatt West  

Taylor Meadows  

Train Wreck  

Wedgemount Lake  

Whistler Mountain

January 

February 

March 

April 

May 

June 

July 

August 

September 

October 

November 

December