Stawamus Chief is the mammoth rock face that towers over Squamish. Though hardly believable from looking at, the summit is an easy two hour hike. In fact there are three peaks, South (First), Centre (Second), and North (Third). Each accessible from the single trailhead.  Growing in popularity as the newest brother to the Grouse Grind in Vancouver because there are quite a few stairs and considerable elevation gain.
Incredible views from the top
Enjoyable, but very steep hike
Famous rock climbing destination
Lots of terrain to wander at the top
Convenient trailhead on Hwy 99
Busy, but organized trails
Dog friendly hiking trails
Free access & free parking
Nice campsites at the trailhead
No camping at the top

Squamish & Whistler Trails

Alexander Falls  

Alice Lake  

Ancient Cedars  

Black Tusk  

Blackcomb Mountain  

Brandywine Falls  

Brandywine Meadows  

Brew Lake  

Callaghan Lake  

Cheakamus Lake  

Cheakamus River  

Cirque Lake  

Elfin Lakes  

Flank Trail  

Garibaldi Lake  

Garibaldi Park  

Helm Creek  

High Falls Creek  

Jane Lakes  

Joffre Lakes  

Keyhole Hot Springs  

Levette Lake  

Logger's Lake  

Madeley Lake  

Meager Hot Springs 

Nairn Falls  

Newt Lake  

Panorama Ridge  

Parkhurst Ghost Town  

Rainbow Falls  

Rainbow Lake  

Ring Lake  

Russet Lake  

Sea to Sky Gondola  

Sea to Sky Trail  

Shannon Falls  

Skookumchuck Hot Springs  

Sloquet Hot Springs  

Sproatt East  

Sproatt West  

Stawamus Chief  

Taylor Meadows  

Train Wreck  

Upper Shannon Falls  

Wedgemount Lake  

Whistler Mountain
Stawamus Chief, more often referred to as The Chief, is well know as one of the largest granite monoliths in the world.  The Chief attracts rock climbers from around the world to its many incredible climbing routes up this granite dome that towers over 700 metres(2297 feet) above Howe Sound.  The Chief covers an area roughly three square kilometres and the original granite dome is fractured into several separate summits.  The three main summits are the First Peak, Second Peak and Third Peak.  All are accessible by the park's maintained hiking trail network.  First Peak is 1.5 kilometres long, with an elevation gain of 540 metres.  Second Peak is 1.7 kilometres from the trailhead and with an elevation gain of 590 metres.  Third Peak is 1.8 kilometres from the trailhead and has an elevation gain of 630 metres.  Another notable summit, just north of Third Peak is the Zodiac Summit.  No maintained trail leads to the Zodiac Summit, though finding the route to it is not too difficult.  The Zodiac Summit is a quiet oasis in this often bustling park.  Most hikers head straight to First Peak, though all three summits get a considerable amount of hiker traffic on an average summer day.  Zodiac Summit remains off the radar for almost all visitors to the park. 
The Chief from the Squamish Marina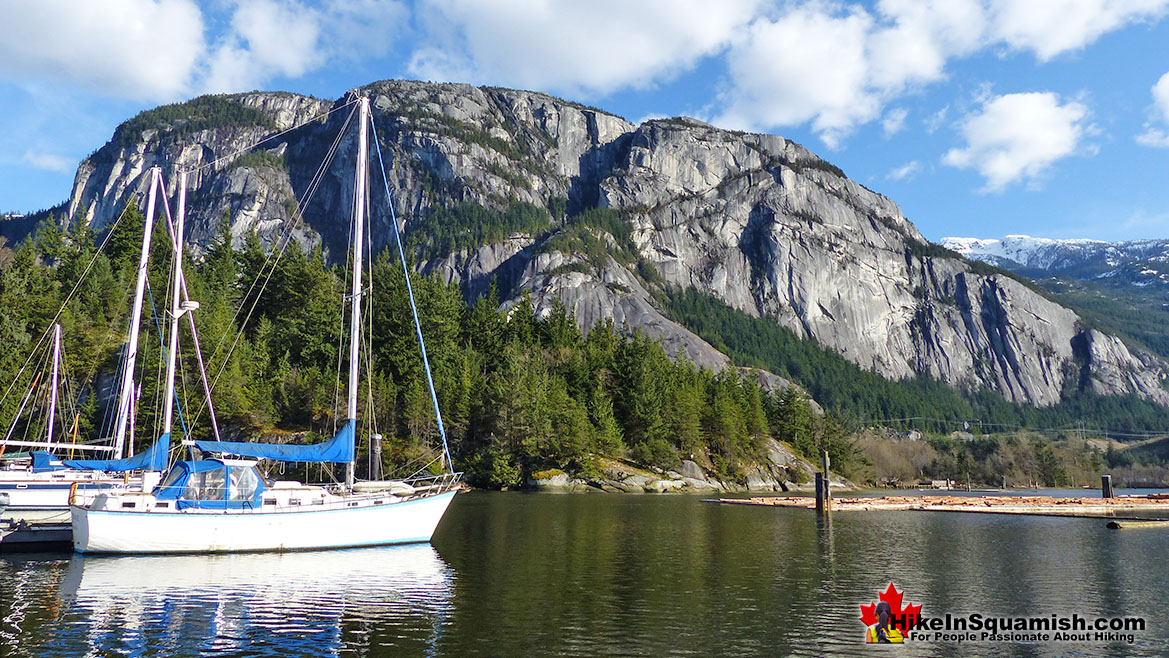 The Shannon Falls Trail Connects to the Stawamus Chief Trail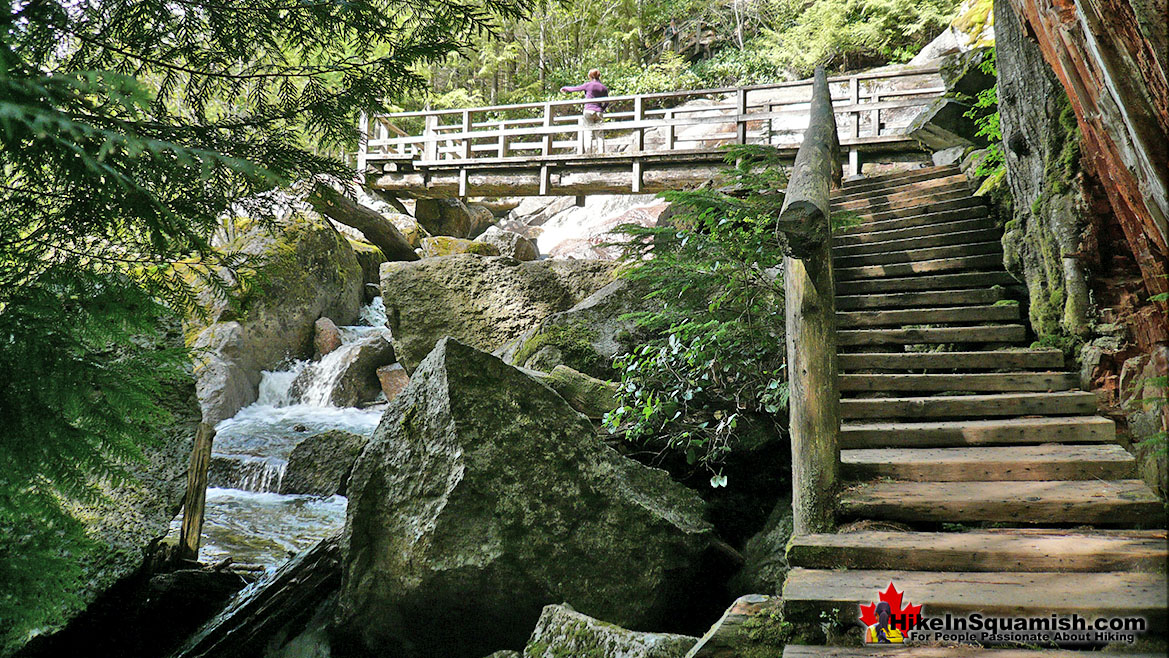 Amazing Views from the First Peak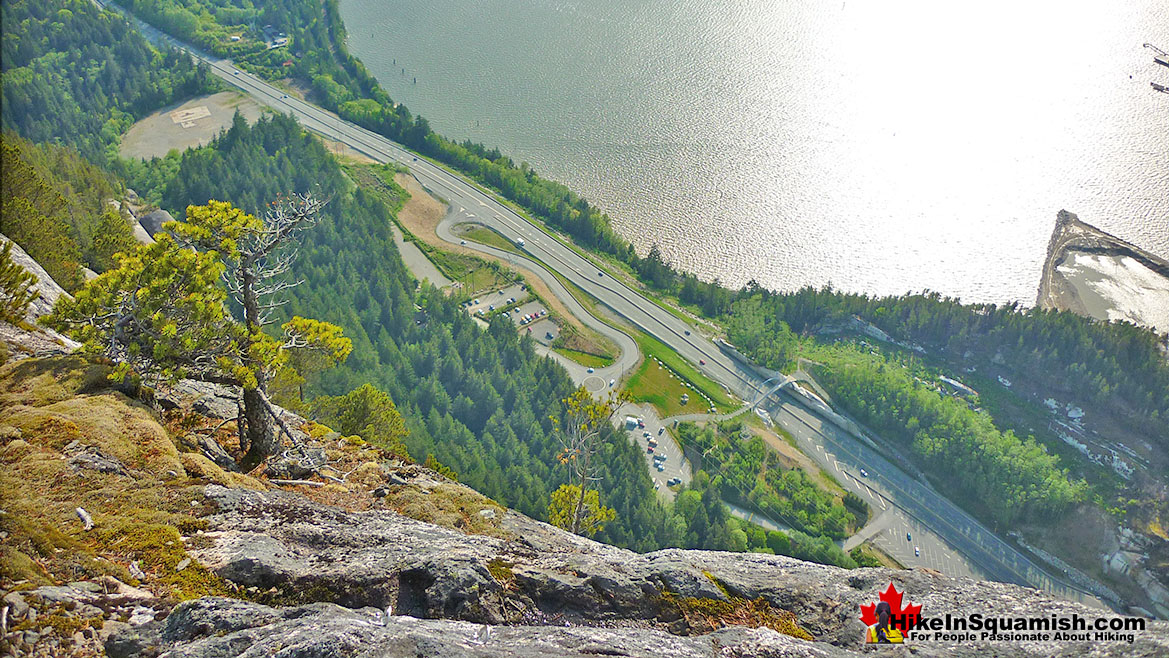 The Chief in The Alpinist 
The Chief is featured a bunch of times in the amazing movie The Alpinist.  This incredible movie follows Marc-André Leclerc from his home in Squamish, then around the world as he climbs mountain routes previously considered impossible.
More Best Squamish Hiking - Stawamus Chief

Best Whistler & Garibaldi Park Hiking Trails!
Whistler & Garibaldi Park Hiking by Month!

Explore BC Hiking Destinations!