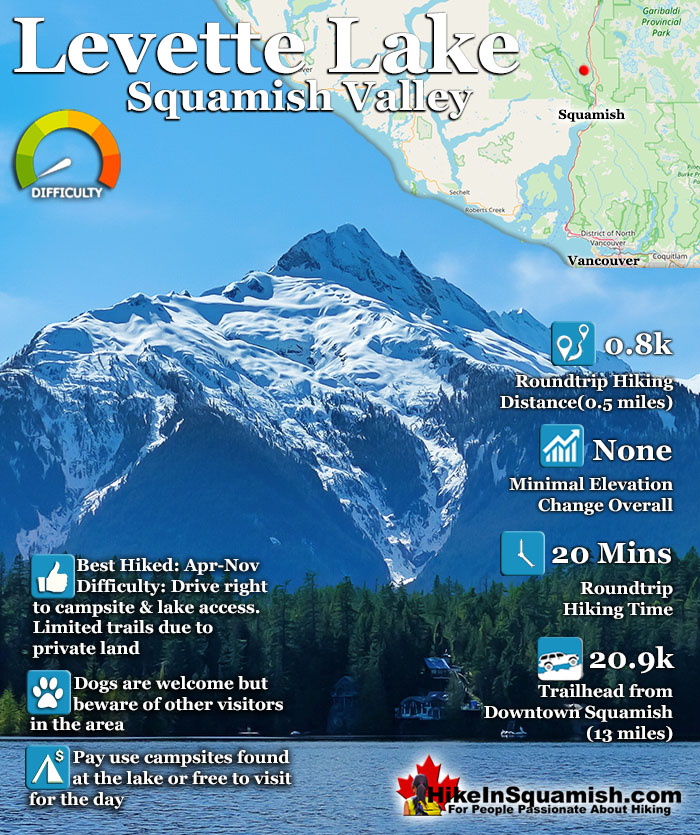 Levette Lake is a nice mountain lake located in the enormous Squamish Valley that drains the Squamish River into Howe Sound.  There are some nice views and minimal elevation gain along the trail.  The amazing Tantalus Range and Mount Garibaldi on a sunny day look fantastic from the shores of Levette Lake. There is a nice campground on the shore of the lake that is well laid out and very rustic.
Extraordinary mountain views
Drive right to lake
Great lake for swimming
Nice tent sites along the shore
Not as well known as other places
Often serene & quiet
Can't legally hike around the lake
Small area gets crowded easily
Nice beach, only dirt shoreline
Bumpy logging road to get there

Squamish & Whistler Trails

Alexander Falls  

Alice Lake  

Ancient Cedars  

Black Tusk  

Blackcomb Mountain  

Brandywine Falls  

Brandywine Meadows  

Brew Lake  

Callaghan Lake  

Cheakamus Lake  

Cheakamus River  

Cirque Lake  

Elfin Lakes  

Flank Trail  

Garibaldi Lake  

Garibaldi Park  

Helm Creek  

High Falls Creek  

Jane Lakes  

Joffre Lakes  

Keyhole Hot Springs  

Levette Lake  

Logger's Lake  

Madeley Lake  

Meager Hot Springs 

Nairn Falls  

Newt Lake  

Panorama Ridge  

Parkhurst Ghost Town  

Rainbow Falls  

Rainbow Lake  

Ring Lake  

Russet Lake  

Sea to Sky Gondola  

Sea to Sky Trail  

Shannon Falls  

Skookumchuck Hot Springs  

Sloquet Hot Springs  

Sproatt East  

Sproatt West  

Stawamus Chief  

Taylor Meadows  

Train Wreck  

Upper Shannon Falls  

Wedgemount Lake  

Whistler Mountain
Levette Lake is a bit tricky to find and located up a bumpy, potholed logging road. Because of this it is often serenely quiet. Though the lake is mostly edged by waterfront houses, the park area at the end of the lake can be an oasis of serenity. Owing to the somewhat small size of the park, it can suddenly feel crowded and chaotic if some noisy visitors descend on the campsite.  Even if you are disappointed by noisy campers when you arrive at the lake, you can take in the nice scenery for a while and leave. The drive to Levette Lake is not terribly far and driving to another camping location around Squamish or Whistler makes a great backup plan. It is located just a couple hundred metres from the parking area at the trailhead. The campground is very basic and quite nice. You won't find signs, garbage bins or any annoying signs of humanity to take away from the wonderful view of the lake and Tantalus Range across the lake.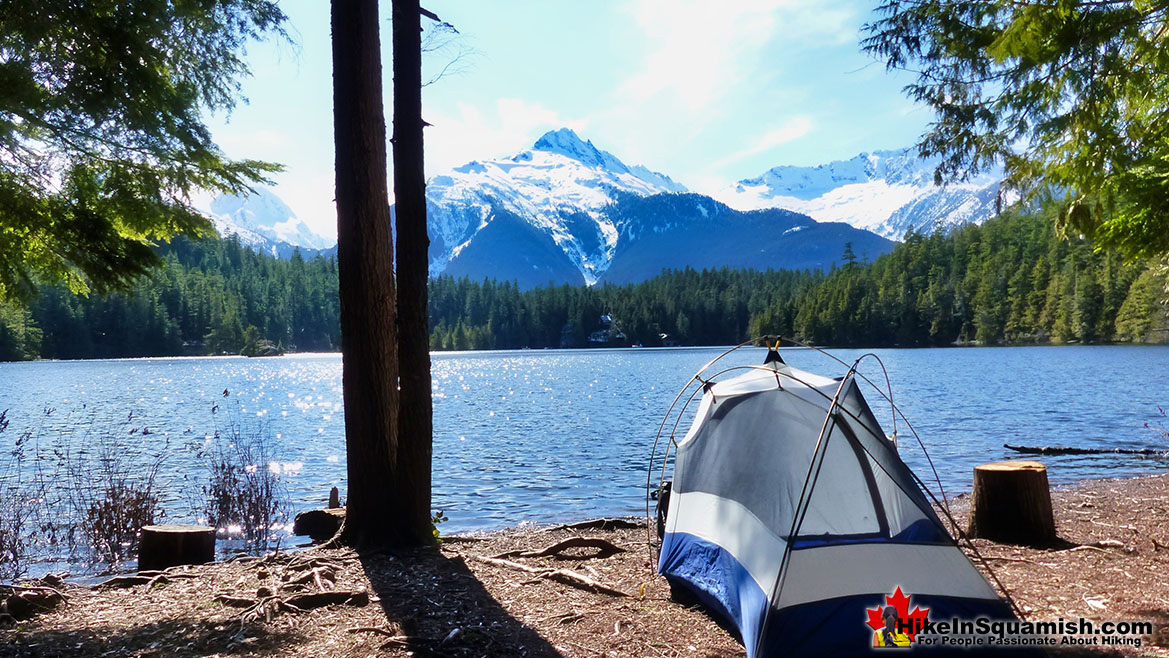 Camping is pay use at Levette Lake and it is user maintained.  Operated by Sites & Trails BC, fees are charged from June 1st to Oct 31.  The overnight fee is $18 per night, per vehicle or group of 6 people, per site.  Free to use outside this time, though snow will likely block access for most in the winter.  The campground areas(there are several), consist of about a dozen dirt clearings in the forest. Some large, some small, separated by the natural features of the forest.  There are plenty of seats made out of cut sections of logs and several fire rings left from previous campers.  The campsite is surprisingly clean, though that largely depends on the previous group that used the area. There is an outhouse between the parking area and the campsites.
More Best Squamish Hiking - Levette Lake

Best Whistler & Garibaldi Park Hiking Trails!
Whistler & Garibaldi Park Hiking by Month!

Explore BC Hiking Destinations!