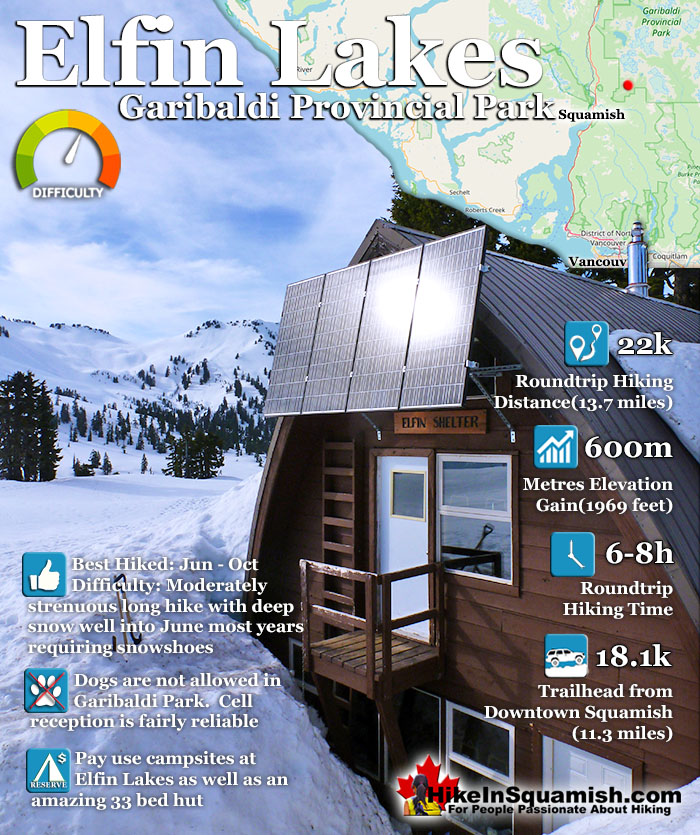 Elfin Lakes in Garibaldi Park is an absolutely phenomenal, though long, hiking, biking, snowshoeing and skiing trail that begins at the Diamond Head area in Squamish.  From Whistler Village, the trailhead is just over an hours drive away, located near the south end of Garibaldi Provincial Park.  Garibaldi Park is the massive wilderness park of nearly two thousand square kilometres that stretches from Squamish to Pemberton.
Trail has several amazing views
Deep, mostly untouched wilderness
Great swimming at Elfin Lakes
The hut is amazing, heated & huge
The hut has a wonderful history
Lots of terrain beyond the lakes
There is a route to Garibaldi Lake!
Often crowded even in the winter
Garibaldi Park is not dog friendly
Tire chains needed until late spring

Squamish Hiking Trails

Alice Lake

Black Tusk

Brandywine Falls

Brew Lake

Cirque Lake

Elfin Lakes

Garibaldi Lake

High Falls

Levette Lake

Panorama Ridge

Ring Lake

Sea2Sky

Shannon Falls

The Chief

Taylor Meadows

The Lions

Upper Shannon
If you are driving the Sea to Sky Highway to Whistler, Garibaldi Park will be the vast wilderness of snow-capped mountains on your right.  The Elfin Lakes Trail is very well marked and maintained and leads to the Elfin Lakes Hut.  This amazing hut sleeps 33 and is solar powered and propane heated. There is a charge of $15 per adult to stay the night there which is a small price to pay for the beautiful comfort after the long, 11 kilometre snowshoe or hike to get there.  This area is very popular with skiers as well as snowshoers in the winter and deep snow covers the trail usually from November to June. The trail to Elfin Lakes starts out ascending through deep forest, reaching the Red Heather Hut after 5km.  This is a small warming hut equipped with a wood stove complete with a stack of wood free to use, though sleeping here is for emergencies only.  The final 6km from this hut to Elfin Lakes takes you along a beautiful ridge with amazing views of snowy mountains all around.  The sheer distance of this snowshoeing trail ranks it as difficult, though overall you will just be doing a moderately steady ascending trail. Expect to take four hours to reach the Elfin Lakes Hut as you are almost constantly ascending a gradual, though consistently uphill trail. There are several jaw-dropping views along this final 6km stretch.  This trail is so well marked with orange poles and tree markers that you can reliably find your way after dark or before sunrise with good lights to assist you.  You often see, with some shock, skiers trudging up the trail, not far from the trailhead after the sun has set.  Making their way to the Elfin Lakes Hut in the dead of night seems to be a pastime of quite a few local skiers and boarders.
As this trail is within Garibaldi Park, dogs are not allowed.  This is a courtesy to all the animals that inhabit the park and the potential disturbance that dogs my introduce to their environment.  BC Parks staff can issue fines for dogs in the park.  Though it is rare, it does happen as Elfin Lakes is regularly staffed with rangers and even has a separate ranger station near the Elfin Lakes Hut.  Getting to the trailhead can be tough during periods of heavy snow.  The gravel road runs deep and high into the mountains to the trailhead parking lot.  You should be prepared with tire chains and may have to walk from the lower parking lot below the main, usually deep with snow trailhead parking lot.
Driving to the Elfin Lakes trailhead is quite fun as you emerge from the tacky strip mall along the Sea to Sky Highway and quickly ascend into the wilderness.  If you are driving south from Whistler you turn left after Canadian Tire onto Mamquam Road and continue past the golf course on your right and then through Quest University.  Not long after you pass the university the road narrows and turns from pavement to gravel. In the winter months you have to be prepared for snow on the road and several signs will indicate chains must be carried. You may be able to drive to the trailhead, then return from your hike a day or two later to a metre of snow on the access road.  You will get little sympathy from road crews if you find yourself stranded due to poor planning.  There is another parking lot before the main parking lot at the trailhead.  It is located before the last steep and if snow covered, potentially dangerous final section of road.  If you are worried about driving on steep, snowy sections of road, be sure to park at this lower area. Continued here...
More Best Squamish Hiking - Elfin Lakes

Best Whistler & Garibaldi Park Hiking Trails!
Whistler & Garibaldi Park Hiking by Month!

Explore BC Hiking Destinations!