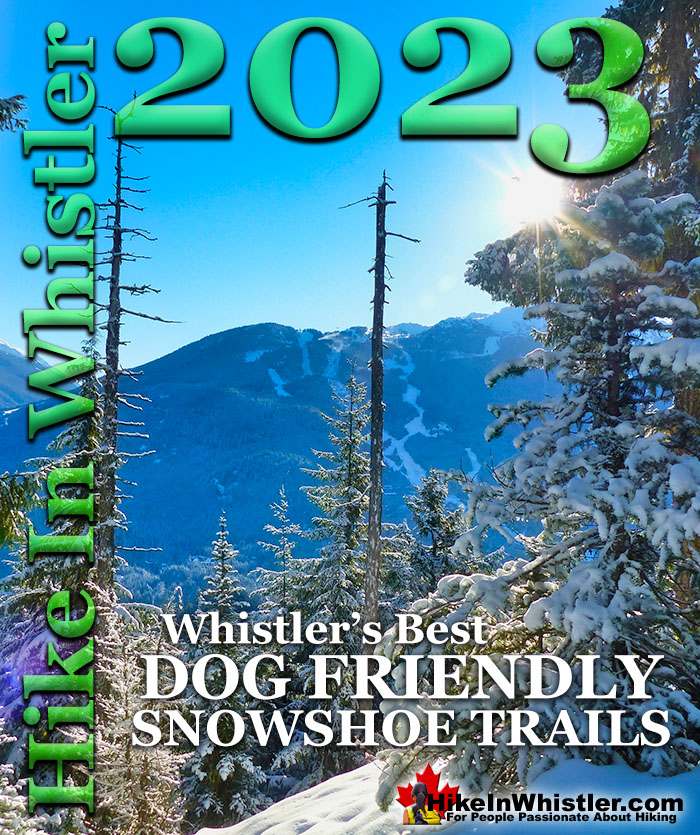 February 10th, 2023: There are plenty of dog friendly snowshoe trails in Whistler.  They range from easy and quick to get to, to a bit of a drive and a bit more challenging.  Blueberry Park is a wonderful trail just a 2 minute drive from Whistler Village.  You can even walk there in about 20 minutes.  This deep forest park has a great 3 kilometre circle route that takes you up Blueberry Hill and then down along the shore of Alta Lake where you pass by four piers set into the frozen lake.  
Whistler & Garibaldi Hiking

Alexander Falls  

Ancient Cedars  

Black Tusk  

Blackcomb Mountain  

Brandywine Falls  

Brandywine Meadows  

Brew Lake  

Callaghan Lake  

Cheakamus Lake  

Cheakamus River  

Cirque Lake 

Flank Trail 

Garibaldi Lake 

Garibaldi Park 

Helm Creek  

Jane Lakes 

Joffre Lakes  

Keyhole Hot Springs  

Logger's Lake  

Madeley Lake  

Meager Hot Springs 

Nairn Falls  

Newt Lake 

Panorama Ridge 

Parkhurst Ghost Town 

Rainbow Falls  

Rainbow Lake 

Ring Lake  

Russet Lake  

Sea to Sky Trail 

Skookumchuck Hot Springs  

Sloquet Hot Springs 

Sproatt East 

Sproatt West  

Taylor Meadows  

Train Wreck  

Wedgemount Lake  

Whistler Mountain
Whistler Snowshoe Trails

Blueberry Trail 

Brandywine Falls 

Cheakamus River 

Elfin Lakes 

Flank Trail 

Joffre Lakes 

Nairn Falls 

Parkhurst Ghost Town 

Rainbow Falls 

Rainbow Lake 

Rainbow Park 

Sproatt East 

Taylor Meadows 

Train Wreck 

Wedgemount Lake 
The shore trail continues along and brings you back to the start of the trail.  Though you might need snowshoes during weeks of heavy snowfall, you can usually get away with just micro spikes.  In fact, you can't do this trail without micro spikes or snowshoes most of the winter due to the trail being a sheet of ice, and often a steep sheet of ice.  Another great park your dog with love in the winter is located directly across from Blueberry Park, the considerably more popular Rainbow Park.  From Whistler Village you can drive down to the end of Lorimer Road and find free parking next to the Valley Trail.  The Valley Trail takes you through the forest for just over a kilometre to the beautiful and very dog friendly Rainbow Park.  This south facing park is amazing on a sunny day as the sun over Blackcomb and Whistler shines directly at the park.  Though fun to snowshoe to in deep snow, you can always get away with walking there without snowshoes or micro spikes as the trail is wide and flat, though usually icy.  For a bit more of a challenge and a bit further from Whistler Village you can drive 8 kilometres down to Cheakamus Crossing and snowshoe along Cheakamus River.  This winter wonderland is amazing in the winter as you can snowshoe down one side of the river, cross the beautiful suspension bridge and hike back the other side.  Roundtrip, depending on where you park is 4-6 kilometres and the trail bends through the tranquil forest along the impressively crashing Cheakamus River.
Cheakamus River Snowshoeing is Amazing and Dog Friendly!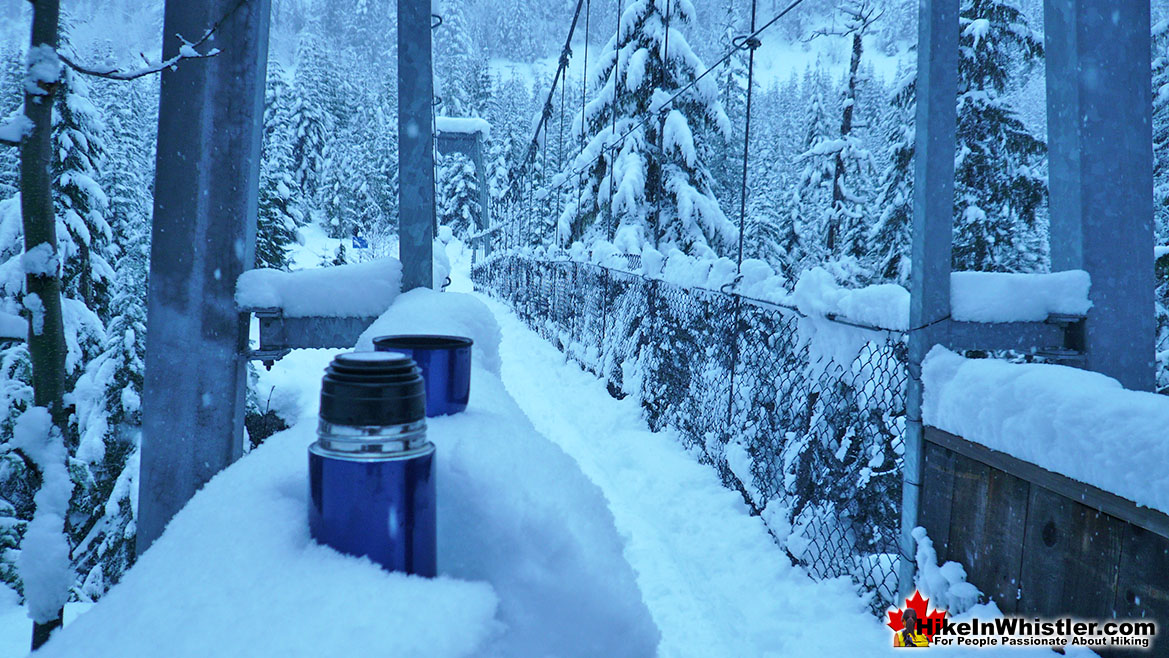 Very Dog Friendly Blueberry Park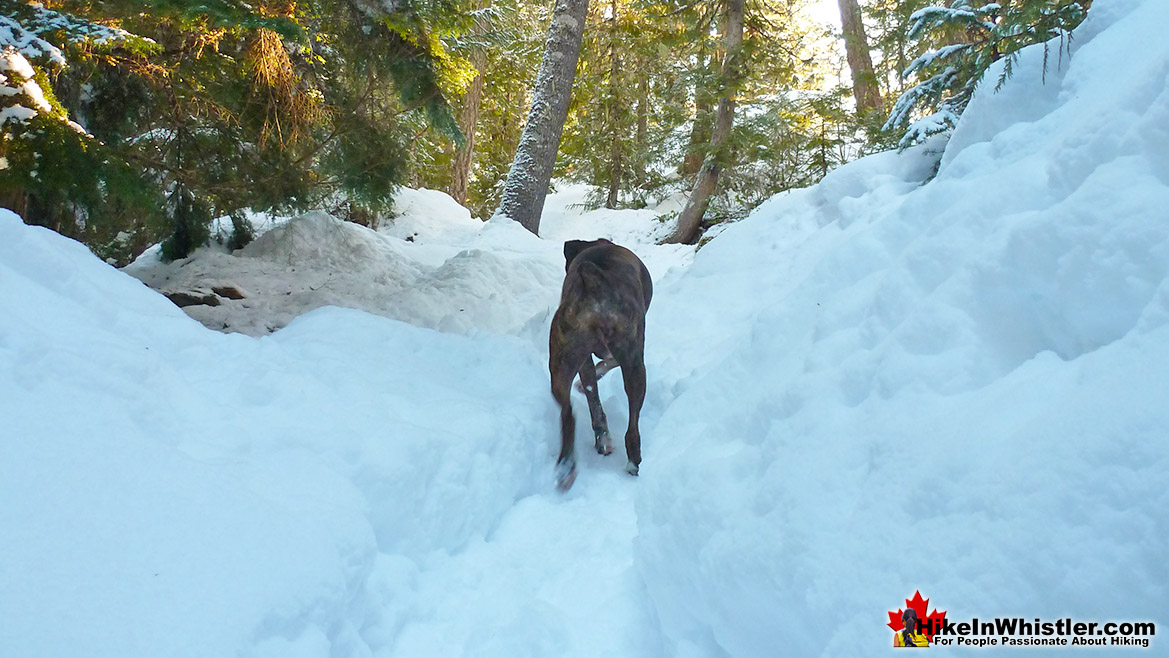 Very Easy and Dog Friendly Rainbow Park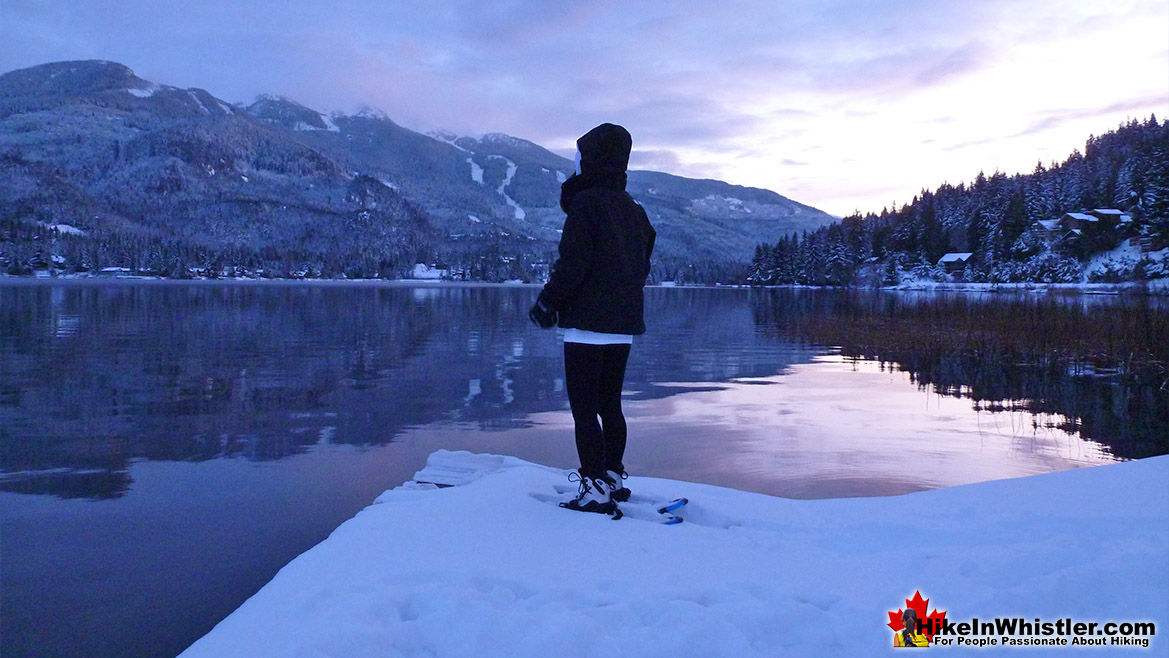 Whistler Train Wreck Dog Friendly Snowshoeing

Another great dog friendly snowshoe trail in Cheakamus Crossing is Whistler Train Wreck.  This wonderful trail is quite popular, so you probably won't need snowshoes, though you definitely will need micro spikes as the icy trail is insanely slippery in the winter.  The trail takes you through the deep forest to Cheakamus River where a beautiful suspension bridge crosses and you find yourself in the midst of several wrecked train cars abandoned here in the 1950's.  Mangled and sprawling all over, they have been painted by graffiti artists over the years and some are quite beautiful.  You can wander through the forest and along Cheakamus River where you will find several amazing viewpoints of the river.  Train Wreck Falls is particularly gorgeous, just a few hundred metres north of the wrecked cars.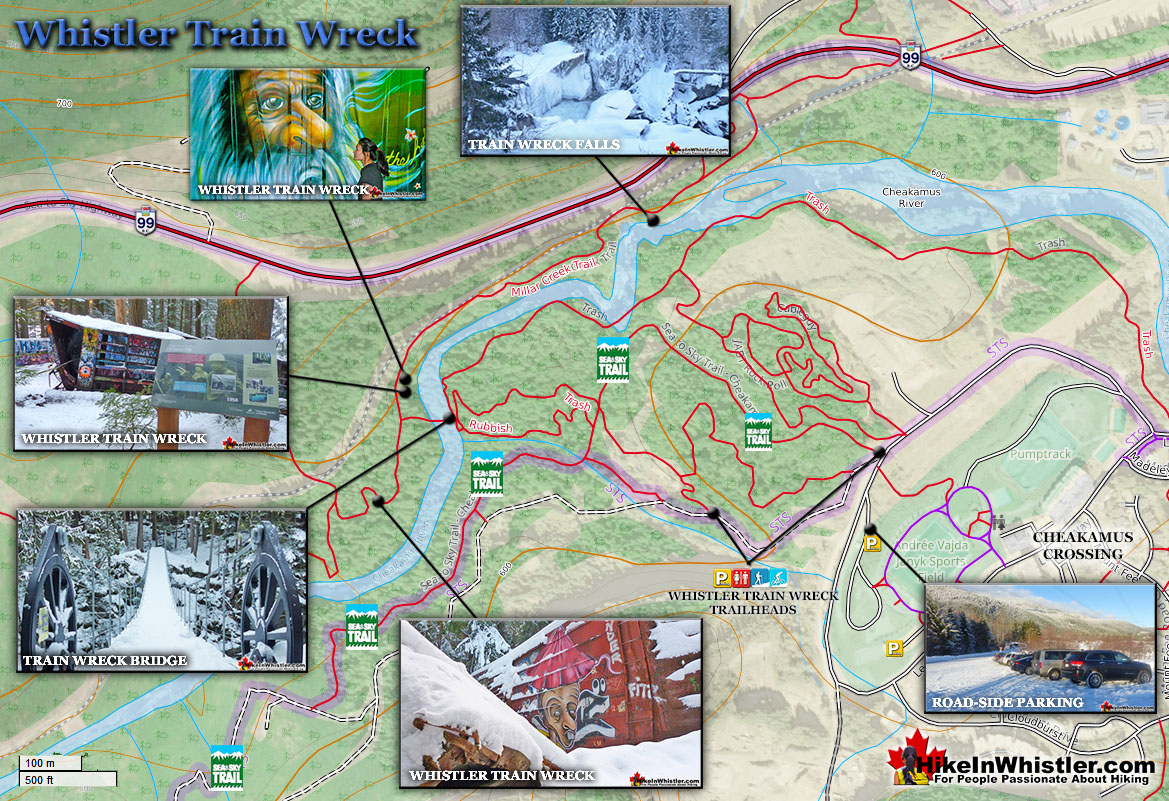 Dog Friendly Whistler Train Wreck Continued...
Dog Friendly Snowshoeing - Parkhurst Ghost Town

Parkhurst Ghost Town is another wonderful, dog friendly snowshoe trail in Whistler.  There are several ways to get there, however in January and February you will often find Green Lake frozen enough to take a shortcut across the lake from Green Lake Park.  Green Lake Park is directly across from Parkhurst and you can walk there in 5 minutes if you determine the ice is thick enough and it is safe enough to cross.  Green Lake Park is easy to find along Lakeshore Drive, just an 8 minute drive north of Whistler Village.   Located on the far side of Green Lake, Parkhurst Ghost Town is a wonderful escape from the world as you wander through the beautiful forest and past relics of this old logging town.  One old house remains standing and graffiti covers the outside and inside.  A haunting Blue Face is painted on the front of the house over a decade ago by professional artist Kups who has painted stunning murals all over Whistler.  Most of the original murals that made Whistler Train Wreck famous were his creations.  The snow is usually deep in Parkhurst all winter and you will almost certainly need snowshoes or you won't get far.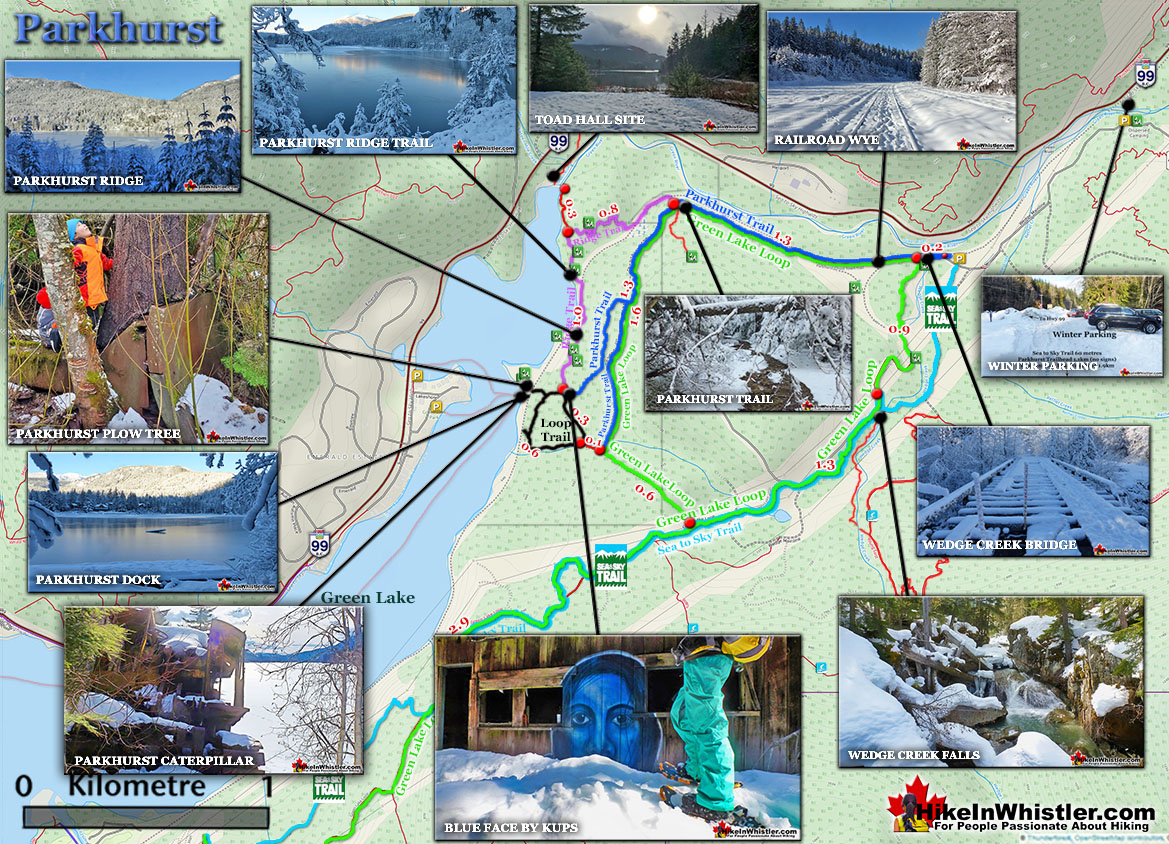 Dog Friendly Snowshoeing Parkhurst Continued...
Bungee Bridge to Brandywine Falls Snowshoeing

Another fantastic and very dog friendly snowshoe trail in Whistler is the Bungee Bridge to Brandywine Falls trail.  The gate to the parking lot at Brandywine Falls is locked in the winter and parking is not allowed outside the gate so getting to the falls via the Bungee Bridge is a good alternative.  The Bungee Bridge is accessible by car year-round as the road is plowed in the winter and there is lots of parking there.  The trail starts by crossing the Bungee Bridge which is pretty amazing.  High above Cheakamus River the views are sensational.  The Sea to Sky Trail then winds through the forest for 3 kilometres to Brandywine Falls.  In the winter you will likely have Brandywine Falls to yourself due to the inaccessible main parking area.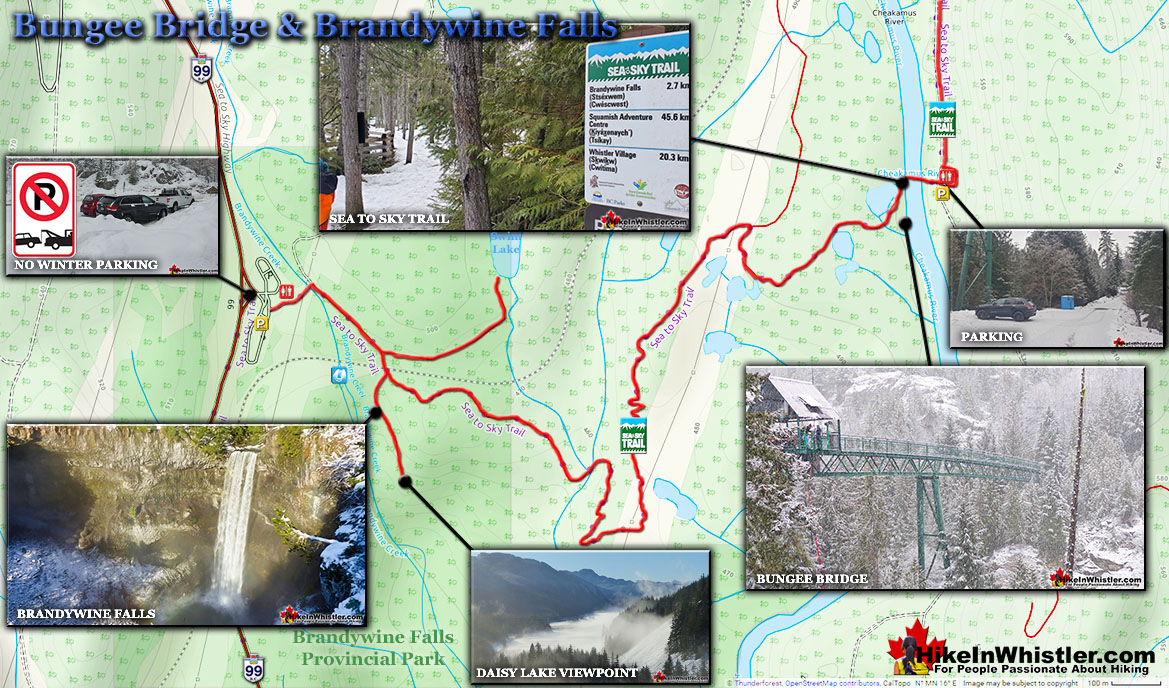 Bungee Bridge to Brandywine Falls Continued...
Dog Friendly Snowshoeing to Rainbow Falls

A bit closer to Whistler Village, on the far side of Alta Lake is yet another great, dog friendly snowshoe trail, Rainbow Falls.  A short, but often steep 2.2 kilometre circle route takes you through the forest to the cute little falls that are surprisingly beautiful.  Pillows of deep snow surround the falls and the terrain to get there is wildly beautiful.  A lovely bridge further up the trail takes you over Twentyone Mile Creek which is often hilariously buried in snow.  The Rainbow Falls trail is dog friendly, however the Rainbow Trail that continues up past the Flank Trail is not as Rainbow Lake is the source of Whistler's water supply.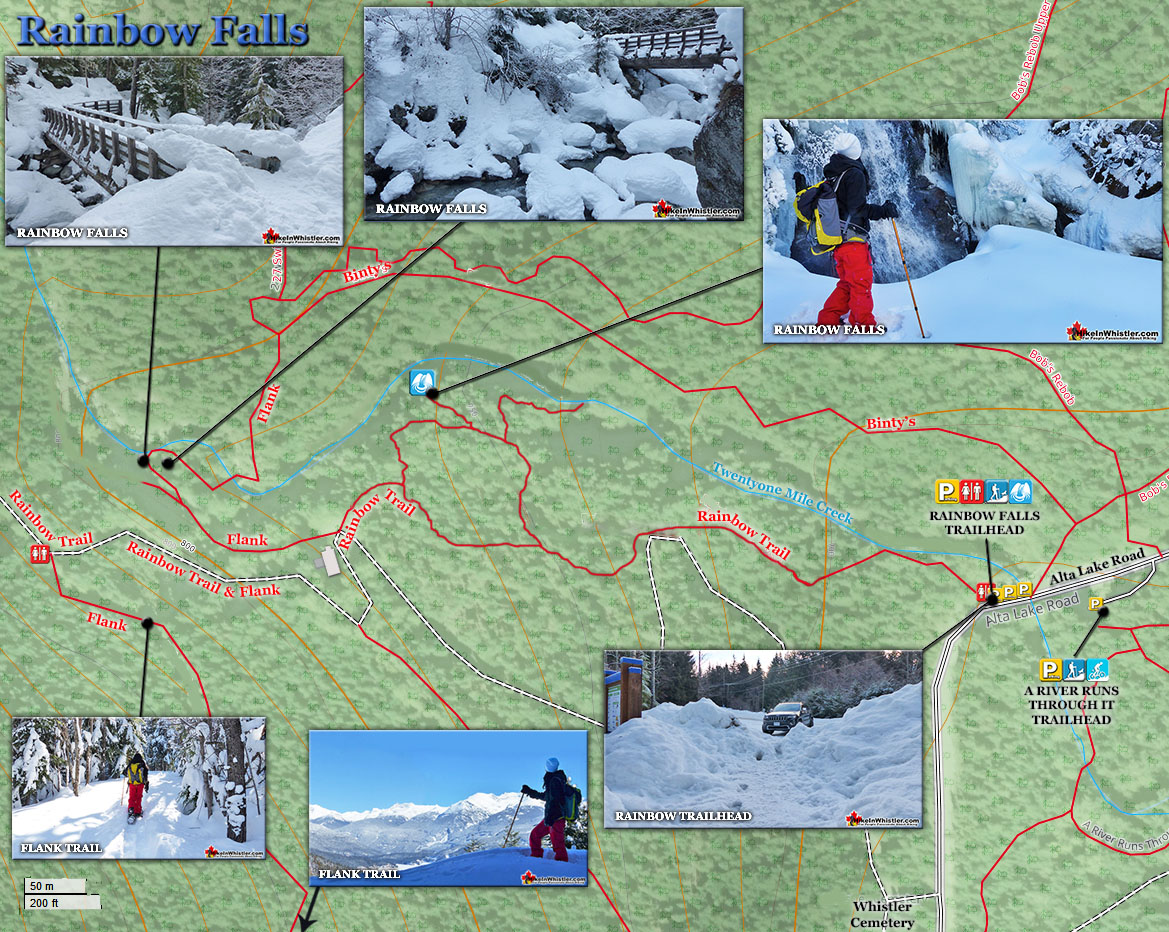 Rainbow Falls Dog Friendly Snowshoeing Continued...
Dog Friendly Flank Trail

The Flank Trail crosses the Rainbow Trail and is quite beautiful in the winter.  It extends along the flank of Mount Sproatt and Rainbow Mountain for several kilometres and the views across the valley are incredible, especially on a sunny day.  It is dog friendly as it is just under the watershed for Whistler.  Just up from Rainbow Falls, the Rainbow Trail and the Flank Trail overlap for about 400 hundred metres.  If you follow this overlapping trail as it bends around the water treatment building, quickly ascending in the direction of Rainbow Lake, you will come to the Flank Trail junction.  The Flank Trail quickly ascends through deep forest and after about 15 minutes opens up and begins to gradually flatten out.  The views become beautiful and trail less tiring.  Whistler Mountain, Blackcomb Mountain and Wedge Mountain all come dramatically into view and Alta Lake appears far below.  Just steps from the trail take you to pristine, snowy outcrops, perfect for taking in the view on a sunny day.. and with most of the Flank Trail south facing, sun will always be facing you over Whistler Mountain.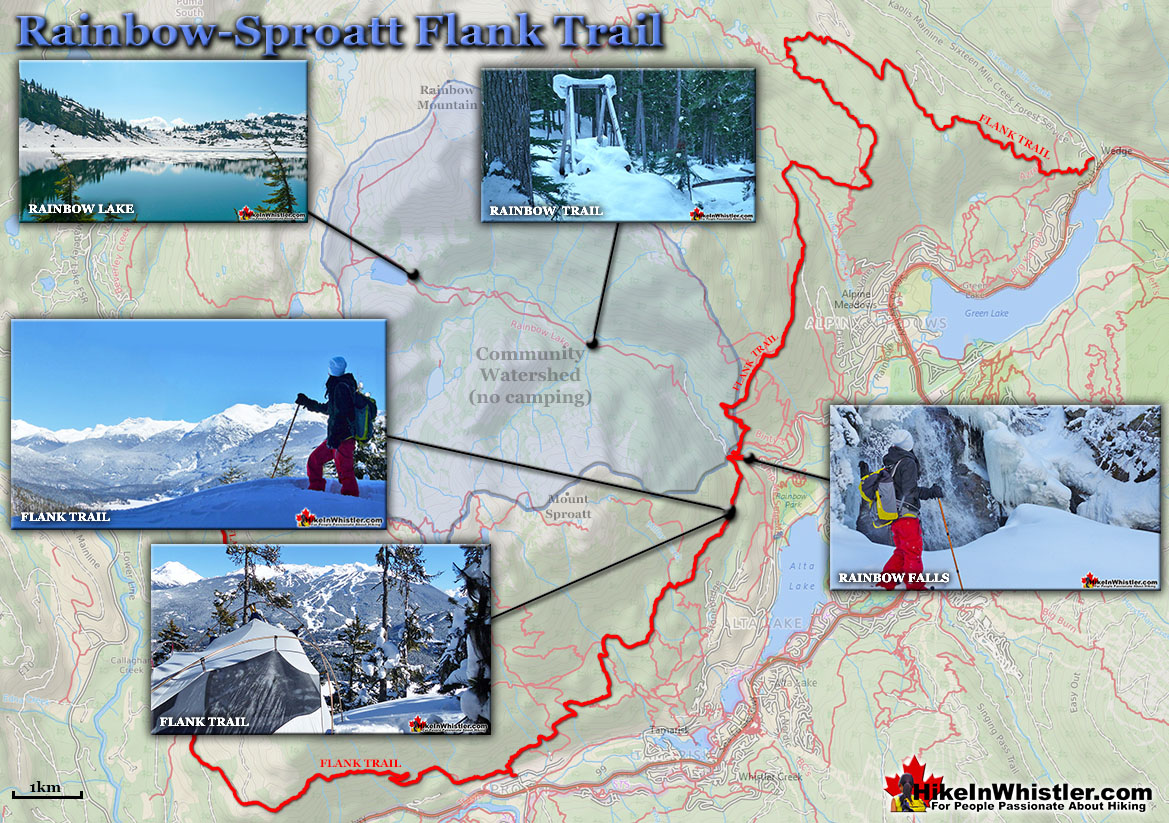 Dog Friendly Snowshoeing the Flank Trail Continued...
Dog Friendly Sproatt East Trail

Mount Sproatt is the towering mountain that is directly across from Whistler Mountain.  The Flank Trail cuts across it for several kilometres and into an amazing spider web of hiking and biking trails that are fantastic snowshoe trails in the winter.  The Sproatt East trail is one particularly nice snowshoe trail that is very dog friendly.  Though it is located very high up on Sproatt, you can drive way up the side of the mountain and park at the end of a road in Stonebridge.  This access means you enter the forest already high up on the mountain and gives you incredible views right away.  You can snowshoe up the trail as far as you want, but the Sproatt East trail continues way up into the alpine after only about 4 kilometres and the summit of Sproatt is just a couple more kilometres.  Most just snowshoe to the various plateaus along the trail which give you sweeping, panoramic views of the valley.  Easily enjoyable in sections, you can have a short or a long trek into this beautiful wilderness paradise.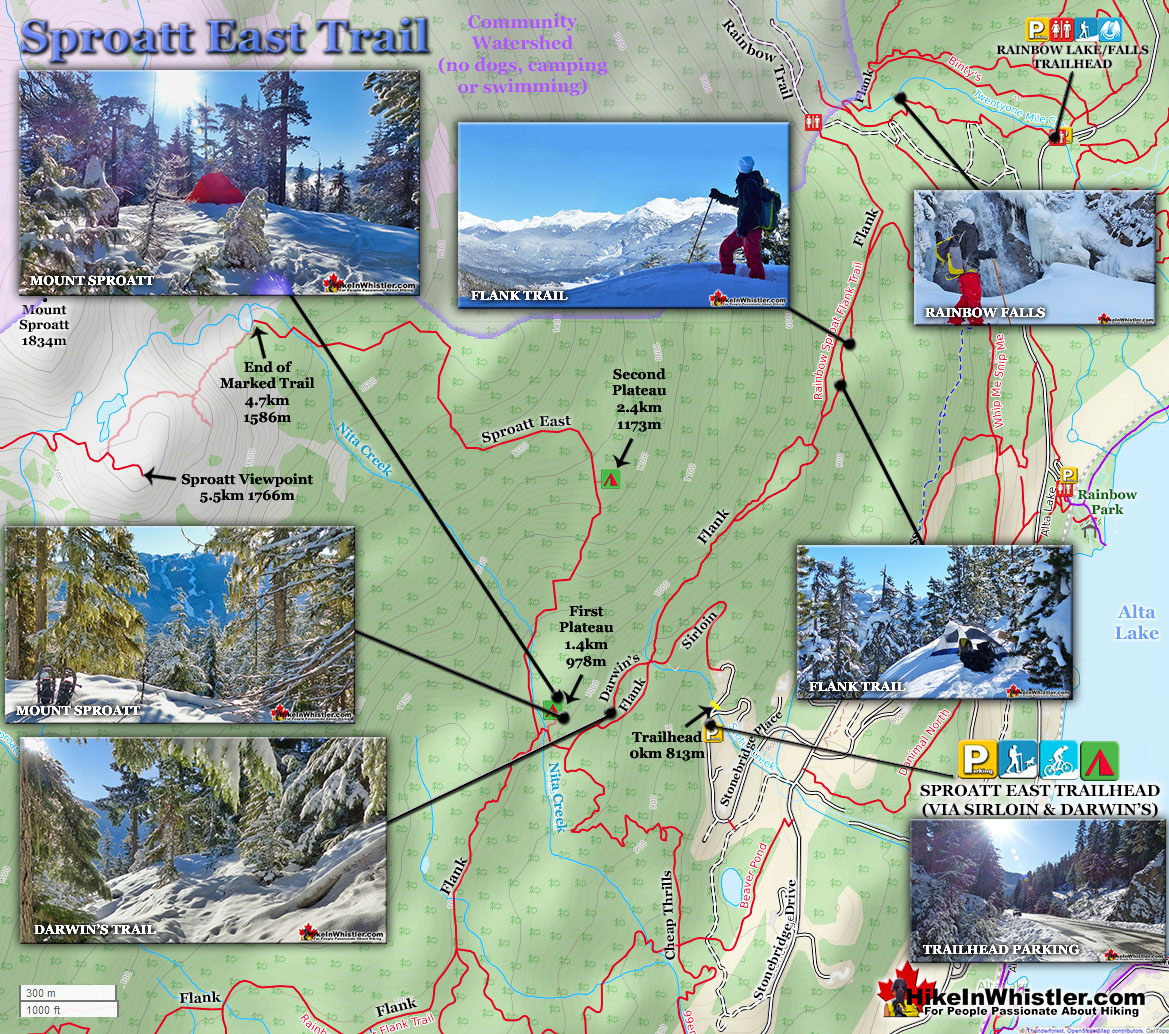 Dog Friendly Snowshoeing the Sproatt East Trail Continued...
Blueberry Park, Dog Friendly and Fun

Geographically, the Blueberry Park is directly across Alta Lake from Rainbow Park.  From Whistler Village it is very close.  You can drive there in 3 minutes or walk there via the Valley Trail in 20 minutes.  It can be accessed from either end via the neighbourhoods of Whistler Cay at the end of Crabapple Drive, or in Alta Vista at the end of St Anton Way.  The St Anton Way trailhead is by far the better trailhead as it is easier to find and much closer to the beautiful piers.  If it has not snowed heavily in the last couple days, you will likely not need snowshoes for the Blueberry Park as the snow will have been packed down by others.  You will almost certainly need micro spikes as the trail is often a slick sheet of ice. Blueberry Park gets its name from the hill that rises above it named Blueberry Hill.  The park is well hidden despite being on all the maps in Whistler because both trailheads are found at the end of quiet streets.  The trailheads do have small trail signs and once you are on the trails they are easy to follow, even in deep snow.  Though at times steep, the trail is short.  The high point of the trail, about midway, is only 1.2 kilometres from either trailhead.  There is a small clearing at the edge of quite a high cliff that is a great vantage point to the lake.  People skating, cross country skiing or walking appear as little black dots scattered across the frozen lake.  As snowshoeing trails go, this one is a great, fun, short workout to a beautiful vantage point and five wonderful piers.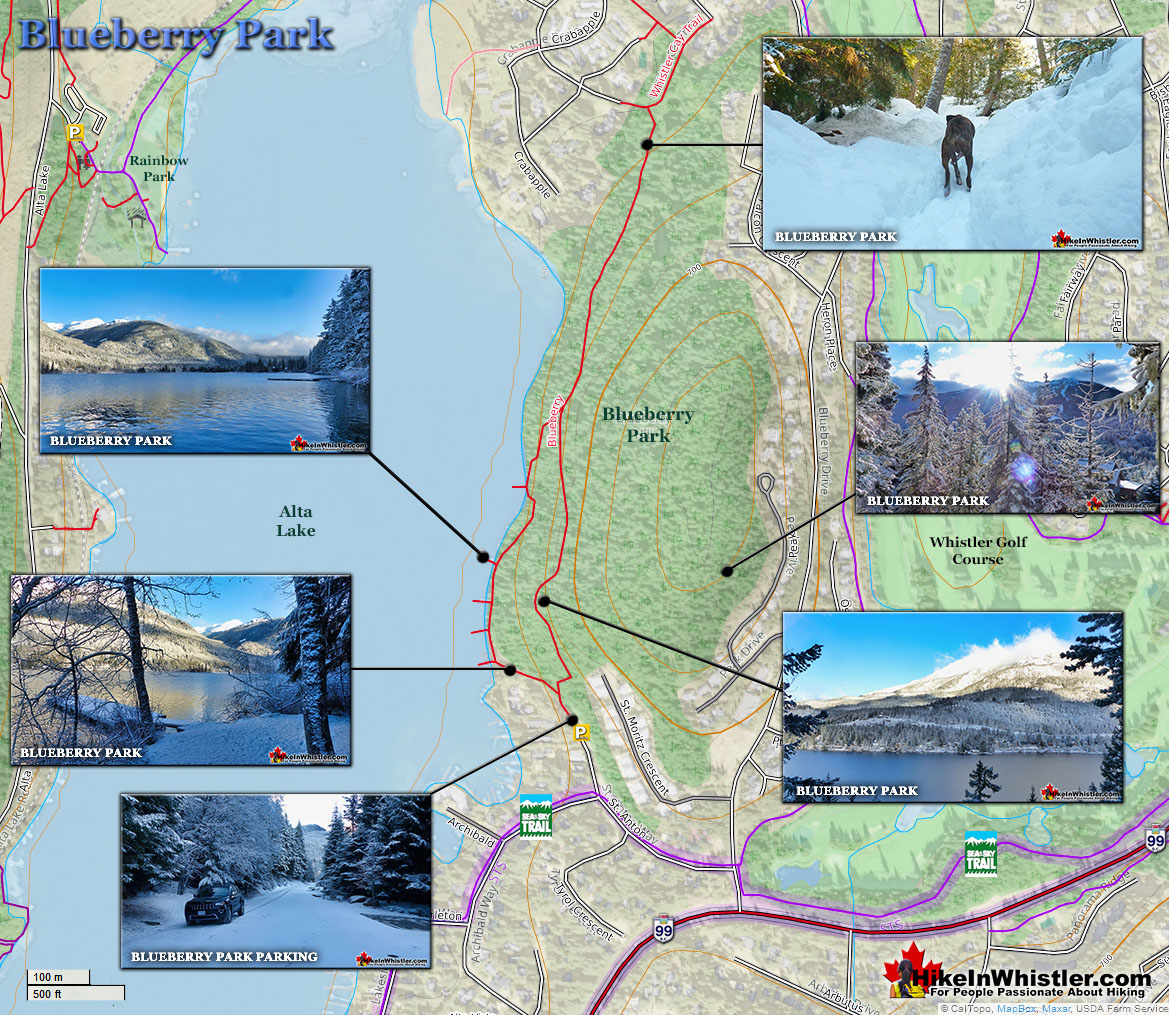 Dog Friendly Snowshoeing in Blueberry Park Continued...
Dog Friendly Snowshoeing - Cheakamus River 

Cheakamus River is located just 8 kilometrs south of Whistler Village just off of the Sea to Sky Highway.  This well marked, though beautifully remote feeling snowshoeing trail takes you along both sides of the wildly crashing Cheakamus River.  Snow begins to fall in earnest in the Whistler area in December, so the best months for snowshoeing Cheakamus River are from late December to early March.  These trails are frequently used year-round so the snow on the trail is often packed down.  You may find that you don't need snowshoes for much or all of the trail.  One of the best routes is to walk/snowshoe from your car for about 100 metres following the road to Cheakamus Lake.  At about 100 metres you will see a branching road go to the right and a large, vehicle bridge cross the Cheakamus River.  Cross the bridge and you will immediately see a trail on your left running along the river.  This trail, with Cheakamus River on your left will descend and ascend through a beautiful forest.  Sometimes close to the river, sometimes 100 metres away.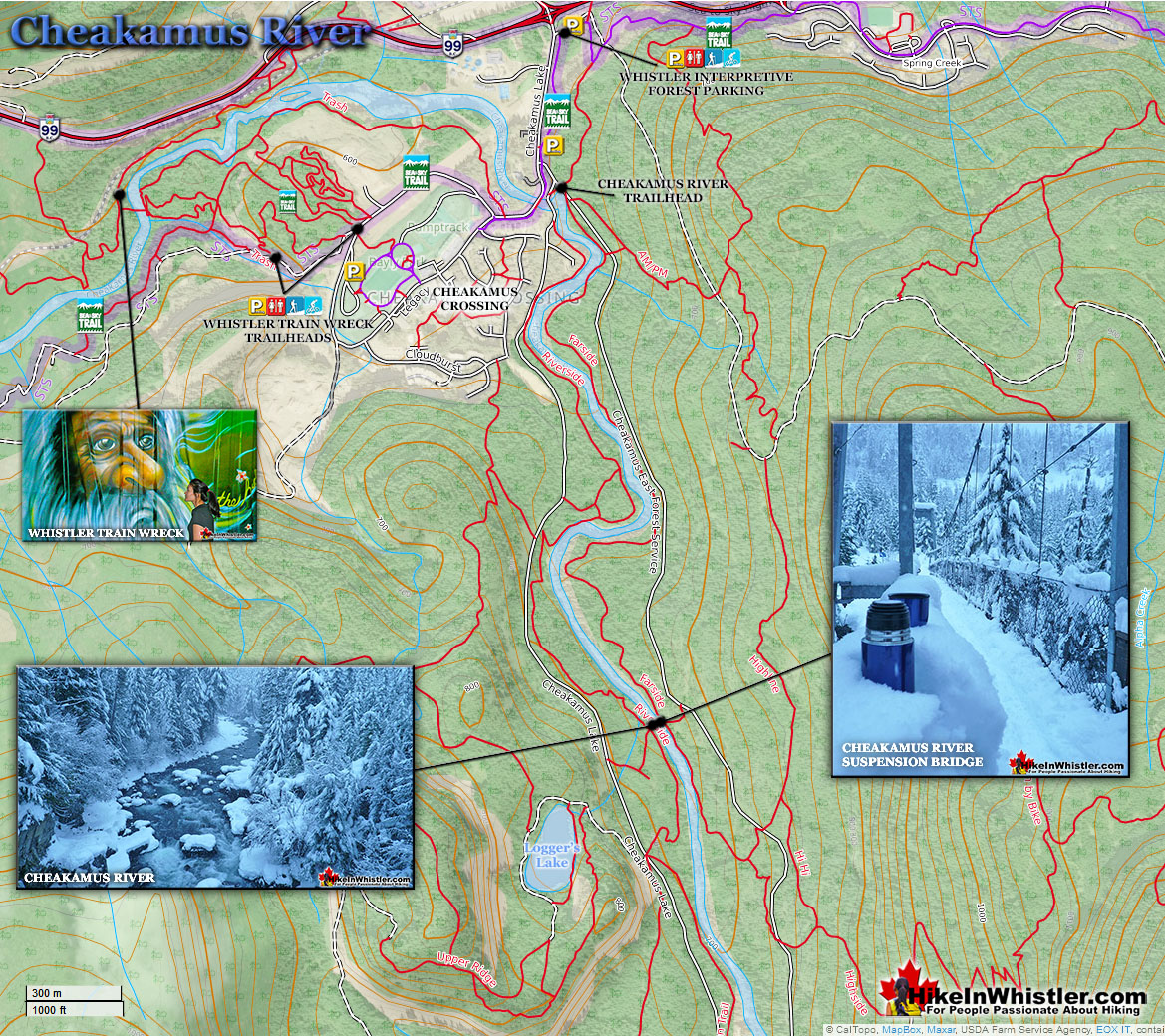 Dog Friendly Cheakamus River Snowshoeing Continued...
Whistler Snowshoe Trails!
More Whistler Updates!

Whistler & Garibaldi Park Hiking Glossary A to Z
Whistler & Garibaldi Park Best Hiking by Month!

Explore BC Hiking Destinations!