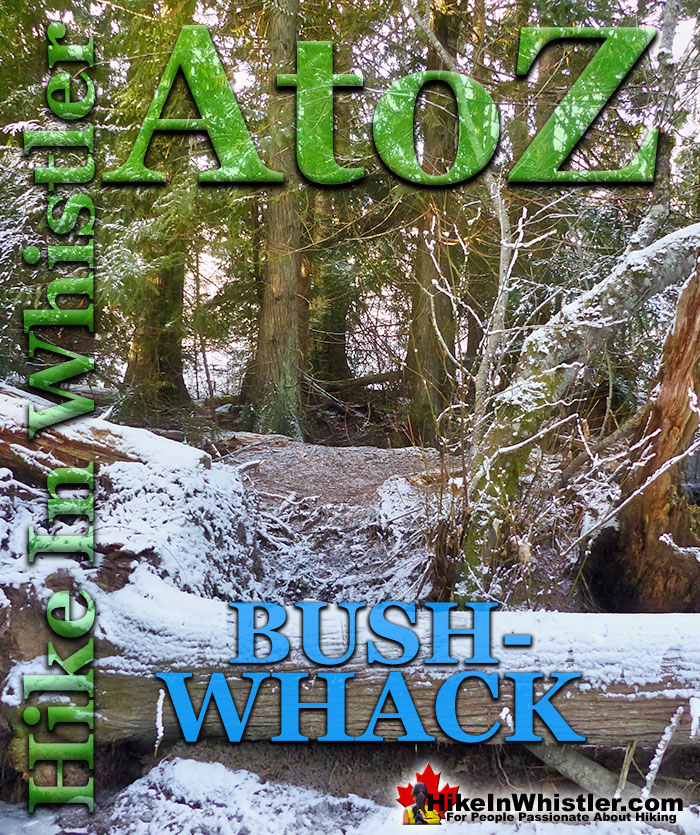 Bushwhack is a term often used in Canada and the United States to refer to hiking off-trail where no trail exists.  Literally means 'bush' and 'whack'.  To make your own trail through the forest by whacking or cutting your way through the bush.  A bushwhacker is a term sometimes used to describe someone who spends a lot of time in the wilderness.  Bushwhacking is also usually needed to plot a new trail through deep forest. 
Whistler & Garibaldi Hiking

Alexander Falls  

Ancient Cedars  

Black Tusk  

Blackcomb Mountain  

Brandywine Falls  

Brandywine Meadows  

Brew Lake  

Callaghan Lake  

Cheakamus Lake  

Cheakamus River  

Cirque Lake 

Flank Trail 

Garibaldi Lake 

Garibaldi Park 

Helm Creek  

Jane Lakes 

Joffre Lakes  

Keyhole Hot Springs  

Logger's Lake  

Madeley Lake  

Meager Hot Springs 

Nairn Falls  

Newt Lake 

Panorama Ridge 

Parkhurst Ghost Town 

Rainbow Falls  

Rainbow Lake 

Ring Lake  

Russet Lake  

Sea to Sky Trail 

Skookumchuck Hot Springs  

Sloquet Hot Springs 

Sproatt East 

Sproatt West  

Taylor Meadows  

Train Wreck  

Wedgemount Lake  

Whistler Mountain

January 

February 

March 

April 

May 

June 

July 

August 

September 

October 

November 

December
In Whistler and Garibaldi Provincial Park, some degree of bushwhacking is often needed in the springtime due to fallen trees blocking trails.  These deadfall trees are often so large as to permanently alter trails.  The Cheakamus Lake trail has several enormous deadfall trees that were so big that it was evidently found to be easier to reroute the trail than to chainsaw and move them.  This is especially the case when a huge tree falls in line with a trail and covers the trail for several dozen metres.  The tree would have to be cut in many sections and hauled away.  Adjusting the trail to pass alongside the tree is frequently the easier solution.  Huge trees that fall across a trail can simply have one section cut out unblock the trail.  You see this a lot on the Cheakamus Lake trail as well and because the trees there are quite large, the new deadfall trail adjustments are particularly impressive.  Deadfall is a fairly general term for dead and fallen trees, however there are slightly more specific terms to describe fallen trees based on how they fell.  A tree that falls with it roots is called a blowdown or windthrow.  Even a modest sized tree can pull out an impressive wall of roots, dirt and rocks a couple metres high, and the crater they rip open is similarly huge.
Deadfall in Parkhurst Ghost Town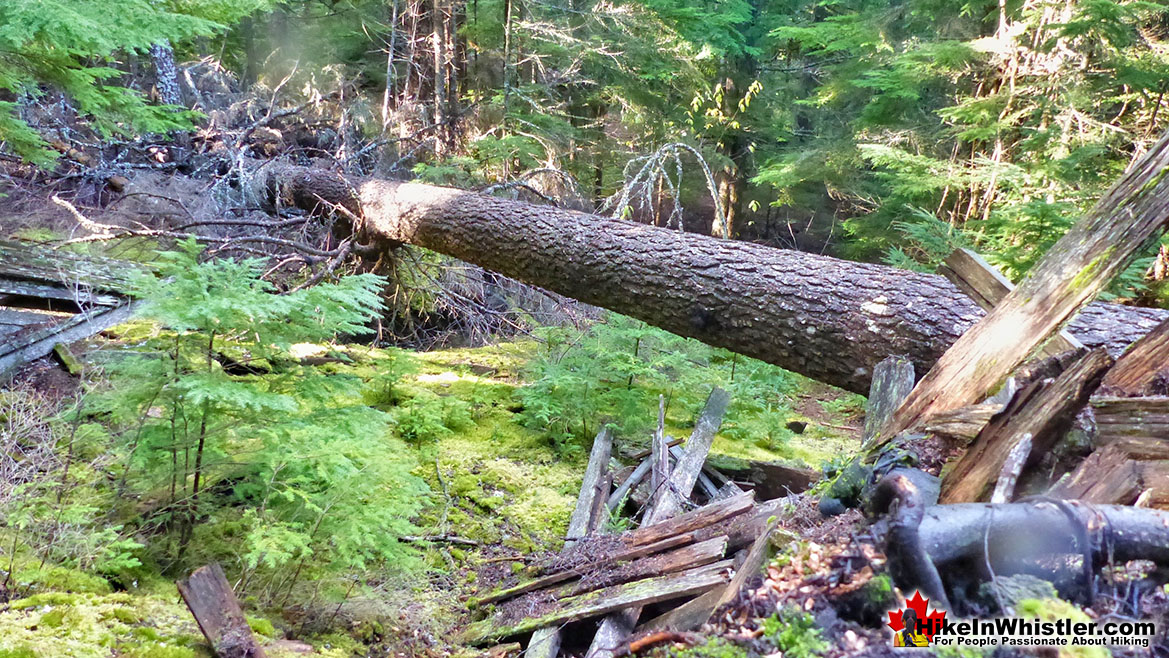 Cheakamus Lake Deadfall
The picture shown here below is a massive deadfall tree on the Cheakamus Lake trail that caused the trail to be redirected around it a few years ago.  The Cheakamus Lake trailhead is found at the south end of Whistler 8 kilometres up a bumpy logging road that starts in Cheakamus Crossing.  Cheakamus Lake is one of several beautiful hikes in Garibaldi Park in Whistler.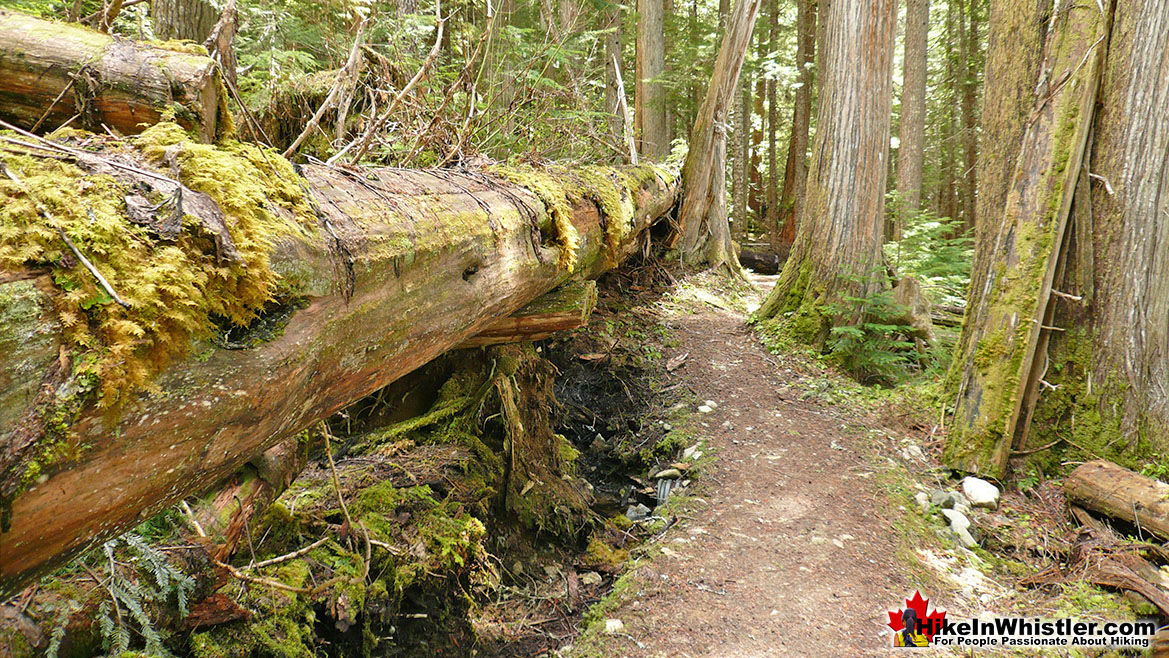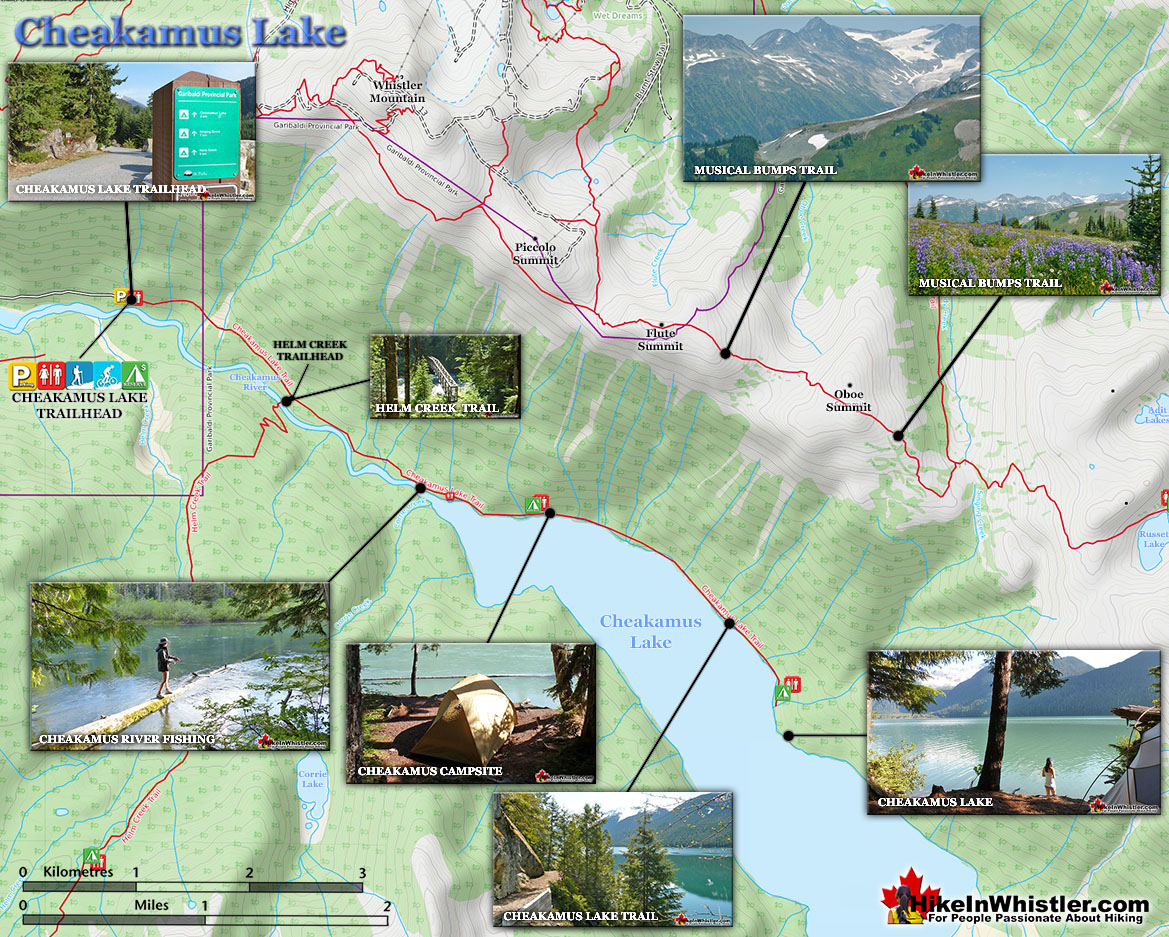 Wedgemount Lake Deadfall
Wedgemount Lake is found at the opposite end of Whistler and also in Garibaldi Provincial Park.  The short but steep 7 kilometre trail to Wedgemount Lake is crisscrossed with plenty of deadfall in the spring after winter storms have toppled trees.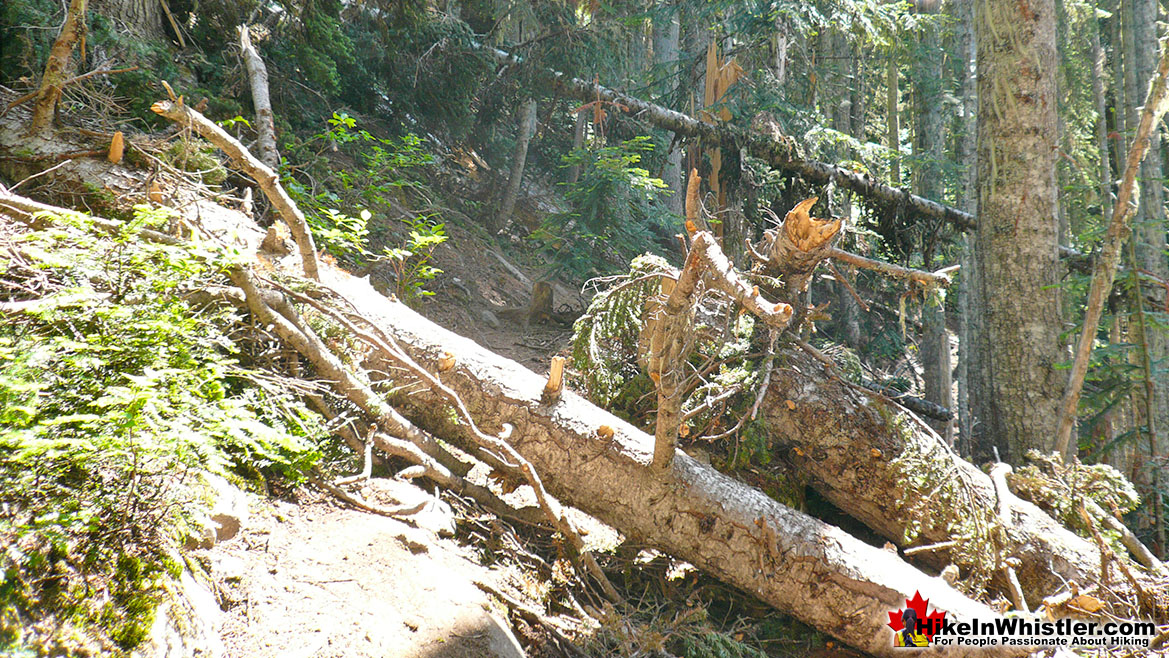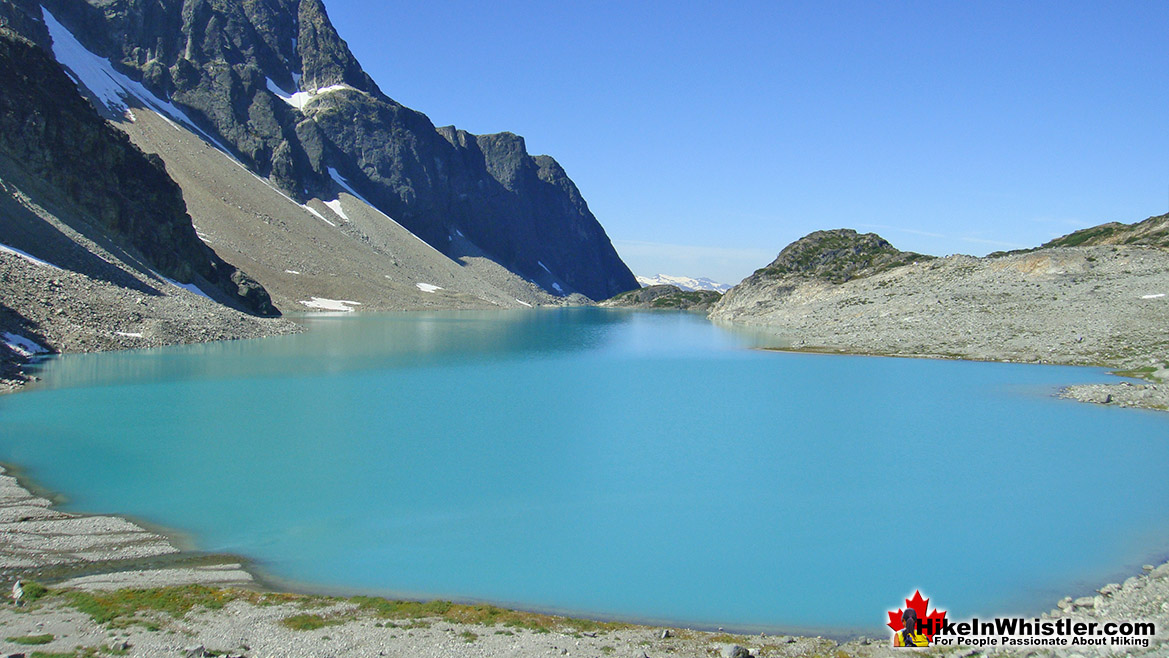 Dramatically Beautiful Windsnap
Another specific type of deadfall is known as windsnap.  These are trees that break apart somewhere along the trunk and leave the roots and some of the trunk intact.  Seeing these in the forest is always an impressive sight, owing to the tremendous strain that the tree must have been under in order to break along its massive trunk.  In a large diameter tree recently broken, the remaining stump will often have a jagged crown of spears pointing to the sky.  Other examples of windsnap you often see in Whistler will have twisted apart and left a bizarre spiral pattern in the mangled stump.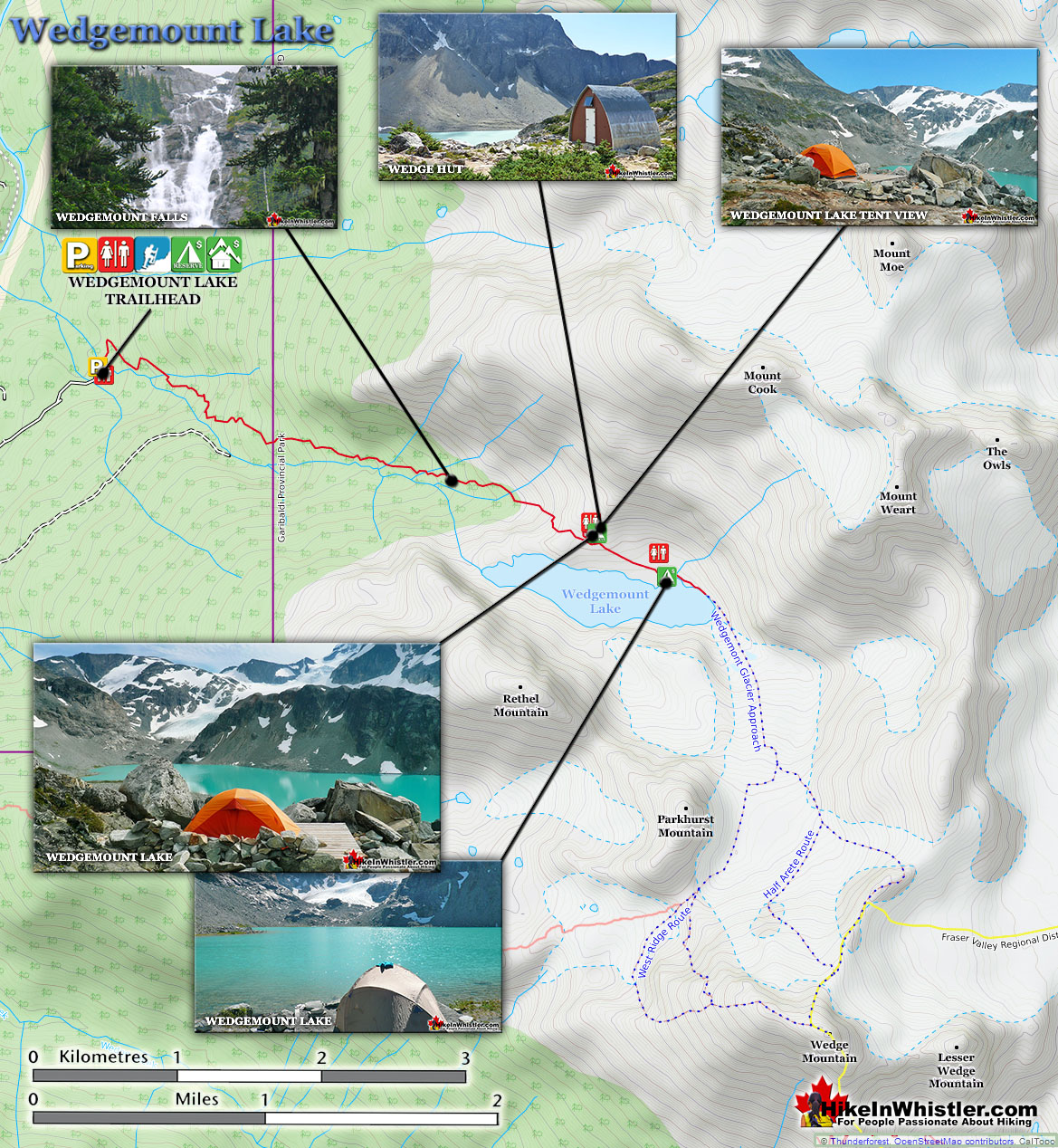 Windsnap on the Parkhurst Trail
This impressive example of windsnap can be found along the Parkhurst Trail and appears to have snapped and fallen back onto its trunk.  Parkhurst Ghost Town is located near the north end of Green Lake in Whistler and several nice trails lead to the old logging town abandoned in 1956.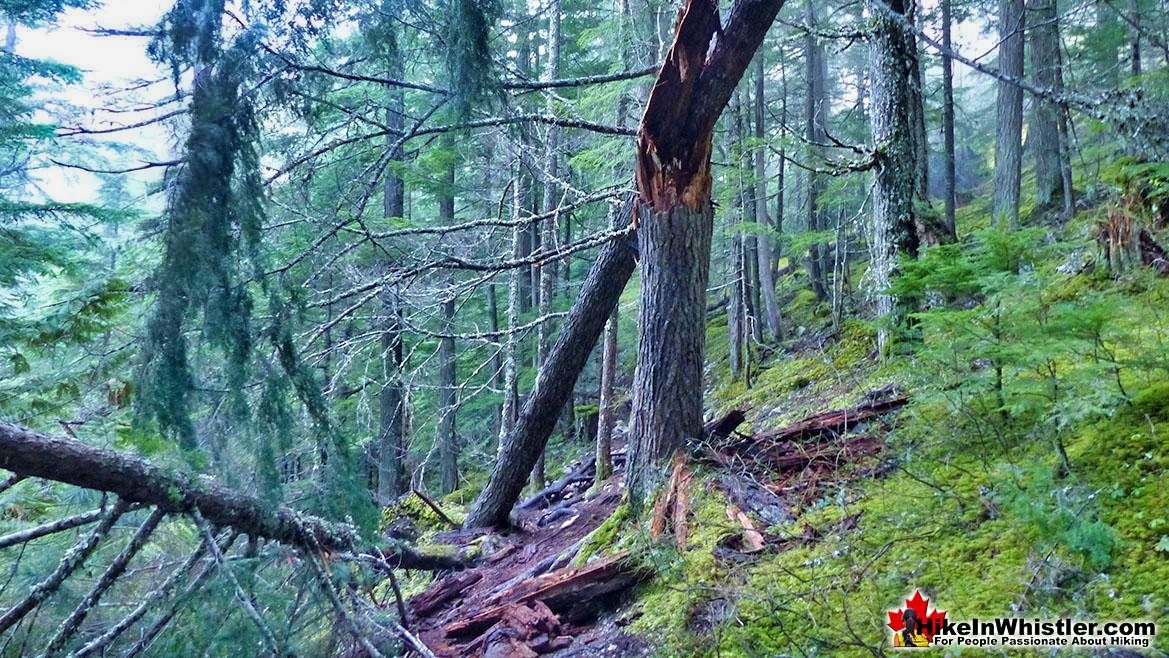 In the winter months heavy snow can weigh down branches and bushes, drastically narrowing trails.  A normally wide trail can become a narrow corridor hemmed in by heavy snow-laden bushes.  This is the usually wide Parkhurst Trail after just a few centimetres of snow.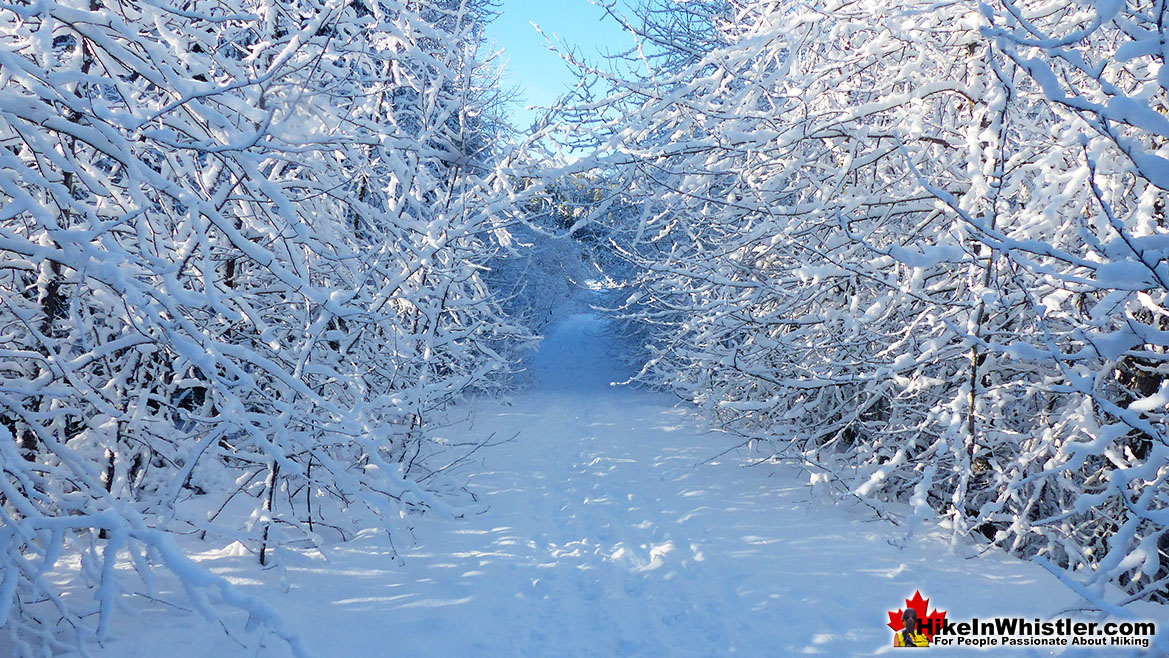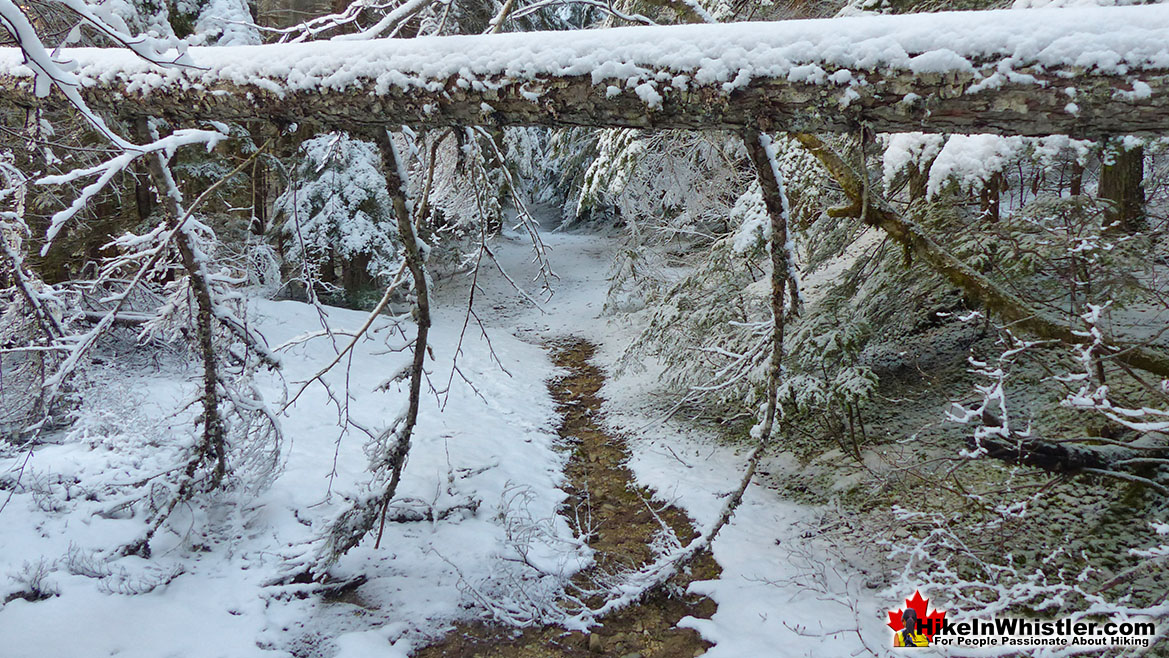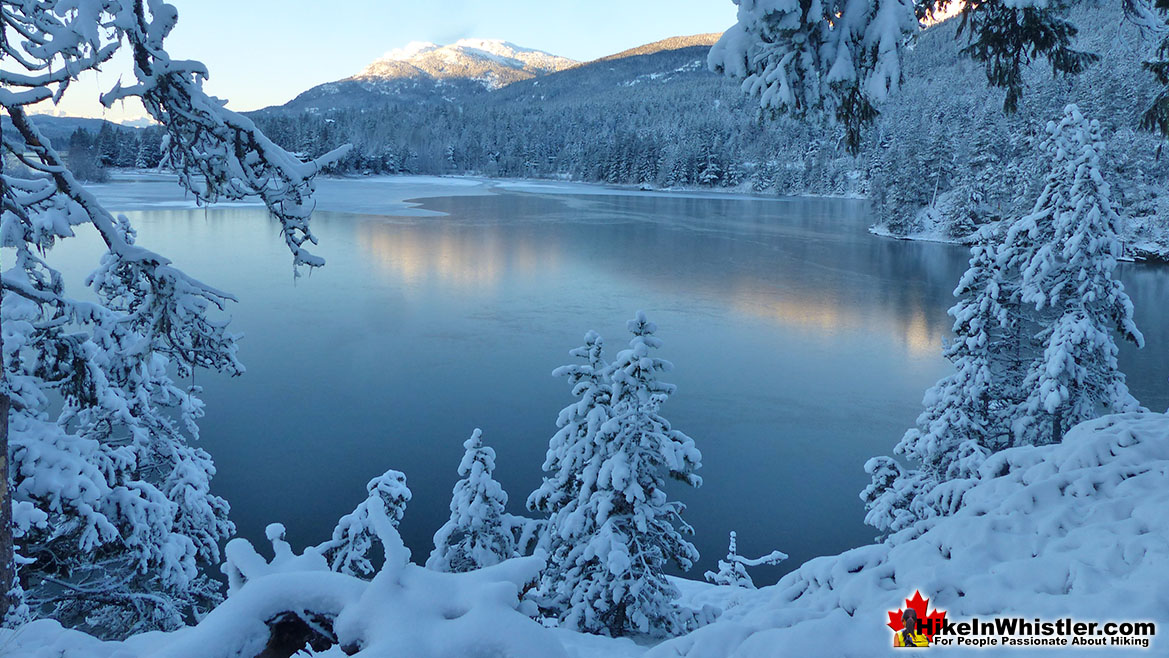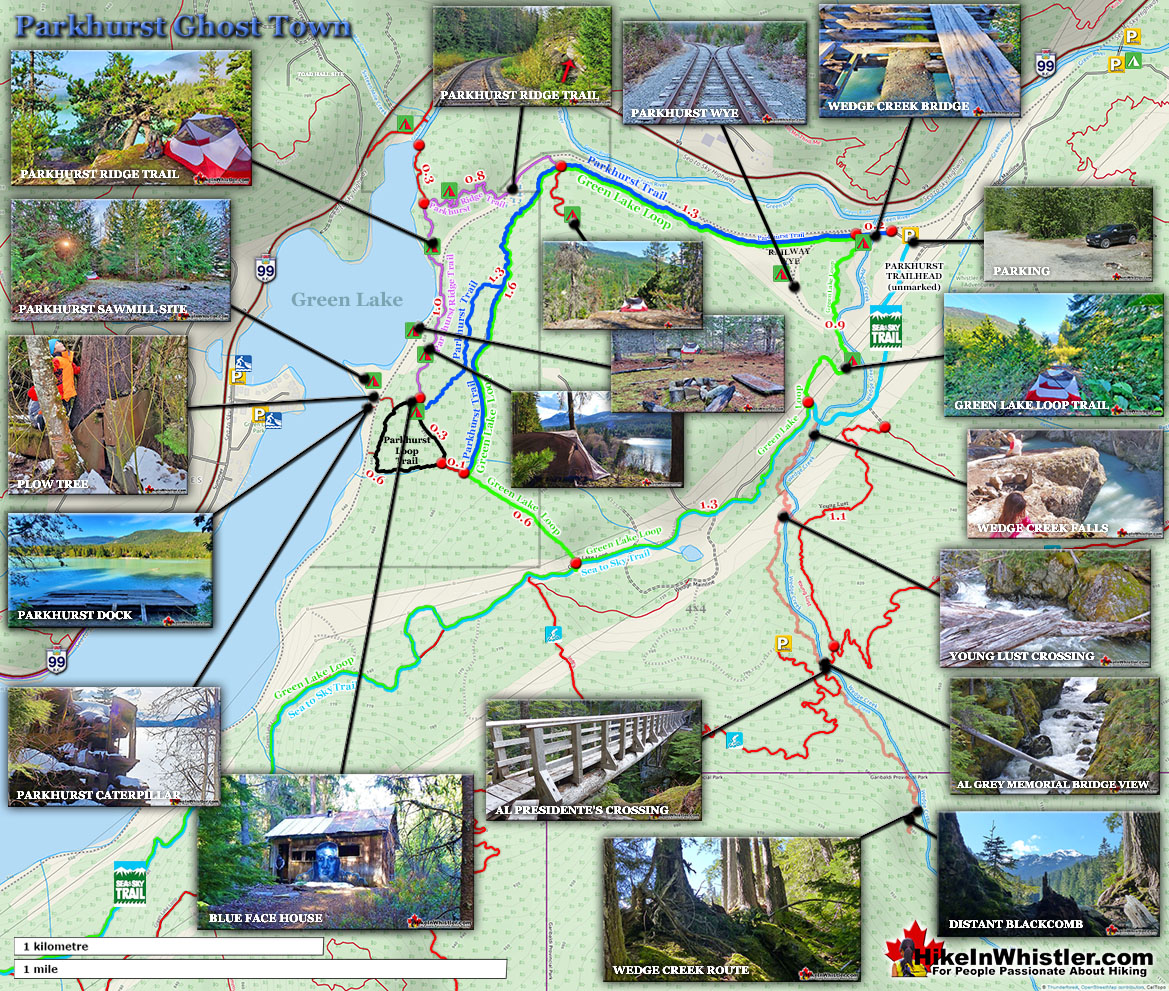 Ancient Cedars and Newt Lake Bushwhacking
The Newt Lake trail which extends from Ancient Cedars usually involves a bit of bushwhacking.  The trail is not well known and the wild terrain up on Cougar Mountain means that every winter leaves considerable deadfall along the trail.  The picture shown here is near the start of the Newt Lake trail and is a common sight along this rough, but beautiful hike in Whistler.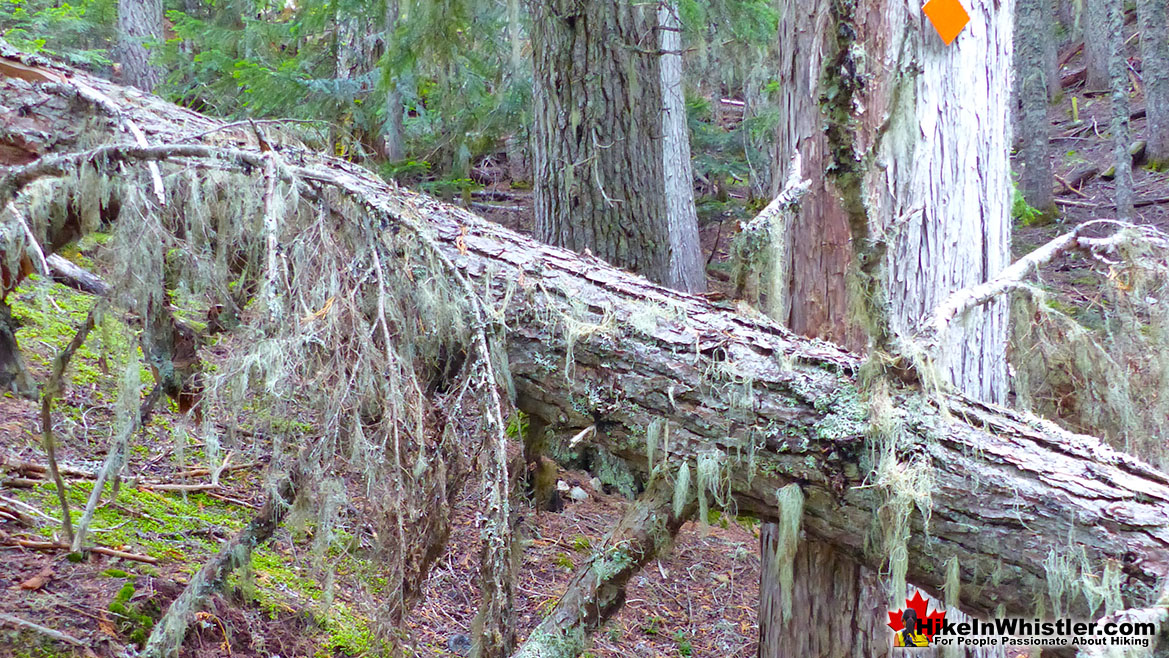 The Newt Lake trail from the end of the Ancient Cedars trail to Newt Lake is just 2.4 kilometres long, though much more challenging than the Ancient Cedars trail.  It winds through the weather battered and mangled rainforest up towards Cougar Mountain.  It is a constantly ascending and often very steep trail, though due to its short length most hikers should make it to the lake in just over an hour.  Starting from the Ancient Cedars trailhead/parking it is about a 2 hour hike one way.  Though it is steep and sometimes hard to follow, it is not so much difficult as it is exhausting.  The trail is extremely well marked, which is very helpful as the route zigzags constantly and the forest is scattered with deadfall.  This chaotic landscape makes the trail interesting and surprisingly enjoyable as your eyes dart from one interesting thing to another.  From deadfall craning menacingly over your head, to trees grasping enormous boulders with their roots, you find yourself often having to backtrack because you miss a tree marker and wandered off the trail to get a look at something wonderfully strange.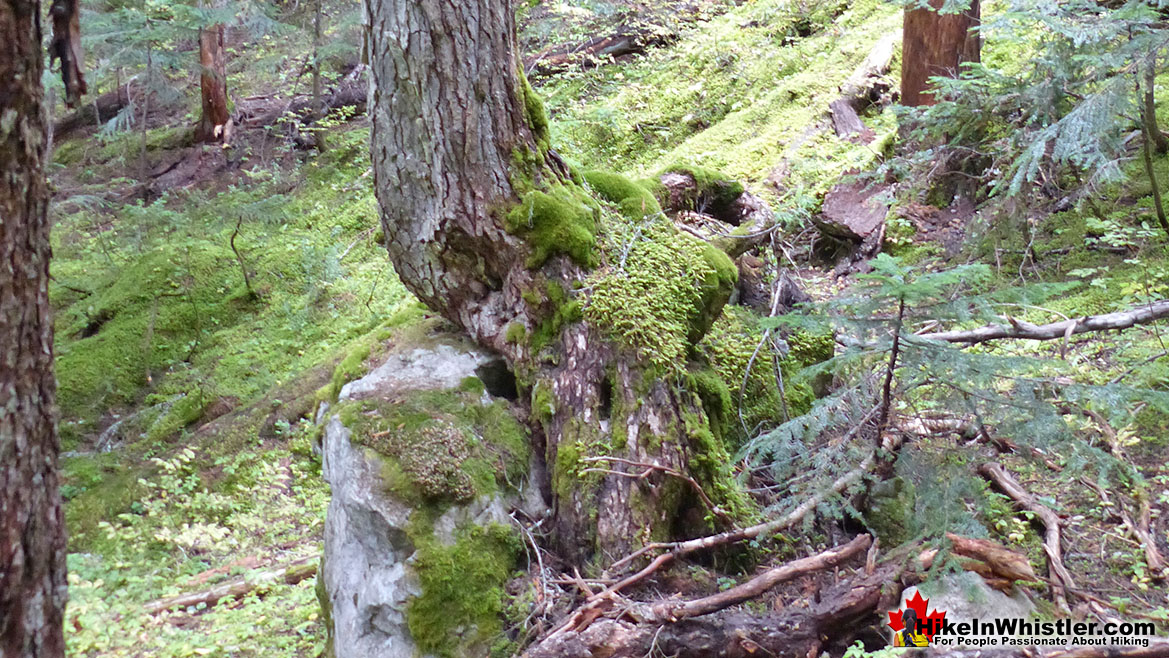 After hiking the erratic trail though chaotic forest you come to Newt Lake, a perfectly serene mountain lake well hidden along the west flank of Cougar Mountain.  The wild forest trail fades away as you reach the shore of the lake.  On the right, you can cross a swampy area and climb up to a beautiful rock outcrop overlooking the lake.  The left side of the lake is far more interesting and scenic, though you do have to scramble over a massive boulder field.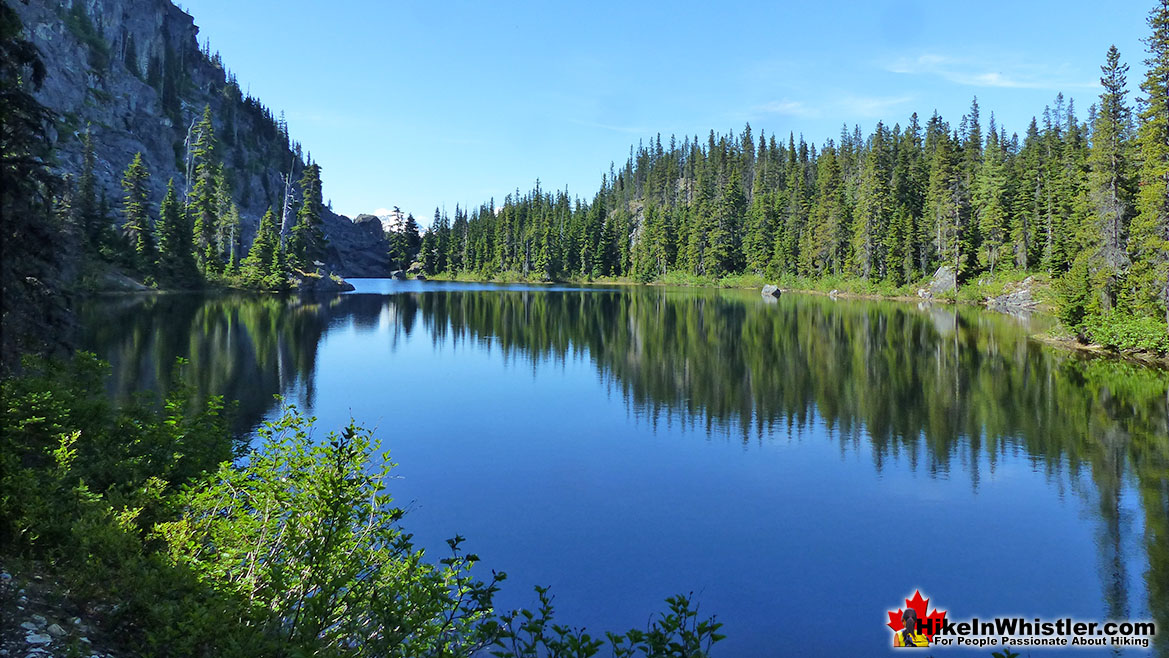 You have to be a little brave to crawl over the fridge sized morass of boulders that have crumbled from the steep cliffs above.  For the most part you can navigate a reasonably safe route, but occasionally you wonder if the next boulder you jump to will shift and cause the truck sized one next to it to tip over and flatten you.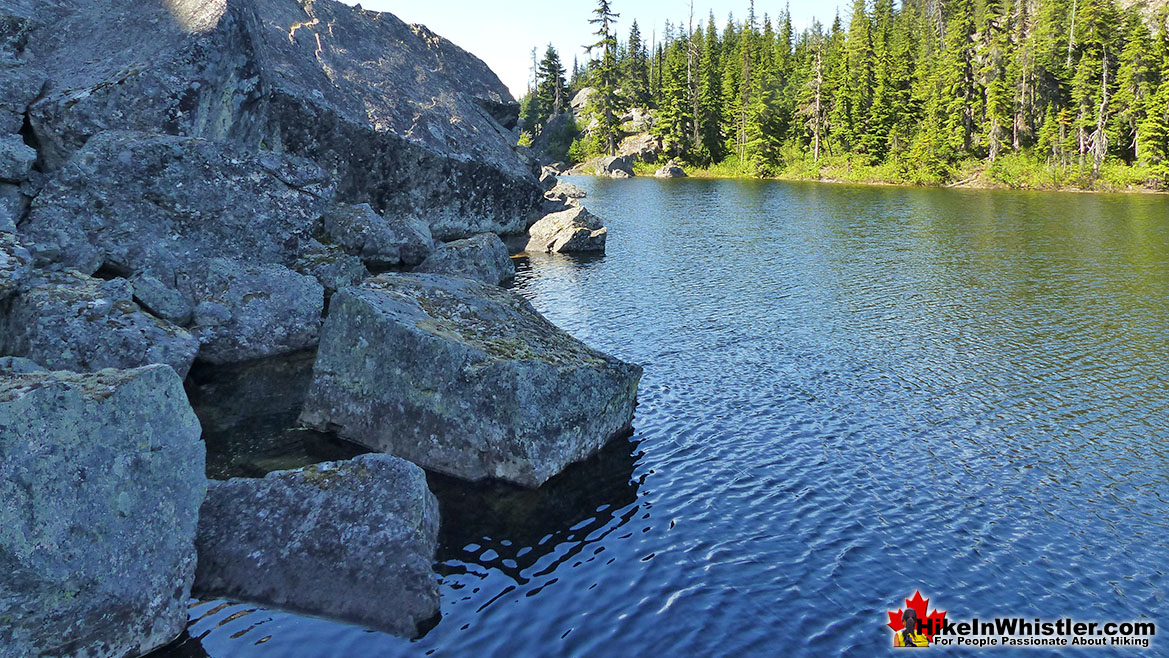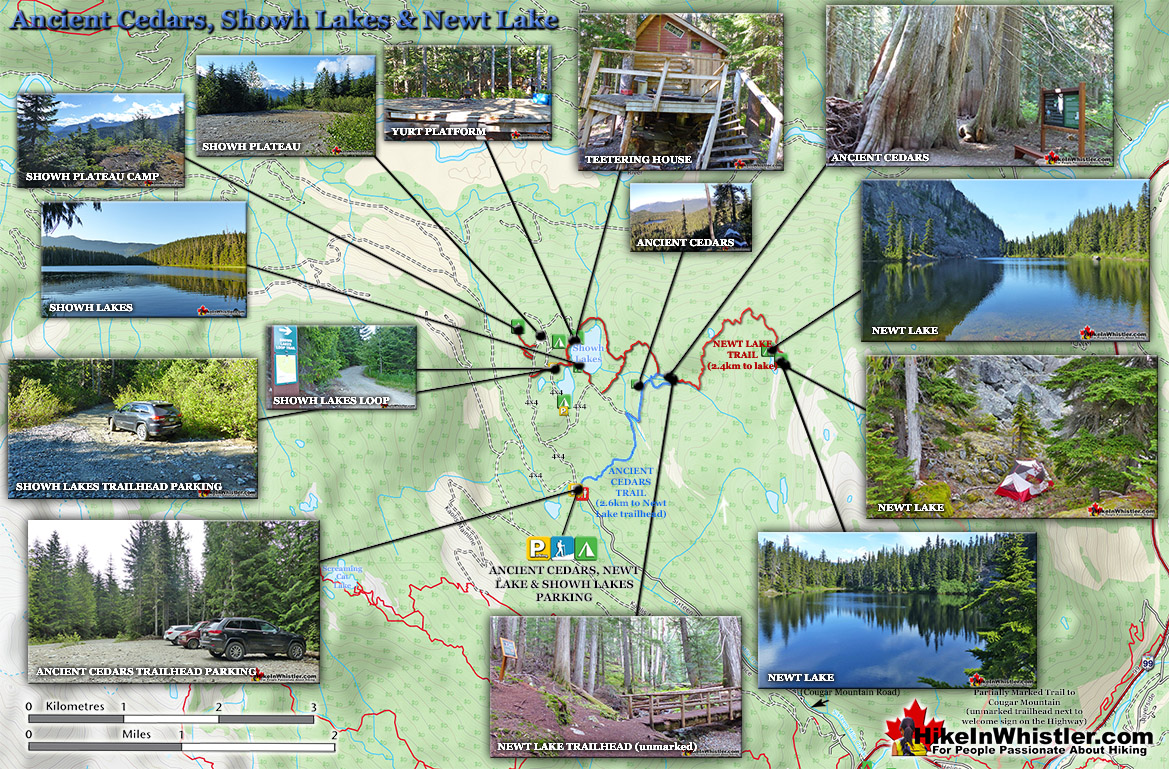 More Whistler & Garibaldi Park Hiking A to Z!

The Best Whistler & Garibaldi Park Hiking Trails!
Whistler & Garibaldi Park Best Hiking by Month!

Explore BC Hiking Destinations!