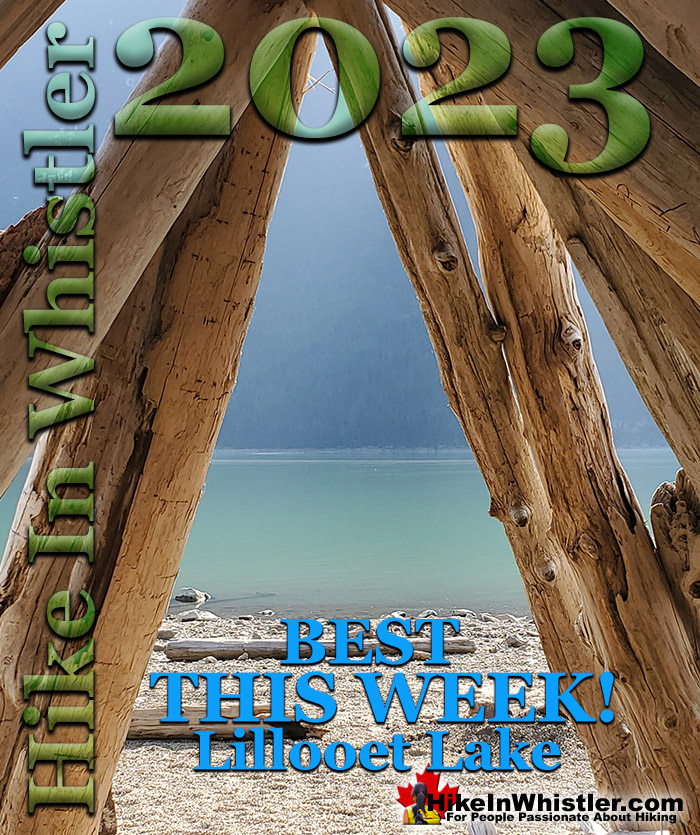 March 25th, 2023: What trails are good this week?  If you are dying for summer to come, Lillooet Lake is paradise these days.  Just an hours drive north of Whistler is the first of several beach campsites along this massive lake.  Strawberry Point is the first one you come to along the In-Shuck-Ch gravel road that runs along the edge of Lillooet Lake.  The campsites along the lake don't open until April 1st, so you can visit or camp for free before then.
Whistler & Garibaldi Hiking

Alexander Falls  

Ancient Cedars  

Black Tusk  

Blackcomb Mountain  

Brandywine Falls  

Brandywine Meadows  

Brew Lake  

Callaghan Lake  

Cheakamus Lake  

Cheakamus River  

Cirque Lake 

Flank Trail 

Garibaldi Lake 

Garibaldi Park 

Helm Creek  

Jane Lakes 

Joffre Lakes  

Keyhole Hot Springs  

Logger's Lake  

Madeley Lake  

Meager Hot Springs 

Nairn Falls  

Newt Lake 

Panorama Ridge 

Parkhurst Ghost Town 

Rainbow Falls  

Rainbow Lake 

Ring Lake  

Russet Lake  

Sea to Sky Trail 

Skookumchuck Hot Springs  

Sloquet Hot Springs 

Sproatt East 

Sproatt West  

Taylor Meadows  

Train Wreck  

Wedgemount Lake  

Whistler Mountain
Whistler Snowshoe Trails

Blueberry Trail 

Brandywine Falls 

Cheakamus River 

Elfin Lakes 

Flank Trail 

Joffre Lakes 

Nairn Falls 

Parkhurst Ghost Town 

Rainbow Falls 

Rainbow Lake 

Rainbow Park 

Sproatt East 

Taylor Meadows 

Train Wreck 

Wedgemount Lake 
With the sunny days in Whistler getting over 10 degrees, you can add about 4 degrees to that at Lillooet Lake.  Strawberry Point is very busy in the summertime, but in March you only see about five other cars when driving through the campsites up in the forest.  Down at the beach you hardly encounter anyone as the beach stretches quite far in either direction and scattered with huge driftwood logs.  All along the beach you find hilarious little driftwood houses and bizarre structures.  If you have kids with you, they will disappear for hours in, around and over these beach forts.  When the campsite does open in April it costs $15 to camp at one of 27 drive-in campsites nestled in the forest just a one minute walk from the beautiful sandy beach.  Just an hours drive from Whistler, finding Strawberry Point is easy.  Drive through Pemberton as if going to Joffre Lakes.  Just past Pemberton, about 50km from Whistler Village you will see Lillooet Lake on your right.  Look for the In-SHUCK-ch Forest Service Road on your right.  Follow this gravel road along Lillooet Lake for 6km until you see the Strawberry Point campsite on your right.
Beautiful Lillooet Lake in March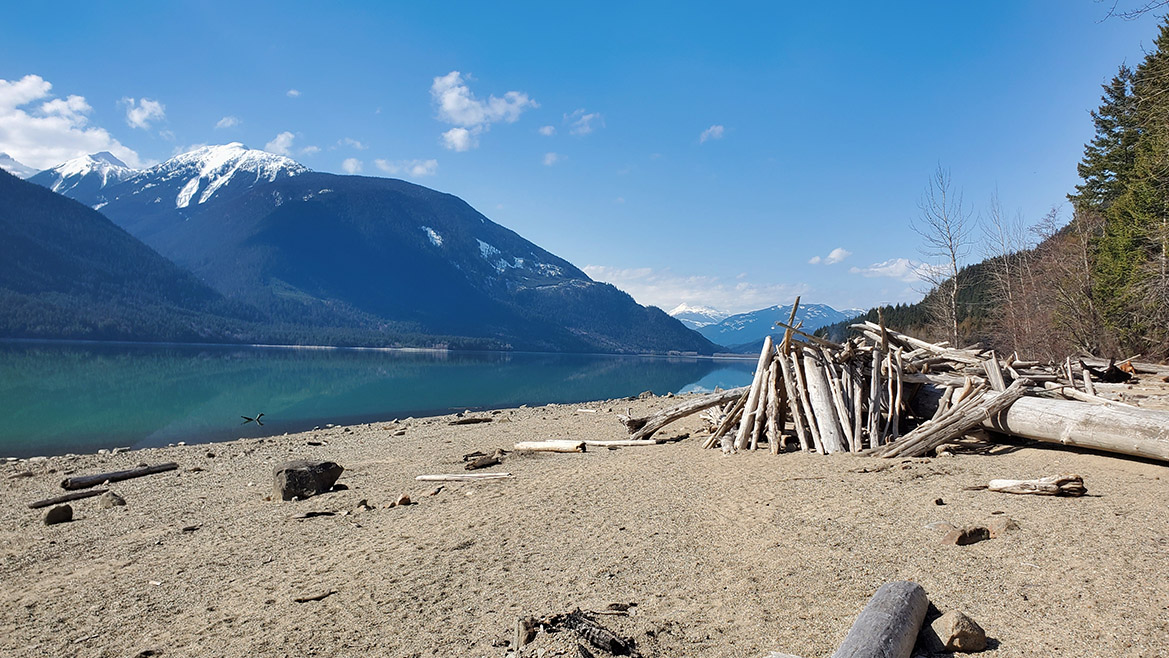 Lillooet Lake Driftwood House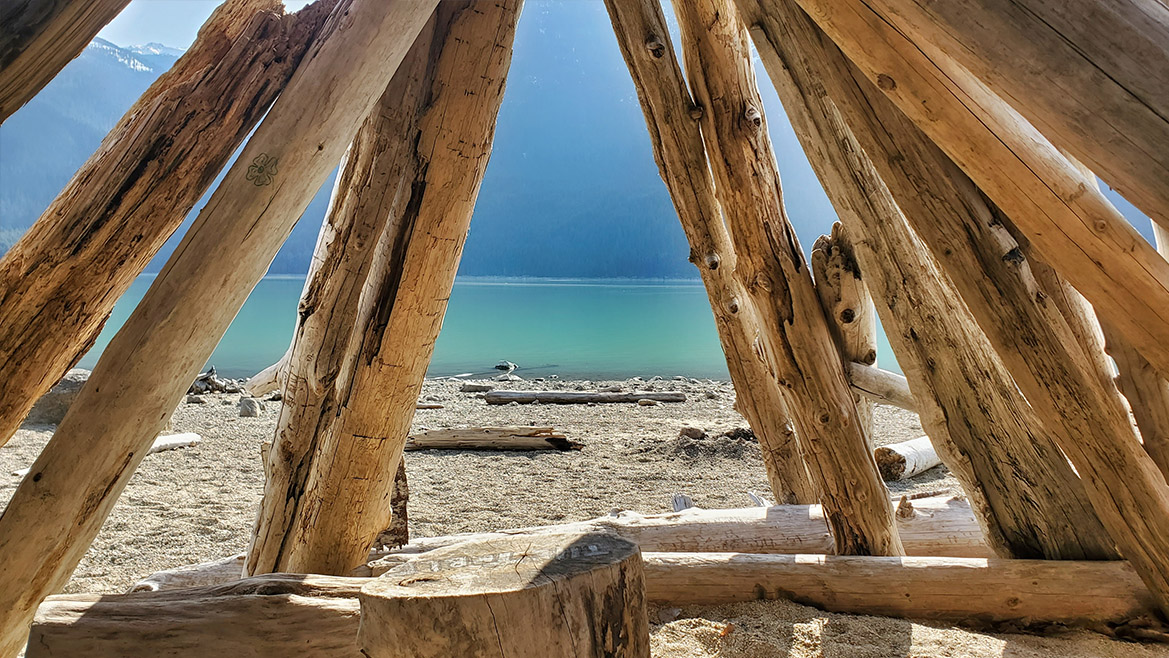 Lillooet Lake Sunset in March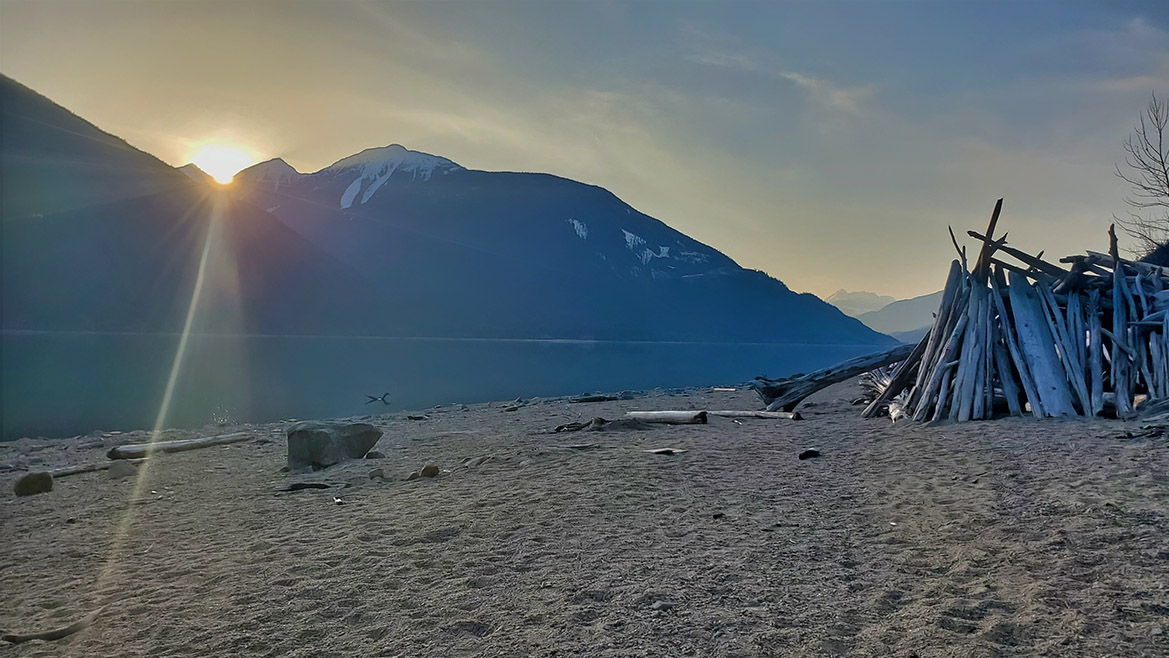 Best Whistler Hiking and Snowshoe Trails March
More Whistler Updates!

Whistler & Garibaldi Park Hiking Glossary A to Z
Whistler & Garibaldi Park Best Hiking by Month!

Explore BC Hiking Destinations!