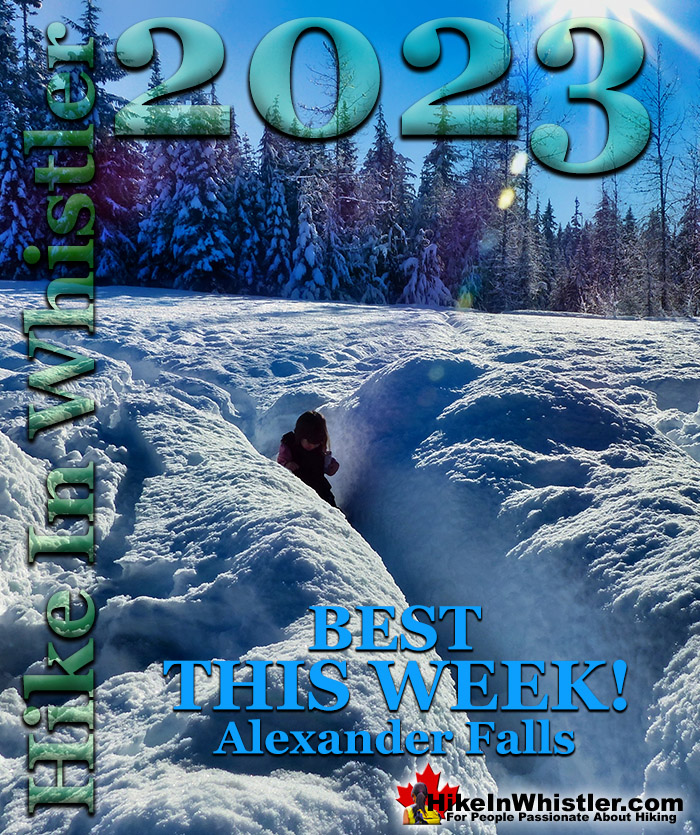 February 11th, 2023: What trails are good this week?  Driving up into the mountains is a great way to seek out some springtime snow.  Alexander Falls is beautiful these days with deep snow everywhere.  Not really a hike as the walk from your car to the viewpoint is just a hundred metres or so, it is worth the drive, especially on a sunny day!  High up in the Callaghan Valley, Alexander Falls is easy to get to in any weather and amazing in February.
Whistler & Garibaldi Hiking

Alexander Falls  

Ancient Cedars  

Black Tusk  

Blackcomb Mountain  

Brandywine Falls  

Brandywine Meadows  

Brew Lake  

Callaghan Lake  

Cheakamus Lake  

Cheakamus River  

Cirque Lake 

Flank Trail 

Garibaldi Lake 

Garibaldi Park 

Helm Creek  

Jane Lakes 

Joffre Lakes  

Keyhole Hot Springs  

Logger's Lake  

Madeley Lake  

Meager Hot Springs 

Nairn Falls  

Newt Lake 

Panorama Ridge 

Parkhurst Ghost Town 

Rainbow Falls  

Rainbow Lake 

Ring Lake  

Russet Lake  

Sea to Sky Trail 

Skookumchuck Hot Springs  

Sloquet Hot Springs 

Sproatt East 

Sproatt West  

Taylor Meadows  

Train Wreck  

Wedgemount Lake  

Whistler Mountain
Whistler Snowshoe Trails

Blueberry Trail 

Brandywine Falls 

Cheakamus River 

Elfin Lakes 

Flank Trail 

Joffre Lakes 

Nairn Falls 

Parkhurst Ghost Town 

Rainbow Falls 

Rainbow Lake 

Rainbow Park 

Sproatt East 

Taylor Meadows 

Train Wreck 

Wedgemount Lake 
The falls crash down 43 metres into the snow filled valley below.  When Whistler Valley is slushy and wet, everything in the Callaghan Valley is insanely buried in snow.  Finding Alexander Falls is easy.  From Whistler Village: Drive south on the Sea to Sky highway, 13.8 kilometres from Village Gate Boulevard, turn right onto Callaghan Valley Road at the sign to Whistler Olympic Park. Follow this road for 9.6 kilometres, keep an eye out on your left for a little sign that directs you to Alexander Falls. The sign/turnoff is just before Whistler Olympic Park.  Anytime of the year is great to go to Alexander Falls.  In the summer, the weather makes the drive more scenic and you are likely to see bears on the way there.  At the viewing area you have several picnic tables that are wonderful in the summertime.  In the winter months, the valley is a massive, snowy playground.
Alexander Falls from the Viewing Deck Buried in Snow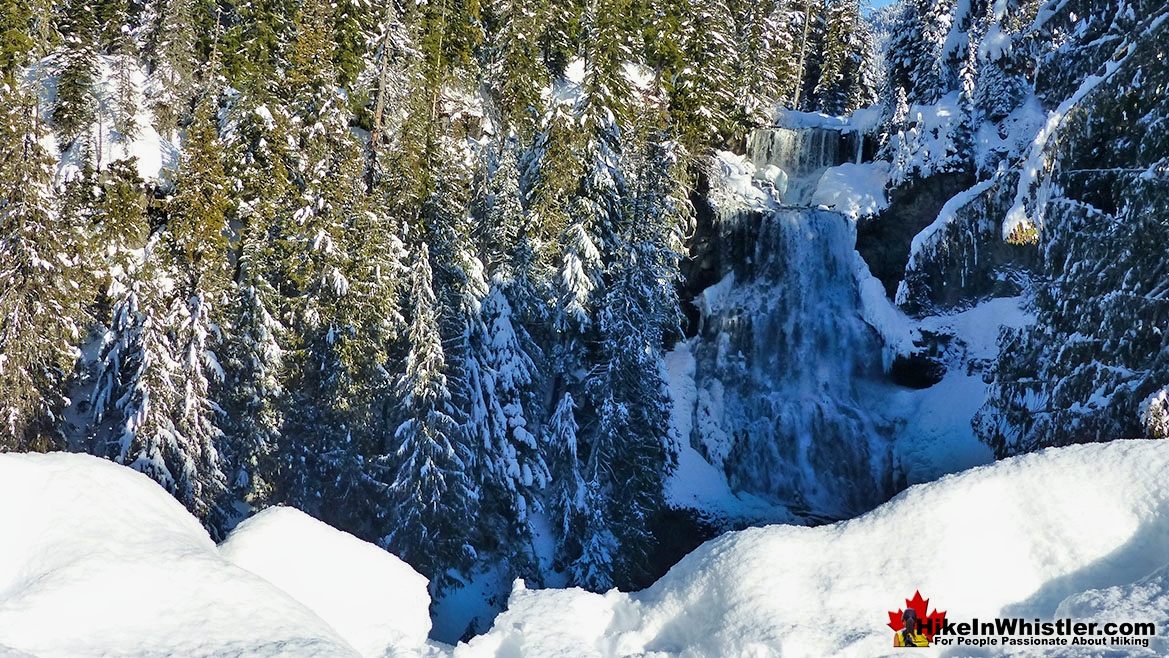 Alexander Falls Outhouses Buried in Snow
Walking through the Alexander Falls parking lot covered in almost 2 metres of snow on a beautiful, sunny winter day.  The outhouses can be seen on the right almost entirely buried in snow.  The viewing platform just past the outhouses is completely obscured by snow.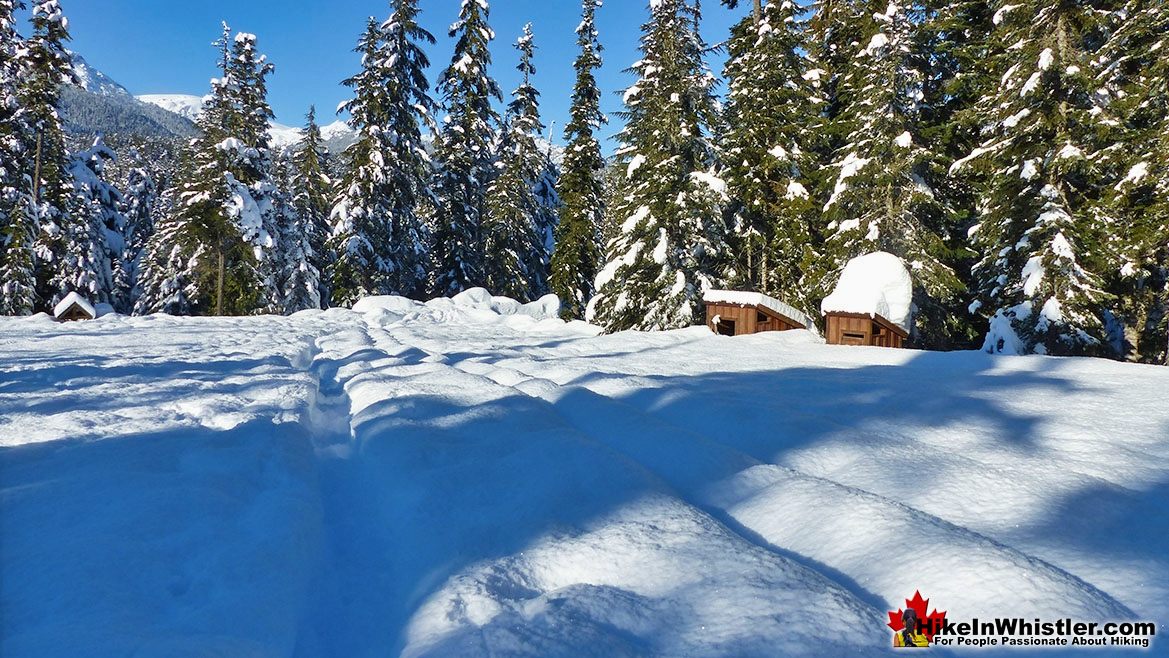 Alexander Falls Winter Wonderland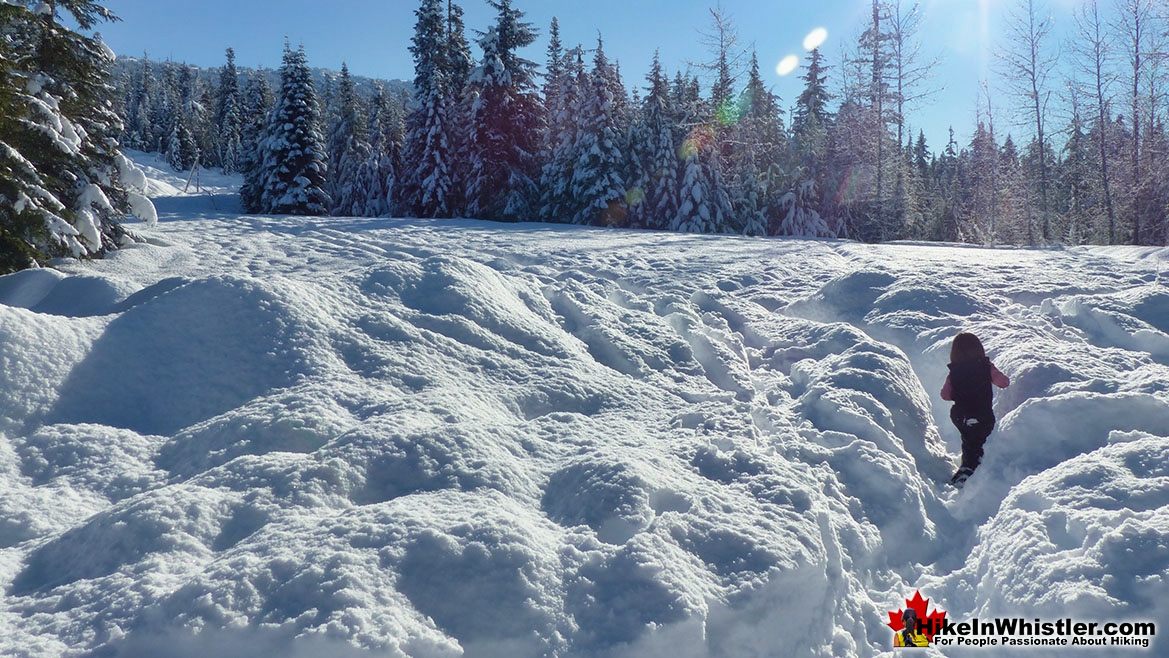 Alexander Falls Driving Directions Map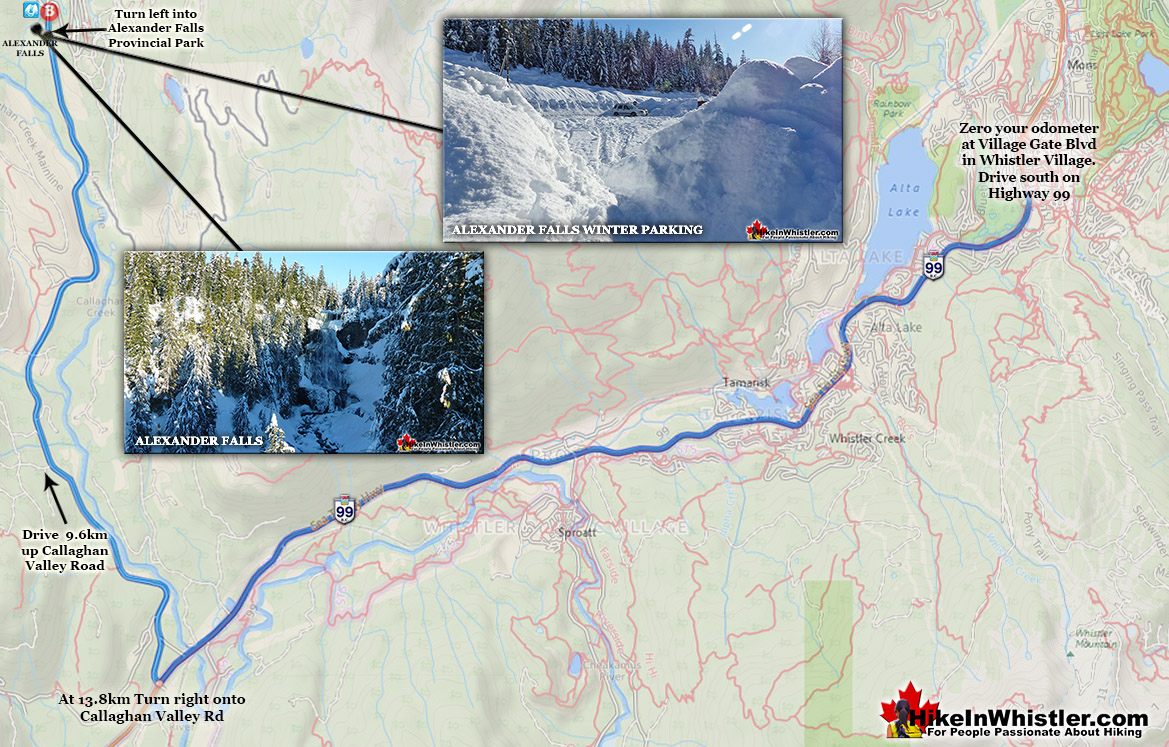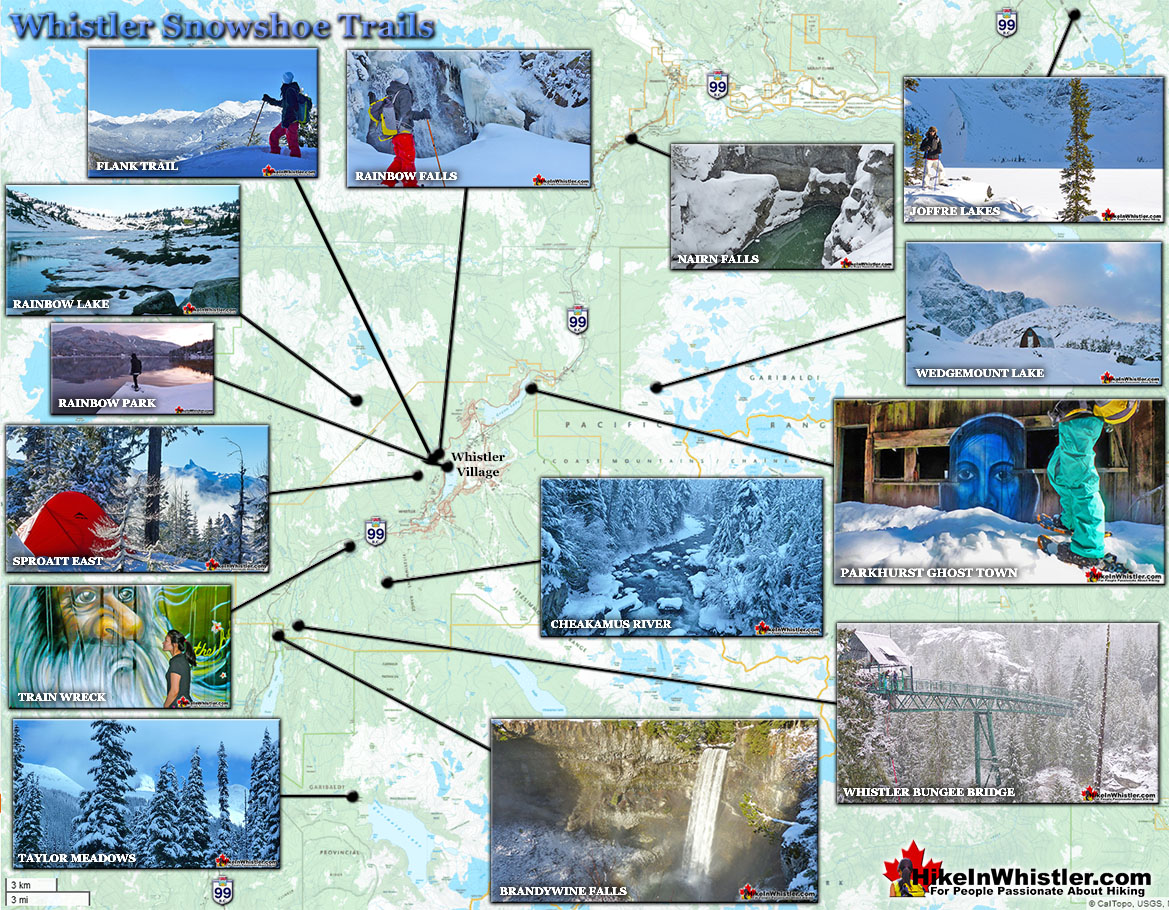 More Whistler Updates!

Whistler & Garibaldi Park Hiking Glossary A to Z
Whistler & Garibaldi Park Best Hiking by Month!

Explore BC Hiking Destinations!